Contents: Model List / In Depth Guides / Pictures / Videos / Performance / News
Koenigsegg
The company was founded in 1994 in Sweden by Christian von Koenigsegg, with the intention of producing a "world-class" supercar. Many years of development and prototyping led to the company's first street-legal production car delivery in 2002.
In 2006 Koenigsegg began production of the CCX, which uses an engine created in-house especially for that vehicle. The CCX is street-legal in most countries, including the US. In March 2009 the Koenigsegg CCXR was chosen by Forbes to be one of the most beautiful cars in history. In December 2010 the Koenigsegg Agera won the BBC Top Gear Hypercar of the Year Award.
Apart from developing, manufacturing and selling the Koenigsegg line of supercars, Koenigsegg is also involved in "green technology" development programmes beginning with the CCXR ("Flower Power") flexfuel supercar and continuing through the present with the Agera R. Koenigsegg is also active in development programs of plug-in electric cars' systems and next-generation reciprocating engine technologies.
Koenigsegg develops and produces most of the main systems, subsystems and components needed for their cars in-house instead of relying on subcontractors. At the end of 2015 Koenigsegg had 97 employees in total with an engineering department of 25 engineers led by Christian von Koenigsegg himself.
The Basics
Founder: Christian von Koenigsegg

Founded: 1994, Sweden




Headquarters: Sweden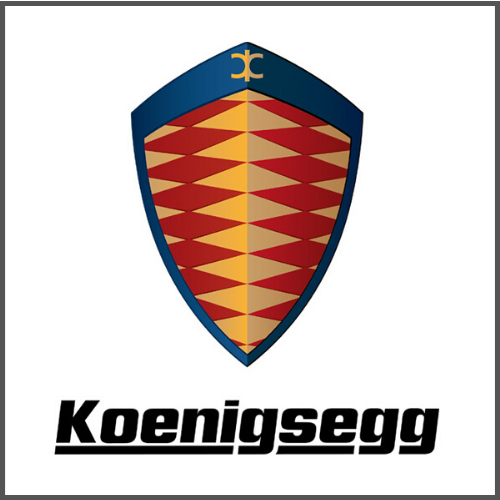 What does the Koenigsegg logo mean?
The Koenigsegg emblem is a shield that based on the Koenigsegg family's own coat of arms since the 12th century. The phantom insignia on the Koenigsegg logo is a tribute to the Swedish air force squadron that operates out of the airbase where Koenigsegg's factory is also located (they use the ghost as their emblem).
Koenigsegg CC (1994)

Koenigsegg CC8S (2002–2003)

Koenigsegg CCR (2004–2006)

Koenigsegg CCX (2006–2010)

Koenigsegg CCGT (2007)

Koenigsegg CCXR (2007–2009)

Koenigsegg CCX Edition (2008)

Koenigsegg CCXR Edition (2008)

Koenigsegg CCXR Special Edition (2008–2009)

Koenigsegg Trevita (2008–2009)

Koenigsegg Quant (2009) Solar Concept



Koenigsegg Agera (2011)

Koenigsegg Agera R (2011–2014)

Koenigsegg Agera S (2013–2014)

Koenigsegg One:1 (2014–2015)

Koenigsegg Agera RS (2015–2018)

Koenigsegg Agera Final (2016–2018)

Koenigsegg Regera (2016–present)

Koenigsegg Jesko (2021–)

Koenigsegg Jesko Absolut (2021–)

Koenigsegg Gemera (2022–
Our weekly email newsletter gives you all the supercar news, reviews, videos, rumors and much more. Only the best cars on the planet.