For VVIPs Only: Latest 'Icona' Series Ferrari is an Absolute Knockout
While the 2021 LA Auto Show (#laautoshow) continues to impress with its showcase of new game-changing cars from the world's automotive heavyweights, Ferrari has decided to host an unveiling event of its very own making. Away from all the noise and fanfare of a hastily packed convention center, Ferrari today revealed its new Ferrari Daytona SP3 on its own terms, and own turf. The latest uber-limited-edition 'Icona' had its covers removed at Mugello circuit, where it was treated to a hospitable reception in front of a Tuscan backdrop during the 2021 Finali Mondiali.
Suffice to say, the Ferrari Daytona SP3 has a lot of really amazing things going for it, not least of which is its status as one of the Prancing Horse marque's 'Icona' models (and the motorsport history that's attached to them). The SP3 becomes the latest addition to a 3-car roster currently occupying this revered (and virtually untouchable) place in the Ferrari hierarchy. It also continues to embody the spirit of iconic sports-prototype racers from the mid-last-century, just as the Ferrari Monza SP1 and SP2 had done before it.
With immediate and total effect, the Daytona SP3 adopts its silhouette from a trio of Ferrari racing cars which participated in the 1967 24 Hours of Daytona—namely the 330P3/4, 330P4 and 412P. Not only was an outright Ferrari victory achieved here—with the cars managing an already notable 1-2-3 finish—but it also served as the ultimate retort for what had transpired at the 1966 24 Hours of Le Mans, where fierce rival Ford Motor Company, had achieved the same result with 3 of their GT40 race cars just a year before.
Design & Philosophy
Now, back to the SP3; the car bears an obvious resemblance and is a modern-but-transparent tribute to those cars, most notably via its muscular wheel arches and mid-engine design. This does more than just harken back to years gone by, as the SP3 is also the most aerodynamically efficient car Ferrari claims it has ever produced. Remarkably, this is achieved without using the more contemporary methods of tacking on large rear wings, aggressive dive planes, eccentric splitters/diffusers and huge air vents on the fenders and bonnet. The Daytona SP3 also happens to feature a Targa-top design with a removable glass roof panel.
In fact, the body of the SP3 is incredibly streamlined and dare I say, minimalist for what it is—it appears this way, at least. Ferrari themselves probably said it better, stating that they intended to "create the impression of a light, radical, structured monolithic volume that lends the Daytona SP3 a look that is both futuristic and a nod to signatures from Ferrari's DNA." This begins with a monocoque chassis built using the latest Formula One technologies—something not done to this degree since the LaFerrari—then applying the most advanced and lightweight materials that can be afforded for a street-legal road car. Translation: all exterior body panels are composed entirely of the most finely-produced carbon fiber, resulting dry weight is 3,275 lbs.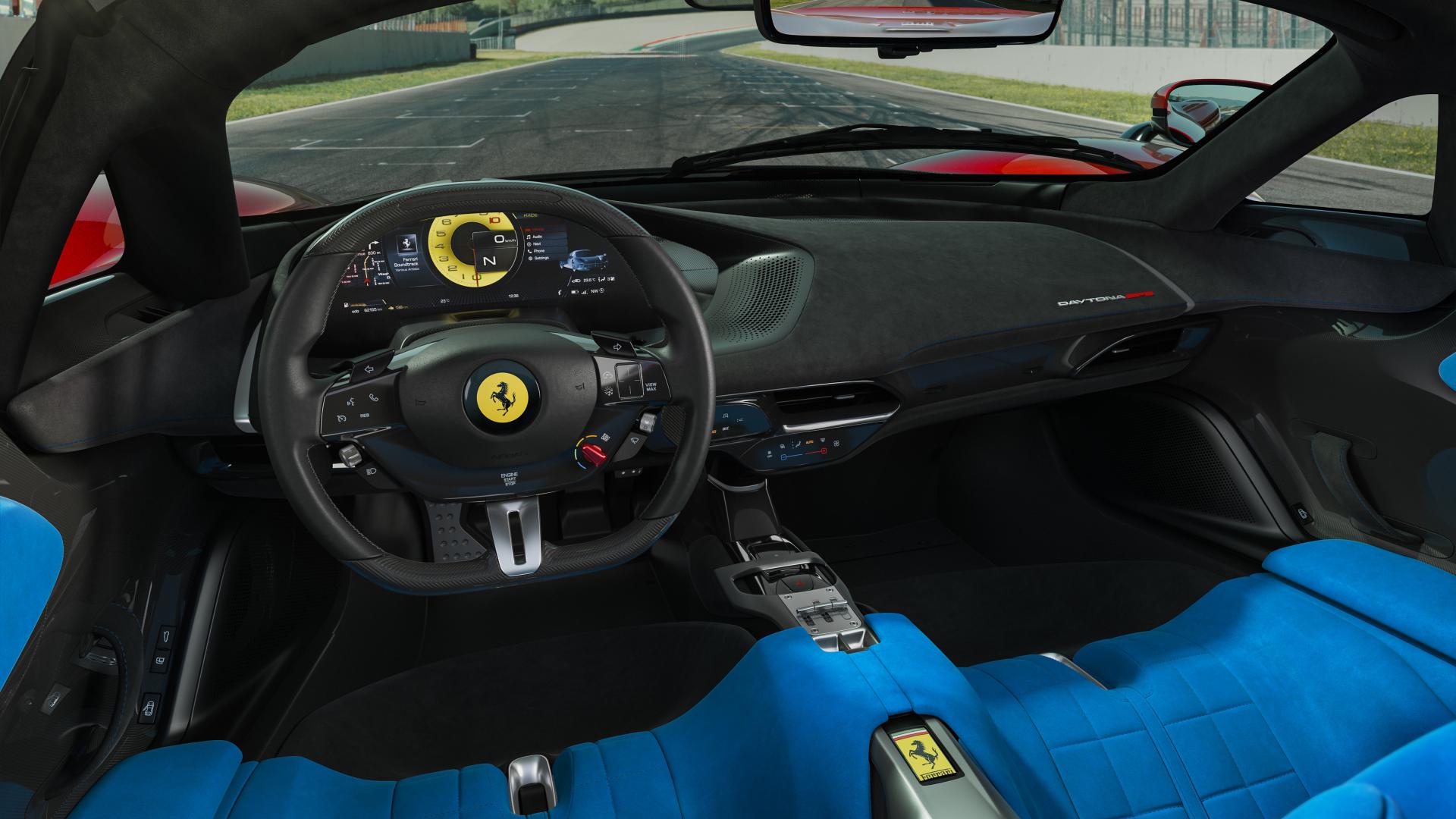 Inside, the same philosophies are applied; retro design elements combine seamlessly with modern technologies. The most interesting feature in the cabin would have to be the seats, which are integrated into the cockpit and have their inner side bolstering fused over the transmission tunnel—another nod to sports cars from the 1960s era. The instrument cluster (and general user interface) is digital, and is indeed the very same one used on the SF90 Stradale hybrid hypercar; after all, a more analog approach on an 829 hp car equipped with Formula One technologies won't do, and Ferrari has to draw the line somewhere, right?
Engine & Performance
If we're honest, this car just wouldn't make a whole lot of sense if it didn't also come equipped with the most powerful (purely combustion) engine the company has ever made. Thankfully, Ferrari understands this as well as anyone else, and they've only gone and done just that, by mid-mounting the spectacular 6.5L naturally-aspirated V12 engine from the 812 Competizione into the SP3. Of course, it also has to make more power than the latter, so upgrades such as titanium connecting rods and a revised direct injection fueling system allow the SP3 to produce 829 hp, versus the mere 819 hp the 812 Competizione is able to muster.
The Daytona SP3 also retains the astronomically-bliss 9,500 rpm redline and mated to the engine is a 7-speed dual clutch transmission which is responsible for sending power to the rear wheels. In all, this allows the car to accelerate from 0-100 km/h in just 2.85 seconds, on its way to 200 km/h in only 7.4 seconds from a standstill.
Pricing & Availability
As for pricing and availability, Ferrari has been unequivocal as one could be without needing to provide any firm figures in terms of costs of production numbers. They've done so by stating that the Ferrari Daytona SP3 is "…aimed solely at Ferrari's top clients and collectors, proud ambassadors for the Prancing Horse marque." In Italian, I think that means it's going to be really, really expensive, and that they'll let you know if you've been selected as one of the very few privileged people on this planet to have a go at owning one. But if we were going to make any guesses here, expect unit production numbers to be in the low-hundreds and a (starting) purchase price in the $2-3 million USD range.
Gallery