2016 RM Sotheby's Monaco Auction
This past weekend was the RM Sotheby's Monaco Auction and there were some tasty items on the auction block. Full auction results can be found here, but we've rounded up the most interesting Supercars.net-worthy cars below: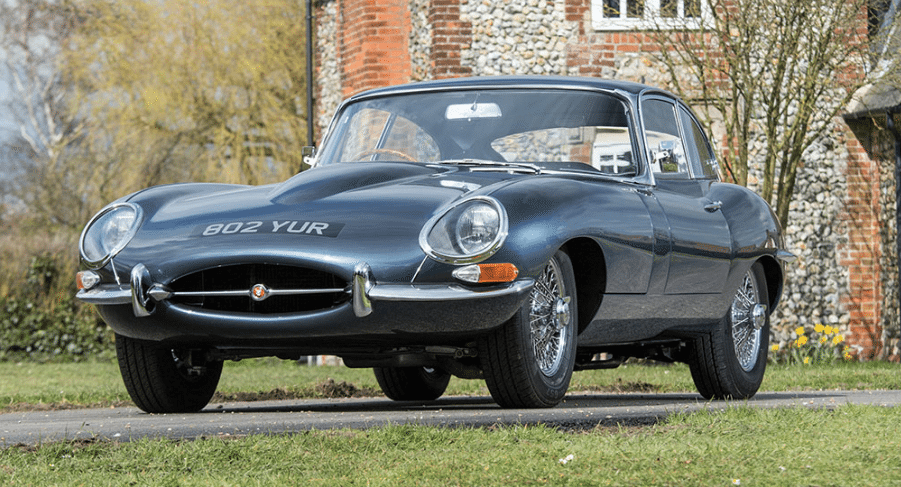 1961 Jaguar E-Type Series 1 3.8-Litre Fixed Head Coupé
Sold for €140,000 | 1961 Jaguar E-Type | All E-Type Posts & Galleries
The 29th right-hand drive fixed head coupé, this Series 1 E-Type was manufactured on 15 November 1961 with the distinctive early flat floor and welded bonnet louvres. Painted in the original Opalescent Dark Blue, it has a complementing navy blue interior. With its fresh engine overhaul, superb appearance and great attention to detail, it is an excellent example of the coveted early Series 1 Fixed Head Coupé, relatively rare in right-hand drive. It is accompanied by a Jaguar Heritage Trust Certificate, attesting to its build configuration, a book detailing the United States restoration and invoices for all work performed since its repatriation to the United Kingdom.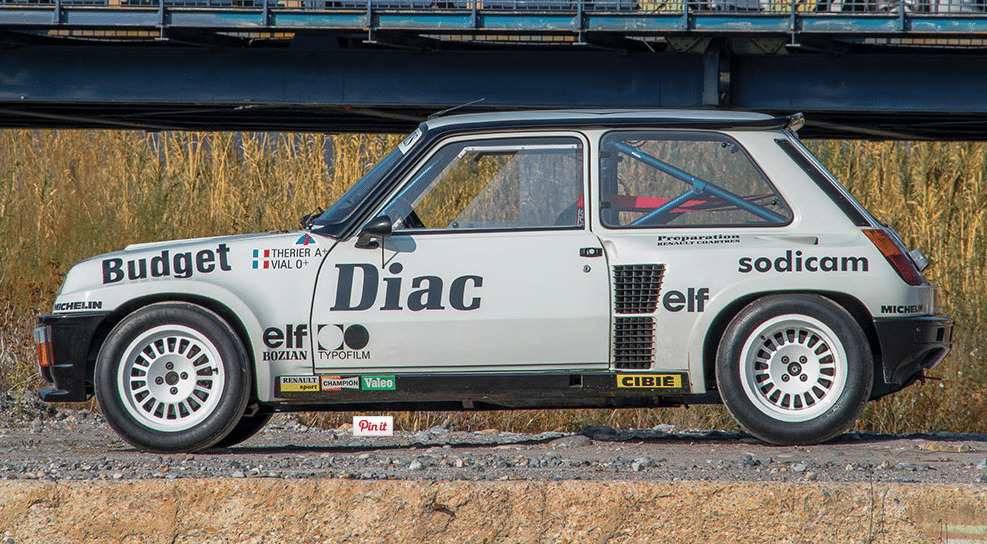 1982 Renault 5 Turbo Group 4
Jean-Luc Thérier, the renowned French rally driver, would compete in a total of 46 World Rally Championship events, earning five overall wins, 10 podium finishes, and 61 stage victories. During the 1973 World Rally Championship, he was the highest-scoring driver, though at the time, no overall drivers' title was awarded, but his Alpine-Renault team did earn the championship. During his career he would race an Alpine-Renault A110 1800, a Renault 17 Gordini, a Porsche 911 SC, as well as this 1982 Renault 5 Turbo.
Chassis B0000454 was delivered in 1982 to Renault Chartres, who were immediately keen to enter events with it. Renault Chartres chose to employ famed rally driver Jean-Luc Thérier to pilot the R5. Since Renault chose to focus their competition efforts on the Formula 1 Championship, though they did offer much technical support to Chartres, this was as close as an R5 came to being a true Works rally car!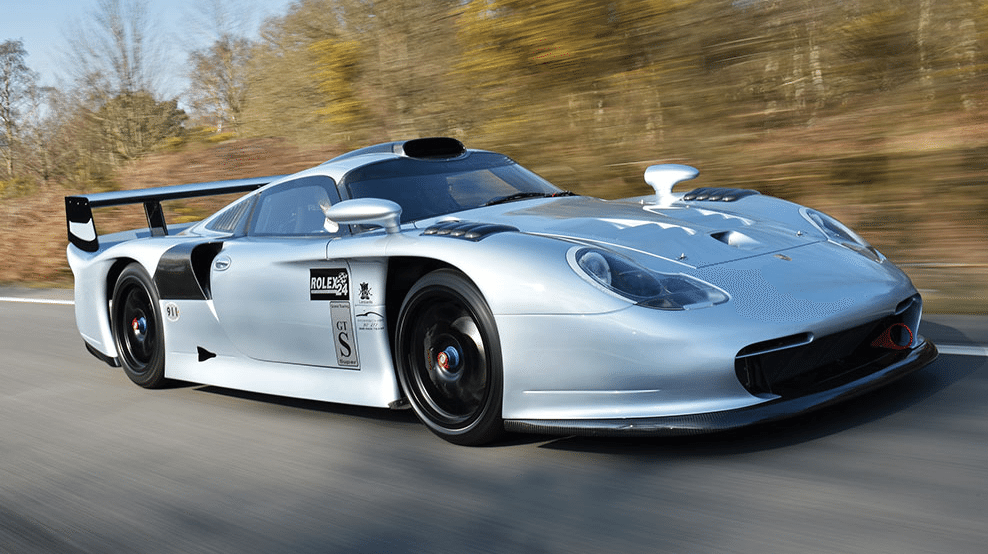 1997 Porsche 911 GT1 Evolution
Sold for €2,772,000 | 1997 Porsche 911 GT1 Evolution | All Porsche 911 GT1 Posts
When international sports car racing experienced a resurgence in the 1990s, Porsche decided to jump back into the fray. Porsche built a new mid-engined car on a composite and steel-tube chassis called the 911 GT1. It was basically a racing prototype that could be detuned, fitted with various comforts, and driven on the street. Although it met the FIA's homologation rules, it infuriated its competitors, who had started with road machines that were extensively modified for racing. This specific GT1 993-117 enjoyed an extensive competition history. The car was fully restored in 2014–2015 by Lanzante Motorsports in the United Kingdom at a cost in excess of £300,000 and has been run for less than two hours since. It appeared at the 2015 Goodwood Festival of Speed in company with Porsche's Le Mans-winning Type 919 Hybrid.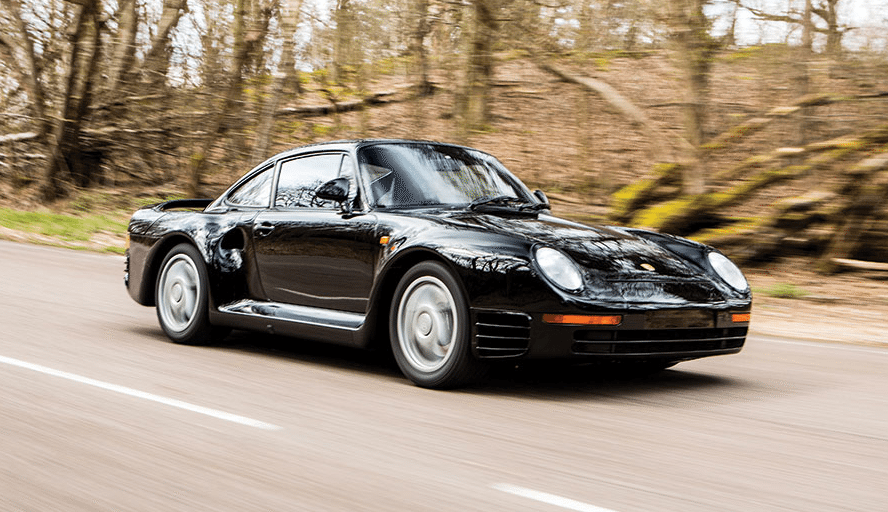 1988 Porsche 959 'Komfort' Stage II
Sold for €896,000 | 1987 Porsche 959 | All Porsche 959 Posts & Galleries | Porsche Videos
Nearly 30 years after the 959's introduction, it still remains a benchmark in automotive history and its performance remains competitive, even against today's incredible crop of sports cars. When considering its incredibly low original mileage, as-delivered colour combination of Black over black, and Stage-2 specification, this example is without a doubt one of the most compelling 959s to come to market in recent year. 585 bhp, 2,849 cc rear-mounted, air- and liquid-cooled, horizontally opposed six-cylinder engine with twin two-stage turbochargers and Bosch electronic fuel injection, six-speed manual transmission, all-wheel drive, independent front and rear double-wishbone suspension with electronically adjustable ride height and shock-absorber control, and four-wheel hydraulic ventilated disc brakes. Delivered new to Germany on 28 October 1988, this particular 959 was one of just three examples originally delivered new in Black and is believed to be the only example with a matching Black exterior and interior.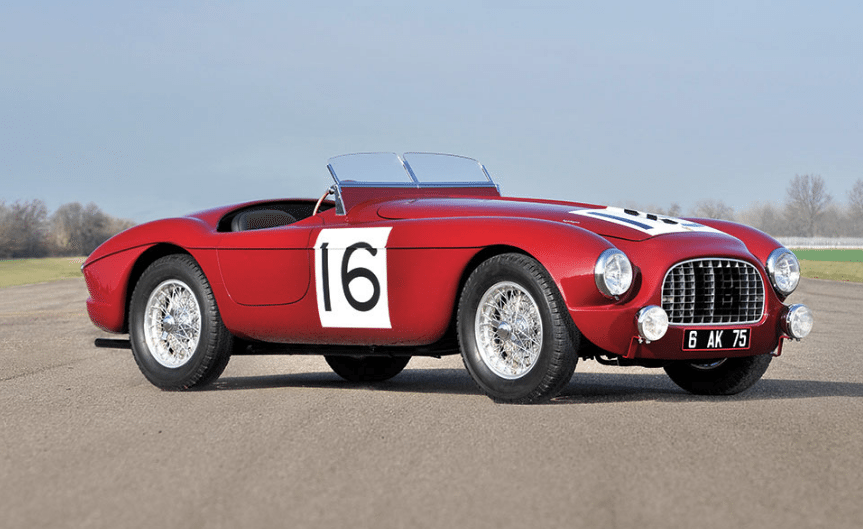 1951 Ferrari 340 America Barchetta by Touring
Sold for €7,280,000 | Ferrari 340 America | All Ferrari 340 Posts | All Ferrari Cars
Assembly of this 340 America Barchetta, chassis number 0116/A, began in January of 1951, with Walter Seghedoni assembling the transaxle, closely followed by assembly of the engine, which was completed in April. Chassis number 0116/A was sold to its first owner, Pierre Louis-Dreyfus, a resident in Paris. Louis-Dreyfus was a regular entrant in the 24 Hours of Le Mans including in this 1951 Ferrari 340 America. In November of 1960, the car was sold to Mr Jacques Alexander Lenglet, a resident of Romainville who traded in his previous daily driver, a Bugatti Type 57SC Atalante. During Mr Lenglet's tenure, he re-registered the car as 9,360 kilometres. Most recently, chassis number 0116/A has been fully restored to its 1951 Le Mans configuration and will certainly continue to be welcomed at the most important historic events worldwide, including the Mille Miglia, Tour Auto, Monaco Historic Grand Prix, and, of course, the Le Mans Classic.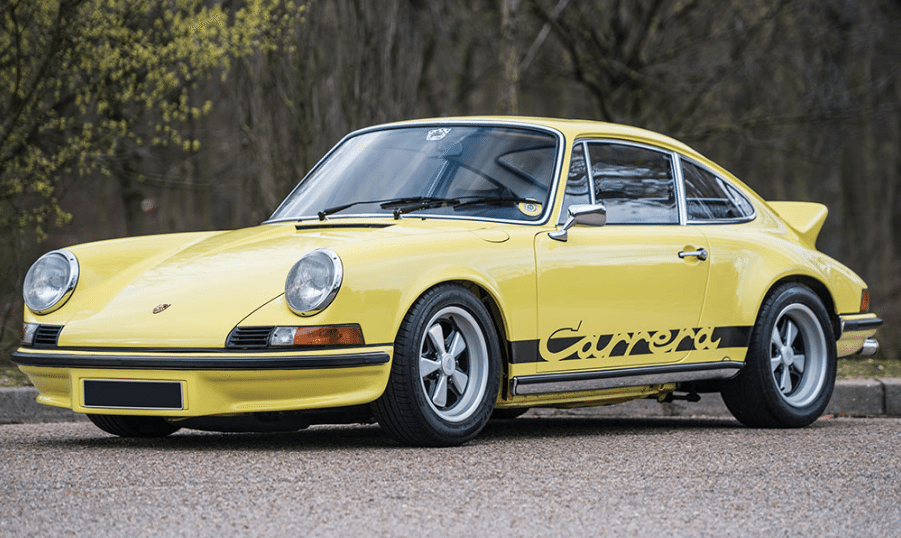 1973 Porsche 911 Carrera RS 2.7 Touring
Sold for €610,400 | Porsche 911 Carrera RS 2.7 Touring | All Carrera RS Posts
Without doubt, the 1973 Carrera RS 2.7 has become one of the most desirable and collectable of Porsche's immortal 911 production cars. This beautifully restored example, chassis number 9113601046, is a later production version that was delivered on 1 April 1973 and shipped to a distributor in Munich. After spending the first part of its life in Germany, the RS made its way to France in 1995, where it was immediately registered with the Porsche Club RS of France. Finished in Light Yellow with an interior of black leatherette with corduroy fabric seat inserts and charcoal velour carpeting, this RS was ordered with several desirable options. This fully numbers-matching Carrera RS has recently enjoyed a complete bare-metal restoration by the same shop that restored the RS belonging to several members of the Porsche Club RS of France. The project was supervised by an eminent Porsche specialist.