Collectively, Porsche is arguably our favorite automaker here at supercars.net, and they are most certainly my personal preference. My fanaticism is born from places far beyond the scope of the Stuttgart automaker's most recent renditions; a storied history of motorsports success and automotive savant-ism are responsible for producing some of the greatest automobiles ever to grace our planet over the past many decades.
I think most of us would agree that the greatest cars are a product of the engines that power them. Now, one would be forgiven for assuming that the greatest Porsche cars—and as such, the greatest Porsche engines—is a shortlist dominated by the Porsche 911 flagship model, but I'm pleased to say that this list we've compiled is a little more diverse than that.
I believe every entry here is no less deserving of recognition than any of the others. Even so, I've thrown in a couple that are bound to be highly controversial too. Hint: one doesn't use petrol, and the other never featured in any Porsche production road cars. Oh no!
Here are the Best Porsche Engines Ever Made.
Porsche M97.74 Engine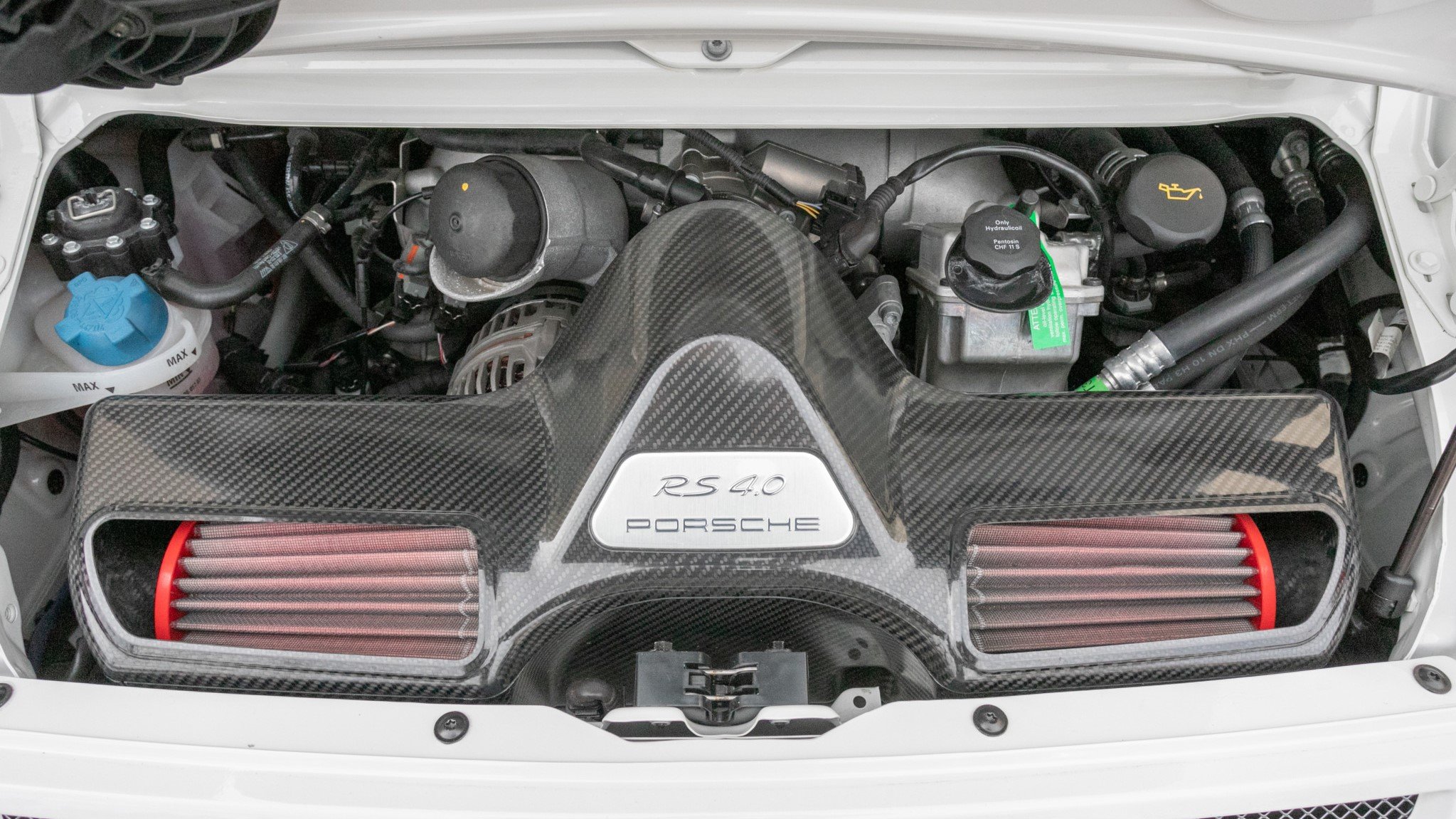 Appearing in the 997.2 GT3 RS 4.0, this truly special engine was the swan song for both the 997-generation (2005-2012) of Porsche 911 cars, as well as the Mezger engine design.
Borrowing a number of components from the RSR race car, the 3.8L engine in the 'regular' 997 GT3 RS was then upgraded to a 4.0L flat-6 (hence the name), which produced 500 hp and 339 lb-ft of torque, while having an astronomical 8,500 rpm redline.
So convincing was this move, even to Porsche's own brass, that the following two generations (991 and 992) of 911 cars would continue to employ the 4.0L naturally-aspirated engine in the GT3 lineup, proving that the 'godfather' RS 4.0 was also well ahead of its time.
With the proliferation of PDK transmissions, amongst other safety-centric technological advancements, many consider the M97.74 and the GT3 RS 4.0 it powered, to be the final rendition of the purists' GT3 RS.
Porsche 980/01 Engine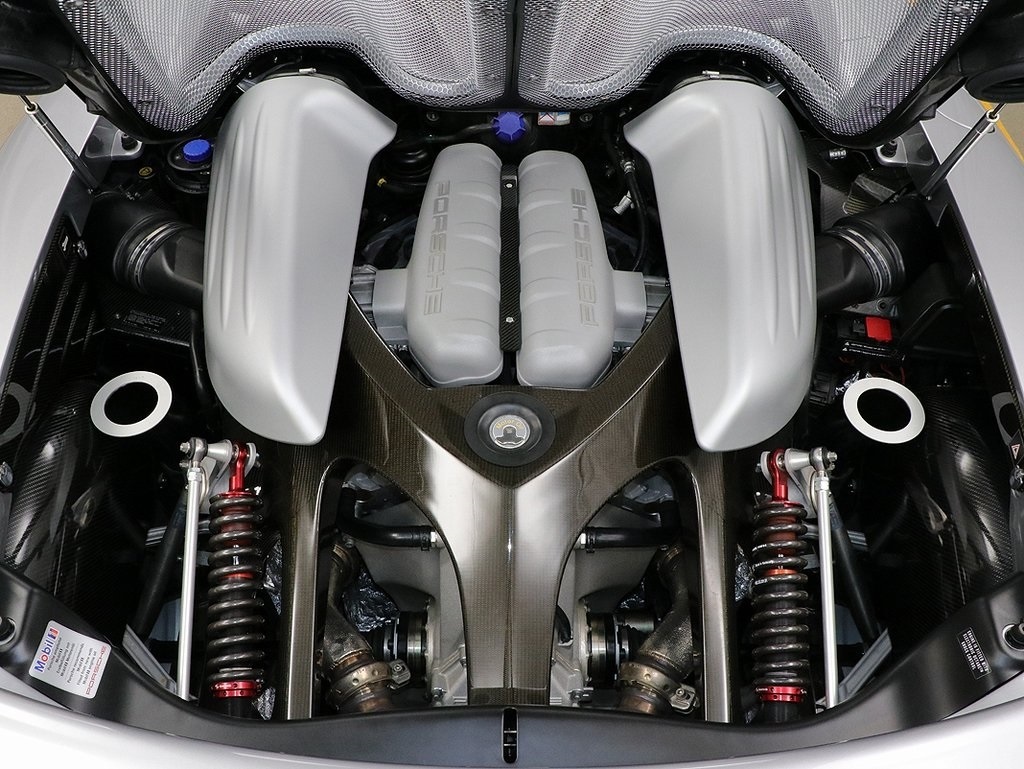 What makes the Porsche Carrera GT engine so special is that it is technically a race car engine. Not in that loosely-based sense—as is often used as a gimmick by salespeople—but in the true sense of the word.
In the late 1990s, Porsche engineers in Zuffenhausen were assigned the task of developing a naturally-aspirated V10 concept engine, which was to later be used in a race car for the infamous 24 Hours of Le Mans endurance race. Sadly, the completion of that race car never came to fruition, but the efforts of the engine builders would not go to waste.
Porsche decided to adapt the engine for use in the Carrera GT. They not only refined the engine to satisfy production car protocols but also managed to make it a more powerful version than the original unit.
The result is a 5.7L naturally-aspirated V10 engine, which produces 612 hp @ 8,000 rpm and 435 lb-ft of torque @ 5,750 rpm. This allowed the Carrera GT to accelerate from 0-60 mph in 3.8 seconds and 0-100 mph in 6.9 seconds, with a top speed of 205 mph.
Porsche MDH.NA Engine
Suffice to say, the 991 GT2 RS is the absolute peak of 6-cylinder performance. The GT2 RS in its entirety is more closely based on a Turbo S than it is to its closest GT relative, the 911 GT3 RS.
After all, at the heart of the GT2 is a revamped version of the Turbo S engine (known as MDH.NA), while the GT3 has its own unique naturally-aspirated 4.0L power plant. The 3.8L flat-6 was fitted with larger variable-geometry turbos and was given an increase in peak boost to 22.5 psi, which is 24% higher than the Turbo S.
Larger intercoolers, a water-spray system, larger exhaust manifold primaries and redesigned pistons work in synergy with the aforementioned to provide the GT2 RS with 700 horsepower @ 7,000 rpm and 553 lb-ft of torque.
Porsche has long buried the traditional notion of "turbo-lag" in its cars with VarioCam Plus, and the GT2 RS is no different, making peak torque from 2,250 rpm to 4,000 rpm. This helped the GT2 RS to a production car record at the Nürburgring-Nordschleife, where it set a lap time of 6:43.300.
Porsche 911/83 Engine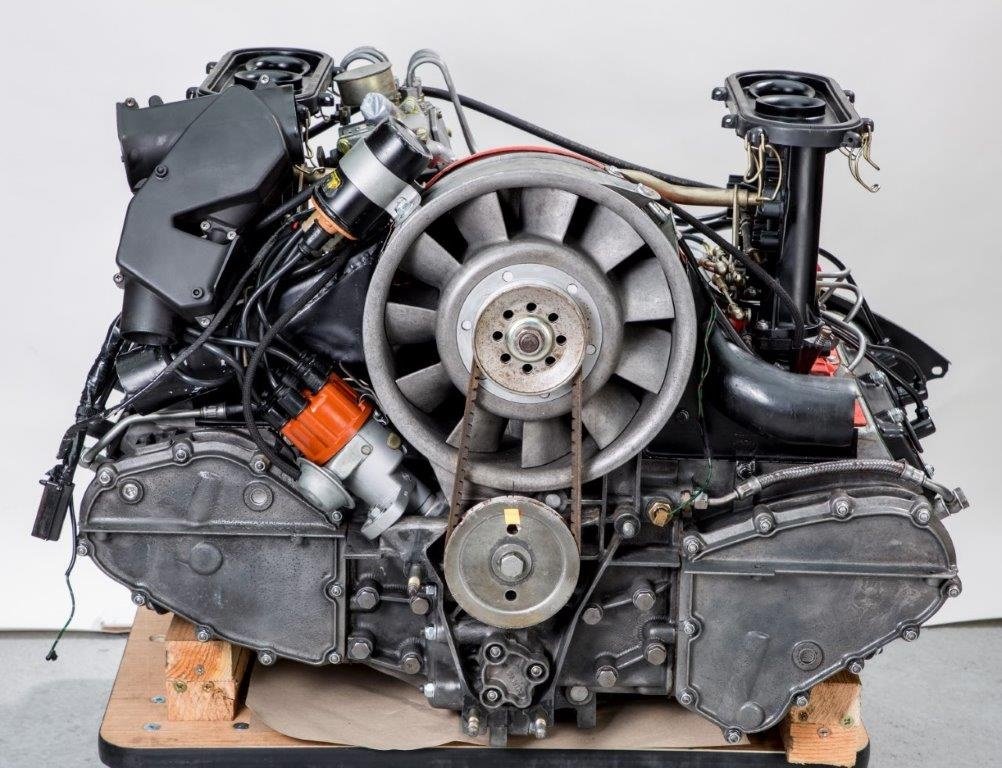 The 911/83 is our lone air-cooled-production-engine entry on this list, and is our pick out of all the amazing air-cooled options out there. Apart from that being in the interest of keeping this list compact and more easily digestible, there's also some good reasoning behind this, as it was responsible for powering none other than the legendary 1973 Porsche 911 Carrera 2.7 RS.
This partnership between the 2.7 RS and its 911/83 engine culminated in the fastest production 911 of its time, and is considered to this day to be one of the best Porsche road cars ever produced.
Made for the purposes of homologation, the 2.7 RS and its 210 hp 2,687 cc engine—benefitting from the experience gained during the 917 racing program—elevated the 911 into the 2,500 cc–3,000 cc racing class, where it could compete with heavyweight opposition such as Ferrari Daytonas and DeTomaso Panteras.
Initially, the 2.7 RS was not legal in the U.S. for anything other than racing use or car shows. As a European-spec road-race car, it lacked virtually all of the emissions equipment required. Fortunately, the EPA would eventually relax emissions standards enough to allow Porsche 911 Carrera 2.7 RS owners to legally drive these cars on public roads, some years later.
Porsche TTE P01 (TAG Turbo) Engine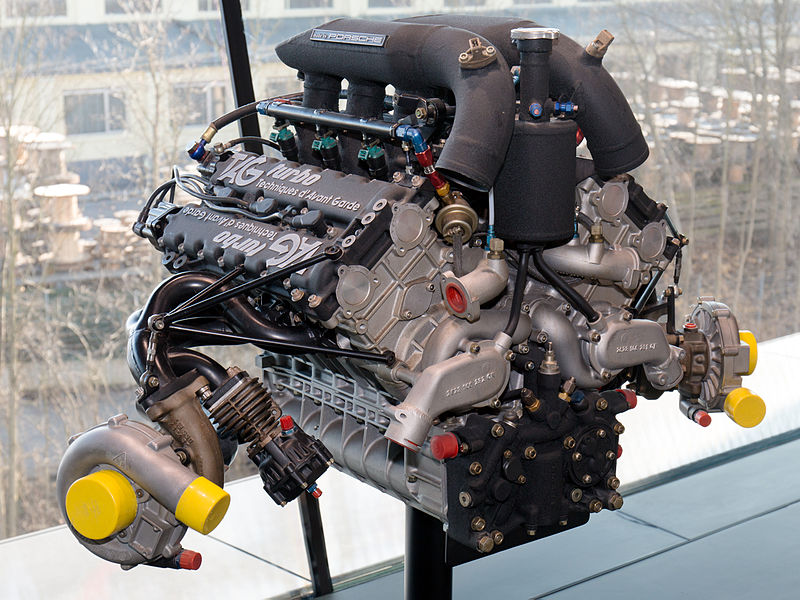 These days, Porsche and Formula One are names that are hardly synonymous with one another; but once upon a time, this was certainly the case. The Porsche-TAG TTE P01 engine—commonly referred to as the TAG Turbo—was an engine developed by Porsche and funded by TAG (yes, that TAG), specially for use by the McLaren F1 team in the mid-1980s.
The TAG Turbo was a 1.5L twin-turbocharged V6 engine which produced anywhere between 750 hp–1,000 hp depending on the selected tune, and was fitted to the McLaren MP4/2 and MP4/3 race cars.
Porsche-philes will be happy to learn that the engine actually did feature in a Porsche 930 Turbo, though this lone example strictly served as a test mule and no production versions of this amalgamation were ever made.
That's probably a good thing, considering that the powerplant could rev in excess of 10,000 rpm, forgoing almost any possibility of it becoming a road-going model—at least one which could be kept compliant within road laws, emission standards and amateur-level driving abilities.
Between 1984 and 1987, the McLarens that were powered by the TAG Turbo would win 3 Drivers' Championships and 2 Constructors' Titles, with race driving legends such as Niki Lauda, Alain Prost, and Keke Rosberg behind their wheels.
Needless to say, Porsche's brief appearance in Formula One is one which provides more than just an easter-egg of a cameo; in fact, their contribution is a pretty significant one.
Porsche Dual Permanent Magnetic Synchronous AC Motors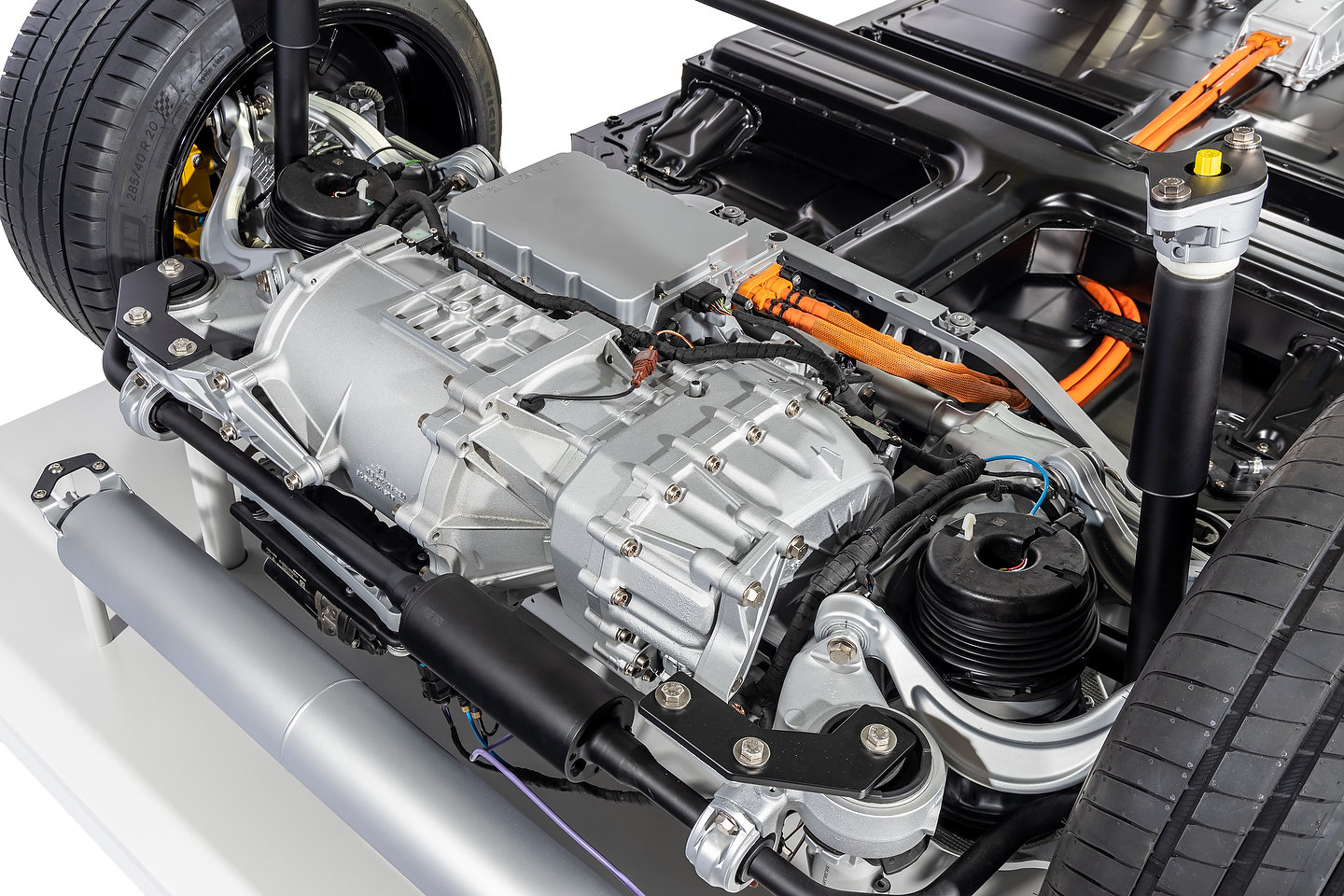 Queue the pitchforks and torches! This isn't your traditional engine (if you can even call it that) but it certainly is about to become a conventional one—and for good reason, so hear me out!
With breathtaking acceleration figures, along with its continuously and instantaneously available power output, Porsche's new EV platform—currently represented exclusively by the Porsche Taycan—embodies everything you would desire in a true sports car.
The top-of-the-line Taycan Turbo S is able to produce up to 750 hp and 774 lb-ft of torque, allowing the car to annihilate the 0-60 mph benchmark in just 2.6 seconds (mind you, this is in a machine that weighs north of 5,000 lbs).
Crucially, with all of that also comes the notion of repeatable performance; the Taycan doesn't suffer from the overheating issues that plague its competitors when the all-electric drivetrain is subject to prolonged racing conditions.
Despite this still being the early days—and the fact that charging the Porsche Taycan can be tricky, due to a lack of charging infrastructure in many places—Porsche's new EV architecture has already established itself as the company's driving force for the future.
While the emergence of biofuels may prolong the combustion engine of some time to come, there is no doubt that this technology will become the basis on which the company stays relevant and competitive going forward.