We Pick Our Favorites. Ranking the 20 Best Rally Cars Ever Created
Whether an avid fan of it or not, I think most automotive racing followers will agree that rally racing demands a unique set of skills and a special mindset from its participants. From the incredible driving techniques on display by the drivers, to the unrivaled levels of bravery from both racers and spectators; there is no other school of motorsport that exudes the freakish combination of rich entertainment value, out-and-out danger, and grassroots charisma, quite like rally racing does.
Ok, so maybe it lacks the prestige of Formula 1 and isn't considered the grand spectacle that is Nascar – but rally racing has more than made up for it by producing some of the finest moments and greatest personalities to have graced the world of motorsport. Of course with that, it has also been forebearer of some of the greatest cars ever made on this planet – many of which can be enjoyed by the mainstream in their road-going forms, making the sport that much more relatable of an experience.
On that note, we present to you our picks for the "20 Best Rally Cars Ever". Included in this list are some epic vehicles which were piloted by some legendary drivers, going on to win multiple championships and accolades. Other cars on the list may have had less pedigree, enjoying  more brief and less trophy-laden stints; nevertheless, leaving a memorable impact thanks to certain outstanding qualities they boasted.
See Also: The Most Awesome Homologation Cars Ever Made
Greatest Rally Cars List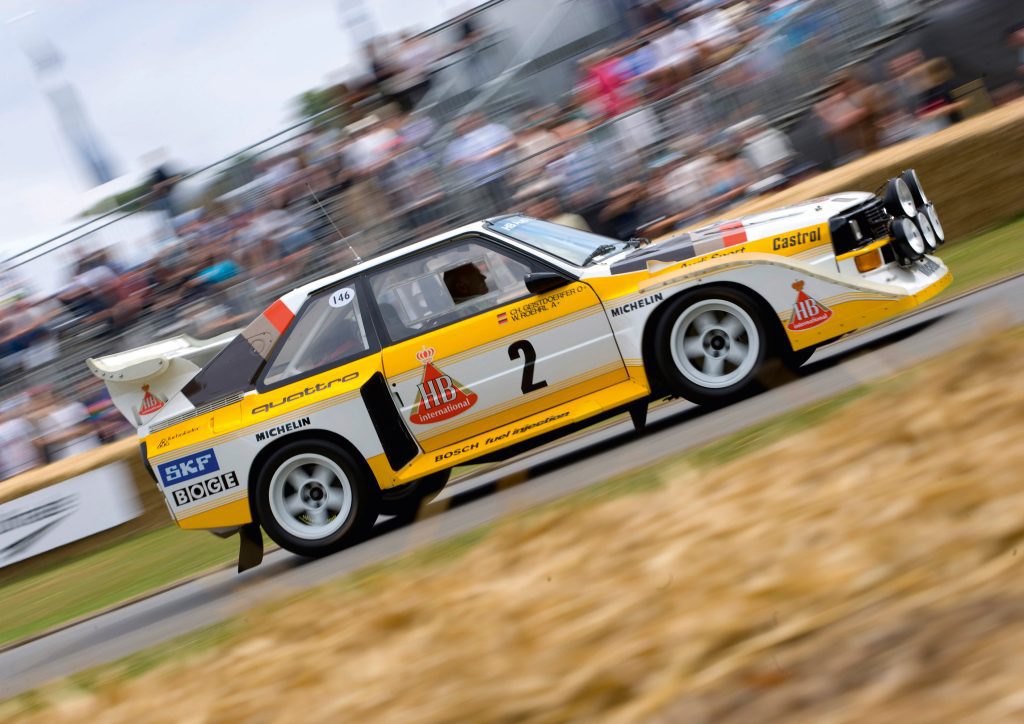 1. 1985 Audi Sport Quattro S1
Engine: 2.1L Inline-5 / Power: 540 bhp / Torque: 435 ft-lbs / Drivetrain: Quattro AWD / 0-60 mph: 3.1 sec / Notable driver(s): Michele Mouton, Walter Röhrl, Hannu Mikkola
Audi debuted its new and improved version of the Sport Quattro S1 at the 1000 Lakes Rally in August 1985. To say that the car was ahead of its time, is perhaps a huge understatement.
The Audi Sport Quattro S1 improved on the unique 2.1L inline-5 power plant which now produced a factory-stated 470-horsepower. However, the true power input was believed to be in excess of 500-horsepower since the turbocharger was complemented with a recirculating air system which also reduced turbo lag.
The enhanced engine – in conjunction with the weight reduction and revised aerodynamics – propelled the car from 0-100 km/h in a staggering 3.1 seconds. What supercars are doing today, the Sport Quattro S1 was doing in the mid-'80s. The speed, acceleration, and traction of the car would unsurprisingly, be its biggest claim to fame.
During some rally races, certain examples of the Audi Sport Quattro S1 were equipped with a then-experimental version of the dual-clutch automatic gearbox. Thus, the very first iteration of what is now commonly known as DSG (direct-shift gearbox) or PDK (Porsche doppelkupplung), can trace its beginnings to the Sport Quattro S1.
Learn more about the 1985 Audi Sport Quattro S1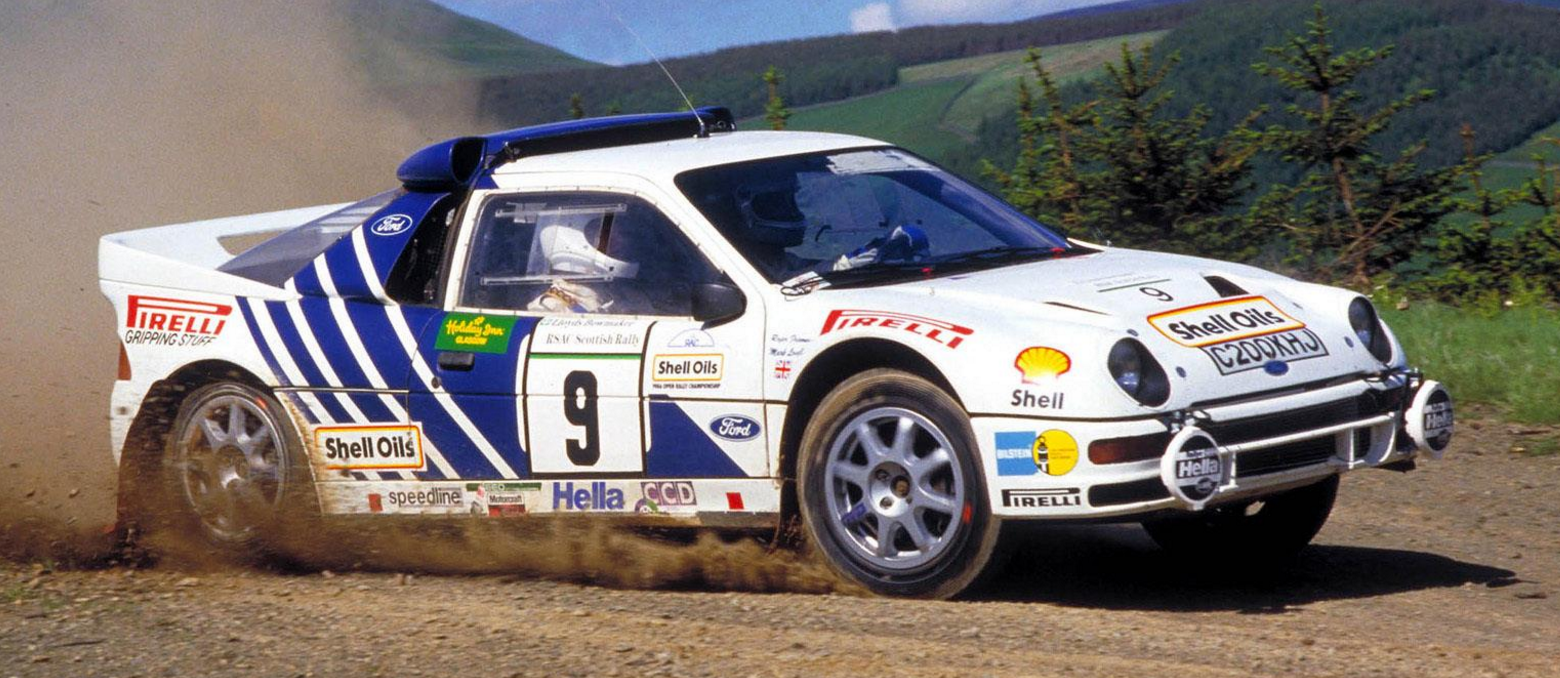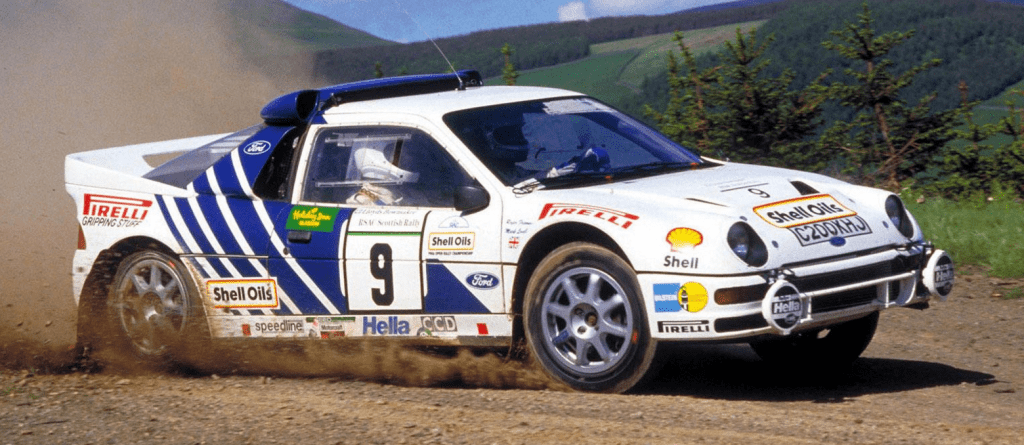 2. 1986 Ford RS200 Evolution
Engine: 2.1L Inline-4 / Power: 580 bhp / Torque: 400 ft-lbs / Drivetrain: 4WD / 0-60 mph: 3.0 sec / Notable driver(s): Stig Blomqvist
For years, many people were baffled when they opened up the Guinness Book of Records and discovered that the world's fastest accelerating car was a none other than a Ford – and a curiously small, almost goofy looking one which looked like nothing made on American soil.
That's because the RS200 was a homologation special produced by Ford of Great Britain. It was specifically designed as Ford's first four wheel drive contender for the radical Group B class rally racing, but a minimum number of road-certified examples had to be made to meet homologation requirements.
Since the best in the business came out to help Ford, including chief engineer John Wheeler and Tony Southgate, the RS200 Evolution represented the absolute pinnacle of modern racing development. While over 200 standard RS200s were made, only 24 Evolution models were produced to stay ahead of the competition. These included a special BTD-E 2.1 liter engine equipped with a massive turbo to the effect of 580 bhp.
However, the resulting four wheel drive monster was 'the fastest accelerating car in the world', and as driven by Stig Blomqvist, a RS200 Evo achieved the 0-62mph (100kph) Guinness world record time of 3.07 seconds, a figure that stood for twelve years!
Learn more about the 1986 Ford RS200 Evolution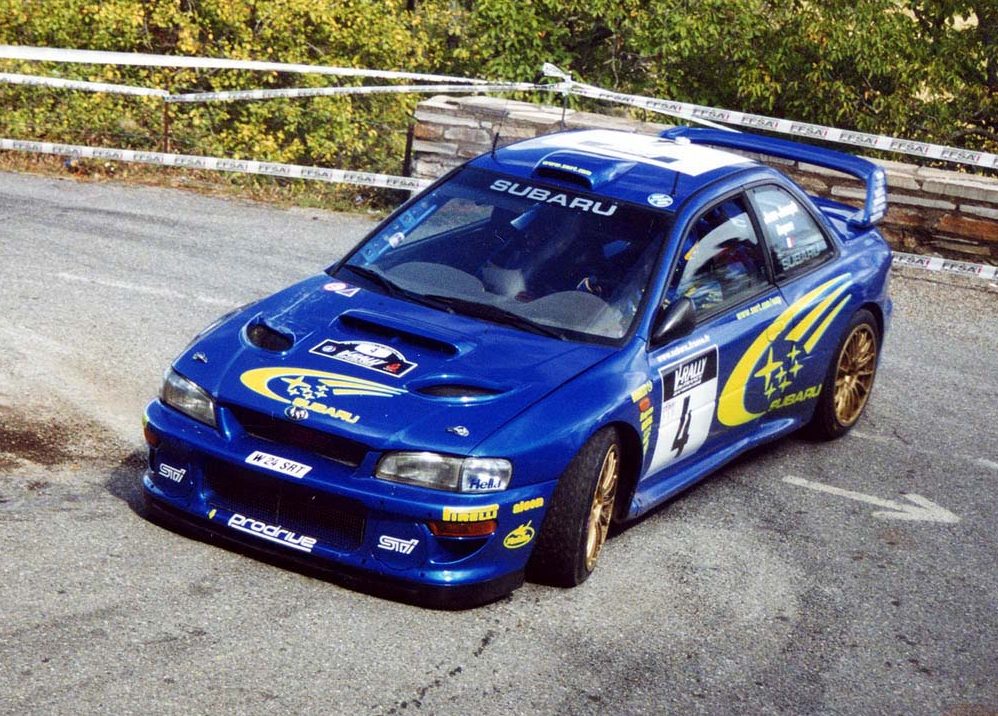 3. 1997 Subaru Impreza S3 WRC
Engine: 2.0L Boxer-4 / Power: 310 bhp / Torque: 367 ft-lbs / Drivetrain: 4WD / 0-60 mph: 5.0 sec / Notable driver(s): Colin McRae
The Subaru Impreza S3 WRC and Colin McRae are the dynamic duo of rally racing. Forging one of the most iconic partnerships in World Rally Championship history, they would go on to become the darlings and most recognized figures of the sport. As a replacement for the Impreza 555, the S3 WRC was created for the 1997 season, which coincided with the FIA overhauling the rules and formatting for the new stage of World Rally Car competition.
Across the board, teams were allowed more design freedom and less restrictions when it came to matters such vehicle width, suspension geometry, aerodynamics, intercooler capacity and engine modifications. Amongst the host of notable redesigns, were new camshafts, cylinder ports and combustion chambers. The 310 bhp, 367 lb-ft of torque, 2,712 lbs rally machine was ready for its new master.
While McRae couldn't repeat some of his previous personal feats – as he did when he drove the Group A Subaru Legacy, and the Subaru Impreza 555 after it – the S3 WRC would arguably become the more memorable of the machines he drove from the Japanese automaker. This is because his epic rivalry with Mitsubishi's Tommi Mäkinen (and the Evolution IV) really put the spotlight on his exploits, and it would ultimately be the last he would pilot before moving over to the Ford Rally Team in 1999.
Although he never finished first in the drivers' standings with the S3 WRC, his successes and some epic performances were enough to see that Subaru completed a run of three consecutive Manufacturers' titles.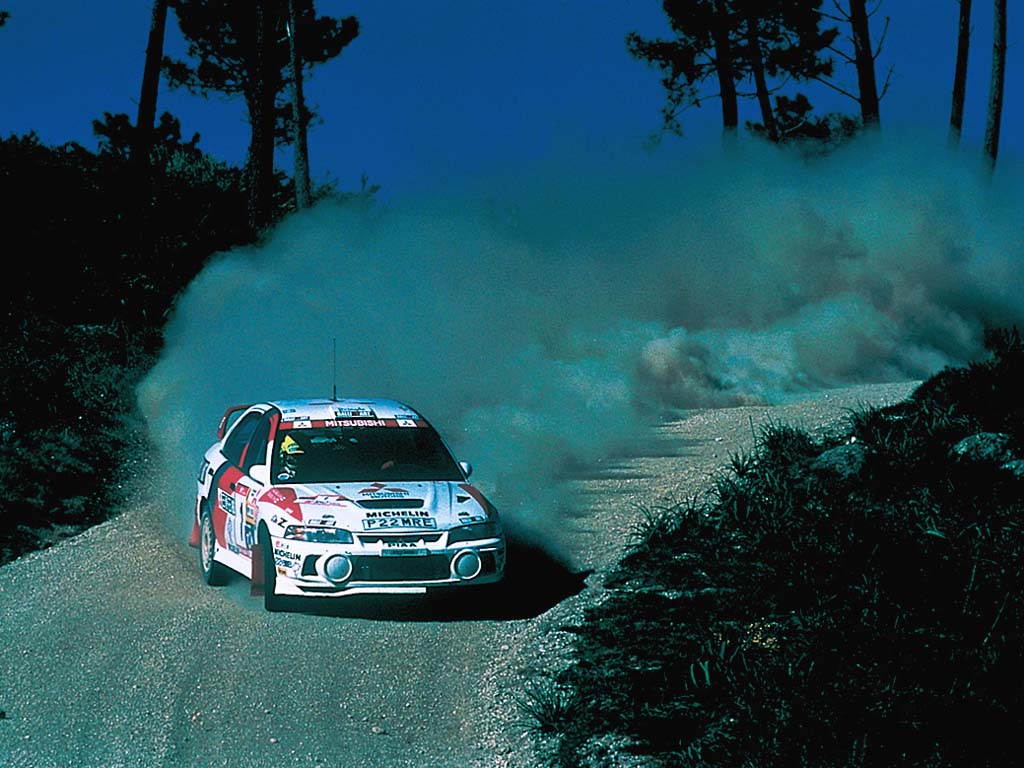 4. 1997 Mitsubishi Lancer Evolution IV
Engine: 2.0L Inline-4 / Power: 280 bhp / Torque: 369 ft-lbs / Drivetrain: 4WD / 0-60 mph: 5.5 sec / Notable driver(s): Tommi Mäkinen
Mitsubishi's Lancer Evolution IV reflected four years of Lancer development. Lessons learned in each year of racing were adopted into newer versions. This rapid development was necessary for Mitsubishi to stay ahead of the competition. At the 1997 Monte Carlo event, the Evolution IV made its debut.
New, more flexible regulations allowed competition such as Ford Escort, Subaru Impreza and Toyota Corolla to enter the championship. These new WRC regulations were introduced by the FIA. They permitted modification of the suspension, transmission, intake tract, exhaust and engine position. Mitsubishi embraced these new rules by adding an INVECS sequential gearbox and relocating the engine for better weight balance.
Driver Tommi Mäkinen would again prove to be key in the success of Mitsubishi's rally program. With him behind the wheel, the Evolution IV performed well right out of the gate, winning in the Portugal Rally and in Catalunya. One of the harder to forget moments during his tenure in charge of the car would be when he collided with a cow at the Tour de Corse, before rolling down a cliff.
He took the WRC Drivers' Championship for the second time in a row, with Mitsubishi claiming 3rd in the WRC Manufacturers' Championship.
Learn more about the 1997 Mitsubishi Lancer Evolution IV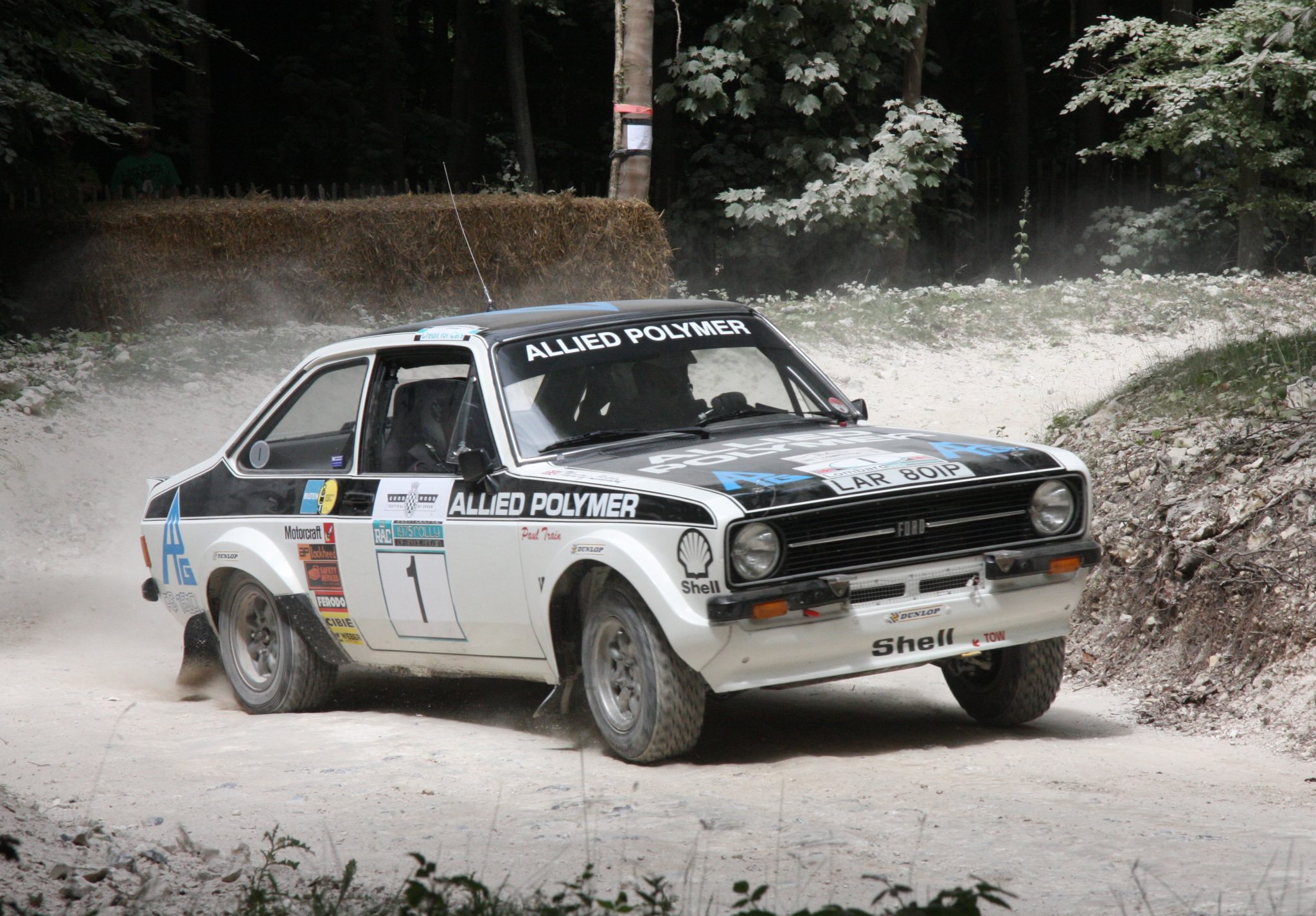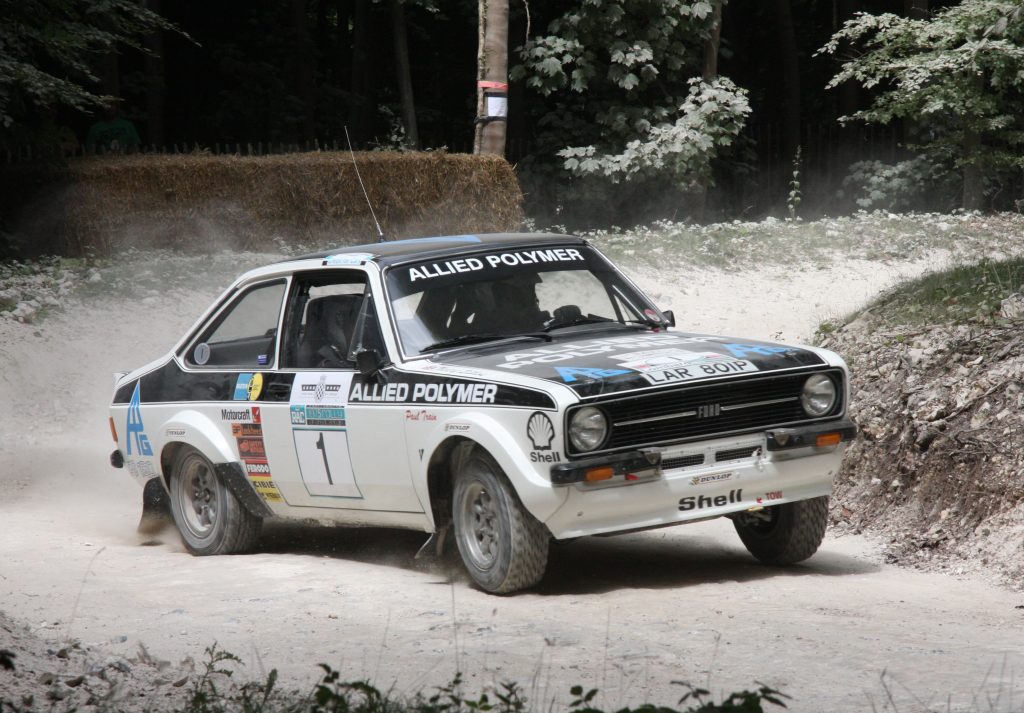 5. 1975 Ford Escort RS1800
Engine: 1.8L Inline-4 / Power: 115 bhp / Torque: 126 ft-lbs / Drivetrain: RWD / 0-60 mph: 8.2 sec / Notable driver(s): Hannu Mikkola, Ari Vatanen, Björn Waldegård
Most people probably don't know that Ford has been around in rally racing almost as long as it has in any other format of motorsport. The Ford Escort represented the American automaker's first real foray into the off-roading landscape, and arguably its most successful too. Beginning with the Ford Escort RS1600, the car eventually evolved into the RS1800 and enjoyed a healthy spell of dominance in competition throughout the 1970s.
This started after Hannu Mikkola was crowned champion of the World Cup of Rally in 1970 and garnered enough momentum for him to become the first foreign/European driver to win the East African Safari Rally in 1972. The RS1800s would continue to seal a number of title-winning runs late into the 1970s, with an expanded ensemble which also included drivers Ari Vatanen and  Björn Waldegård.
The Ford Escort RS1800 came with a naturally aspirated 1.8L Cosworth BDE engine, a five-speed ZF gearbox and five-link suspension system. Compared to the road-going version, the chassis was heavily reinforced and featured wider wheel arch extensions which differentiated it most easily from the regular car. Four large spotlights were also fitted for night stages. While not overly remarkable on paper, even for its time, the car's undisputable success was an important foundation in Ford's tenure in rally motorsport.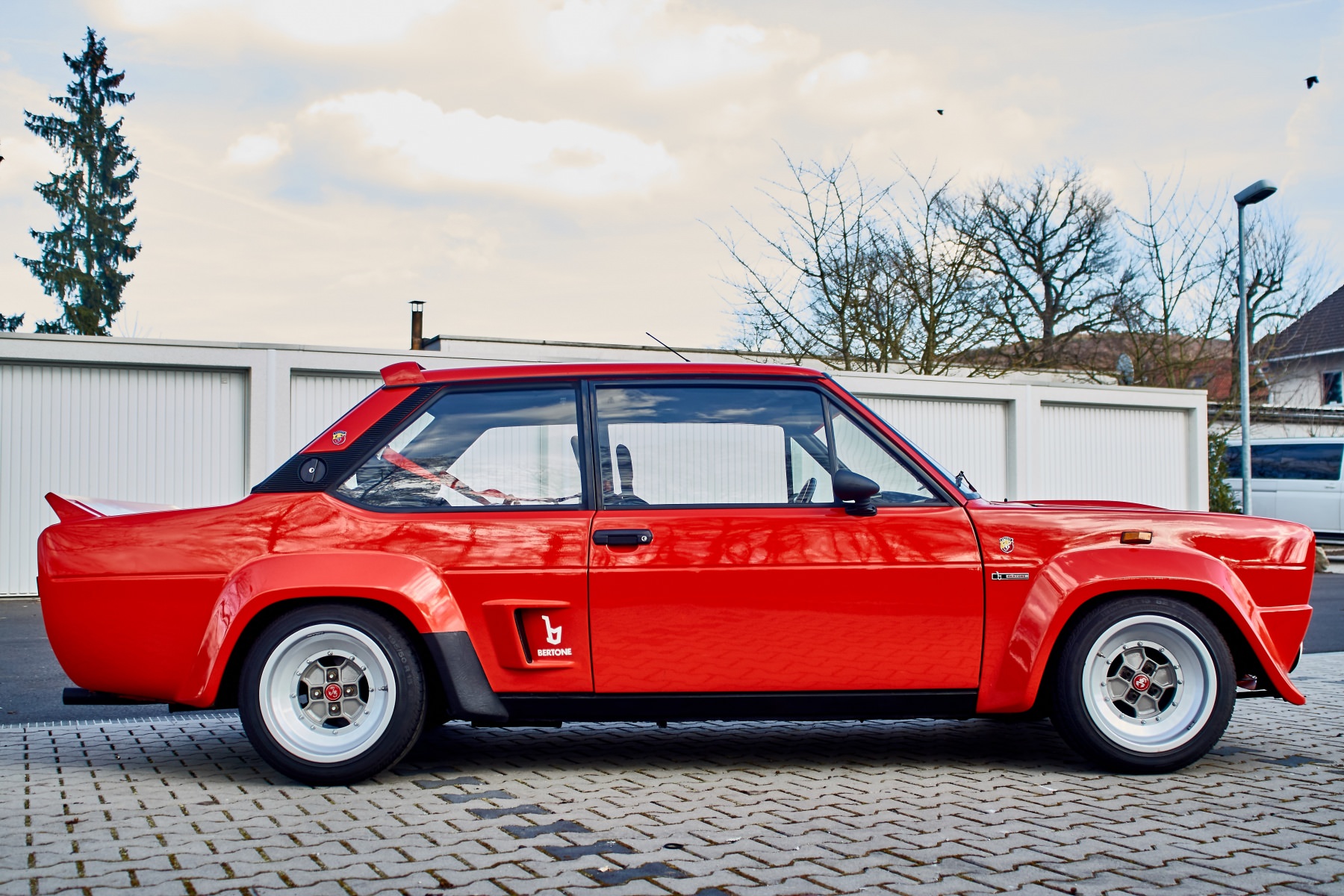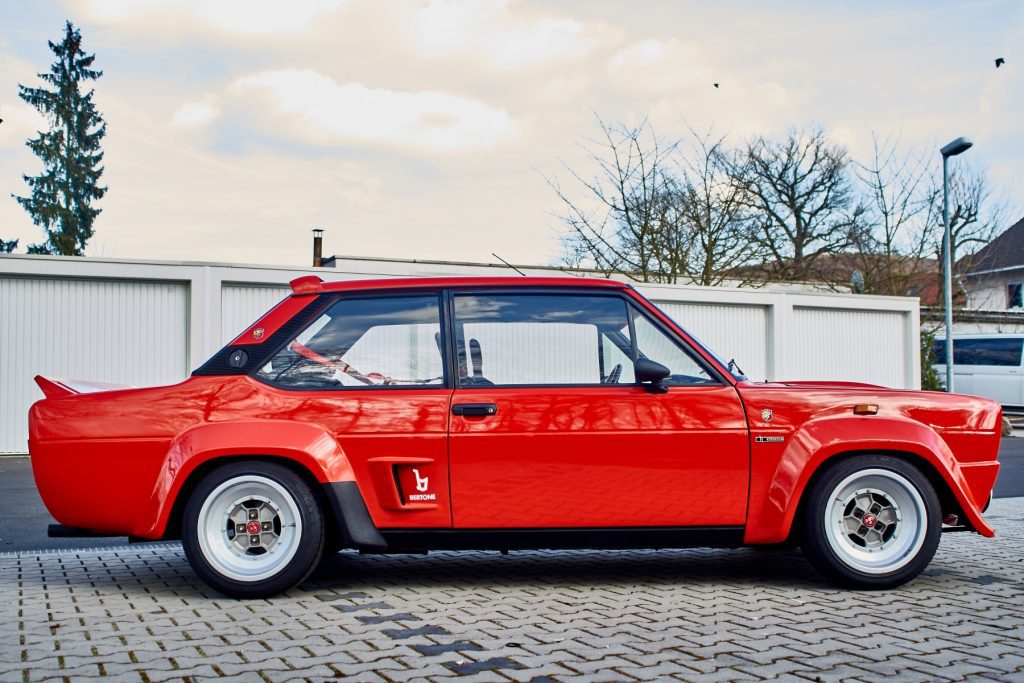 6. 1976 Fiat 131 Abarth
Engine: 2.0L Inline-4 / Power: 140 bhp / Torque: 130 ft-lbs / Drivetrain: RWD / 0-60 mph: 7.8 sec / Notable driver(s): Markku Alen, Walter Röhrl
The Fiat Abarth 131 exudes the best elements of rally history. For one, it tells the story of a very ordinary economy car turned giant killer and rally champion almost overnight. In 1946, Fiat produced 400 road-going examples of the 131 Abarth for homologation purposes and began competing right away in the World Rally Championship which it would go on to win 3 times in 4 years (1977,1978 and 1980).
Despite its instant success, taking a car from its family-friendly roots to become a rally machine was no easy feat – it was at no point, a car that had a natural path to evolution into a high performance, off-roading car. If it did have anything going for it, the car was Fiat's only RWD platform, so it was what they were going to have to work with at the end of the day. But in cooperation, Fiat, Bertone and Abarth got it done, and got it done well.
Starting with the chassis, the car was made more rigid from the ground up with disc-brakes on all four corners, and a fully independent suspension with MacPherson struts bringing it all together. The engine was upgraded to a 2.0 Inline-4, 16-valve unit which produced 140 hp and was mated to a 5-speed manual transmission.
In charge of the bodywork, Bertone transformed the appearance of the car into one which certainly had the required rally car credentials – among the changes that were done included wider wheel arches, a large front air dam, roof/trunk spoilers and extra air inlets. Weight saving measures were also employed on many of the body panels with the extensive use of fibreglass, while plexiglass was fashioned for the side and rear windows.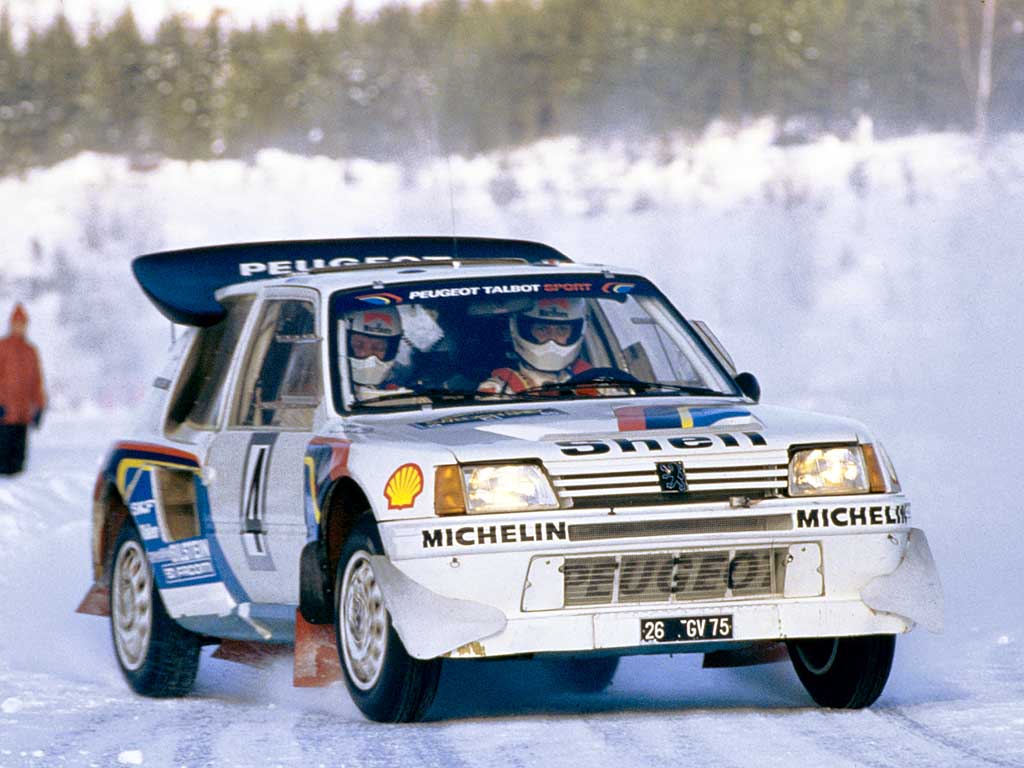 7. 1985 Peugeot 205 T16
Engine: 1.8L Inline-4 / Power: 460 bhp / Torque: 361 ft-lbs / Drivetrain: 4WD / 0-60 mph: 4.5 sec / Notable driver(s): Ari Vatanen, Timo Salonen, Juha Kankkunen
In the early 80s, rallying had a much different pace than it does today. A new category called Group B was created in 1983, which was intended for manufacturers to show off their engineering prowess with few rules or restrictions on design specifications.
Such an environment proliferated many 500+ hp competitors, which was far faster than even the modern day WRC car. The biggest requirement for Group B homologation  was the production of 200 road-going examples. 'Evolution' versions only required twenty cars for the same. Soon enough, performance and speed exponentially increased and elaborate aerodynamic solutions would be necessary to keep the cars on the track.
Under the direction of Jean Todt, the Peugeot 205 T16 became the new king of the hill. After a successful introductory season, Peugeot took the 1985 and 1986 Manufacturers' title. Among the competition was the Lancia Delta S4, Ford RS200, Austin-Metro 6R4 and the Audi Quattro S1.
Group B racing came to an end in 1986 after an unfortunate accident involving a Lancia Delta S4. Sadly, Lancia lead driver, Henri Toivonen and his co-driver, Sergio Cresto, were killed in a high-speed incident while racing. After the cancellation of Group B, Peugeot used much of the experience they had gained to develop the 205 T16 for the Paris-Dakar Rally.
Learn more about the 1985 Peugeot 205 T16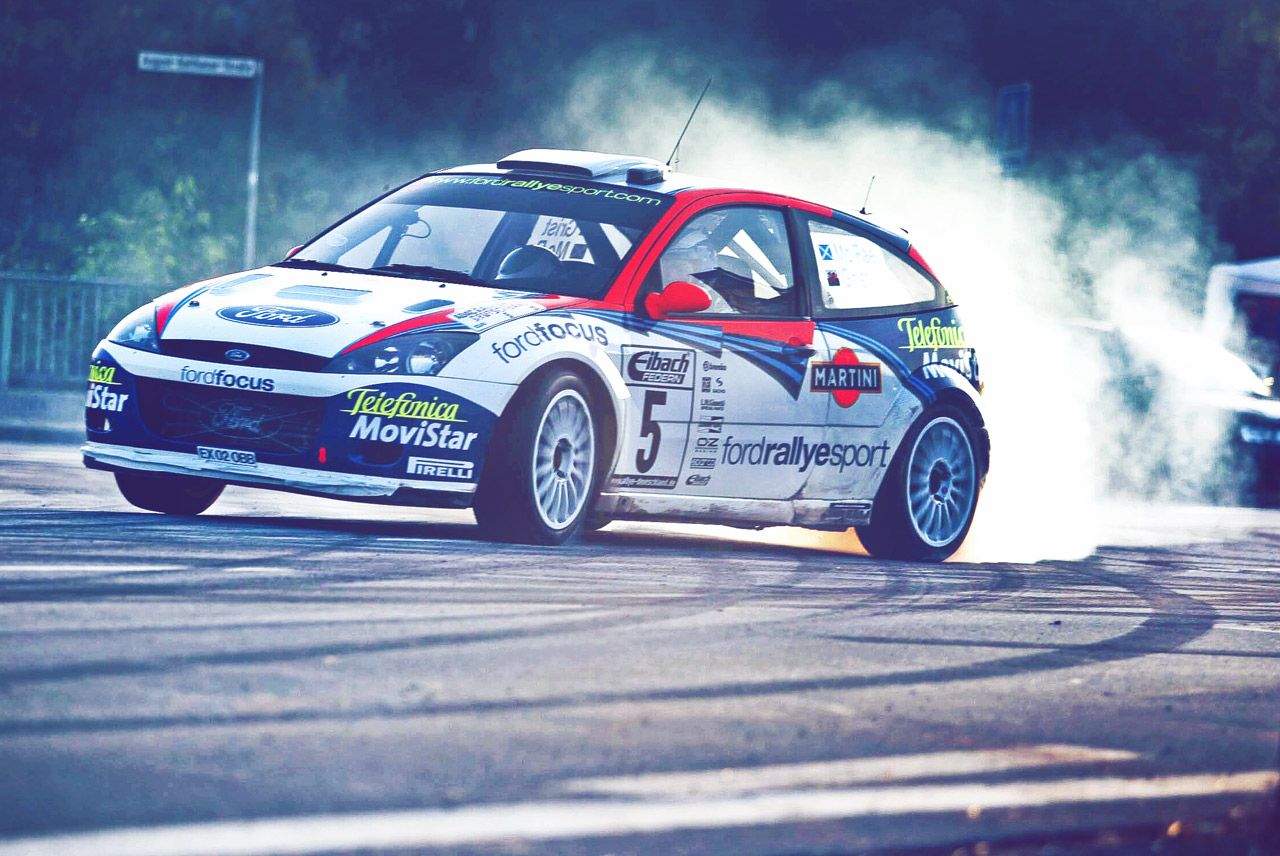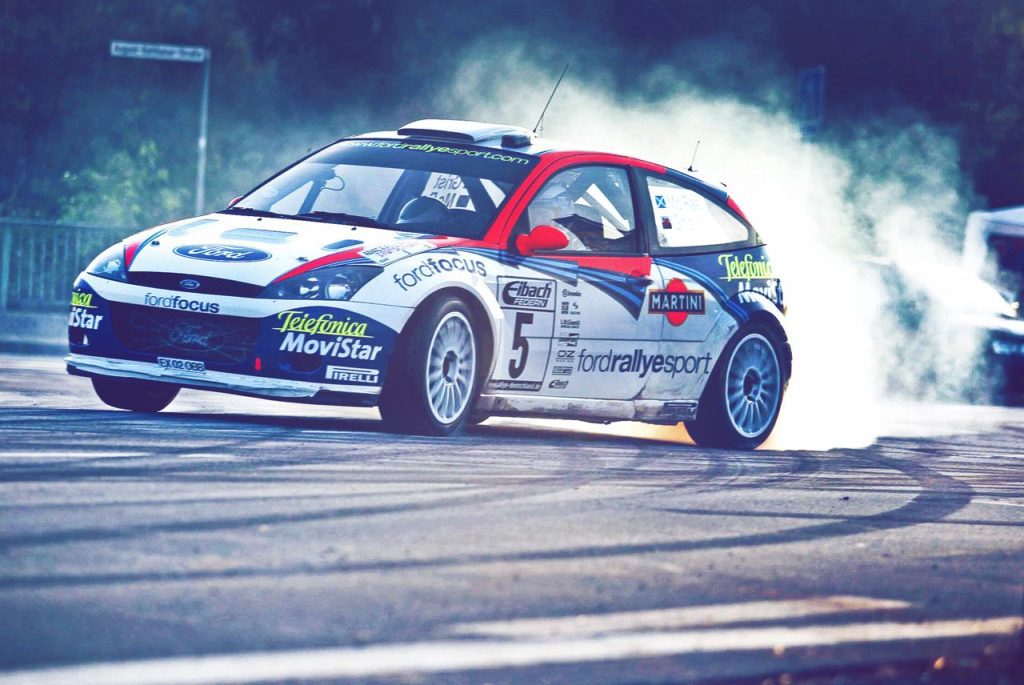 8. 1999 Ford Focus WRC MK1
Engine: 2.0L Inline-4 / Power: 300 bhp / Torque: 406 ft-lbs / Drivetrain: AWD / 0-60 mph: 4.2 sec / Notable driver(s): Colin McRae, Carlos Sainz, Simon Jean-Joseph
This car would happen to be the first iteration of the Focus model used by the Ford factory team in the WRC, making its debut in 1999 at Monte Carlo. Seemingly complacent for years leading up to the release of the new Focus WRC MK1, Ford decided that this was the season that they would be going all out on the rally circuit, allocating a healthy budget towards the project and hiring the among the absolute best in the business; drivers Colin McRae and Carlos Sainz, no less.
The Focus project also allowed Ford to design the rally car starting with a clean slate, as the WRC MK1 shares no parts with its predecessor nor its road-going version. Apart from the body shell, everything on the car was reimagined for the purposes of competing at the highest echelons of rally racing, while complementing the capabilities of its world class drivers. Many of the designers and engineers of the Focus WRC MK1 joined the team with no shortage of experience or technical acumen, having had stints with other successful rally outfits.
Right off the bat, the car and its ensemble were ready to rock. After a tumultuous start to the campaign however, where stewards had deemed the car violated rules regarding its water pump setup, the car was deemed inadmissible. However, an appeal to the FIA, along with a rally of support from competitors, had allowed the car to debut at Monte Carlo afterall.
Colin McRae managed to finish 3rd overall, while a second car driven by Simon Jean-Joseph finished in 11th. Not a bad start for a debutant and more importantly for Ford, just the beginning of more good things to come. Over the next 3 years, the car would go on to achieve 11 WRC victories, with McRae or relative newcomer, Carlos Sainz at the wheel.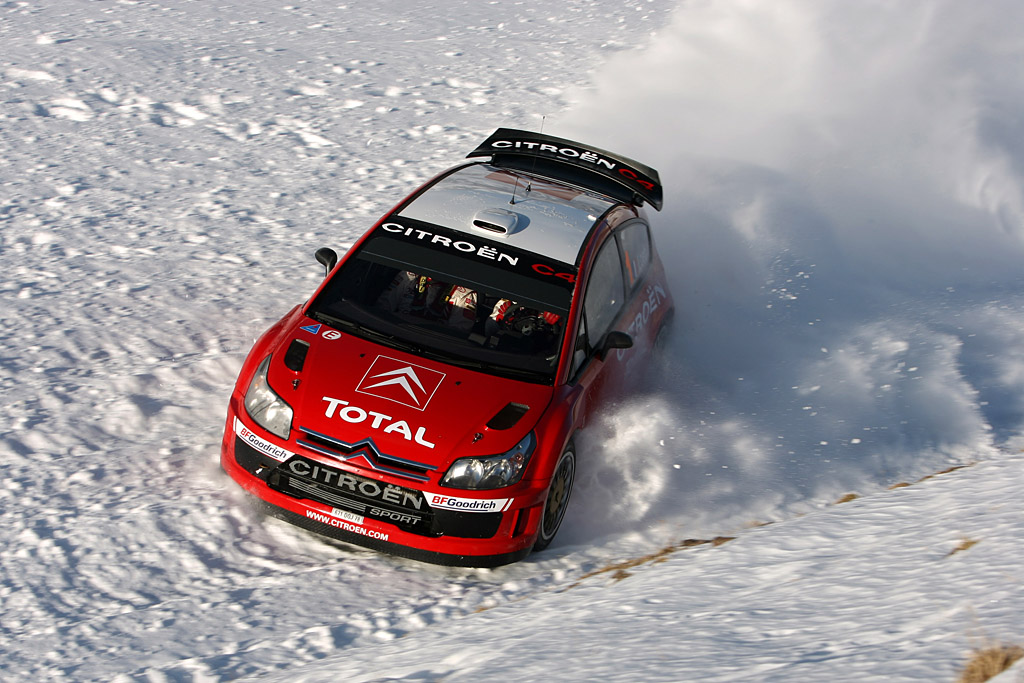 9. 2007 Citroen C4 WRC
Engine: 2.0L Inline-4 / Power: 315 bhp / Torque: 419 ft-lbs / Drivetrain: AWD / 0-60 mph: 4.0 sec / Notable driver(s): Sébastien Loeb, Dani Sordo, Sébastien Ogier
Before making its debut in the 2007 World Rally, it was one of the main attractions at the 2006 Paris Motor Show. The C4 was a replacement for the outgoing Xsara WRC, which won three world manufacturers; crowns between 2003 and 2005. In the expert hands of Citroen Sport's engineers at the Versailles Satory, the Citroen C4 Sport road-going concept car evolved into the Citroen C4 WRC.
Although the overall styling was maintained, the car had to be adapted to international regulations and performance requirements. This is where the design team at Citroen Sport stepped in. The project working group came up with a first rolling model of the Citroen C4 WRC that was already a long way from the original concept. The roof, for example, was no longer made of glass, since this is banned in rally racing.
The C4 WRC is one of the most successful cars in rally history, completing its four year run with an omnipotent return of 36 wins from 56 rallies. Driver Sébastien Loeb would win the Driver's Title over each of its four seasons, while also helping to secure Manufacturers' Titles alongside Daniel Sordo and Sébastien Ogier over that period as well.
A big reason for this outcome was that one of Citroen's key design mandates was to engineer the C4 WRC to be mechanically reliable. This proved fruitful, as the car was able to finish the 2010 season with points in each and every rally event that year. This is an extremely rare feat; a car cannot finish a race or get any points if it breaks down, and most teams accept this as something probable over the course of the season. The Citroen C4 was the most irrefutable proof that you can not only win the sprint, but dominate the marathon too.
Learn more about the 2007 Citroen C4 WRC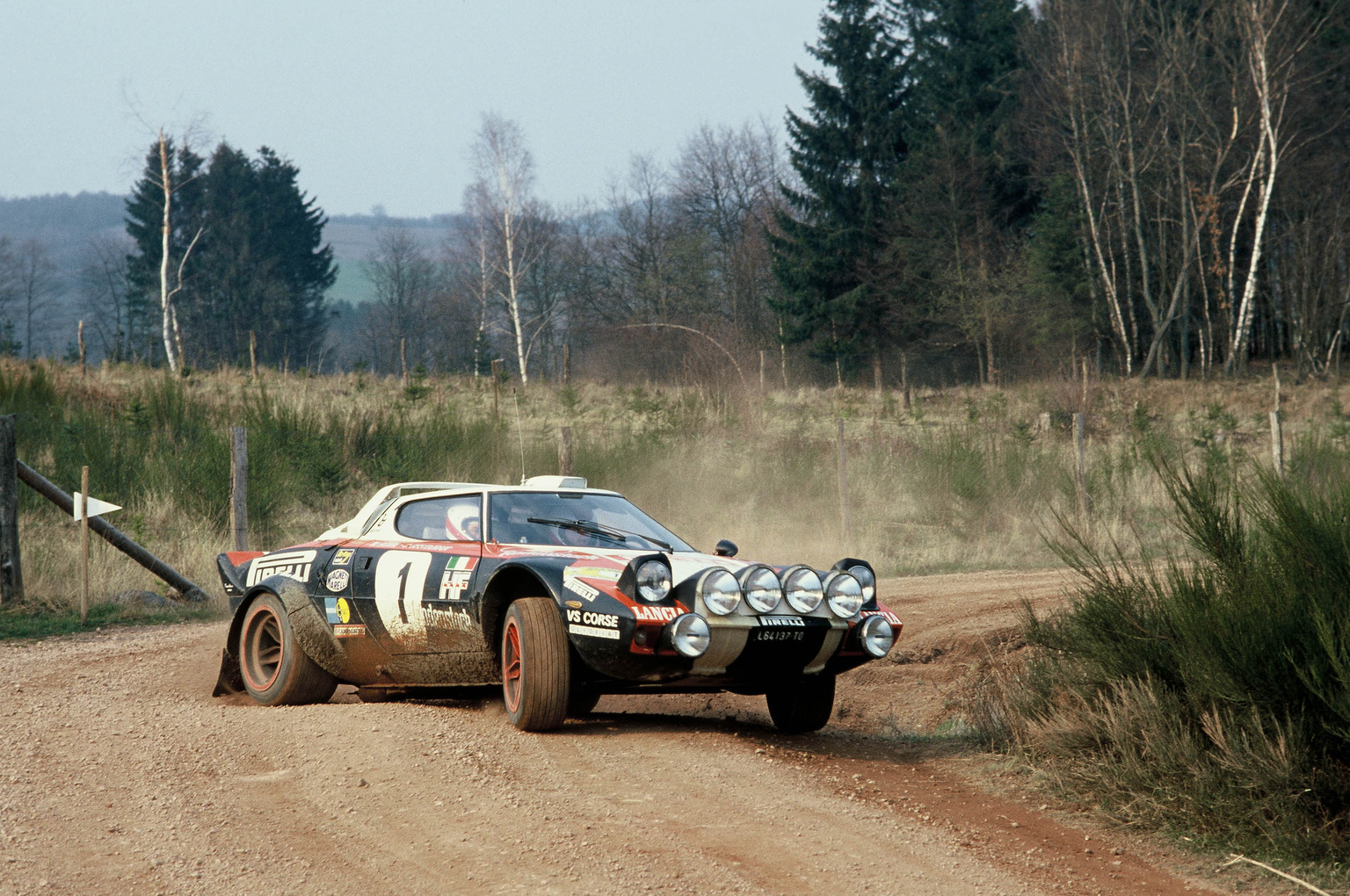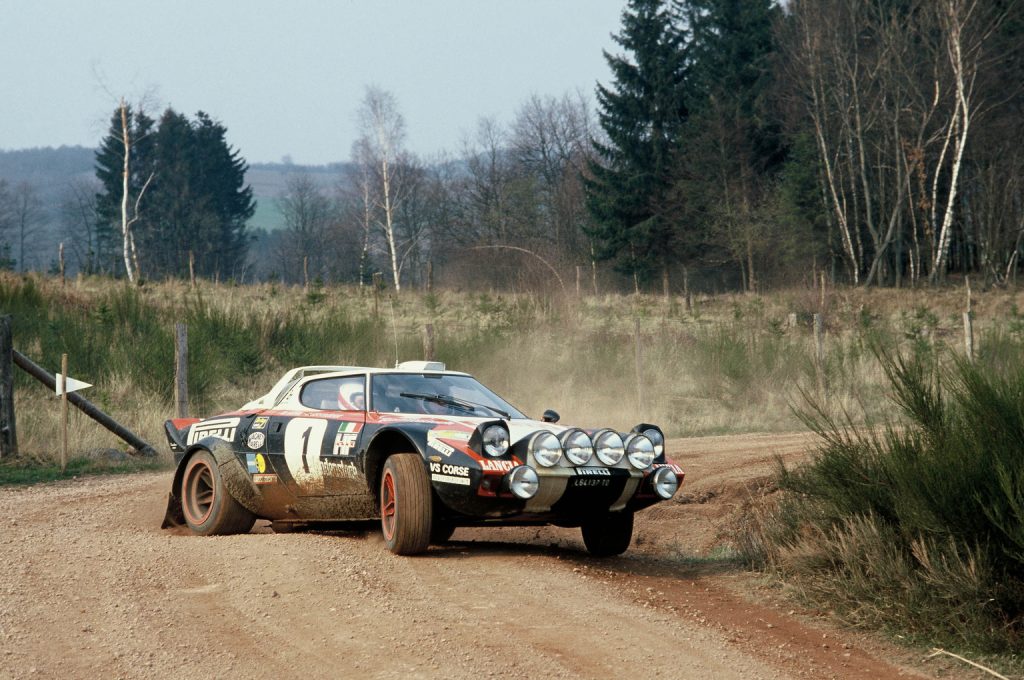 10. 1973 Lancia Stratos
Engine: 2.4L Inline-4 / Power: 265 bhp / Torque: 203 ft-lbs / Drivetrain: RWD / 0-60 mph: 4.1 sec / Notable driver(s): Sandro Munari, Björn Waldegård
The Lancia Stratos is definitely up there as one of the most badass looking cars on this list. Its eccentric design – even in its rally form – made it more akin to an exotic road-going supercar than it did to a purpose-built rally machine. It was homologated in 1974 as a Group 4 contender in the World Rally Championship, after a production order of 500 examples commenced in 1973.
Like the road-going Stradale version, the Group 4 rally car used Ferrari's by-then-phased-out Dino 2.4L V6 engine but tuned to 265 bhp for the 12-valve version and 320 hp for the 24-valve version. However, regulations for that year meant that only the 12-valve version of the car would be allowed to compete, although this did not encumber it from success whatsoever.
Manufactured by Italian coachbuilder Bertone in Turin, and then assembled by Lancia at their Chivasso plant, the highly successful design of the Lancia Stratos helped drivers Sandro Munari and Björn Waldegård win the rallying championships in 1974, 1975 and 1976. The car and its drivers would go on to dominate throughout the 1970s, particularly with its emphatic victories in 1975, 1976 and 1977 Monte Carlo Rally.
Learn more about the 1973 Lancia Stratos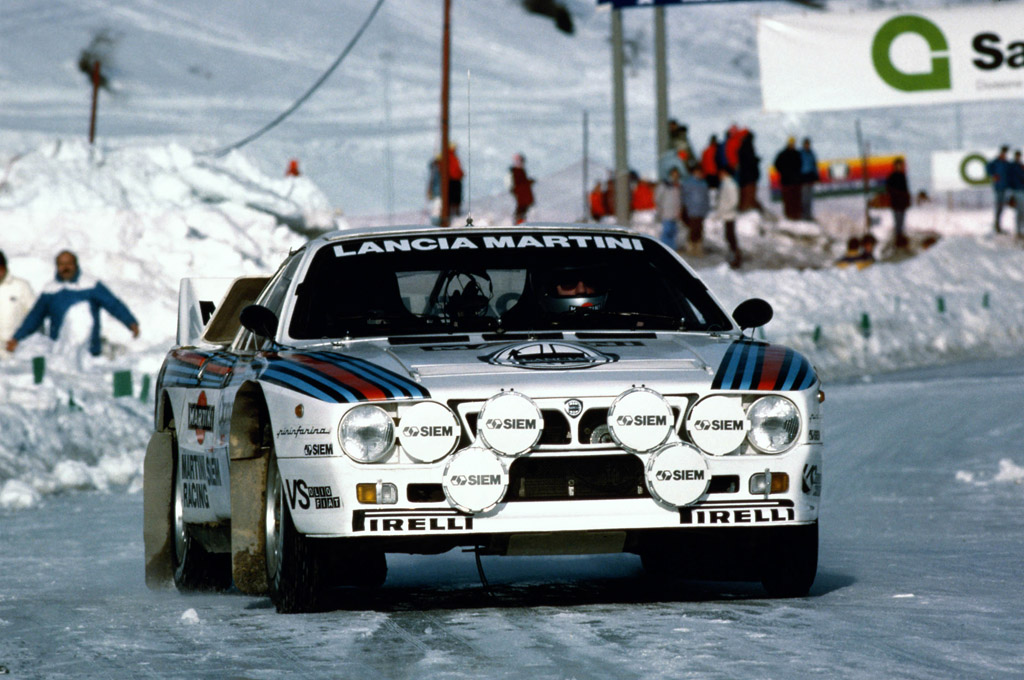 11. 1982 Lancia 037
Engine: 2.0L Inline-4 / Power: 300 bhp / Torque: 197 ft-lbs / Drivetrain: RWD / 0-60 mph: 4.3 sec / Notable driver(s): Walter Röhrl, Markku Alén
Although the Lancia 037 has its silhouette derived from the Lancia Montecarlo, it is similar to the Stratos in that its appearance is also one of the most intriguing on this list. In compliance with the new FIA Group B regulations which greatly loosened with respect to design restrictions, Lancia released the 037. It was the 37th project number developed closely in conjunction with Abarth, which saw to a car that would become one of the last RWD platforms to compete on the world rally stage.
The Lancia 037 shared the Montecarlo's center tub chassis with new front and rear steel subframes. A major departure from the production car was repositioning the engine in a transverse position. The body was entirely new and made from Kevlar.
Powering the 037 was an inline-4 engine similar to the unit in the Fiat Abarth 131 rally cars. It displaced 2.0L and was initially supercharged to produce 265 bhp. This engine was upgraded in 1982 to 300 bhp with a water injection system and again in 1984 to 2111cc.
The car is subject to no shortage of both historical and memorable moments. For starters, Martini Racing placed its famed livery across this new Lancia, forging one of the longest-lasting sponsorships in rallying history.
Although considered by some as too large to be an effective rally car, it would go on to win the Manufacturers' World Championship in 1983. This is in huge part thanks to events such as the poaching of enigmatic driver Walter Röhrl from Opel, who would go on record to state that the 037 was his favorite car to drive throughout his career.
Some devious – but completely legal and in hindsight, brilliant – tactics were also employed by Team Principal Cesare Fioro over the course of the season to give his car the upperhand, particularly with regards to the Audi Quattro. The car however had declining performances in the following years, before Group B was eventually terminated due to overbearing safety concerns.
Learn more about the 1982 Lancia 037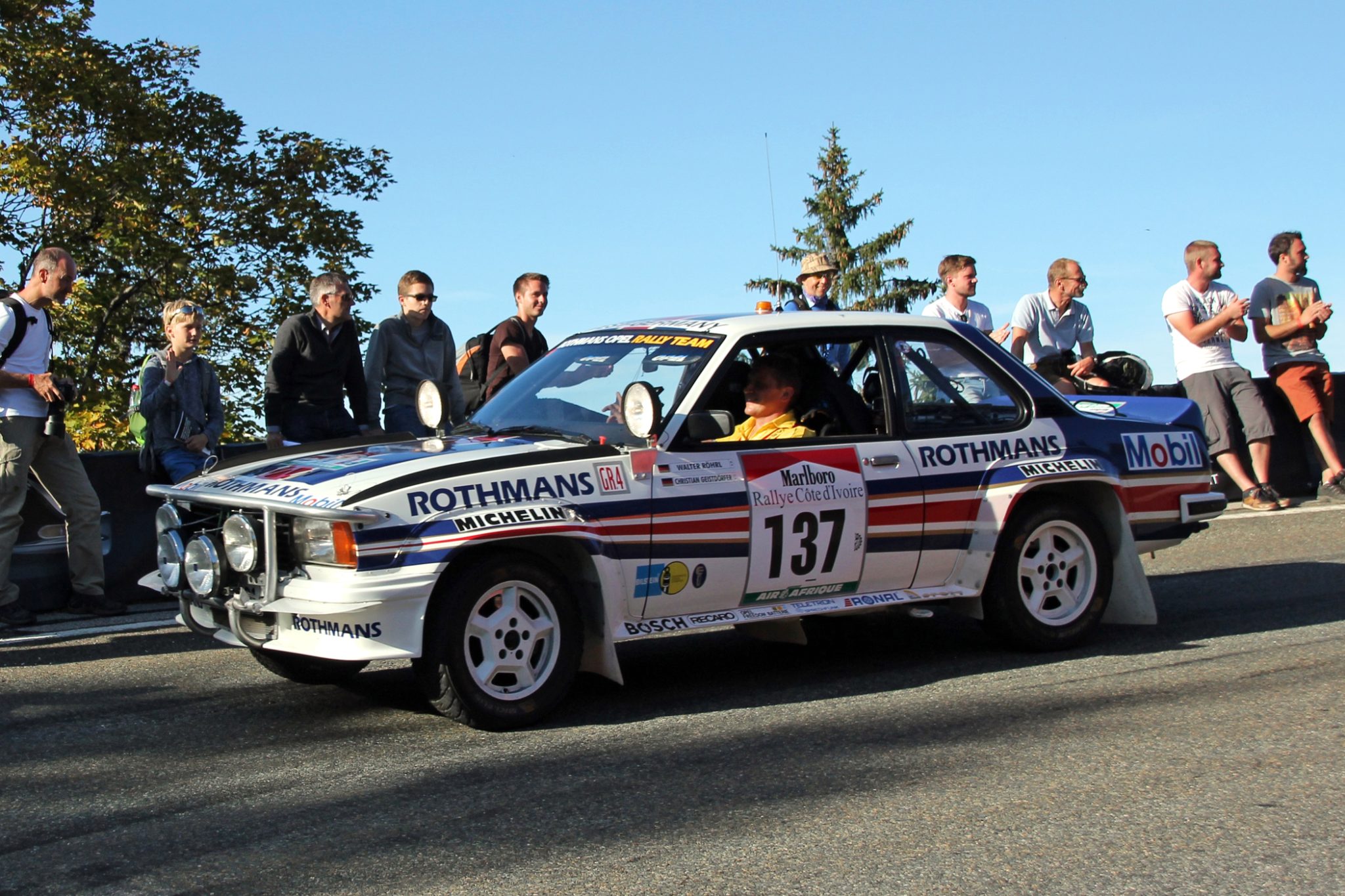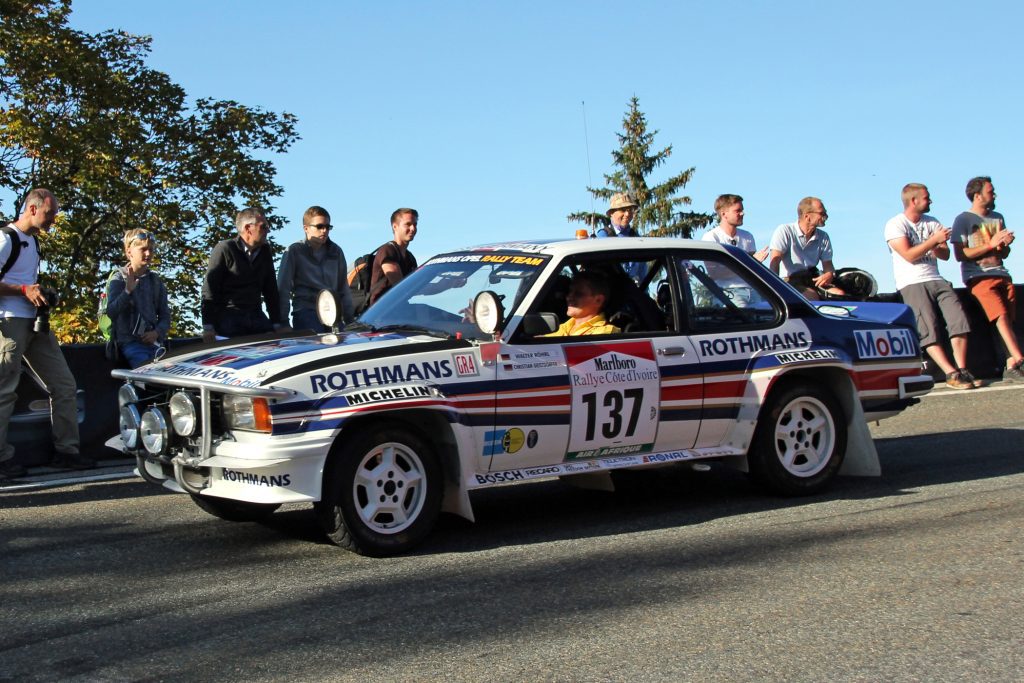 12. 1982 Opel Ascona 400
Engine: 2.4L Inline-4 / Power: 275 bhp / Torque: 221 ft-lbs / Drivetrain: RWD / 0-60 mph: 4.5 sec / Notable driver(s): Walter Röhrl, Ari Vatanen
The Opel Ascona 400 is a very special car, with a very special driver, that did a very special thing. In the first season of Group B in 1982 it, respectively, put Opel briefly under the WRC spotlight, allowed Walter Röhrl to secure his second driver's title, and was the last time a driver won the rally championship piloting a rear-wheel drive car.
The writing was on the wall before the car even competed, in terms of it having a short lifespan. It was knowingly used as an interim solution while the Opel Manta B 400 was being developed for the more long term objectives of Opel's rally team. In its very last event it was given the ideal sendoff with a win by Ari Vatanen at the 1983 Safari Rally, which would ultimately be its last hurrah before being replaced by the Manta B 400.
Not to be outdone by its brief but meaningful stint at the highest level of competition, the Ascona 400 remains a popular figure at historic rallies in Europe and is a favorite amongst private racers during these events. Its heritage as a title winning RWD car is not lost on anyone deeply rooted in the rally racing circles.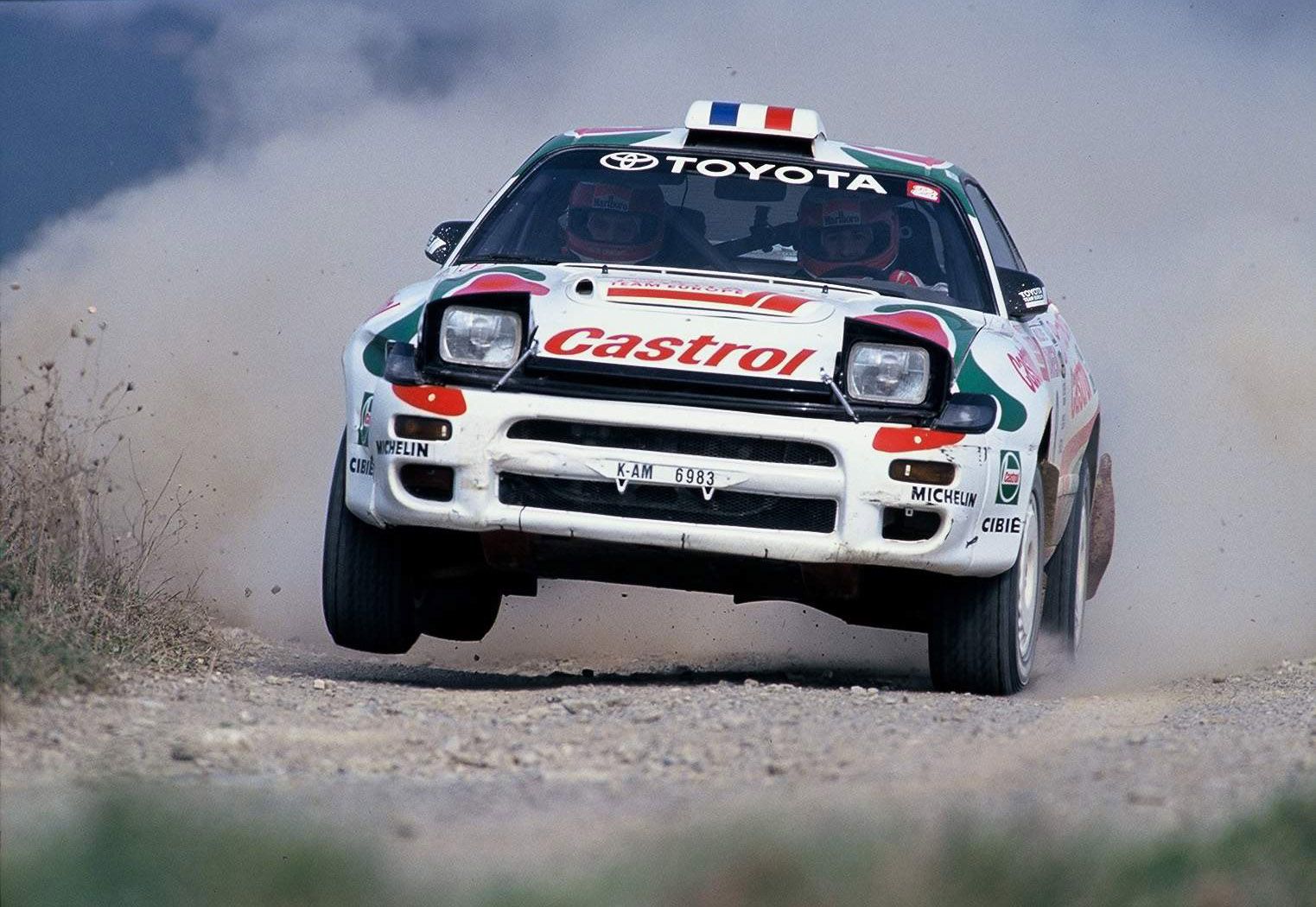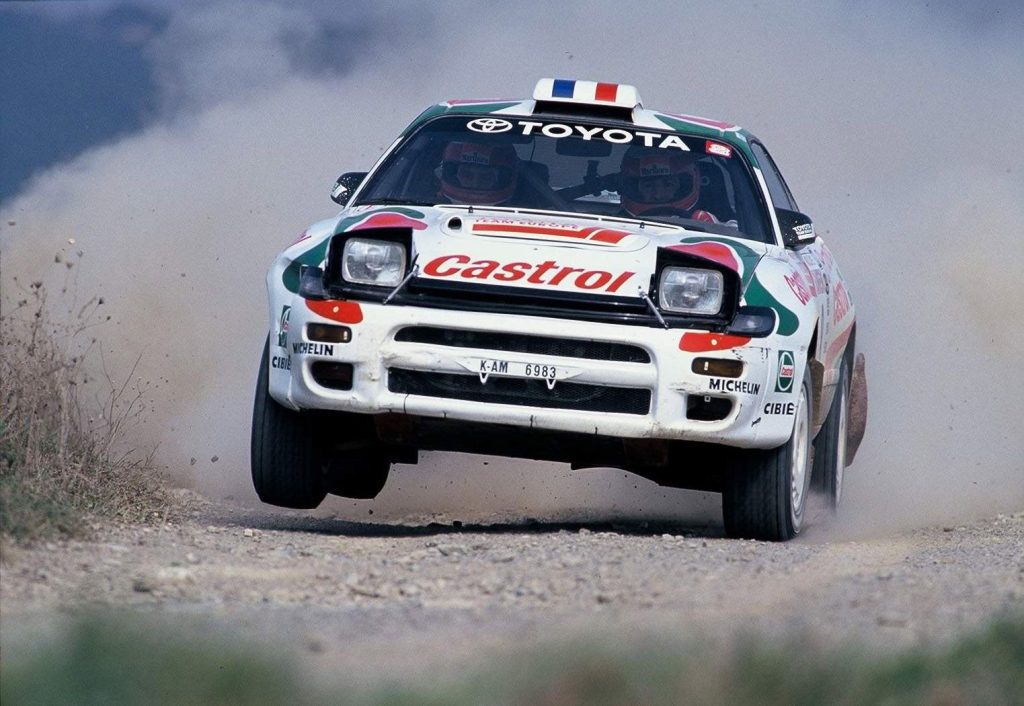 13. 1992 Toyota Celica GT-Four WRC
Engine: 2.0L Inline-4 / Power: 295 bhp / Torque: 339 ft-lbs / Drivetrain: AWD / 0-60 mph: 4.3 sec / Notable driver(s): Carlos Sainz, Juha Kankkunen, Didier Auriol
The Group A Toyota Celica GT-Four WRC ST185 made its competition debut at the opening round of the 1992 World Rally Championship series in Monte Carlo, where it would begin writing history that would be even more successful than its illustrious predecessor, the ST165.
For the 1992 season, Toyota's campaign was spearheaded by Carlos Sainz, who partnered with Luis Moya, would record four victories and claim his second WRC drivers title. In the manufacturers championship Toyota placed second, an encouraging result which raised hopes for an even better performance in the coming year.
The ST185 entered 1993 with a new livery, the green and red corporate colours of lead sponsor Castrol which would become one of rally racing's most iconic images. Triple World Champion Juha Kankkunen was also brought on board, along with French ace Didier Auriol. By claiming its sixth victory of the 1993 season at the Rally Australia, Toyota at last achieved its long-held ambition of claiming the WRC manufacturers championship.
This in no way diminished the team's determination to achieve even greater success; a new traction control system was tested at the 1,000 Lakes Rally, demonstrating Toyota's commitment to continually advance its technologies. Kankkunen amassed a further five wins on route to his fourth drivers title, with a 23 point buffer over the rest of the field. Notable team successes included a historic Toyota 1-2-3-4 finish at the 1993 Safari Rally.
In 1994 the ST185 continued its dominance of the WRC, with Didier Auriol becoming the first Frenchman to take the drivers title, with Toyota winning its second consecutive manufacturers championship.The Toyota Celica GT-Four WRC ST185 has gone down in the history books as a consummate winner.
14. 1984 Porsche 959 Rally
Engine: 2.8L Flat-6 / Power: 444 bhp / Torque: 369 ft-lbs / Drivetrain: AWD / 0-60 mph: 3.6 sec / Notable driver(s): René Metge, Jacky Ickx
In 1981, the idea of the Porsche 959 was conceived with a concerted intention to race in Group B rally racing, and Porsche set to work on its quest to satisfy homologation requirements by developing and producing at least 200 road-going examples.
The first concept car – originally dubbed the Gruppe B –  was unveiled at the 1983 Frankfurt Auto Show and showcased the very highest echelon of automotive technologies at the time. Features such as a driver-adjustable suspension and its state of the art Porsche-Steuer Kupplung (PSK) all-wheel-drive system, gave the car more than ample arsenal to feel right at home in the rally championship.
The Porsche 959 prototype road car debuted 2 years later at the same auto show, displayed in both a "Komfort" and more track-oriented "Sport" trim. However, a number of production delays meant that Porsche would miss the cut off date for homologation and would end up missing the 1986 Group B season. Then, Group B was cancelled altogether later that year and Porsche's first customer cars wouldn't roll off the line until 1987.
Despite the obvious set back, Porsche still managed to compete with the 959 and have a brief but meaningful run in motorsport. The prototype race cars entered the 1984 Paris-Dakar Rally and managed first, second and fifth place finishes. In 1986 the 959 won its class and took home an impressive 7th place overall distinction.
While we can only imagine what it would have been like seeing the Porsche 959 partake in Group B racing, we do at least get a taste of what that would be like via the mightily impressive road version that was the resulting lovechild of this project.
Learn more about the Porsche 959 Rally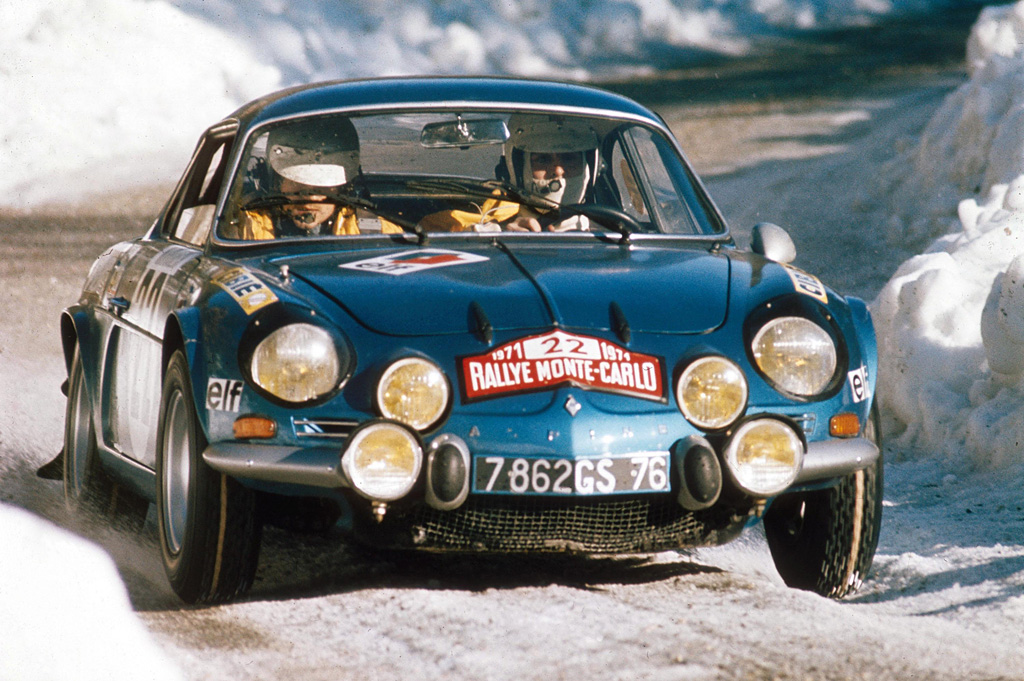 15. 1971 Renault Alpine A110
Engine: 1.1L Inline-4 / Power: 70 bhp / Torque: 62 ft-lbs / Drivetrain: FWD / 0-60 mph: 13.0 sec / Notable driver(s): Jean-Luc Thérier, Jean-Claude Andruet, Ove Andersson
The A110 berlinette is Alpine's most iconic car. Alpine Founder Jean Rédélé immediately wanted his cars to catch the eye with their performances in competition – rather like that of another great French constructor known as Ettore Bugatti.
The 1600 variants of 1971 were already far more advanced than anything from the previous generation, but such was Alpine's determination – evident from 1970 – to win international events like the Acropolis, San Remo, RAC, Portuguese and Morocco rallies, that it obliged its factory to prepare the berlinettes even more thoroughly.
Inherently, the A110 makes for a rather small and light chassis, which particularly needed beefing up in order to take on the various types of unforgiving terrains which were part of rally racing.
Thus improved – and with an ensemble of mostly top French drivers – Alpine proved brilliant winners of the 1971 International Manufacturers' Championship, with victories in the Monte Carlo, San Remo, Acropolis, Austrian and Portuguese rallies, and ultimately in the Coupe des Alpes.
Learn more about 1971 Alpine A110 1600 Group 4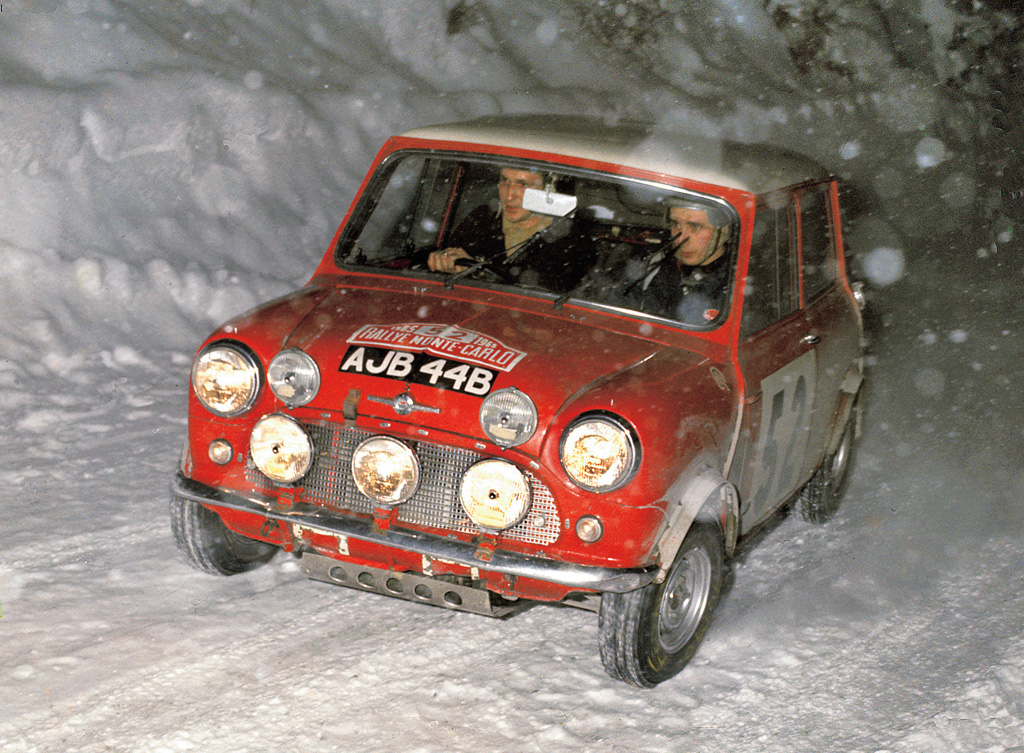 16. 1964 Morris Mini Cooper S Works Rally
Engine: 1.6L Inline-4 / Power: 138 bhp / Torque: 111 ft-lbs / Drivetrain: RWD / 0-60 mph: 7.0 sec / Notable driver(s): Pat Moss, Timo Mäkinen, Paddy Hopkirk, Rauno Aaltonen
Right after making its first appearance, the Mini proved to be a genuine sports car in the true sense of the word. countless teams and private drivers recognised and acknowledged the great potential this small car had to offer with its driving behaviour reminiscent of a go-kart.
The most significant stronghold of this car was and always remained rally racing, the works Minis tuned by John Cooper, in their red livery, were becoming increasingly competitive with more power. Starting in 1962 the Mini Cooper and, later, the Mini Cooper S brought home a number of international victories, scoring the first win in the Tulip Rally with Pat Moss, the sister of Stirling Moss, at the wheel. According to some sources, the Mini Cooper brought home no less than 153 racing wins in 1962 alone.
It certainly was the sensation in the 1963/64 winter rally season: A small red Mini with a white roof proudly showed its tailpipe to all the larger entrants, clinching overall victory in the Monte Carlo Rally, and then repeated the task in 65 and 65.
The tiny little car immediately became a legend: Originally conceived as an inexpensive and economical means of transport, the Mini had been transformed into the Mini Cooper S. There was still no other car in the market able to offer the same kind of sporting performance for so little money.
Learn more about the 1964 Morris Mini Cooper S Works Rally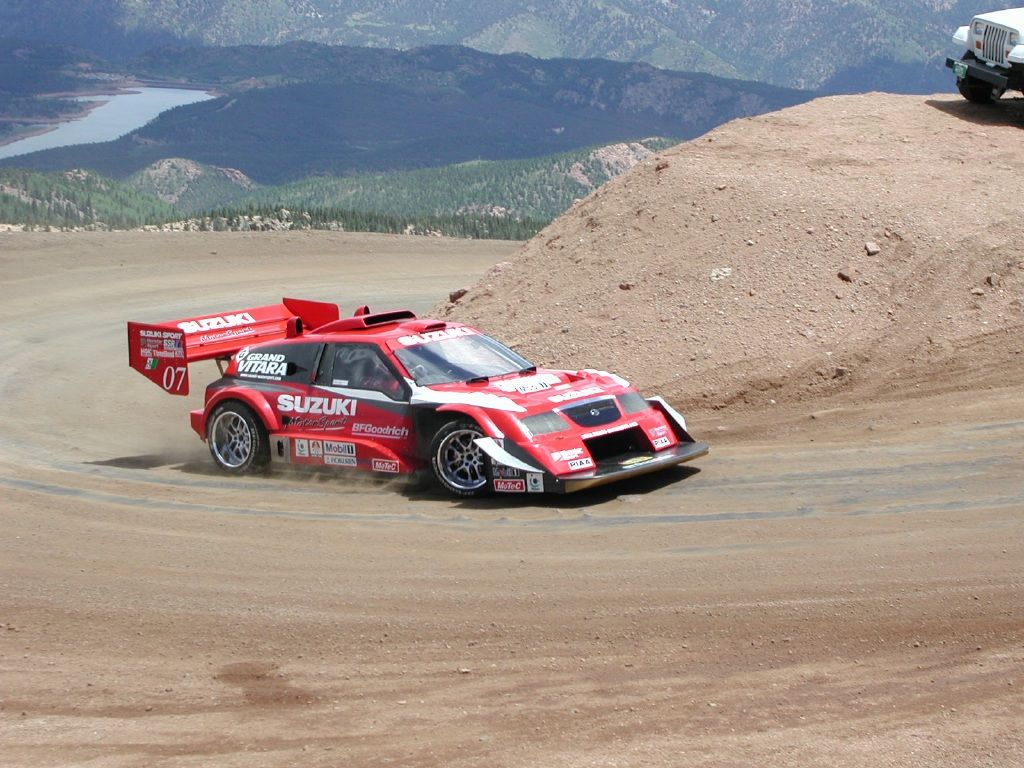 17. 1996 Suzuki Escudo Pikes Peak
Engine: 2.0L twin-turbocharged V6 / Power: 985 bhp / Torque: 687 ft-lbs / Drivetrain: 4WD / 0-60 mph: 2.5 sec / Notable driver(s): Nobuhiro "Monster" Tajima
When Suzuki began its production in 1996, the Escudo Pikes Peak was a purpose-built racing machine designed for optimized performance on dirt tracks. Later that same year, it participated in the Pikes Peak International Hill Climb race – sometimes referred to as 'The Race to the Clouds' – and the rest as they say, is history.
Aside from its monstrous performance and ridiculous specs, the Suzuki Escudo Pikes Peak is famous for a variety of reasons. Piloted by enigmatic Japanese rally driver Nobuhiro Tajima, the car was always a crowd pleaser wherever it went and won the Queenstown Gold Rush International Auto Hill Climb in successive years from 1998 to 2001.
The popularity of the car would soon be taken to outer space, when it started appearing in the internationally renown video game series, Gran Turismo. Many enthusiasts can trace the roots of their fondness with the car, back to their PlayStations, where driving the virtual version of the car was as good as having the cheat code for winning every race.
The Suzuki Escudo Pikes Peak cars remains an automotive icon to this day, etched in the memories of those who had the pleasure of enjoying 90's racing in all its glory.
Learn more about the 1996 Suzuki Escudo Pikes Peak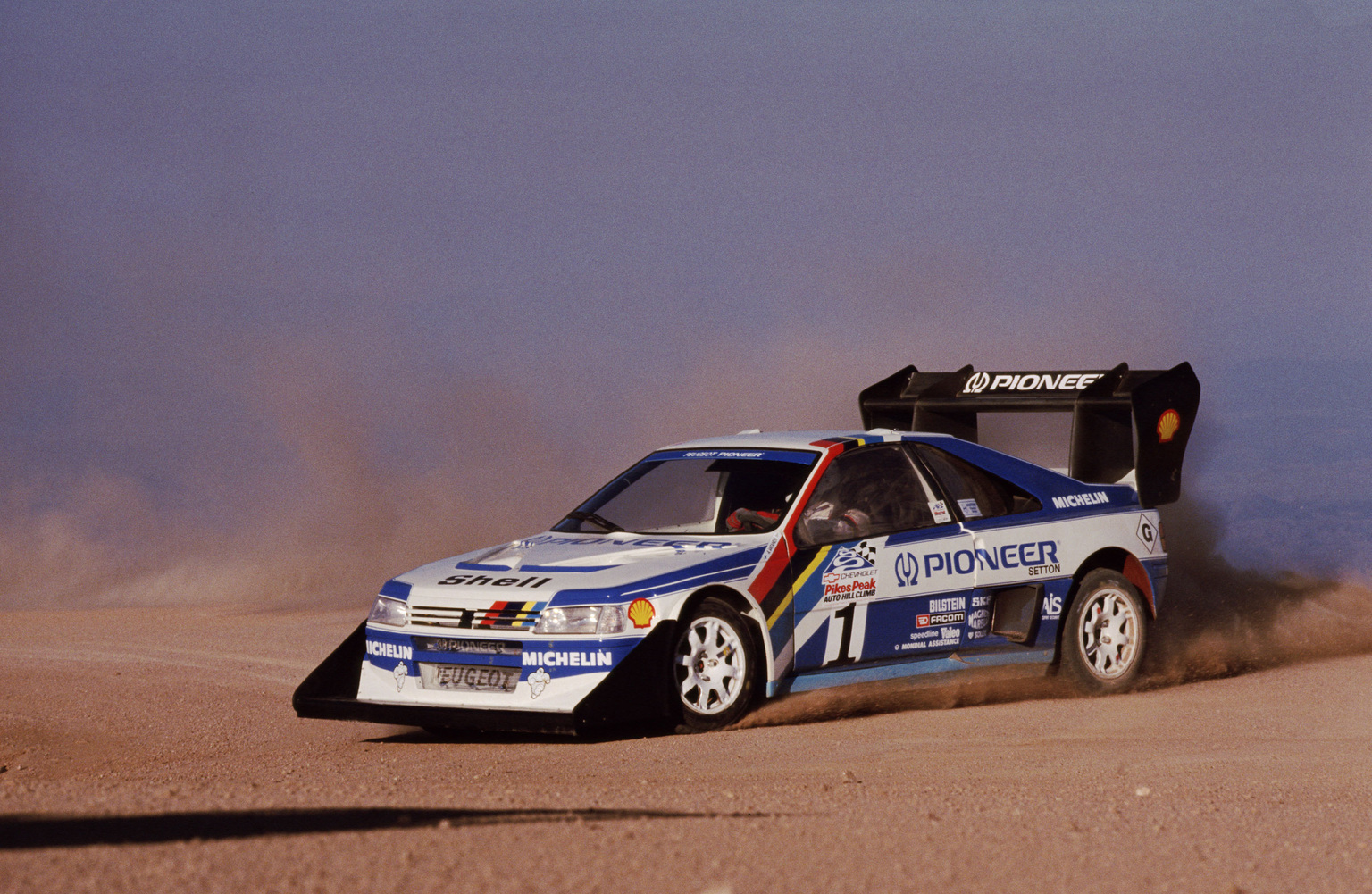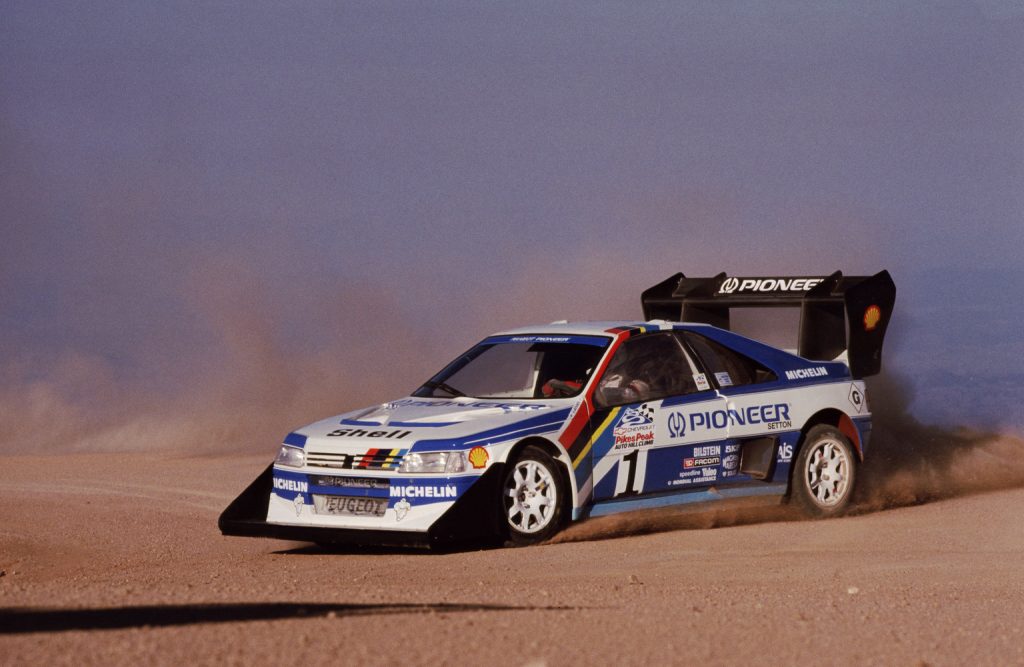 18. 1988 Peugeot 405 T16 GR Pikes Peak
Engine: 1.9L Inline-4 / Power: 600 bhp / Torque: 542 ft-lbs / Drivetrain: 4WD / 0-60 mph: 3.0 sec / Notable driver(s): Ari Vatanen, Robby Unser
One of the most famous hillclimb cars in Pikes Peak history is the Peugeot 405 T16 driven by Ari Vatanen to record-winning time of 10:47:77, beating Walter Röhl's record from the previous year by just a few tenths of a second. This time would not be beaten until 1994.
This 405 was unique at the time because of its four wheel steering, a feature never before done in a rally or hillclimb car. It was based on the earlier 1987 Peugeot 205 T16 Pikes Peak which was too short for long, open hillclimbs.
The engineers with Peugeot used a carbon-kevlar version of the 405's body overtop of a completely new chassis that was made of sheet steel and tubular steel. The engine sat very low in front of the right rear wheel with the turbocharger on the opposite side.
The Grand Raid version of the car was originally built for the Paris-Dakar Rally and was modified with a huge rear wing and rear-wheel steering for its mountain-climb duty.
After it's incredible debut at Pike Peak, Peugeot again returned and won the event outright in 1989 with driver Robby Unser.
Learn more about the 1988 Peugeot 405 T16 GR Pikes Peak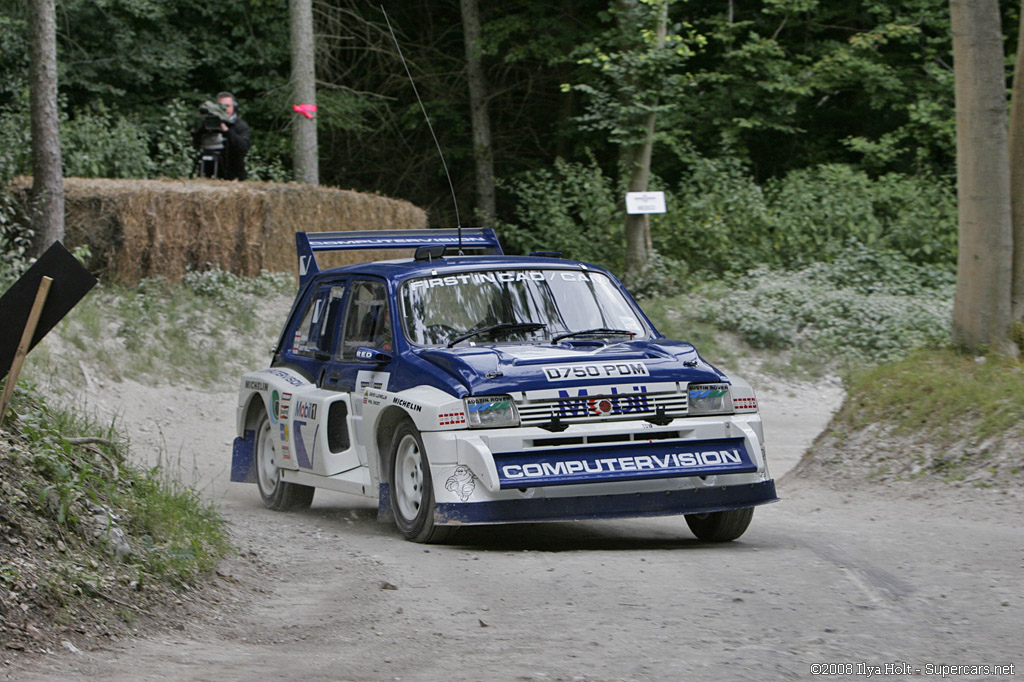 19. 1985 MG Metro 6R4
Engine: 3.0L V6 / Power: 410 bhp / Torque: 270 ft-lbs / Drivetrain: 4WD / 0-60 mph: 3.0 sec / Notable driver(s): Tony Pond, Patrick Watts
The third chapter in MG Motorsport arrived in 1983, when rally driver Tony Pond had an entertaining season driving a 200 bhp MG Metro Turbo. Former Austin Rover Motorsport driver, Patrick Watts, joined Tony and the pair would go on to create a spectacular duo.
The next year, a new version of the MG Metro was revealed – the purpose-built 6R4. It came with a mid-mounted, naturally aspirated 3.0L quad-cam V6 engine, and a four-wheel drive system derived from a concept by Williams Grand Prix Engineering. It was made to comply with the unlimited Group B Rally regulations which pitted the car against the mighty Audi Quattro S1, Lancia Delta S4 and Ford RS200.
By the time the 6R4 team entered the 1985 RAC Rally, the car was delivering over 400 bhp, and Tony Pond aroused great patriotic fervour amongst spectators on the way to third place for the season. Although the opposition now had the even more powerful turbo engines, the 6R4s battled on with the best of them.
Pond was sixth in the 1986 RAC Rally, followed by three other 6R4s to take the team prize. 6R4 driver David Gillanders won the UK National Rally Championship in 1987 and Will Gollup piloted his 6R4 to win the 1986/87 Lydden Winter Rallycross Championship, and would then go on and eventually to take the European Rallycross title as well.
Learn more about the 1985 MG Metro 6R4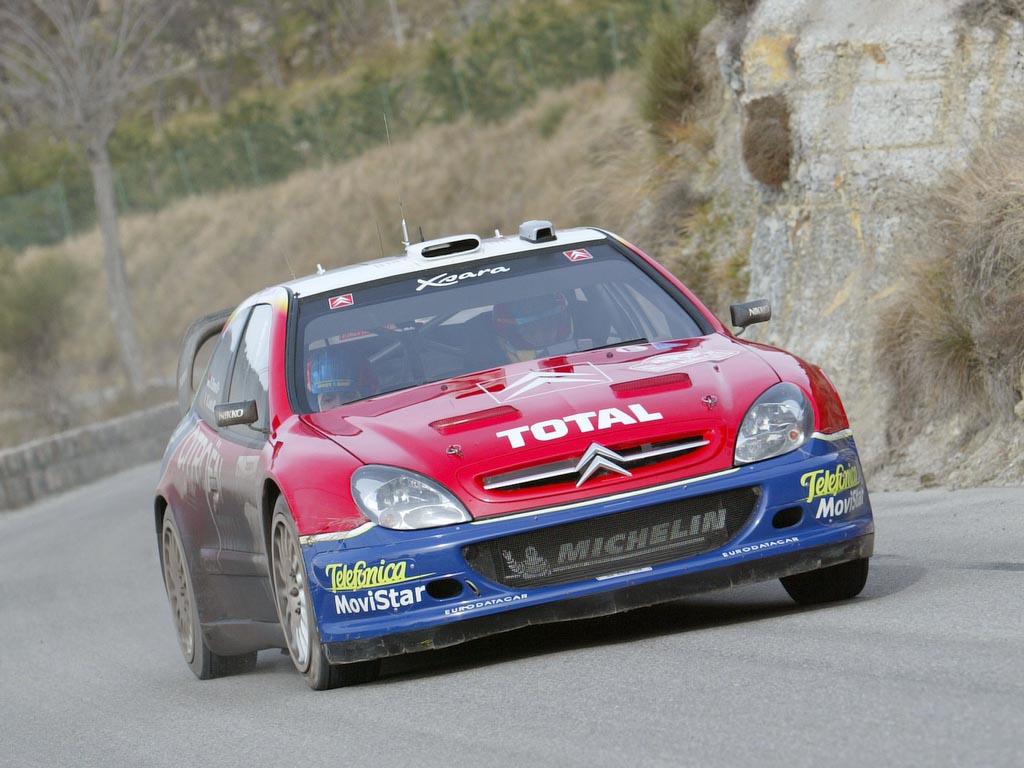 20. 2003 Citroen Xsara T4 WRC
Engine: 2.0L Inline-4 / Power: 310 bhp / Torque: 420 ft-lbs / Drivetrain: AWD / 0-60 mph: 3.7 sec / Notable driver(s): Sébastian Loeb, Colin McRae, Carlos Sainz
Right from the get go, the Citroen Xsara T4 was a proper rally car. Built by the collaborative efforts of Peugeot and Citroen, the T4 was introduced in 1999 and would campaign in a limited number of rallies over the next three years, with team manager Guy Frequelin biding his time to test and continually develop the car.
Reliability issues initially pegged the car, but by the time the 2003 season was underway, the T4 really spread its wings. So intriguing was this endeavour, that Colin McRae and Carlos Sainz eagerly hopped on board for what would be Citroen's first complete World Rally Championship season.
Thanks to the superb second place finish secured by Sebastien Loeb and a solid fourth position achieved by Colin McRae at the Wales Rally GB, Citroen would claim the overall title in its first full season in the world championship.
This concluded a successful end to the nine-month marathon, which began with a magnificent one-two-three finish in the Monte-Carlo Rally. Ultimately, the campaign which included four wins, and seven second and two third place finishes, was a tally which exceeded the targets set even by Citroen at the start of the season.
Learn more about the Citroen Xsara T4