Marc Phillip Gemballa, son of the late Uwe Gemballa, has channelled his father's spirit into a sports car unlike anything else on the road today. He is only 27, but his company, a tuning house called Marc Phillip Gemballa GMBH, has already given us its first creation. It is called the Gemballa Marsien, a performance machine that blends everyday utility and off-road capabilities into one package.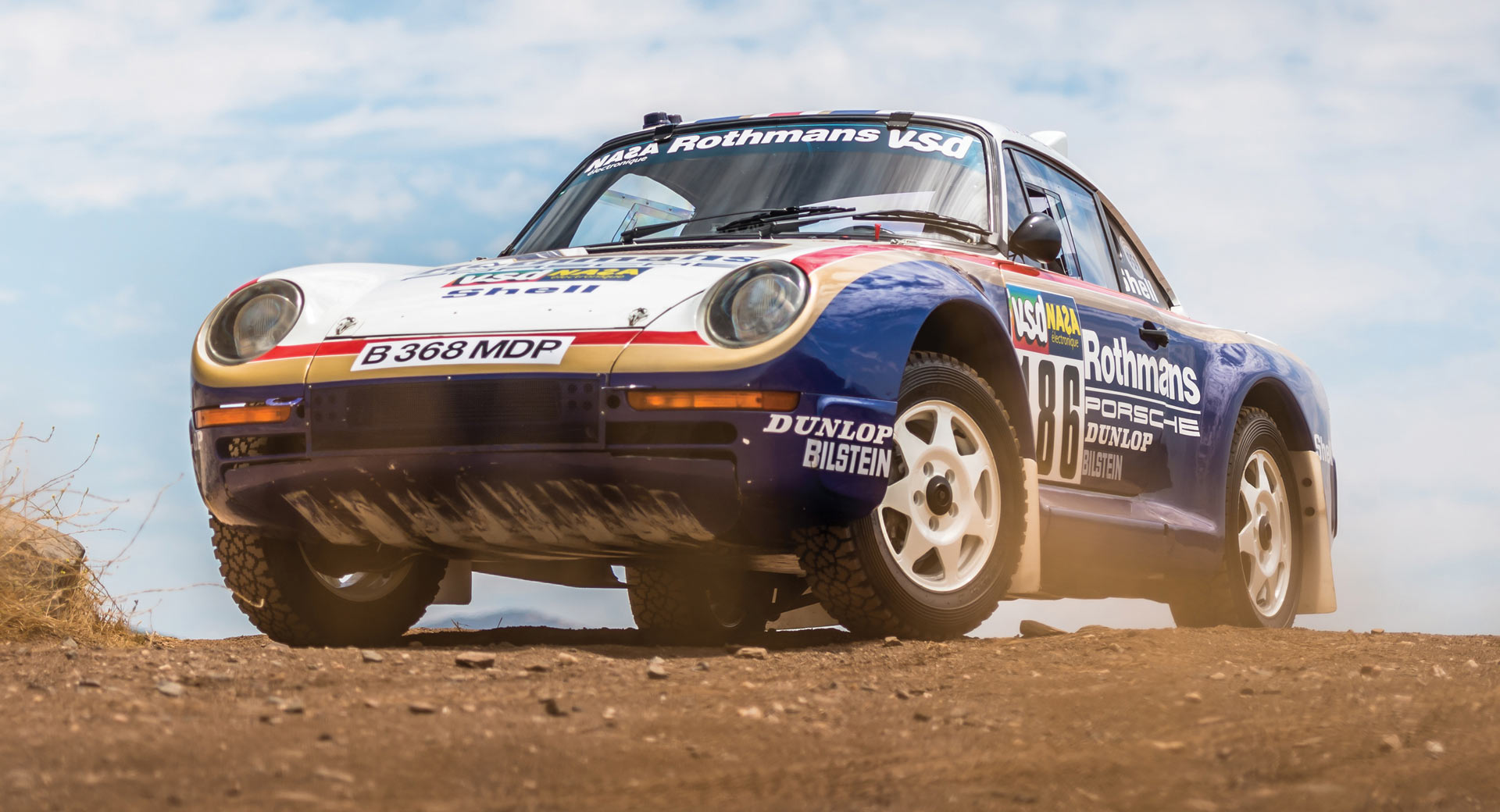 Via Carscoops.
The Marsien draws its inspiration from the 1980s Porsche 959 rally monsters, arguably some of the greatest race cars to have ever competed at the famous Paris-Dakar rallies. What Marc has done is to take a 992 Generation Porsche 911 Turbo S and infuse it with serious off-roading DNA, resulting in what might be described as an all-terrain supercar.
Powertrain and Transmission
At the heart of the Gemballa Marsien is the same twin-turbo flax-six that powers the 911 Turbo S. In this case, though, the powerplant has been tuned by German powerhouse RUF to produce 750-hp—about 100-hp more than the 911 Turbo S.
There is a second stage upgrade that further bumps this output to 830 horses with enhanced turbochargers, a revised ECU mapping and transmission setting.​ Akrapovic was contracted to develop a custom-made titanium exhaust system that not only delivers a unique note but also helps boost the engine power output.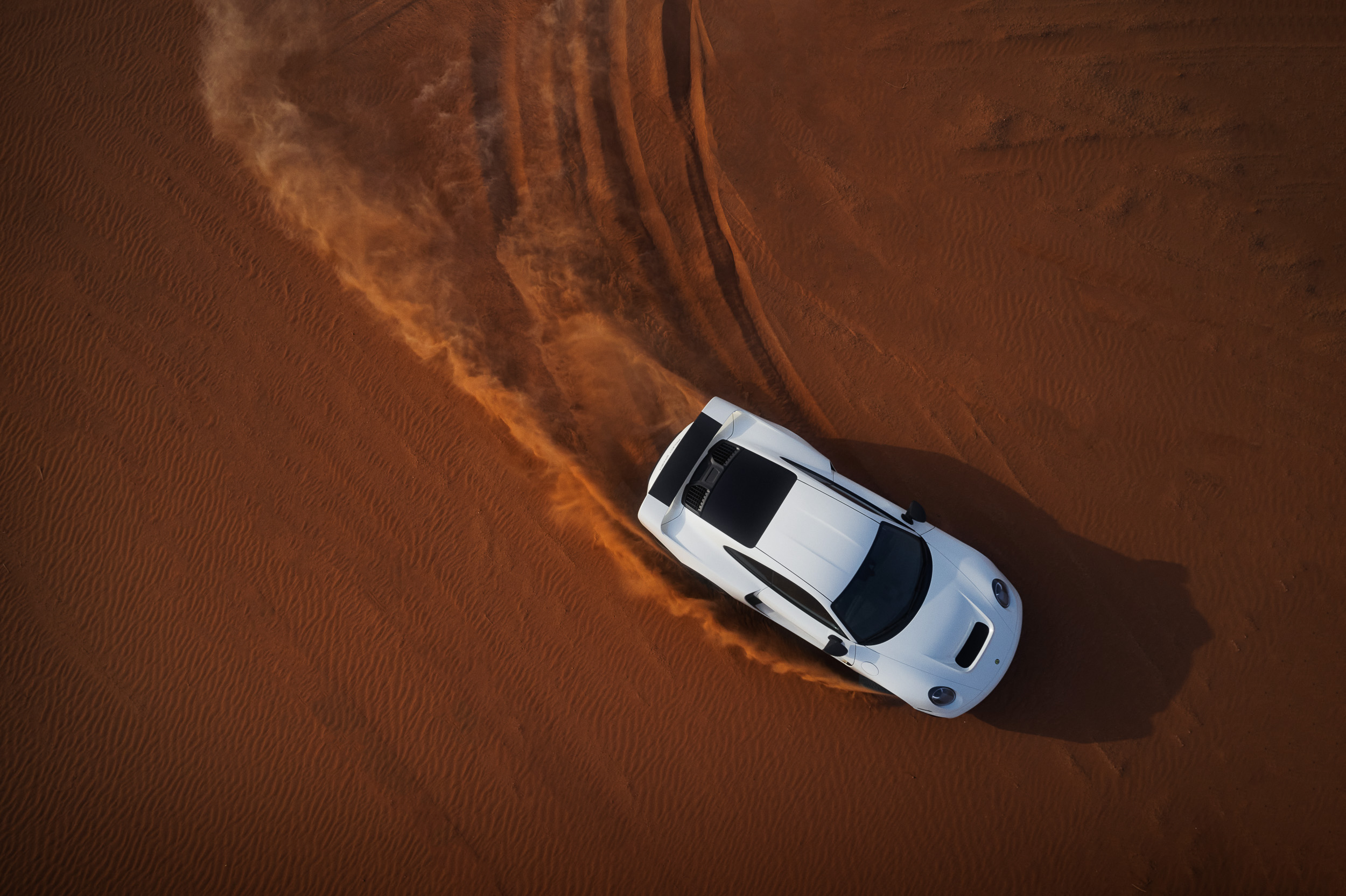 Via Marc Philipp Gembala.
This power is fed to all four wheels via an 8-speed PDK transmission. When equipped with road tires, Marc claims his car can sprint to 62 mph (100 kph) in a scant 2.6 seconds and continue on to a 208 mph top speed. In off-road mode, the Gemballa Marsien is restricted to a still-impressive 130 mph maximum speed.
Chassis and Suspension
The Gemballa Marsien sports a bespoke suspension system that was developed in partnership with KW Automotive, a leader in aftermarket suspension system technology. It features significant changes from the stock 911 Turbo S chassis, including a brand new double-wishbone front suspension. The setup also incorporates an intelligent active damper control and adjustable ride height system, perfect for the Marsien's dual nature.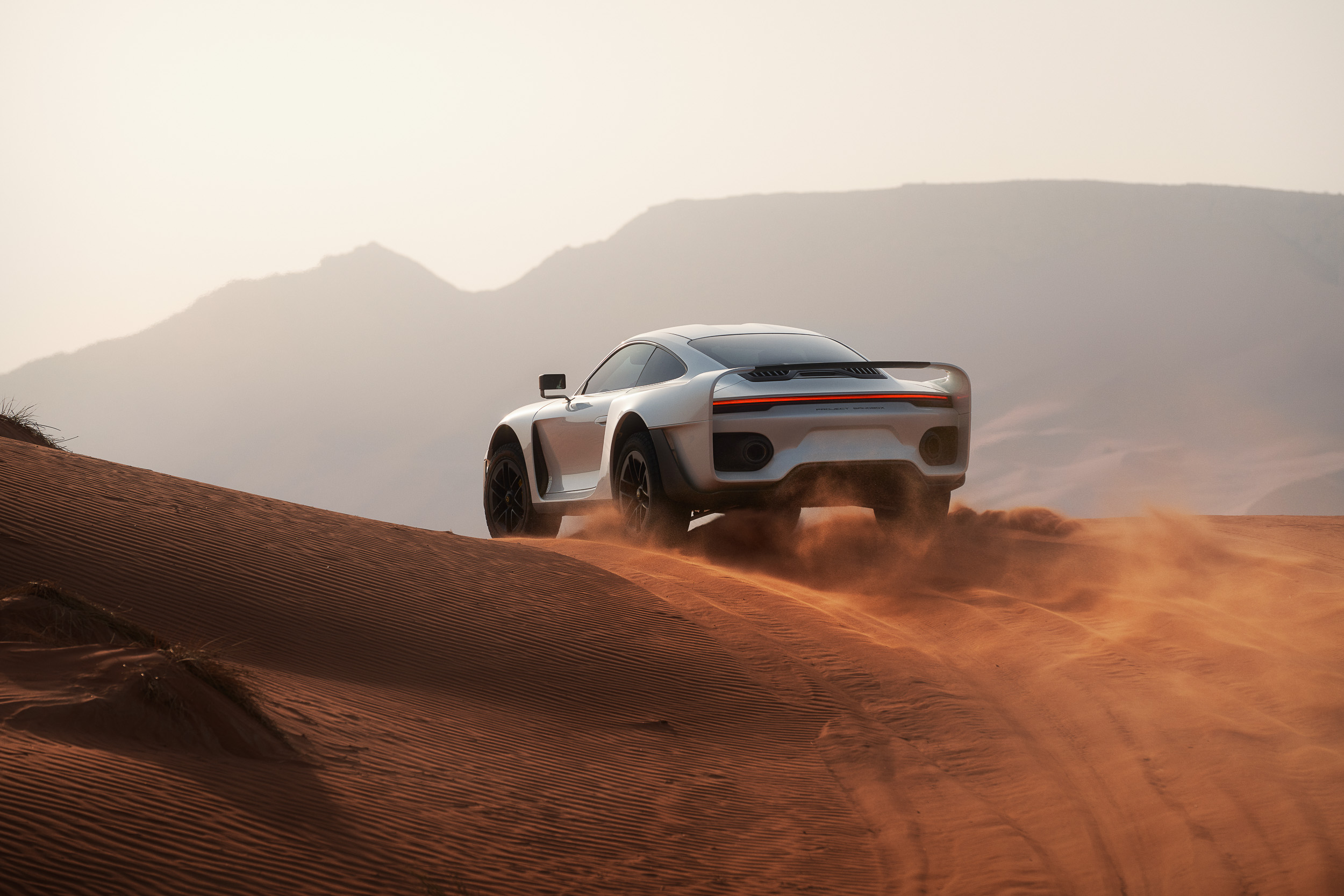 Via Marc Philipp Gembala
At the touch of a button, a hydraulic lift system can raise the Gemballa Marsien from 4.7 inches to 9.8 inches. The increased ground clearance ensures that the off-road supercar can venture off paved surfaces and tackle more challenging surfaces with relative ease.
In addition, the suspension was remapped and now supports Gravel, Mud, Snow and Sand driving modes. The Gemballa Marsien is offered with two sets of specially designed forged aluminum wheels. There is a set shod with Michelin Ultra High Performance (UHP) tires for road use and another with All-Terrain tires for when the Marsien is driven off-road.
Exterior and Interior Design
It might be based on the 911 Turbo S, but the Gemballa Marsien boasts an ultra-modern and timeless design that immediately sets it apart. First, all of the bodywork is made from lightweight F1-grade carbon fibre that can either be painted over or presented in its raw exposed form, depending on the customer's request.
Apart from the Marsien's overall beefy profile, other notable elements of the exterior design include massive wheel arches and prominent vents on the hood and along the sides of the car. You also have a huge spoiler and custom tail-lights, which contribute to the Marsien's unique appearance.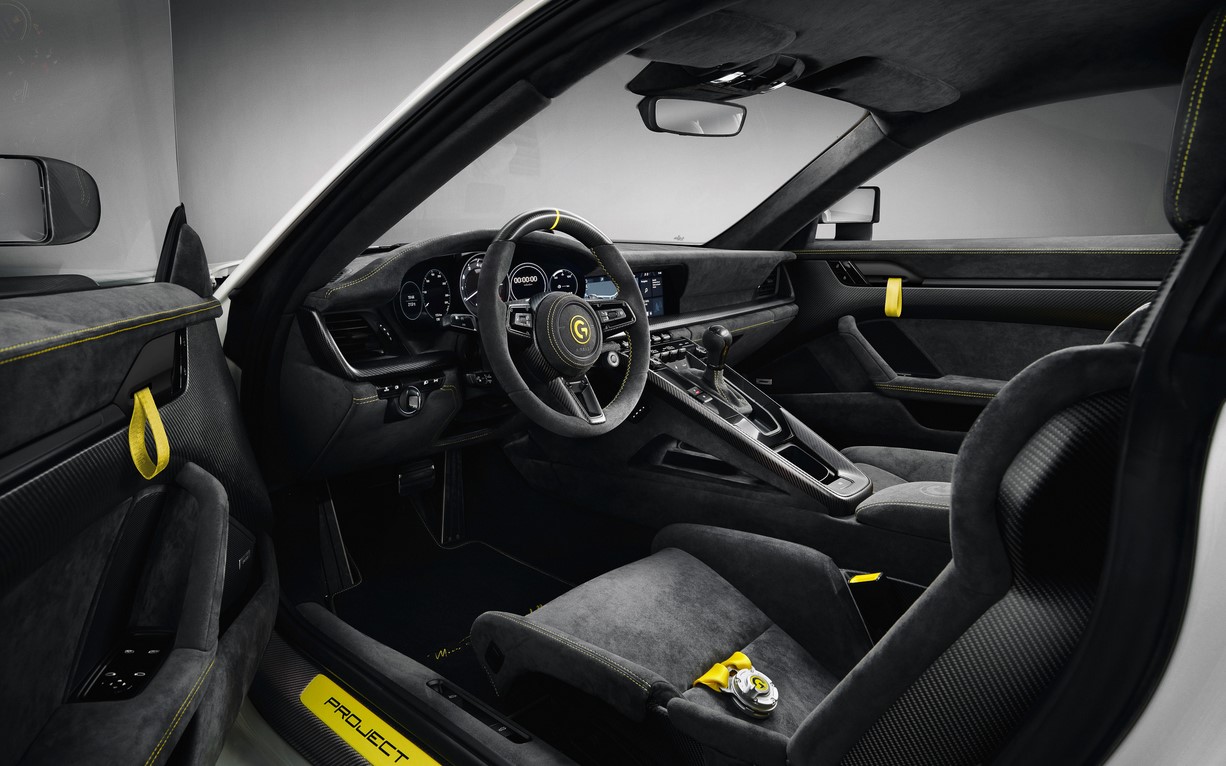 Via Marc Philipp Gembala.
In Gemballa's own words, the interior design 'echoes the elegance of the exterior.' An extensive suite of customization options is available, affording the client the opportunity to create a truly personalized feel for the cabin.
You can opt for a full leather or Alcantara interior, finished with materials of the highest quality. The raised middle console is inspired by the Carrera GT and offers easy access to various infotainment features and other vehicle control functions.
The bucket seats are specially designed with carbon fibre trim to reduce weight without compromising too much in the way of comfort. There are also other notable interior details, like the carbon fibre door sills with bright yellow entry guards and GT-style door lashes.
The Gemballa Marsien Is Only the Beginning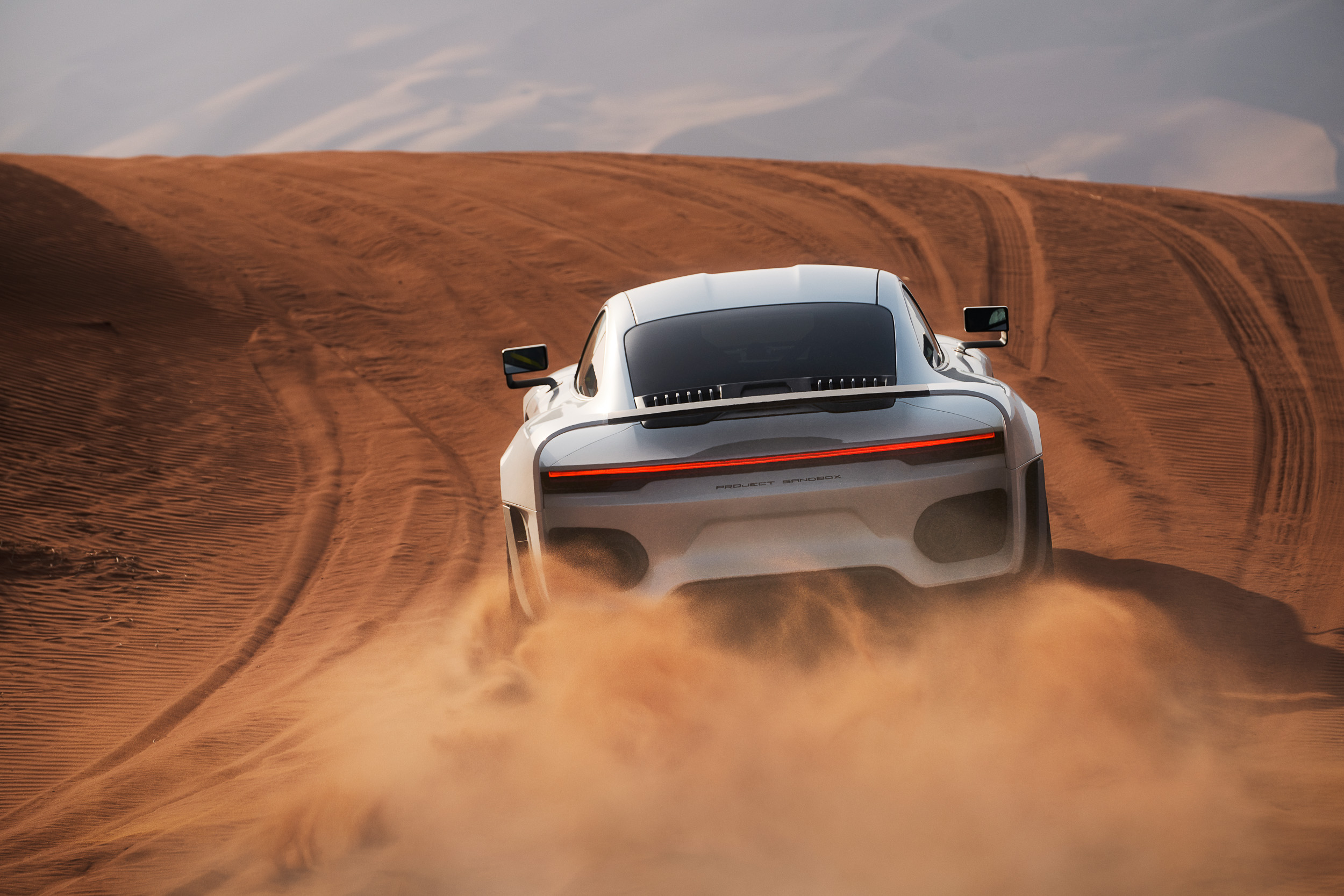 Via Marc Philipp Gembala.
The marketing ad campaign shows the Gemballa Marsien strutting its stuff on the endless sand dunes of the Al Faya desert, located just outside Abu Dhabi in the United Arab Emirates. The location is a sensible choice for the company. It is not out of place to expect that a good chunk of Marc's clients will come from the oil-rich region—bored billionaires seeking the ultimate thrill in the form of a dune-bashing desert toy just like this one.
Unsurprisingly, the Gemballa Marsien does not come cheap. Interested clients can expect to part with around $600,000 for the complete build, and that does not include the price of the donor Porsche 911 Turbo S sportscar. It is clearly not for everyone, something Marc knows only too well. The production run is limited to forty units, including ten special launch edition models, and more than half of them have already been sold according to the company.
It took two years of intense research and development to come up with the Gemballa Marsien, and Marc hopes this will mark the start of an epic journey for his young company. To be clear, Marc Gemballa is in no way associated with his late father's company, Gemballa GmbH, which still exists. He is intent on carving his own path, starting with his vision of what an off-road capable supercar should look like. Marc Phillip Gemballa is confident that there is a market out there for specially designed vehicles like the Marsien, limited series cars with a fresh new design and cutting-edge technology.
These are early days yet, and the jury is still out on whether Marc's company will stand the test of time. That will partly depend on whether the Gemballa Marsien can deliver on its promise as the ultimate adventure sportscar.