There are countless failed concepts for every production-spec supercar that we get to drool over on public roads. As with any industry, introducing a new product is a gamble where success or abject failure depends on various factors.
Market reactions, design flaws, and production costs are just some of the reasons why supercar concepts are nixed before the final production stage—and while the practice is more prevalent among boutique carmakers, the big automobile names are by no means immune. Here, you will also find a few supercar concepts from established carmakers that never quite made it to production.
Vaporware Supercar Concept #10: Yamaha OX99-11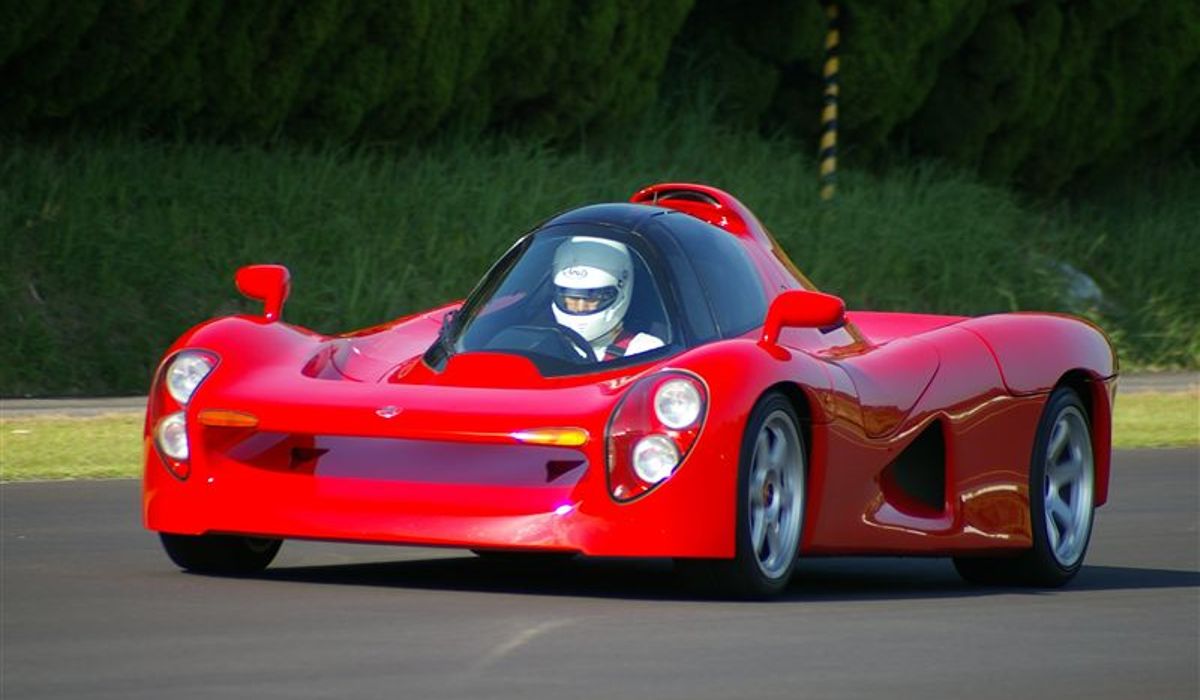 Via Car Throttle.
There was so much potential for the development of the Yamaha OX99-11, a street-legal Formula One car for the road. The project was conceived by Ypsilon Technology, a Yamaha subsidiary, and International Automotive Design (IAD), an English Engineering outfit.
The car community was understandably excited by this, and for good reason too. The Yamaha OX99-11 supercar had a unique tandem-style seating arrangement. However, its most impressive feature had to be the Formula One-derived engine, a screaming V12 that could rev to an insane 10,000 rpm!
It looked all set to power its way into production, but sadly, that never happened. After several delays, Yamaha decided to pull the plug on the project in 1994 due to budget constraints. Also, Japan was in the midst of a crippling economic crisis, and Yamaha was not sure if it would ever find customers for the OX99-11 with an expected final price tag hovering around $800,000.
Yamaha did build three functional OX99-11 prototypes, though, and today, they offer a glimpse of what might have been if the car had made it to full production.
Vaporware Supercar Concept #9: TVR Cerbera Speed 12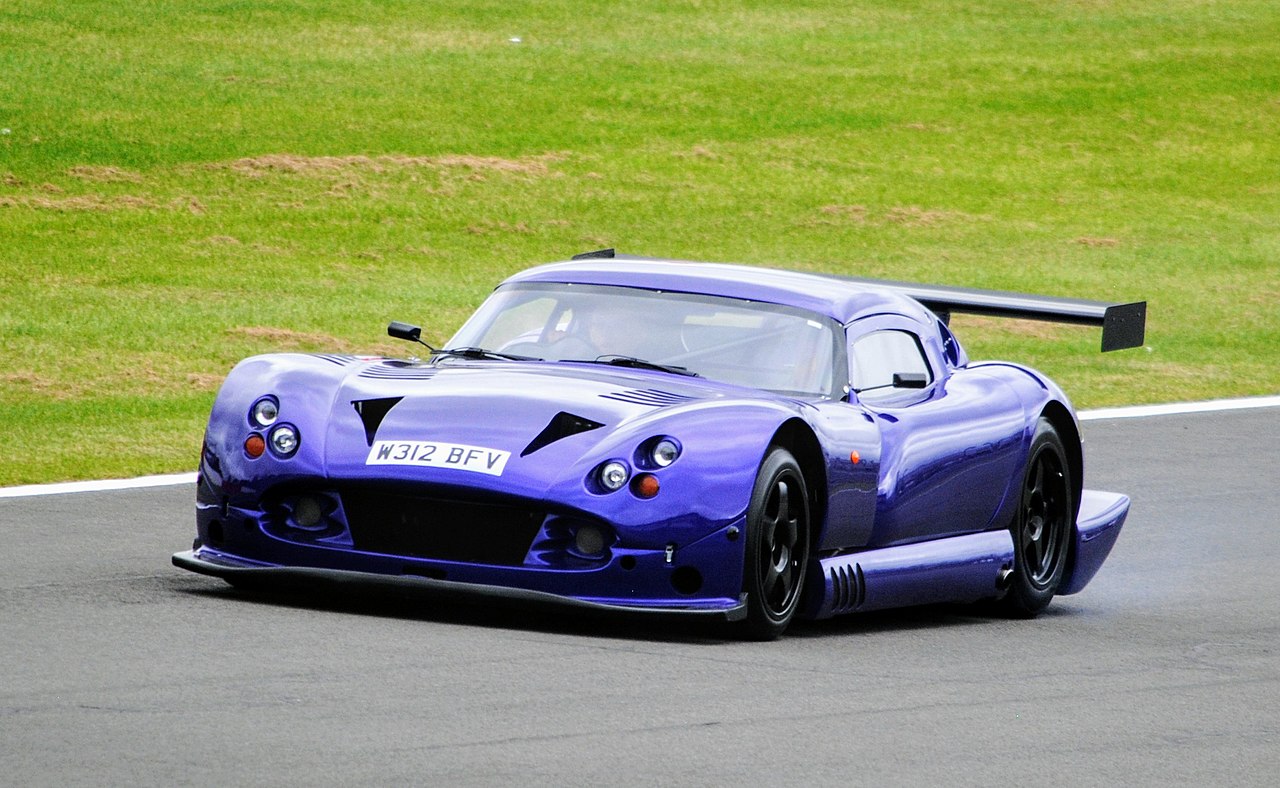 Image via Broken Gearbox.
TVR is a British carmaker with a penchant for making extreme road performance cars with little regard for safety. That doesn't sit too well with US regulators and explains why TVR vehicles are mostly banned in the country.
However, for a company like TVR, even the TVR Cerbera Speed 12 proved to be a little too much—and that's saying a lot. The car initially started as a development project for a race car meant to compete in the FIA GT Championship.
However, regulation changes rendered the car obsolete before it ever got the chance to hit the tracks. The engineers changed direction then and decided to transform the Speed 12 into a road car.
At its heart was a formidable 7.7-litre V12 with an estimated power output of around 800-bhp. The carmaker accepted deposits from interested customers, and it looked like the project had the green light for production. That was until Peter Wheeler, then-owner of TVR and an experienced driver, took the prototype out on the road and concluded that the car was simply too powerful for the public roads.
It was a potential death trap; a possibility made even starker by the car's lack of safety features. It marked the end of what could have been a real performance brute on the highways.
Vaporware Supercar Concept #8: Chrysler ME 4-12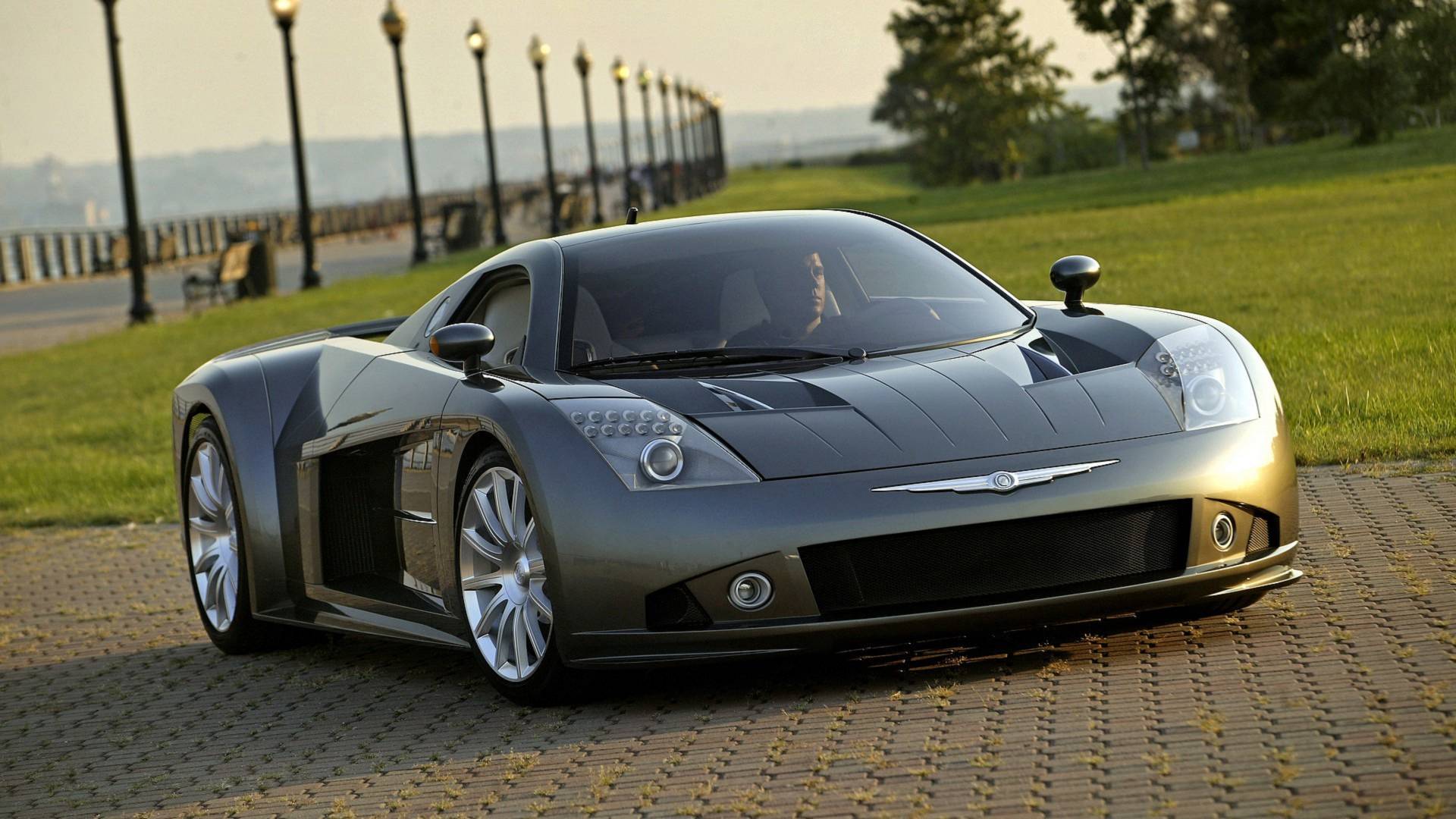 Image via Motor1.
Conceived by Chrysler in 2003, the ME 4-12 had what it took to become one of America's greatest supercars. Instead, we were left wondering how a car with so much potential floundered and ultimately came to an inglorious end.
The public got its first full glimpse of the vehicle at the 2004 Detroit Auto Show, and Chrysler promised performance numbers that were on par with some of the best supercars of the day. The ME 4-12 was powered by a quad-turbo 6.0-litre AMG V12 that cranked out up to 850-hp. That provided enough juice for a 2.9-second sprint to 60 mph and an insane 6.0-second run time to 100 mph.
The top speed was over 240 mph, about the same as the legendary McLaren F1. The car's performance, coupled with its eye-catching design, was the stuff of supercar dreams, but in 2005, Chrysler brought us all back to jarring reality with an announcement that the project had been cancelled.
Studies revealed that the development costs of the car, estimated to be in the hundreds of millions (US dollars), were unjustifiable at a time when Chrysler was still rebuilding. In hindsight, maybe they should have gone ahead with the ME 4-12 project, considering that they are still rebuilding today.
Vaporware Supercar Concept #7: Jaguar CX-75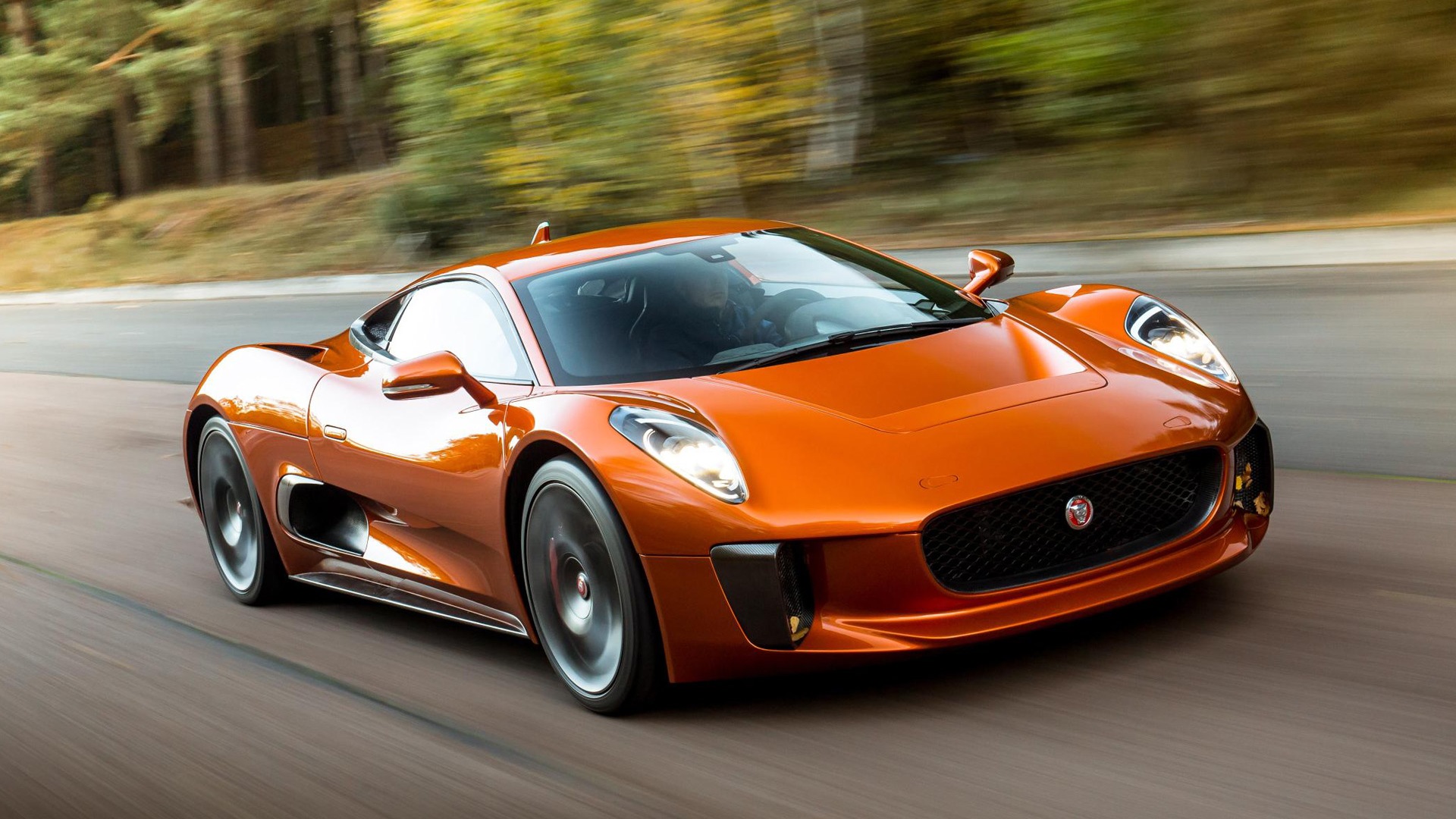 The low-slung Jaguar CX-75 was the company's attempt to reenter the supercar market after a trouble-ridden run for the Jaguar XJ220. The CX-75 was a hybrid-electric supercar concept capable of putting out a thumping 778-hp. It was developed in partnership with the Williams Formula One team.
The CX-75 had diesel-fed micro gas turbines that charged the batteries, which then supplied power to the four electric motors (one for each wheel). In May 2011, Jaguar decided to ditch this revolutionary technology and instead go for a limited CX-75 production run with a more conventional pairing of a forced induction petrol engine with the electric motors.
It was a step down from what was promised during the car's reveal at the 2010 Paris Motor Show, but even then, Jaguar could not deliver. In December 2012, the carmaker cancelled the project altogether due to the global economic crisis.
A new twist in the tale emerged recently, in March 2021. A Hungarian company, Kinscem, has promised to revive the concept as a fully-fledged production vehicle. The carmaker has set a production date of 2023, but we are not holding our breath for this one.
Vaporware Supercar Concept #6: Lamborghini Asterion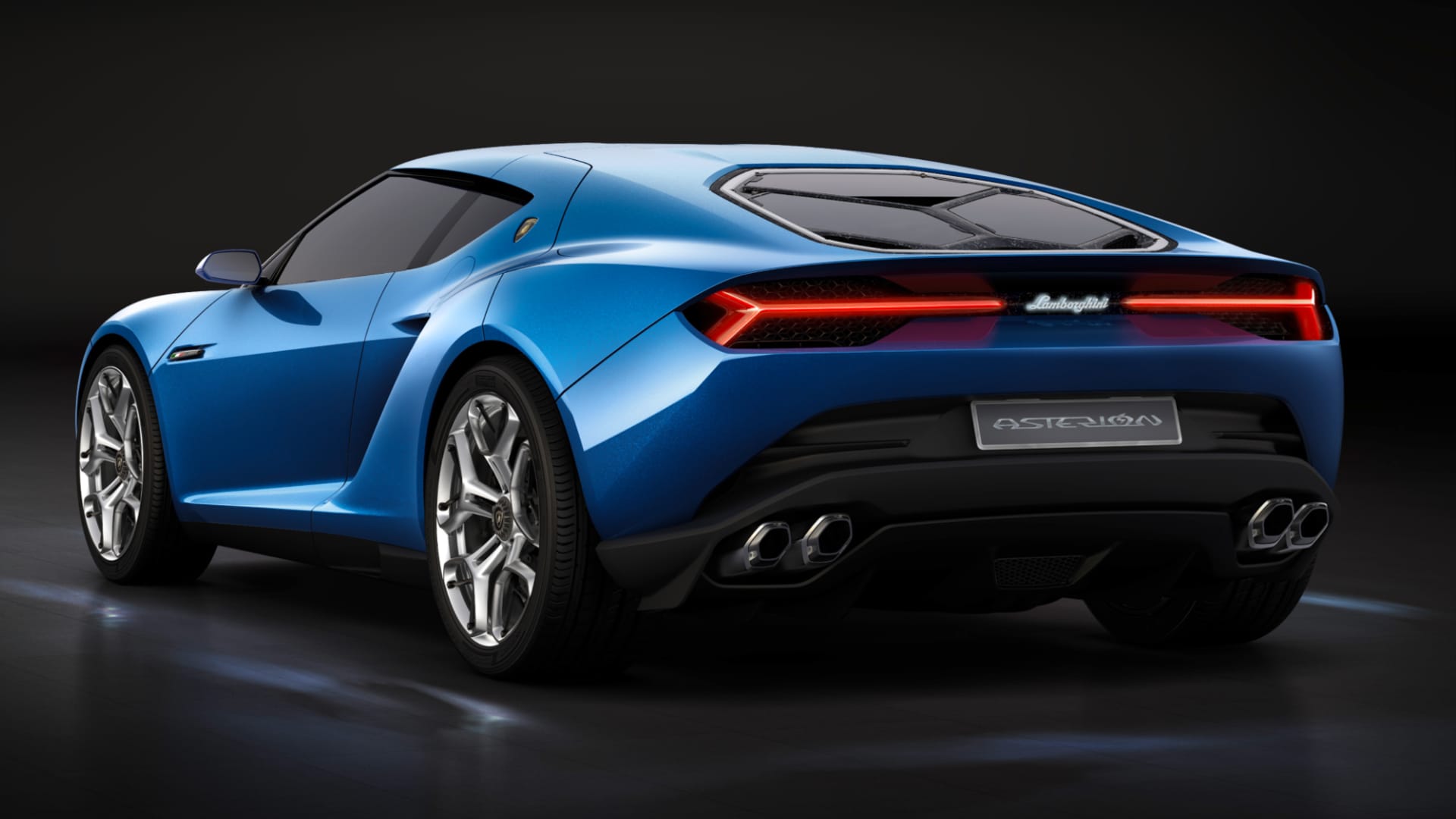 Image via Lamborghini.
The Lamborghini Asterion was far from your typical Lambo supercar when it was unveiled at the 2014 Paris Auto Show. For one, it was a four-door supercar. More importantly, it featured hybrid technology, which Lamborghini had traditionally shied away from.
The powertrain comprised a 5.2-litre V10 from the Lamborghini Huracan and twin electric motors driving the front wheels. The result was a family-sized supercar that boasted a combined output of 898-bhp.
Lamborghini was prepared to take a gamble on the Asterion, but a lukewarm reception to the supercar changed all that. However, the Asterion remains a concept that might still evolve as Lamborghini repositions itself for a future that's not wholly dependent on gasoline engines.
Vaporware Supercar Concept #5: Lamborghini Cala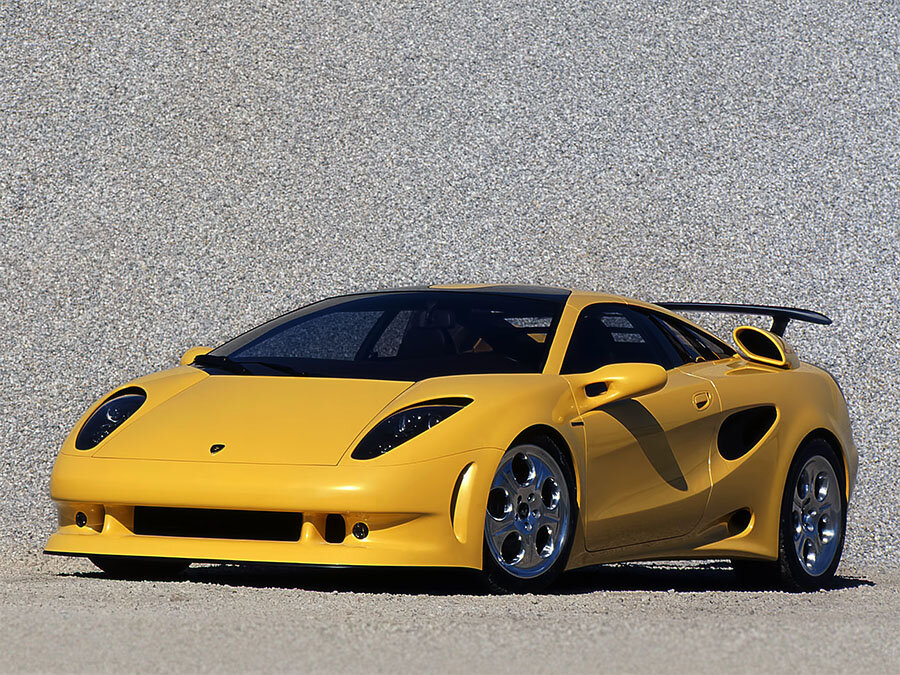 Image via Supercar Nostalgia.
1994 saw the debut of the Ferrari F355, an entry-level supercar offering. Lamborghini needed a response as its own entry-level car, the Lamborghini Jalpa, was ageing and had been mediocre for most of its production life. That was when the idea of the Lamborghini Cala was born.
The concept was designed by famous Italian design house Italdesign and had a fully functional V10 power plant good for 400-bhp. The Cala was showcased at the 1995 Geneva Motor Show, and Megatech, the Indonesian-based company that owned Lamborghini at the time, seemed poised to put the Cala into production. Unfortunately, the plans were scuttled by crippling financial problems that culminated in Lamborghini's takeover by Volkswagen Group.
This is one story that had a good ending, though. Volkswagen kept the dream of a V10 Lamborghini alive, and the Cala set the perfect foundation for the Lamborghini Gallardo. This supercar would go on to become one of the most successful Lamborghinis ever made.
Vaporware Supercar Concept #4: Apollo Arrow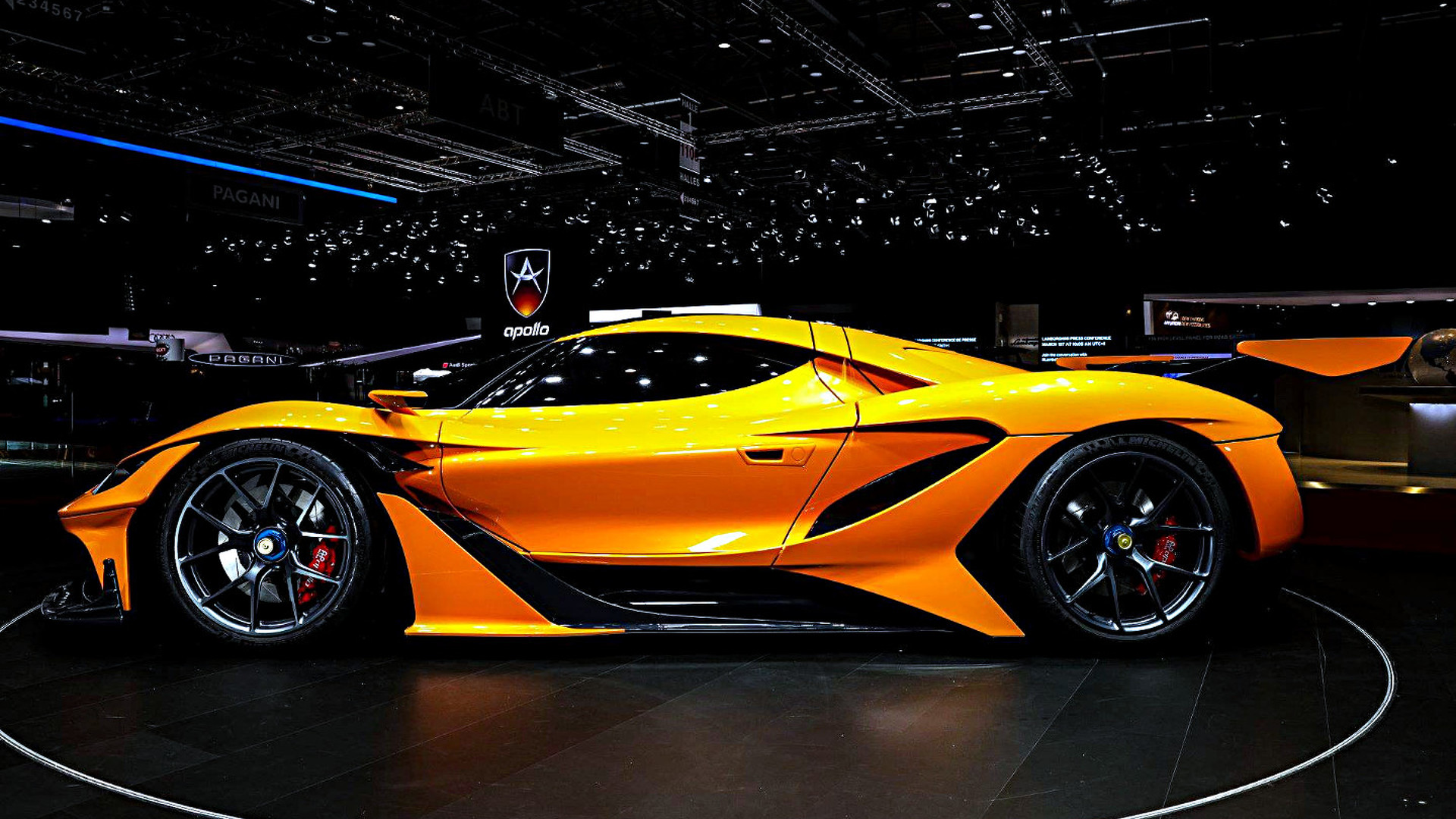 Image via Motor1.
Here's another promising concept that never got to see the light of day. It was developed by Scuderia Cameron Glickenhaus (SCG) and Apollo Automobili.
The Arrow was poised to fill the shoes left by the ill-fated Gumpert Apollo. It was a big ask, but the Arrow seemed capable, with a mid-mounted, Audi-sourced, twin-turbo 4.0-litre V8 that put out as much as 986-hp and 737 lb-ft of torque.
The designers promised that the engine would be individually tuned to suit each buyer's requirement but that a sub-3-second sprint and 224 mph top speed were entirely feasible. They also stated that the car would be fully street-legal, allowing the potential owners to enjoy the Arrow on open roads.
Sadly, the project lost steam after its 2016 debut and eventually ground to a halt as Apollo Automobili focused on creating its own separate supercar, the Apollo Intensa Emozione.
Vaporware Supercar Concept #3: Zagato Raptor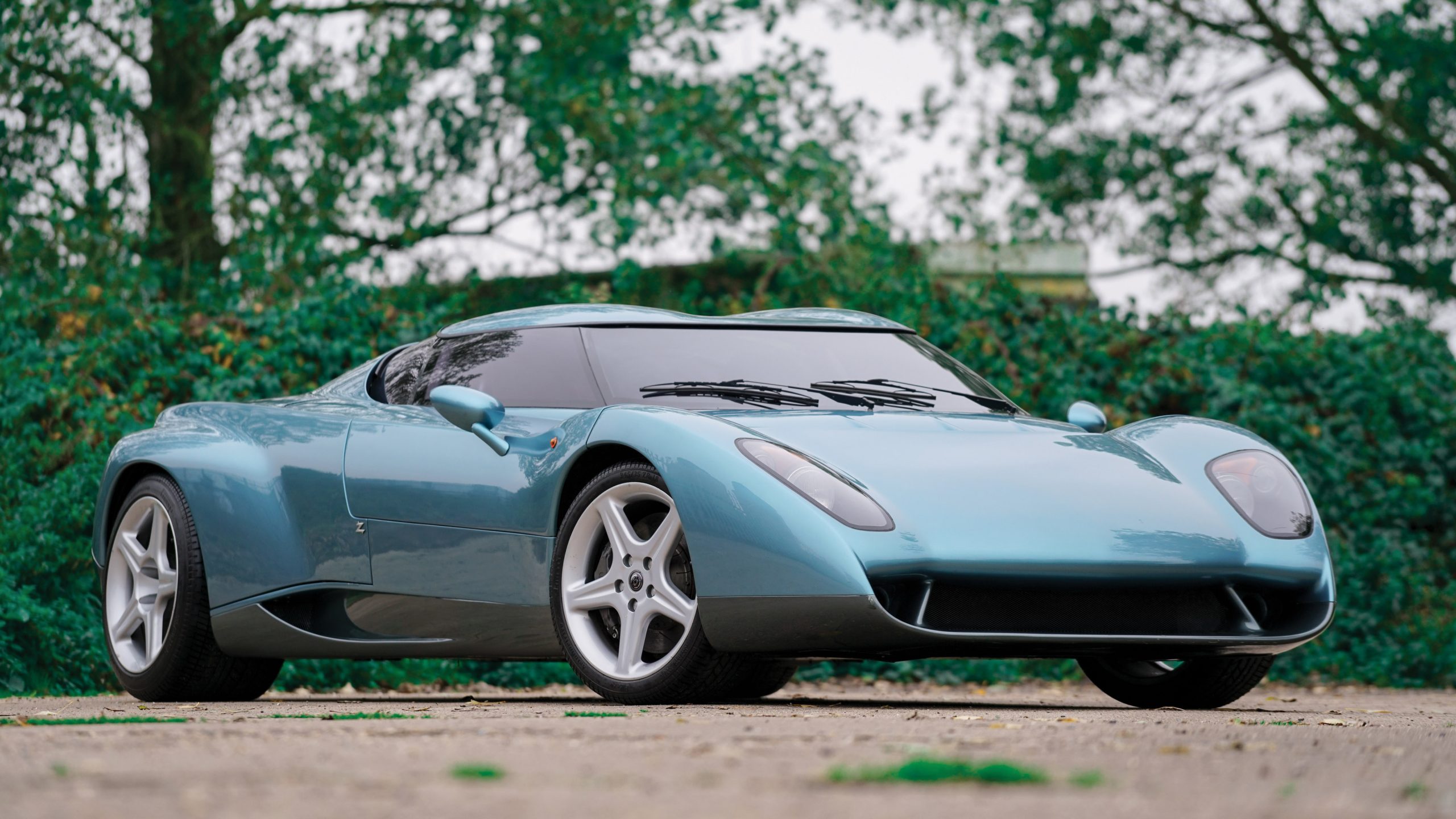 Image via Top Gear.
The 1996 Zagato Raptor was billed as the car that could help inject some new life into the ailing coachbuilder. The Raptor was designed extensively using computer-aided design equipment, showcasing Zagato's capabilities in this regard.
It was based on the existing Lamborghini Diablo, but a carbon-fibre bodywork (and lack of ABS and traction control systems) made the Zagato almost 660 pounds lighter. That translated to more speed as the Raptor could hit 60 mph in less than 4 seconds—an impressive number for the '90s.
The car appeared at the 1996 Geneva Auto Show, and Zagato was hoping it would generate enough interest to warrant limited production. It was supposed to be built at Lamborghini's Sant'Agata factory, since the carmaker was interested in the project as a 'stop-gap' replacement for the Diablo and its planned successor. But that never happened, and the lone concept was limited to occasional appearances at exclusive car meets until it was put up for auction in November 2019.
Vaporware Supercar Concept #2: Saleen S5S Raptor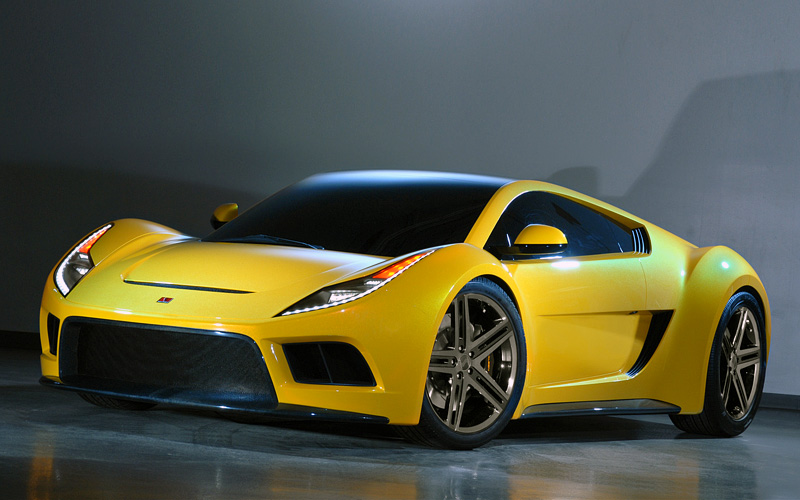 Image via Top Car Rating.
This is another Raptor that spun its wheels but got nowhere. The thrilling car featured prominently in games like CSR Racing and Forza Horizon. Sadly, its real-world appearance is limited to a concept displayed by Saleen at the 2008 New York International Auto Show.
The production-spec S5S (named for its 5.0-litre supercharged engine) was to be fitted with a 650-hp V8 that produced all of 630 lb-ft of torque. It was enough to get the supercar to 60 mph in a claimed 3.2 seconds and on to a top speed north of 200 mph.
An expected retail price tag of $185,000 brought it within reach of a bigger segment of the supercar market than the Saleen S7, which cost a whopping $600,000. All of that mattered little at the end, though, as the S5S Raptor has remained a concept for over a decade.
Saleen still exists as a company—so the chances of seeing this in production form someday, while being an extremely long shot, may not exactly be an absolute zero.
Vaporware Supercar Concept #1: Inferno Exotic Car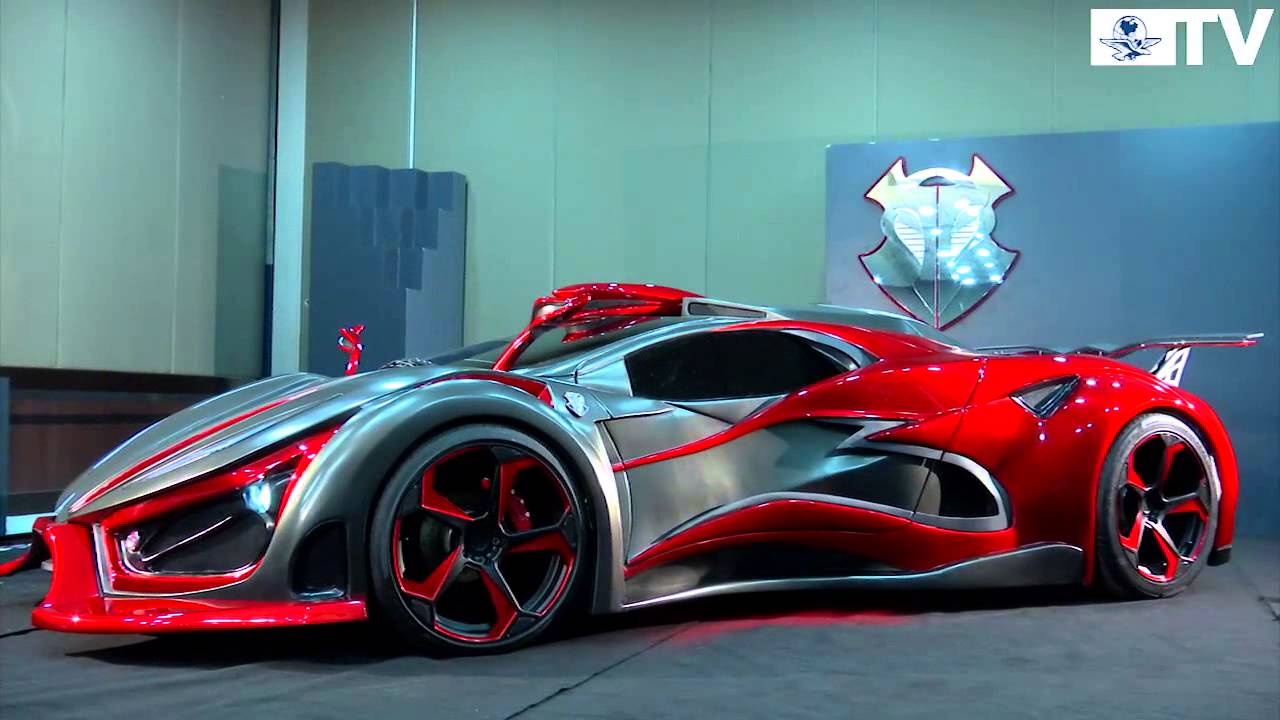 Image via TechEBlog.
Mexican carmaker Inferno Automobili set tongues wagging when it announced the Exotic Car (yes, that's the car's actual name) in 2015. Billed as Mexico's first supercar, the Exotic Car will get a twin-turbo V8 capable of 1,400-hp and 670 lb-ft of torque.
In terms of design, this supercar concept is as extreme as it gets, with radical styling and a revolutionary material known as Metal Foam—a zinc-aluminum-silver alloy. According to Inferno Automobili, this material will allow the car to stretch up to a hundred times its original length and bounce right back.
Minor scrapes or accidents will have nothing on this car—that is, if it ever gets produced. There is a dedicated website that includes various technical specifications and contact information, but so far, there's little sign that the Exotic Car will ever make it to the production stage. A healthy dose of caution is advised if you consider placing a deposit for this one.