The 11 Best-Sounding Race Cars Ever
This was a really hard amazing car list to put together. There are just way too many great race car noises throughout history to definitively say which is the best sounding race car ever.
One thing that was clear when creating this list of the best sounding race cars was that engine size didn't matter to aural pleasure. Sounding great isn't just for cars with V8s and V12s. Rotary engines, turbo'd 5 cylinder cars and even a dragster all make our list.
The raging sound of a race car is one of the most exhilarating elements of motorsport. We wanted to celebrate the wonderful car sounds we have loved. So here it is, our list of the best sounding race cars ever built.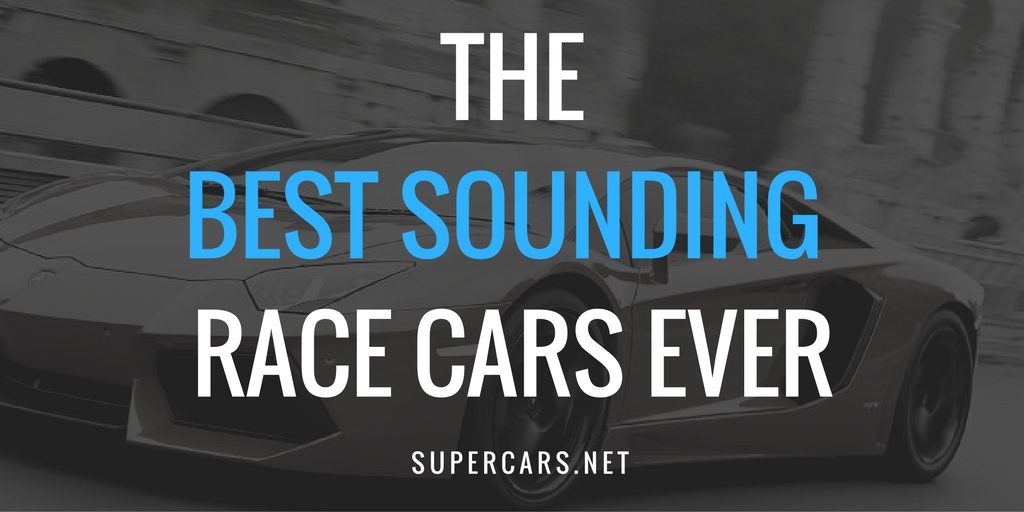 The McLaren F1 GTR was a racing variant of the McLaren F1 sports car first produced in 1995 for grand touring style racing. Basically, Gordon Murray agreed to modify the F1 into a racing car.
In 1995, McLaren took advantage of the new GT1 regulations to take the McLaren F1 to Le Mans. Because of the similarity to a race car, extensive modification was not needed to actually turn the F1 into a racing car. The V12 engine was required to use an air restrictor to limit horsepower to around 600 hp, actually making the racing car less powerful than the road car, yet faster and more nimble due to a lowered overall weight. It also sounded insane
2. V8 Dragsters
Top Fuel dragsters are the quickest accelerating racing vehicles in the world and the fastest sanctioned category of drag racers. With 10,000+ horsepower, a top fuel dragster accelerates from a standstill to 100 miles per hour in as little as 0.8 seconds. The fastest cars hit speeds of 335 miles per hour in 1,000 feet. This subjects the driver to an average acceleration of about 39 m/s2 (4.0 g0) over the duration of the race and with a peak of over 5.6 g. Best of all, it means these beasts sound like nothing else on the planet (in a good way). 
The Porsche 917 is a race car that gave Porsche its first overall wins at the 24 Hours of Le Mans in 1970 and 1971. Using the 908's design as a framework, Porsche engineers took the bold task of making the most powerful and lightweight race car possible. An air-cooled engine, called the type 917.910, was similar to the 908's, but had an entirely new bottom end. Instead of a boxer arrangement, the 917 used a 180º Flat-12 crankshaft which allowed opposite connecting rods to share crankshaft bearings.
4. Aussie V8 Supercars
The Aussie V8 Supercar series is loosely based on road-going, four-door saloon cars. Cars are custom made using a control chassis, with only certain body panels being common between the road cars and race cars. All cars must use a 5.0-litre, naturally aspirated V8 engine and they sound mean. We love it.
5. Ferrari 3.0L V12
There have been some great sounding Ferrari F1 cars over the years, but our favorite by far is the 1995 Ferrari F1 412 T2. It is the best sounding engine in the world. This is without any doubt the best Formula 1 V12 engine sound ever produced! Turn up the volume.
6. Ferrari F2002 F1 V10
If the Ferrari F1 412 is the best sounding V12 F1 car, Ferrari's F2002 is the best V10. The famous Ferrari type 051 3.0 liter naturally aspirated V10 dominated racing and the sound spectrum. Here you can hear it doing same fast accelerations and fly bys on track, hope you like it and enjoy the sound!
This onboard lap with Johnny Herbert on Le Mans Circuit for the 20th anniversary of mazda 787b's victory at 24h of Le Mans gives us chills. The car was powered by a quad-rotary engine which makes the 787 the first rotary engine car to win Lemans. In its victory the Mazda 787B completed 4923.200 km (3,059.79 miles) at an average speed of 205.133 km/h (127.49 mph).
8. Porsche 911 Rally Cars
The Porsche 911 is famous for countless things, but there are many who are unaware of the model's rallying dominance. Yes, Porsche 911s are used for rallying and they win. They also sound epic and look amazing in action.
The isn't much to say here other than you just need to watch and listen to this video of the amazing Ferrari FXX Evolution at Monza. You can hear the astonishing sound of the V12 engine during many full throttle accelerations, lovely downshifts and high speed fly bys. Ferrari knows how to make race cars sound epic.

Woosh, wooosh… That sound of wastegates is so addictive. This video is a tribute to one of the most incredible rally cars of all time, the Audi Quattro Sport S1 Group B. Turn up the volume to enjoy its inline-5 turbo engine. The Sport quattro, a 331 kW (450 bhp) front-engined car, made its debut at the end of 1984. As it happened, the S1 was able to celebrate one final triumph: in 1987 Walter Röhrl took this car with its 441 kW (600 bhp) engine up the Pikes Peak run in Colorado, USA, with its 156 bends and maximum altitude of 4,301 metres.

The howling V12 3.0 litre of the Matra MS670C driving at the legendary circuit of Le Mans during the Le Mans. It doesn't get any better. Having abandoned Formula 1 in favour of an all-out assault upon the World Championship of Makes sports-prototype series for 1973, the team found time despite its hectic new programme of 1,000Km sports-car races to build three brand-new Barquette chassis for Le Mans. These were based upon their contemporary MS670 monocoque-chassised design, powered by their well-developed, powerful and reliable 3-litre 4-cam Type MS72 V12 engine.