1971 Lamborghini Miura P400 SV Prototipo
Lamborghini finalized details of the Miura Spinto Veloce (SV) package on this car, chassis 4758. Like all Miuras, it has an exotic specification and sleek profile which define Lamborghini's image more than any other model. It's common to hear the Miura described as the world's first supercar but we prefer to expand on this by calling it the first modern supercar since the Ferrari 275 GTB and Mercedes 300 SL came immediately before it.
Over time, upgrades and small details were changed on the Miura, but a huge update called the SV was planned in 1971 starting with development chassis 4758. The main focus of the SV was a new rear suspension that made the car much wider. Longer wishbones were fitted that added 1.5 inches of length. Furthermore, larger Campagnolo cast magnesium wheels were added with wider Pirelli Cintaurato tires. Many of these changes were undertaken by chief test driver Bob Wallace in conjunction with Claudio Zampolli and greatly improved handling of the Miura.
To accommodate the new setup, the first SV chassis was sent to Bertone so Gandini could redesign the wider rear bodywork, but other features such as smooth headlight surrounds, Fiat Dino Spyder rear lights and better integrated front signals were added. The result was a much more aggressive car that emphasized the Miura's rear-engine power. Options such as Borletti air conditioning were also offered for the first time and fitted as standard on cars shipped to America. Only 30 cars were fitted with this essential option.1
The prototype is the first car to feature many of the SV upgrades that later typified the model. It was first displayed at the 1971 Geneva Auto Show in Fly Giallo with black leather interior. It was distinguished from the later production versions by numerous detail differences such as different front headlight surrounds, and interior details such as the ashtrays.
Not long after being displayed the car was sold a full month ahead of SV production. The car spent its early life in Italy before coming stateside. There, it underwent a restoration with aim at the 2008 Pebble Beach Concours d'Elegance's display honoring the 45th anniversary of Lamborghini. After being refreshed at Wayne Obry's Motion Products Inc. That day it was awarded 3rd in class among the world's best Lamborghinis.
Sources & Further Reading
1. Sackey, Joe. Lamborghini Miura Bible. Veloce Publishing: 2009.
2. Kidston, Simon & Marc Sonnery. Miura 360: The World's First Supercar. 2010.
3. Pasini, Stefano.Automobili Lamborghini Catalogue Raisonne 1963-2002. Automobilia: 2002.
4. Coltrin, Peter and Marchet, Jean Francois
Lamborghini Miura. Osprey: 1982.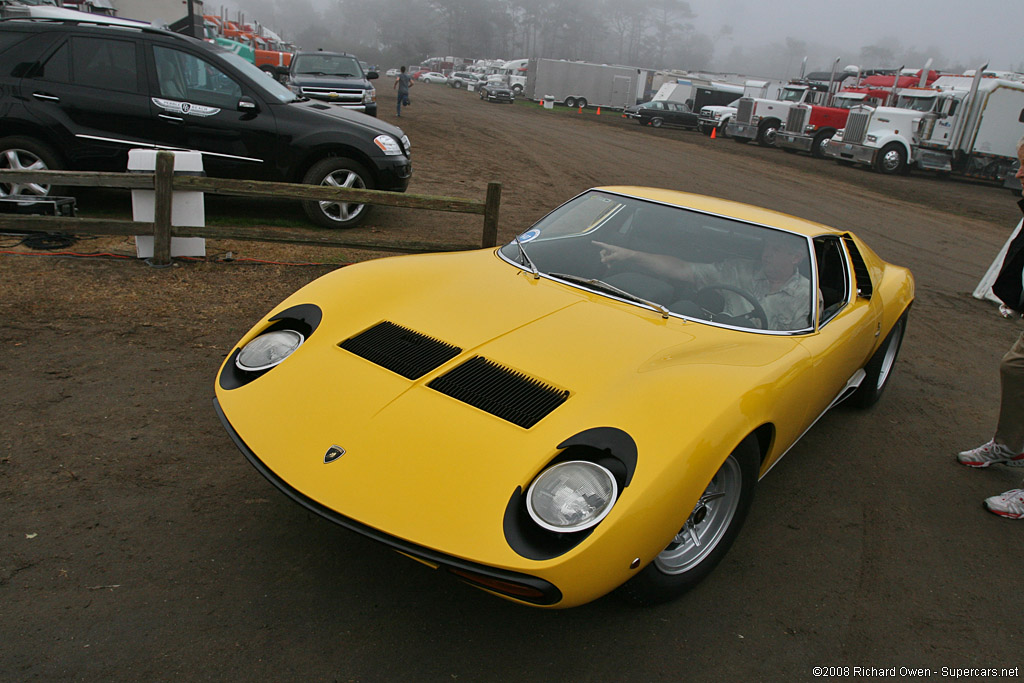 In Detail
| | |
| --- | --- |
| submitted by | Richard Owen |
| type | Series Production Car |
| released at | 1971 Geneva Motor Show |
| built at | Santa'Agata Bolognese, Italy |
| body stylist | Marcello Gandini |
| engineers | Paolo Dallara |
| production | 1 |
| predeccesor | 1970 Lamborghini Miura P400 S |
| succeccesor | 1971 Lamborghini Miura P400 SV |
| engine | 60º V12 |
| position | Mid, Transverse |
| aspiration | Natural |
| block material | Aluminum |
| valvetrain | DOHC 2 Valves / Cyl |
| displacement | 3929 cc / 239.8 in³ |
| bore | 82.0 mm / 3.23 in |
| stroke | 62.0 mm / 2.44 in |
| compression | 10.7:1 |
| engine designer | Giotto Bizzarrini |
| power | 287.1 kw / 385 bhp @ 7850 rpm |
| specific output | 97.99 bhp per litre |
| bhp/weight | 292.33 bhp per tonne |
| torque | 400 nm / 295.0 ft lbs @ 5750 rpm |
| body / frame | Steel body over Steel Box-Section Chassis |
| driven wheels | RWD |
| wheel type | Campagnolo Casr Magnesium |
| front tires | FR70VR-15 Pirelli Cintaurato |
| rear tires | FR70VR-15 Pirelli Cintaurato |
| front brakes | Vented Discs |
| rear brakes | Vented Discs |
| front wheels | F 38.1 x 17.8 cm / 15.0 x 7.0 in |
| rear wheels | R 38.1 x 17.8 cm / 15.0 x 7.0 in |
| steering | Unassisted Rack & Pinion |
| f suspension | Double Wishbones |
| r suspension | Double Wishbones |
| curb weight | 1317 kg / 2900 lbs |
| wheelbase | 2505 mm / 98.6 in |
| front track | 1410 mm / 55.5 in |
| rear track | 1540 mm / 60.6 in |
| length | 4390 mm / 172.8 in |
| width | 1780 mm / 70.1 in |
| height | 1100 mm / 43.3 in |
| transmission | 5-Speed Manual |
| top speed | ~273.53 kph / 170 mph |
| 0 – 60 mph | ~5.75 seconds |
| 0 – 1/4 mile | ~14.3 seconds |
Lamborghini Miura P400 SV Auction Prices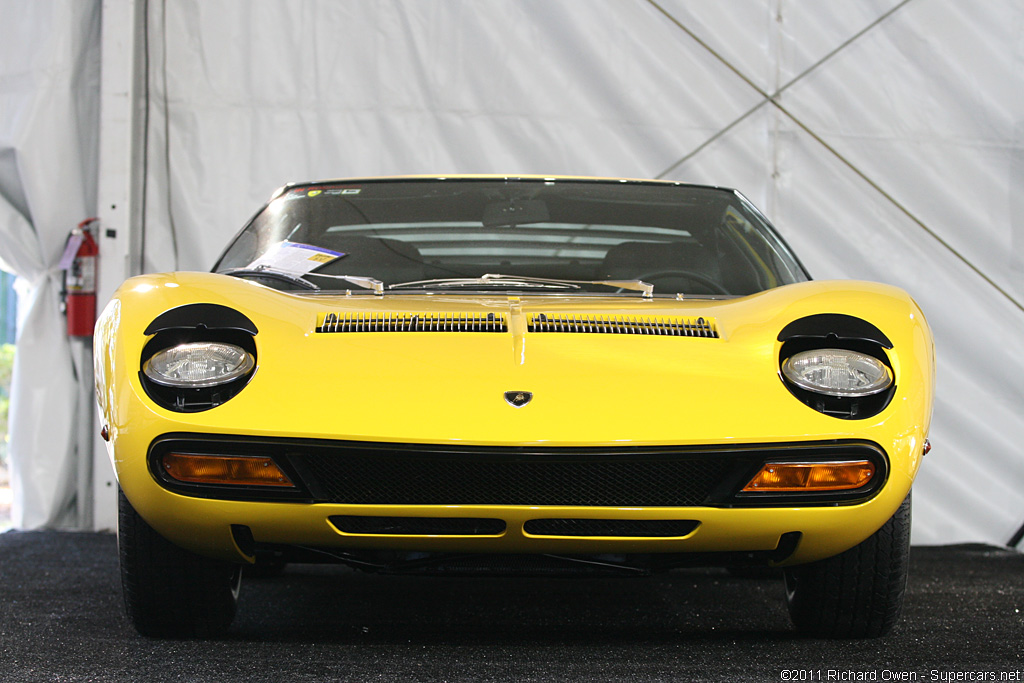 1971 Lamborghini Miura P400 SV Prototipo 4758 – sold for $1,705,000. Sold for $1,705,000 The Original Pre-Production SV Prototype. Several One-Off Features and Details. Completely Restored by Wayne Obry's Motion Products Inc. and Jeff Stephan. 2008 Pebble Beach Concours d'Elegance Award Winner. Offered with Tool and Jack Kit, Factory Literature and Documentation. One of the Most Significant Lamborghinis in Existence. Auction Source: 2011 Amelia Island Auction by Gooding & Company