The 1990 Nissan 300ZX Twin Turbo was an exciting sports car package that injected a much-needed breath of fresh air into the ailing 'Z' brand. The Nissan 'Z-Series' was introduced with the Nissan Fairlady Z in Japan and the Datsun 240Z in the American market for the 1970 model year. It resulted from 3 years of research and development as the Japanese carmaker sought to create a modern two-seat, fixed-roof coupe with agile handling and proper sports car performance.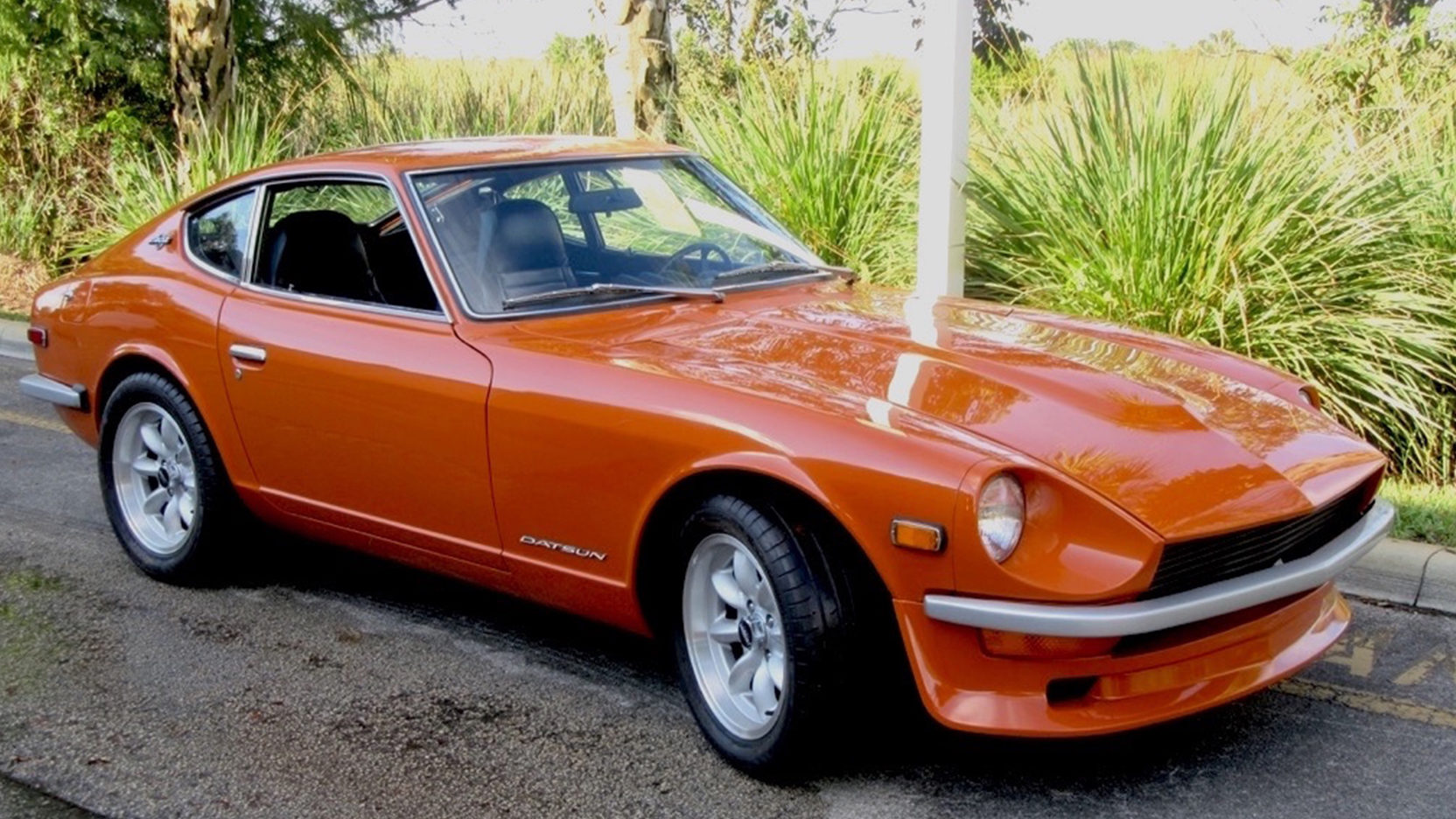 Via Mecum.
The Datsun 240Z was an instant hit, selling over 45,000 units through the 1971 model year. Americans loved the affordable, light-weight sports car that handled like a dream. However, it was not long before the Datsun 240Z fell victim to tightening Federal emissions and crash regulations. Nissan had to adapt by making the 'Z-Series' cars heavier and more GT-like, gaining several amenities and luxury features along the way.
The sports car essence was rapidly being diluted, and by the time the Z31-generation 300ZX debuted in 1984, it drove nothing like the early cars that kickstarted the 'Z-Series' journey. The 1984 300ZX also received knocks for its unattractive styling.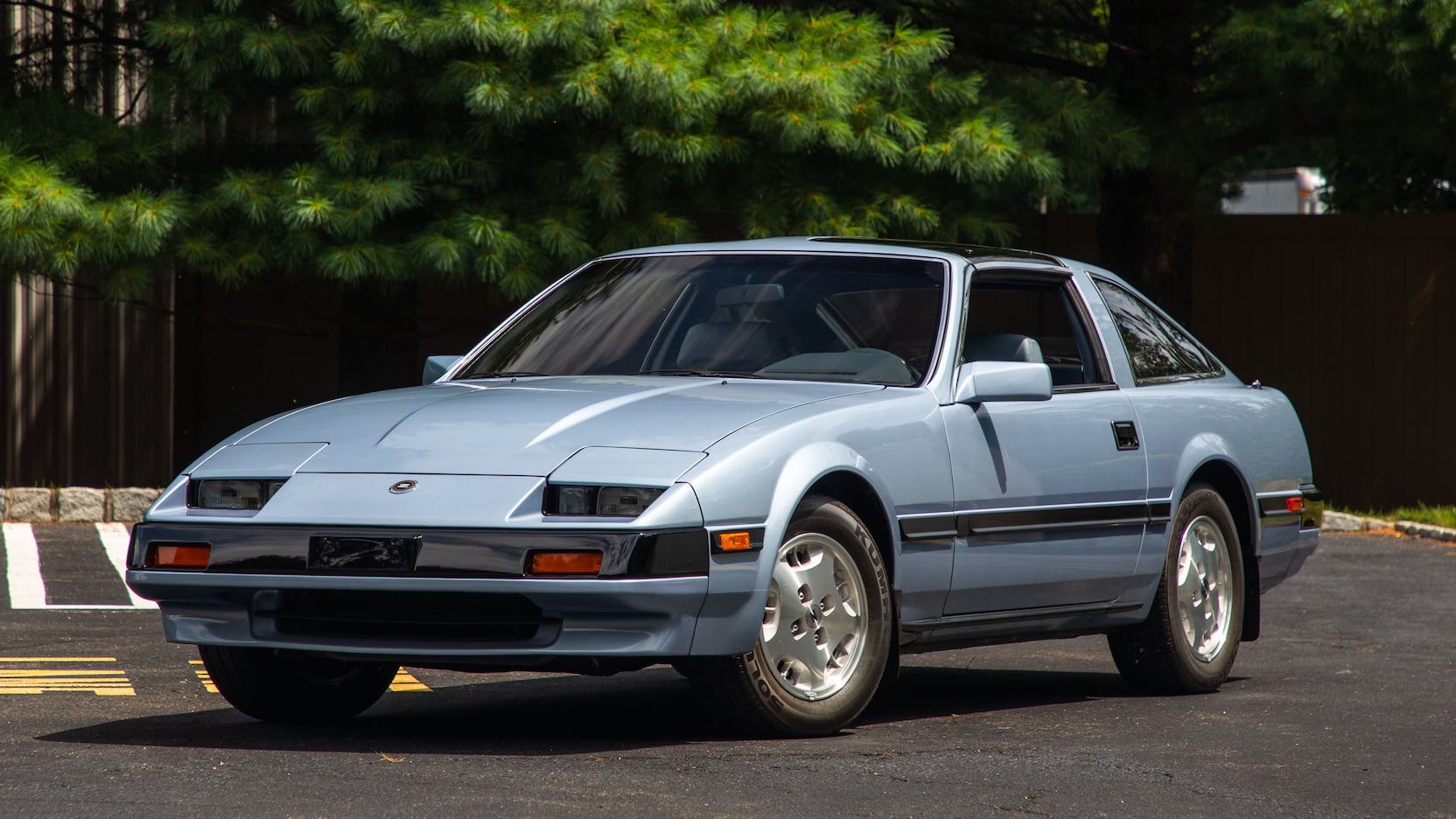 Via Mecum.
In 1990, Nissan responded with a complete design overhaul and launched the Z32-Generation 300ZX. The 300ZX was exciting with sleeker lines and a more powerful powertrain. To prove that this was no flash-in-the-pan, the carmaker followed it up with the 300ZX Twin Turbo version.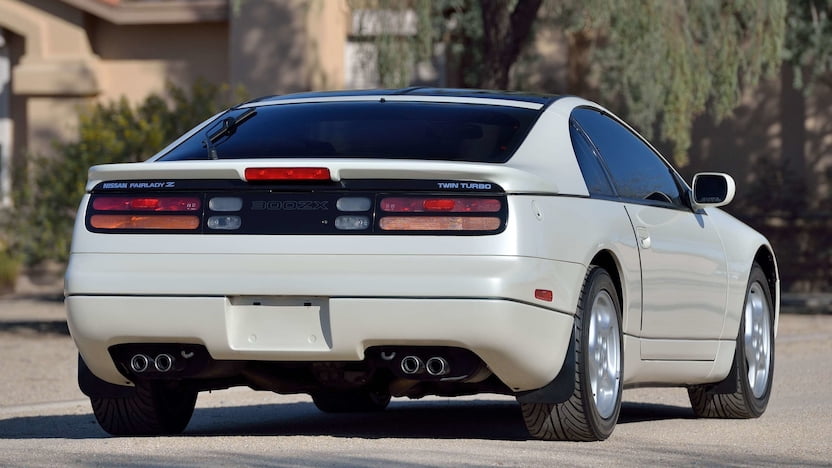 Via Mecum.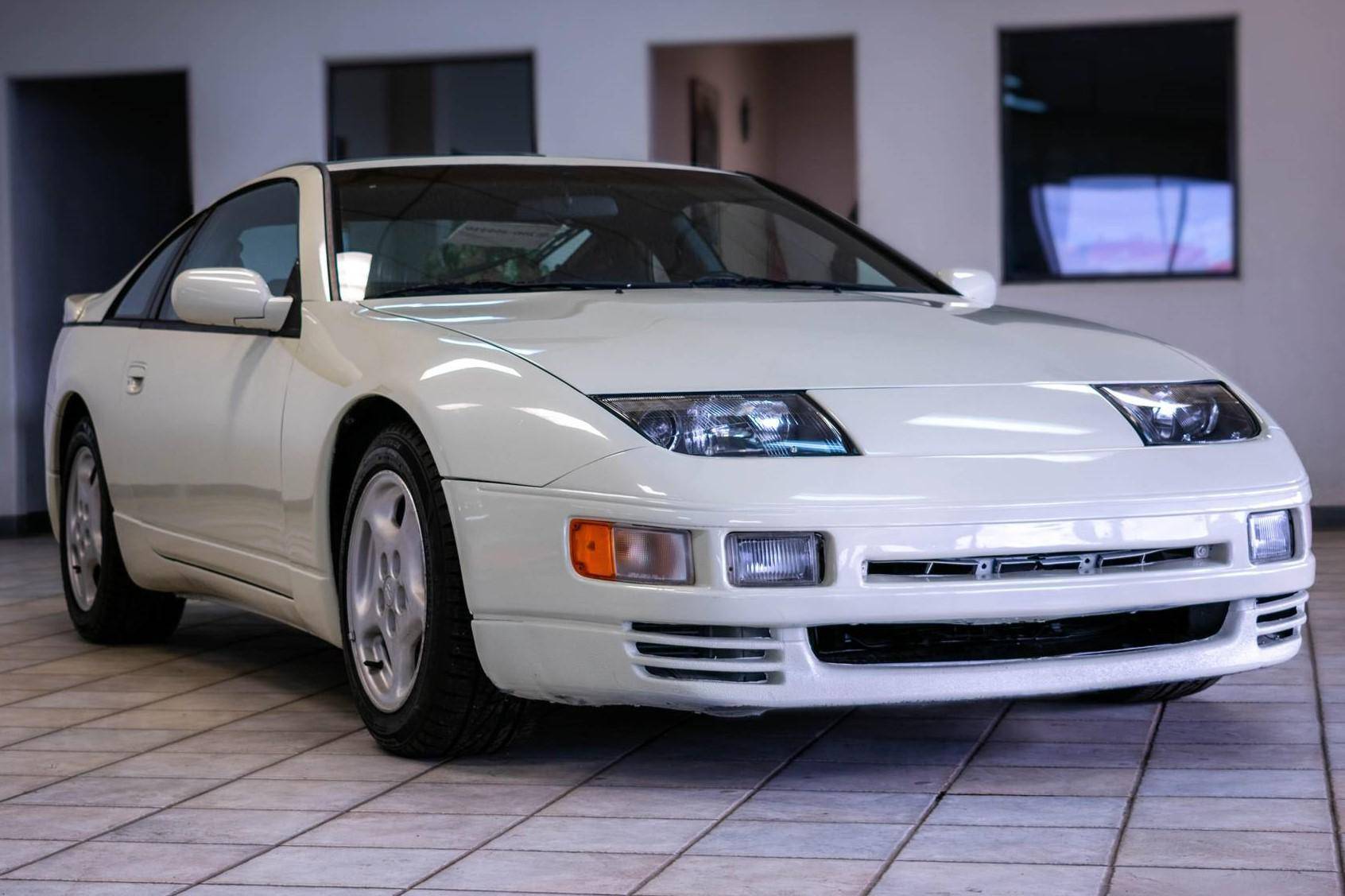 Via Cars & Bids.
The Twin Turbo sports car was definitive proof that the carmaker had recovered its mojo. It ranked among the most technologically advanced cars from Nissan at that point, with game-changing features like an adjustable two-way suspension and optional four-way steering called 'Super HICAS' (High Capacity Actively Controlled Steering).
The Twin Turbo also scooped up Motortrend's '1990 Import Car of the Year' award, and it impressed Car and Driver Journalists so much that it remained on the magazine's 'Ten Best' list for seven consecutive years!
1990 Nissan 300ZX Twin Turbo Specifications, Options, & Design
Exterior Dimensions
| | |
| --- | --- |
| Length | 4,305 mm / 169.5 in |
| Width | 1,791 mm / 70.5 in |
| Height | 1,250 mm / 49.2 in |
| Wheelbase | 2,451 mm / 96.5 in |
| Curb Weight | 3,422 lbs / 1,552 Kg |
1990 Nissan 300ZX Twin Turbo Exterior Design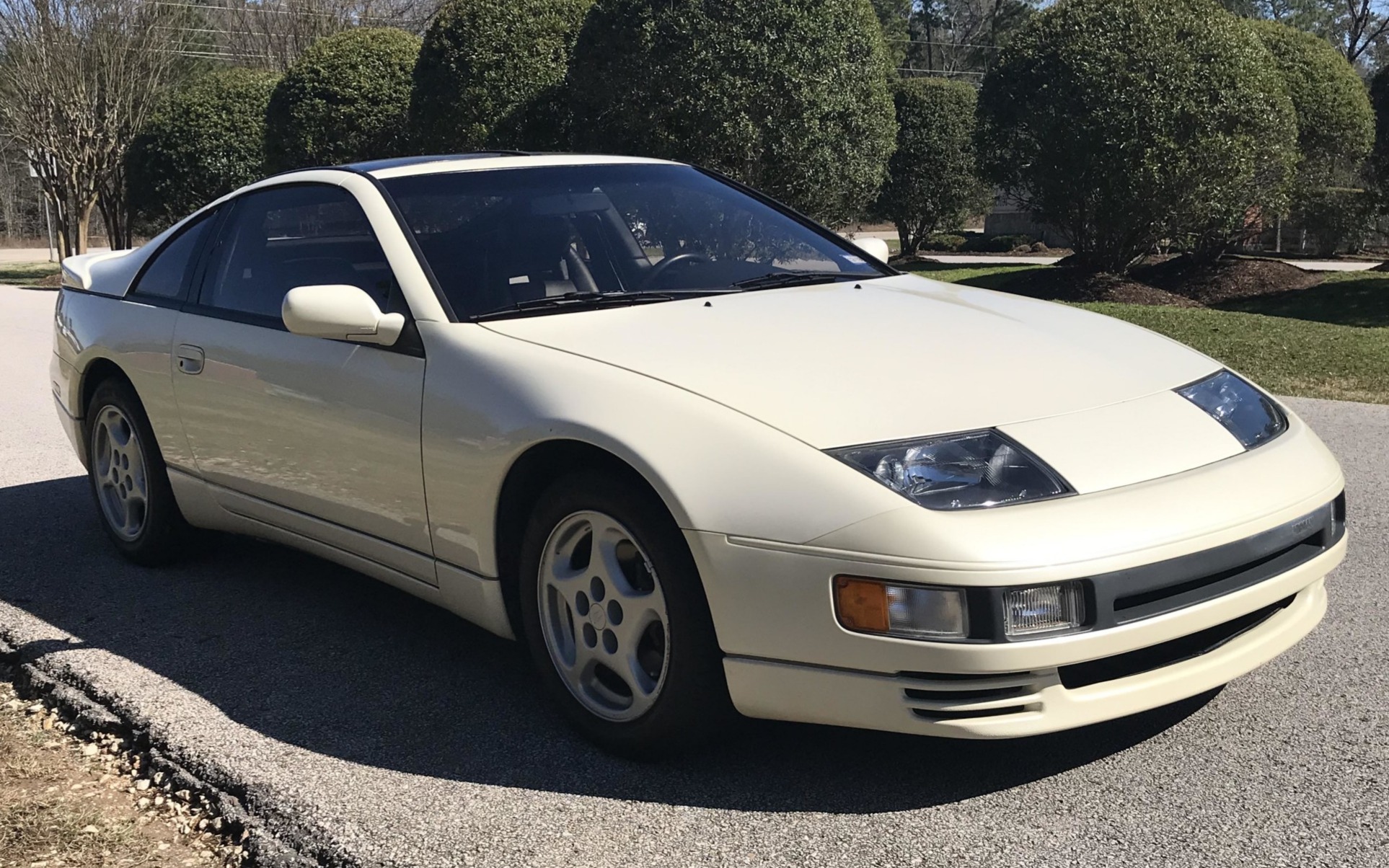 Via Bring-a-trailer.
The 1990 Nissan 300ZX smoothed out the sharp edges of the previous generation model, resulting in a sleeker aerodynamic appearance. The pop-up headlights were gone, replaced by fixed headlights that slanted at over 60 degrees. Lamborghini would later use those stylish headlights, under license, for its Diablo supercar.
Air intakes were built into a lower apron to help with cooling the V6 power plant (located just behind). The car featured bold 'Twin Turbo' badging at the rear, distinguishing it from the less powerful naturally aspirated models. Also, the 300ZX Twin Turbo was offered only as a T-top model in America.
Interior Dimensions
| | |
| --- | --- |
| Front Head Room | 36.8 in |
| Front Hip Room | 53.5 in |
| Front Leg Room | 43.0 in |
| Front Shoulder Room | 56.7 in |
1990 Nissan 300ZX Twin Turbo Interior Design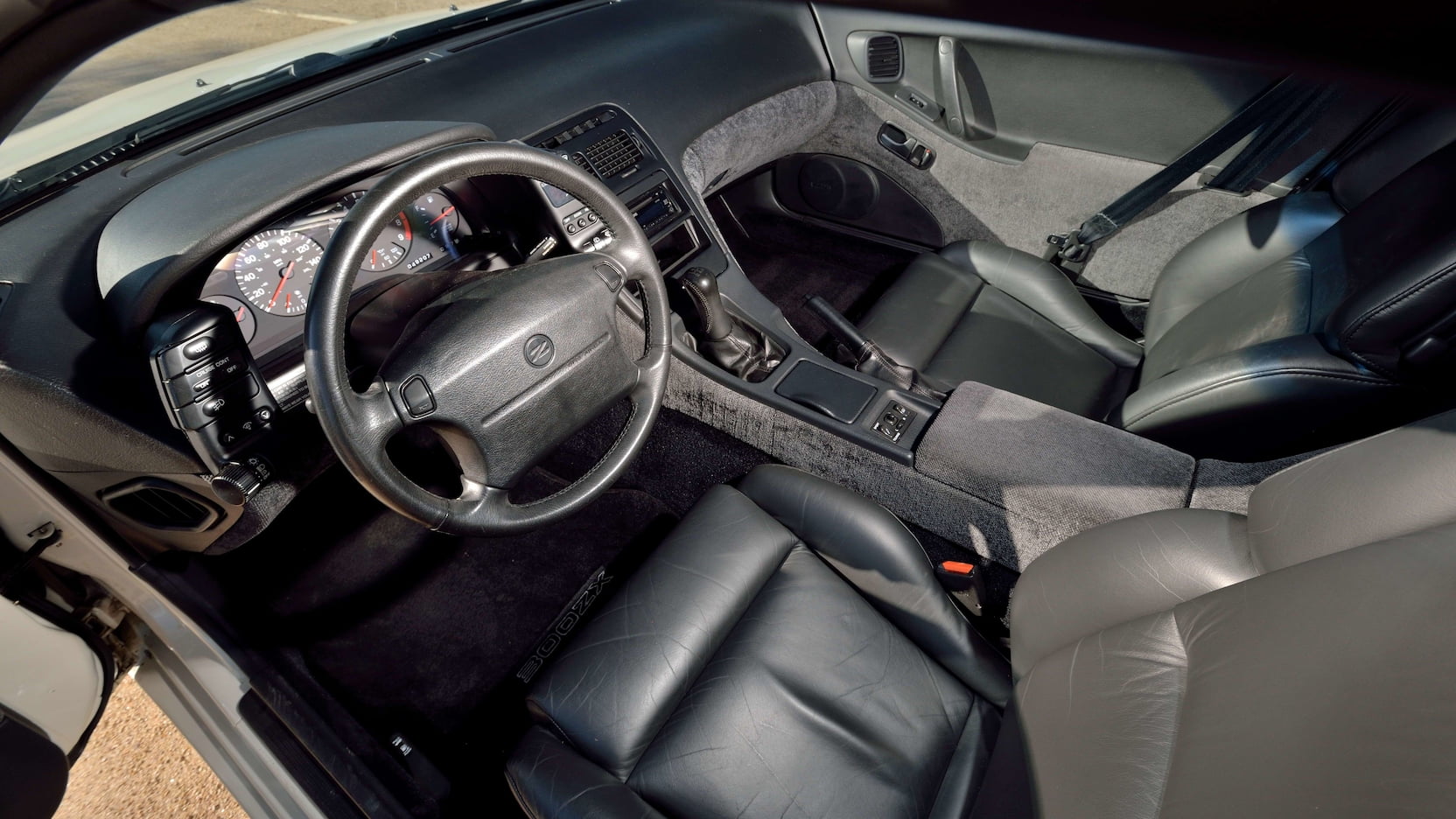 Via Mecum.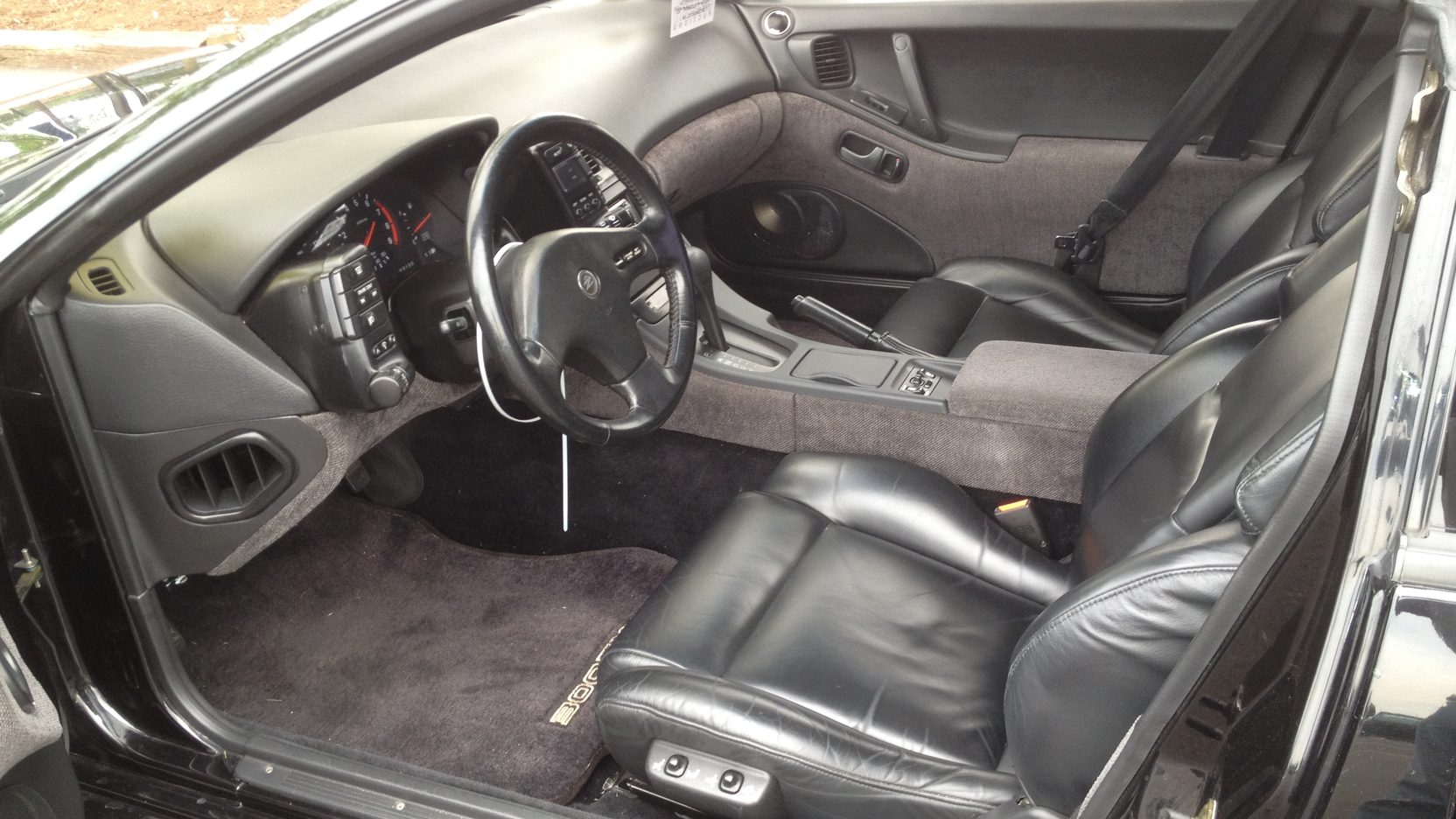 Via Mecum.
It's easy to see why Car and Driver described the interior of the 1990 Nissan 300ZX Twin Turbo as one of the most beautiful and efficiently designed sports car cockpits of that era. The instrument panel is well laid out with gauges that are clear and easy to read. Various controls are mounted on easy-to-reach pods surrounding the wheel, reducing the risk of distractions while driving.
The sport bucket seats, extremely comfortable, came covered with fabric or premium leather as part of a $1,000 option package. The non-turbo versions got a 2+2 seat configuration, but the Twin Turbo variants were strictly 2-seater coupes for the American market.
1990 Nissan 300ZX Twin Turbo Engine & Transmission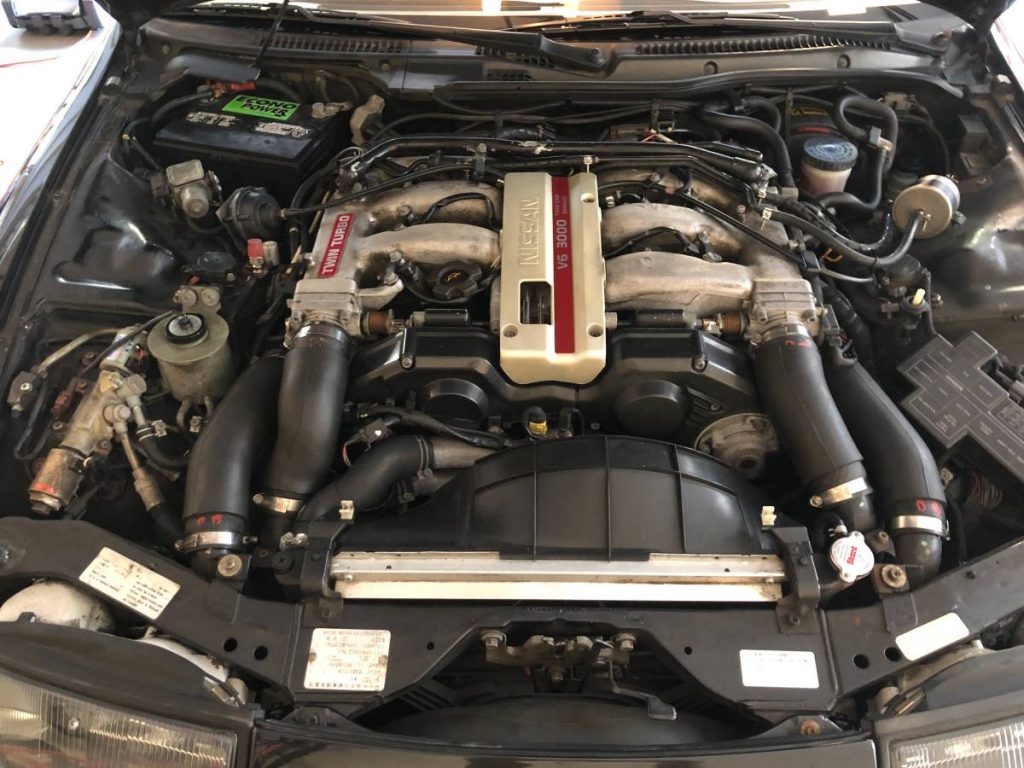 Via GuyswithRides.
The Z-32 300ZX Twin Turbo got the same 3.0-litre V6 that powered the naturally aspirated model. It generated 222-hp at 6,400 rpm even without turbos to spool things up. That was more than the power output of the previous-gen 1984 300ZX Twin Turbo.
For the 1990 300ZX Twin Turbo, Nissan introduced a potent 'party trick' in the form of twin Garrett Turbochargers and dual intercoolers that dialled things up several notches. It pushed the peak output to 300-hp, placing it ahead of cars like the C4 Corvette, Acura NSX, and the Porsche 944 Turbo.
| | |
| --- | --- |
| Drivetrain Layout | Front Engine, RWD |
| Engine Type | Twin-turbo charged inter-cooled DOHC 24-valve V-6, iron block and aluminum heads, port fuel injection |
| Valvetrain | DOHC 4 Valves / Cylinder |
| Displacement | 180.63 ci/2,960 cc |
| Compression | 8.5:1 |
| Horsepower | 300-hp @ 6,400 rpm |
| Torque | 283 lb-ft @ 3,600 rpm |
| Transmission | 5-Speed manual as standard, optional 4-speed automatic |
1990 Nissan 300ZX Twin Turbo Performance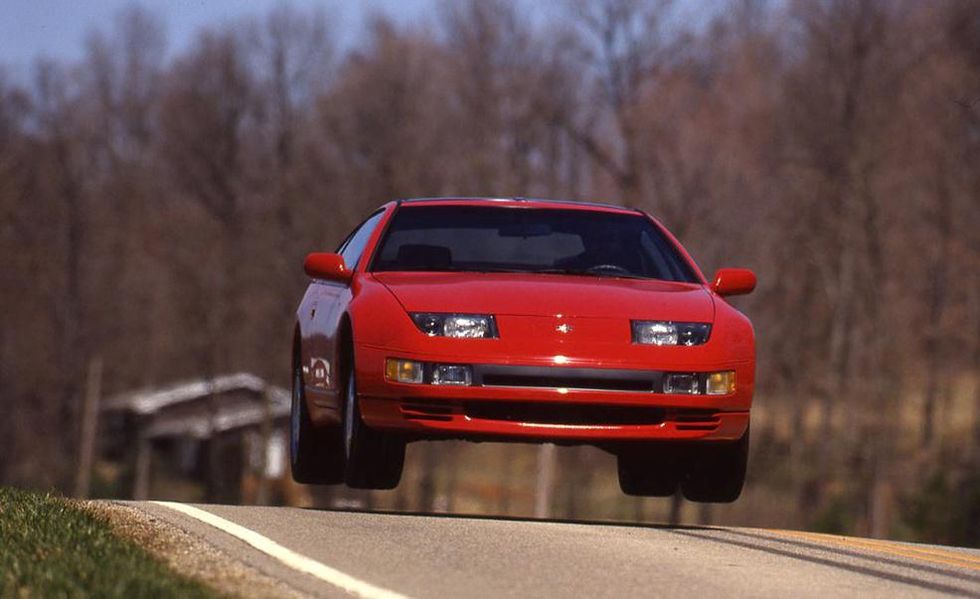 Via Car & Driver.
With the 5-speed manual transmission, you could expect a 0 to 60 mph sprint in 5.6 seconds and a quarter-mile run in 13.5 seconds at 108 mph. The car's top speed was electronically limited at 156 mph, but it still packed enough of an arsenal to really mix it up with rivals in its class.
In 1990 and 1991, Car and Driver journalists conducted a series of tests, and in both instances, the Nissan 300ZX Twin Turbo edged out first the Chevrolet Corvette Z51, and then the 1991 Dodge Stealth R/T Turbo. The 300ZX Twin Turbo was not necessarily the fastest car in its class, but, as noted by the journalists, the sports car boasted a level of refinement, poise and technology that was hard to match.
| | |
| --- | --- |
| *0 to 60 mph | 5.6 seconds |
| *0 to 100 mph | 15.2 seconds |
| **¼ Mile | 13.7 @ 102 mph |
| *Top Speed | 156 mph |
*Fastestlaps, **Car & Driver
Disadvantages of the 1990 Nissan 300ZX Twin Turbo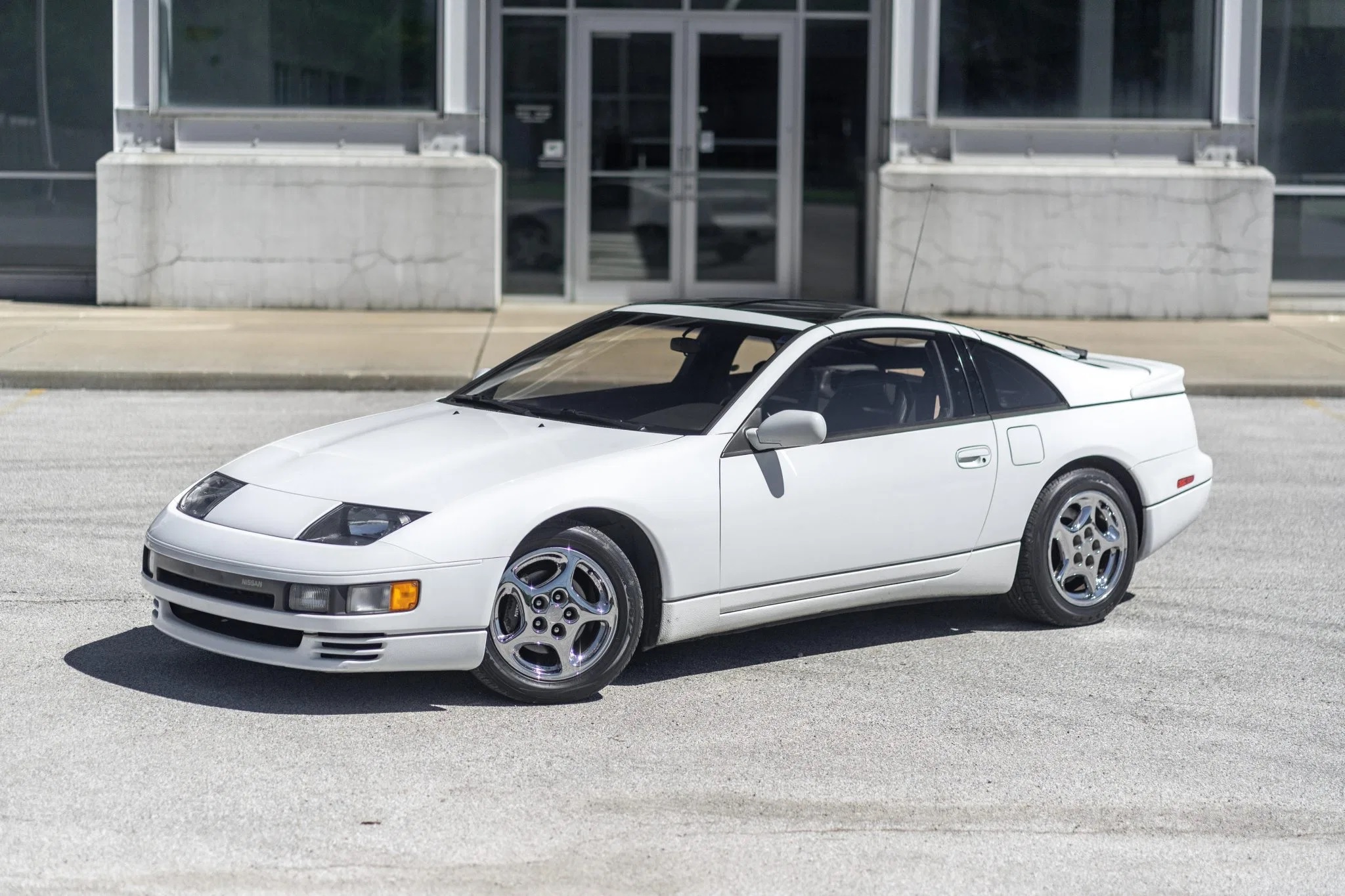 Via Motorbiscuit.
The 300ZX Twin Turbo received rave reviews upon its debut, but that did not mean it was entirely perfect.
The automatic climate control system could be an annoying inconvenience. It offered only two manual fan speeds, and there was no way of channelling the airflow in the direction you wanted it. Then there was the Bose sound system—it lacked fade or balance controls, and users had to rely on the system to determine the proper settings for these parameters. Thankfully, the automatic climate control and sound system were part of an options package that could be skipped altogether when you were speccing out the car.
Another factor to note is the extremely tight quarters in the engine bay. The big V6 turbo placement and an assortment of extensive piping and vacuum hoses make use of all available real estate. Any repair job under the hood is bound to be a tricky affair, and it's best to leave it to experienced mechanics.
1990 Nissan 300ZX Twin Turbo Sales Figures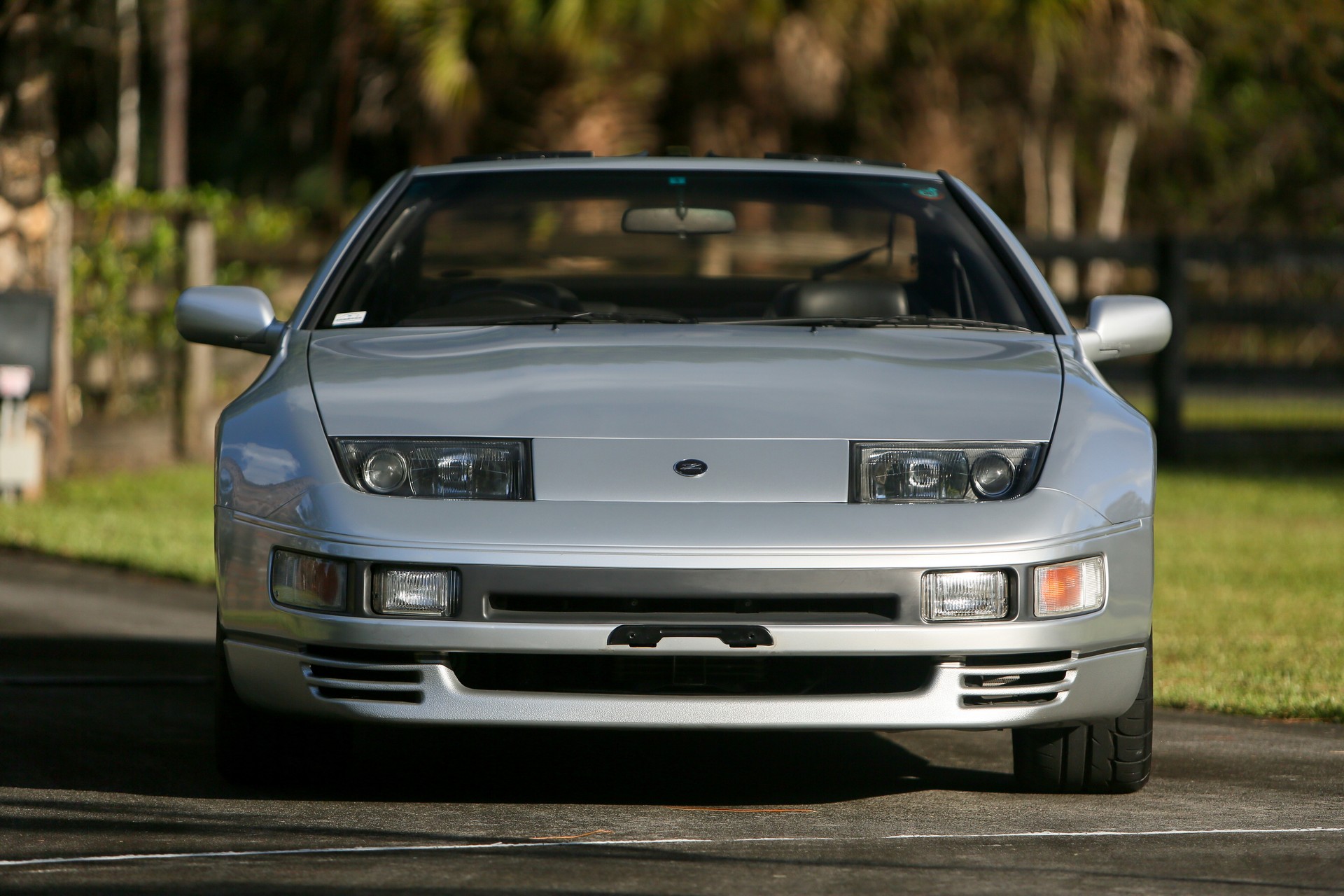 Via Carscoops.
The sales of Nissan's 'Z-Series' cars crossed the one-million mark during the 1990 Nissan 300ZX model year, making it one of the best-selling sports cars in the world at the time. In America, Nissan sold 6,896 300ZX Twin Turbo cars in 1990, representing about 17.6% of 300ZX sales that year. Unfortunately, that number trended downwards from that point until 1996, the final year it was on sale in the United States, when less than 600 units were sold.
With a sticker price of $33,000, the 300ZX Twin Turbo did not come cheap and cost over $8,000 more than the 1989 300ZX Turbo. A strengthening Japanese Yen against a weakening US dollar, coupled with an increasingly advanced car, meant prices continued to rise, and by 1996, the 300ZX Twin Turbo cost $43,979. It was a great car, no doubt, but that steep price put off many potential buyers, especially when rival offerings cost much less.
Ultimately, the 1990 Nissan 300ZX Twin Turbo earns its place in automotive history as one of the decade's most noteworthy vehicles. To see others, check out our ultimate guide to 1990s cars.