The auto industry is evolving rapidly, and the era of gas-guzzling engines is fading. Electricity now powers more cars on the roads, and supercars are no different. And there are several reasons for this transition.
Electric motors outperform gasoline engines in efficiency, delivering power while consuming less energy. Consequently, electric supercars boast excellent throttle response and are improving range every year compared to their gasoline-powered counterparts. Furthermore, by being emission-free, electric supercars are considerably cleaner than combustion-engine ones. 
Therefore, despite some fans of traditional fossil-fueled vehicles being hesitant about this shift, we cannot deny that the current market is flooded with exciting electric supercar models. These cars offer striking performance and embody the principles of sustainability.
Undoubtedly, the auto industry's future, including supercars, lies in electricity. And as battery technology advances, electric supercars will become faster, more efficient, and more luxurious. Today we bring you our selection of the five exhilarating electric supercars you shouldn't miss out on.
Lotus Evija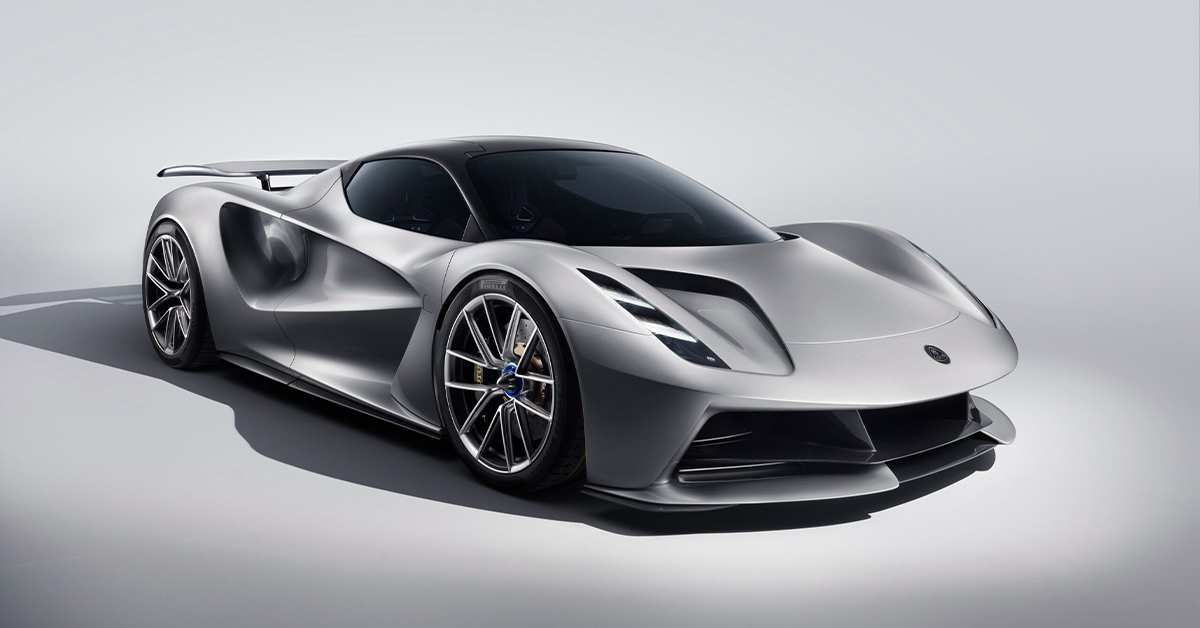 The Lotus Evija is a hypercar that combines power with a lightweight design. It represents the future of high-performance vehicles.
In 2019, Lotus introduced the Evija as their first fully electric production car, marking an impressive milestone. It's the first production car worldwide, generating a staggering 2,000 horsepower and 1,703 pound-feet of torque.
To keep this powerhouse running, the Evija relies on a 70 kWh battery that can charge up to 80% capacity in 18 minutes. This energy powers four motors—one for each wheel—creating an all-wheel drive system that propels this vehicle from 0 to 60 mph in a quick time of only 2.8 seconds. While its top speed is electronically limited to 200 mph, it offers a range of approximately 250 miles (WLTP).
With its carbon fiber monocoque chassis and lightweight body construction, the Evija weighs in at 3700 pounds, contributing to its handling capabilities. The strategic placement of the battery pack behind the driver further enhances its performance.
Designed as a limited-edition masterpiece, Lotus plans to manufacture units of the Evija. It comes with a starting price tag of around $2,300,000—a testament to its exclusivity and advanced technology.
Pininfarina Battista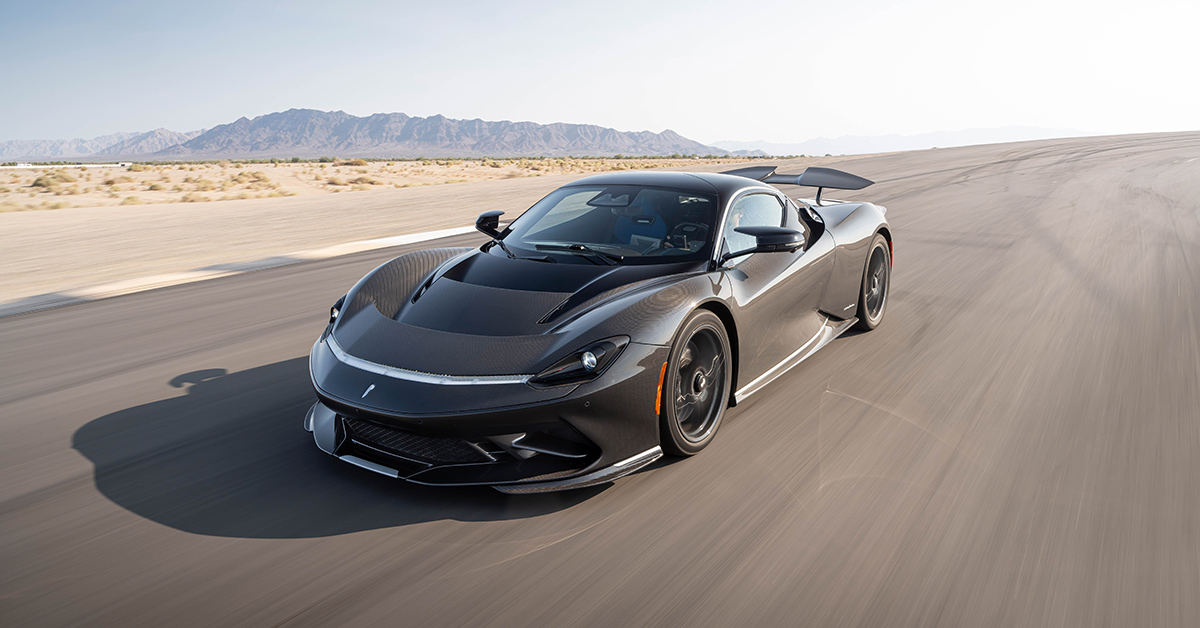 Via Car and Driver
They named it Battista as a tribute to the founder of Pininfarina. It was officially unveiled at the 2019 Geneva Motor Show. With over 1,900 horsepower and a torque of 2,340 Nm, it's the most powerful car ever built in Italy.
The Battista's incredible lightweightness is achieved through its carbon fiber monocoque chassis and four electric motors, one for each wheel. This allows it to go from 0 to 100 km/h in 1.8 seconds, reach 300 km/h in 12 seconds, and achieve a 350 km/h speed. It also boasts a range of 482 kilometers thanks to its Rimac-manufactured battery with a capacity of 120 kWh.
Constructed using manganese, nickel, and lithium materials with its T-shaped design, the Pininfarina Battista lowers its center of gravity by positioning it on the vehicle's chassis. Furthermore, its charging capabilities have been enhanced from the version introduced in 2019, from 180 kW to 250 kW.
Among other notable features are five customizable driving modes tailored individually for drivers' preferences, carbon ceramic brakes with large discs measuring 390 mm, and advanced six-piston monobloc calipers.
Pininfarina plans to produce only 150 units of the Battista, priced at 2 million euros each, to maintain exclusivity and demand for their model. A sought-after luxury item indeed.
Dendrobium D-1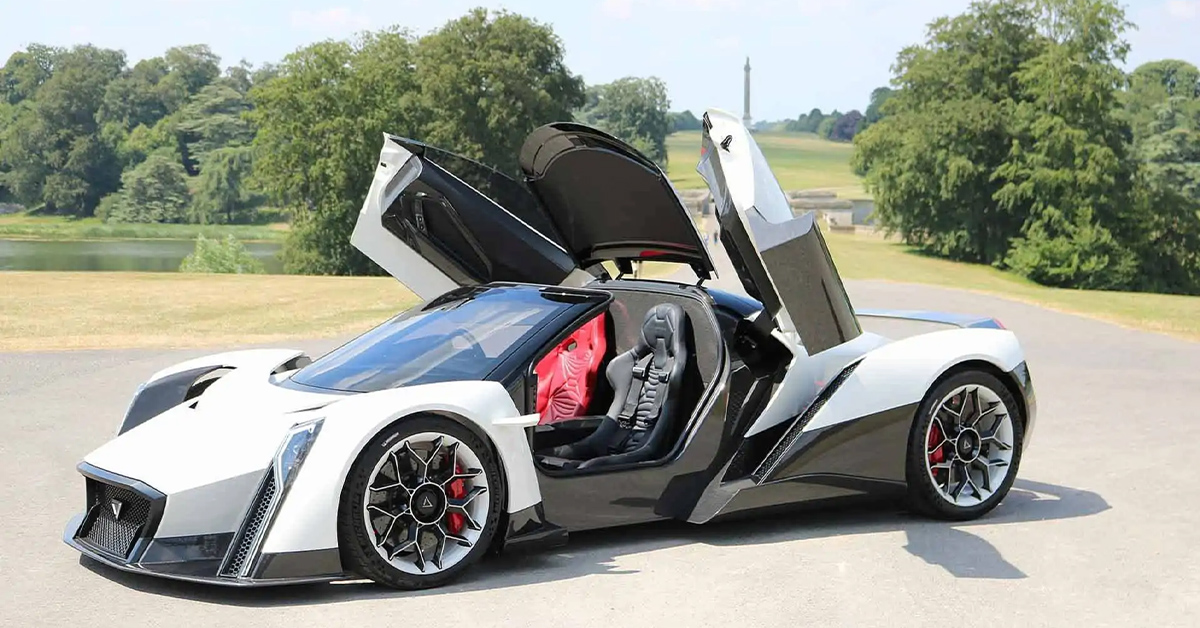 The Dendrobium D 1, a hypercar introduced in 2017, reflects the vision of Mark Williamson, a former designer for prestigious car brands like McLaren and Pagani.
Incorporating four motors—one for each wheel—the D 1 generates 1,800 horsepower and 1,475 lb-ft of torque. With this power, it can go from 0 to 60 mph in 2.7 seconds with a 200-mph top speed.
The D-1 features a carbon fiber monocoque chassis and a lightweight body to achieve its performance. This meticulous design results in a curb weight of 1,750 kilograms (3,858 pounds). Additionally, strategically placing the battery pack in the car's core contributes to weight distribution.
What sets the Dendrobium D-1 apart is its combination of performance capabilities and lightweight construction. It serves as a representation of what future performance cars may encompass. 
However, despite its prospects, whether Dendrobium D-1 will ever be manufactured remains uncertain. The company has faced challenges and has yet to disclose range, battery capacity, or price. While the possibility of seeing this vehicle on the road may be uncertain at times, its existence offers an enticing glimpse into what lies ahead for electric hypercars.
Aspark Owl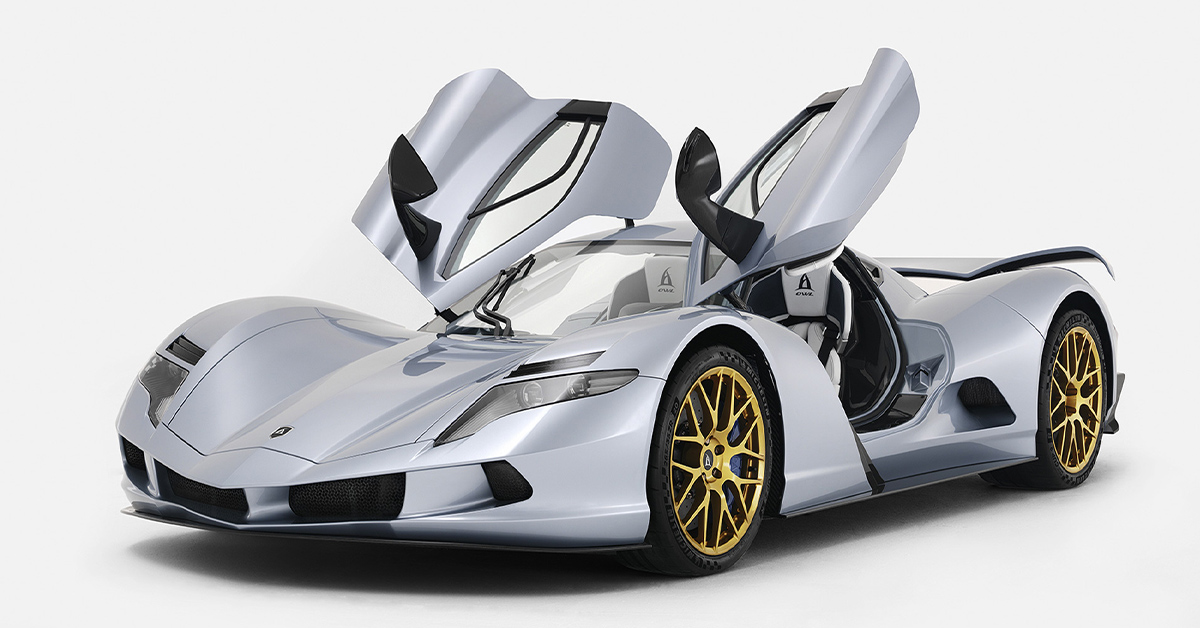 Via Supercars.net
Due to its exceptional performance and lightweight construction, the Owl electric hypercar from the Japanese company Aspark holds the title of the fastest electric car in the world.
Underneath its exterior, the Owl runs on a 64 kWh battery. It's equipped with four electric motors, one for each wheel. This setup boasts an output of 2,012 horsepower and a torque of 1,475 lb-ft. What's truly mind-blowing is its blistering acceleration. The Owl rockets from 0 to 60 mph in 1.69 seconds and reaches a top speed of 200 mph. According to Aspark, the Owl offers a range of 180 miles (WLTP) and can achieve an 80% charge in only 15 minutes.
The Owl features a carbon fiber monocoque chassis and lightweight body to ensure performance and weight distribution. This combination results in a curb weight of 1,500 kilograms (3,307 pounds). It's worth noting that this extraordinary hypercar is a limited edition with plans to produce 50 units. The starting price for this vehicle is $3.3 million.
Unsurprisingly, the Owl has already established two world records for the fastest electric car speeds over eight miles (about 201 meters) and a quarter mile (approximately 402 meters).
Rimac Nevera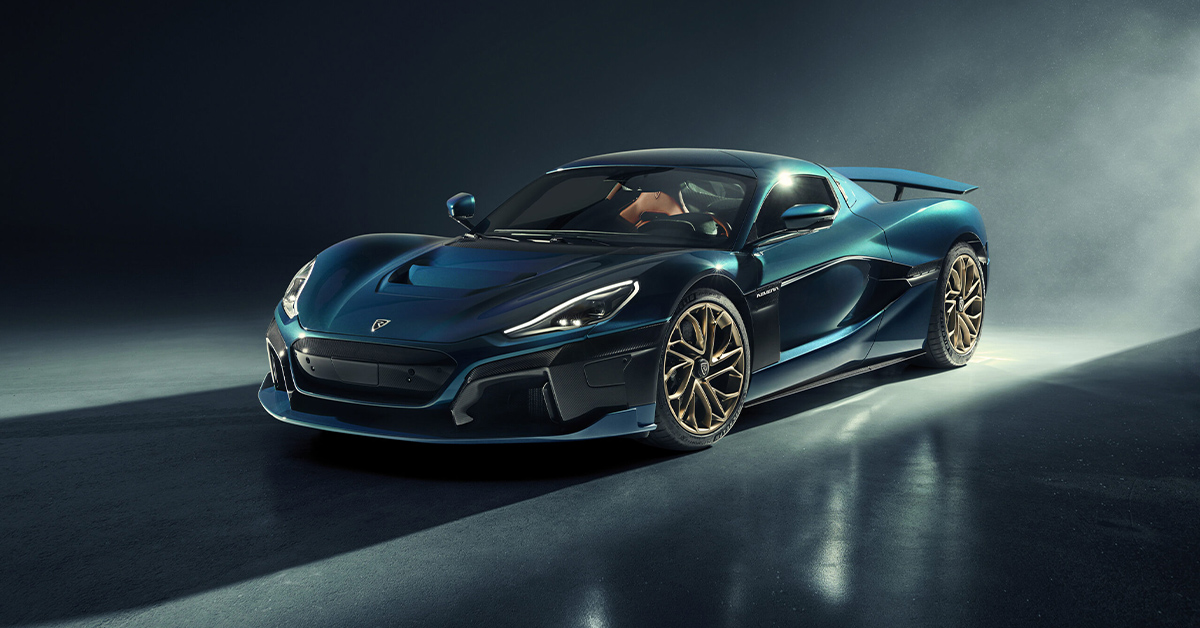 In 2021, Rimac, a Croatian startup, introduced the Nevera electric hypercar as the successor to the Rimac Concept Two, which holds the world's highest speed record at 258 mph.
With its specifications, such as 1914 horsepower and a torque of 1740 pound-feet, both instantly available, and exceptional four-wheel traction, the Nevera can accelerate from a standstill to 60 mph in just 1.85 seconds. And achieves 186 mph (300 km/h) in only 9.3 seconds. 
The Nevera's carbon fiber monocoque chassis, along with its T-bar roof and rear subframe, are truly state-of-the-art. This car is heavier than most hypercars, at around 2150 kg. This includes a battery weighing approximately 700 kg, cleverly arranged in a T-shaped configuration behind the seats and occupying space within the backbone and under the passengers' legs on the floorboard. 
The 120 kWh battery can be charged up to 80% in 19 minutes while offering an impressive range of about 490 km (300 mi) based on WLTP standards. It's worth noting that Rimac has planned for only 150 units of the Nevera to be produced. With such exclusivity comes a starting price set at $2.2 million.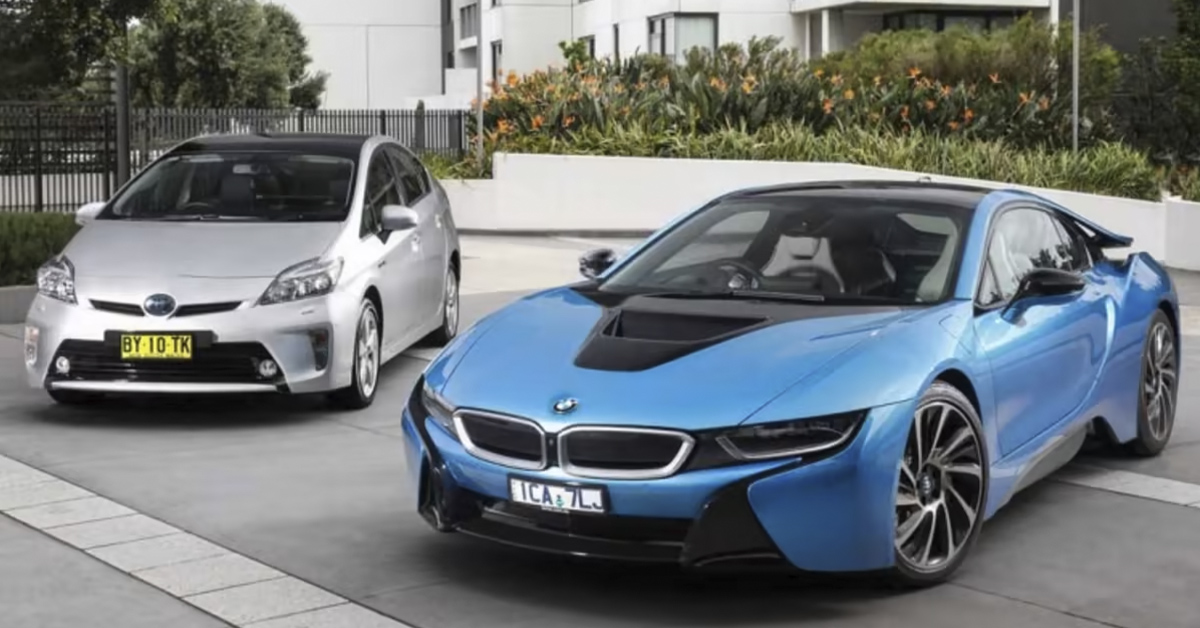 Via Drive
Whether hybrid electric or fully electric cars, consumers increasingly recognize that the future of transportation lies in electric mobility. For this reason, startups and established automakers of commercial vehicles and supercars are tapping into this trend.
As manufacturers like Toyota continue to produce commuter hybrid vehicles, supercar brands have also incorporated this approach into exotic cars, broadening their EV lineups each year. And as fast car enthusiasts, we couldn't be more excited. The race for performance superiority will produce increasingly brutal cars that push the limits of technology, physics, and speed.