If the name Gordon Murray does not get a supercar enthusiast's heart beating a little faster, remember that this is the guy that was at the lead of one of the greatest supercars ever made: The McLaren F1.
The GMA T.50 is the culmination of decades of Gordon Murray's aerodynamic and mechanical engineering experience. Throughout his years designing Formula 1 cars, he pioneered the ground-effects era of the late 1970s, as well as designed the Brabham BT46, a car that raced in one Grand Prix before being banned for being too good.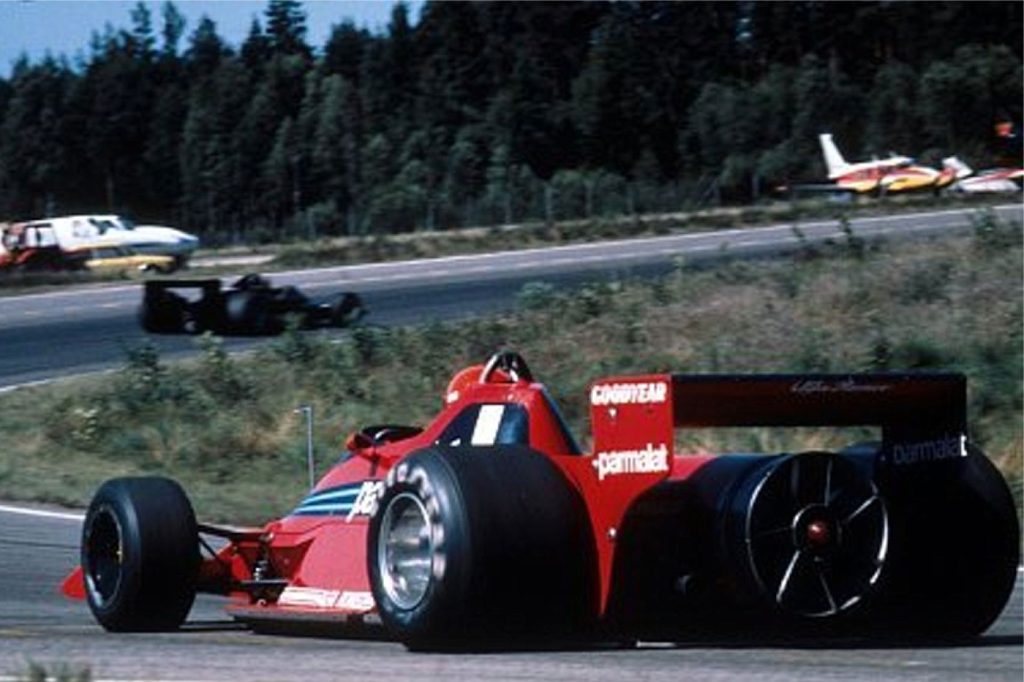 The biggest advantage that BT46 had, and part of what makes the T.50 so exciting, is that it was known as the "Fan Car." A gigantic fan,  powered off the camshaft of the engine, coupled with a curved bottom of the BT46, created an active venturi effect that quite literally vacuumed the car onto the road, and it could corner as barely believable speeds and grip.
Now, with the T.50 edging ever closer to a proper prototype stage, GMA and Cosworth decided that it would be a perfect time to let slip some teasers about the V12 engine that will power both the wheels and the rear fan on the T.50 to EVO Magazine. And just for fun, they compared it to the V12 that will power the Aston Martin Valkyrie: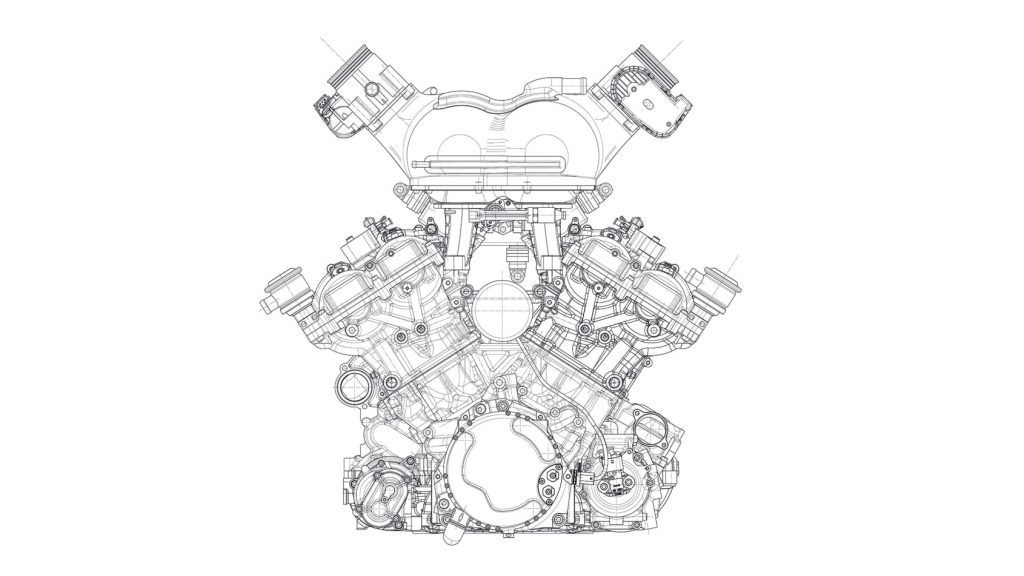 | | | |
| --- | --- | --- |
| Specs | GMA T.50 | Aston Martin Valkyrie |
| Engine size | 3994cc | 6499.01225944cc |
| Construction | 65-degree V12 | 65-degree V12 |
| Max power | 654bhp @ 11,500rpm | 1000bhp @ 7000rpm |
| Max torque | 345lb ft @ 9000rpm | 546lb ft @ 7000rpm |
| Peak RPM | 12,100 | 11,100 |
| BHP/litre | 164bhp/litre | 154bhp/litre |
| Engine weight | 178kg | 206kg |
As can be seen, while the engine itself is 346 BHP down from the Valkyrie, it is also 2.5 liters smaller. Other impressive specs are that it revs to an unbelievable 12,100 RPM, and has a higher specific output (164BHP/L) than the Valkyrie's engine.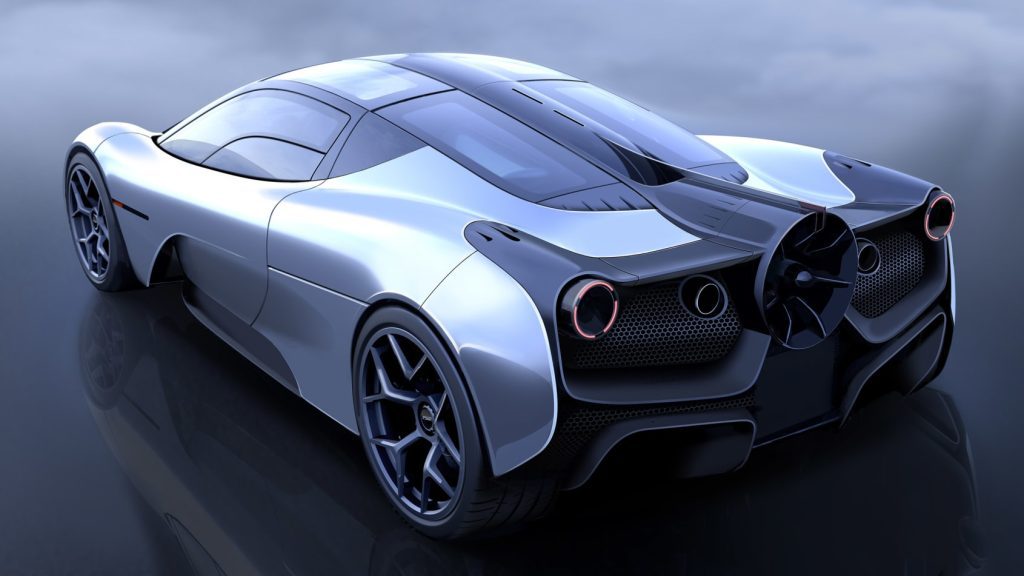 Also, the 178 kg of weight is important, as the carbon fiber monocoque and body panels of the T.50 will weigh 150 kg or less, as per Gordon Murray's always exacting requirements. The driver's seat, already designed and made, weighs just 7 kg, while each of the passenger seats are 3 kg each.
Put together without any other equipment, that puts the T.50 at an incomprehensible 341 kg, or 752 lbs. No, that is not a typo. Seven hundred and fifty-two pounds. That's engine, body, chassis, driver seat, passenger seats.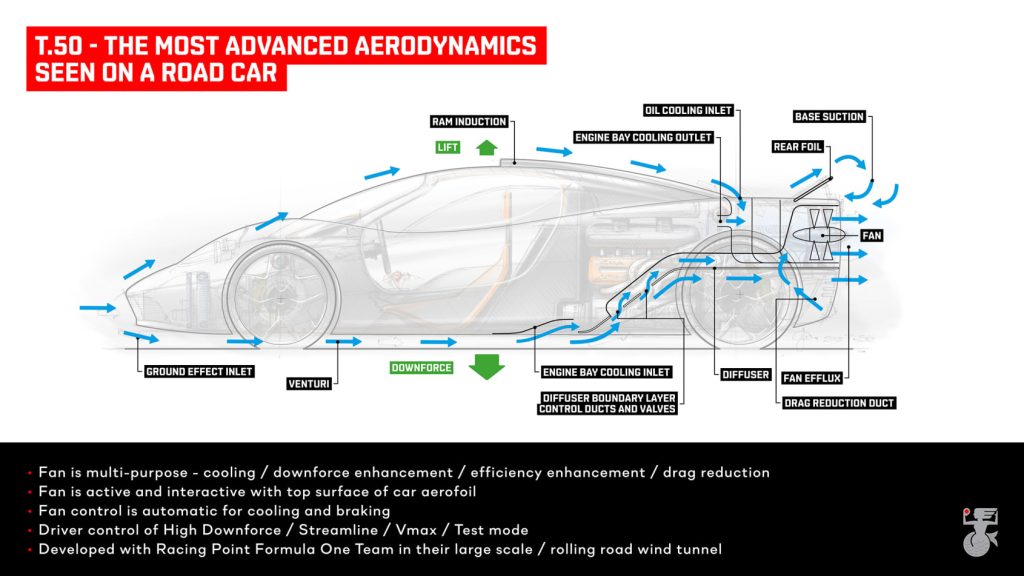 And then you look at the 654 BHP figure of the engine in a totally new light, as it will be pushing along a slippery, ground effect car. This car could very well redefine what cornering should be in a supercar or hypercar…