The Ferrari SF90 Spider comes with a plug-in hybrid powertrain from the factory in Maranello, combining a 4.0-liter, twin-turbocharged V8 engine delivering already 769 bhp on its own with a torque figure of 590 lb/ft, add the three electric motors with their 7.9-kilowatt-hour battery pack, and the total power output rises to a staggering 986hp, all going through the 8-speed dual-clutch transmission, some really impressive numbers that will propel the factory standard car to 60 mph in just 2.5 seconds and don't run out of breath until she reaches 211 mph … but as always, things can always be improved upon.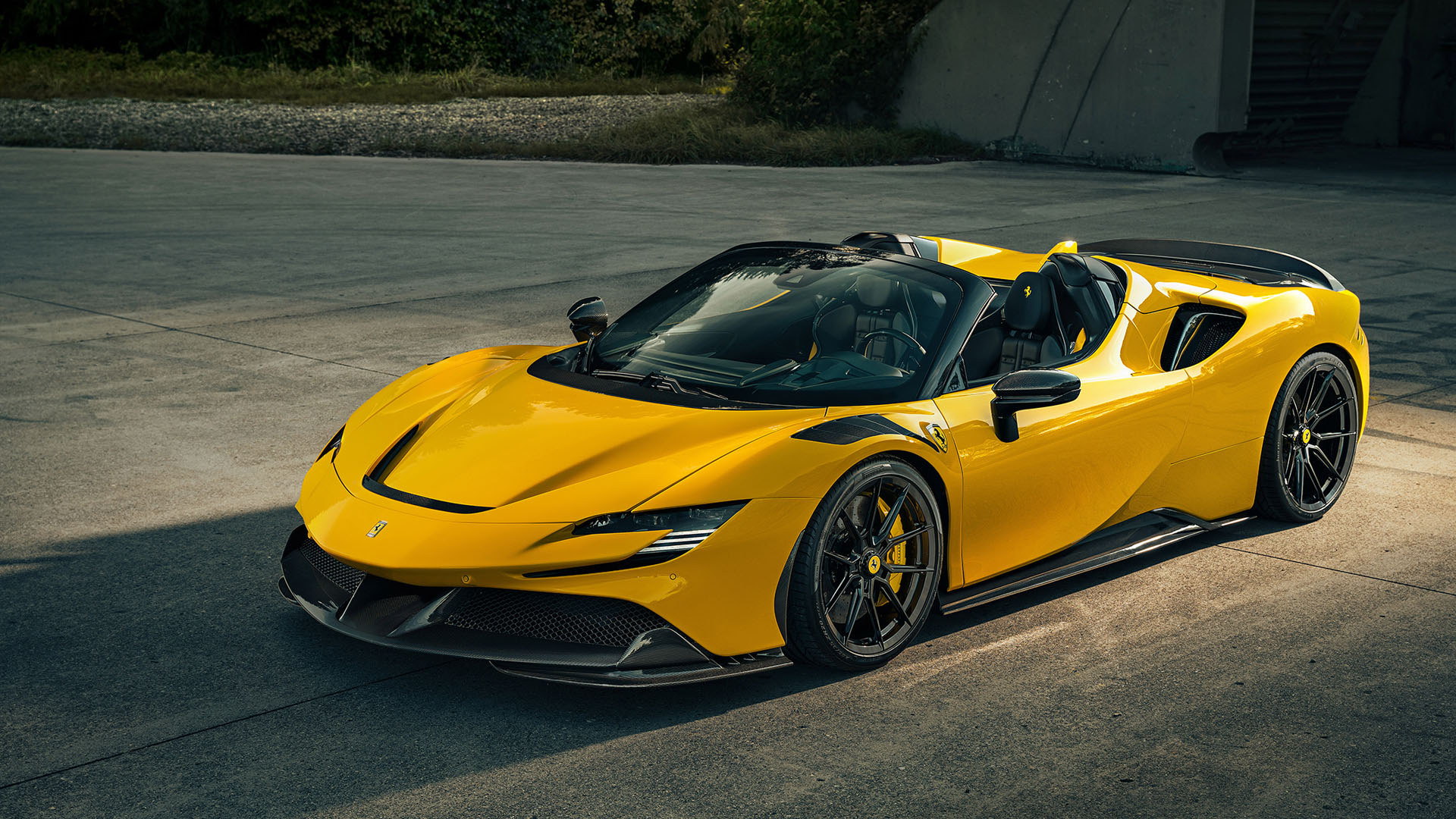 Novitec will take your standard Ferrari SF90 Spider and creates a very personal, more aerodynamic, and more powerful convertible, fitting new maps for the fuel injection, the ignition, and electronic boost pressure control that have been going through rigorous testing to be completed in the form of two NOVITEC N-TRONIC modules, one for each bank of cylinders, add the custom made exhaust system into the equation, complete with a 100-cell metal catalyst for emission control, but there is also a 999 fine gold plating version available for better heat dissipation.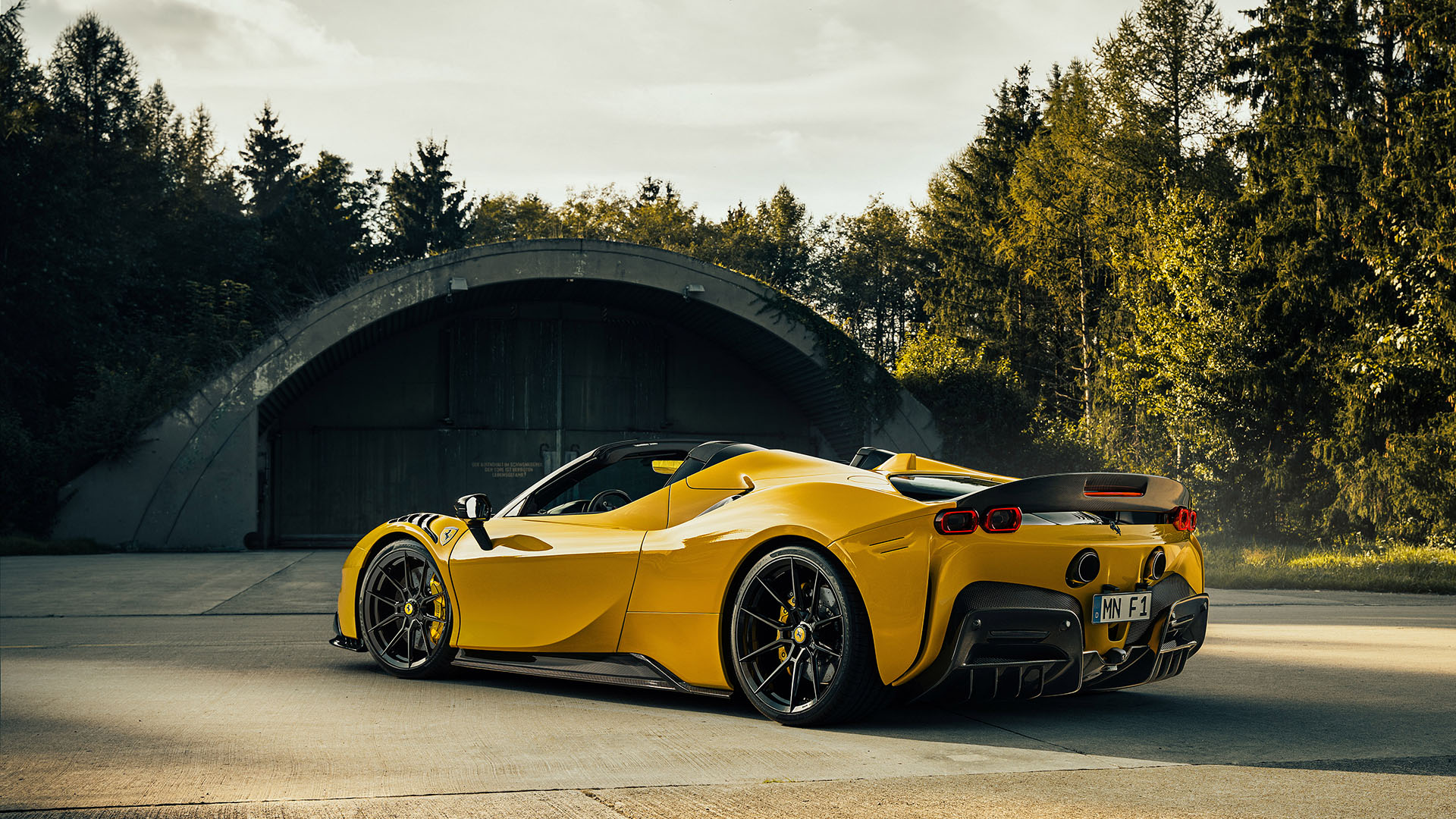 Not only does it look good, but it also sounds even better, and just in case you want to keep your neighbors as friends, NOVITEC offers a version with, and one without, electronic sound management with actively controlled butterfly valves, so you don't wake up the entire neighborhood when you leave the house in the morning, you'll have to admit those two, massive 112 mm carbon fiber surrounded exhaust tips look breathtaking while sounding great at the same time.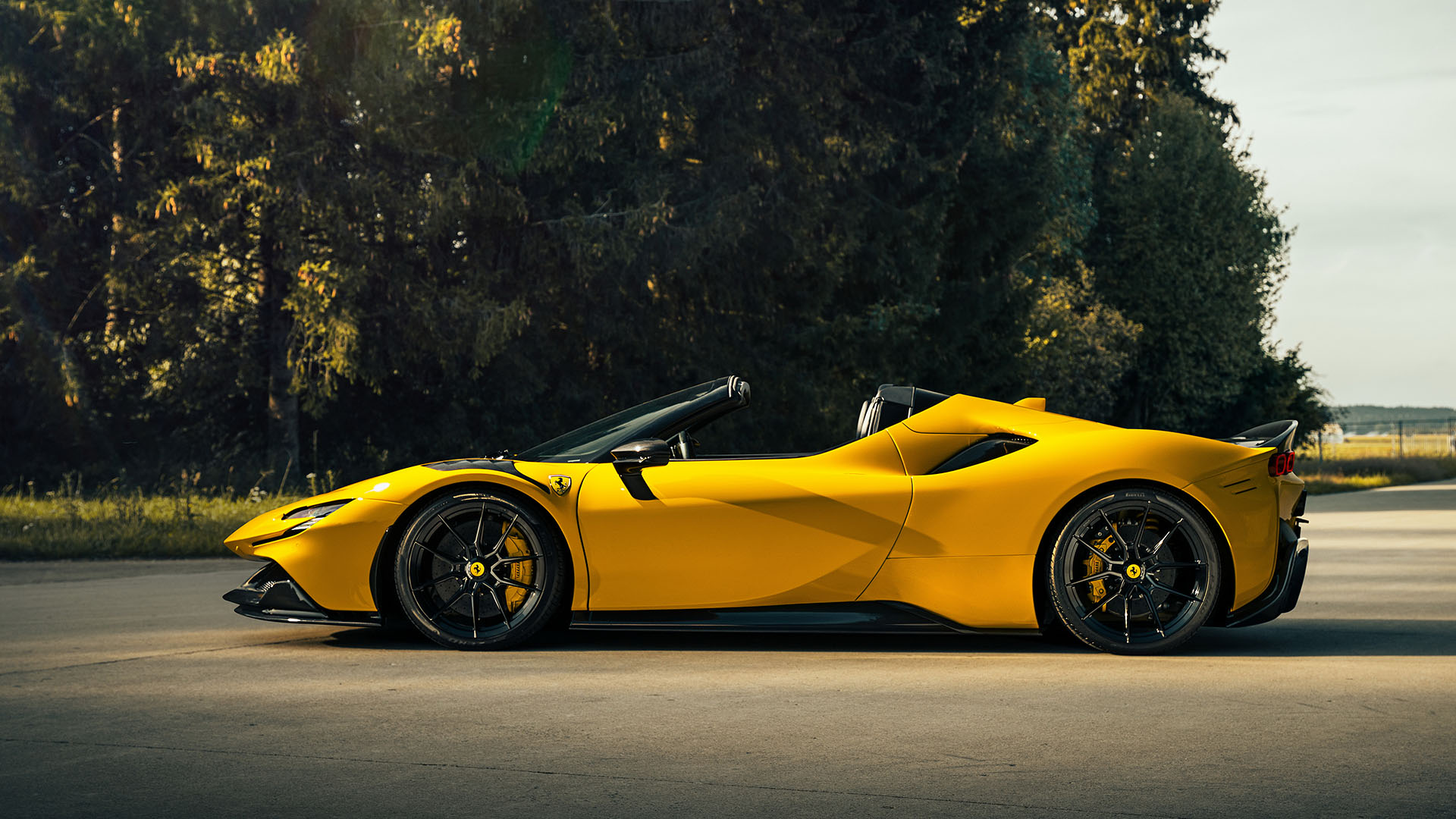 So we end up with engine tuning and better sound, but what about performance you might wonder … how about a total power output of 816 kW or 1,109 hp in total, 654 kW or 889 hp from the ICE V8 alone, that's an increase of 80 kW or 109 hp, the result … reaching 100 km/h from a standstill now takes just 2.4 seconds, in just 6.5 seconds you're at 200 km/h, and if you really keep pushing, you'll end up at a top speed of a mesmerizing 340 km/h or 211 mph, but what would a performance increase mean if you still don't stand out in the crowd? You can't do 211 mph on Rodeo Drive now can you?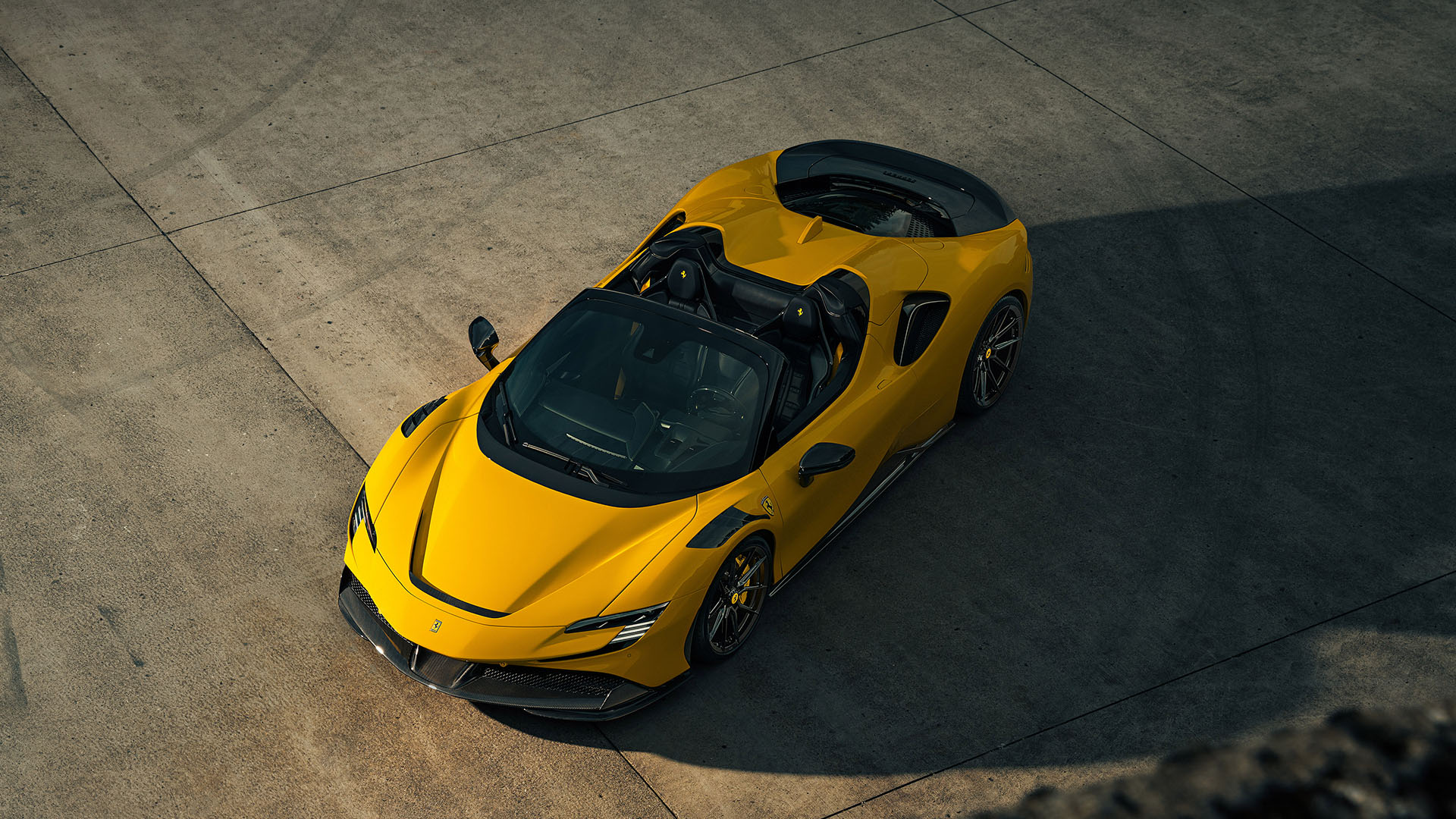 So you'll start to select the aerodynamic add-on parts from NOVITEC to your order sheet too, and these weren't just drawn in 3D on a computer to be virtually tested before production, NOVITEC actually takes their aero parts into a real, full-size wind tunnel during the development of their carbon fiber spoilers, so they really improve downforce and stability at high speeds, and as all of these parts are made from 'naked carbon fiber', they don't really add to the overall weight of the Ferrari SF90 Spider too much either.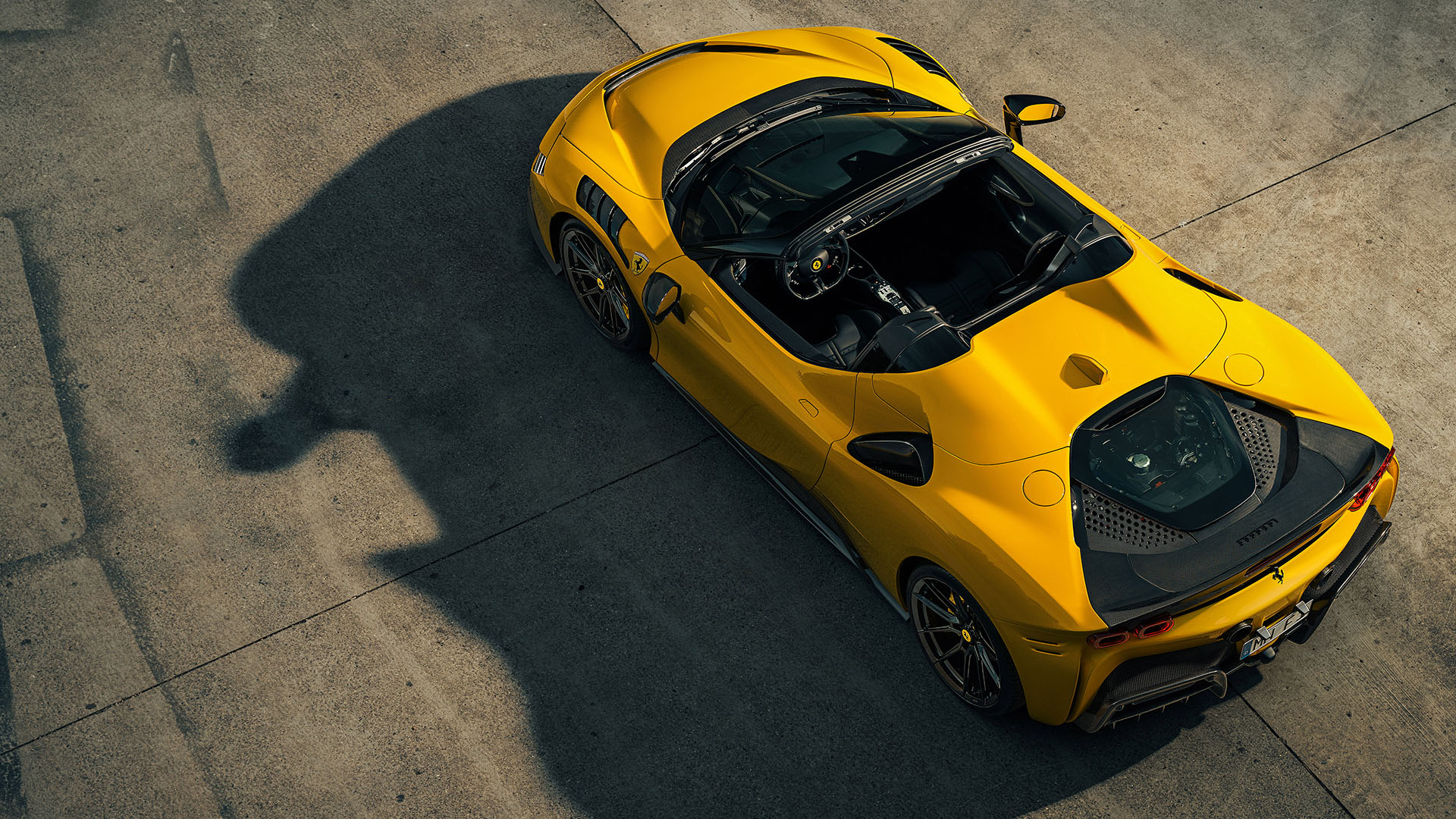 NOVITEC Manufaktur is their in-house production shop that effectively hand-finishes these carbon fiber parts, like the front spoiler lip that comes complete with detachable side fins on the front fascia to create even more downforce at speed, the side flaps actually help to direct airflow beyond the front wheels, add the stunning 'ducktail' rear spoiler and a stunning lower rear diffuser for improved stability and aerodynamic efficiency while keeping the entire look and feel of the NOVITEC SF90 Spider a balanced total package.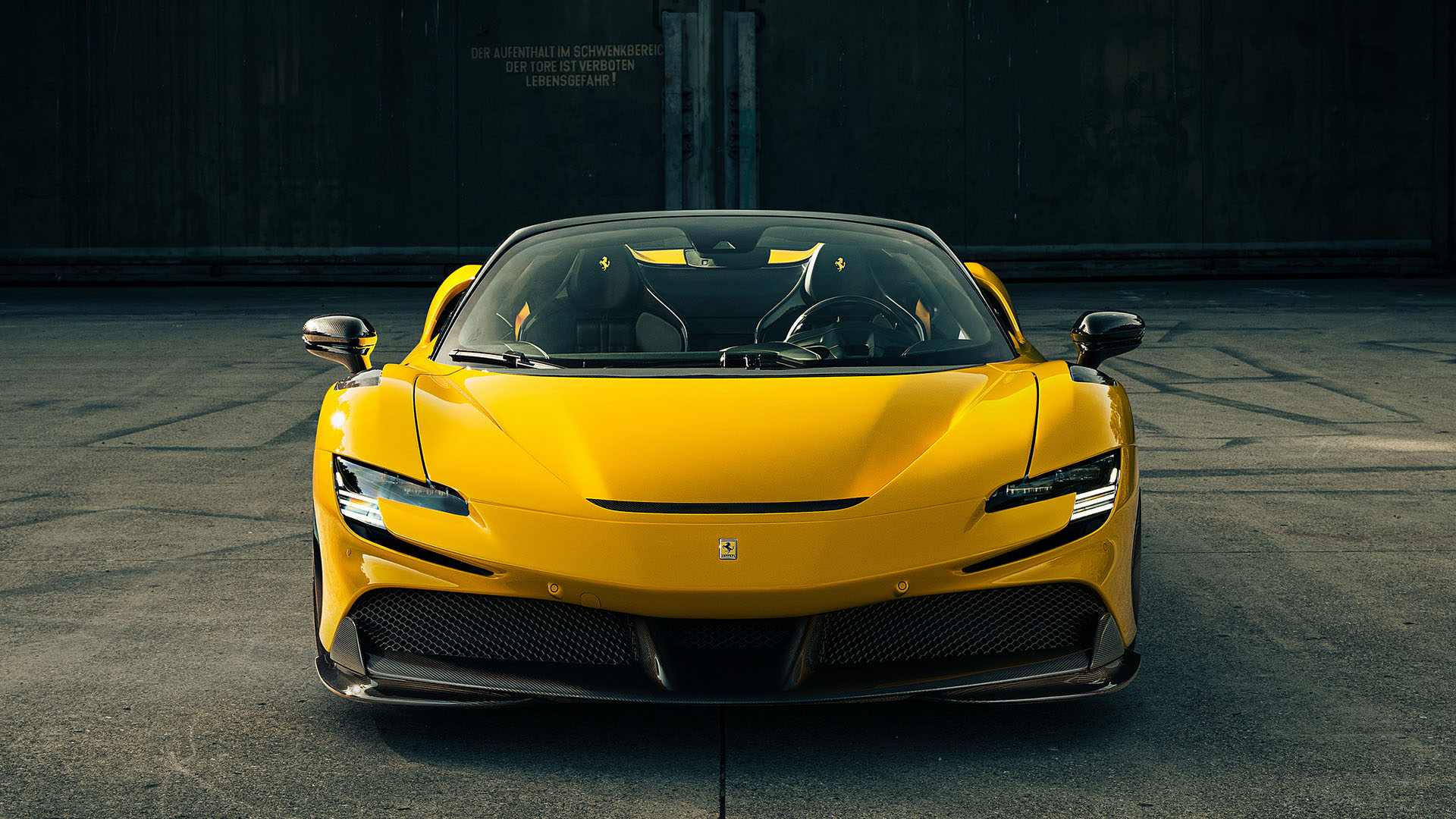 A really stunning addition from NOVITEC for the Ferrari SF90 Spider can be seen above the front wheels, the Race Fenders with carbon fiber air vents above the wheels not only make this convertible look like a race car, but also helps to vent hot air from the front brakes with fewer restrictions from the wheel wells, add the carbon fiber surrounds for the lower air outlet and a cover for the windshield and the overall looks of your factory-spec Ferrari SF90 Spider are completely changed.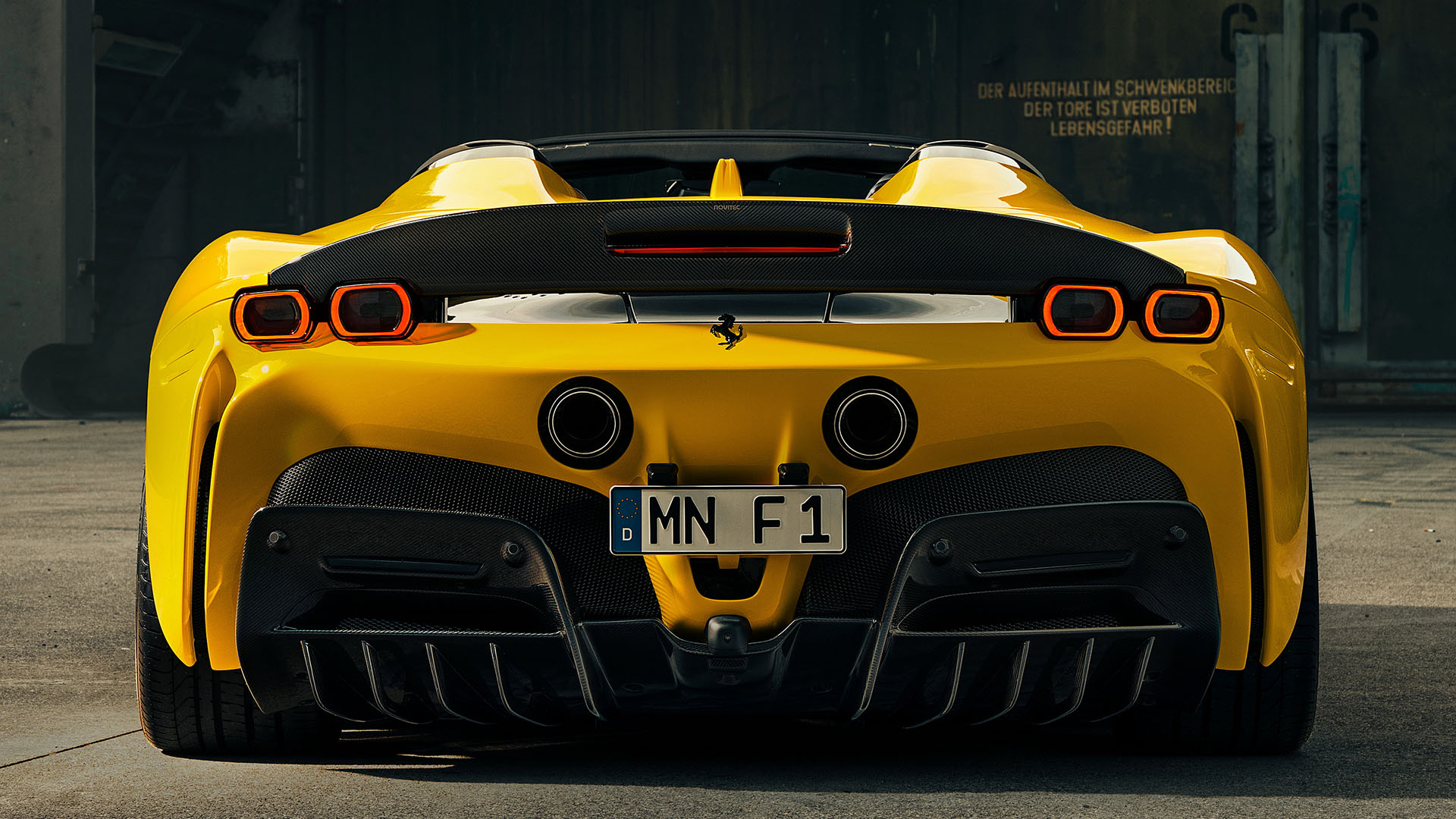 We've covered the front and rear modifications, but a NOVITEC aero package just isn't complete with a nice pair of side sills, made from visible carbon fiber, just like the window trim and the side mirrors, an additional touch of carbon fiber can be found inside the air deflection behind the doors, not only does it look good, but it also optimizes the flow of cool air into the engine compartment. Even more carbon fiber trim is available for the inside of the engine bay, the engine cover itself, and even inside the front-located luggage compartment.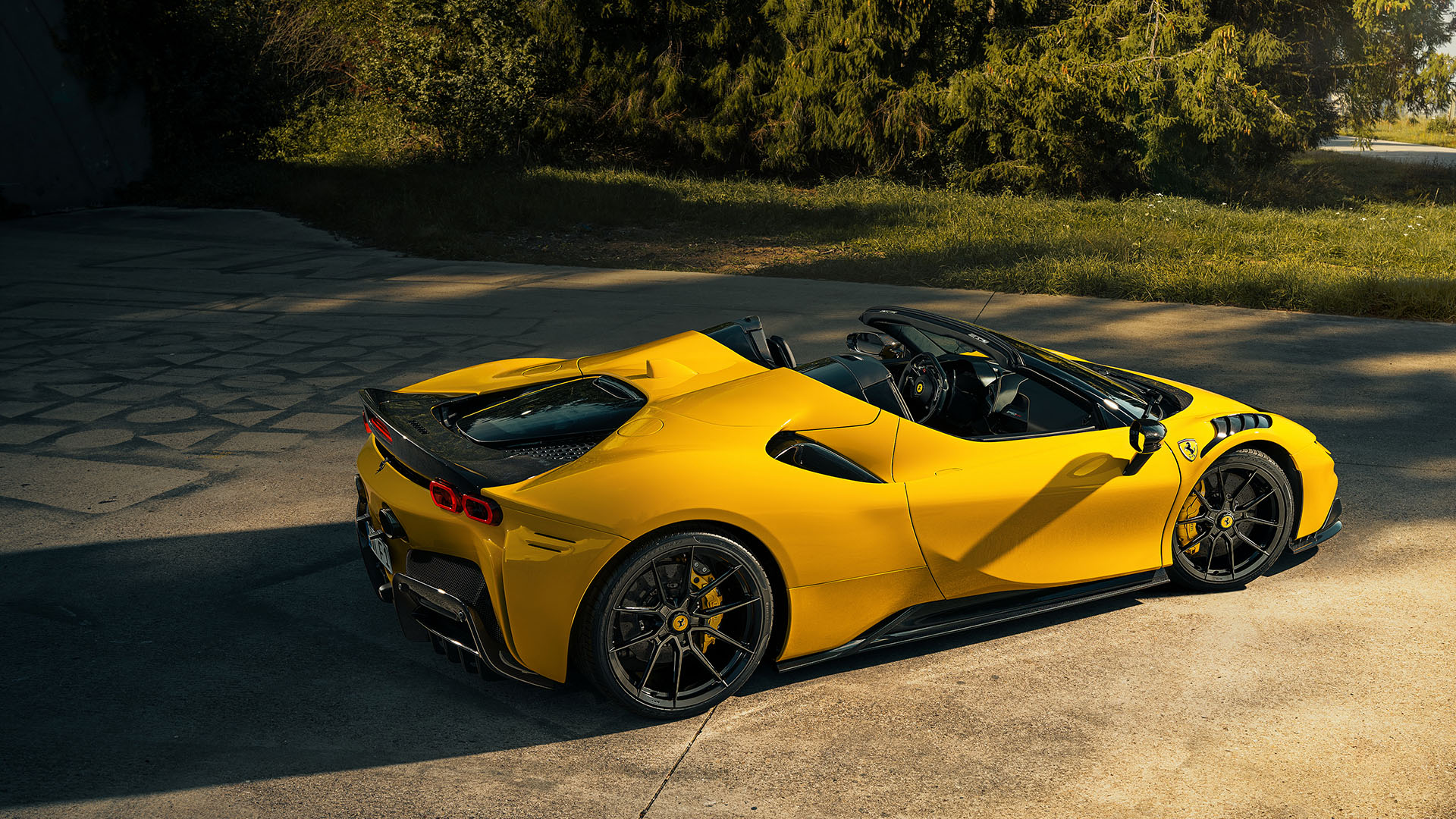 As usual, American high-end manufacturer Vossen is the supplier for these NOVITEC NF10 forged and machined wheels, 9.5Jx21 with 255/30 ZR 21 rubber on the front axle and massively wide 12Jx21 and 325/25 ZR 21 at the rear to completely fill out the large wheel arches on the SF90, and if this NF10 design isn't to your liking, NOVITEC has a vast selection of other exclusive wheels, available in either 20 or 21 inches, add the NOVITEC sport springs to lower the SF90 Spider by 30mm at the front and 25mm at the rear for that 'stanced' look, and by lowering the center of gravity, this also improves handling of this hybrid supercar.