Police cars generally fit into one broad category – big, sturdy vehicles with flashing lights, sirens and a host of other police paraphernalia used for law enforcement duties.
However, occasionally, we find some standouts among the fleet; performance cars with sleek designs and, yes, loads of horsepower. Dubai is famous for its eye-catching lineup of police supercars, but the Middle Eastern city is not alone when it comes to police units with supercars.
Here, we spotlight a few police units worldwide that count these high-performance machines as part of their fleet at one point or the other. These police rockets are deployed for a wide range of police duties, from public relations tasks to highway patrols and, in a particular case, a high-speed medical delivery run.
Japanese Police Lexus LC500 – 168 Mph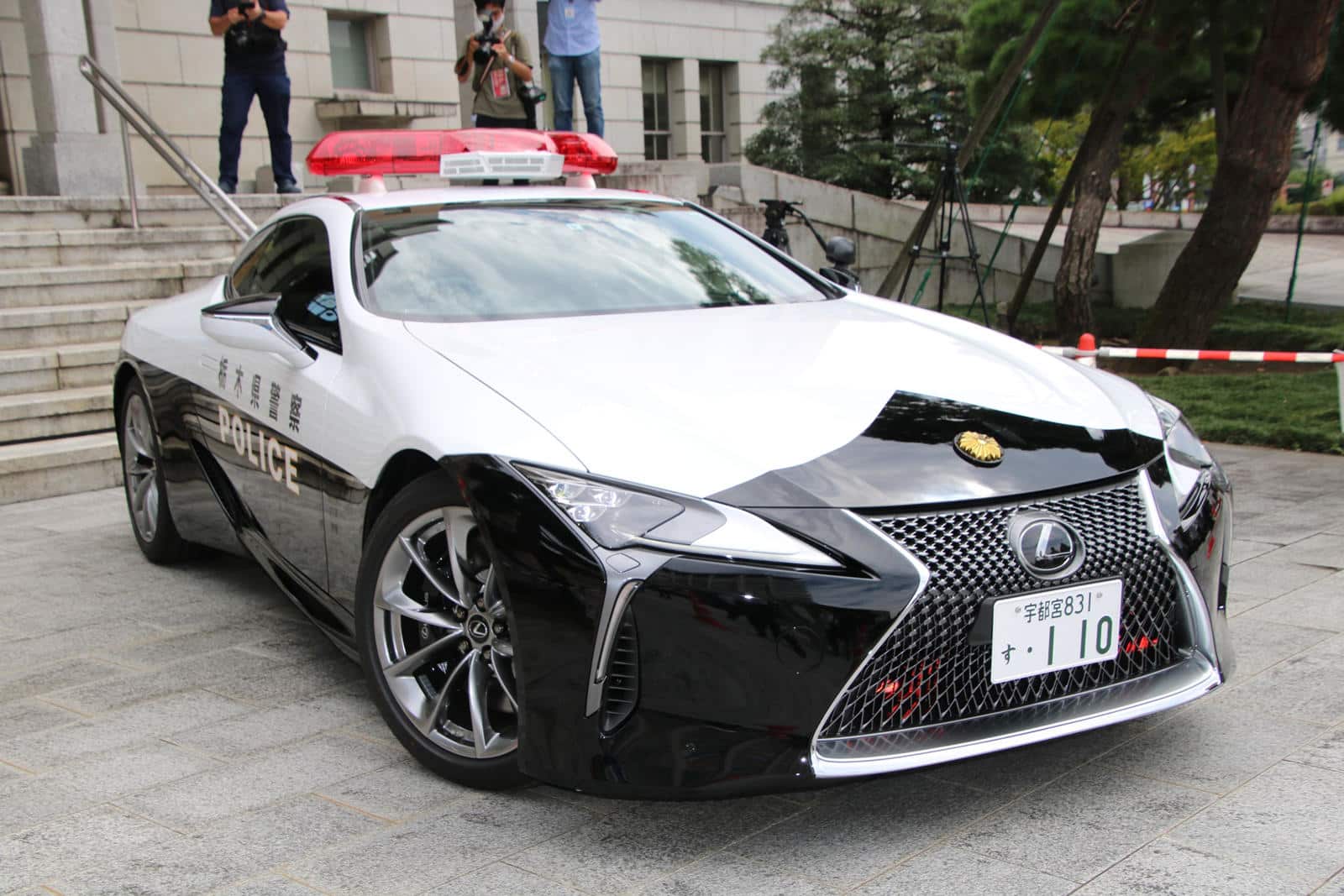 A particular police unit in Japan currently counts the Lexus LC500 as one of its fleet cars – and it's not just for show. The Lexus LC500 is fully outfitted as a patrol car for traffic policing and hunting down fleeing cars. It is undoubtedly well equipped for the task, and we are not just talking about its police livery and flashing red lights.
This is the most potent LC500 variant, with a 5.0-litre naturally aspirated V8 that generates 471 hp @ 7,100 rpm and 398 ft-lbs of torque @ 4,800 rpm. It may not be as fast as traditional supercars, but it's still a brisk mover with a 4.4-second sprint to 60 mph.
Also, you don't want to be the one leading the police on an extended car chase. That usually doesn't end well – for the culprit.
Austrian Police Porsche 911 – 183 Mph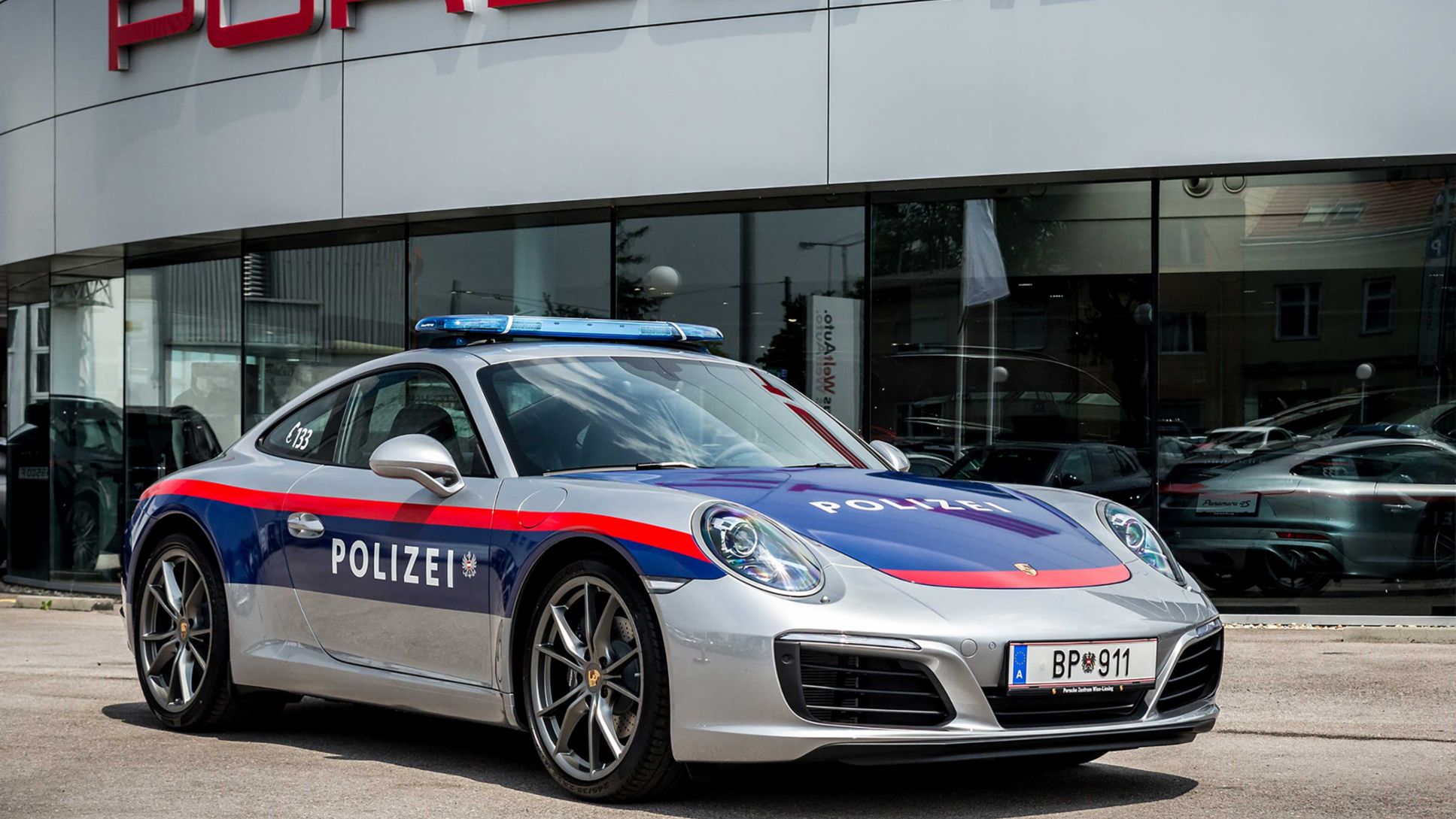 The Austrian Federal Ministry of Interior has enjoyed a long-standing relationship with Porsche. On several occasions, the carmaker has supplied cars to the country's law enforcement agencies. That tradition was upheld in 2017 when the police force received a loaner fully-kitted Porsche 911 Carrera to help its quest to take down traffic offenders.
The Porsche 911 was equipped with a flashing blue light, radio, and other police equipment needed for highway patrol duty. The Porsche 911 packs a 3.0-litre powerplant that delivers 365 hp and 444 lb-ft of torque to the rear wheels.
Qatari Police Lamborghini Urus – 190 Mph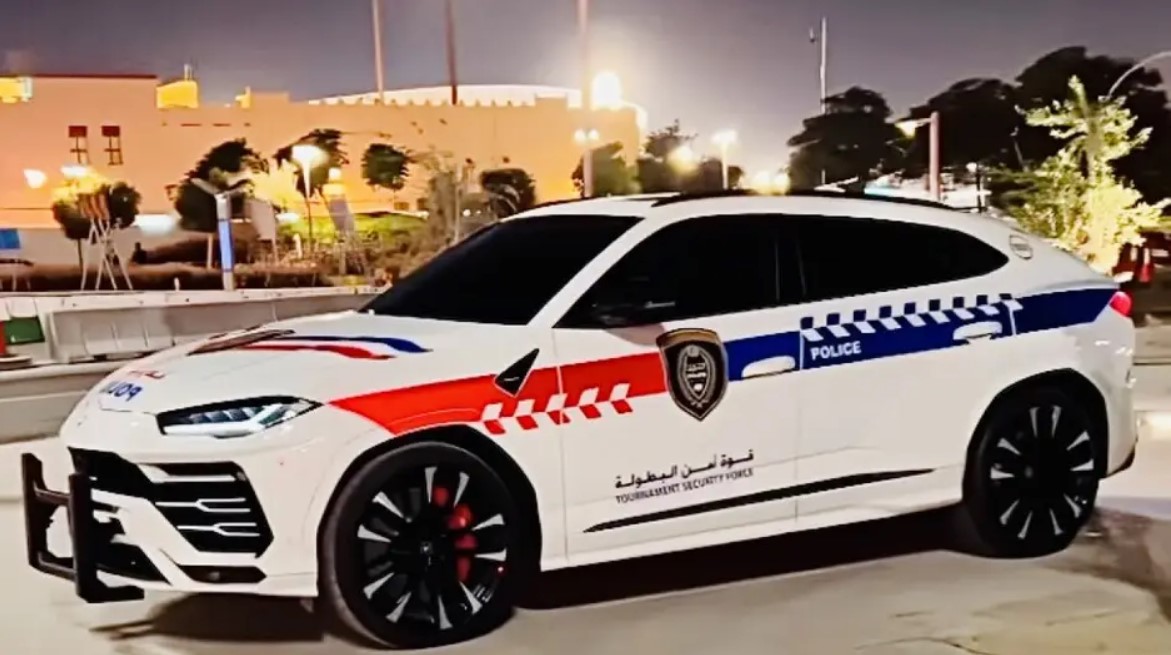 Okay, the Urus is, technically, not a supercar. However, its performance stats, some of which will shame traditional supercars, justifies its inclusion on this list. In any case, Lamborghini will tell you the Urus is not an SUV but an SSUV, short for Super Sports Utility Vehicle.
The Urus is currently one of the fastest vehicles owned by the Qatari Police. The Urus weighs 4,850 lbs (2,200 Kgs) but can still accelerate to 60 mph in 3.1 seconds and, under a heavy throttle foot, will keep going till it reaches a 190 mph top speed. That performance is courtesy of a 4.0-litre twin-turbocharged engine that generates 657 hp and 627 lb-ft of torque.
Florida Police Chevrolet C7 Corvette Z06 – 196 Mph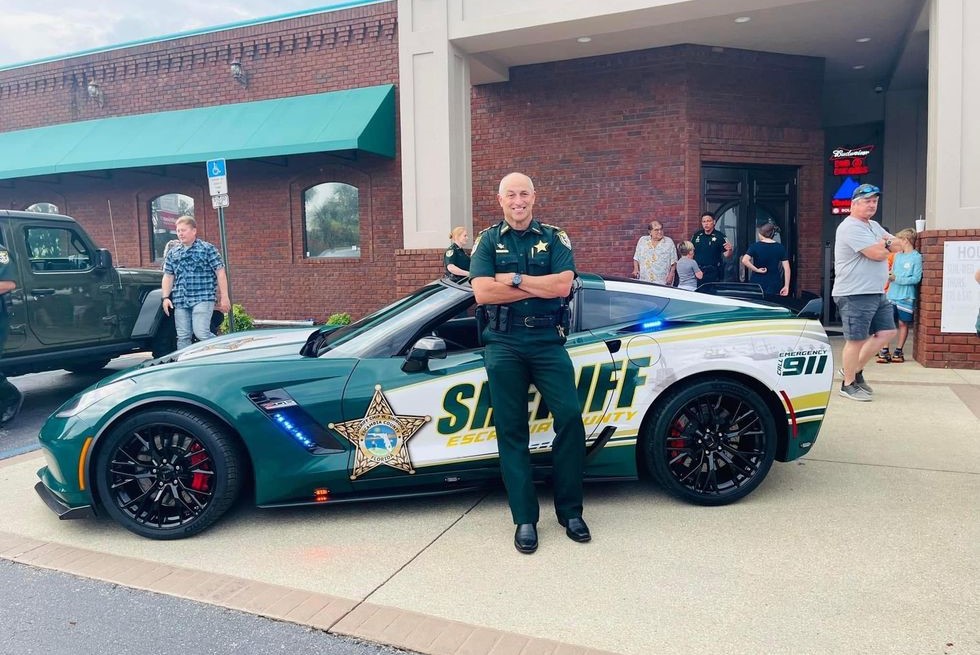 The C7 Corvette Z06 is one of the most powerful variants of the seventh-generation Corvette, second only to the Corvette ZR1. Under its elongated hood is a 6.22-litre supercharged V8 that cranks out a thumping 650 hp and 650 lb-ft of torque.
If the road is long enough, the C7 Corvette Z06 can reach a top speed just shy of 200 mph. In June 2022, the Escambia County Sheriff's Office in Florida got its hands on a C7 Corvette Z06 seized from a felony suspect.
Instead of destroying the car, the police unit converted it into a law enforcement vehicle. Apart from a new wrap, the car also received police lights in the grille, windshield, front fender vents and side sills. The police department plans to use the sports car mainly for community events and public engagements rather than hunting down criminals.
Japan Police Nissan GT-R – 196 Mph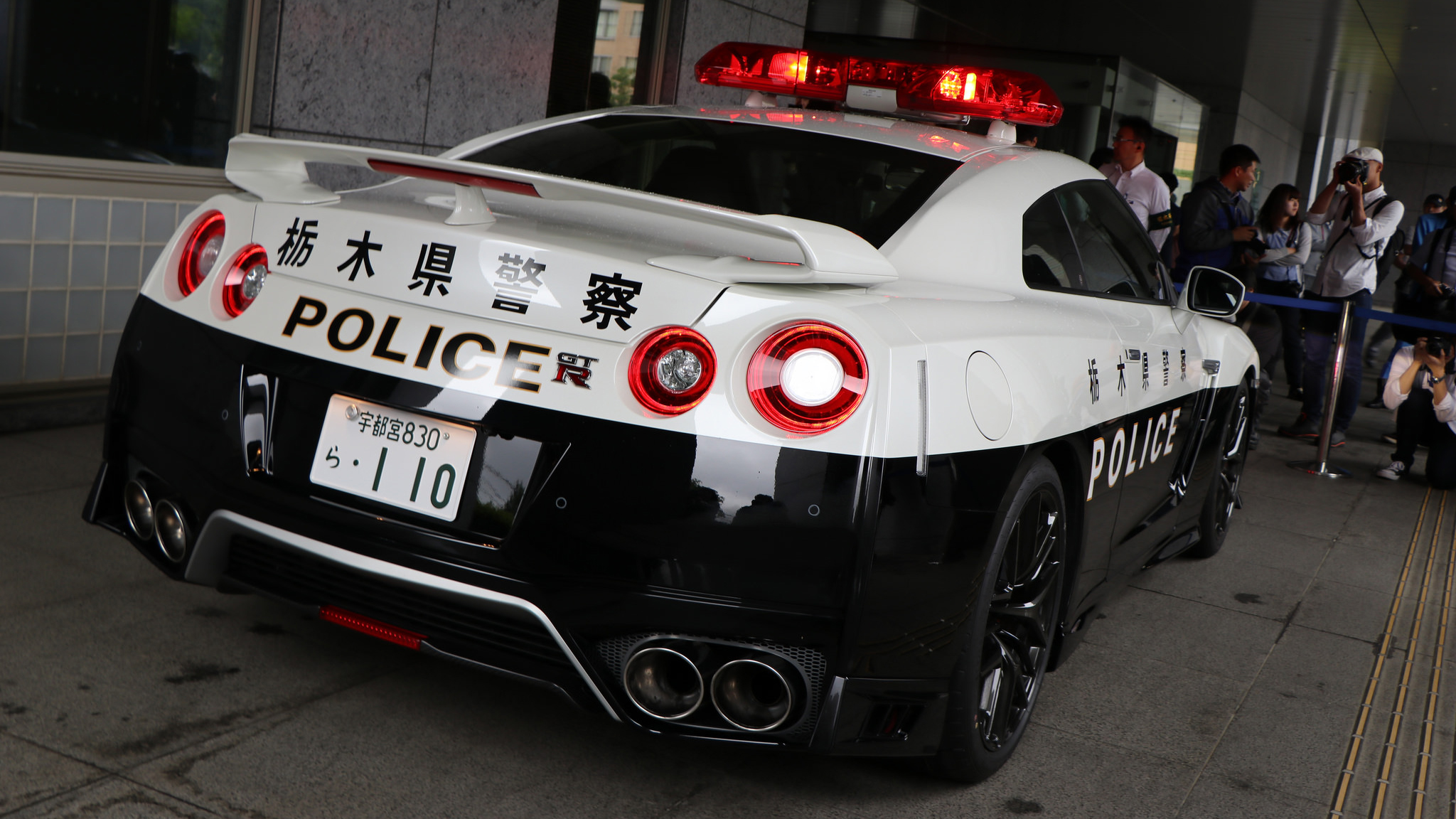 In 2018, the Tochigi Prefecture police department was gifted a Nissan GT-R by Nissan. The gesture was not random, Tochigi is where the GT-R is manufactured, and the gift was part of activities commemorating the 50th anniversary of the factory. The Nissan GT-R was dubbed a supercar killer when it debuted well over a decade ago.
The ageing Japanese road rocket has lost some of its shine today but underestimate it at your peril. The 2018 Nissan GT-R still boasts fearsome performance, able to reach 60 mph in just 2.8 seconds. The secret to the GT-R's performance is a super-advanced all-wheel-drive system and a 3.8-litre Twin-Turbo V6 that puts out 565 hp and 467 lb-ft of torque.
Czech Republic Police Ferrari 458 Italia – 202 Mph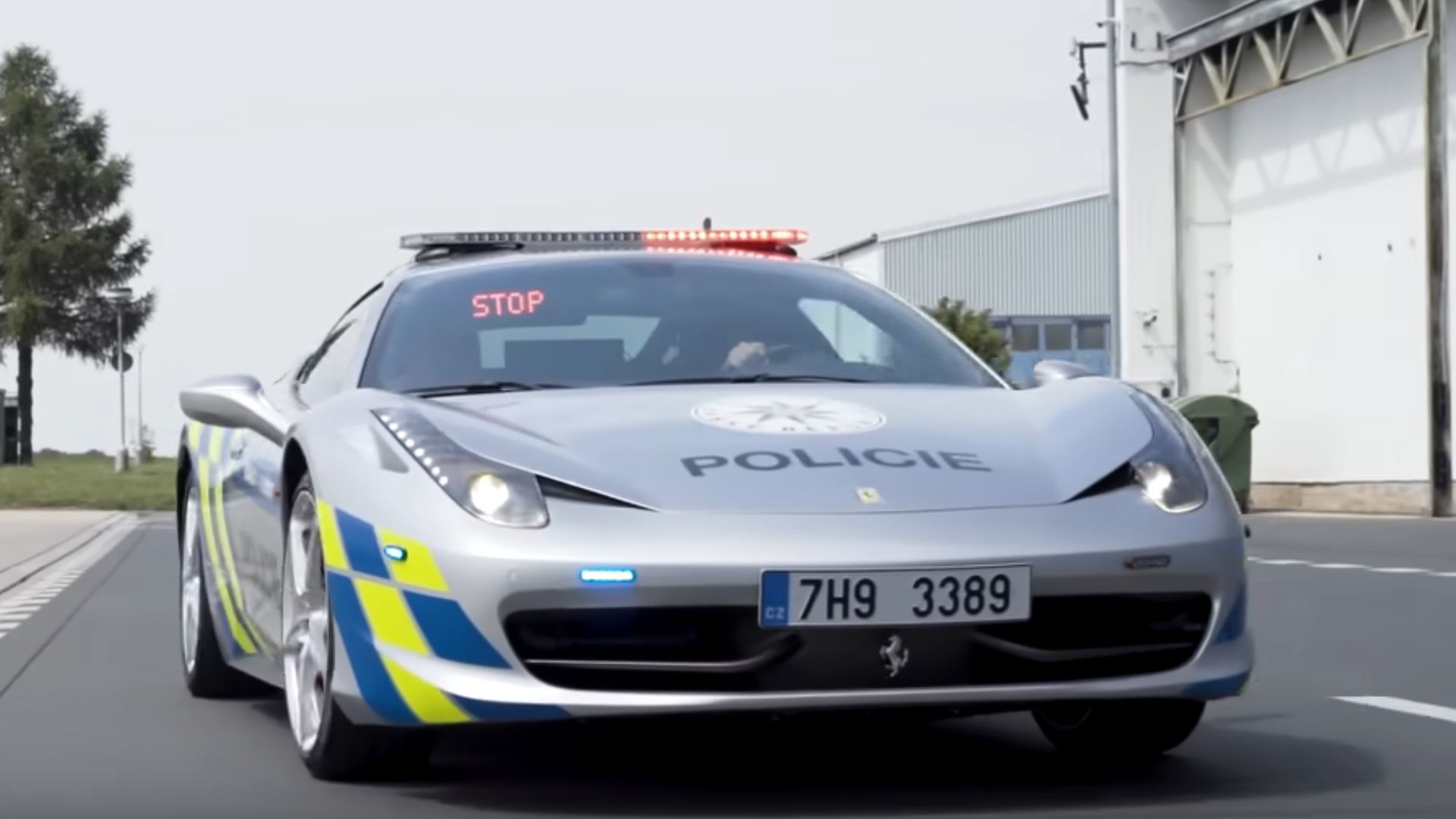 Like the Escambia County Sheriff's Office in Florida, the Czech Republic Police also decided to convert one of the confiscated cars in its possession into a police car. The car? A Ferrari 458 Italia supercar.
The country's Special Surveillance Department uses the supercar with specially trained officers behind the wheel. Some modifications were necessary to make the 458 Italia fit for active police duty. They include a camera system, radio and a special warning light.
In stock form, the Ferrari 458 Italia is powered by a 4.5-litre naturally aspirated V8 that makes 562 hp and can rocket the car to 60 mph in only 3.2 seconds.
Italian Police Lamborghini Huracan – 202 Mph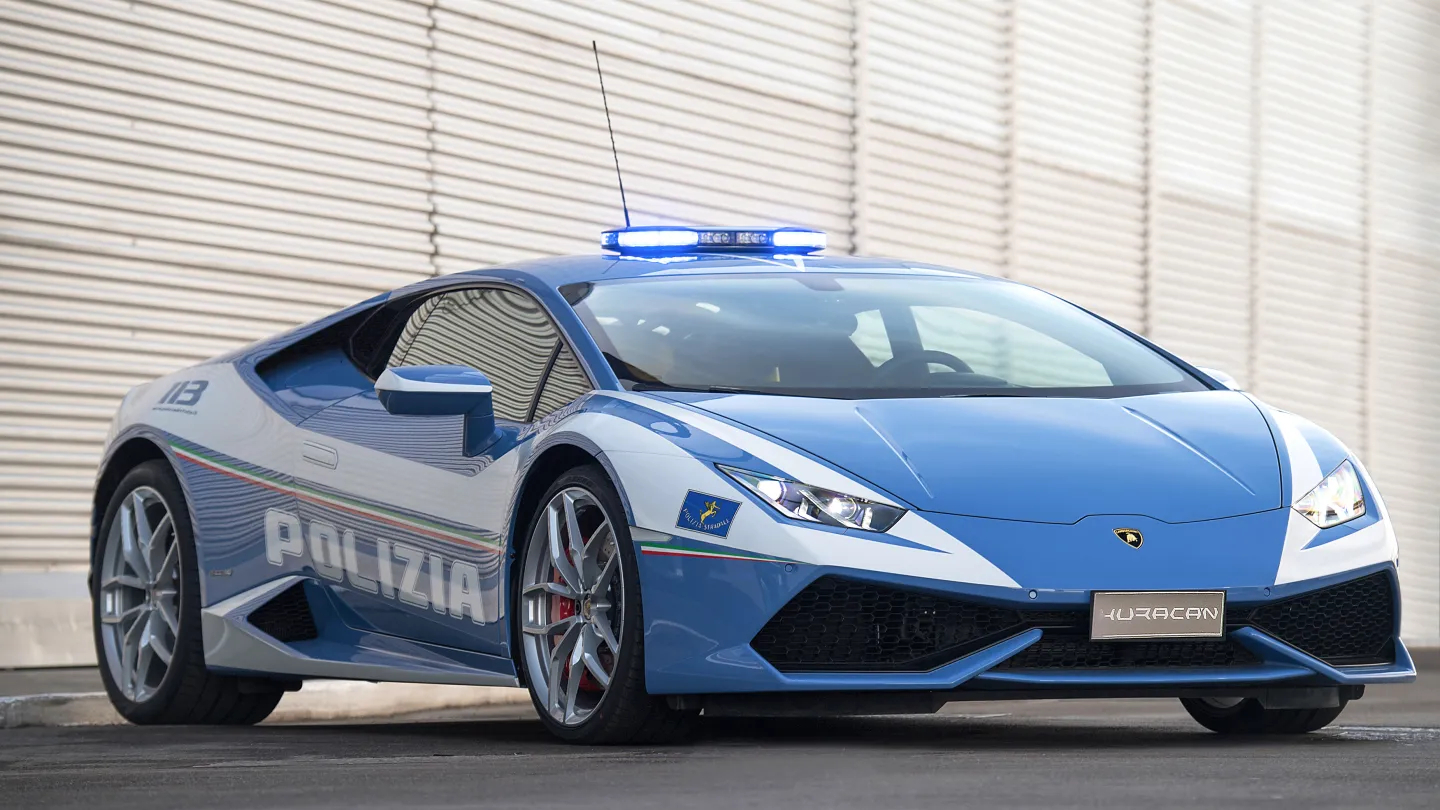 Italy is the home of supercar heavyweights like Ferrari and Lamborghini. It should come as no surprise then that the country's police force has a few supercars in its fleet. In 2020, one in particular, a Lamborghini Huracan, made global headlines when it embarked on a life-saving mission.
The Huracan was deployed to transport a donor kidney from Rome to Gemelli University Hospital in the northern city of Padua. The 303-mile journey would typically take over five hours, but the Lamborghini Huracan completed it in about two hours, travelling at an average speed of about 145 mph.
The Huracan is one of Lamborghini's most successful models. It is powered by a naturally aspirated V10 that makes anywhere from 602 hp to 631 hp, depending on the model variant.
Dubai Police Aston Martin One-77 Q Series – 220 Mph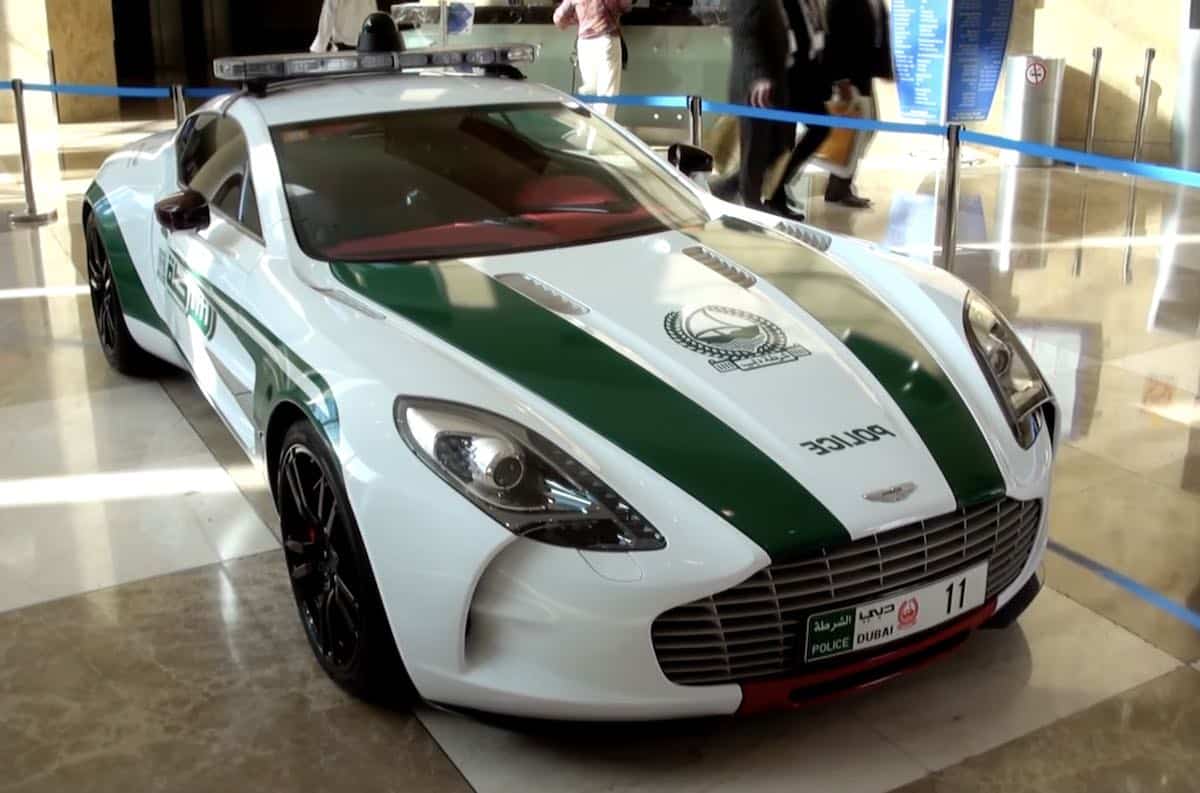 Dubai is known for its glitz and glamour. The Middle Eastern city projects an unmatched life of opulence and luxury. It's no surprise, then, that the city's police force boasts an incredible fleet of supercars at its disposal. One of them is the Aston Martin One-77.
As the name implies, only 77 units of the hypercar were made. The one owned by Dubai Police is the Q series variant, an even more exclusive run limited to 7 examples. Bespoke Q touches on this car include a red lip on the front bumper, red brake callipers and a luxurious red leather interior.
Given its rarity, it is understandable that the Dubai Police One-77 is hardly ever used for patrol duty and is more likely to be seen at ceremonial events.
Abu Dhabi Police Lykan Hypersport – 245 Mph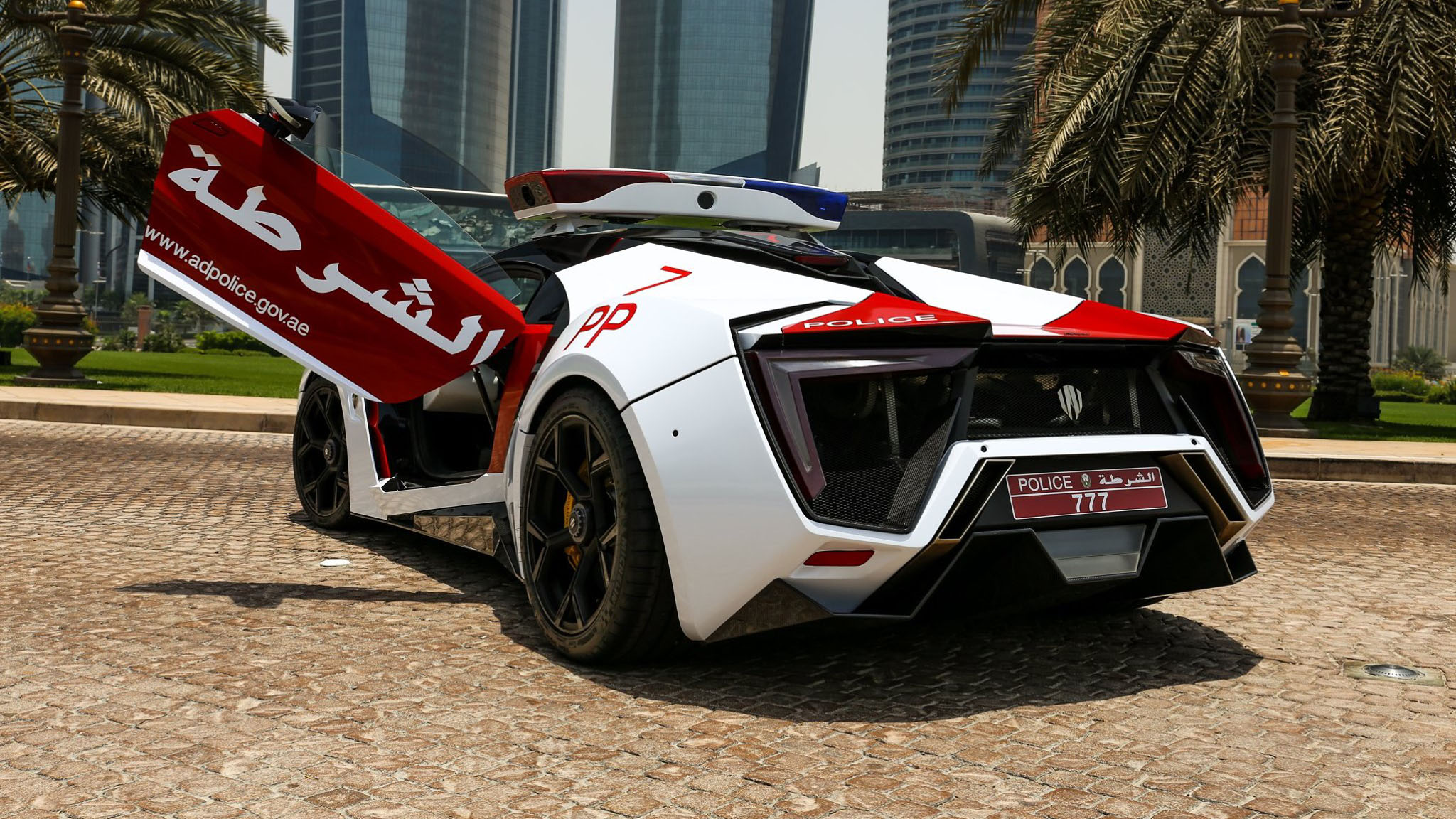 Not to be out staged by the glamourous police fleet of its sister city, Dubai, the Abu Dhabi police also has some pretty remarkable cars in its stable. The Lykan Hypersport is, without doubt, the most impressive of the lot, though.
Emirati car company W Motors only built seven examples of the intriguing Lykan Hypersport. There are people in the car community today who would even debate that total, claiming even fewer exist. The hypercar, draped in the red and white colours of the Abu Dhabi police, was first unveiled in 2019.
The Hypersport is powered by a 3.7-litre twin-turbo flat-six that cranks out a reported 750 bhp. That's enough grunt to get the car to 60 mph in just 2.8 seconds and a top speed north of 240 mph.
Dubai Police Bugatti Veyron – 253 Mph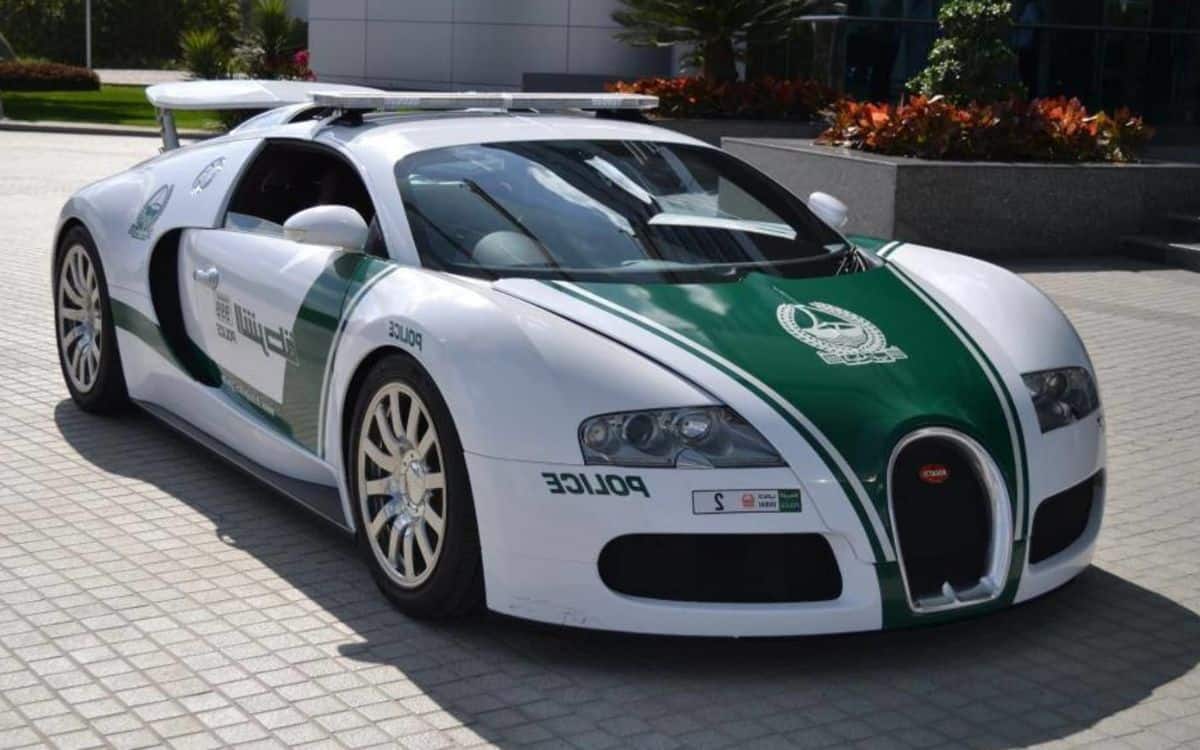 Launched in 2005, the Bugatti Veyron stormed onto the car scene and introduced new levels of hypercar performance and capabilities. The automotive engineering marvel set new benchmarks with a slew of top speed and acceleration records.
Only 450 units of the Veyron were made between 2005 and 2015. The Dubai Police bought its Veyron in 2017, adding it to a lineup that already included a Lamborghini, Ferraris and Porsches. With a top speed in excess of 250 mph, the Dubai Police's quad-turbocharged bug might just be the fastest law enforcement car today.
The Bugatti is often deployed to patrol high tourist areas like the Downtown Dubai or Jumeirah Beach Residence. Instead of hunting for traffic offenders, however, the police mostly use the hypercar as a public relations tool for engaging with tourists and members of the public.