2007 Lotus Sport Exige GT3 Concept
The Lotus Exige S is the latest addition to the Exige range and is a real sports car that redefines the term Extreme Performance. With 121.4 bhp per liter it is one of most powerful production cars in the world for its engine size but most importantly it has full type approval for all the markets in which it will be sold.
The Lotus Exige S is not a limited edition, nor is it an aftermarket special – it is manufactured from start to finish in the world leading and award winning Lotus Manufacturing facility at Hethel, Norfolk.
Because the basic car is so immensely strong but lightweight 2057 lbs, giving a power to weight ratio of 233.2 bhp/tonne, performance is phenomenal, with 60 mph being reached from a standing start in 4.1 seconds and 100 mph being reached in 9.98 seconds (estimate) before topping out at 148 mph. Lotus believes that there is no car on sale anywhere in the world that has such good performance combined with such good fuel economy.
Related: Lotus Race Car List / Lotus Current Lineup / All Lotus Models / Lotus News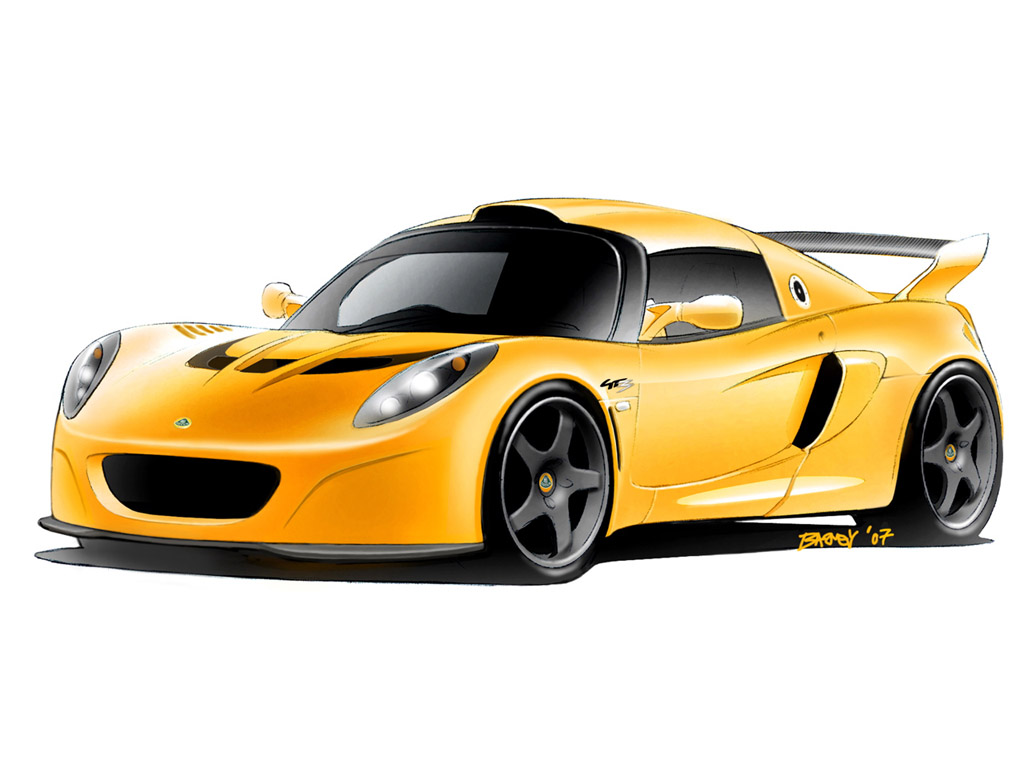 Being a Lotus, straight-line performance is not the most important factor, but every day driving on normal roads, or around a circuit is. There are very few cars on sale today that can match the speed, agility and safety of the Lotus Exige S in both day to day and track or circuit driving. However the Exige S is not just a track day warrior. It is a sports car that would be at home on the back roads, freeways and autobahns, as well as on city streets. With an extremely "torquey" engine and the classic Lotus suspension set-up of soft compliant springs and firm controllable dampers, the driving experience is an uncanny combination of telepathic-like handling with a taught and comfortable ride. There is really no car that handles quite like a Lotus.
Clive Dopson, Managing Director of Lotus Cars says, "The Exige S represents the ultimate extreme production Lotus, with performance that trumps other supercars costing twice or even three times as much. That it does so with the fuel economy of a family hatchback, stands as a testament to the Lotus concept of performance through light weight. Its an unbeatable package and an unbeatable drive.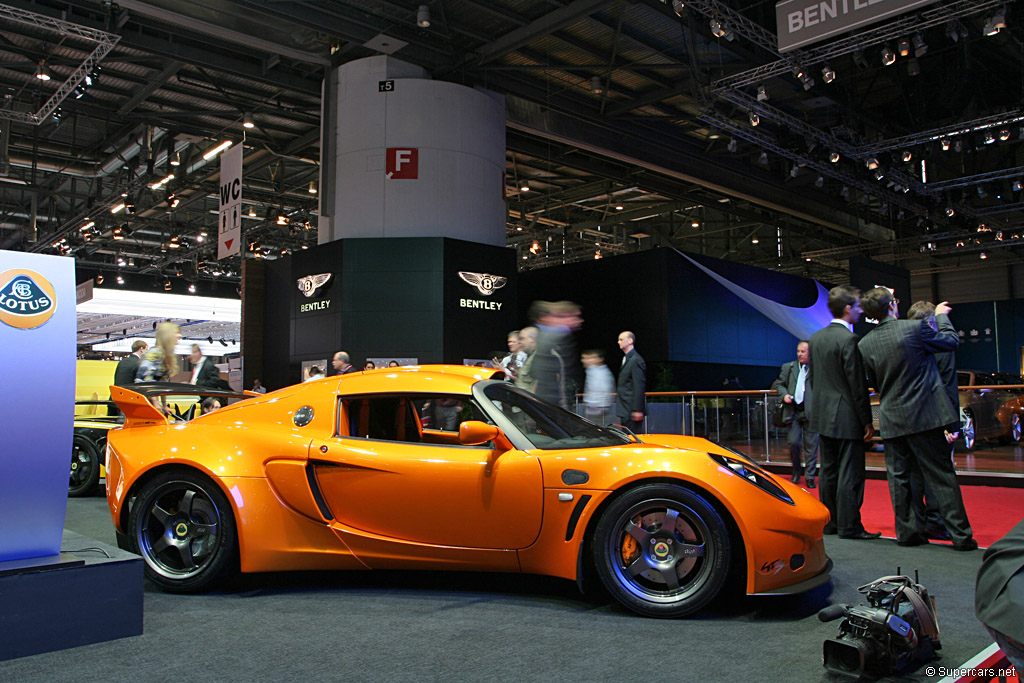 The heart of the Lotus Exige S is a Roots-type supercharger and air to air intercooler attached to the tried and tested 4-cylinder, 1.8 liter 2ZZ-GE VVTL-i engine. Using a development of the supercharger and intercooler package developed first for the already legendary Lotus Sport Exige 240R, the Exige S has peak power of 218 bhp at 7,800 rpm, 158.6 lb-ft of torque at 5,500 rpm (but 80% is produced at just over 2000 rpm). Maximum engine speed is 8,000 rpm (8,500 rpm transient for up to 2 seconds). 218 bhp is the figure that has been achieved by Lotus Engineers whilst retaining full vehicle type approval for the markets in which it is sold.
A slightly redesigned air intake and roof scoop has been added to the Exige S to ensure that the air to air intercooler works as efficiently and effectively as possible in all climates and environments.
The Lotus Exige S is built around the revolutionary and award winning extruded and bonded aluminum tub, with a light weight steel rear subframe, as used in the Exige. The chassis tub itself weighs just 150 lbs and has a stiffness of 10,500 Nm per degree.
The body of the Lotus Exige S remains unchanged from the Exige, as it is already a winning formula that is both effective and stunning to look at. However, the key body components of the rear wing, front splitter and side air intakes are body colour coded to differentiate it from its naturally aspirated cousin.
There are currently no plans to launch the Lotus Exige S in the US market. Story by Group Lotus plc, edited by Supercars.net
Pictures
Specs & Performance
| | |
| --- | --- |
| engine | Toyota 2ZZ-GE, Aluminum Inline-4 |
| position | Transverse, Mid Engine |
| aspiration | Roots-type Eaton M62 Supercharger |
| valvetrain | DOHC, 4 Valves per Cyl w/VVTL-i |
| fuel feed | Multi-Point Sequential Fuel Injection |
| displacement | 1796 cc / 109.6 in³ |
| bore | 82 mm / 3.23 in |
| stroke | 85 mm / 3.35 in |
| power | 202.1 kw / 271 bhp @ 8000 rpm |
| specific output | 150.89 bhp per litre |
| torque | 258 nm / 190.3 ft lbs @ 7000 rpm |
| redline | 8000 |
| body / frame | Glass Reinforced Composite Body overBonded Aluminum Tub Chassis w/Rear Steel Subframe |
| driven wheels | RWD w/LSD |
| wheel type | 5-Spoke Lightweight Forged Alloy |
| front tires | 195/50 R16 Yokohama A048 R LTS |
| rear tires | 255/40 R17 Yokohama A048 R LTS |
| front brakes | Cross Drilled & Ventilated Discs w/AP Racing 4-Piston Calipers |
| f brake size | x 308 mm / x 12.1 in |
| rear brakes | Cross Drilled & Ventilated Discs w/Brembo Single Sliding Calipers |
| r brake size | x 288 mm / x 11.3 in |
| front wheels | F 40.6 x 17.8 cm / 16 x 7 in |
| rear wheels | R 43.2 x 25.4 cm / 17 x 10 in |
| steering | Rack & Pinion |
| f suspension | Unequal Wishbones w/Coil over Ohlins 2-Way Adjustable Dampers |
| r suspension | Unequal Wishbones w/Coil over Ohlins 2-Way Adjustable Dampers, double Shear Track Control Arm |
| transmission | Toyotoa C64 6-Speed Manual w/Sports-Type Clutch Plate |
| gear ratios | 3.116:1, 2.050:1, 1.481:1, 1.166:1, 0.916:1, 0.815:1, :1 |
| final drive | 4.529:1 |
| top speed | ~257.5 kph / 160 mph |
| 0 – 60 mph | ~3.9 seconds |
| 0 – 100 mph | ~9.8 seconds |