Celebrate 41 Forgotten Supercars of the 1990s. Remember the Awesome but Ignored, the Dead on Arrival and Ones That Almost Made It to Production.
This is the second post in a series highlighting the fabulous cars of the 1990s. While our first post ranked the best supercars of the '90s, in this post we curate the forgotten supercars of the 1990s.
There are cars that we were promised that never materialized. There were cars that were delivered that disappointed and we pushed them out of our collective memories. There were bright spots too, 90s supercars that were unique and awesome but history forgot them because they were way too rare.
The 1980s saw a lot of entrepreneurs announce new supercar companies. Each was ready to deliver the ultimate car for the rich yuppies that flooded cities like New York, Tokyo and London. The market crash of 1987 and the following 1990-91 recession in America dampened their spirits. Ultimately, the recession proved to be one of the smallest and shortest in the modern era and the economy returned to 1980s level growth by 1993. Some of these new carmakers made it through the storm while others did not. The result was a lot of stillborn supercars that we anticipated but never saw beyond a sole prototype or ambitious press release.
Major manufacturers were not immune to these tough times either. Many of the forgotten supercars of the 1990s were successfully developed and were released into a supercar market that had cooled significantly. Moving units was harder than expected. These were some cracking cars, it just would have been awesome to see more of them sold so we didn't forget them all these years later.
Speaking of small quantities, there are other rare supercars of the era that we don't remember because there were literally only a handful ever made on purpose. Homologation rules of the mid-1990s were designed for a new GT racing series (itself a response to the heavy shift towards expensive prototype cars in the 1980s). It was ultimately killed off in 1998 by manufacturers getting too good at interpreting the rules but it did lead to some of the rarest, most batshit-crazy cars ever.
Note: Some rare homologation cars were listed in our greatest supercars of the 1990s list which is why we did not include them in this post. While they were rare and often forgotten we figured including them in both posts didn't make sense. In fact, we applied that logic pretty much across the board. If the car made the best 90s supercar list then it didn't make this forgotten list.
27 Awesome 1990s Supercars We Totally Forgot Existed

27. AMG SL73
The perfect 90s AMG monster. Also the rarest of the rare with only 85 examples built. It was a convertible daily driver with a 7.3-liter V12 (same engine as the original Zonda)
Try 525bhp and 553lb/ft of torque on for size. AMG's extraordinary rare SL72 was initially available beginning in 1995 and at 525 bhp it offered the largest and most powerful V12 engine ever put into any road-going Mercedes Benz. It was updated in 1998 with a 7.3-liter engine and renamed as the SL73.
These second generation SL73s had their engine slightly updated with larger displacement, improved bhp and torque and were designed to be more reliable. While quoted output remained the same, most sources were all well aware that power was now approaching 600bhp! The same 7.3-litre V12 found in the last of the SL 73s was later used by Pagani in the Zonda. A total of just 85 SL 73 AMG roadsters were built with 50 being rumored as destined directly for the Sultan of Brunei. If true, just 35 lucky private clients were able to acquire one of these legendary machines.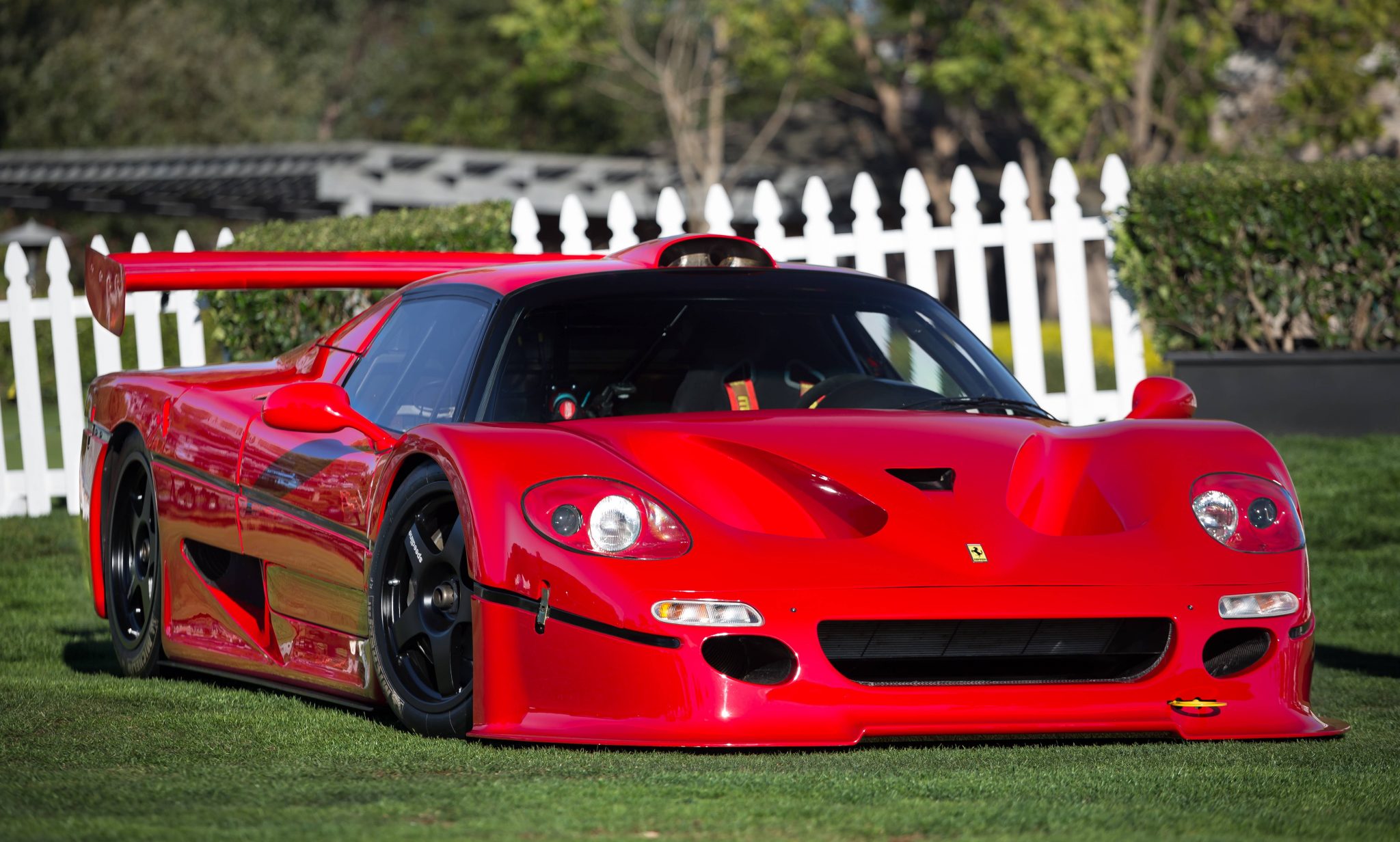 Most people know the F50 so it is hard to call one of Ferrari's finest forgotten. With good aerodynamics and braking to complement its stiff chassis design, and having the necessary production figures to meet homologation requirements, it seemed only fitting for the F50 to continue the legacy of the F40 GTE. That is, contest the BPR Global GT Endurance Series, a precursor to FIA GT. Not surprisingly, Ferrari flirted with this idea and began a development of the F50 GT.
For reasons which Ferrari never mentioned, the F50 race program was halted after five tubs and one complete car had been made. Despite the fact that the GT never saw action on the track, we are thankful that Ferrari completed two more examples and sold all three cars to very specific clientele who were told not to race the cars in modern race series. Being such a limited version of an already limited series, the F50 GT is one of the most exclusive modern day supercars, and one of the great 'could-have-beens' in Ferrari history.
Read more: Ferrari F50 GT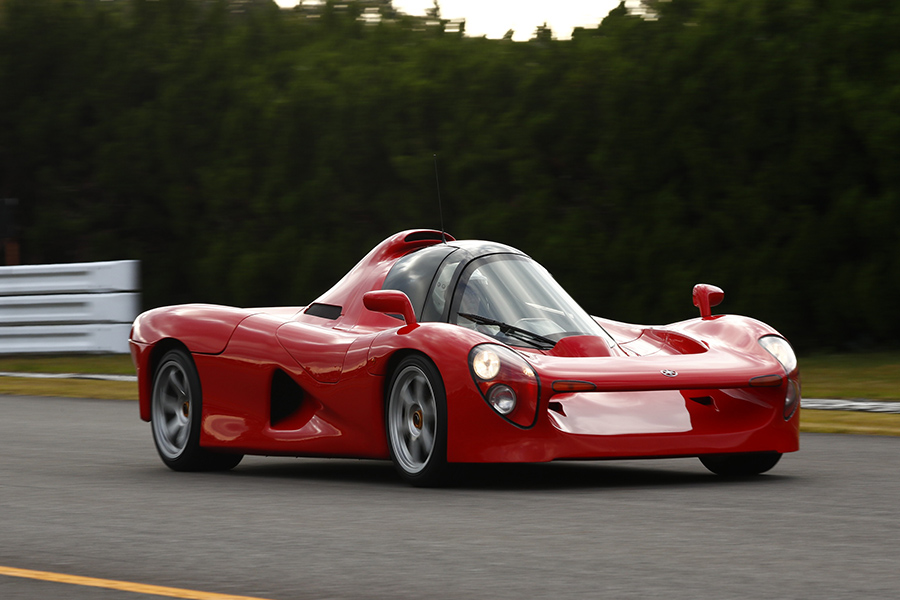 Yamaha began competing in Formula One in 1989, and using the experience they had gained during that time they wanted to build a price-no-object, pure supercar based on actual Formula One technology. Even though the Formula One team was doing poorly in competition, by 1991 the team had just come out with a new engine, the OX99, and approached a German company to come up with an initial version of the car. Commissioned by the Yamaha Sports division rather than the bike one this supercar was based around Yamaha's V12 F1 engine that was sat in the current Brabham at the time, granted detuned to only 400bhp. Within a year they had built this, a tandem 2 seater that had a definite F1 car look about it. Unfortunately all this carbon fibre and F1 technology came with a price tag $800,000 this just at the end of a recession. A further 2 cars were built and used as test beds and press car but the car never made it in to production. Issues were found with its handling which needed additional design development which was to be expected in supercar designed and built in 12 months, however this was taken over by Yamaha's own company Ypsilon Technology in Milton Keynes, which was set up to both service the F1 engines and build the cars. Unfortunately 6 months later due to a perceived lack of demand the plug was pulled in 1992.
Learn more: Yamaha OX99-11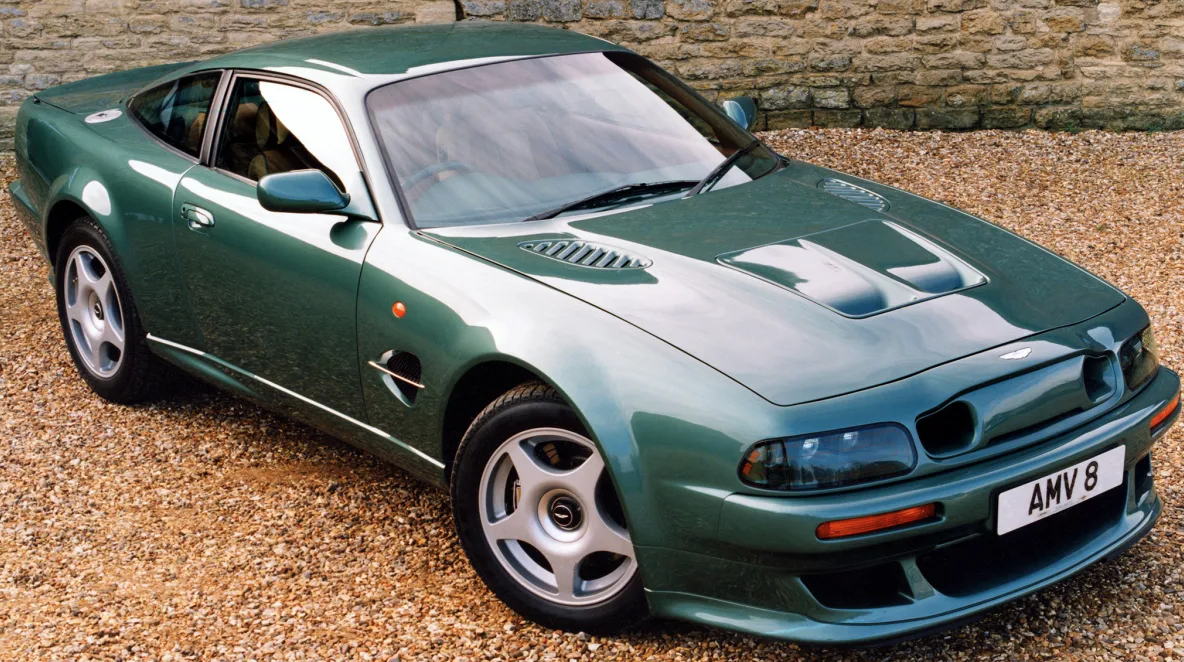 Built by Aston's Works service in Newport Pagnell, the V600 dynamic driving package was a comprehensive upgrade that could be installed on any Virage V8. Using twin mechanically-driven Eaton superchargers, the 5,340cc produced a a colossal 550 lb/ft at 4,000rpm. Ventilated & Grooved Discs w/AP Racing 6-Piston Calipers were fitted as standard to the V600, as was the suspension with Eibach springs, Koni dampers and a stiffer anti-roll bar. The package was finished off with 5-spoke Dymag wheels and Goodyear Eagle GSD tires.
Autocar described the V600 as "a real Aston Martin; a big, very beautiful, very fast, albeit expensive GT with so much appeal and purpose behind it that it is more an experience than it is mere transport." They were able to reach 60 mph in 4.6 seconds.
Along with the V600 transformation, the Works Service typically fitted a small badge and chrome surround on the grill. 56 customers opted for the V600 package with another 25 cars built up as special projects.
Learn More: Aston Martin V8 Vantage V600
Meant as an all-out performance GT, the Shamal inaugurated the new generation of V8s which would subsequently power the Quattroporte IV and 3200 GT. The new unit boasted 4 DOH camshafts 4-valve-heads and the usual twin-turbo, twin intercooler set-up, good for a staggering 326 hp and 436 Nm of torque from 3.2 litres. The Getrag 6-speed manual gearbox was the first one mounted in a production Maserati, and indeed an advanced feature for the time. The top claimed speed was 270 kph (169 mph) on the later versions. The fact that Maserati managed to sell 369 units of this powerful beast was certainly no mean achievement.
Learn more: Maserati Shamal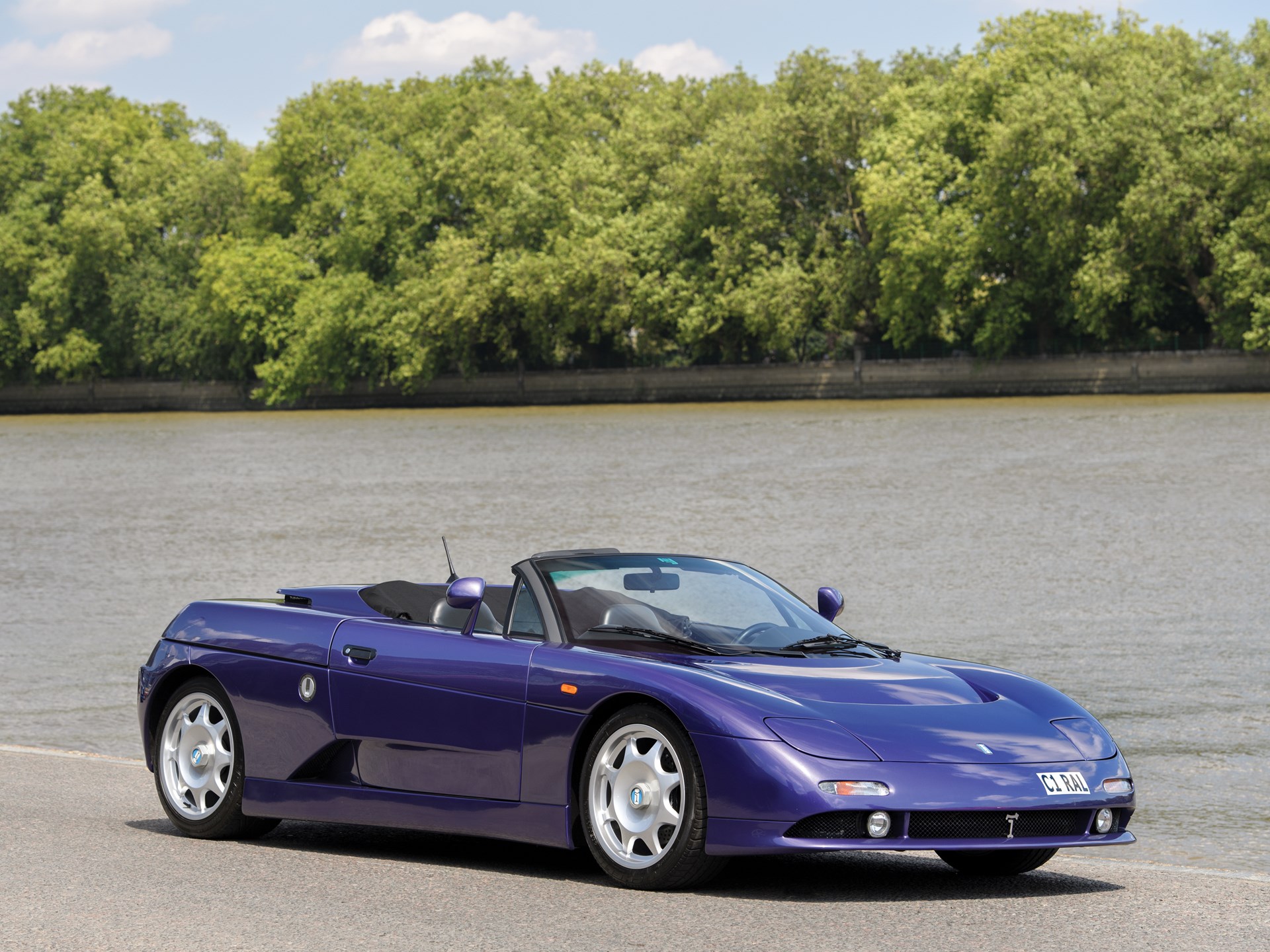 The De Tomaso Guarà was based on the Maserati Barchetta Stradale prototype from 1991. The Guarà was launched at the 1993 Geneva Motor Show as a coupé, spider and also as an open barchetta.
Fibreglass, Kevlar, and other composites make the body shell, fitted to a backbone chassis. The suspension is true Formula 1 and IndyCar technology with independent upper and lower wishbone with pushrod front and rear end suspension.
It was known for its highly agile handling and its "a bit too nervous" for the average driver characteristics. The Guarà has no luggage space at all, the area under the front being taken up by the racing-style suspension.
Production ceased when De Tomaso switched to the Ford engine as the new powerplant did not leave enough room for the canvas. The first cars were sold in 1994 and were selling up till around 2005.
Learn more: De Tomaso Guara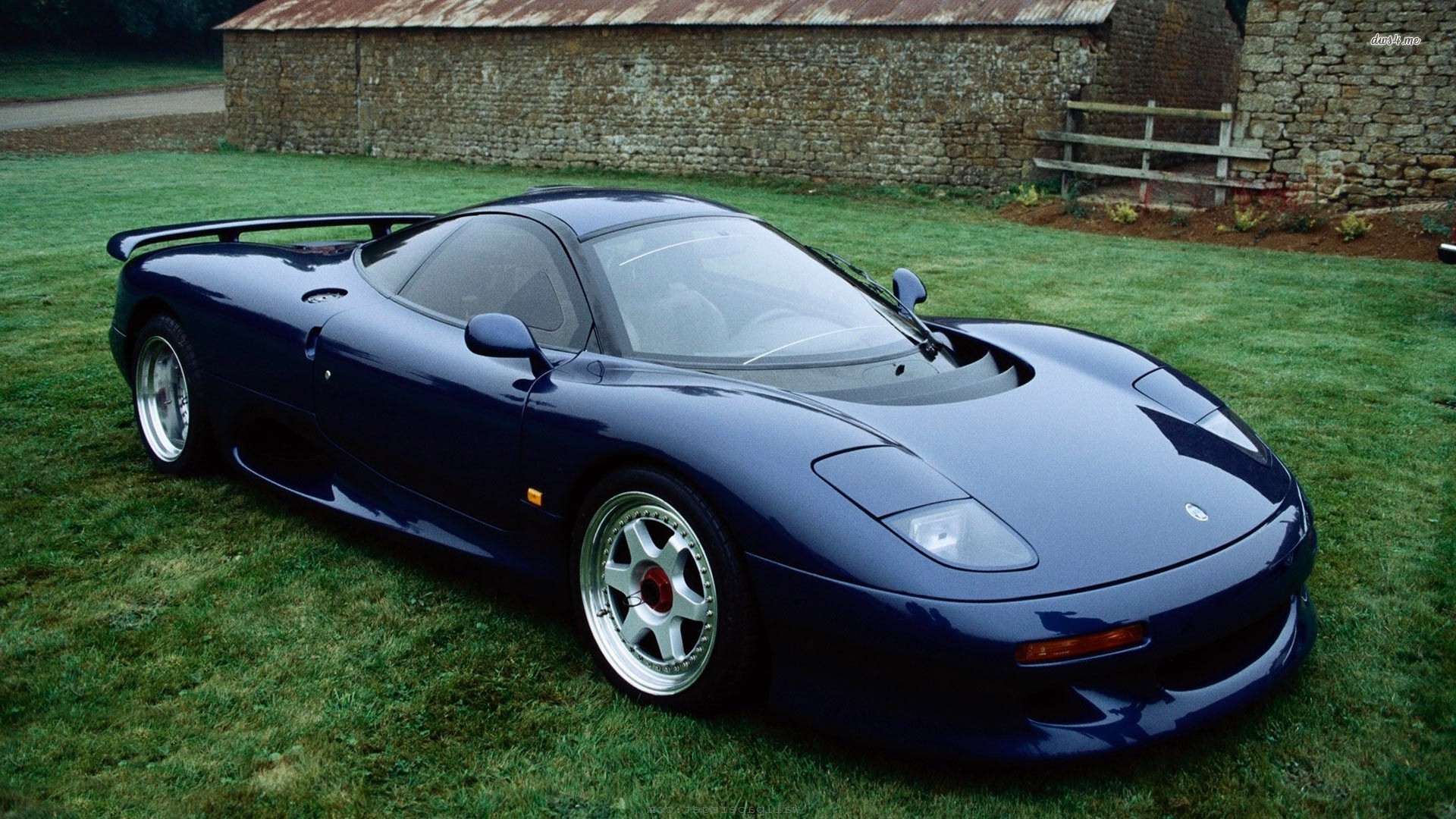 Built for a new series called the Intercontinental Challenge, the XJR-15 was a limited-production supercar built by Jaguar Sport, a partnership of Jaguar and TWR. The design was loosely based off the XJR Group-C cars which TWR manufactured for Jaguar. Thus, it retained the XJR-8's 6-liter engine and basic chassis layout. A new body was drawn up by Peter Stevens which he thought was more distinctively Jaguar.
For clientele wishing to use the car on the road, Jaguar Sport fitted bumpers, blinkers and raised the overall clearance. This greatly affected overall performance as the undertray aerodynamics and suspension were optimized for a very low ride height. Only 53 were made.
Based mechanically on the Le Mans-winning Jaguar XJR-9, the car had an aerodynamic body designed by Tony Southgate and styled by Peter Stevens, who later went on to style the McLaren F1. The car featured in a 1-make racing series called the Jaguar Intercontinental Challenge, which supported 3 Formula 1 races (Monaco, Silverstone and Spa) in 1991. The $1m prize was won by Armin Hahne. XJR-15 was the World's first fully carbon-fibre road-car.
Learn more: Jaguar XJR-15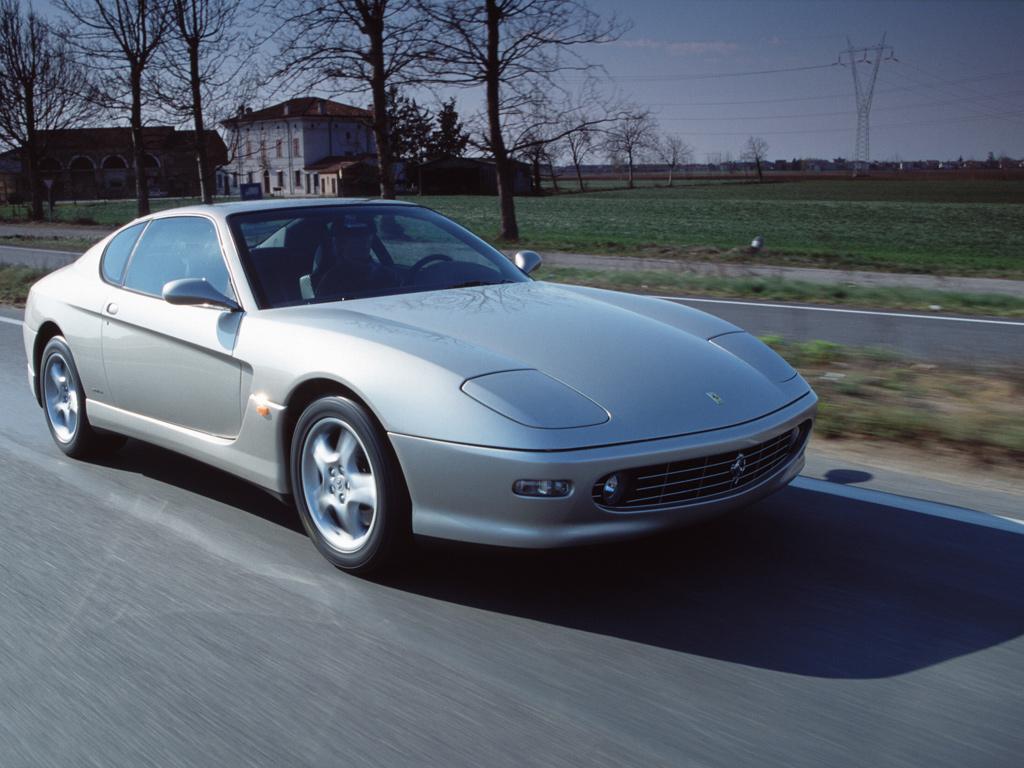 The Pininfarina-designed Ferrari 456 GT debuted in Europe in 1993 and was first available in the U.S. in 1995, and can be viewed as a replacement for the 365 GT 2+2 / 400 / 412 series. This front-engined 2+2 grand tourer had a 436 hp, 5.5-liter V-12 mated to a six-speed gearbox that propelled it from 0-60 in just over 5 seconds on its way to a top speed of 186 mph.
All of this performance could be managed from a cockpit that provided Connolly leather appointments for four (two of whom would almost certainly need to be children) and every other comfort expected of a $245,000 automobile, including a cockpit-adjustable suspension. Shortly after Ferrari introduced the 456 GT, the 456 GTA became available, the "A" signifying a four-speed automatic gearbox.
In 1998, Ferrari introduced an updated version, the 456M GT and GTA. This "Modificata" had a revised interior, some bodywork changes around the nose and hood, and a slight increase in horsepower to 442. The 456M GT remained in production until 2003, and in all just under 3,300 456 GTs and 456 GTMs were built until giving way to the 612 Scaglietti in 2004.
Learn more: Ferrari 456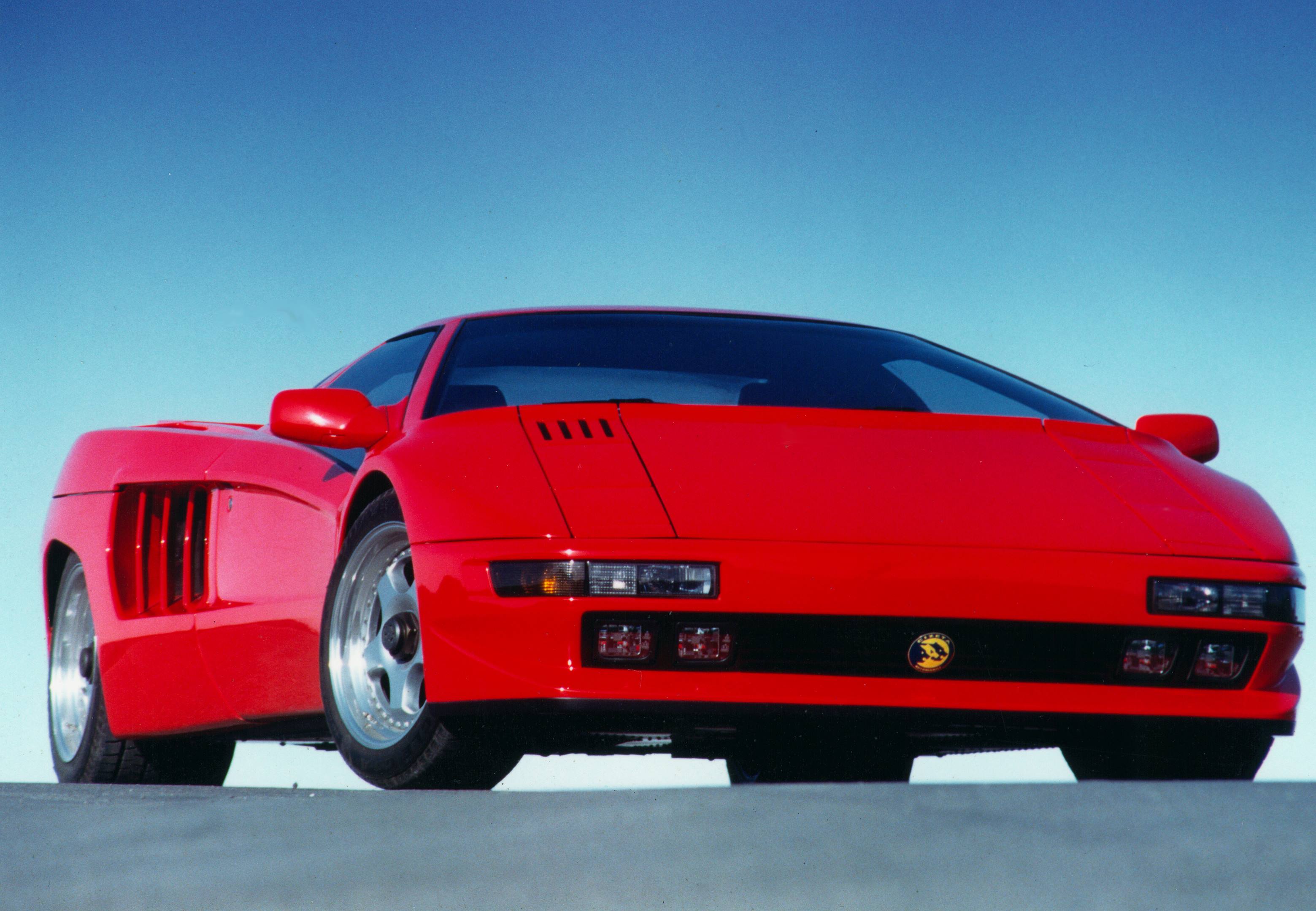 Named after its oddball drivetrain, this supercar took the Miura concept one step further by using a transverse V16 engine mated to a longitudinal gearbox that together forms the shape of a T.
Claudio Zampolli first envisioned Cizeta in the mid-eighties and had his fully functioning prototype ready in 1988. The final result looked like a Diablo in the rough, but that's because it was the work of Marcello Gandini for Lamborghini.
Never before had the world seen a V16 engine mounted in a transverse layout. Such a setup was necessary due to the long length of the engine, but also made the car one of the widest ever produced. Essentially, two flat-plane V8's were grafted such that the timing mechanisms shared the center space. Gearing between the two provided a single input for the longitudinally mounted transmission. The block was similar to two Ferrari V8 engines but in the end it had to be cast as a fully custom unit.
When completed, the car sold for $400 000 USD which was a hard sell considering the company had no race history or company heritage to build upon. For these reasons only ten cars were completed in period.
Learn more: Cizeta-Moroder V16T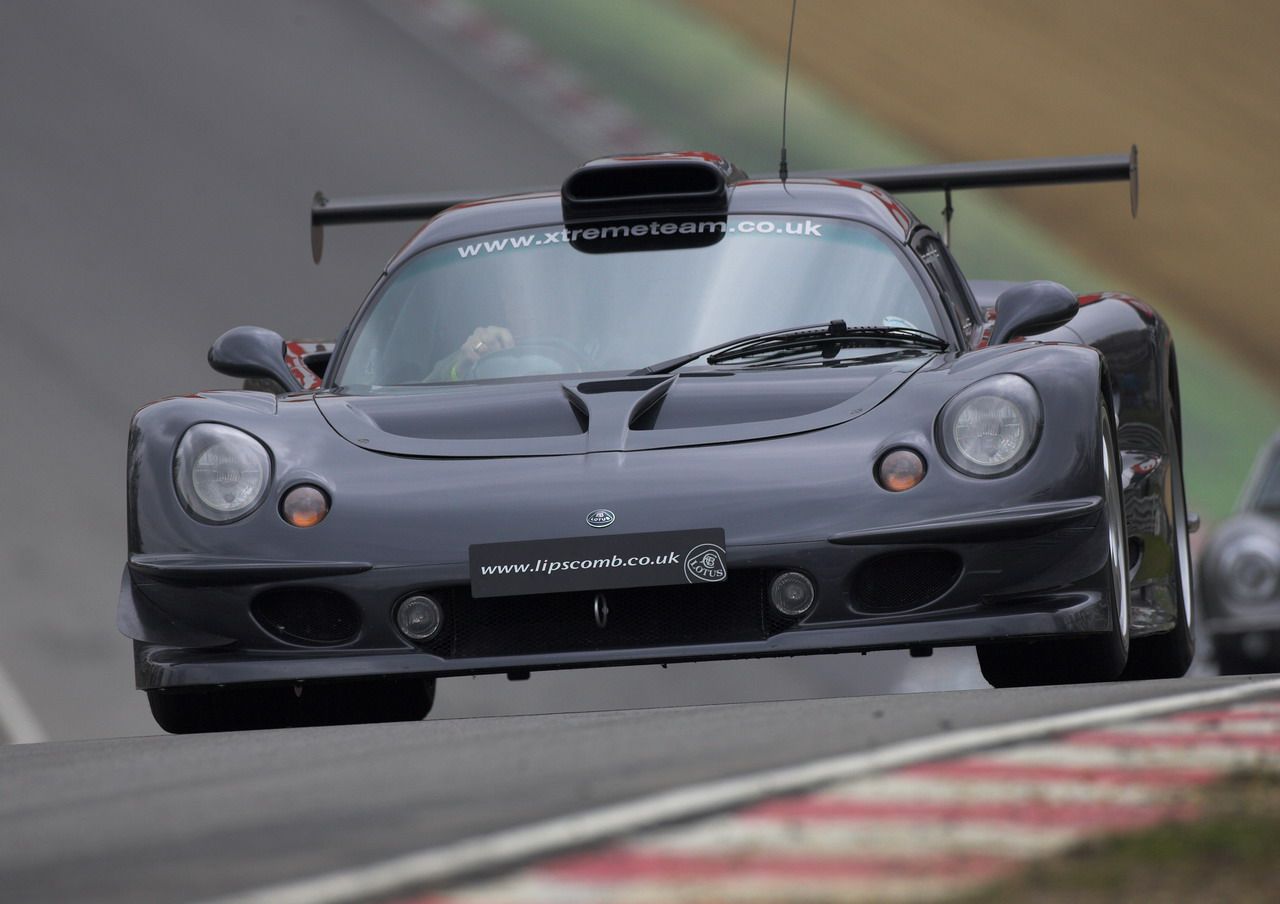 Lotus wanted to go racing in Le Mans (stop me if you have heard this one before). Of course in the 1990s that meant at least one of the "racing" cars had to be road legal. Cue the Lotus GT1.
The Lotus Elise GT1 utilized a production aluminum chassis with custom carbon fiber body that was optimized for endurance racing. Out went the Elise's inline-four, swapped for a monster twin-turbo 6.0-liter version of the C4 Corvette's LT5 V8. Reliability proved to be a problem for all seven chassis that were built, with the best success being a fifth place at Helsinki.
Learn more: Lotus Elise GT1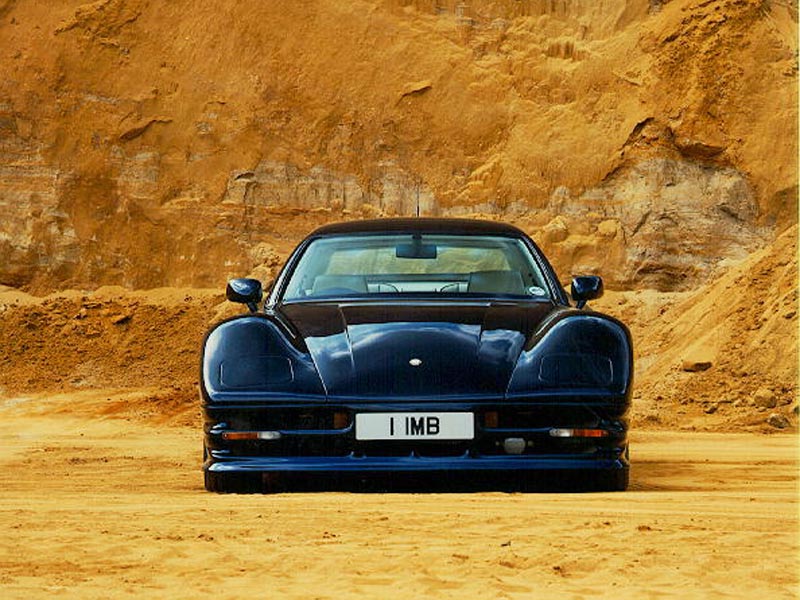 God bless whoever made homologation a requirement for GT racing. The Lister Storm was yet another late 20th century racing car that set rubber to the road in the name of the h-word, with what was at the time the largest V12 engine fitted to a production car since Word War 2 – a 7-litre sky splitter.
4.1 seconds was all it took to launch this British behemoth from 0-60mph, courtesy of the 546bhp bomb mounted up front, but also thanks to the Storm's racing-inherited low kerb weight.
Prices were high for this low-volume British sports car manufacturers' first furor into the supercar market at around £450,000, meaning only four road-going Storms were originally sold. Of those, just three are believed to survive to this day, making them one to watch in the coming decades when they appear at auction.
Learn more: Lister Storm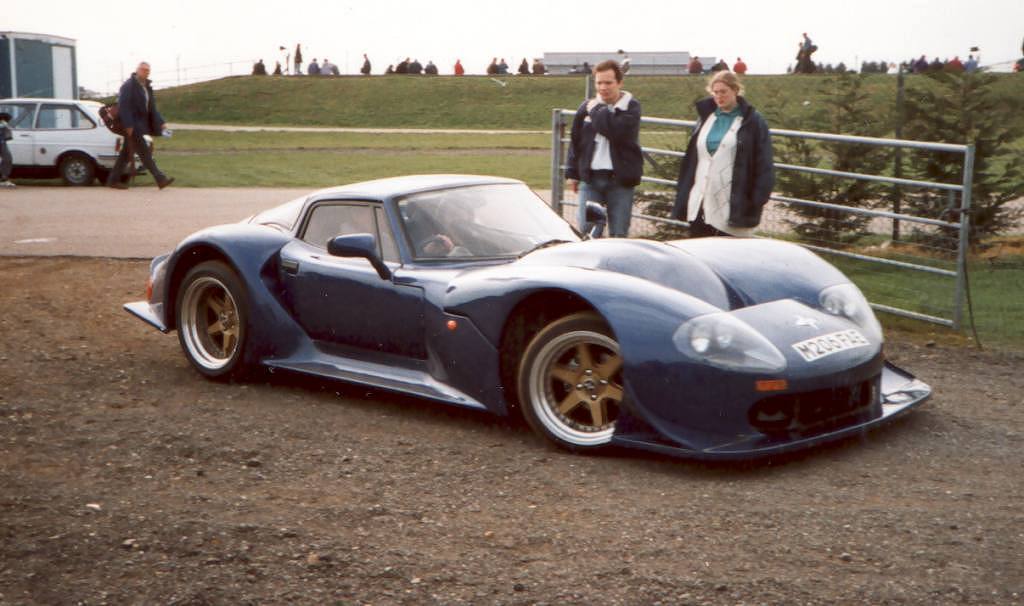 For a return to GT racing, a range of modified Mantaras was also produced in the LM (Le Mans) versions. In order to qualify as a production vehicle, a limited number of road going cars were also made. Several versions of the LM were made such as the LM400 (with a Rover 3.9-litre V8 engine), LM500 (Rover 5-litre V8) and LM600 (with 6-litre Chevrolet small-block V8). Only 30 road-going LM cars were ever built, and of these only one was a road-going LM600. They put together one road car at the end of 1995, and that was a blue one with the registration M206FAE. This one is rare and once again was a result of Marcos trying to support homologation of the LM600 race cars.
Learn more: 1995 Marcos LM600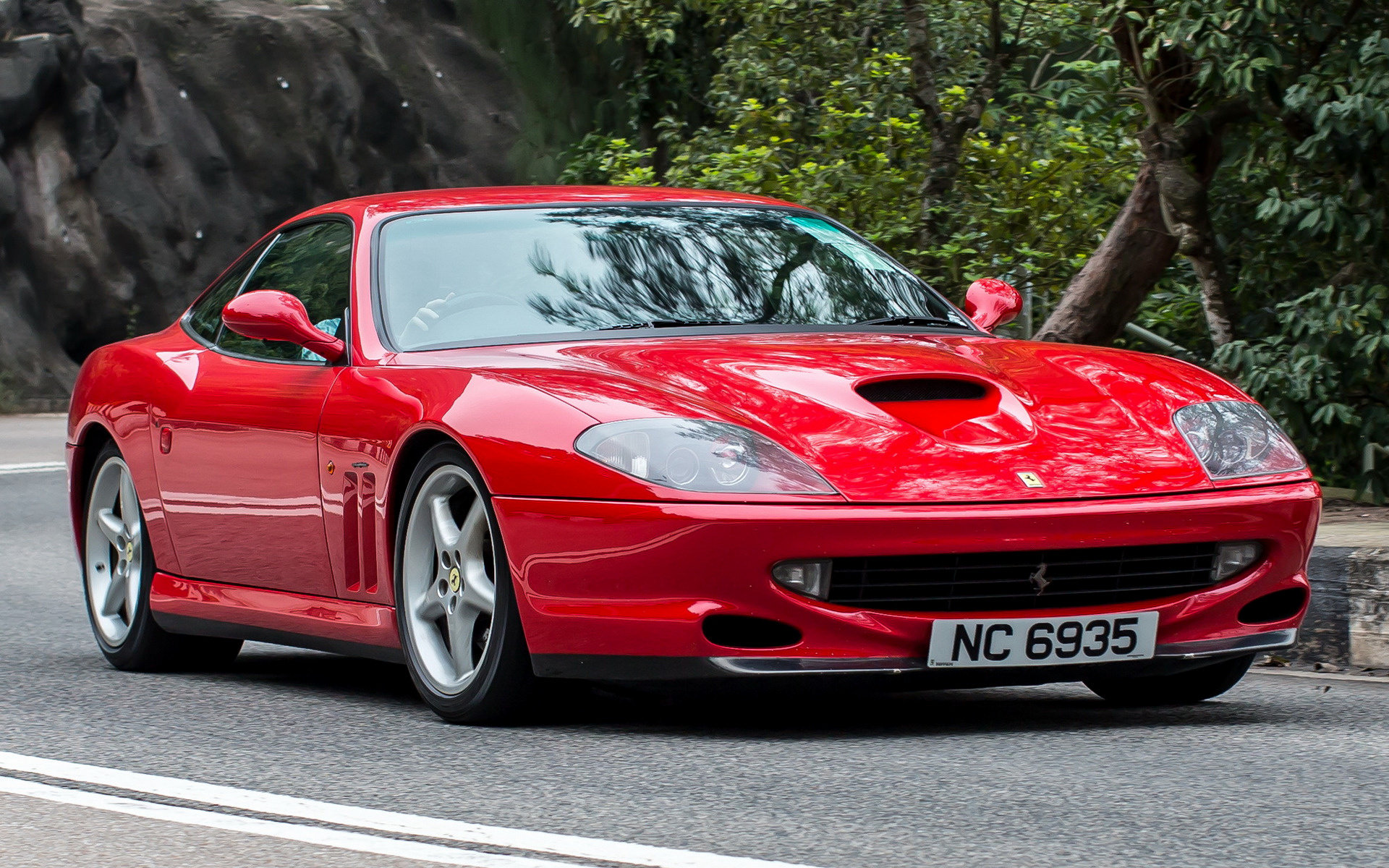 The Ferrari 550 Maranello launched as a 1996 model and was a replacement to the aging Testarossa/512TR models. Unlike the Testarossa the 550 Maranello returned to a front-engine layout like the classic Ferrari GTs (think Daytona and 275) of yesteryear. The end result was a massive upgrade over its predecessor, with better handling, more comfort, practicality and better looking proportions. Ferrari 550 Maranello had a 5.5 liter V12 with 478 horsepower and rear wheel drive. The design has the perfect front engines GT proportions and looks modern even today, aging very well.
The manual gearbox and well weighted steering mean that the handling balance and driveability of the 550 stand out on the road. It is perfectly powered too (especially compared to the crazy F12 or 812 Superfast) so you are total ease behind the wheel, comfortable giving it the beans and really pushing it without the fear of something bad happening. It is way more engaging and fun than the rockets being made today (call us old school). The fantastic powertrain combined with comfortable seats and a decent amount of space to make an absolutely brilliant grand tourer.
See: Ferrari 550 In-Depth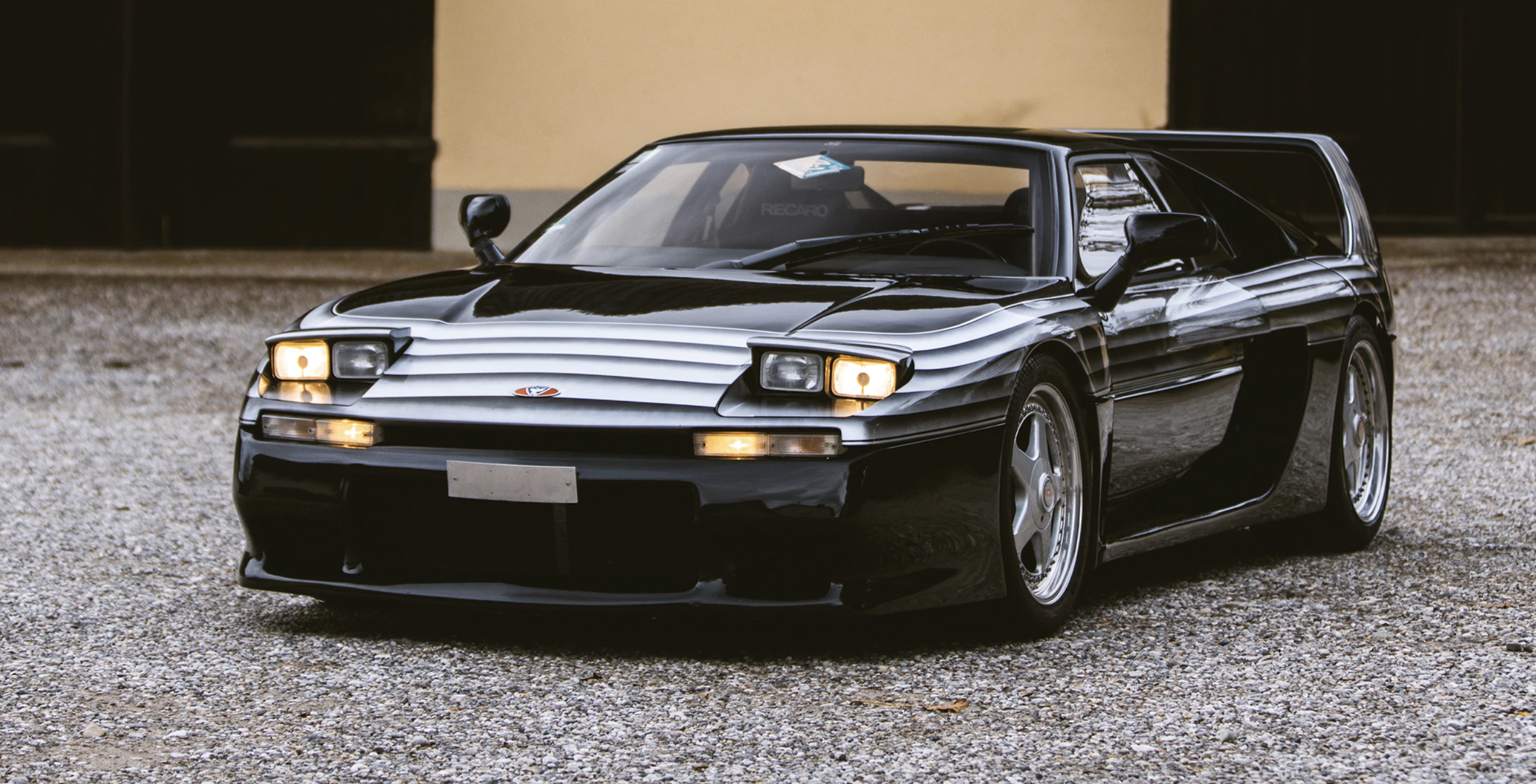 The 400 GT remains one of the best performing French cars ever produced, and it is in fact the very first car in the world to have standard carbon brakes. The Venturi 400 GT was a road version of the one-make race series used in the Venturi Gentlemen Drivers Trophy.
It was powered by a 3 liter twin turbo V6 with 408 hp and 530 Nm of torque.
The main difference between the race cars and the street cars consisted of a series of small changes aimed at road homologation. The street engine was the same as the race version. The passenger compartment was taken from the Venturi 260. Only about 15 street versions and 73 units for racing were built.
Learn more: Venturi 400 GT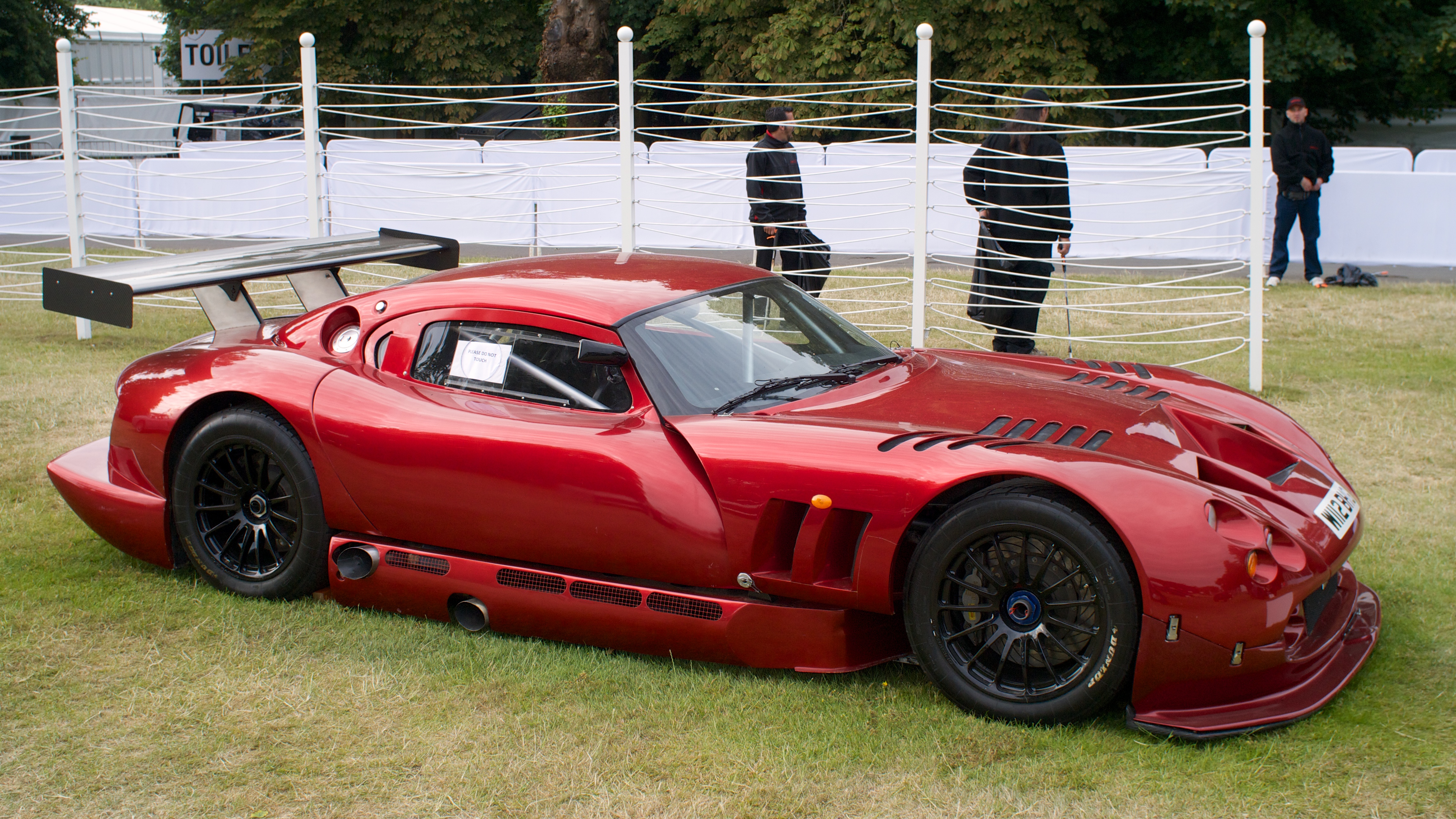 The TVR Cerbera Speed 12 was an ultra high performance concept vehicle designed by TVR in 1997. Based in part on the TVR hardware at that time, the vehicle was intended to be both the world's fastest road car and the basis for a GT1 class Le Mans racer.
The vehicle's engine, displacing 472 cui and having twelve cylinders, was reportedly capable of producing nearly 1000 horsepower, although an exact measurement was never made. It's performance was said to be astonishing, and by all calculations it would have been capable of hitting sixty miles per hour in the low-three second range and power to well over 240 per hour.
Learn more about the 1998 TVR Cerbera Speed 12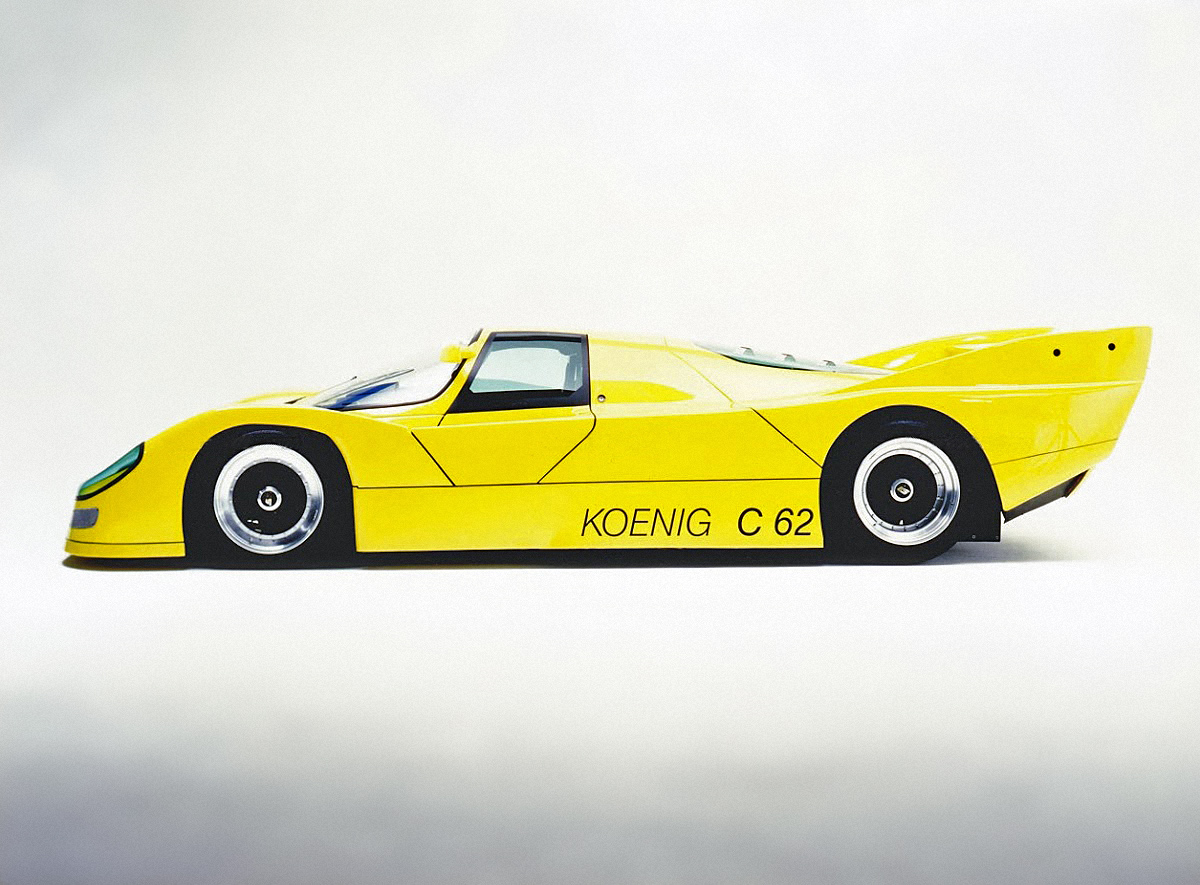 One of the more notorious tuners of the era was Koenig Specials. Known for custom body parts and conversion-kits, Koenig had created some truly outrageous show cars.
It is hard to decide which was their most radical car, because among the top cars was a Twin Turbo Ferrari F50, a 1000 horsepower Ferrari Testarossa nd a road going version of Porsche's 962 prototype race car. We chose the Porsche 962 road car.
Koenig's C62 is technically a conversion based on original Porsche 962 chassis. To attain the necessary ground clearance and headlight position, and entirely new carbon fibre body was constructed. Koenig punched out the three liter version of the boxer engine to produce more low end torque. Other engine modifications included softer cams and a Bosch Mototronic system.
Learn more: Koenig C62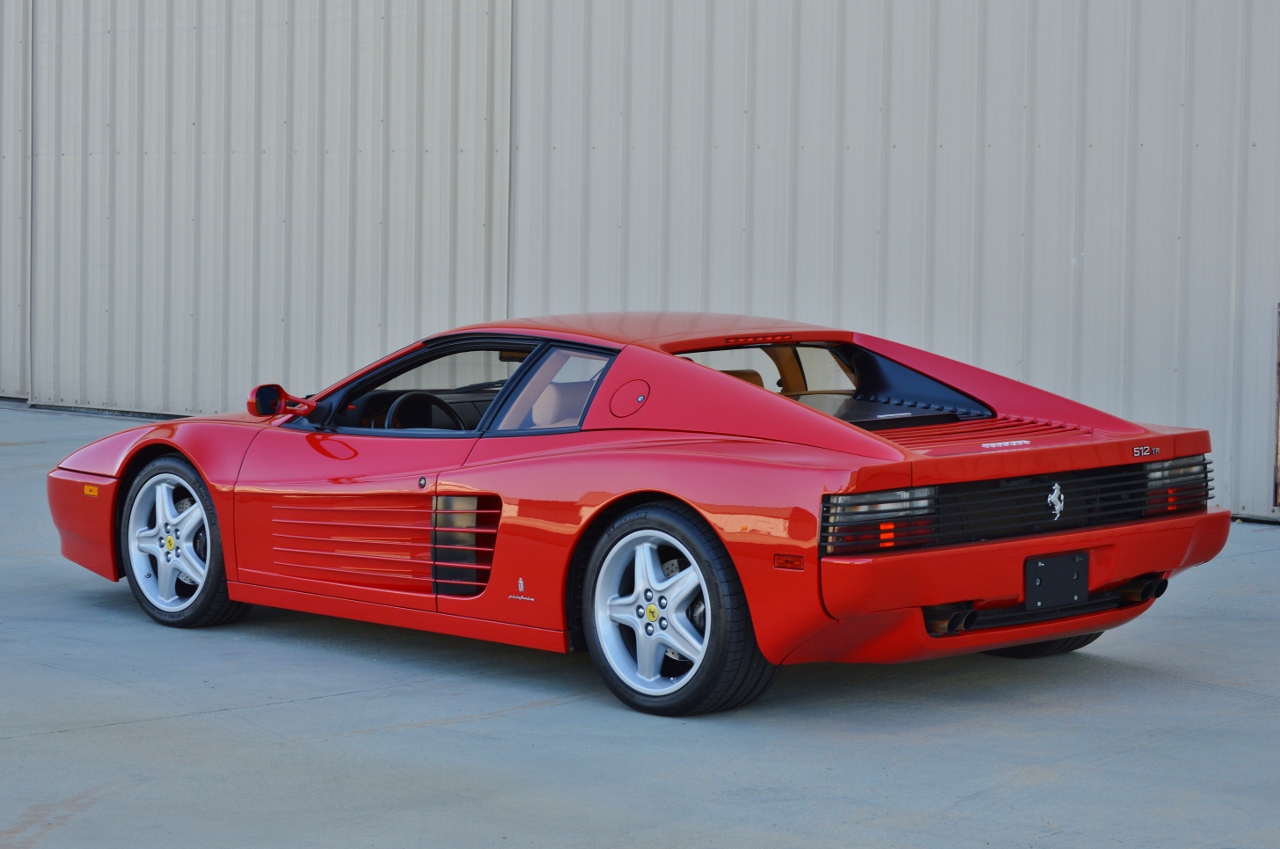 After a long production run of over 7000 cars, Ferrari updated their Testarossa design into the 512 TR. The body was slightly updated by Pininfarina, while much work was done by Ferrari under the hood to gain roughly 40 more bhp. It was way better than the Testarossa and is often forgotten by collectors. Great car and great buy.
Learn more: Ferrari 512 TR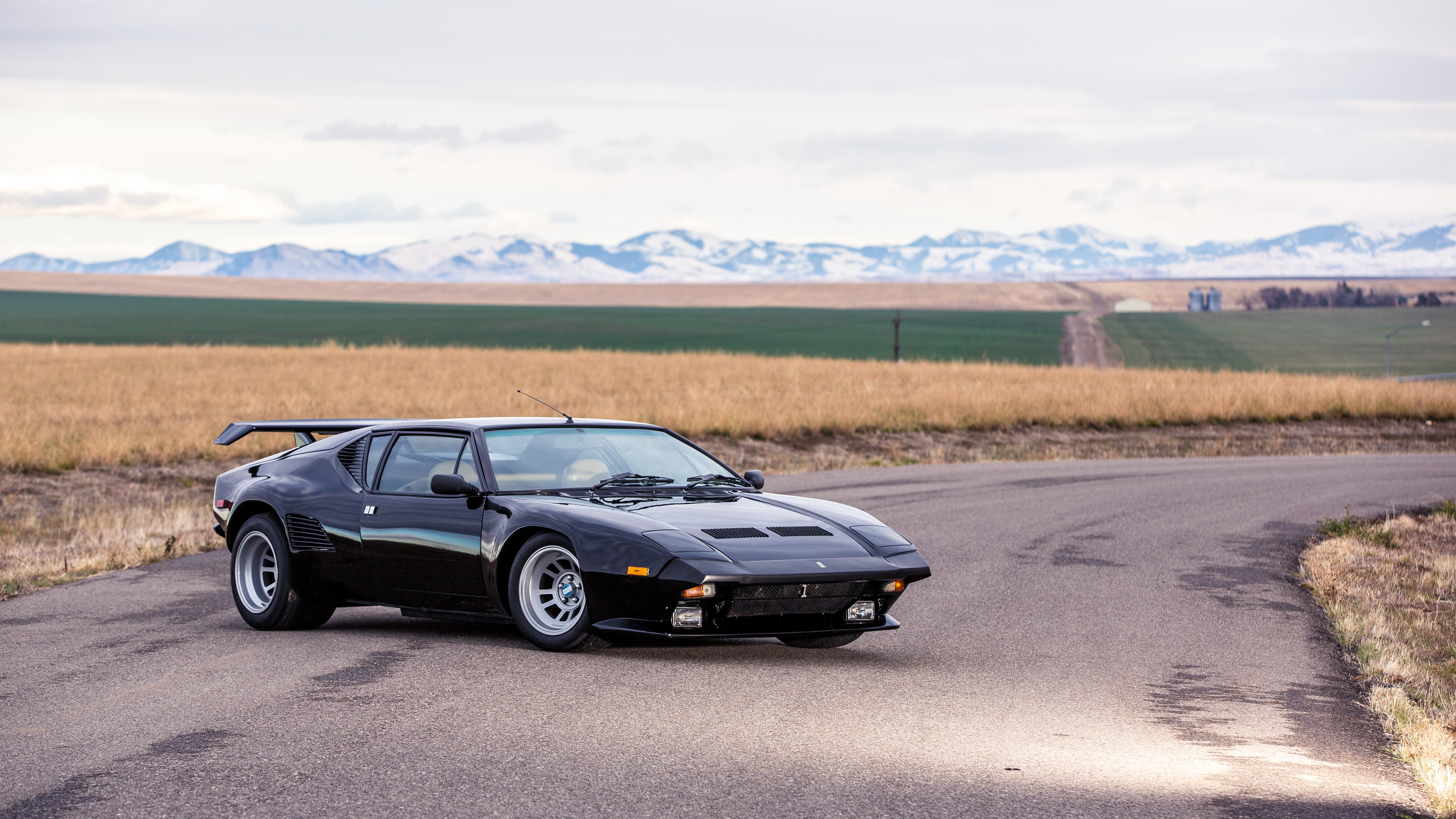 In 1985 De Tomaso rolled out GT5-S, a real sports car and six years later it was the 1991 Pantera turn, completely changed in its styling by Marcello Gandini design. 38 vehicles equipped wîth a 5-liter Mustang V8 engine developing 305 hp were manufactured before starting the production of Guarà.
Learn more: De Tomaso Pantera 2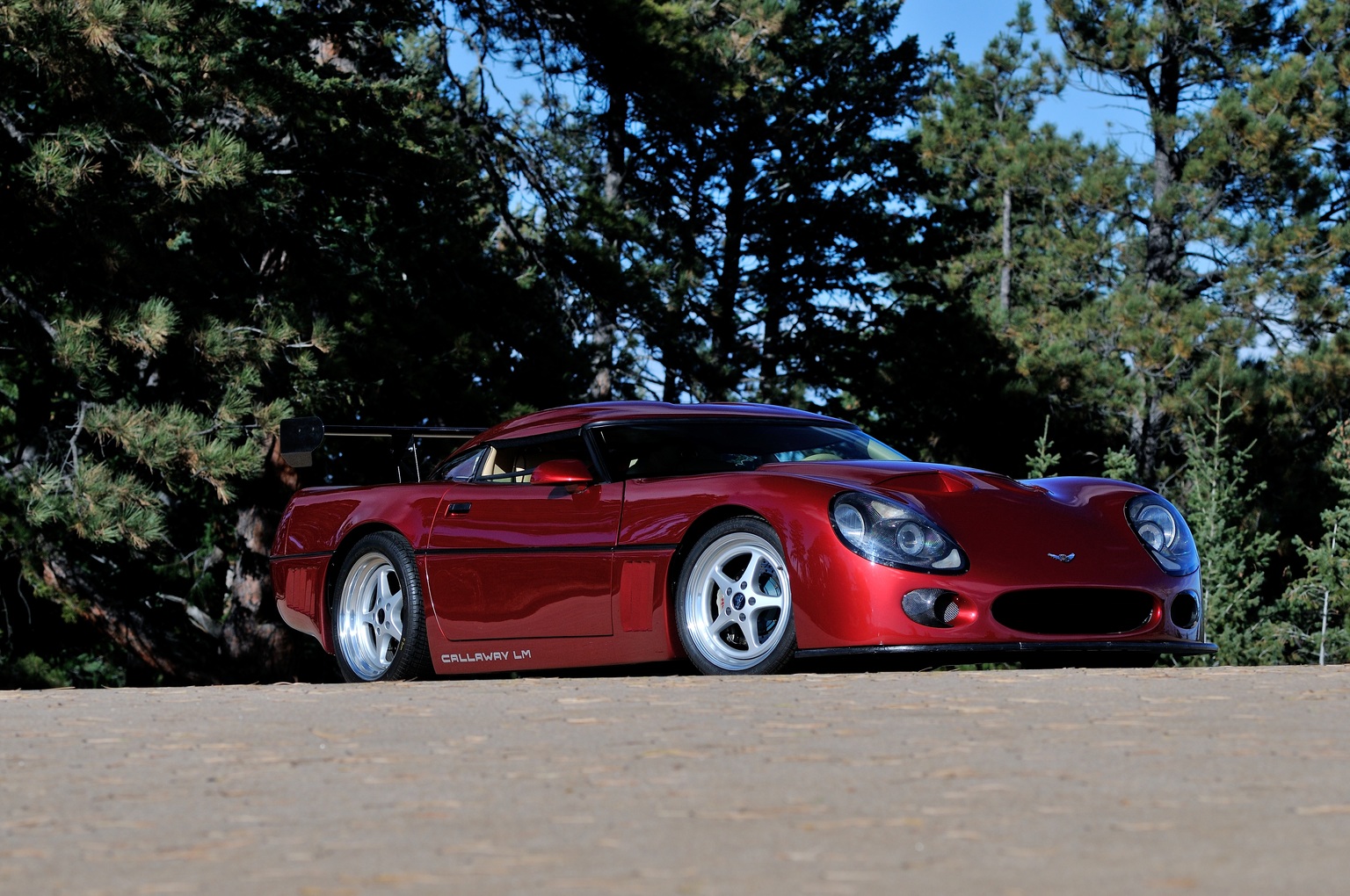 Only two Series II Super Speedsters based on the ZR1 model were ever made so this 90s supercar is less forgotten and more "not ever known". It was the offspring of collaboration between Corvette performance guru Reeves Callaway and designer Paul Deutschman.
The Super Speedster LM was an astonishing step up on the original Speedster, taking full advantage of the ZR1's Lotus-engineered, all-aluminum DOHC engine and 6-speed manual transmission. It had a twin turbocharged and intercooled LT5 engine built by Callaway, delivering a pavement-shredding 766 HP.
More than "just" an incredibly well-engineered engine swap, the Callaway possessed engineering modifications to the suspension and driveline that fully complemented its massive power output. The Le Mans body is the only one used on a Speedster and was designed by Paul Deutschman.
Learn more: Callaway Super Speedster LM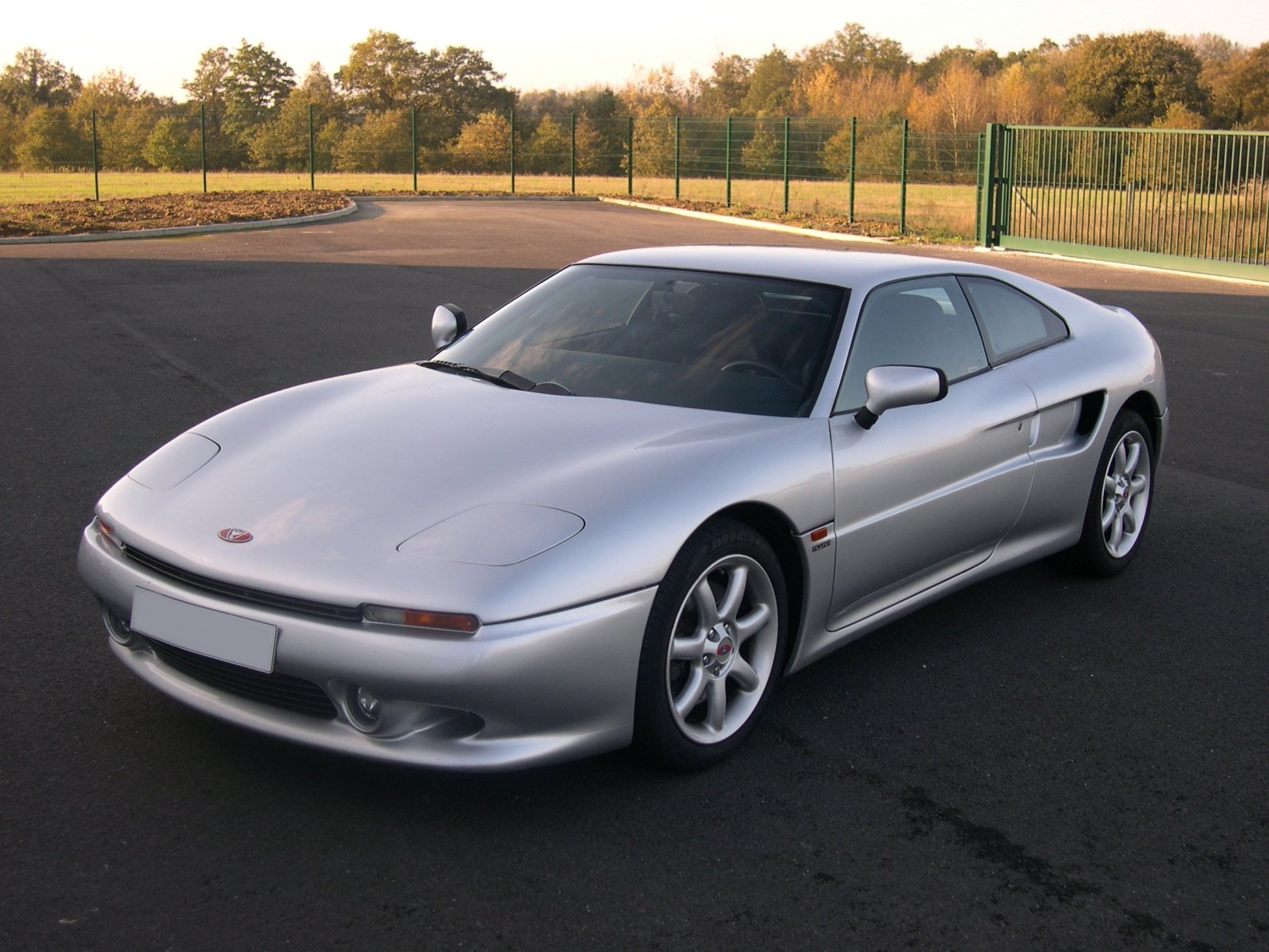 The Venturi Atlantique was a mid-engined, fiberglass-bodied French sports car produced by Venturi Automobiles from 1991 to 2000.
The original 260 was a revised version of the Venturi APC 260, carrying over the 2.8L turbocharged V6 engine with 260 hp (194 kW; 264 PS), but with a reduced weight of 1,110 kg (2,450 lb). It was good for a top speed of 167 miles per hour (269 km/h) and accelerated from 0-60 miles per hour (97 km/h) in 5.2 seconds.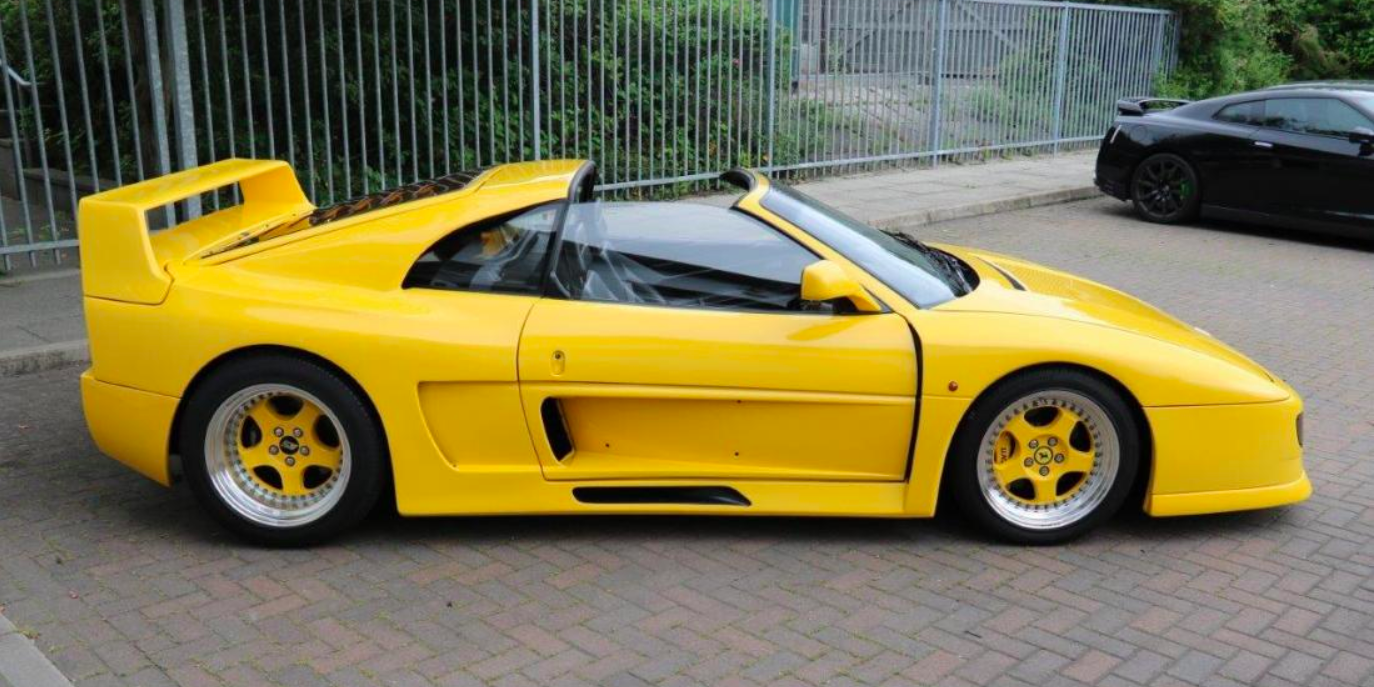 Another special from the Koenig Specials team. This looks like an aftermarket hack job. This car is more than it seems. It is a hand-built custom car by a famous Ferrari workshop owner. It had a 4.8 V8 Twin Turbo Racing Engine with 600 horsepower and a Top speed of 335kph (208mph).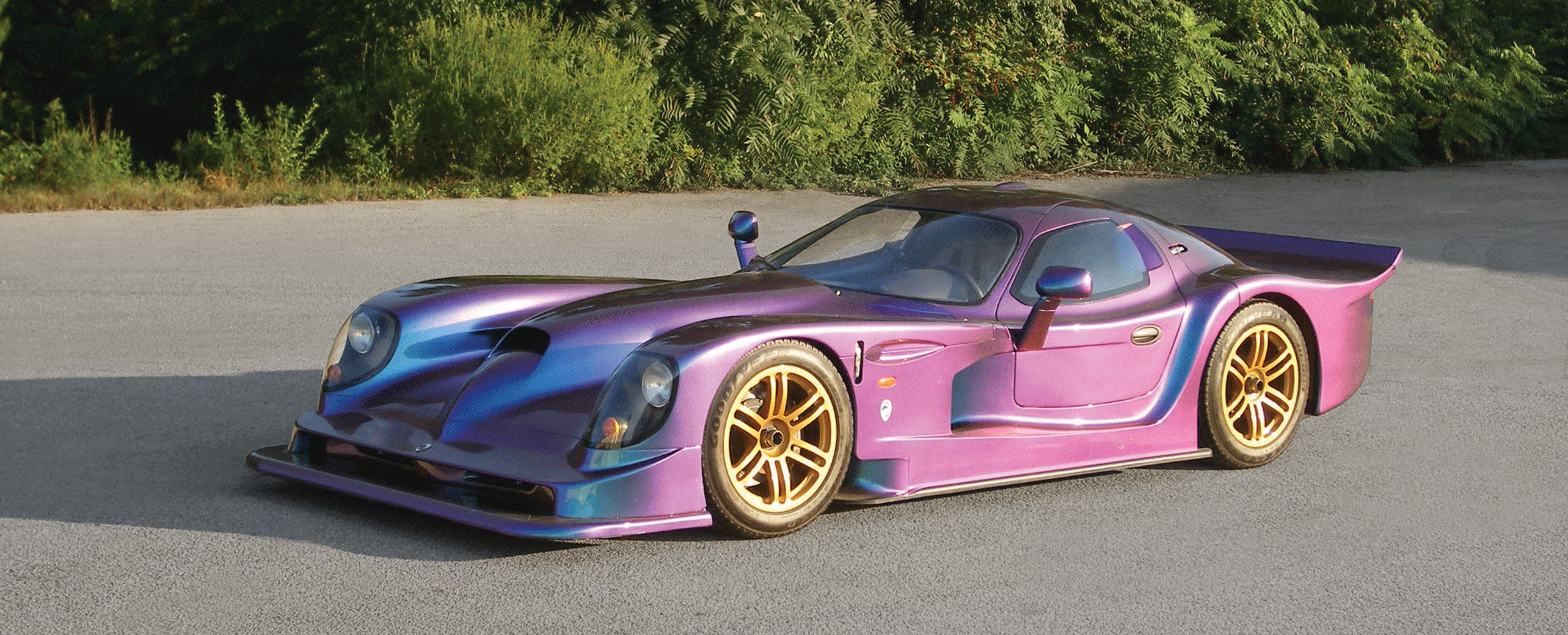 6. Panoz Esperante GTR-1
Almost a race car in street-legal trim, the front engined GTR-1 was built to meet the 24 Hours of Le Mans homologation requirements. Power came from an aluminum block V8 engine pushing over 600 horsepower. It was definitely one of the most unusual cars of the era.
The GTR-1 debuted at the 1997 12 Hours of Sebring but failed to finish. It later failed to finish the Silverstone Circuit and again racked up DNFs at Le Mans, where all three of them were scratched due to mechanical failure. One was even destroyed when it caught fire.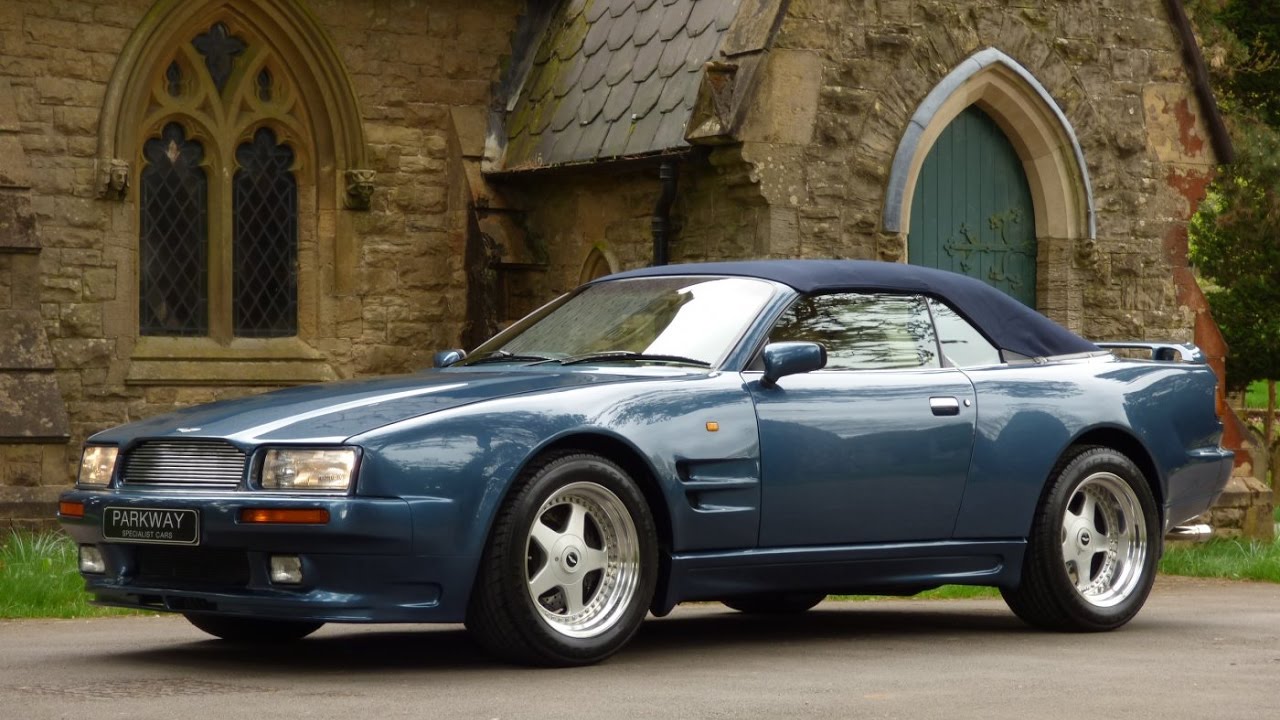 In 1992 Aston Martin's works service offered a 6.3 liter upgrade on existing models. Easily identified by their 'Virage 6.3 Litre' badge, these were fitted with a larger version of the potent V8 engine. Furthermore the rest of the car was comprehensively upgraded in this £50,000 conversion.
The engine work involved enlarging the engines to 6347cc which resulted in 465 bhp to 500 bhp. Other upgrades included larger brakes, a wider bodykit and in some rare cases features that were offered on the upcoming Vantage model. Both coupes and convertibles were equipped with the 6.3 engine.
Learn more: Aston Martin Virage 6.3 Litre

For customers that missed out on the very limited production run of X180Rs, the 300 Sport was offered in 1993. It essentially offered the same package as the X180R race car. With an optional LotusSport package, the car incorporated a full roll cage, harness and fire extinguisher. All versions of the Sport 300 featured the 300 bhp, S910 power plant which was similarly tuned to X180R specification.
A number of weight saving provisions were made. This helped lower the weight of the car by 250 lbs compared to the Esprit SE.
Learn more: Lotus Esprit Sport 300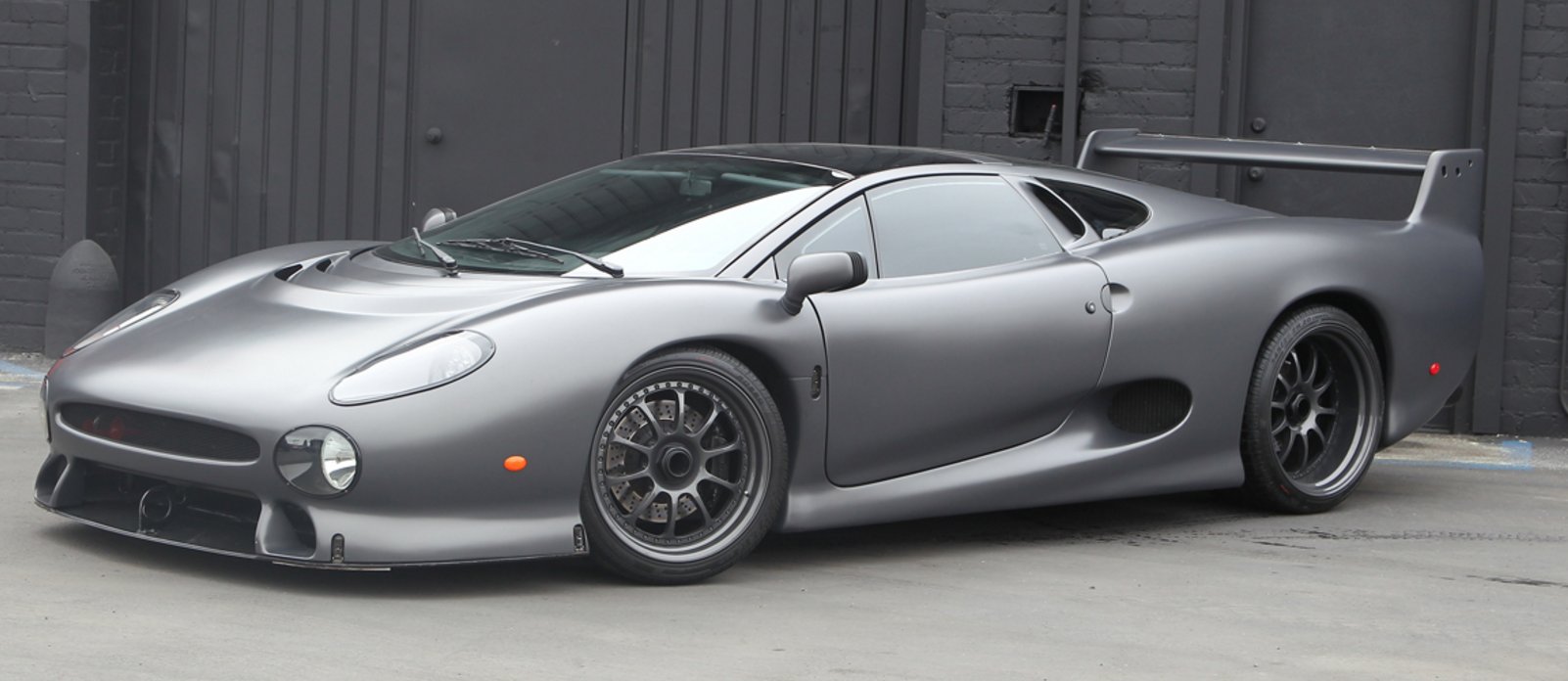 If the Jaguar XJ220 was the fastest production car in the mid-nineties, then the TWR supercar made from the Le Mans race version had to be astonishing. Compared to the standard XJ220, TWR's version sported a new composite body, a more powerful engine and went on a weight-reducing diet. Tom Walkinshaw Racing (TWR) and Jaguar Sport announced the XJ220S, a limited-production, road-going version, to comply with homologation requirements. It was easily the most radical supercar in Britain.
TWR's version replaced every panel, expect the doors, with carbon fiber. In doing so they added a front splitter, wider sills and an adjustable rear spoiler that gave the car an imposing edge and made the standard XJ220 look docile.Overhauled out to 680 bhp, TWR took the twin-turbo V6 to its limits. Combined with a weight reduction that removed the stereo, air conditioning and heavy seats, the car could accelerate to 60 mph in 3.3 seconds and reach 228 mph. Only 9 were built.
Learn more: Jaguar XJ220 S TWR
The W8 delivered staggering numbers for the early 1990s, outperforming the fastest Ferraris and Lamborghinis of the era. In 1992 it was declared the fastest production car in the world by Road & Track, but its laurels were quickly stolen by the McLaren F1, which arrived for the 1993 model year. Despite its short-lived success, the Vector W8 remains the first American-built supercar and already benefits from classic status, with some examples fetching enormous amounts of cash.
Learn more: 1991 Vector W8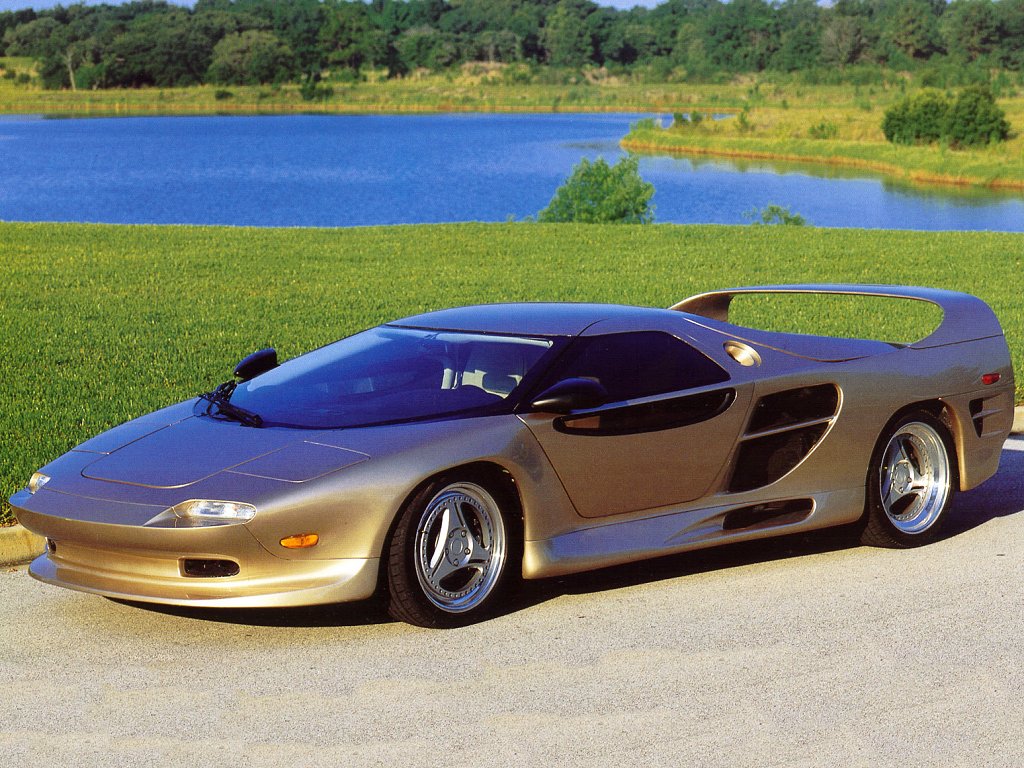 The Vector M12 was the first vehicle produced after the hostile takeover of the company from Jerry Wiegert by the Indonesian company Megatech. The model was produced from 1995 to 1999, when production was halted, partly due to slow sales of the cars and mismanagement of the company. The average price of the vehicle was $184,000 (USD).
The vehicle was a rebodied Lamborghini Diablo with a chopper gun fiberglass body set on a lengthened Diablo chassis. It was a loose copy of the Vector AWX-3, which was not released due to the Megatech hostile takeover.
The drivetrain was a 5.7 liter Lamborghini V12 engine, which produced 492 hp and 425 lb/ft of torque at 5200 rpm.
Learn more: 1996 Vector M12
---
14 Crazy 1990s Supercars That "Almost" Made It
So close and yet so far. These are the 1990s supercars that almost were. Candidly we wish some of these were made and we are happy some of them died before arrival. We will let you decide which is which.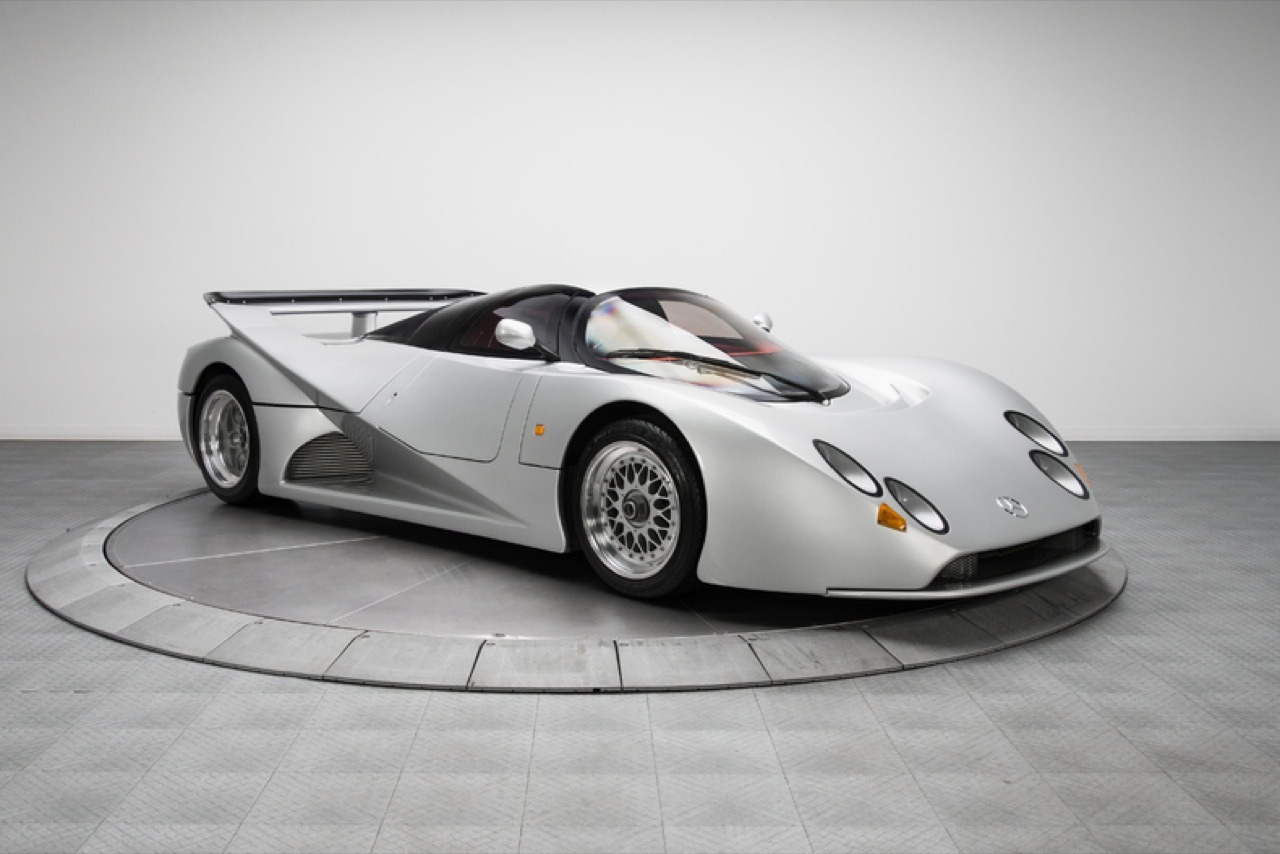 Originally conceived in 1994 with construction completed in 1995 by a United Arab Emirates Citizen who desired to own the fastest, individually owned car in the world! He contracted Mercedes which in turn also contacted Lotec for the body design. The letter C stands for the carbon fiber (race car), and the number 1000 stands for 1000 horsepower.
Power plant powered by Mercedes and body design by Lotec. It is a 5.6 liter V-8 Mercedes engine, with Garrett twin turbo chargers. Runs on a mixture of unleaded gas, and aviation fuel. Body consists of carbon fiber and Aerospace material frame. Design and engineering cost over $1,000,000 and total production cost was over $2,200,000. 0-60mph in 3.2 seconds, 0-125 mph in 8.08 seconds, top speed of 268 mph. A cool one off car that wowed us.
Learn more: 1991 Lotec C1000
Built with Japanese backing, Le Mans-winning driver Vern Schuppan created his very own street-legal Porsche 962. These cars were built as a tribute to his victory at the 1993 Le Mans behind the wheel of a Porsche 956. After 2 years and $7million in development only 6 out of an initially projected 50 Schuppans were made. Due in part to the worldwide downturn in the hypercar market, but also due to the astonishing $1.5 million asking price! In either case, the 962CR, when new, was one of the most expensive cars ever produced. After payment failed to arrive when two cars were shipped to Japan, Schuppan was forced to declare bankruptcy. The 962CR remains as the only car Vern Schuppan has ever made
Learn more: Schuppan 962CR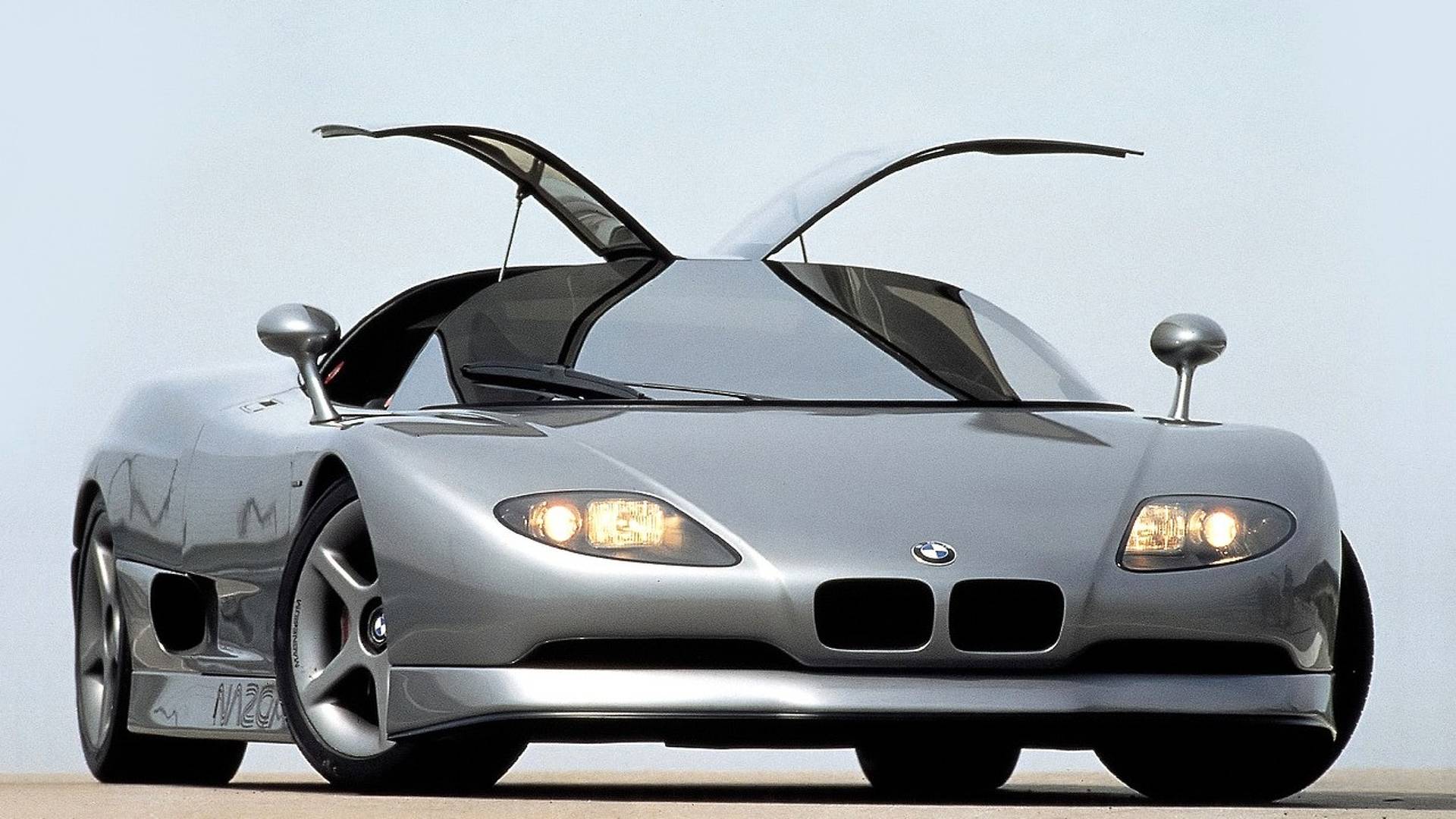 Ok technically this car never made full production, but Italdesign did produce a version of the M12 for the Sultan of Brunei and his brother Prince Jefri Bolkiah and that is good enough for us. After styling supercars like the Lotus Esprit and Lancia Delta, Giorgetto Giugiaro created this one for BMW in 1991. Giugiaro had already styled BMW's first modern supercar, the 1978 M1, so his newer M12 was a natural evolution.
Italdesign's production versions for the Sultan were unlike the first show car. A version was fitted with the S70B56 BMW V12, but upgraded by Alpina to produce more horsepower.
In 1993, Italdesign again revisited the M12 project. Fitted was a new carbon-fiber body lacking front lights. Called the C2, both a coupe and spider version were made. Like the M12 these were fully functioning prototypes.
Learn more: BMW Nazca M12, BMW Nazca C2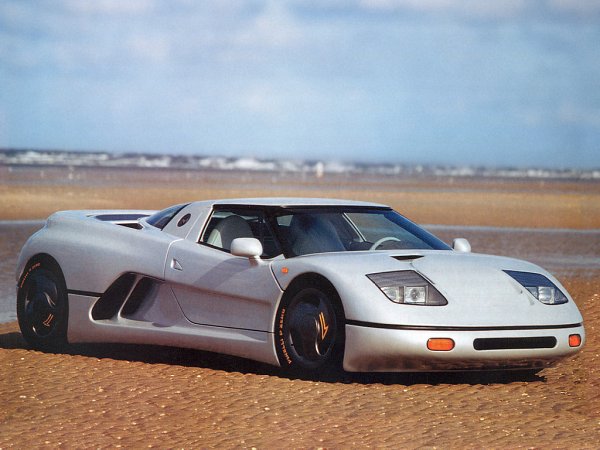 This is a car we wish they made. The Spiess C 522 was a joint development of hardware manufacturers Gemmingen and generator manufacturer GEKO. It was designed by Karl-Heinz Knapp, formerly of Mercedes/AMG. A super-sports car with a tuned engine from the Chevrolet Corvette to be built in a limited edition of just 100 examples, initially priced about 500,000 DM, and later 870.000 DM. The prototype had 2+2 seating, a monocoque chassis of carbon fiber composite materials, steering wheel-tip control (flappy paddles), ABS, traction control, and reportedly over 500 hp.
The project never got beyond the planning stage. There was only one built, with a dummy engine for presentation.
Learn more: Spiess C522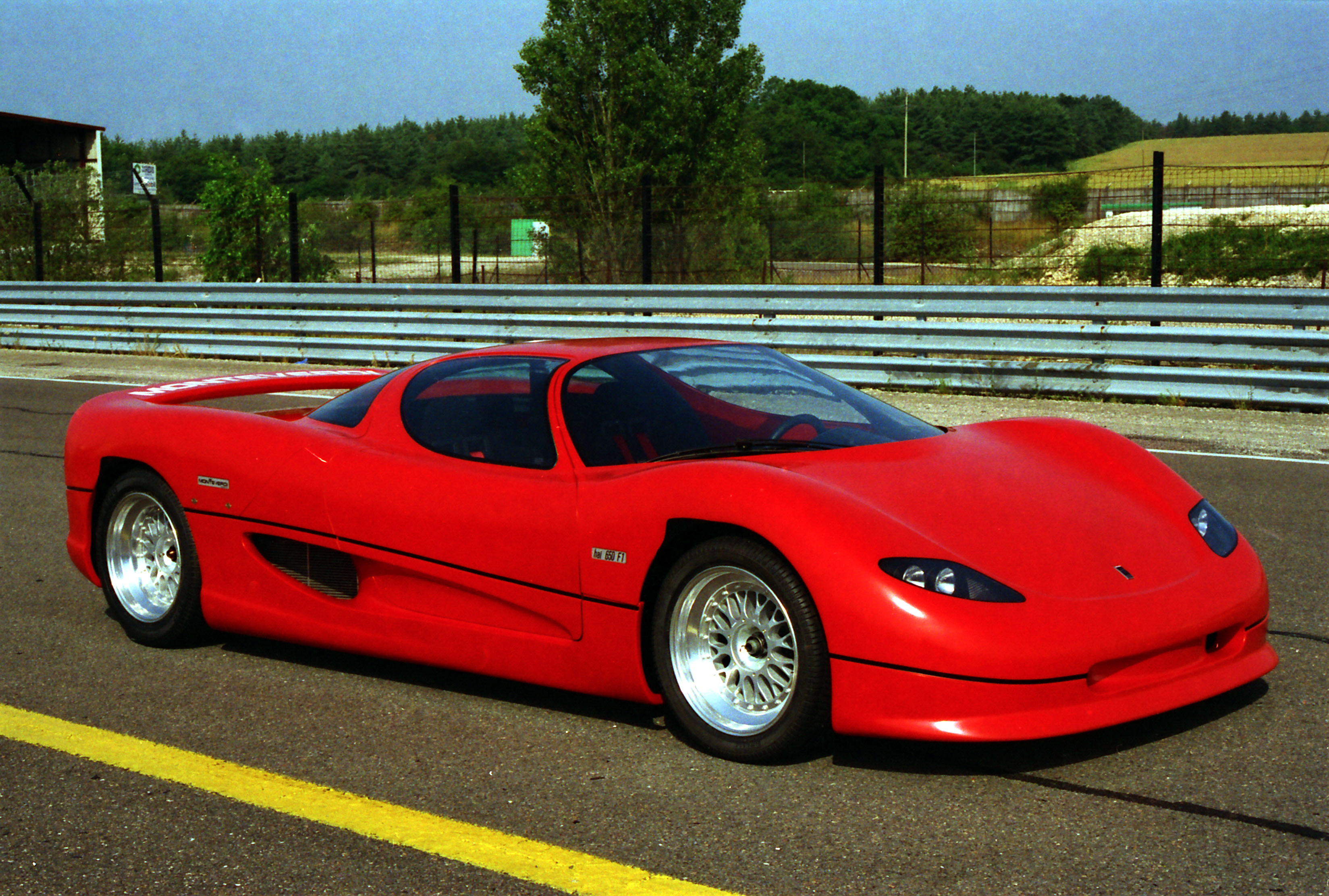 Following his purchase of the Onyx Formula One team in 1992, Peter Monteverdi sought to take that technology onto the road in the form of the 650 F1 hypercar.
This high tech beast was based on an F1 monocoque chassis and powered by no less than an F1 650hp Cosworth V8 with screaming 11000 rpm redline. A staggering 766 bhp/ton power to weight ratio produced a claimed 208 mph top speed and McLaren F1 like acceleration of 0-125mph in around 8 seconds.
Orders were taken and two models produced (plus a third non runner). However, the 650 was not road legal, so customers never saw their cars as Monteverdi changed his mind and kept them all for promotional use!
Learn more: Monteverdi Hai 650 F1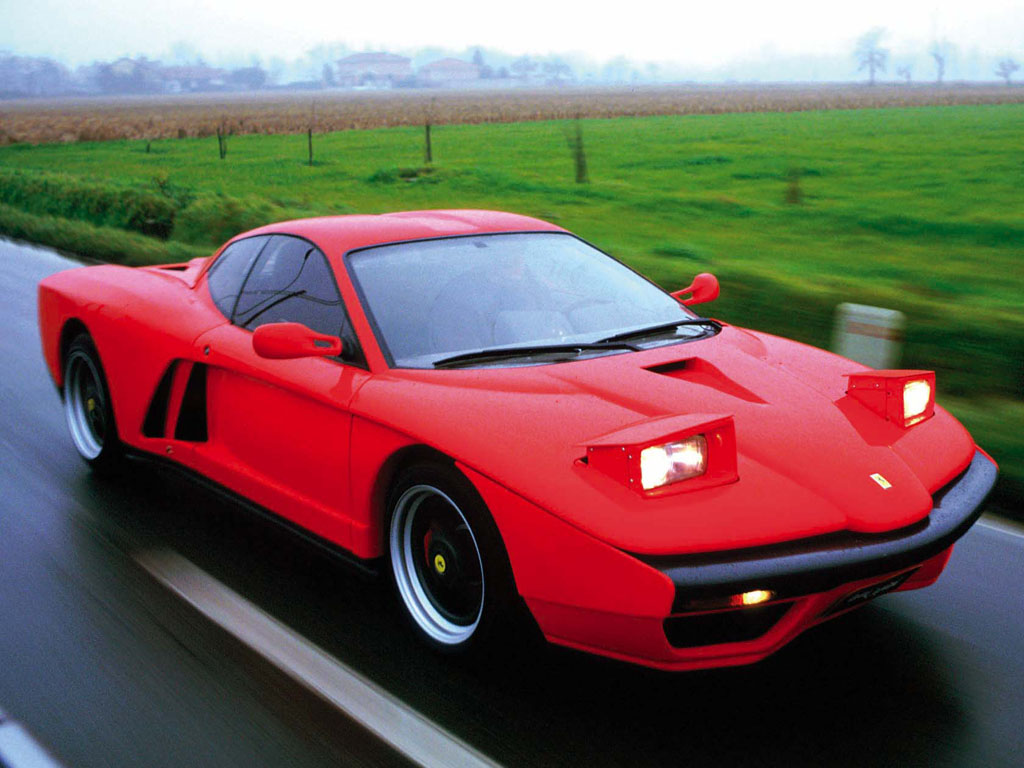 One of the little known Ferrari prototypes is this one-of supercar built on Testarossa S/N 83935 for the 1993 Geneva Auto Show. Called the Formula Zagato '93 (FZ93), it followed a small series of curious Zagato 348s and some classic Zagato-Ferraris which were all built in exclusive numbers.
FZ93 was penned by Ercole Spada who made a return to Zagato and design this car. Ercole was responsible for the legendary Aston Martin DB4 Zagato and more recent cars like the iconic Alfa Romeo 155. His Testarossa made no concessions to the original and featured stylistic creases, huge air intakes and pleasing curves.
Learn more: Ferrari FZ93

The Spectre R42 is a 2-seater mid-engined rear-wheel drive supercar built by British speciality car manufacturer Spectre Supersport. The car was offered to the public in the early summer of 1996. The car was designed by Ray Christopher of GT Development fame, who built accurate replicas of Ford GT40. The R42 was the modern reincarnation of the GT40 given the same wheelbase and size of the cars together.
The Spectre R42 is powered by a 4.6 litre (281 cubic inches) Ford V8 with 4 valves per cylinder with an output of 335 hp at 6000 rpm and a peak torque of 317 lbs-ft at 5000 rpm. Zero-to-sixty was achieved in around four seconds and top speed was reached at 175 mph. The engine was placed mid-ship. the combination of development costs and a worldwide recession forced GTD into receivership late in 1994.
Learn more: Spectre R42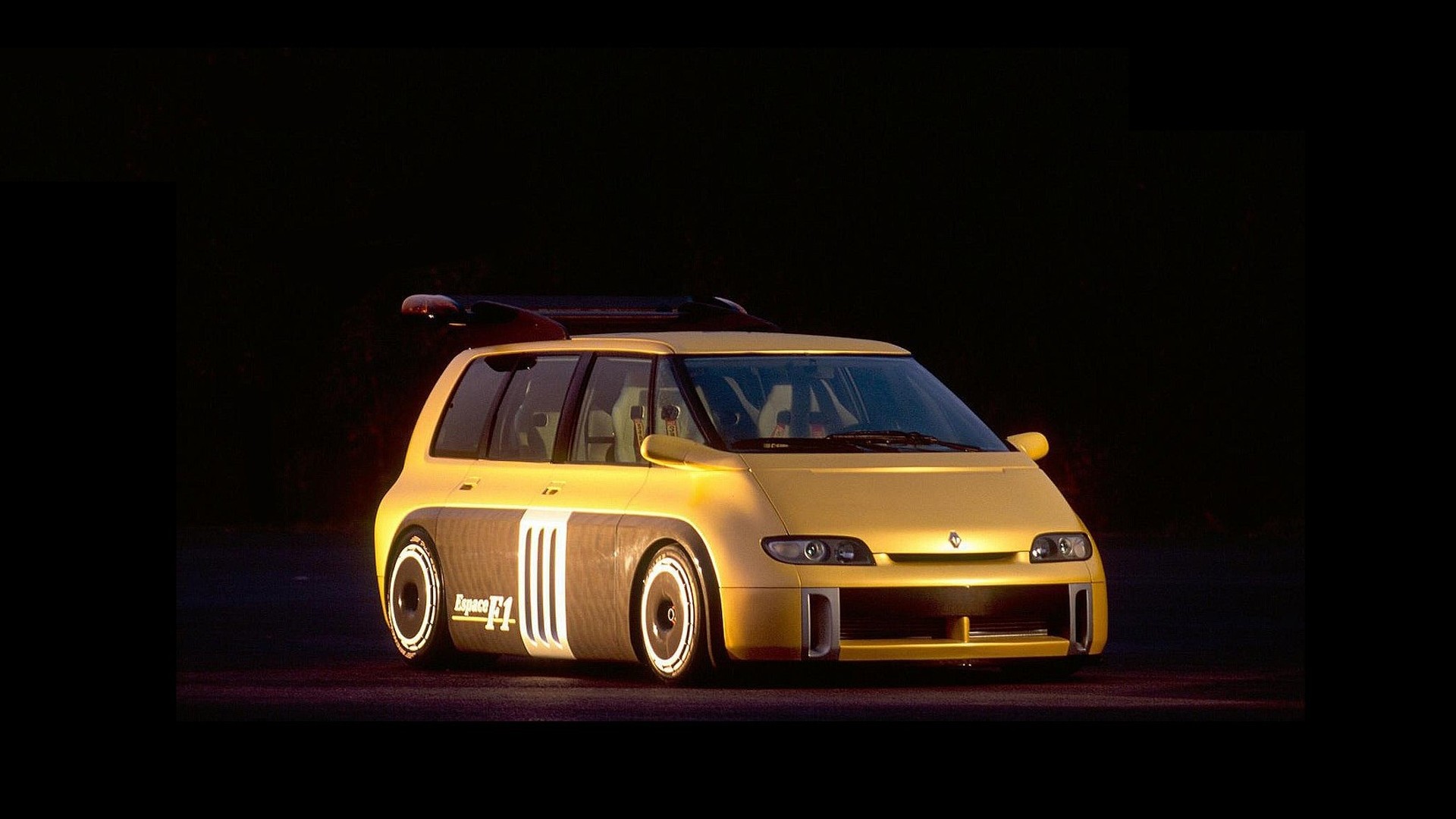 This Espace came on the scene in 1994, celebrating ten years of partnership between Renault and Matra with ten cylinders for birthday candles. To make the Espace F1, Matra used 1994 world champions Williams Renault's power train unit.
This engine was fitted centrally in the Espace without changing the model. To do so, they took an Espace off the assembly-line, cut out its floor pan to replace it with a carbon body structure harbouring the 820 hp V10, sequential box and automatic attitude control.
With a special front end, ad hoc brakes and aerodynamic appendices to prevent it from flying away, it could get up to 300 kph!
Learn more: Renault Espace F1 Concept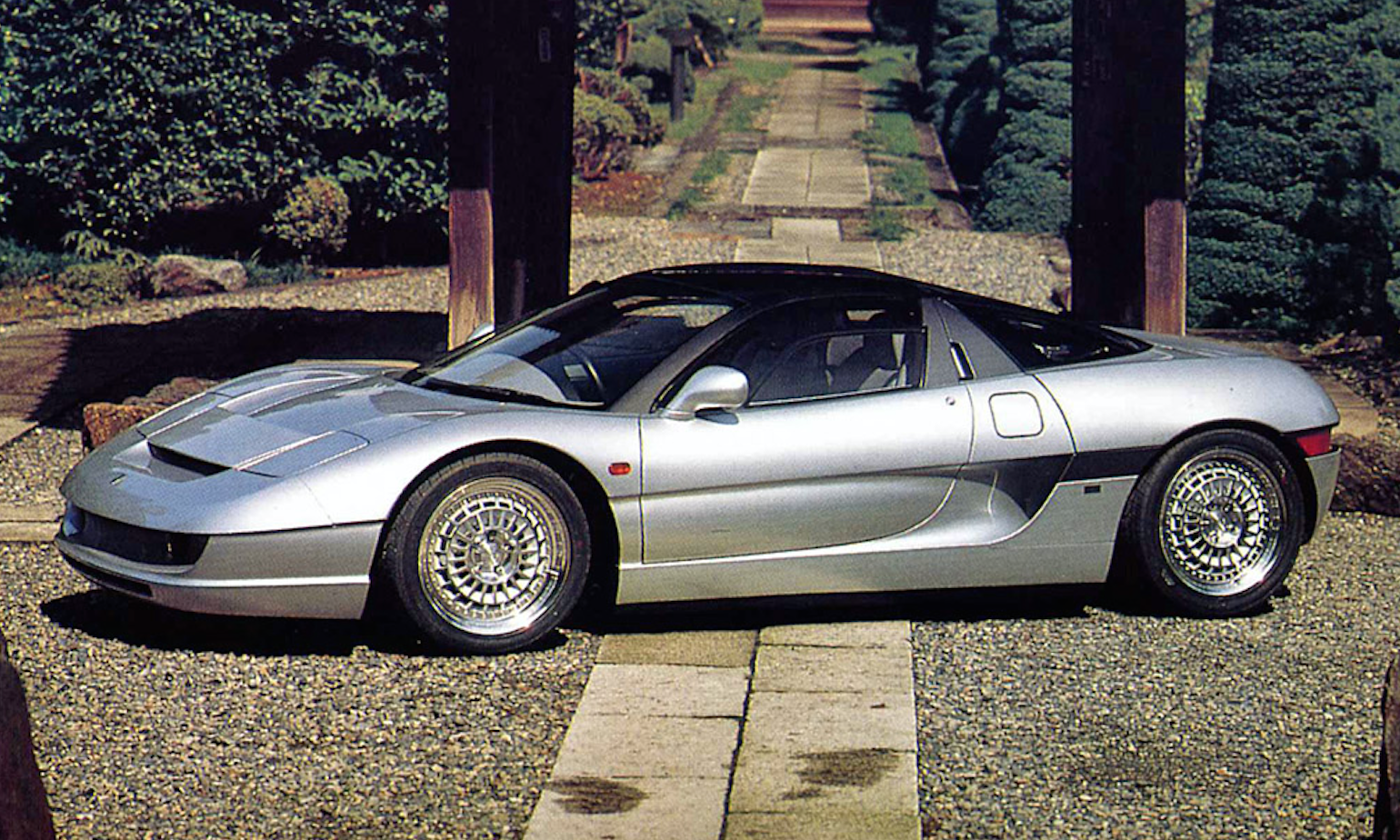 Built by Gigliato Design Co., LTD, the Aerosa is a high end sports car that was designed and conceived in Japan by Nobou Nakamura. They unveiled the car hoping to win over customers with a price tag of $65,000, a simple Mustang V8 platform and a striking design.
In 1997 Gigliato announced a partnership with Lamborghini for deal with engineering, production component supply, delivery and marketing. The plan was to sell the Japanese-designed car from a headquarters in Düsseldorf, Germany. Furthermore, Gigliato announced a motorsports program for 1998, including a stop at Le Mans. At this time the car was changed to include fixed front headlights and gold wheels.
The Aerosa hasn't been seen recently, so perhaps it will remain a lonely prototype, like so many Lamborghini based dream cars in the past.
Learn more: Gigliato Aerosa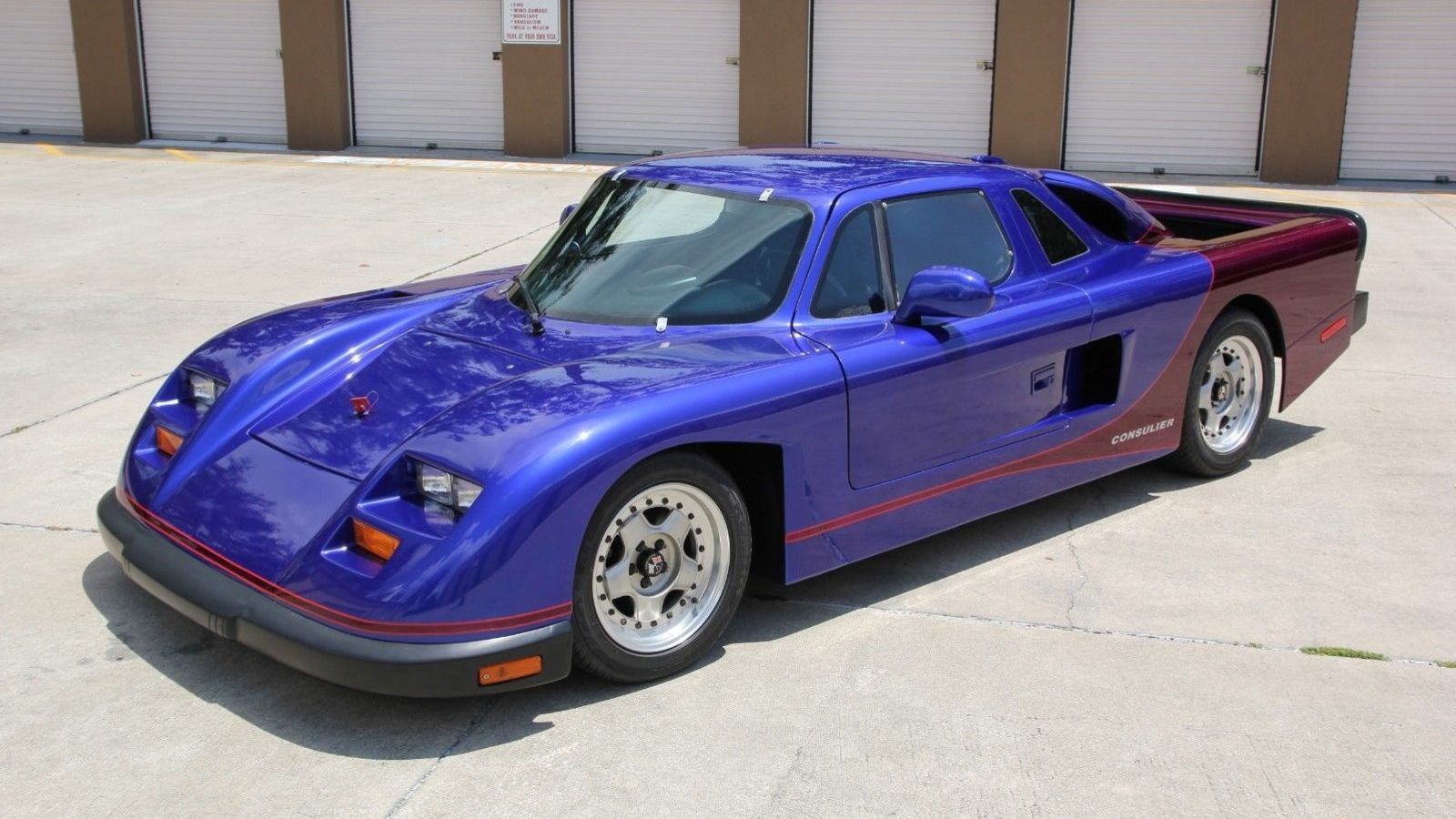 The Mosler Consulier GTP and its Intruder and Raptor variants are some of the strangest supercars ever built. Even though it looks like a cheap kit car, it has a carbon kevlar body and handles beautifully.
Learn more: Mosler Consulier GTP
In 1991, Czech automobile manufacturer Václav Král decided to get in the supercar game with the MTX Tatra V8. With its sleek styling, scissor doors, and pop-up headlights, the Tatra certainly looked the part, but it was more than just a pretty face. The car was powered by an air-cooled V-8 32v DOHC motor that produced 302 bhp and gave it a top speed of 152 mph.
After its debut at a Prague motor show in October 1991, Václav Král began production to fulfill the nearly 200 pre-orders. Fate wasn't on their side, however; after only four vehicles were produced, a factory fire shut production down for good.
Learn more: Tatra MTX

Mega decided to join the small group of manufacturers producing exclusive supercars in 1996. Their acquisition of Monte-Carlo Automobile Ltd included plans to build an exclusive super sports car for both the road and the 24 Hours of Le Mans. Much like the Porsche 917s and F1 cars built by Sera CD, the Monte Carlo was both striking and purpose built. The first Monte Carlo was displayed at the 1996 Geneva Motor Show. It showcased proven engineering which included a carbon fiber chassis, carbon fibre brakes and a mid-mounted, Mercedes V12 engine. By 1998 a production version was ready with optional carbon brakes and rear wing.
Learn more: Mega Monte Carlo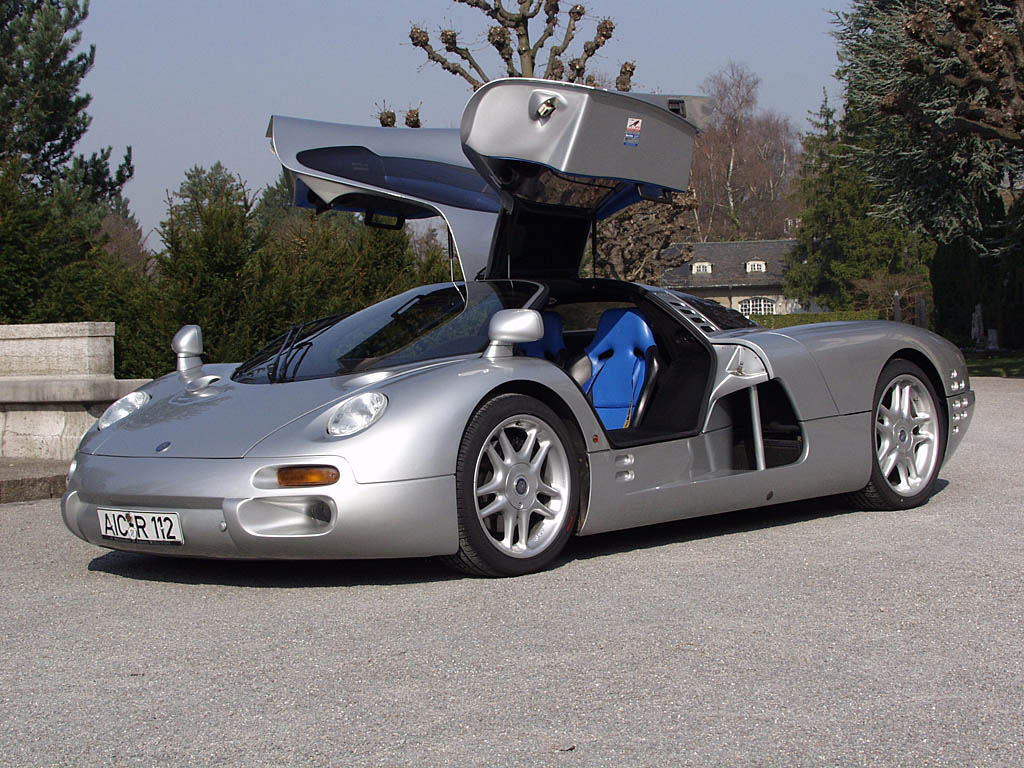 One of the mysterious supercars of our time is the Isdera Commendatore 112i. This one-of prototype is such a rare sight, that its photos, outside of the shots from the car's release during the 1993 Frankfurt Auto Show, are hard to come by. Over the last decade, the situation has been particularly frustrating, but now, we finally have photos from one of the the most striking and advanced supercars from the nineties.
The Commendatore is the final product of ex-Porsche designer Eberhard Schulz and his two sons. It was completed as a pre-production prototype which was to be followed by a limited series with a unit cost of $450 000 USD. Unfortunately, before any production Commendatores were made, Isdera went bankrupt and the remainder of the company was sold to Swiss interests. While the Commendatore never reached production, we are lucky that the the sole prototype has survived and has been driven 3000 miles since new.
Learn more: Isdera Commendatore 112i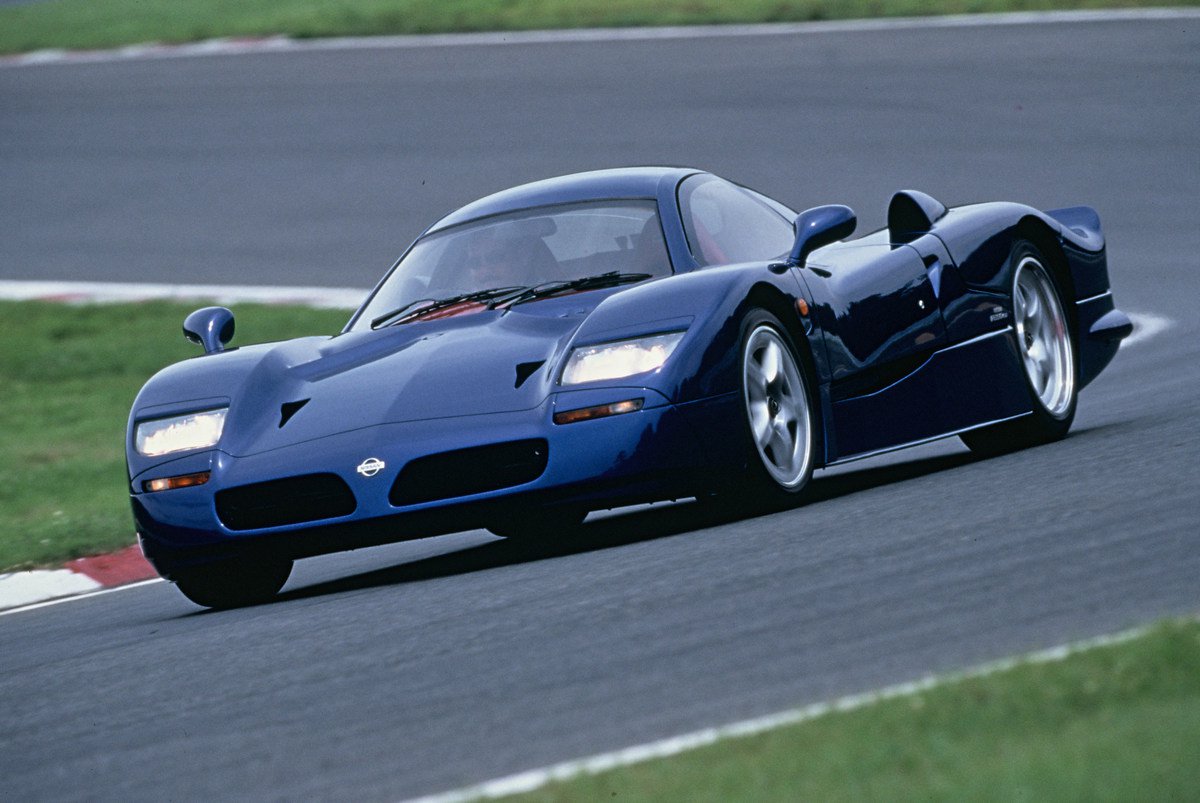 The same homologation requirements that gave us the GT-One, 911 GT1 and CLK-GTR gave us the totally lovely Nissan R390 GT1. Just two road cars were built, which featured a mid-mounted V8 making around 550 horsepower. The street and race cars were engineered by Tom Walkinshaw racing, which built the superlative Jaguar XJR-9 and XJR-15 road car, and designed by Ian Callum. Nissan kept one of the cars but allegedly, another is owned by a private collector. Consider yourself very lucky if you ever see it on the street.
Learn more about the 1998 Nissan R390 GT1.