Contents: Model In Depth / Pictures / Performance / News
Audi
It's one of the most multi-faceted stories ever told in the history of the automobile. The Audi emblem with its four rings identifies one of Germany's oldest-established automobile manufacturers. It symbolizes the amalgamation in 1932 of four previously independent motor-vehicle manufacturers: Audi, DKW, Horch and Wanderer. These companies form the roots of what is today AUDI AG.
The story of Audi began in 1899 August Horch founded Horch & Cie. in Cologne. It was there that he helped build his first car. After differences of opinion with the board, August Horch left the company and formed a second car company. Because his surname was already in use and was protected by trademark, he chose its Latin translation for the new company. So "horch!" – or "hark" – became "audi!". It was a brilliant idea that came from the son of one of August Horch's business partners.
Thanks to his victorious involvement in the Austrian Alpine Runs, August Horch succeeded in making Audi internationally known in just a few years. After the First World War, August Horch withdrew from the company and moved to Berlin to work as an independent automotive expert.
On June 29, 1932, four vehicle brands – Audi, DKW, Horch, and Wanderer – joined forces to create Auto Union AG. The new company group, based in Chemnitz, was able to serve all market segments, from light motorcycles to luxury saloon cars. They presented their newest Audi at the 1933 Berlin Motor Show, and received its greatest popularity boost with the success of a racing car based on Ferdinand Porsche's design. Auto Union racing cars were high-tech products that concentrated above all on high-performance engines, aerodynamic design, and the systematic use of lightweight construction. The Auto Union car with streamlined fairing and an output of 545 horsepower was the first to exceed a speed of 400 km/h on a normal road.
Audi logoIn 1980, a four-wheel-drive sports coupe caused a sensation at the Geneva Motor Show. The Audi quattro® was the first high-performance vehicle with four-wheel drive–a concept only seen on trucks and off-road vehicles. The permanent four-wheel drive system in the Audi quattro® enjoyed worldwide success in motor sport and gradually found its way into the entire Audi model range.
By 1987, the 598 hp Audi Sport quattro® S1 had conquered the Pikes Peak Hill Climb in record-shattering time for the third year running. The next year, victory in the TransAm Series for driver Hurley Haywood and the Audi Team proved that quattro® could help conquer more than just bad roads and weather.
In 1989, following more than 13 of years of development, Audi engineers succeeded in refining diesel direct injection for car diesel engines. In conjunction with a turbocharger, it was also possible to achieve an extremely low-loss combustion process that resulted in very economical fuel consumption. In the autumn of 1989, the Audi 100 was presented at the Frankfurt Motor Show with a 2.5-liter five-cylinder TDI® engine.
The Audi R10 TDI started seven-times in the 2006 American Le Mans Series season, and took the checkered flag as winner on each occasion. Dindo Capello and Allan McNish wrapped up the Driver's; Championship with a couple of races left in the season. Audi also won the Team and Manufacturers Championships. For the seventh consecutive time, every title in the top flight LM P1 class went to Ingolstadt. Through motorsport, Audi accelerated the development of TDI technology, directly benefiting the consumer market.
In 2006, Audi announced its entry into the most discerning segment of the car market with the R8 mid-engine sports car, and immediately took up a position among the leaders.
The Basics
Founded: July 16, 1909 in Zwickau (Audi), June 29, 1932 in Chemnitz (Auto Union), September 3, 1949 in Ingolstadt (re-establishment), March 10, 1969 in Neckarsulm (Fusion)

Founder: August Horch

Headquarters: Ingolstadt, Germany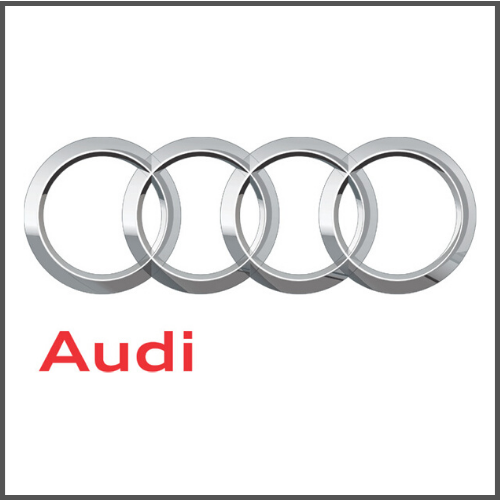 The Audi Brand
Visible, tangible, perceptible: our brand inspires people with progressive premium mobility. We combine perfection and quality with the will to go one step further. For us this means Vorsprung, it's what drives us at Audi. Our passion for progressive premium is something people should be able to sense in our brand at every moment – which is why we have further developed the design of our brand appearance.
Audi Models: In-Depth Guides
Historic, classic and important sports models from Audi
Our weekly email newsletter gives you all the supercar news, reviews, videos, rumors and much more. Only the best cars on the planet.
Audi Prices, Rumors, Reviews, News & More
We're always trying to keep up to date on all important things Audi related. While other sites give you every piece of news or viral video they can find, we take a more measured approach. We only bring you the Audi news, reviews, galleries and content that really moves us. Only the important things.