Porsche Supercars
Supercars are the pinnacle of automotive performance, design and technology. Our friends at Porsche are no strangers to building some of the most desirable supercars ever. Each decade or so we see a new Porsche supercar at the top of the automotive world and they are absolutely amazing, every single one of them.
We start with the Porsche 959, a car that was so far ahead of its time that we still see modern cars with less tech today. With less than 300 units ever made this car is rare and expensive and was jam packed with tech and advanced materials.
Next up is the Porsche 911 GT1, designed for competition and basically made to meet homologation purposes. Barely street legal, the GT1 Straßenversion is super rare (only 25 had to be made to certify it). Its 3.2 liter, twin turbo flat 6 was good for 0-6o in 3.9 seconds and top speed of 191mph.
The Carrera GT was powered by a 5.7 literV10 engine producing 603 hp and would accelerate from 0 to 60 mph in 3.5 seconds with a maximum speed of 205 mph. The V10 was a unit secretly built by Porsche for the Footwork Formula One team in 1992, but later shelved. The engine was resurrected for the Le Mans prototype and increased in size to 5.7 liters. Devoid of modern safety aids it became known as the widow maker amongst supercar aficionados and journalists who had trouble taming it.
The 918 Spyder is the latest Porsche hypercar. With a plug-in hybrid drivetrain with a total of 887 hp and all wheel drive, its performance is incredible, destroying the Nurburgring record at the time with a time of 6:57 second time. Just 918 units were made.
Porsche Supercars
Porsche 959

Porsche 911 GT1

Porsche GT

Porsche 918 Spyder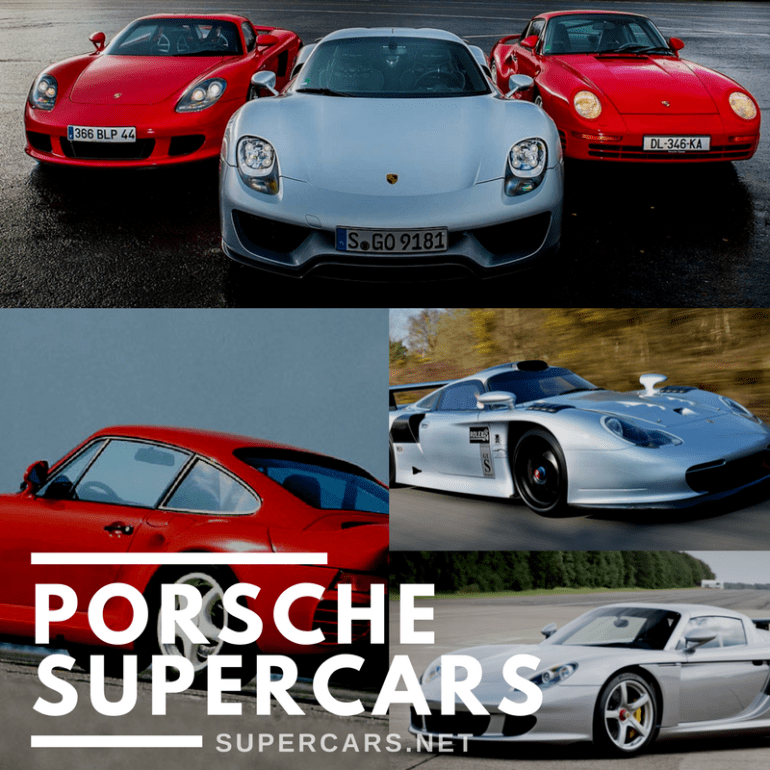 Our weekly email newsletter gives you all the supercar news, reviews, videos, rumors and much more. Only the best cars on the planet.