Who Doesn't Love a Drop-Top Ferrari?
Today we are ranking the best open top and convertible Ferraris ever made by our friends at Maranello.
The Ferrari lists we create are almost always controversial because any best of Ferrari models discussion is hard to have given the brands long history. Should a 488 Spider outrank a 355 Spider? Sure, it is much faster and more advanced, but is it truly better? How do you rank cars that we are never going to ever drive like the 250 GT SWB California Spyder? Lots of tough choices make these lists a fiery affair.
Before we get into the list, we want to talk about a few myths that annoy us. First myth is that Ferrari convertibles are not real Ferraris. Nonsense. I recently drove a Ferrari California and while it is no 488 dynamically it was the perfect daily driver. The California I drove was a friend's car. He had traded in his 458 for a California because he never drove the 458. The California is more practical, has more space, more comfort and is gets used all the time.
Like my friend, if I had to choose between a Ferrari I get to drive every single day and one that stays locked in my garage most of the time, I'll take the former every time.
The second myth about Ferrari convertibles is that they are compromised performance cars. Nonsense yet again. Sure, back in the day open top cars were dynamically flawed but in the last decade, we can't think of a single open top Ferrari that hasn't been anything but astonishing to drive. Technology, materials science and chassis design have all progressed to the point where a convertible Ferrari can match its coupe sibling pound for pound in the performance and fun stakes with none of the downsides.
Myths out of the way it is time to talk about our methodology for creating this list. Frankly, it was pretty simple. We went through every Ferrari model ever made, picked out the convertible and open top models and then ranked them. We then categorized them and only included the ones we believed deserved a spot on our list. Some on the list are old cars that helped define the brand while others are the legitimate top of their game performance machines. We also included a few convertible Ferraris you can walk into a dealer and buy new, some bargain convertibles and some priceless Ferraris you can only hope to buy if you're a billionaire.
Here are the best Ferrari convertibles and open top models our friends at Maranello have ever made:
---
New Ferrari Convertibles
Whenever we put these lists together we almost immediately get questions from readers looking to buy new cars wanting to know what they can waltz into the showroom to buy. If you are looking for a new Ferrari that is also a convertible there are only two options at the moment.
Ferrari 488 Spider
See: All Ferrari 488 Articles / 488 Spider In-Depth
Priced from $280,900
This is the one car on this list you could drive every day and thrash on weekends and even take it to the track and its awesome at all three. It basically destroys every other car on this list in terms of outright performance (LaFerrari being the exception) thanks to its 3.9-liter twin-turbocharged V8 that churns 661 bhp and 560 lb ft of torque and just won engine of the year (again).
The 488 Spider is all the car you would ever need and it is better than its sibling 488 GTB coupe. Just as good as the coupe in terms of performance, speed, styling with all the benefits of open top fun. The 488 Spider is amazingly efficient, fast and enjoyable and there is a strong case to be made that the Ferrari 488 Spider is the single greatest modern automobile for sale today.
What about performance? Well the stunning drop-top version of the 488 GTB can sprint to 60 mph in about 3-second and hit a 205 mph top speed. Ferrari has produced another masterpiece with the 488 Spider.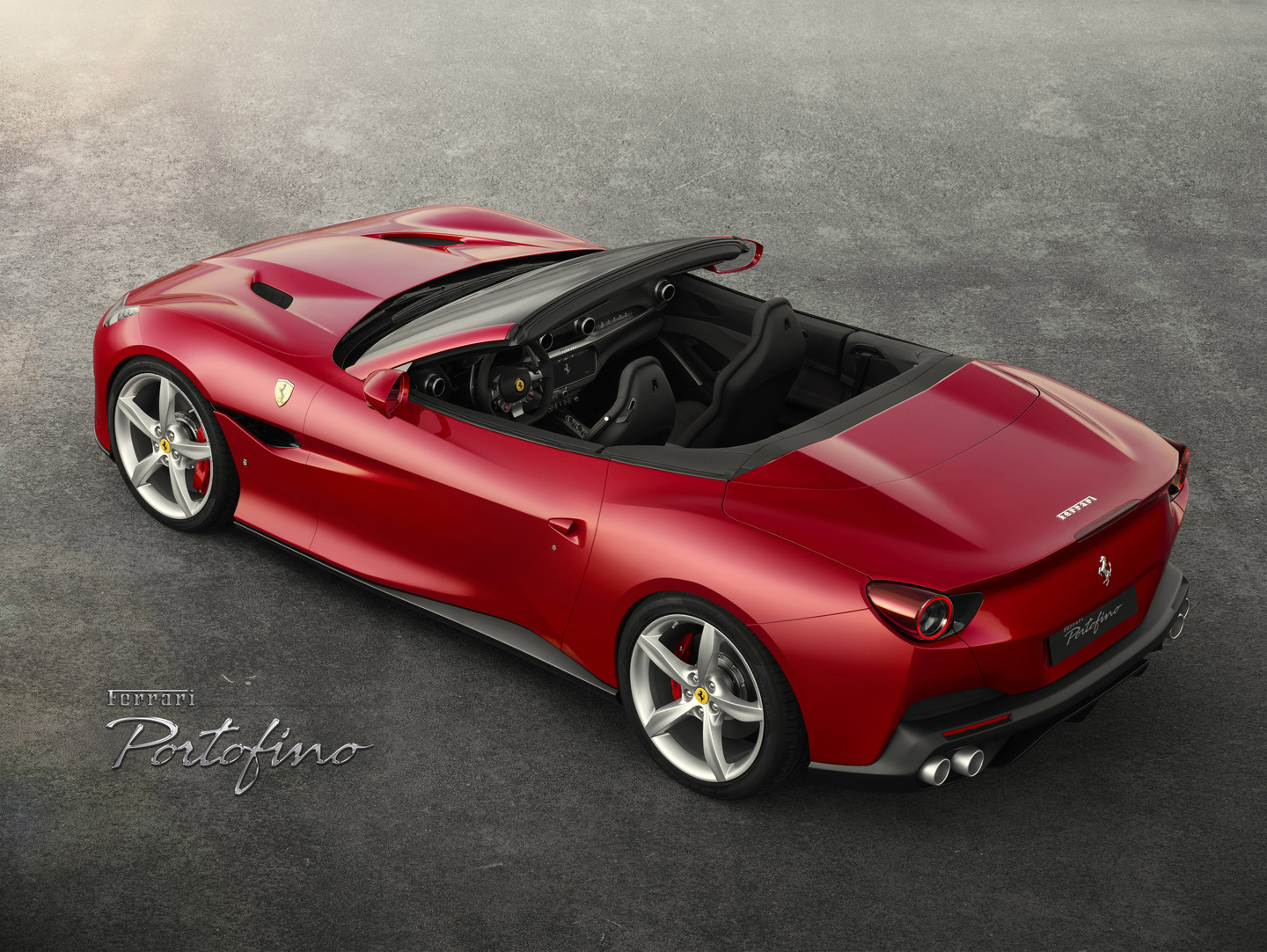 Ferrari Portofino
See: All Ferrari Portofino Articles / Portofino In-Depth
Priced from $214,533
The new Ferrari Portofino is the de facto successor of the best-selling Ferrari in history – the Ferrari California T. Following in the steps of its predecessor, the Portofino is a grand touring, 2+2, convertible with its engine located in the front.
This entry level car has a cool retractable hardtop roof and a 591-hp twin-turbo 3.9-liter V-8. Add an electronic limited-slip differential, adaptive suspension and creature comforts like a 10.2-inch infotainment display and rear seats and you quickly realize that this is the kind of car you could use every day.
It is fairly obvious that Ferrari designed the Portofino to have more mass-market-appeal than the rest of its predominantly mid-engined, race-car-inspired-line-up. Ferrari wanted the car to be more relatable – attracting first-time buyers to the Ferrari brand with its (relatively) low price point, everyday driveability, comfort, and versatility. Purists would scoff at the notion of such a thing existing – so perhaps the real question should be "is it more entry-level or is it more Ferrari"?
We already know that if you want a faster and more performance oriented Ferrari, you wouldn't be shopping for a Ferrari Portofino (try the 488 Spider above for that). However, the Portofino for what it is – is unquestionably a great improvement over its predecessor. Afterall, it has more power and less weight, while being more enjoyable to drive and arguably, better looking than the California T that it is replacing.
Auto journalists such as Car Magazine and Car and Driver note that the Portofino is very engaging to drive spiritedly, sans the desire to go around breaking any lap records. Ultimately, the Ferrari Portofino is the amalgamation of what it was designed to be – a Ferrari which offers a unique blend of daily driving practicality, performance, and luxury.
---
Open Top Ferraris for (Billionaire) Collectors
If you are reading this section and seriously considering buying any of the open top Ferraris on this list then congratulations on having more money than God. For the rest of us this is the section where we dream about what it would be like to buy the rarest, most expensive open top Ferrari's ever.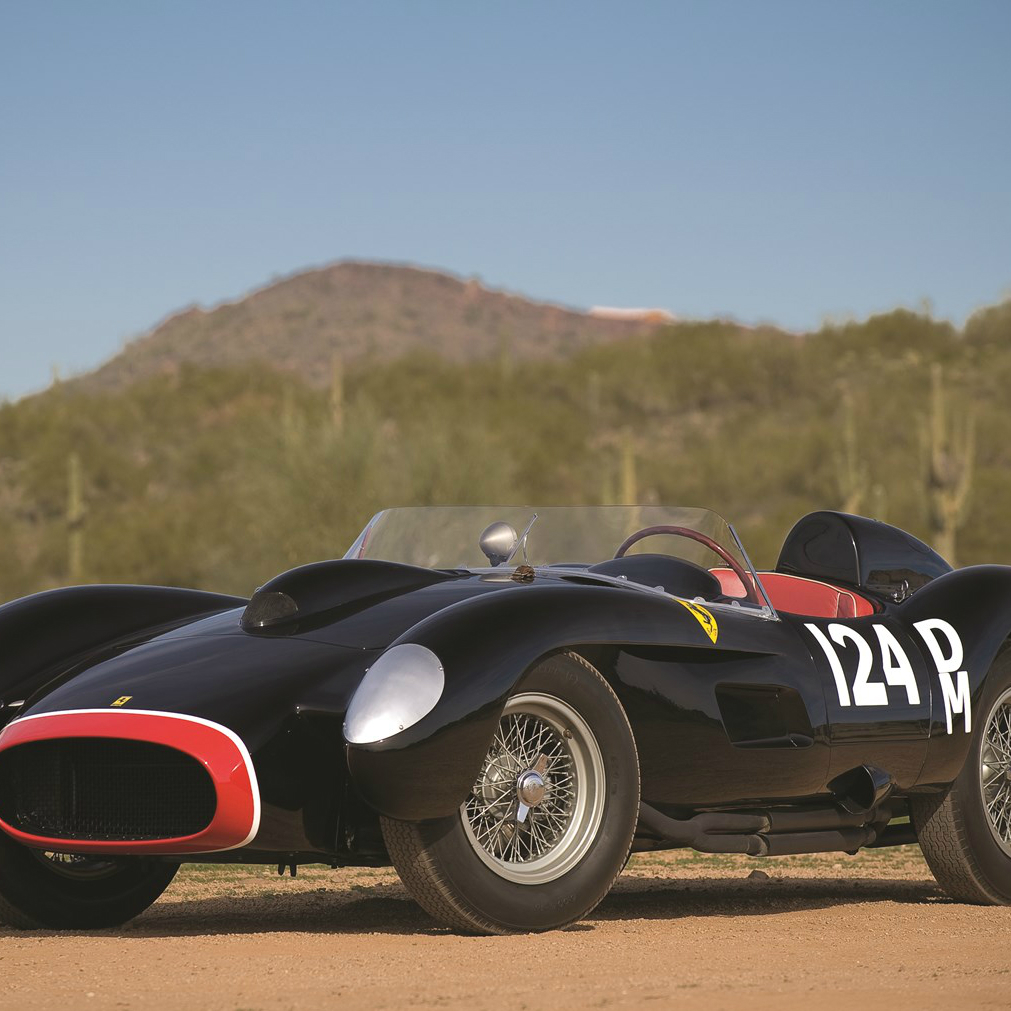 Ferrari 250 Testa Rossa
See All Ferrari 250 Testa Rossa Articles / 250 Testa Rossa In Detail
On our list of the most expensive Ferraris ever there was a 1958 250 Testa Rossa that sold for $16.4 million and a 1957 example that went for $12.4 million. Clearly this is a rare, expensive and coveted Ferrari and tops our rate open top Ferraris list.
Only around 34 Testa Rossas were made and all were intended for racing. The 250 Testa Rossa was designed to offer customers already racing with the 500 TRC a much more powerful engine on a similar chassis to help retain the former model's great handling. The FIA placed a three-liter limit on prototypes and as a result the reliable V12 from the 250 Gran Turismo was used (albeit with a radically tuned with six twin-choke carburetors). The engine's top was painted red, hence the name testarossa.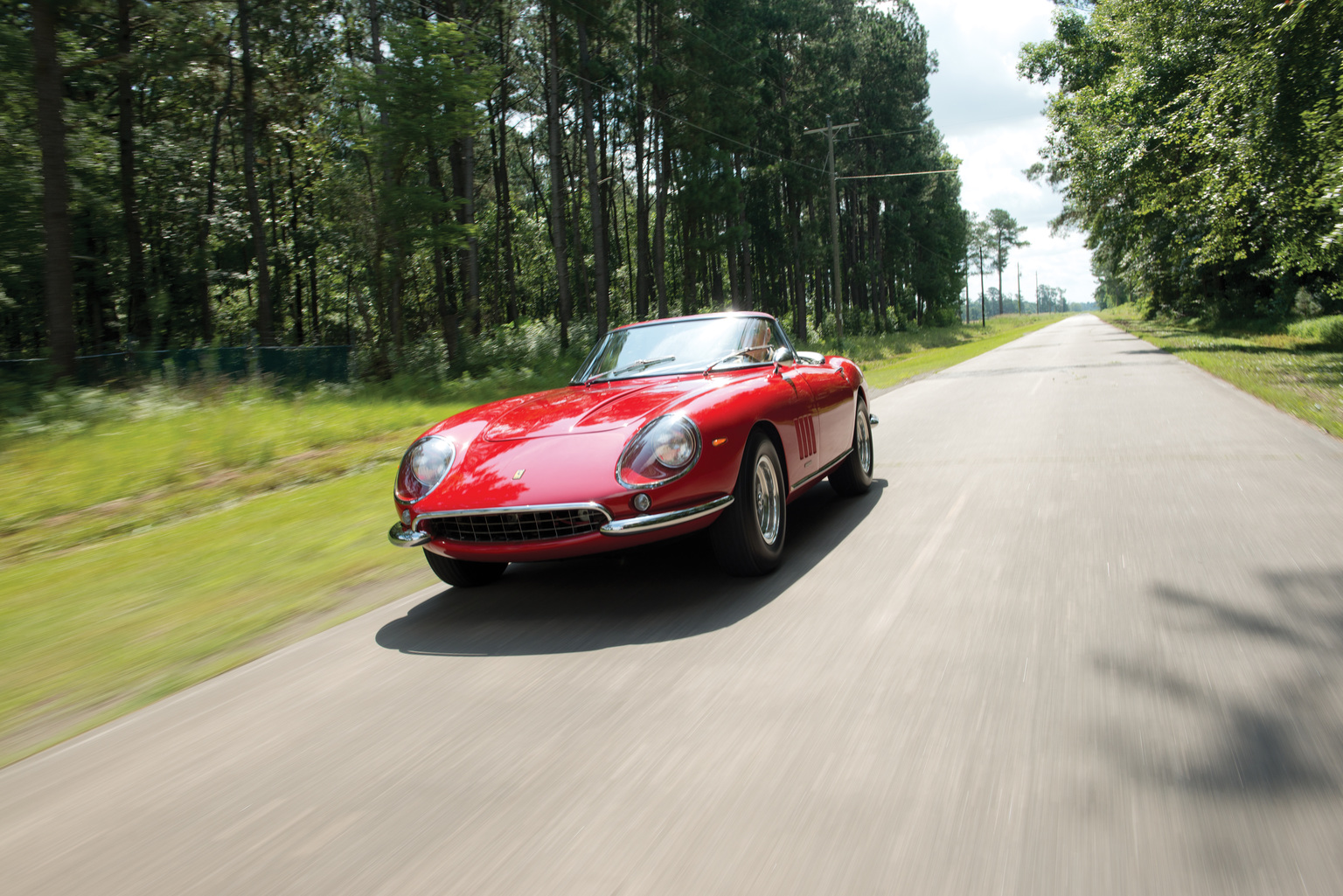 Ferrari 275 GTB/4 N.A.R.T. Spyder
See All N.A.R.T. Spyder Articles / N.A.R.T. Spyder In Depth
With only ten of this these NART Spiders were ever made (built to commemorate Ferrari's North American Racing Team), it's easy to say that the 1967 Ferrari 275 GTB/4 N.A.R.T. Spider is one of the rarest and most valuable Ferraris ever made. The ten Ferrari 275s officially from the Ferrari factory in spyder configuration were all made for Luigi Chinetti who was Ferrari's North American Importer at the time.
Chinetti recognized the need for an alternative to the luxurious 330 GTS and reluctantly convinced Ferrari to deliver his own 'NART Spyder'.
Chinetti first got the idea for the car at the Paris Motor Show when the 275 GTB/4 was shown. Ferrari at first denied his request to built a factory spider, but after talking to Sergio Scaglietti who manufactured the 275 bodies, Ferrari was finally convinced. Initially, Chinetti ordered 25 cars which were executed by the experienced craftsman at Sergio Scaglietti's workshops. Although the chassis of the 275 relied on the body for rigidity no additional bracing was introduced with the NART Spyder. The 275 GTB/4 N.A.R.T. Spiders were equipped with a 3.3 L 4-cam V12 engine that produced 296 hp and 294 Nm / 217 lb-ft of torque. They reached speeds of 162 mph and could hit 60 mph in 5.6 seconds.
In the end, Ferrari only shipped 10 Spyders to Chinetti and they were all sold through his eastern USA dealership. The first of these cars came with aluminum body and was immediately put into race duty to promote the model. After the race, Chinetti had a hard time selling the cars and had to sell the final few at a marked discount. Recently, a NART Spider sold for a staggering $27.5 million at a California auction and was owned by a single family for over 45 years.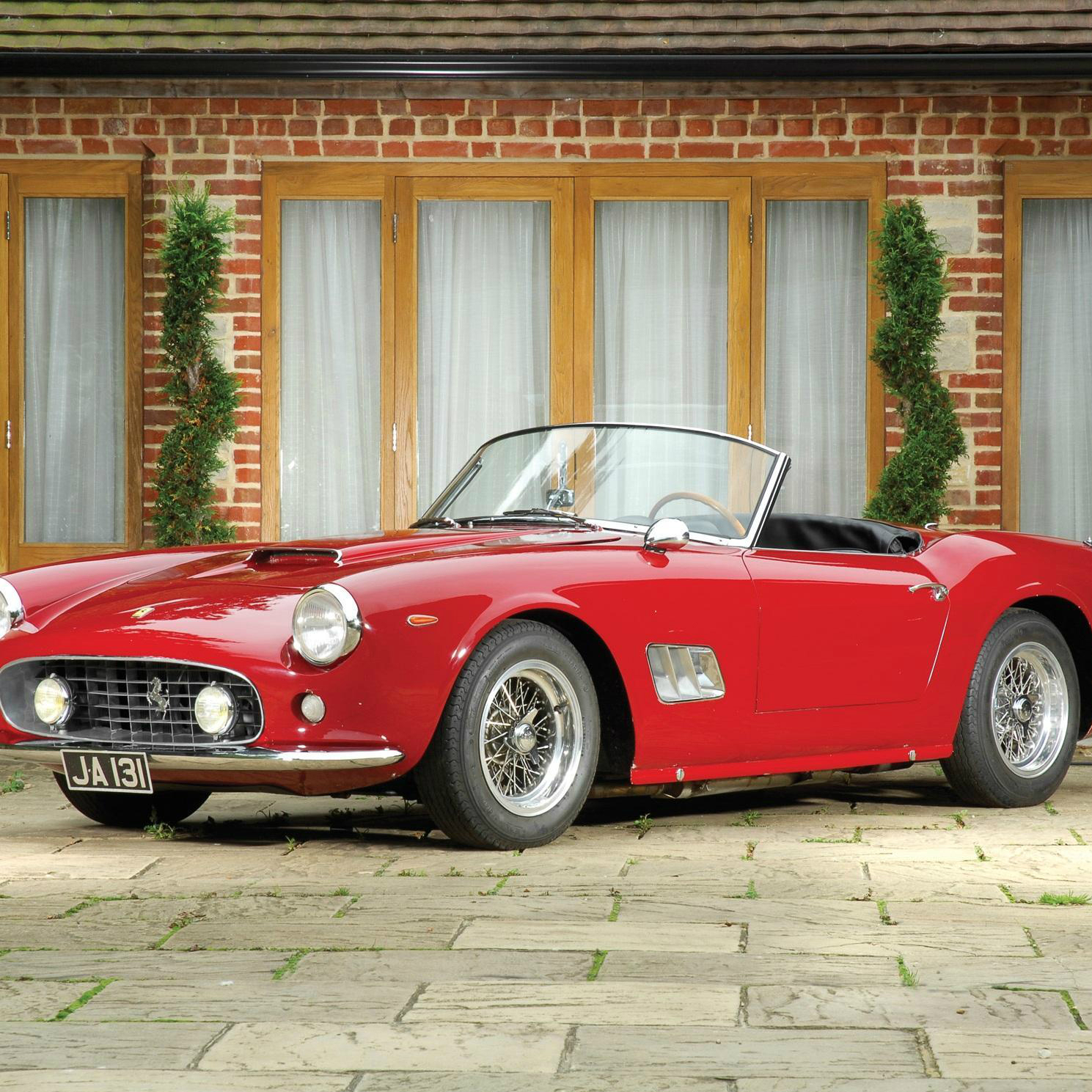 Ferrari 250 GT SWB California Spyder
See 250 GT SWB California Spyder Articles / 250 GT SWB California Spyder In Detail
In 1959, Ferrari debuted the shorter California Spyder on their stiffer short wheel base (SWB) chassis. These cars were superior as they had disc brakes, a more powerful engine, and a less bulk. Like the LWB model that preceded it, the SWB benefited from a competition-bred chassis and engine. The California Spyder was motivated by U.S. distributors Jon von Neumann and Luigi Chinetti who convinced Ferrari to create a performance convertible named after their best market. The California Spyder emerged with supercar performance and became highly desirable due to its limited availability.
Immortalized as the Ferris Bueller car, the California Spyder—of which only about 55 were made – each car was special too, and some examples came with competition-spec engines or the very rare factory hard top.
Sharing its drivetrain with the legendary 250 GT that won the Tour de France, the California Spyder was a car to get excited about. It had the same 140 mph performance and the same competition chassis as the Ferraris lapping the race tracks. Therefore, it only made sense to equip some examples with competition engines and aluminum bodywork to race at Le Mans and Sebring. These Spyder Competiziones did well in the GT class and tied all California Spyders to a sporting pedigree.
California Spyder bodies were hand crafted by Carozerria Scaglietti who built most of Ferrari's competition bodies at the time. Inside, each Spyder car had a no-frills interior and a small heater was the only luxury. Behind the seats, a fabric top was installed which was tidy, and well proportioned when upright, but was made with no inner liner. These cars are prized by collectors as proved by recent record auction prices. Try $18.5 million on for size for a super rare 1961 Ferrari 250 GT SWB California Spider and $17.5 million for another a few months earlier. Combine vintage, rarity, and prestige and it clear that this is the convertible Ferrari for the billionaire.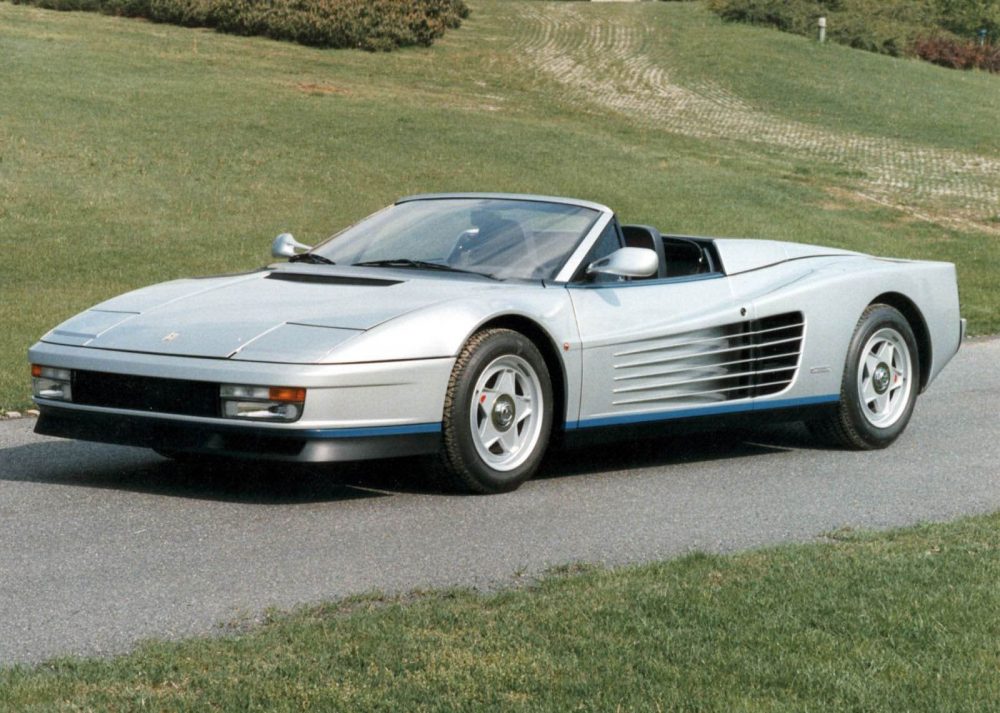 Ferrari Testarossa Spider
The Testarossa Spider, serial number 62897, is the sole official convertible variant of the Testarossa commissioned in 1986 by the then Fiat chairman Gianni Agnelli to commemorate his 20 years of chairmanship of the company.
Ferrari wasn't building a Spider version of its flagship Testarossa supercar since convertibles weren't very popular at the time – so Agnelli had one commissioned just for him. The former Fiat boss received delivery of his unique Testarossa Spider in 1986, which featured a silver exterior with blue stripes and a matching dark blue interior. In case you're wondering why Agnelli didn't opt for a red Ferrari, "AG" is the periodic table's symbol for silver which also happens to be the first two letters of his last name. Even the prancing horse was finished in the same silver. Rather than simply remove the roof and leave the car unchanged, Ferrari strengthened the floor and fitted an electrically operated hoop to support the soft-top.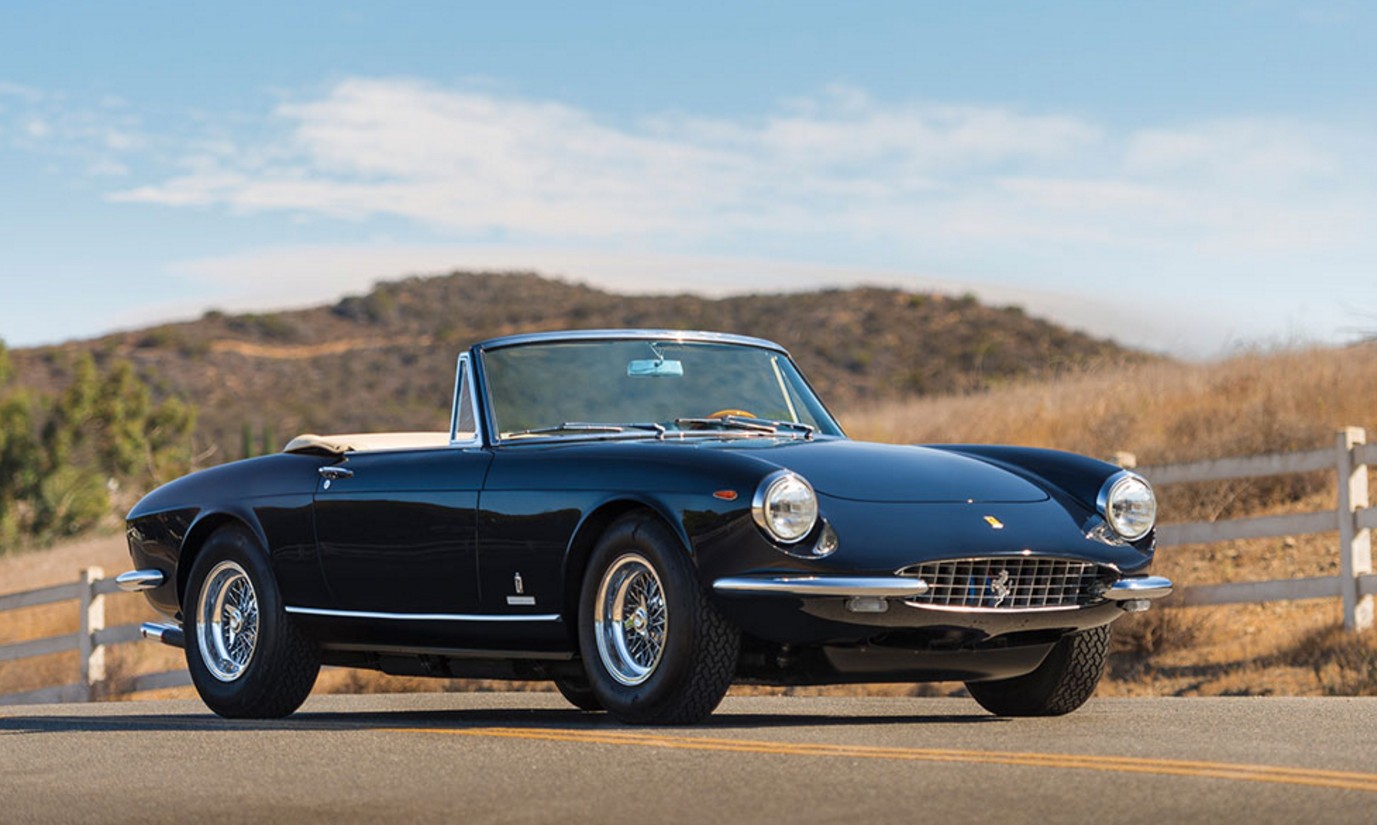 Ferrari 365 GTS by Pininfarina
At the Geneva Motor Show in March 1966, Ferrari launched a new two-seat GT. The 330 GTC, and its open-bodied GTS sibling, were tremendously popular with more restrained sporting customers, offering elegant aesthetics and classic Ferrari performance. The 365 GTS "spider" replaced the 330 GTS model in late 1968. Visually it was virtually identical to its predecessor, apart from the omission of the exhaust air outlets on the front wing sides, which were replaced by a trapezoidal black plastic louvre panel close to each trailing corner of the bonnet.
The folding roof of the 365 GTS was retained by a pair of over-centre clips on the top screen rail when in the erected position, whilst a clip-on protective vinyl cover fitted over it when stowed in a recess behind the seats, otherwise it was identical to the sister 365 GTC model.
The engine was an enlarged version of that fitted to the 330 GTS, and identical to that used in the 365 GT 2+2 models already in production when the 365 GTS was announced. It was a single overhead camshaft per bank V12 unit, with factory type reference 245/C, of 4390cc capacity, with a bore and stroke of 81mm x 71mm. It was fitted with a bank of either three twin-choke Weber 40 DFI/5 or 40 DFI/7 carburettors, with a twin coil and rear-of-engine mounted twin distributor ignition system, to produce a claimed 320hp.
The first production 365 GTS completed, of just 20 examples produced was sold in Monterey in 2017 for $2.7 million.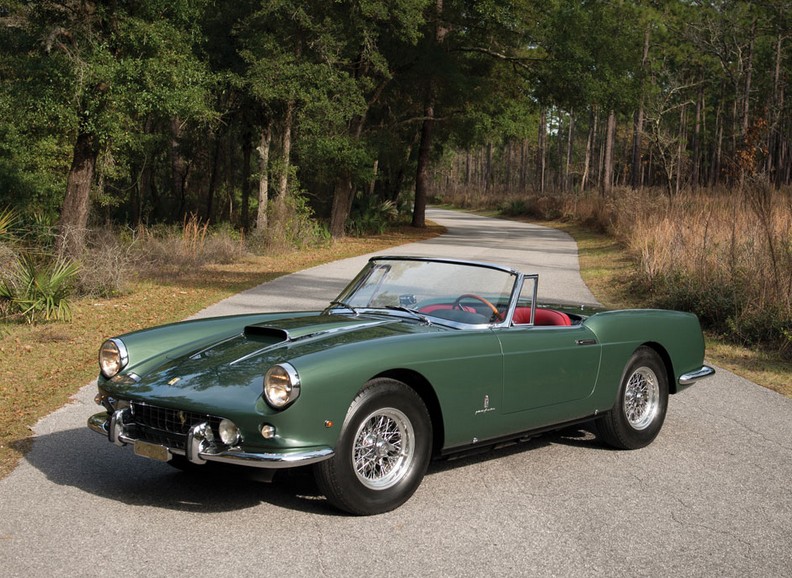 Ferrari 400 Superamerica Cabriolet
When it arrived in 1962, the Superamerica Cabriolet was the most expensive car ever produced by Ferrari. Forget depreciation dreams because today they're even more expensive. Try RM Auctions selling a pristine example for over $7.6 million. Definitely on the more expensive Ferrari convertible list then.
Before Ferrari supercars were top of the heap, Ferrari made GTs that ruled the top of the car market. Despite the classical good looks, cars like the Superamerica Cabriolet were known more for their powerful V12 engines and serious performance.
The 400 Superamerica had a 340 bhp, 3,967 cc 60-degree V-12 engine with three Weber 46 DCF carburetors, four-speed manual transmission, independent front suspension with double wishbones and coil springs, rear suspension with a live rear axle, semi-elliptic leaf springs, telescopic shock absorbers, and four-wheel disc brakes.
In the late 1950s and early 1960s, the Ferrari Superamerica was the last word in sporting elegance. It offered the very best in terms of luxury and performance and was the very best car money could buy. These cars often found their way into the garages of the world's elite, with numerous heads of state, barons of industry, and other well-to-do individuals being the privileged first owners of Superamericas, putting them in the upper echelon of automobile enthusiasts.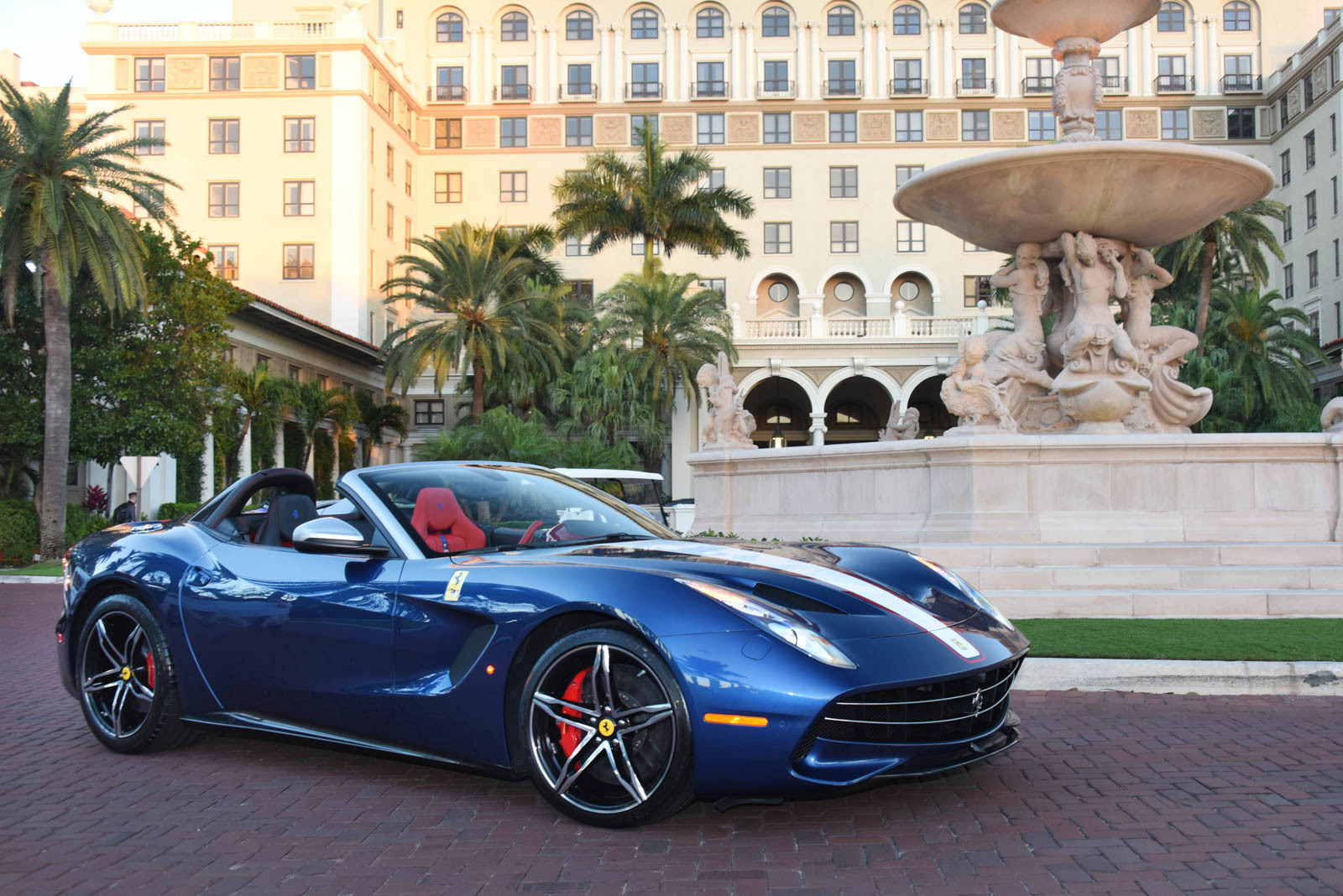 Ferrari F60 America
See All Ferrari F60 America Articles / Ferrari F60 America In Depth
So we have seen some of the older, classic Ferrari open top cars and their multi-million dollar price points. But what if you have a few million to spend and want something a little more modern and equally as rare as the older models. As luck would have it, Ferrari built 10 units of the F60 America and this may be the one for you. The F60 America is a dramatically revised version of the F12berlinetta with a new nose, wings, doors, a bespoke interior and a convertible top. And each will cost about $2.5 million new and probably a lot more in the used car market. With a 6.3-liter V12 and 730 hp all driven through the the rear wheels, it rockets to 60 mph in less than 3 seconds.
The F60 name was for Ferrari's 60th-anniversary festivities scheduled to celebrate the maker's diamond anniversary in the U.S.
The F60America's bodywork adopts the classic North American Racing Team livery, and the special Ferrari 60th anniversary Prancing Horse badge on the wheel arches also appears on the tunnel in the cabin. That blue with a center white stripe livery of famed importer Luigi Chinetti's NART outfit and the interior that gives a nod to old racing Ferrari with the driver's side finished with red trim and upholstery while the passenger's accommodations are black adds to the uniqueness of this special limited model.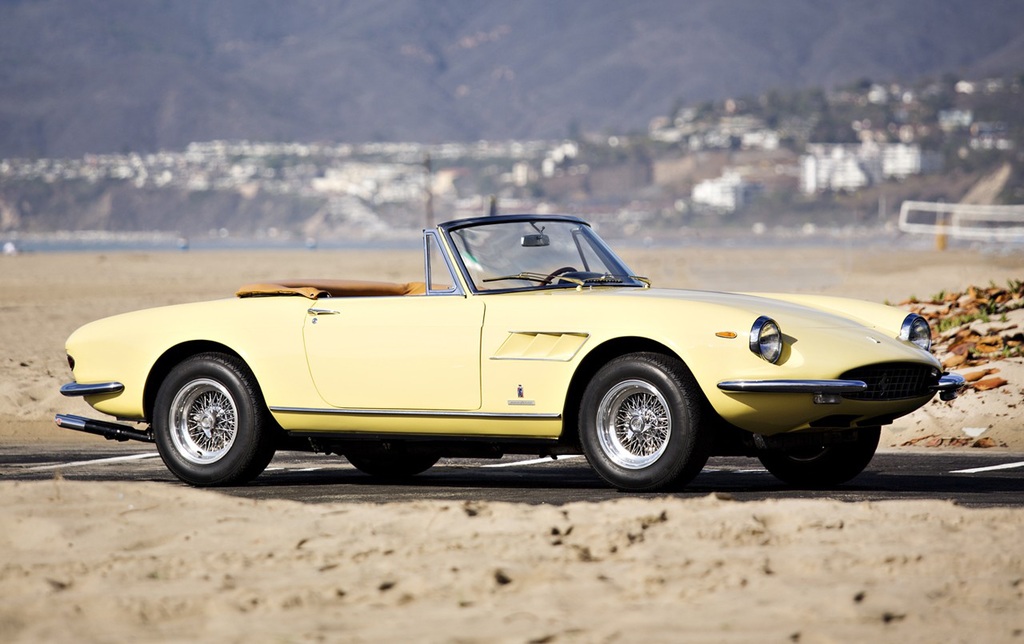 Ferrari 330 GTS
See All Ferrari 330 GTS Articles / Ferrari 330 GTS In Depth
The 330 GTS was released in October at the 1966 Paris Auto Show. It was intended as an grand tourer that delivered quiet performance. The 3967 CC V-12 was a development of the engine used in the 400 Superamerica, and joined to the five-speed gearbox, provided flexible power across a wider range. The 330 GTS also introduced an improved mounting for the engine and rear transaxle, joining them with a torque tube to minimize vibration. Only 100 examples were made before the model was upgraded with a 4.4 liter engine in 1968.
The folding roof of the 330 GTS was retained by a pair of over-centre clips on the top screen rail when in the erected position, whilst a clip-on protective vinyl cover fitted over it when stowed in a recess behind the seats. Production of the 330 GTS model continued into late 1968, when it was upgraded with a 4.4-litre engine and minor cosmetic changes, to become the 365 GTS model.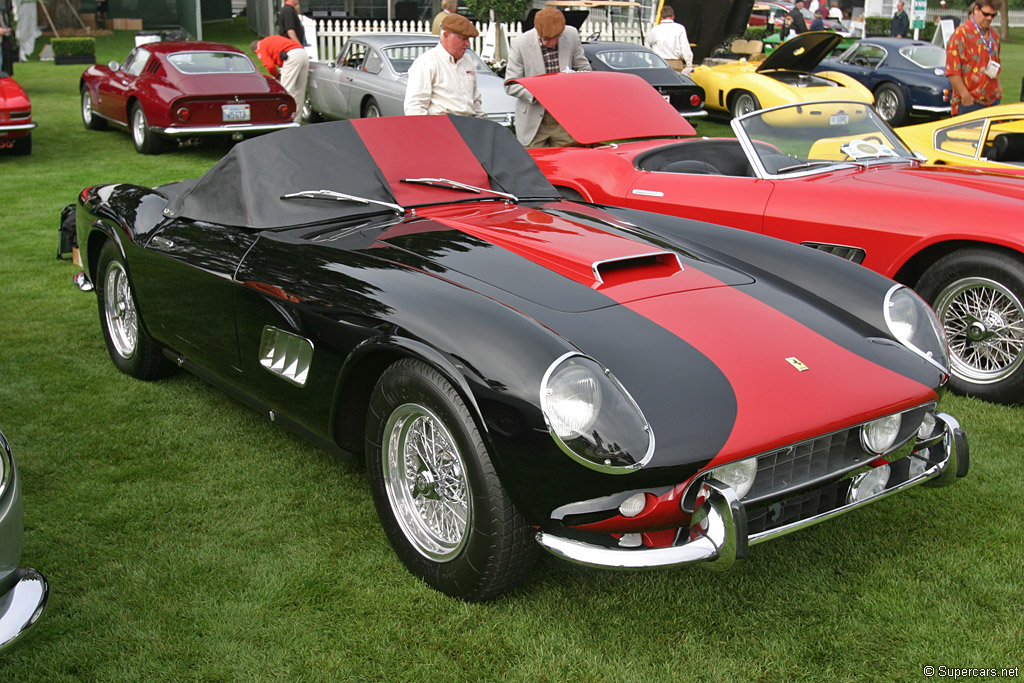 Ferrari 365 Spyder California
See All Ferrari 365 California Articles / Ferrari 365 California In Depth
Shortly after the last 500 Superfast was made, the 365 California was announced as the model's successor. It was the continuation of a series of limited production cars which included the 410 and 400 Superamercas. These cars were marketed to attract premium customers who demanded a more unique coachwork on their grand touring machines. To keep costs down, but exclusivity high, the 365 California was only offered to select VIP clients of Ferrari. That may explain why the rare 365 California models around today fetch big money.
To much success, the California title had been already been associated with the earlier 250 GT Series. Around one hundred 250 California Spyders were built with some light alloy competizione examples actually racing Le Mans and Sebring. Drawing on this rich heritage, Ferrari decided that new 365 Spyder would be marketed as the next California model.
Much like the 250, this 365 used a well developed chassis to provide a basis for the next California Spyder. Released alongside the 330 GTC at the 1966 Geneva Auto Salon, the long and low 365 California Spyder was basically a reworked 330 GT chassis featuring a striking Pininfarina body. As far as engineering was concerned the 365 California Spyder was uninventive, having a wishbone front suspension and live rear axle held by leaf springs.
Powering the 365 was a Columbo long block V12. This engine was common in the 365 range, being an enlarged version of the unit found in the 330 GT. Other evolutions of this engine powered the 365 GTB/4 Daytona, GTC/4 and standard 365 GT coupe.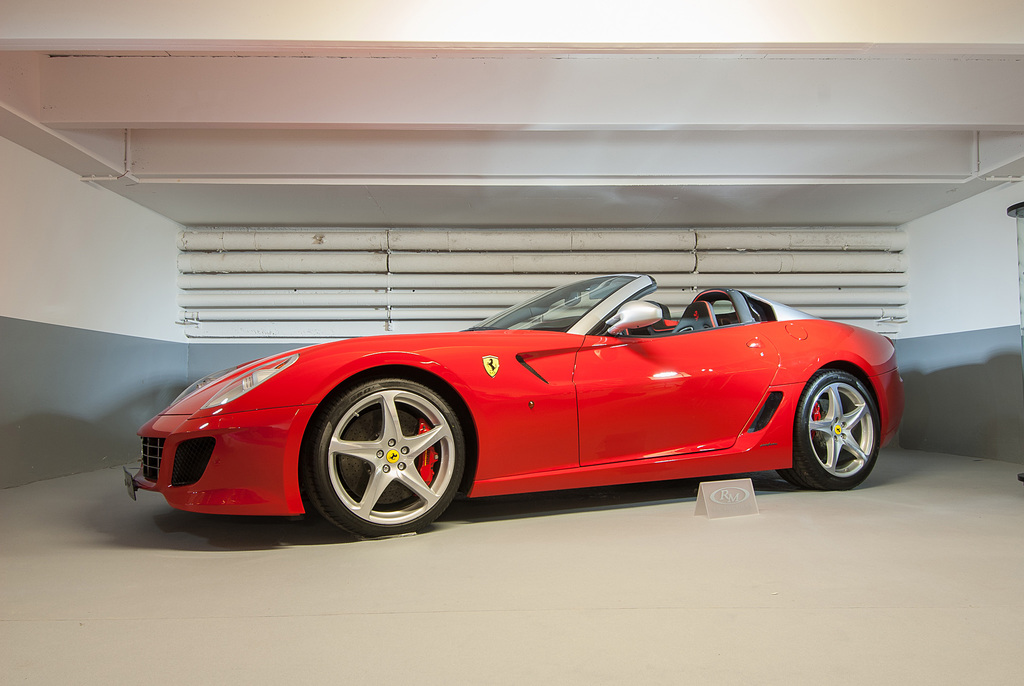 Ferrari SA Aperta
See All Ferrari SA Aperta Articles / Ferrari SA Aperta In Depth
The SA Aperta is a special series model of which just 80 units were built. Ferrari chose to build 80 SA Apertas in celebration of Pininfarina's 80th anniversary. The SA nomenclature also pays homage to both Sergio and Andrea Pininfarina whose company and work have been linked to the most successful road-going cars ever built at Maranello.
The SA APERTA is a true roadster which combines Ferraris signature front-engined V12 architecture in a completely open-top setting. In fact, it has just a light soft top designed to be resorted to only if the weather gets particularly bad. A low-slung windscreen and the fact that it crouches lower to the ground than our other models lend the SA APERTA an exceptionally aerodynamic sleekness. Its profile arches back from the A-post to two aerodynamic fins beautifully integrating the two roll-bars which themselves cleverly mimic the outline of the seats.
The chassis has been redesigned to deliver a standard of stiffness comparable to that of a closed berlinetta and there is a negligible weight difference also, thanks to work done on the chassis structure.
Thanks to the 670 CV engine beneath its bonnet, the SA APERTA beautifully embodies the sporty spirit of the 599, incorporating Ferrari's most advanced technology to deliver absolutely benchmark performance and superb driving pleasure. Its interior too is stylishly sporty with particularly sophisticated materials, trim and colors used throughout. The virtually endless combinations available guarantee that each and every SA APERTA is absolutely unique.
---
High-Performance Convertible Ferraris
This is the "have your cake and eat it too" group. We highlight Ferrari's open-top performance kings. These are the models that are serious sports cars at the top of the performance heap, that just happen to be convertibles too. They are uncompromising and give up nothing to their coupe siblings.
Ferrari LaFerrari Aperta
See: All Ferrari LaFerrari Articles
The official car of Ferrari's 70th year was the LaFerrari Aperta, an open-top hypercar that Car Magazine said had a single purpose: "to remind the world that nobody does automotive hedonism better than Enzo's squad". Well said. There isn't much written about the LaFerrari Aperta, but once again the folks at Car said it best: The LaFerrari is an astonishing embodiment of that philosophy. A machine of bewildering complexity, its defining brilliance is a driving experience of startling purity, one made magical by the unholy power and deviously clever electronics that could so easily have corrupted it.
The LaFerrari Aperta is basically the drop-top version of the LaFerrari supercar. The Aperta is limited to only 209 units and they were spoken for well before the car was even announced. It is the first time Ferrari has ever offered both coupe and convertible versions of its "supercar" line. On the outside, the Aperta looks a lot like the original car, save for the fact that, well, the roof comes off. It's not a power-operated top, like in some rivals, but rather two carbon-fiber panels that have to be removed by hand. It's not the most graceful solution, but it helps save weight — and reduce complexity.
Under the skin, you'll find a carbon-fiber chassis, a dual-clutch automatic transmission and a 6.3-liter V12 with a hybrid component that combine for a total of 950 horsepower and 664 lb-ft of torque. The result is zero to 60 in under 3 seconds and a top speed of nearly 220 miles per hour — amazing numbers, even in today's world of crazy exotic cars.
Of course, the Aperta is expensive — and, more importantly, it's all sold out. The Aperta is reported to cost around $2 million, although one sold at a charity auction for $10 million.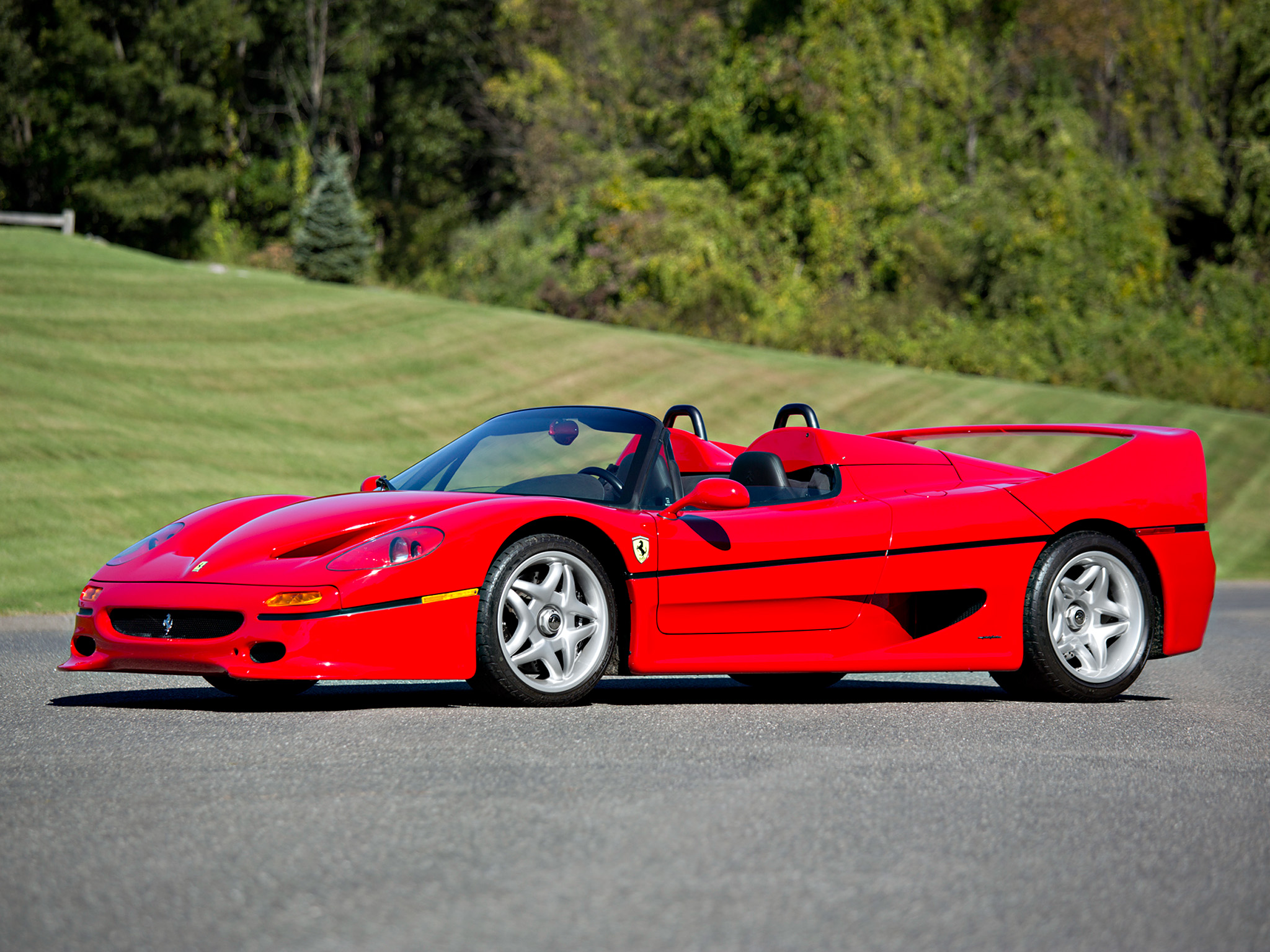 Ferrari F50
See All Ferrari F50 Articles / Ferrari F50 In Depth
Available with removable hard top, the open roof F50 supercar is one of the best drivers Ferraris ever despite a lukewarm reception at launch. The best thing about not having a roof on the F50 is the unfiltered sound of an Ferrari V12 right behind your ears.
You don't see many F50s out and about because they're really rare. Only 349 were ever made (four times as rare as the F40 and even rarer than the Enzo).
Both the 288 GTO and Ferrari F40 feature turbocharged V8s. The F50 is unlike these cars as it uses a engine motivated by the 1994 Ferrari 412T Formula One car. It features a narrow angle V12 which is similar to the one in the 1994 412T. The F50's version has an increased capacity of 4.7 liters to offer increased torque and driveability. Power came in at 513.1 bhp @ 8500 rpm.
Many people have looked upon the F50 project as somewhat of a failure. I can see where they are coming from; the F50 didn't receive a race program and never set any precedents in performance. It is this attitude that is usually held by people how have yet to experience the F50 in person, on track or, better yet, behind the wheel. While in static performance figures the F50 even loses to its younger F40 brother, it is the dynamic driving, and especially handling where the F50 Ferrari excels.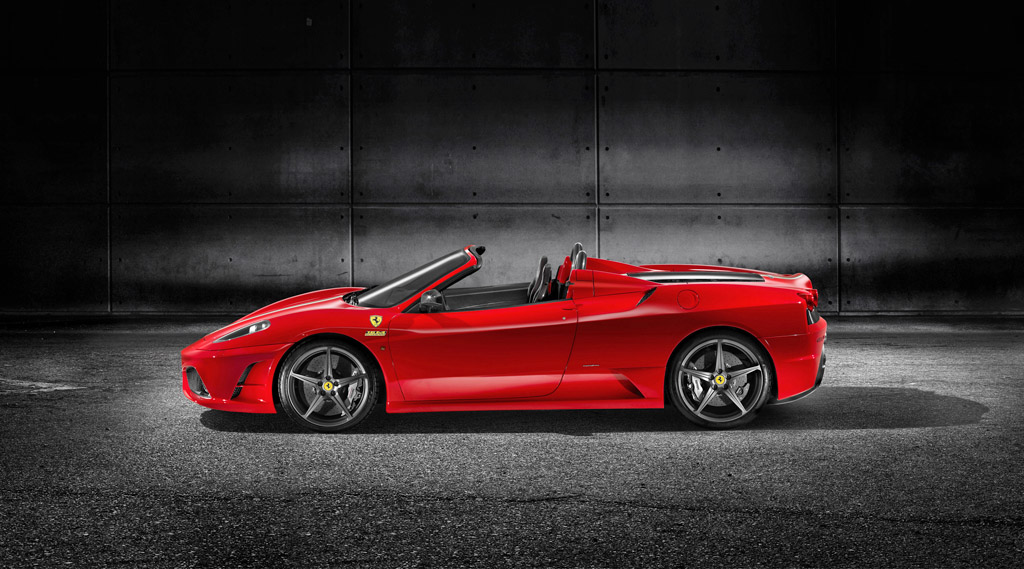 Ferrari F430 Spider 16M
See All Ferrari F430 Spider 16M Articles / F430 Spider 16M
To celebrate the 16th F1 championship Ferrari built the 430 Scuderia Spider 16M. Using the awesome F430 Scuderia coupe as its base this car was an absolute beast. It was a droptop Ferrari with all the go-fast parts of the 430 Scuderia, including a higher-compression version of the 4.3-liter V-8 making 503 hp and 347 lb-ft of torque (80 percent of which is available at 3000 rpm), a race-tuned suspension, serving-dish-sized carbon-ceramic brakes, and the F1-Superfast2 automated manual transmission that enacts a one-two shift in 60 milliseconds.
Just as in the 430 Scuderia, the interior is stripped of all comfort features. Carbon fiber and aluminum line the cabin. There is no carpet, just diamond-plate-style aluminum on the floor, accented by exposed welds. The carbon-framed seats are covered in weight-saving cloth and offer only manual fore-and-aft and seatback-angle adjustments. The doors are skinned with carbon fiber as well. The only concession to luxury lives in the dash: a horizontally docked iPod touch, the sound from which is delivered to occupants via six speakers (yup, there's a sound system on a track-ready Ferrari).
With only 499 examples made it is a highly sought after car that goes for much more than its circa $300,000 price when new.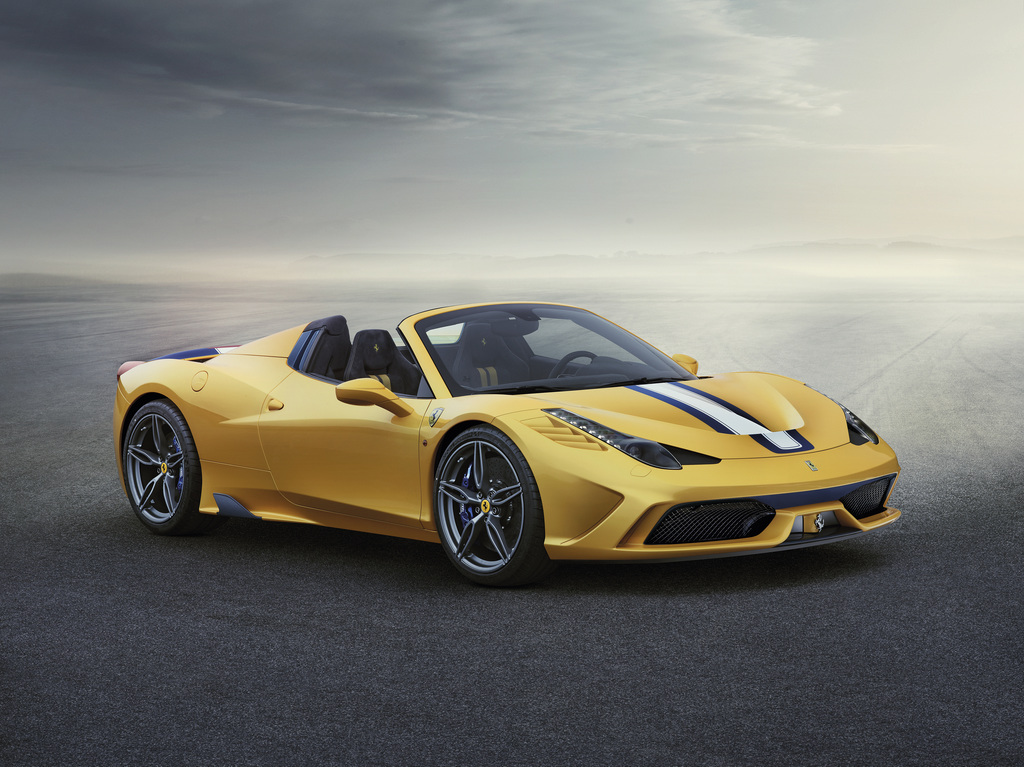 Ferrari 458 Speciale A
See All Ferrari 458 Articles / 458 Speciale A In Depth
If I had to pick one car over all others it would probably be the 458 Speciale. If I had to pick my favorite 458 Speciale it would probably be the Aperta ('open' in Italian). Naturally-aspirated, V8, mid-engined, 597hp at a stratospheric RPM and performance to blow your mind. It would take an F1 driver to tell the difference dynamically between the coupe and open top 458 Speciale so if it were my money it would be an easy decision.
With on 499 units made, the 458 Speciale A was the most powerful spider in Ferrari's history (now surpassed of course). It combines effortlessly performance with the sublime pleasure of drop-top driving. Its aluminium retractable hardtop takes only 14 seconds to deploy or retract.
0-60 mph in under 3.0 seconds and a Fiorano lap time of 1'23"5 proves that this is no soft top with no guts, this is one of the most extreme performance machines on the planet. Add that seductively exhilarating signature Ferrari soundtrack and it is clear why this makes our list of best Ferrari convertibles.
---
Convertible Ferrari Bargains
If you are like us and can't afford a new 488 Spider or Portofino and the hypercar convertibles or classic drop top Ferraris cost more than your house, then this is the list for you. These are the bargain Ferrari convertibles, the ones that can be had for reasonable money.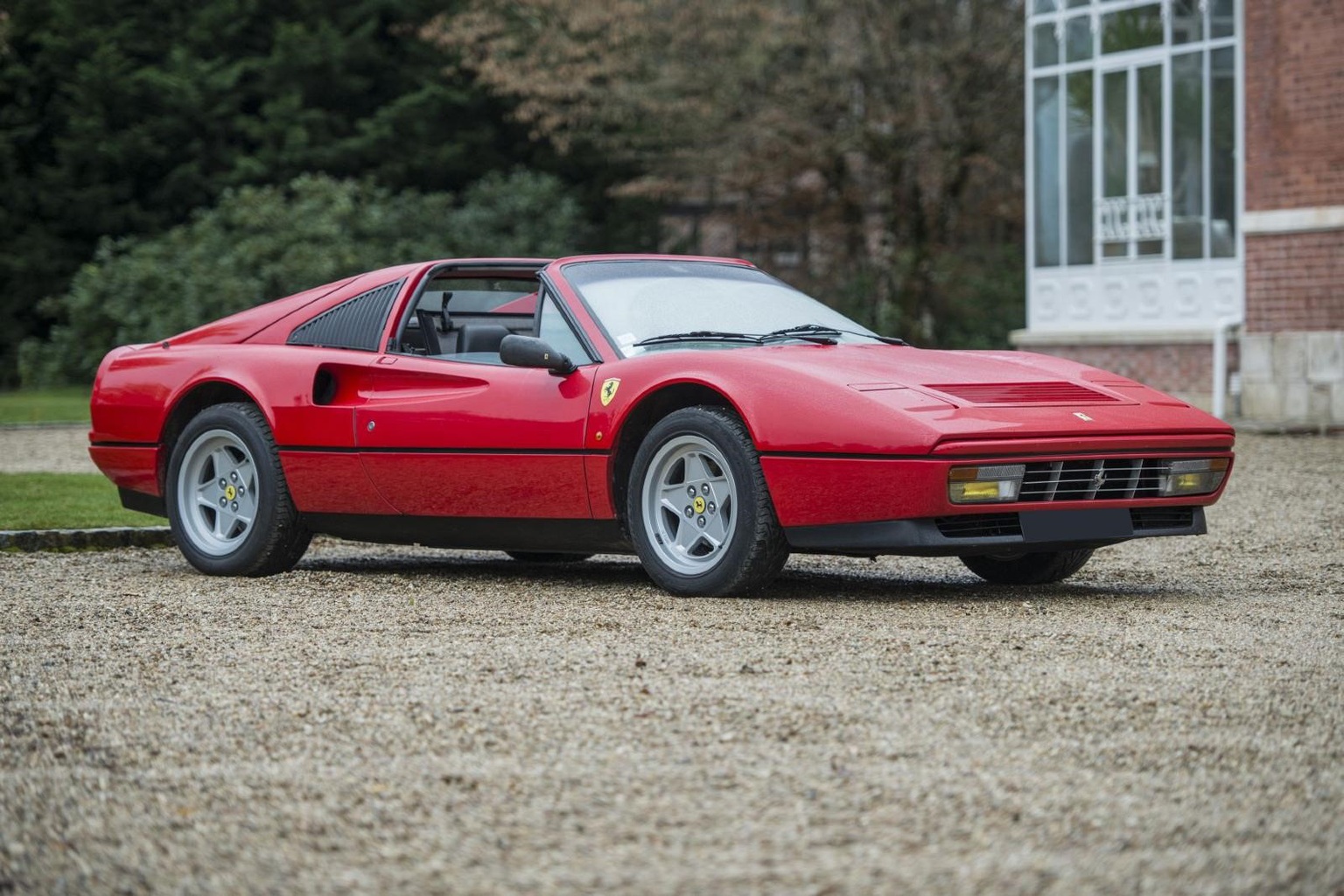 Ferrari 328 GTS
Summer 2018 Price from $80,000
In the mid-80s, the elegant shape of the open-topped 308 GTS was further softened and rounded to become – once a 270bhp 3.2-liter engine had been fitted amidships – the 328 GTS.
The curvier body not only updated the looks, it also improved the aerodynamics. Inside the new drop-top, the now outdated 1970s seats and trim and switchgear were also thoroughly refreshed.
Launched at the Frankfurt Motor Show of 1985, the 328 GTS was an instant hit and – during the four years of its production – more than 6,000 cars were sold: around five times as many as its hard-topped brother, the 328 GTB.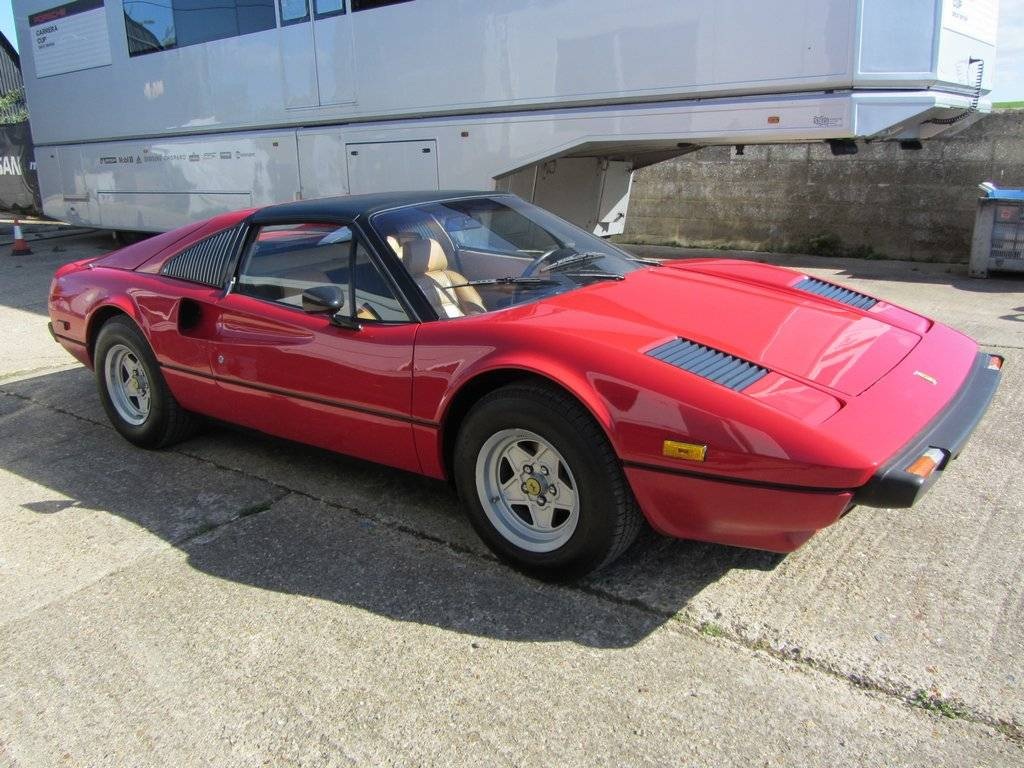 Ferrari 308 GTS
While we prefer the 328, the Ferrari 308 GTS – is the targa-topped version of Ferrari's first mid-engined, V8 road car and it is also a bargain. The targa roof added a dash of extra good-weather glamour to the 308, just as it did with the earlier Dino.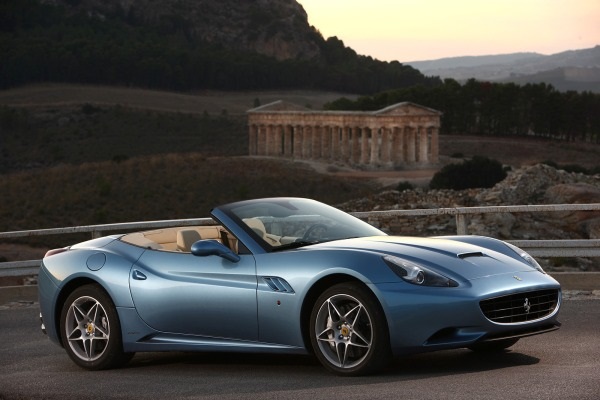 Ferrari California
See: Ferrari California In-Depth
Summer 2018 Price from $100,000 USD
Yes, this is a real Ferrari and yes it is a relative bargain these days. For under $100k gets you a Ferrari V8 you can drive every day. While it is often panned as not a real Ferrari, we can assure you having driven the California it is a great Ferrari. Sure, it isn't a canyon carver like a 458 but it is the perfect daily driver and is easily the most practical Ferrari you can buy.
The California was first Ferrari road car to have a front-mounted V8 engine, the first to have a dual-clutch gearbox and came with an automated, fully retractable metal roof. It's a softer, more approachable Ferrari which is why which 70 percent of California buyers so were new to the brand. If you want a Ferrari that is quick with a blend of everyday usability and outright enjoyment, then this might be the Ferrari V8 bargain for you.
While the California was made all the way through 2017 we suggest you focus on the earlier 2008 to 2012 models if you're looking for a true bargain.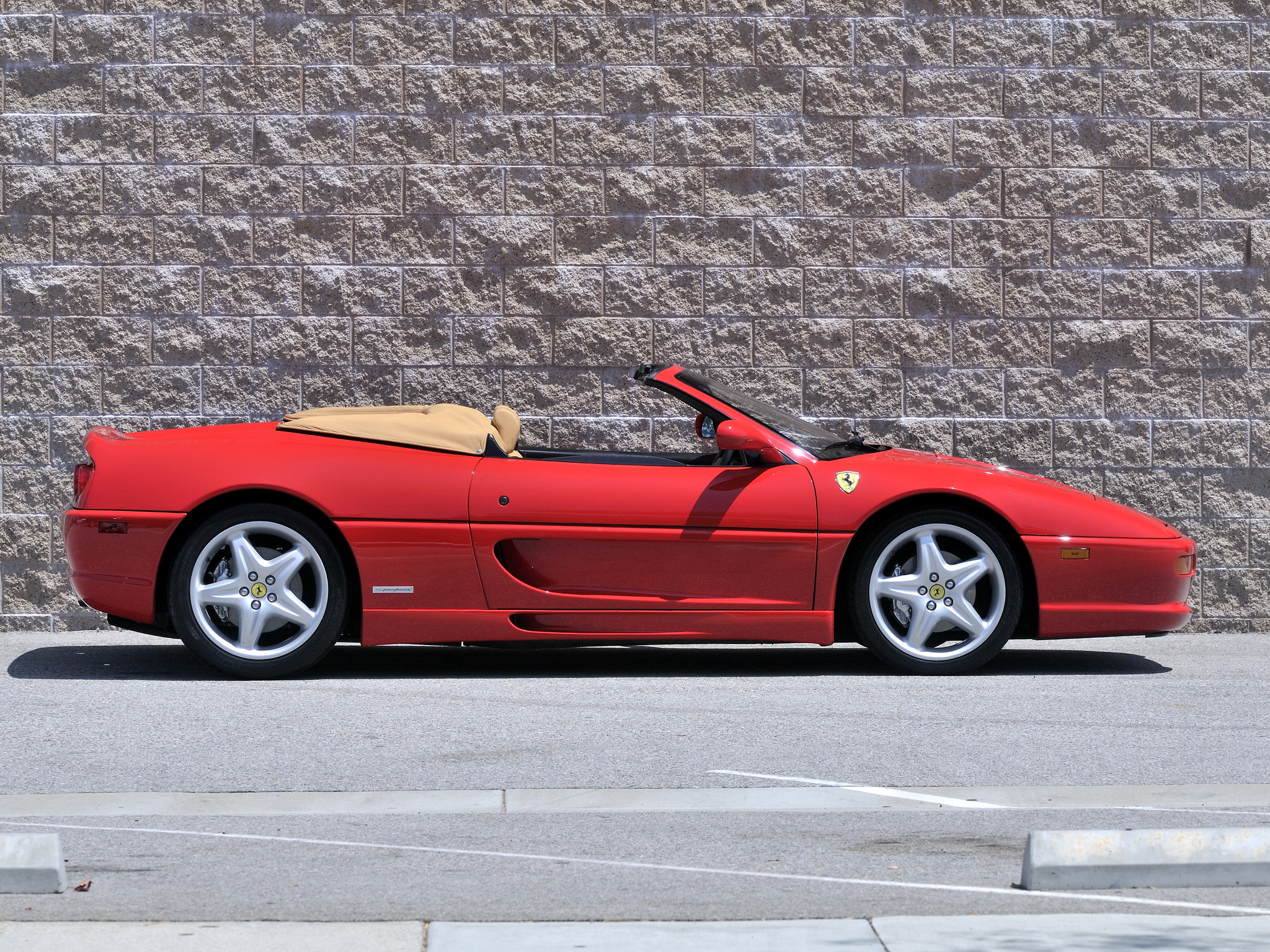 Ferrari 355 Spider
See: Ferrari 355 In-Depth
Summer 2018 Price from $70,000 USD
We love the F355 Spider and its on our shortlist of cars we'd buy tomorrow. In the U.S they're going for $70k+ which is a bargain for this quality of car. The F355 Spider had a convertible top – fabric, and electronically powered for the first time and carried over the Berlinetta's flying-buttress design. The convertible looks just as good as the coupe version.
The F355 was introduced in 1994 for the 1995 model year. The F355 righted all the wrongs of the preceding 348 starting with that fabulous V8. When the F355 went on sale, it had the highest specific output of any car on sale, squeezing 375 bhp from a 3.5-liter V8.
When it came to the F355, design was everything. It is easily one of the most beautiful modern cars ever designed. Where the Testerossa and 348 have aged poorly, the F355 is beautiful and looks amazing today.
The F355 also sounds amazing. When you step on the gas pedal in an F355 it just revs and revs and revs. The sound develops a hard edge and screams in true Ferrari tradition. Unlike modern Ferraris though, you won't be doing immediate jail time speeds because while the F355 is fast it isn't too fast. 0-62mph is covered in 4.7 second and a top speed of 183 mph was possible, so nothing crazy for 2018. EVO magazine nailed when they said: "'Perhaps for the first time, Ferrari has managed to successfully combine age-old passion and heart-pounding emotion with state-of-the-art engineering and electronics."
This is everything a Ferrari is supposed to be.
---
Our Other Favorite Convertible Ferraris
There is still more to go. The rest of the Ferraris on this list didn't neatly fit into any of the groupings above. These are awesome Ferrari open top models that we absolutely love and we believe deserve a spot on our list. Simple.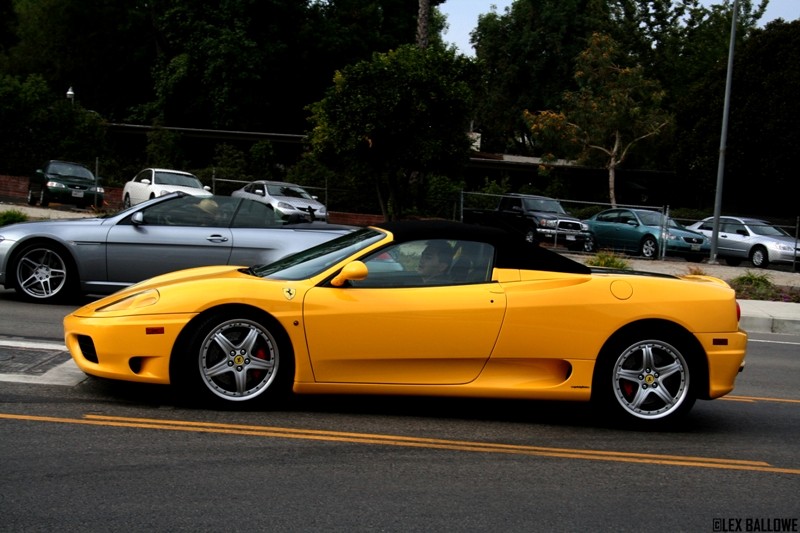 Ferrari 360 Spider
See All Ferrari 360 Modena Spider Articles / Ferrari 360 Modena Spider In-Depth
You can buy a 360 Modena for under US$100,000 these days and that feels like great value for a what was a giant leap over the F355. While the 360 hasn't aged as well as the F355 in terms of design, the car was a technical masterpiece and drives much better than it looks.
The 360 Modena was a replacement for the F355. The mid-engine Ferrari 360 Modena had a 400 hp 3.6-liter V8 and transmission offered in both F1 paddle shift and six-speed manual. The Ferrari 360 Modena hit 60 mph in 4.4 seconds so it's hot hatch territory fast these days, but it feels faster in person and has an exhaust note that will go down in history books as one of the best sounding cars ever. You could drive the F360 everyday, it is comfortable and relatively reliable while still being fun.
The Ferrari 360 used aluminum extensively which made it 130 pounds lighter than the F355 and increased rigidity by 64%. You can tell the difference when driving too, the 360 is easier to drive, more composed and more fun than the F355. If you want serious performance we'd recommend you opt for the F430 which is still a decent daily driver but significantly more hardcore performance machine.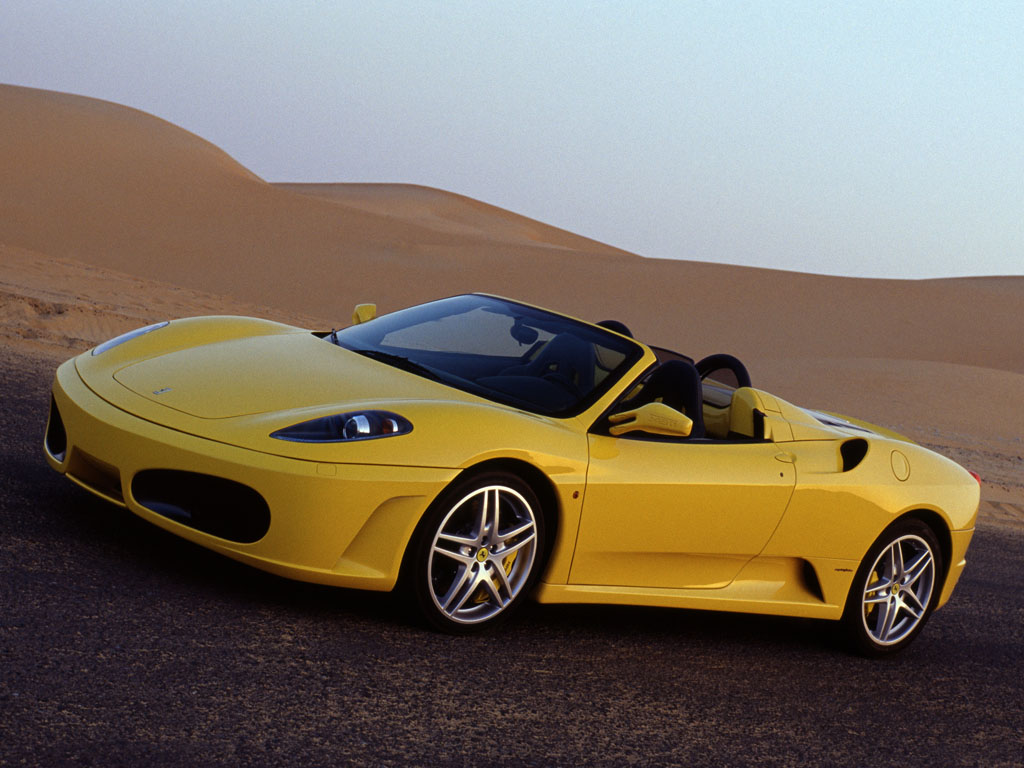 Ferrari F430 Spider
See All Ferrari F430 Articles / Ferrari F430 In-Depth
While the Scuderia is still not "bargain" money, the Spider and Coupe F430 versions are starting at just under $90,000 (that's 991 Porsche money). Sure that isn't cheap per se but remember we're talking a proper Ferrari that is awesome and still modern enough that it doesn't seem classic (Top Gear called it the best car in the world when they first reviewed it).
We recently drove a friends manual F430 and it is faster and more engaging than you can imagine. In this day and age of McLaren 720S absurdity, a F430 is probably the pinnacle in our minds of everyday driveability and sports car fun on the road before things really get out of hand. The F430 has a 4.3 liter naturally aspirated V8 and makes 490 horsepower at 8,500 rpm redline. It weighs 3,200 pounds and reaches 0-60 in 3.8 seconds.
Every review of the car glowed with praise. Handling was supposedly fantastic. This was the first car that started the now-cliche trope that the electronics actually helped the driving experience rather than detracted from it. Our pick is a manual car and we'd opt for the coupe over the spider personally. Behind the wheel of the F430 is a blast. It is teaming with feel, is flat in corners and is enjoyable on the street, mountain pass or the track. It is really comfortable and surprisingly easy to maneuver. The perfect Ferrari available used today? We think so.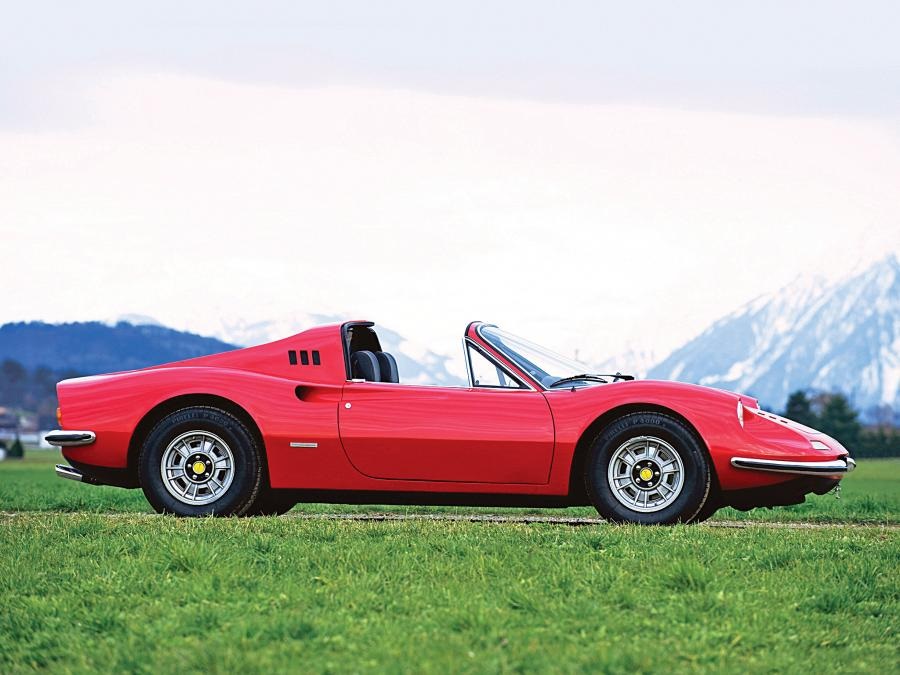 Dino 246 GTS
See All Ferrari Dino 206/246 Articles / 246 GTS In Depth
At the 1972 Geneva Motor Show, Ferrari released an open-top version of the Dino 246 called the GTS. Over 1200 examples were produced over a two year period. The 246 GTS had a removable roof panel similar to the 1967 Porsche 911 Targa. Both these cars copied the idea from the Surrey-Top Triumph TR4 which was the first to use such a panel.
The Dino line was created in honor of Enzo Ferrari's son Alfredo Ferrari who was championing the V6 engine before his untimely death. The series began with a number of 206 sport prototypes and eventually the 246 road cars.
One of the ultimate specification Dinos was altered to accept 7½-inch wide Campagnolo wheels. These Chairs and Flares cars featured Group 4-inspired wheel arches and seats from the 365 GTB/4 Daytona.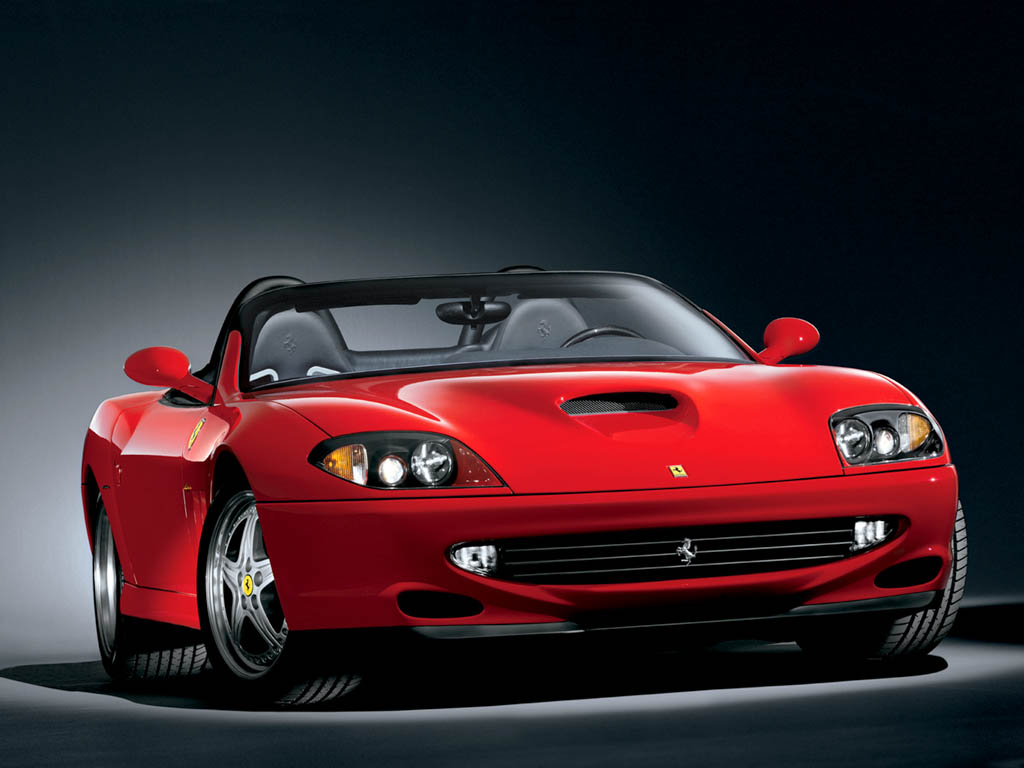 Ferrari 550 Barchetta Pininfarina
See All Ferrari 550 Barchetta Articles / 550 Barchetta In Depth
After a lapse of nearly 25 years, Ferrari returned to building powerful, luxurious, front-engined, V12-powered, two-seat grand touring cars with the 550. This limited-edition retro-styled roadster version was meant to evoke many of the iconic convertibles featured in this list especially the N.A.R.T. Spyder above.
Unveiled at the Paris show in 2000, the 550 Barchetta Pininfarina was so named to commemorate the 70th anniversary of ferrari's coachbuilder and stylist. a strictly limited edition of just 448 numbered cars was built, with the last leaving the factory in december 2001. The 550 barchetta pininfarina was specifically designed to be reminiscent of legendary Ferrari road race stars of the likes of the 166 MM, the 250 GT California and the 365 GTS4 Daytona.
The aim, in fact, was to create an open-top front-engined 12-cylinder with a retro feel to it. The 550 Barchetta Pininfarina was designed and developed to be a unique interpretation of Ferrari's purest and most extreme sports cars. In fact, it was a deliberate and provocative departure from the rest of the current range. As such, it was made available only as a limited edition. Each car was numbered and its number displayed on a special in-car plaque signed by Sergio Pininfarina.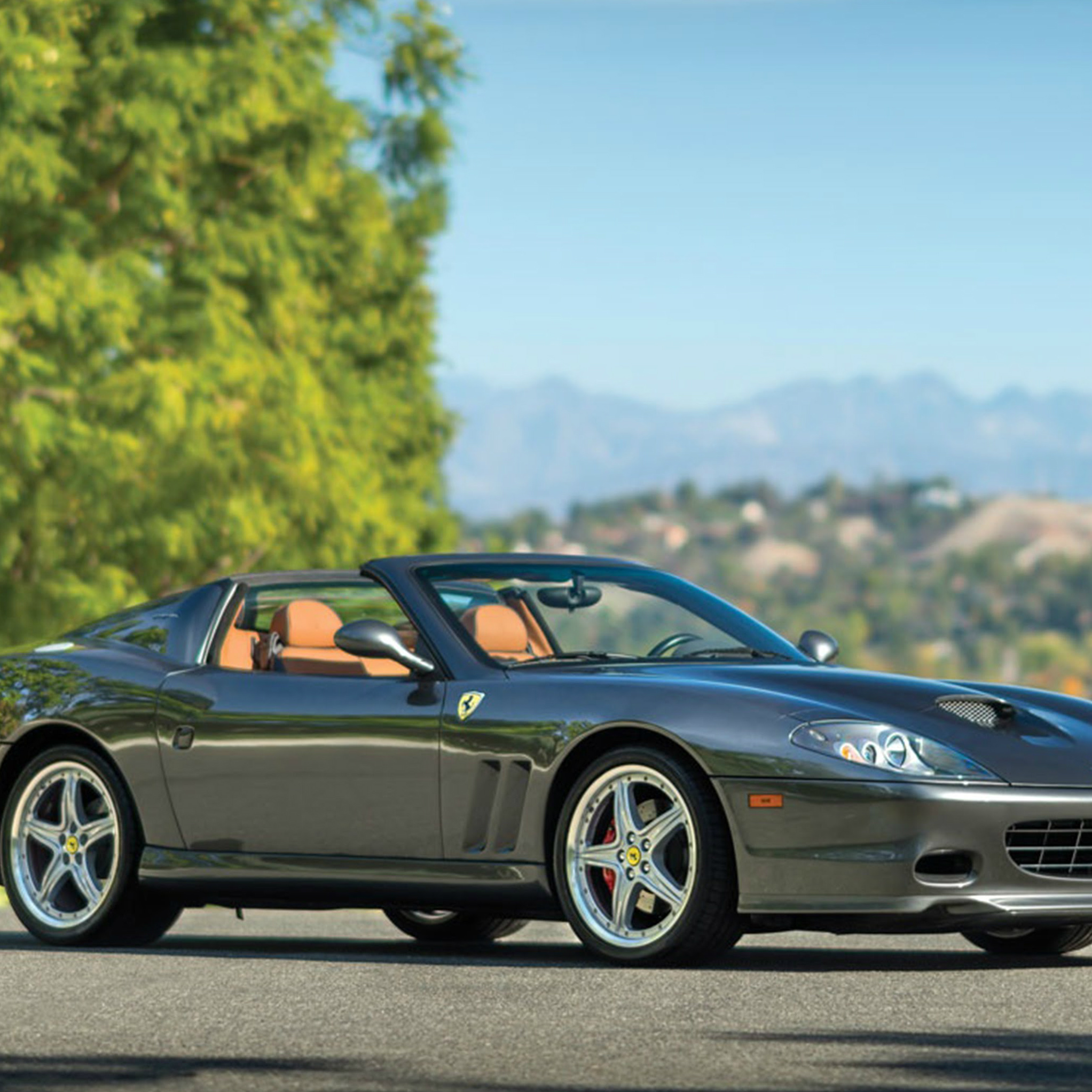 Ferrari Superamerica
See All Ferrari 575M Superamerica Articles / Ferrari 575M Superamerica In Depth
The roof on the Superamerica was made of electrochromic glass, which could adjust its tint from crystal clear to total blackout at the touch of a button. It could also flip back at the touch of another. Ferrari called it "Revocromico." We call it stunning.
Introduced in 2005, the Ferrari Superamerica was a convertible version of the 575M Maranello; it featured an electrochromic glass panel roof which rotated 180° (both are production car firsts) at the rear to lie flat over the boot. Patented Revocromico roof incorporates carbon fibre structure that is hinged on the single axis with a luggage compartment lid, allowing the access to the latter even with an open roof. With the roof open the rear window, apart for holding the third stop light, also acts as a wind deflector. This roof design was previously used on 2001-designed Vola by Leonardo Fioravanti. The Superamerica used the higher-output tune of the V-12 engine, F133 G, rated at 533 hp (397 kW; 540 PS) and Ferrari marketed it as the world's fastest convertible, with a top speed of 199 mph (320 km/h). The GTC handling package was optional.
A total of 559 Superamericas were built; this number followed Enzo Ferrari's philosophy that there should always be one fewer car available than what the market demanded; only 43 of those had a manual gearbox.