24 of the Best Looking & Most Gorgeous Cars from the 1940s
At the top end of the car market, the early 1940's were still a time for luxurious and large coaches that screamed status. These cars were few and far and only for the rich, with coachbuilders creating one off cars for their well to do clients. With the war in full force and automotive production essentially at a standstill globally for first four years of the 1940s, the rest of the auto industry didn't restart until early 1946 when we started to see great new cars roll off the production lines.
When the war ended it took a few years to retool factories. There were also a lot of war-parts left over. That means a lot of most beautiful 1940s cars were a hodgepodge of parts. The great looking cars were designed with whatever parts were around and combined with car designs and concepts left over from before the war. It is remarkable that the cars that came out during that era would as good looking and gorgeous as they were.
As the consumer automotive market started to gain speed again in the late 1940s, we saw a lot of innovation technically both in manufacturing and in car technology itself. While the first mid-1940s cars copied the design of the pre-war cars, and a lot of small car companies tried to fill the void left by the big carmakers and started to push design. The end of the 1940s saw car sales pick up steam and a serious uptick in the sheer number of innovative and beautiful cars being created. In fact, the most beautiful cars of the 1940s set the design tone for car designers for the following decade and beyond.
So here they are, the most beautiful cars of the 1940s, a stop-start era in automotive history.
Don't forget to check out all the amazing 1940s cars as well as our special lists that include the best 1940s supercars.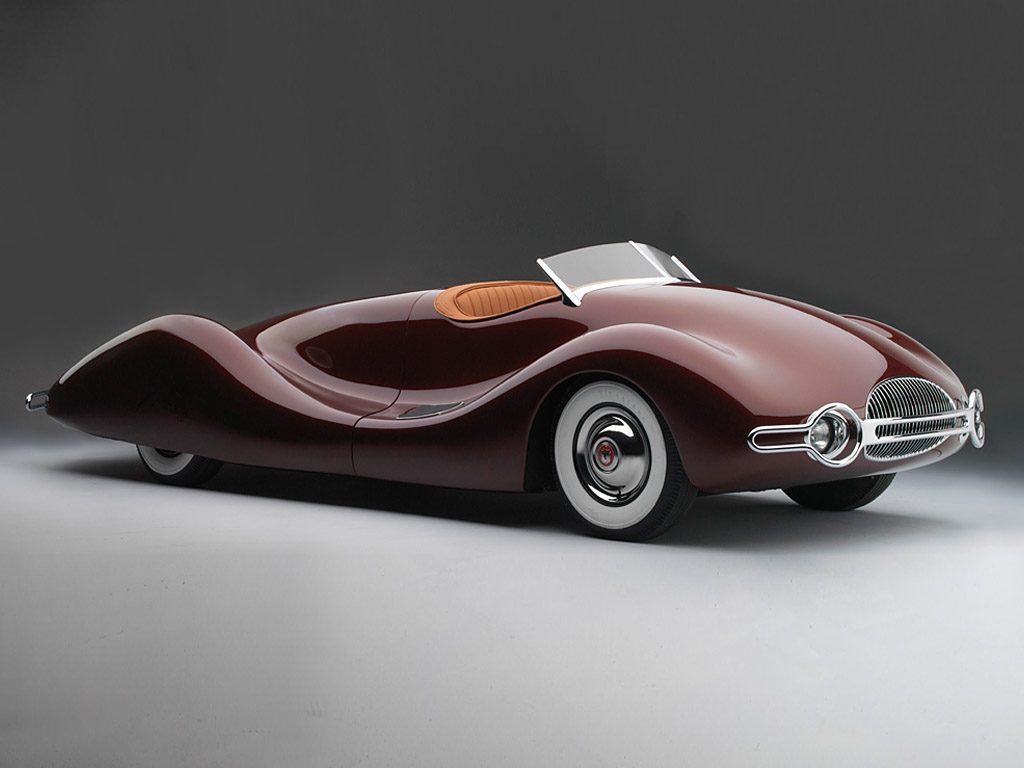 Norman E. Timbs Buick Streamliner
Mechanical engineer Norman E. Timbs created this dramatic streamliner in the 1940s which in many ways was the ultimate American hot rod. He designed and fabricated much of the project himself which included a custom aluminum body and steel chassis. It took him over two years to finish and the resulting chic roadster was good enough for cover of Motor Trend as well as features in Mechanix Illustrated, Popular Mechanics and Motor Life. Easily the most beautiful car of the 1940s.
Learn more: 1948 Norman E. Timbs Buick Streamliner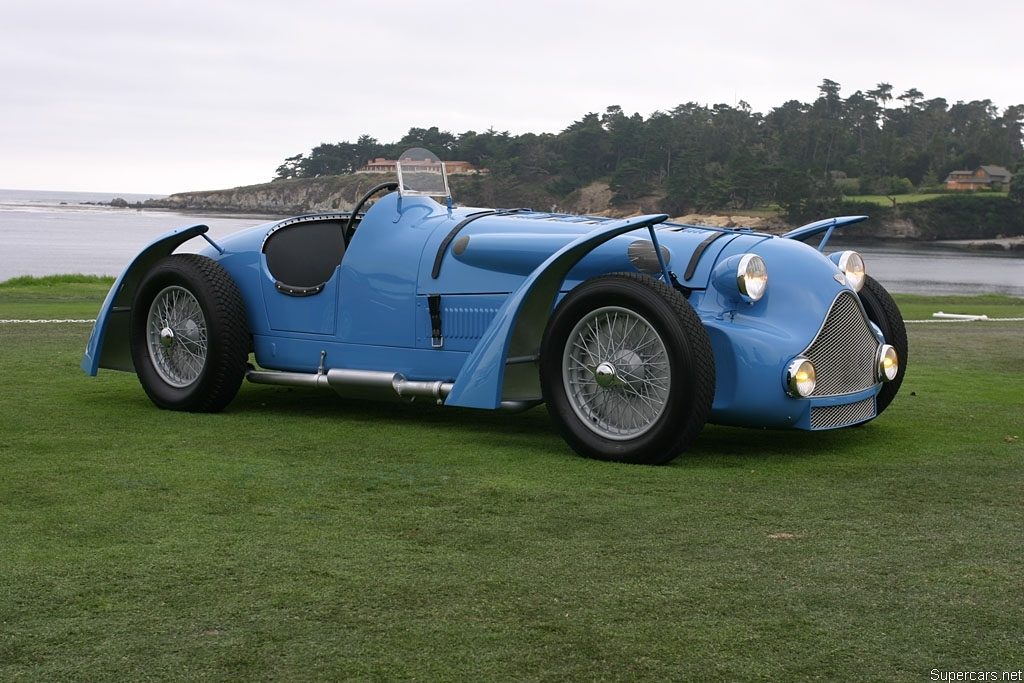 Delahaye 175 S
After the war Delahaye continued to make cars largely based on their prewar cars. The Type 175 S was released in 1948 alongside similar chassis made with a longer wheelbase.
Most models were styled at the factory by Philippe Charbonneaux and used a seven bearing 4.5 liter six-cylinder with a DeDion-Type rear axle. Fitted with competition bodywork, the 175 S competed only briefly and was unsuccessful during its initial year.
this stylish Delahaye 175 Sport Cabriolet was specially ordered as a left hand drive two-seater, with unique cabriolet coachwork by Henri Chapron. Looking very much the part of a show car, the short 175 chassis is clothed in a rakish cabriolet body, with beautifully integrated lines and contrasting paint sitting atop delicate Rudge wire wheels.
Learn more: 1948 Delahaye 175 S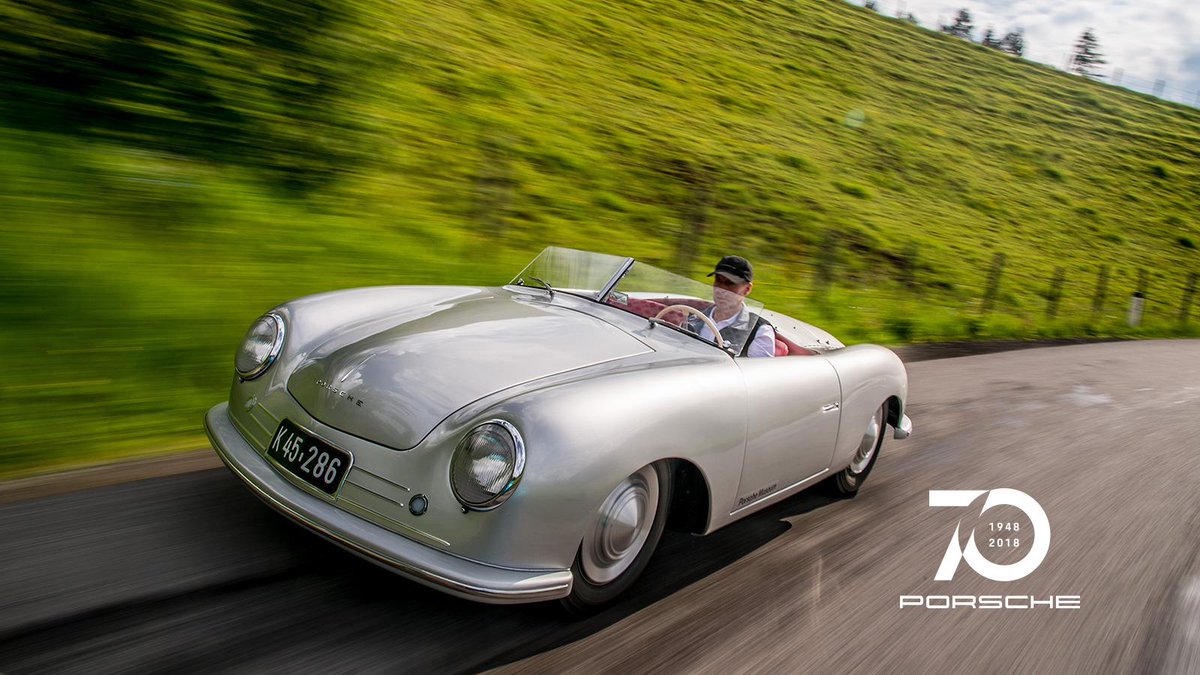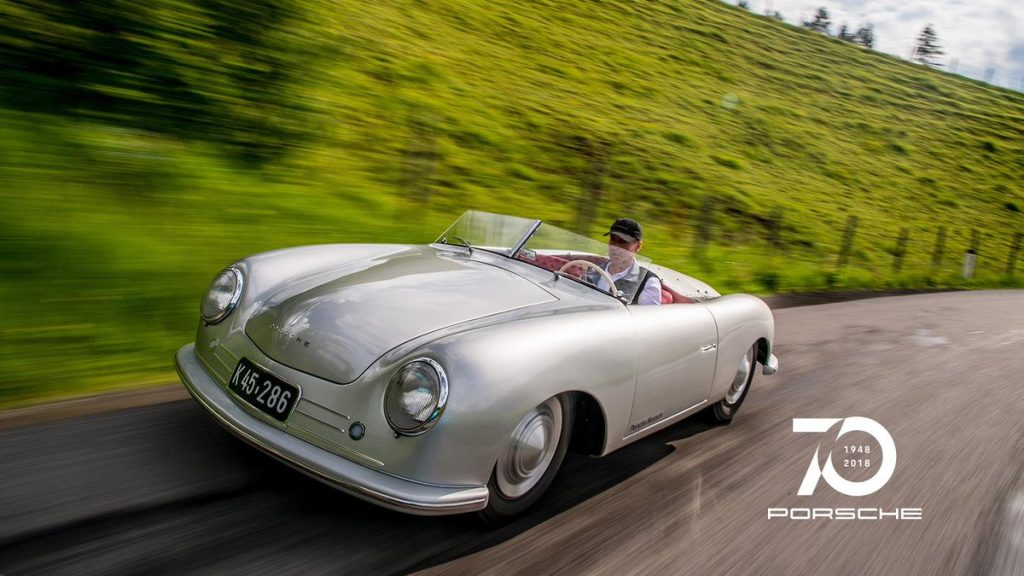 Porsche 356 No. 1
The first Porsche, chassis 356-001, was produced in Gmünd as two-seat roadster using VW parts. Work on the project started as early as 1947 and was authorized by Ferry Porsche to begin construction in March of 1958 of the new Sportwagen Typ 356. He was undoubtedly influenced by Cisitalia which was making cars based on Porsche designs from basic Fiat components. The prototype, called the first Porsche by many and known as Porsche No. 1 was completed in March on 1948 in Austria. It was tested in chassis form before Erwin Komenda designed the bodywork. Details such as pop-out door handles, integrated bumpers and a decorative aluminum license plate surround separated the car from its VW roots. Inside Komenda fitted a bench seat, spartan controls and minimal upholstery.
Learn more: Porsche 356 No. 1

Fiat 1100 S
One of Fiats first post-war efforts was a racing variant of the 1100 known simply as the 1100 S. It featured a tuned engine and a dramatic streamlined body by Fiat which was loosely based off the pre-war 508 CMM and helped the car achieve nearly 100 mph.
The two-seat body was produced by Carrozzerie Speciali at Fiat's own Officine Lingotto under the direction of Giuseppe Cogno. Several of the early cars don a badge with this script.
The structure itself was an aluminum body built over the Fiat 1100B chassis.
Learn more: 1947 Fiat 1100 S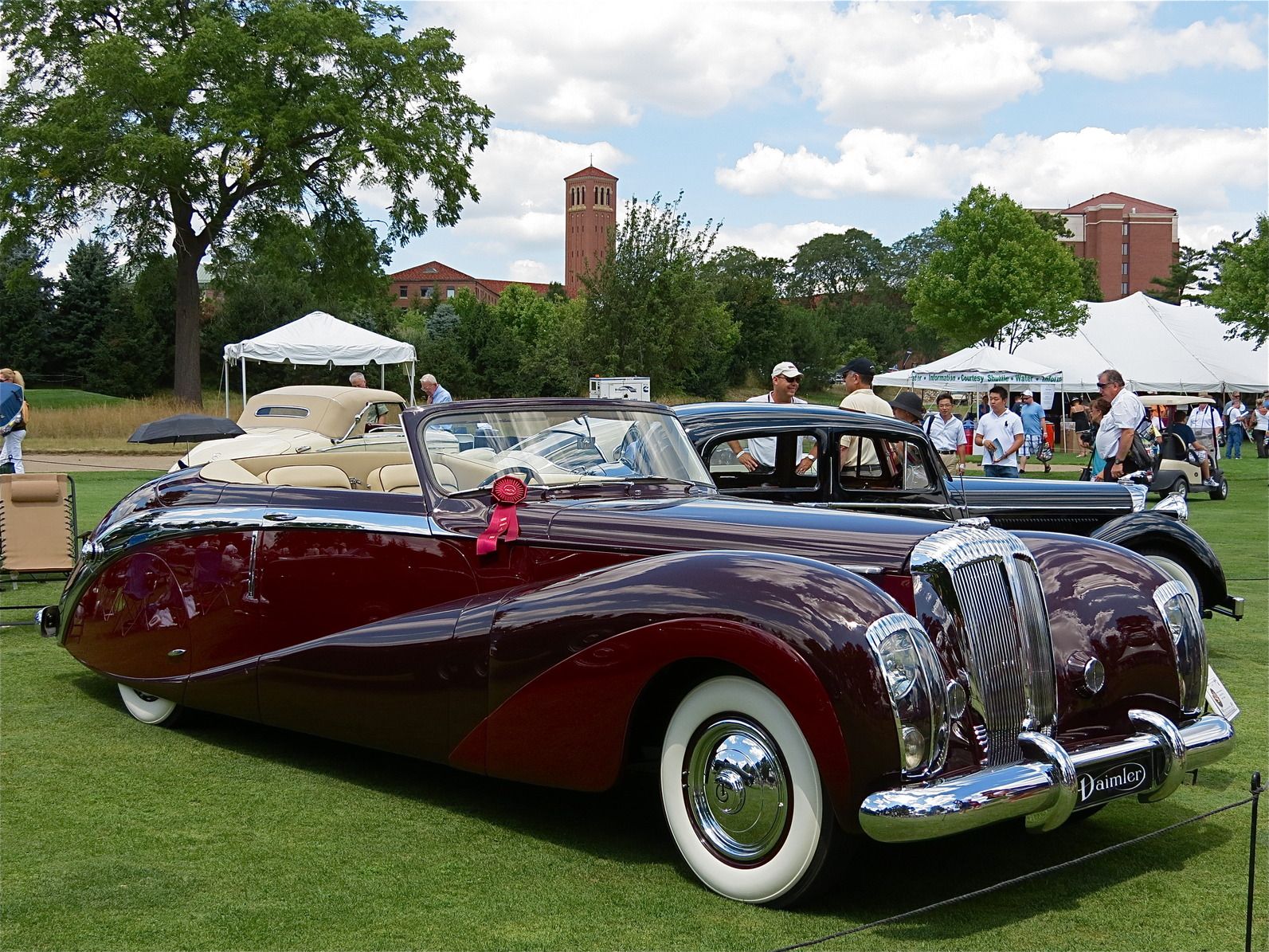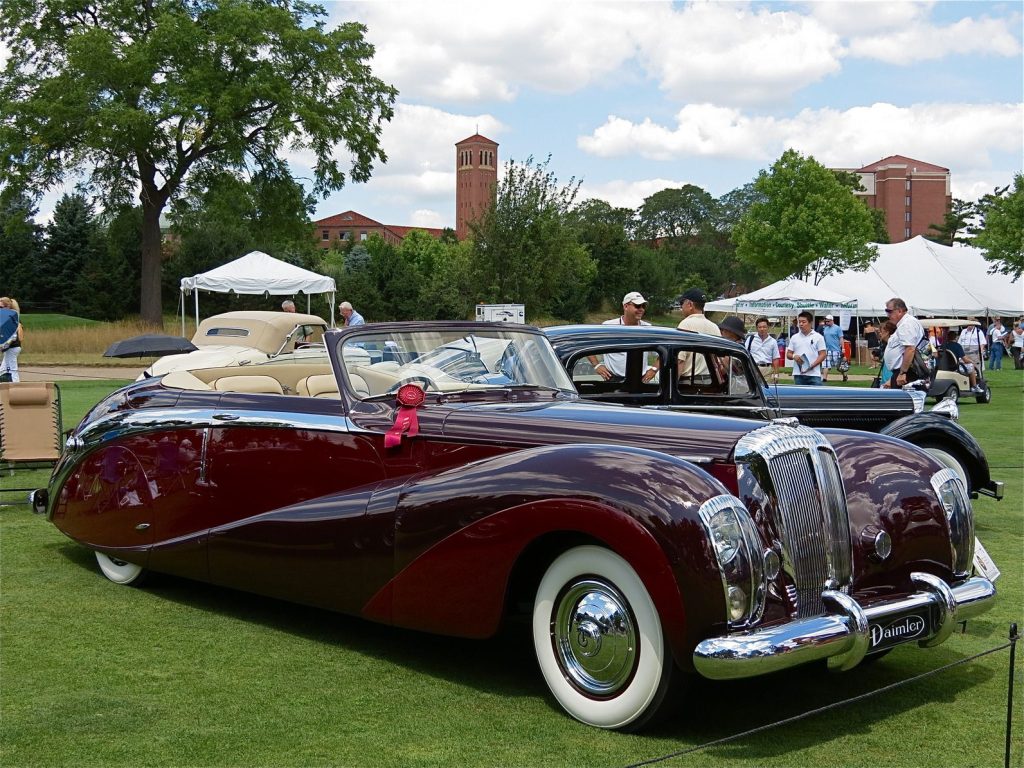 Daimler DE-36
The 147-inch wheelbase Daimler DE-36 chassis was powered by a 150hp straight-eight displacing 5460cc (5.4L). The large, silky smooth engine was coupled to a Daimler Fluid Flywheel transmission, controlled by a pre-selector mechanism. Factory documents indicate as many as 216 DE-36 chassis were built, with the final units being dispatched in 1953.
As would be expected, the lengthy DE-36 chassis were most often fitted with heavy, formal limousine coachwork. Delightful exceptions to the rule were the six magnificent DE-36 drop-head coupes created by Hooper's in the style of Sir Bernard's prototypical 1948 show car. Although delivered in various colors, all of the Hooper DE-36 drop-heads are popularly known today as Green Goddesses.
Learn more: 1946→1953 Daimler DE-36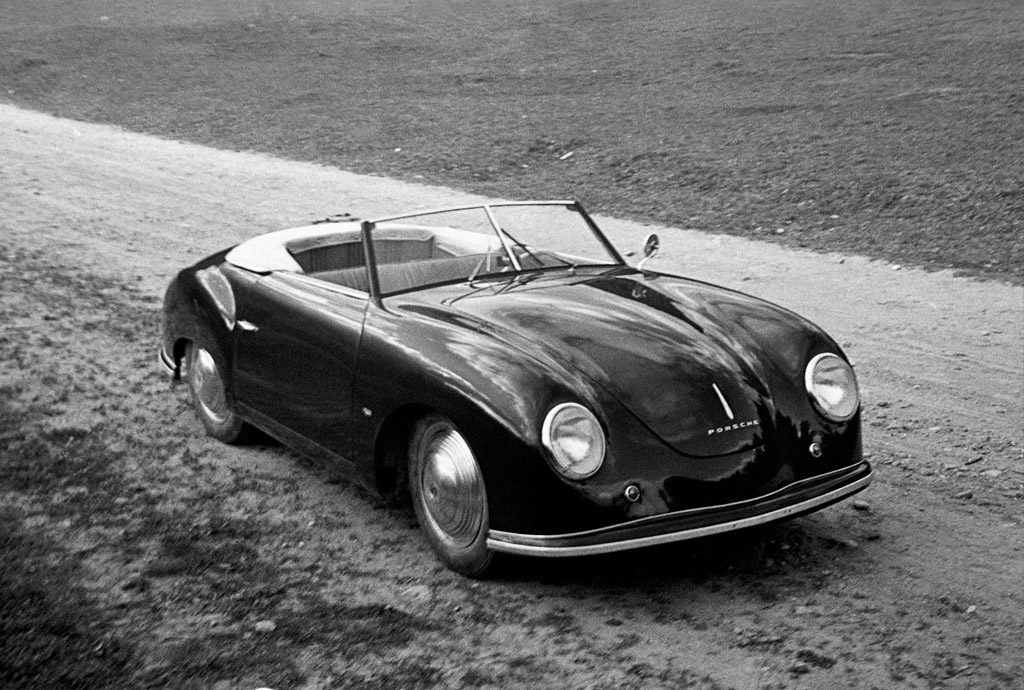 Porsche 356/2 Gmünd Cabriolet
Of the 50 cars made in Gmünd, only eight were built up as cabriolets. Each was outsourced for its body and interior construction. The coupe is also beautiful but for me the cabriolet looks just so perfect.
Six cars were sent to Beutler who constructed them with a slightly different shape than the factory coupes. Included was a kicked-up rear fender line which was used on several of the Buetler cabriolets. Furthermore the dashboard was unique to these cars.
Built to factory designs, Karosseriefabrik Ferdinand Keibl in Vienna produced an entirely different cabriolet of which only two were produced.

Chrysler Thunderbolt
This concept by Chrysler was stunning in 1941 and still looks great today. It easily my favorite of the best designed cars of the 1940s. It was built during the popular Art Deco deco movement before the Jet Age of transportation design. The body was executed by Lebaron in Detroit to a design by Alex Tremulis. It was built as a tribute to George Eyston's 1938 Thunderbolt which reached 357.53 mph on the Bonneville Salt Flats.
Only five or six Thunderbolts were built. They were first seen at the 1940 New York Auto show and subsequently displayed across the United States. Each had a different paint scheme and some had polished brass accents. Later on the name was resurrected by Chrysler in 1993 as a concept car.
Learn more: 1941 Chrysler Thunderbolt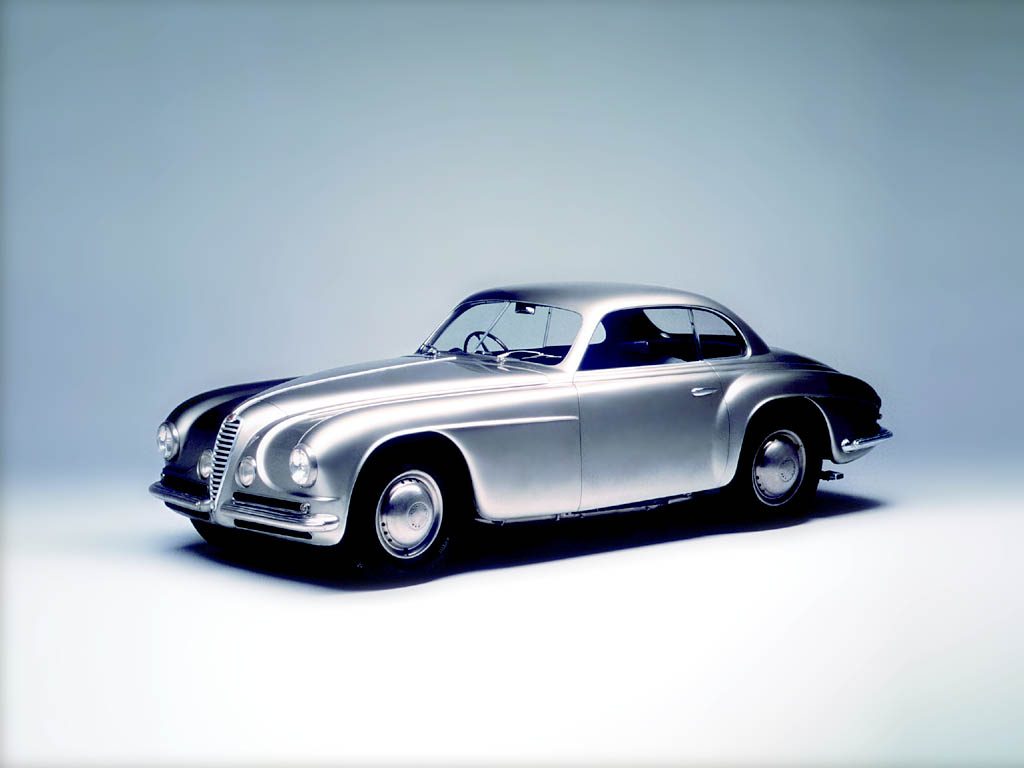 Alfa Romeo 6C 2500 'Villa D'Este'
The classic Villa d'Este version of the 6C 2500 introduced in 1949 was named after its triumph in the concours d'elegance of the same name and is a perfect example of how the lines of a truly successful car are timeless. Its 2,443 cc six-cylinder engine has triple Weber carburettors. Not only that , it was capable of a top speed of 165 km/h with its Superleggera (extra lightweight) body, by Touring. Only 36 were built.
1949 Alfa Romeo 6C 2500 'Villa D'Este'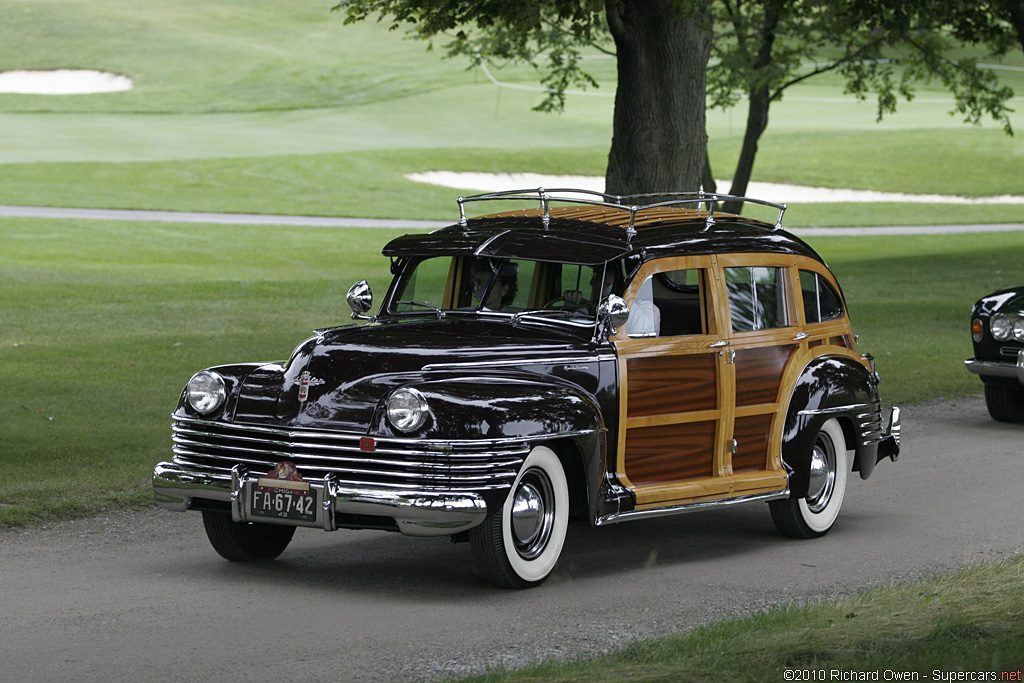 Chrysler Town & Country 'Barrelback' Wagon
The 'Barrelback' Wagon makes our list because it was so unique and did an amazing job of capturing the public's attention.
For 1941 and 1942, Chrysler built their Town & Country Wagon as a "limousine for the country" with deluxe appointments and lavish a lavish wooden frame. This nine-passenger station wagon, became known as the Barrelback for their curved rear bodywork which was only seen on the early cars. The Wagon was built on Chrysler's windsor chassis and benefited from its 241.5 cu. in. L-head inline six-cylinder engine that produced 1018 bhp. It was the first to include genuine wood exterior panels.
Learn more: Chrysler Town & Country 'Barrelback' Wagon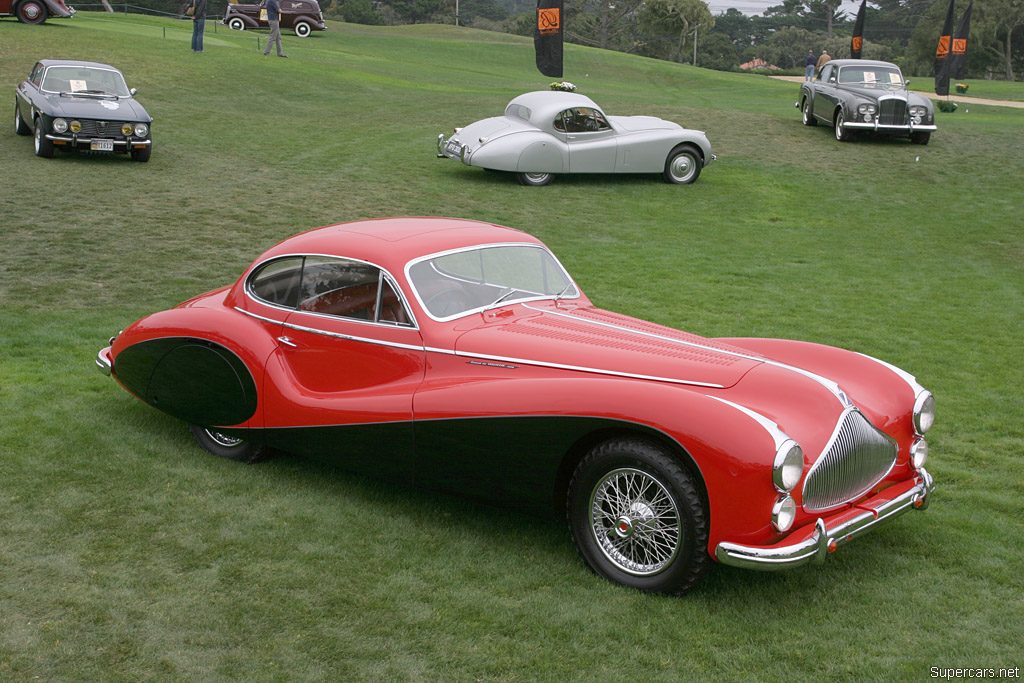 Talbot-Lago T26 Grand Sport
One of the immediate post-war cars that received notoriety for its speed was the T26 Grand Sport (GS). It was built for either racing or luxury and benefited directly from Talbot's successful T26 Course Grand Prix car. As such it was expensive, rare and helped Louis Rosier win the LeMans 24 Hour race.
The GS replaced the Record chassis which was named for its remarkable top speed. Having a 4.5-liter, inline-6 with aluminum cylinder heads and triple carburetor fuel feed from the T26 the Grand Prix cars, the GS was one of the world's most powerful production cars. It produced 190 bhp which was good for around 125 mph depending on the body that was fitted.
Learn more: 1948 Talbot-Lago T26 Grand Sport, 1948 Talbot-Lago T26 Record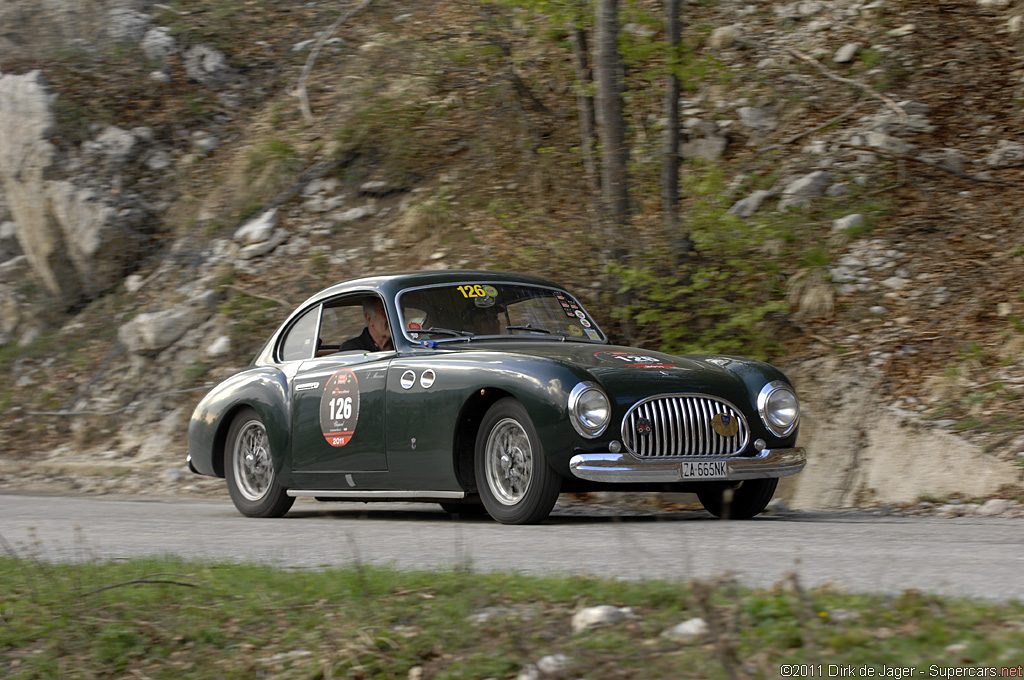 Cisitalia 202
After producing a several customer D46s, and achieving a debut victory in the Brezzi Cup in Turin, Cisitalia focused on building small passenger car based on the D46, including it's Fiat components and space frame chassis. Called the 202, each cars was finished as a rolling chassis and bodied by various design houses. Pinin Farina was responsible for a definitive coupe which set the visual standard for all future sports car bodies having a low and flat hood.
Learn more: 1946 Cisitalia 202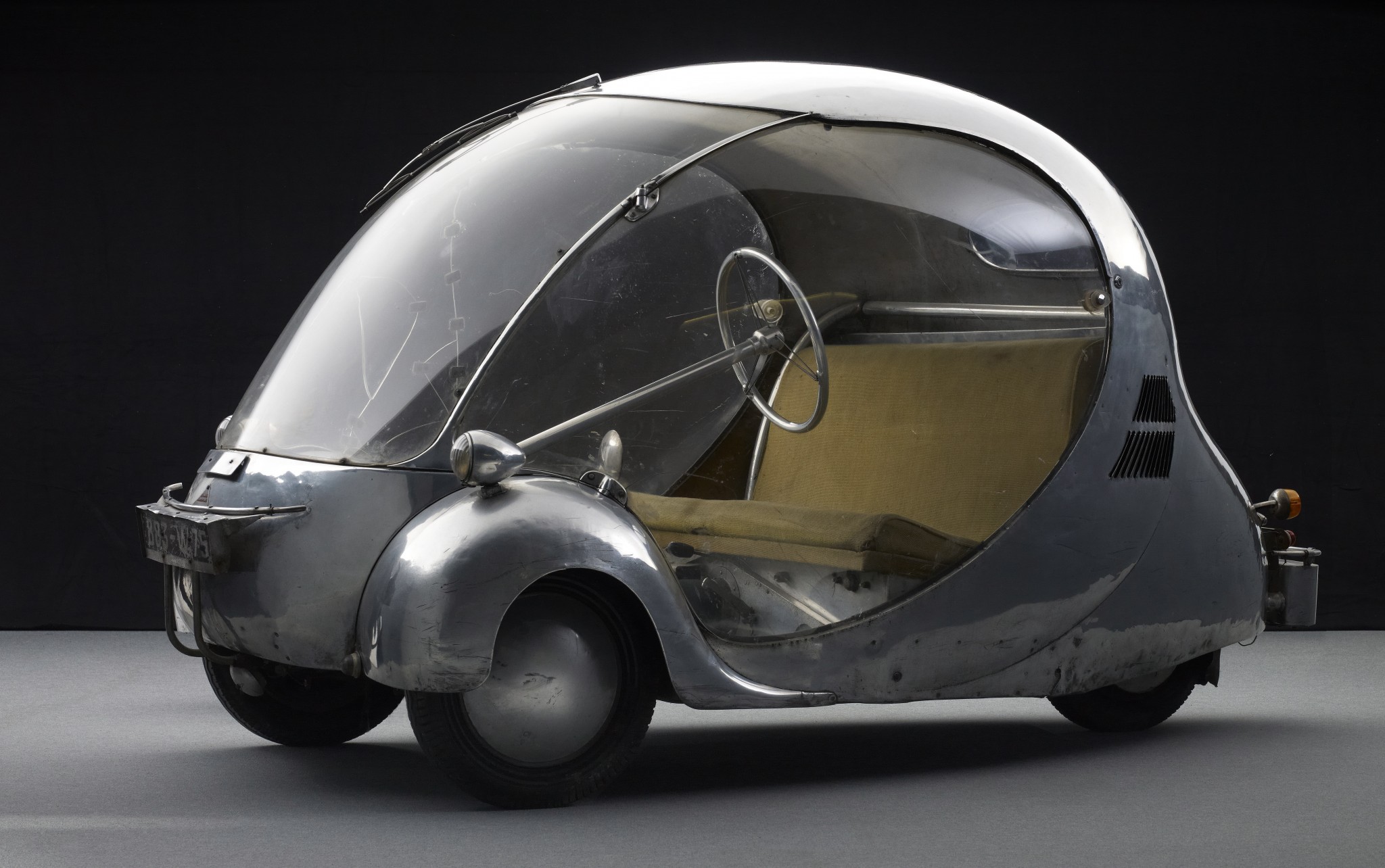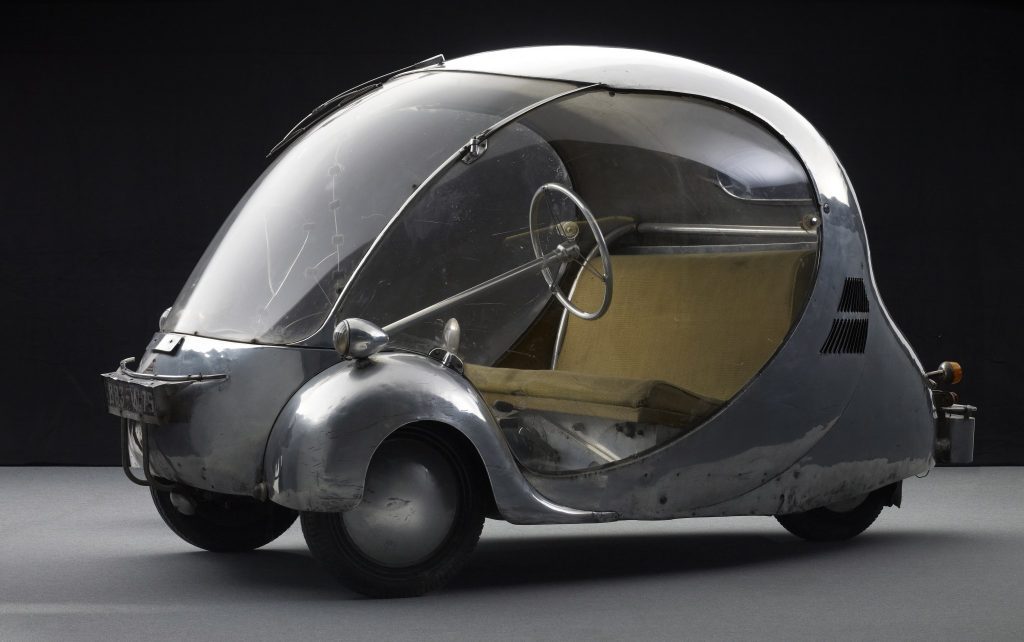 L'Oeuf electrique
Eat your heart out Tesla. L'Oeuf electrique, literally 'the electric egg,' was built by French artist, designer, and engineer Paul Arzens in 1942 for personal use. With a 60-mile range and a 37 mph top speed, the egg was the ultimate urban vehicle years before the first electric Smart ForTwo took to the streets. It was futuristic, unique and a design masterpiece. The car was made of aluminum and Plexiglass and Arzens chose the electric powertrain due to shortages in petrol due to the war. It had 100 km range and could hit 70 km/h.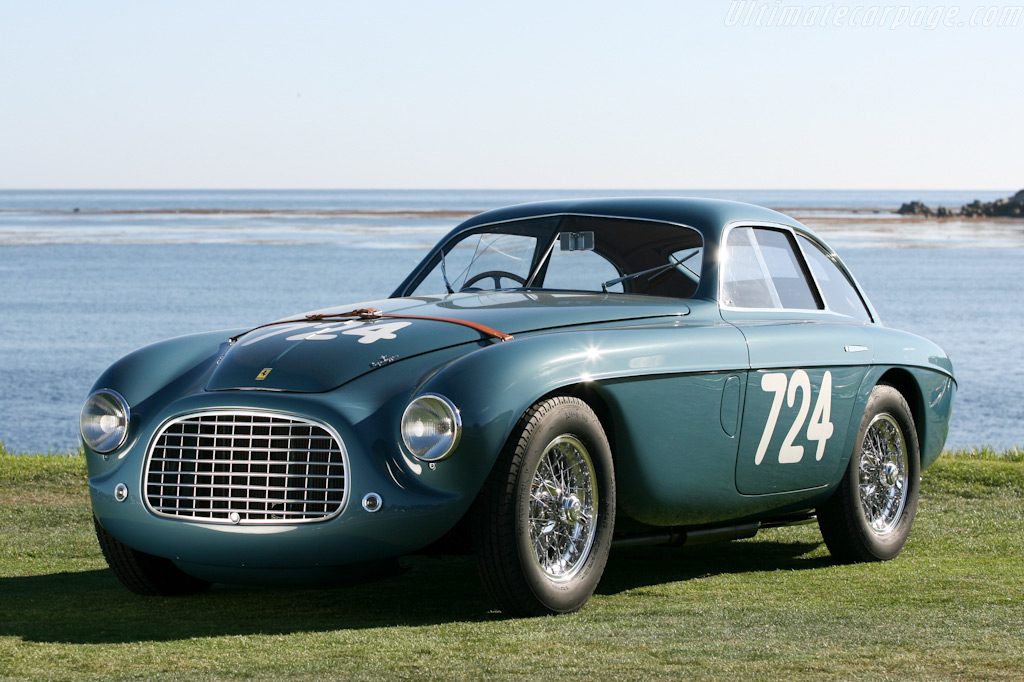 Ferrari 166 MM Zagato Panoramica
Zagato and Ferrari's associations began at Alfa Romeo, when Zagato's light weight aluminum bodies helped Alfa during their most dominant period in history. After Enzo Ferrari left Alfa as race driver, and then later as head of the racing team, he started manufacturing cars under his own name which won races from their onset. Several customers requested Zagato bodies for their Ferrari, and this, chassis 0018M, marks the first Ferrari-Zagato collaboration.
Not only was this Zagato's first Ferrari, it was Ferrari's first coupe and Gioacchino Colombo, one of Ferrari's consultants, collaborated with Zagato to reach the final design. Called the Panoramica, the coupe was a thoroughly modern design and had a very curious greenhouse, with Plexiglas windows that curved with the roof.
Learn more: 1948 Ferrari 166 MM Zagato Panoramica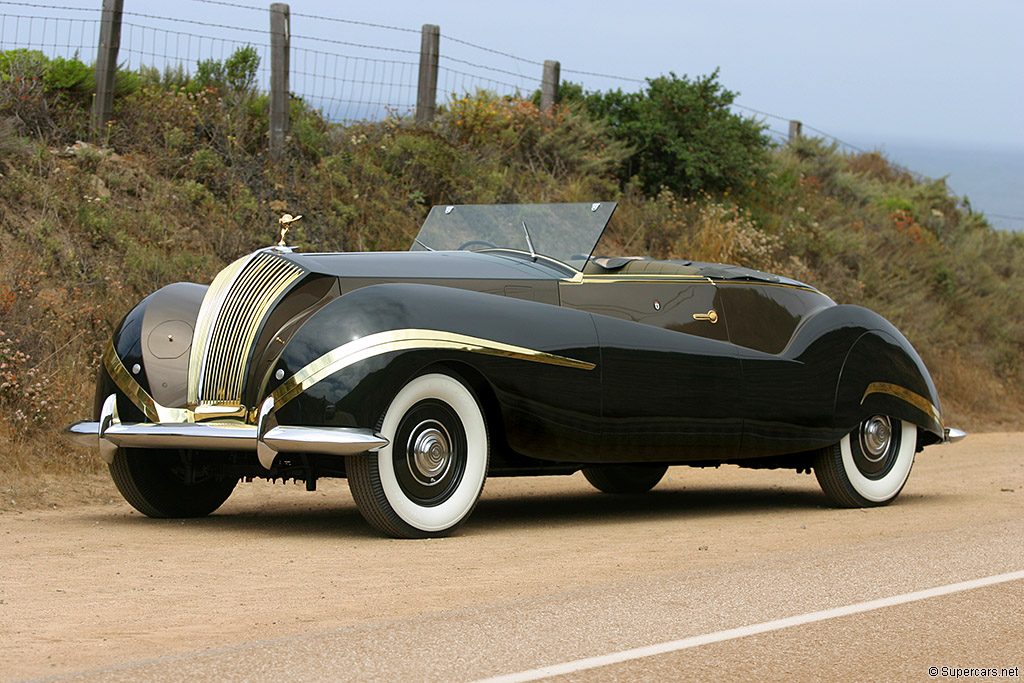 Rolls-Royce Phantom III Labourdette Vutotal Cabriolet
Rebodied in 1947 by Labourdette of Paris, this Phantom III was the designer's last and arguably most daring work. It was commissioned by the flamboyant Louis Ritter who let Labourdette go all out, so much so, the body alone cost $44 000 which made it one of the most expensive of its time- equal to around $375 000 in 2003.
Learn more: 1947 Rolls-Royce Phantom III Labourdette Vutotal Cabriolet
Ferrari 166 MM Touring Barchetta
To commemorate their first major success at the prestigious 1948 Mille Miglia, Ferrari upgraded their successful 166 Sport and made a series of cars called the 166 MM. These contributed more than any other previous type, scoring many of Ferrari's first international victories and established the company as a serious manufacturer of sports cars.
For their new series, Ferrari outsourced production of the bodies to Touring of Milan who made 25 roadsters using their patented Superleggera technique. It fixed aluminum-alloy panels directly to a tubular space frame which was both light and rigid.
Learn more: Ferrari 166 MM Barchetta
Aston Martin DB1
After David Brown briefly tested Aston Martin's Atom prototype, he paid 20 000 GBP and the company was his. He had grand ideas for his new purchase, but started out with a new drop-head coupe that became the DB1.
The underpinnings for the DB1 came from a 1939 Aston Martin prototype called the Atom. It used a SOHC, 8-valve, 2-liter engine that produced 90 bhp. The chassis was a unique multi-tube affair and provided support for an awkward 4-seat sedan. David Brown decided that a convertible or drop-head coupe version of the Atom would be a good launch point for this new venture. He had Claude Hill stiffen the chassis to accept a new flowing body. The design used lateral supports that were tall enough to support the top of the body.
Learn more: Aston Martin DB1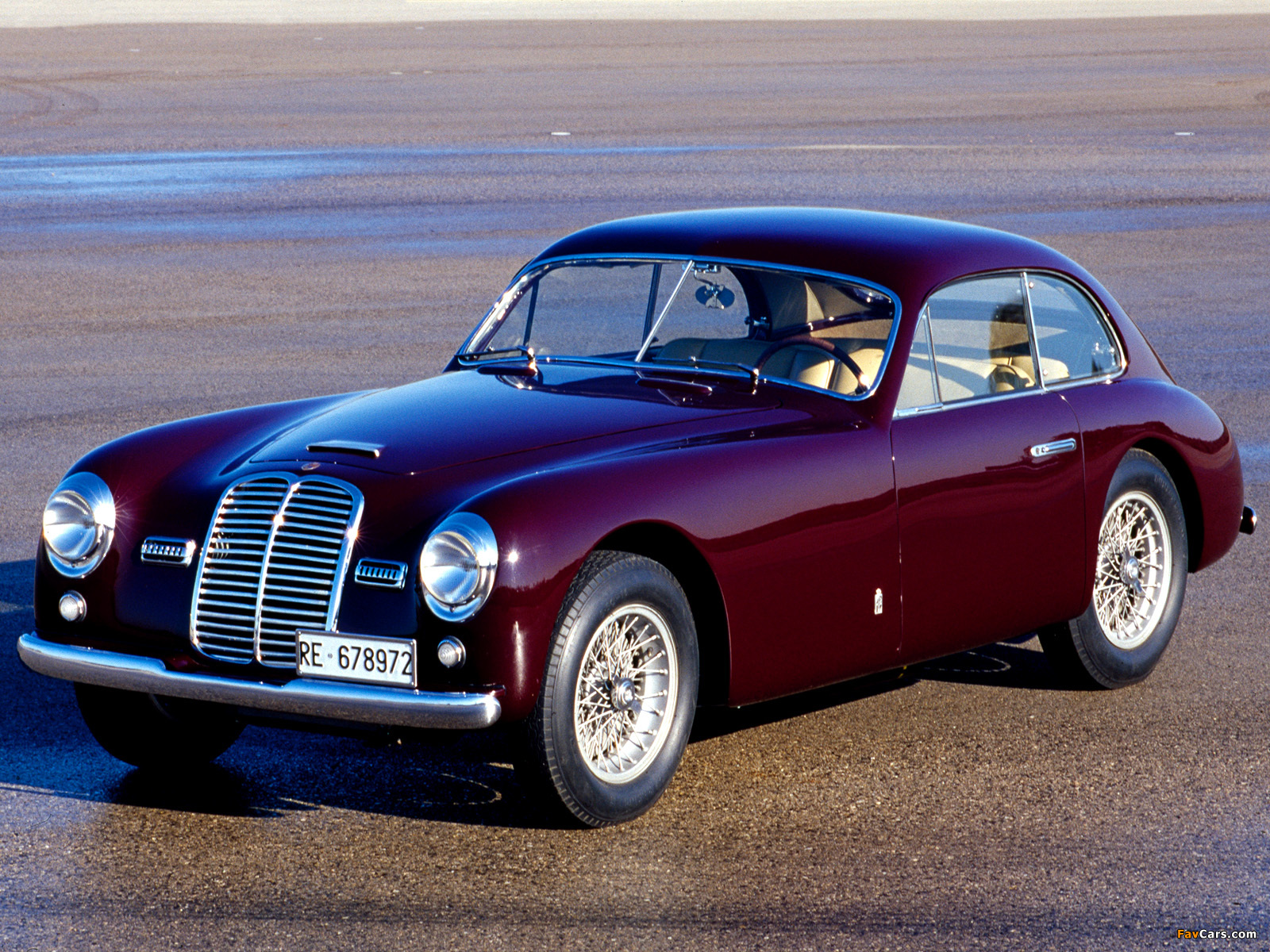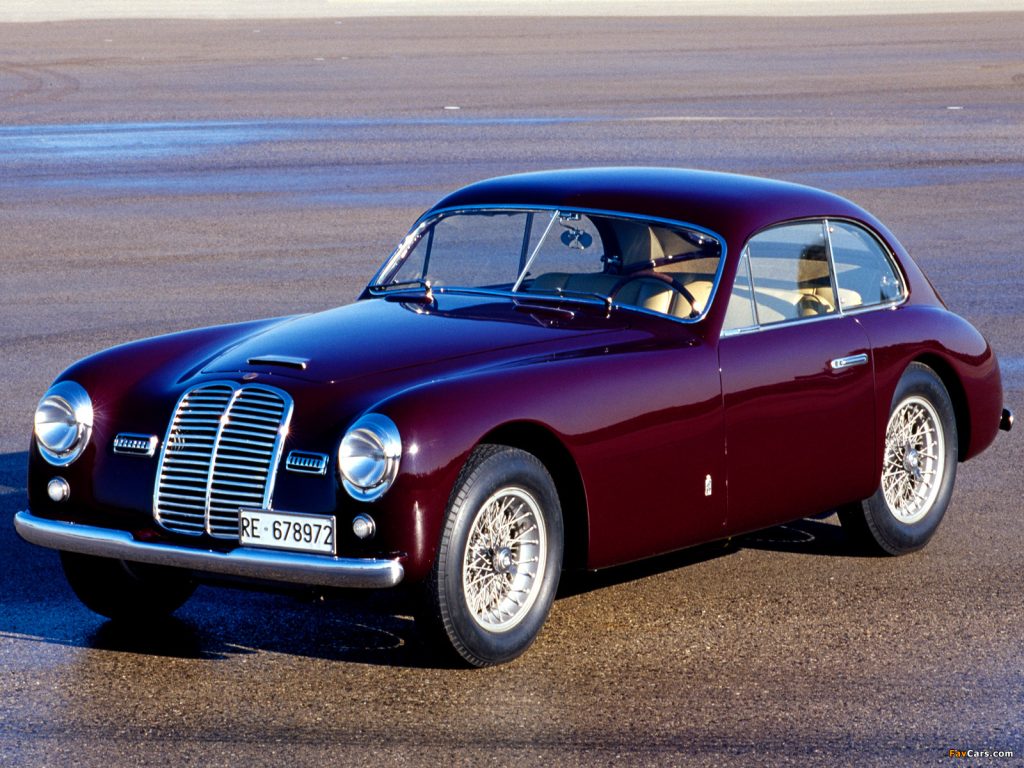 Maserati A6 1500
The first Pinin Farina 1500 appeared on the stand at the 1947 Geneva Motor Show. Painted in grey, the car was well received. At the time, the car's aluminum 1.5-litre engine produced only 65 bhp which was ample for the roads of Italy. Most cars were fitted with a single Weber 36 DCR, but a few were fitted with a triple carburetor setup and even more were retrofitted with it.
Learn more: Maserati A6 1500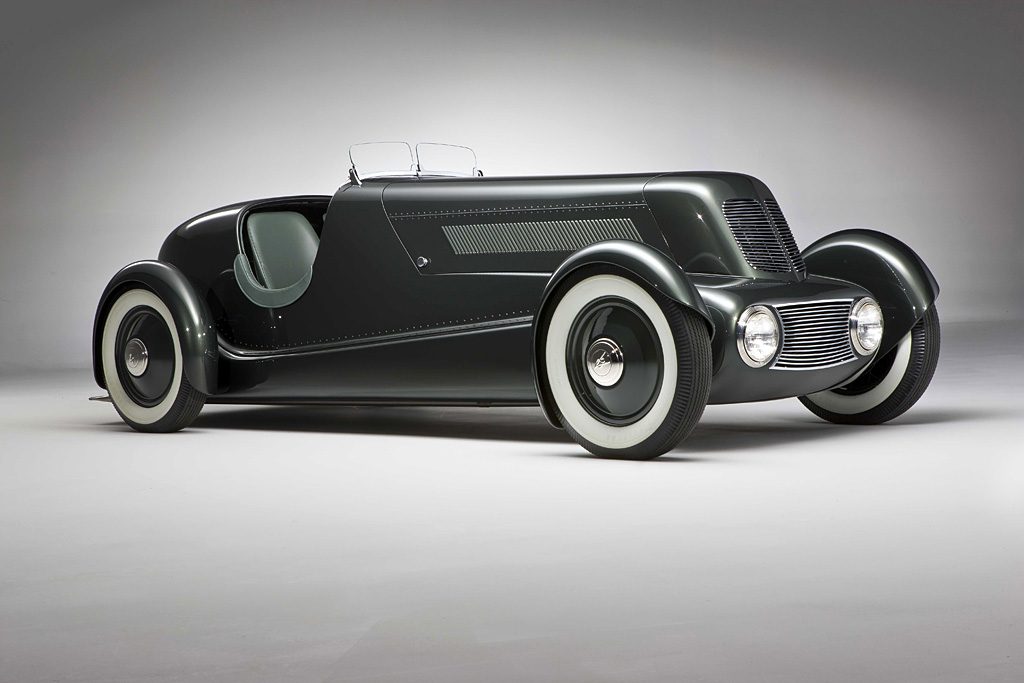 Lincoln Ford 40 Special Speedster
Built using aircraft engineering, the 1940 Special Speedster was one of several cars that were made for the personal collection of Edsel Ford. He had Lincoln-designer Bob Gregorie design a new Speedster on the Ford V8 platform. The result was six boat-tail Speedsters that were custom built a modified chassis and unique aluminum body. The second was built in 1934 and was much more streamlined than the initial car.
Learn more: 1940 Lincoln Ford 40 Special Speedster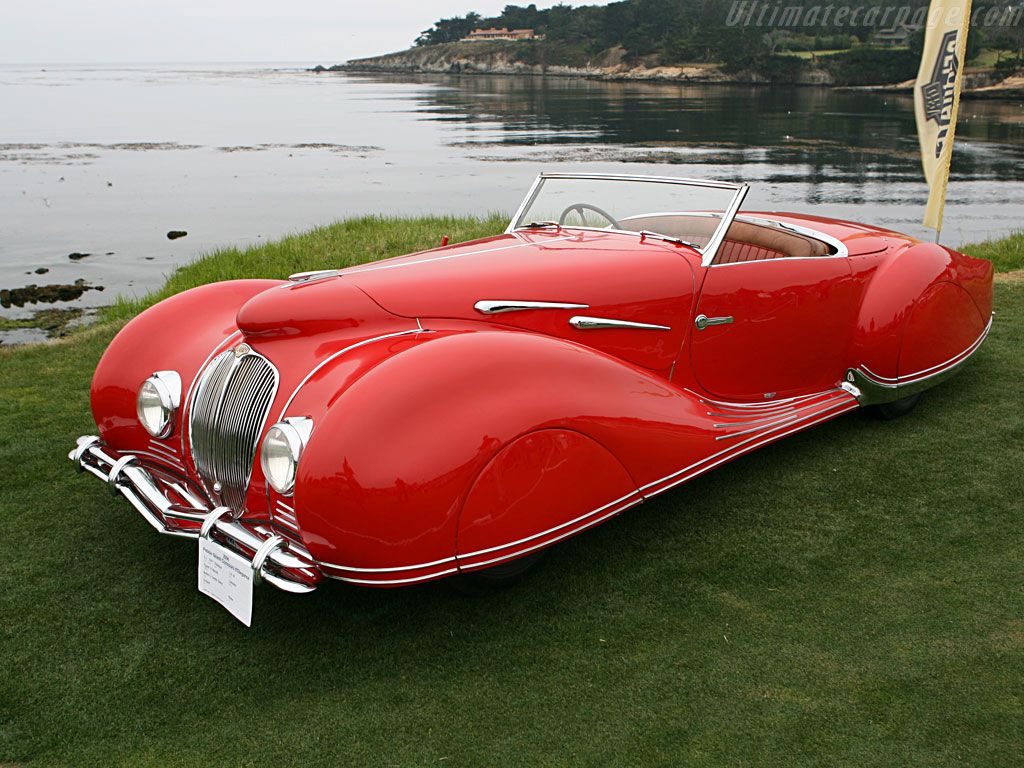 Figoni & Falaschi Delahaye 135 MS 'Narval' (1946)
Giuseppe Figoni was one of the most renowned coachbuilders before the war, but perhaps his greatest creation came in 1946, just after WWII. This Delahaye Narval, named for a noble sea creature, was one of just seven built for the Salon de l'Automobile de Paris of 1946. It's also arguably the most beautiful car of the forties.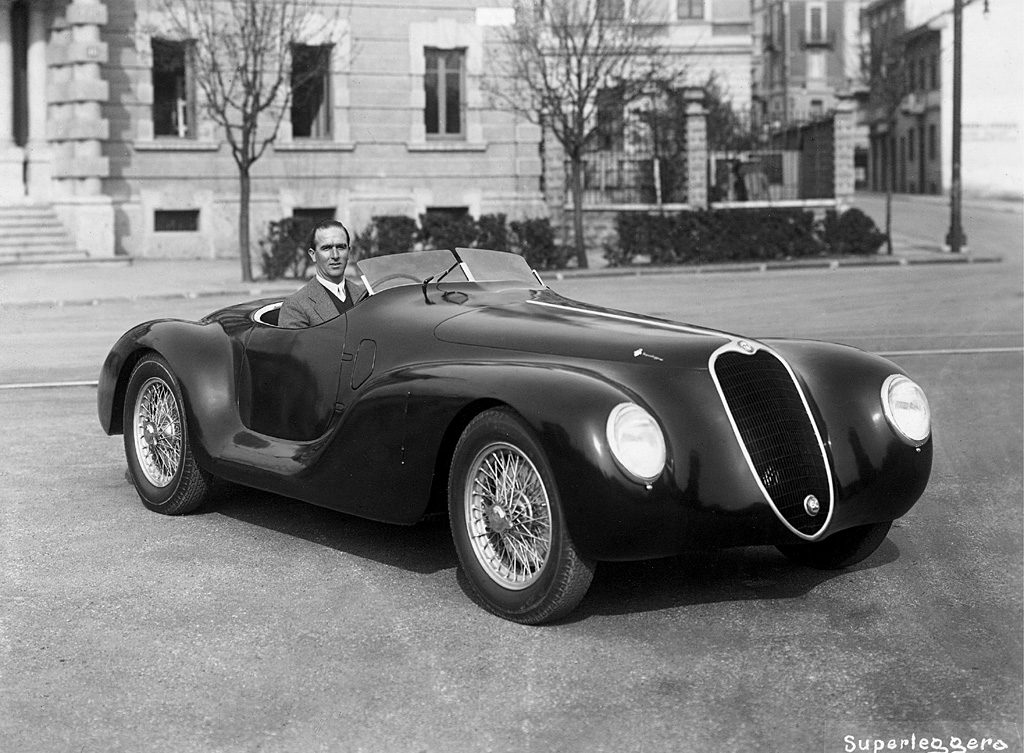 Alfa Romeo 6C 2500 SS 'Torpedino Brescia'
In 1940 Carrozzeria Touring Superleggera built three roadsters for the upcoming Mille Miglia known as the "Torpedino tipo Brescia". These were built on the most developed version of the 6C 2500 known as the Tipo 256. Alfa Romeo switched focus from the 8C to the un-supercharged 6C in accordance with the 1939 'Sport Nazionale' class.
Shape for the Torpedino came from a sole car built for Righetti for the Targa Abruzzo in August 1939. The three Mille Miglia cars were slightly different in detail, but had the same overall shape as the car which debuted at the Targa Abruzzo.
Learn more: 1940 Alfa Romeo 6C 2500 SS 'Torpedino Brescia'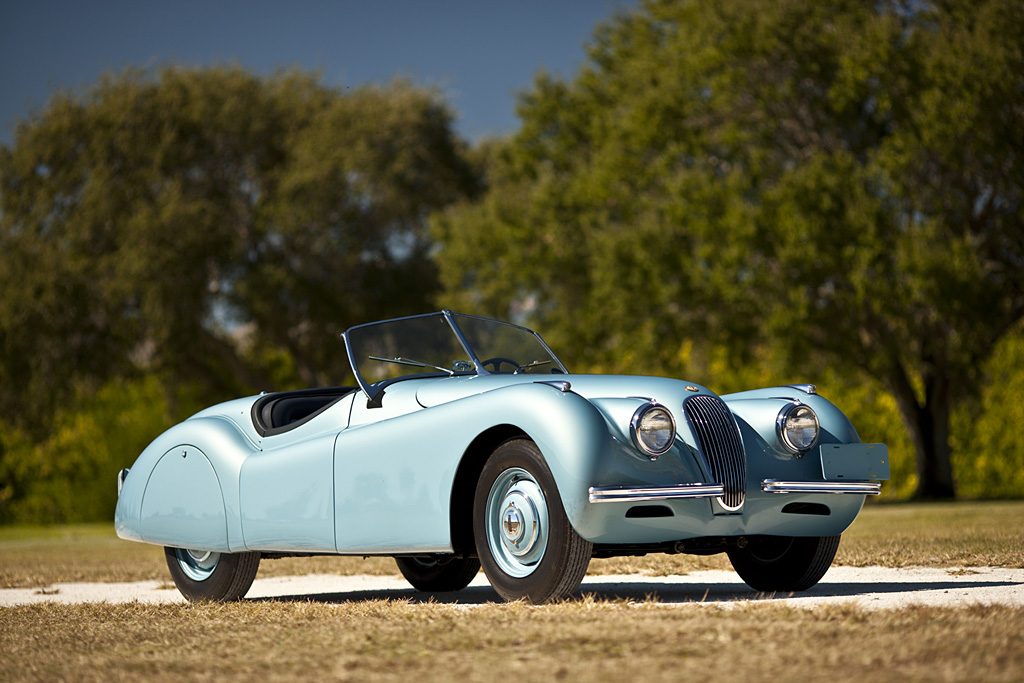 Jaguar XK120 Alloy Roadster
With its French curves, 120 mph performance and a price tag of £988, the XK120 was Jaguar's most important roadster. In 1948 it set a new standard of post-war performance which progressed into a comprehensive motor sports campaign and won the 24 Hours of Le Mans five times in seven years. Before it was allowed to race, Sir William Lyons personally tested an XK120 at Silverstone himself. He called it the 'Super Sports Two Seater', but after reaching 120 mph in Belgium, it was simply known as the XK120.
Inspired by Italian sports cars and the streamlined styling of the French design houses, Sir William Lyons personally sketched out the basic silhouette for the 120. In what must have been a difficult task, the panel beaters slowly embodied the simple steel chassis with a sweeping hand-hammered aluminum body. The resulting prototype was timeless, simple and instantly recognizable.
Learn more: Jaguar XK120 Alloy Roadster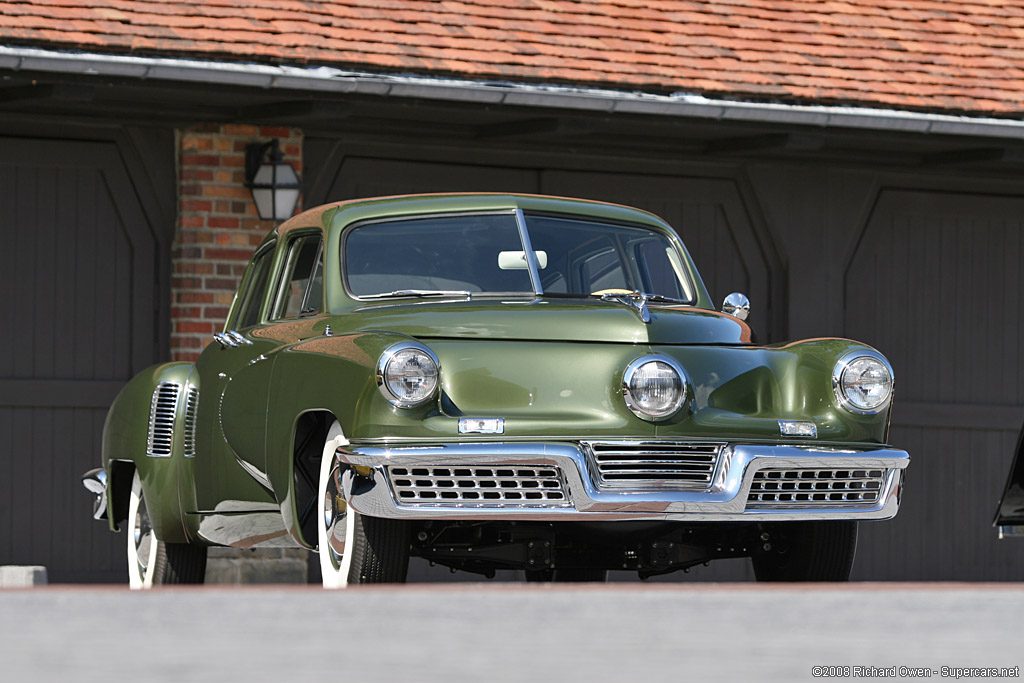 Tucker Torpedo
In the 1940s Preston Tucker set out to make an entirely new vehicle. His goals were to build a safe car free from traditional design. Initially known as the Torpedo and later the Model 48, this car is an icon of American film and culture.
Tuckers were immediately recognizable with their triple headlight arrangement a sloping fastback design. Along with unusual details, Tuckers offered a host of safety features and industry firsts.
One of the most interesting parts of the Tucker is its opposed, six-cylinder power unit. The engine was made mostly with Tucker designs and was loosely based off a helicopter engine. Large venture capital funds enabled Tucker to develop this distinct power plant.
Learn more: 1948 Tucker Torpedo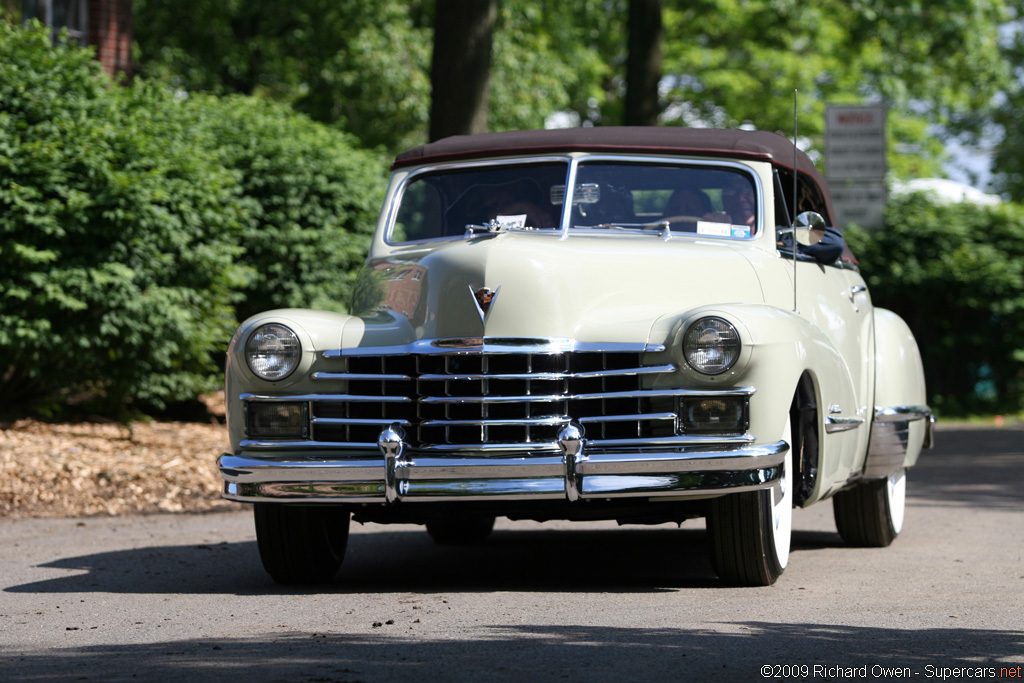 Cadillac Series 62
In 1947 Cadillac slightly upgraded their model year that included a new 5-bar front grill and numerous trim differences. These include a new Cadillac fender script, stainless-steel fender guards. In 1947 Cadillac also offered optional fog lights built into the grill and Sombrero wheel covers.
Learn more: Cadillac Series 62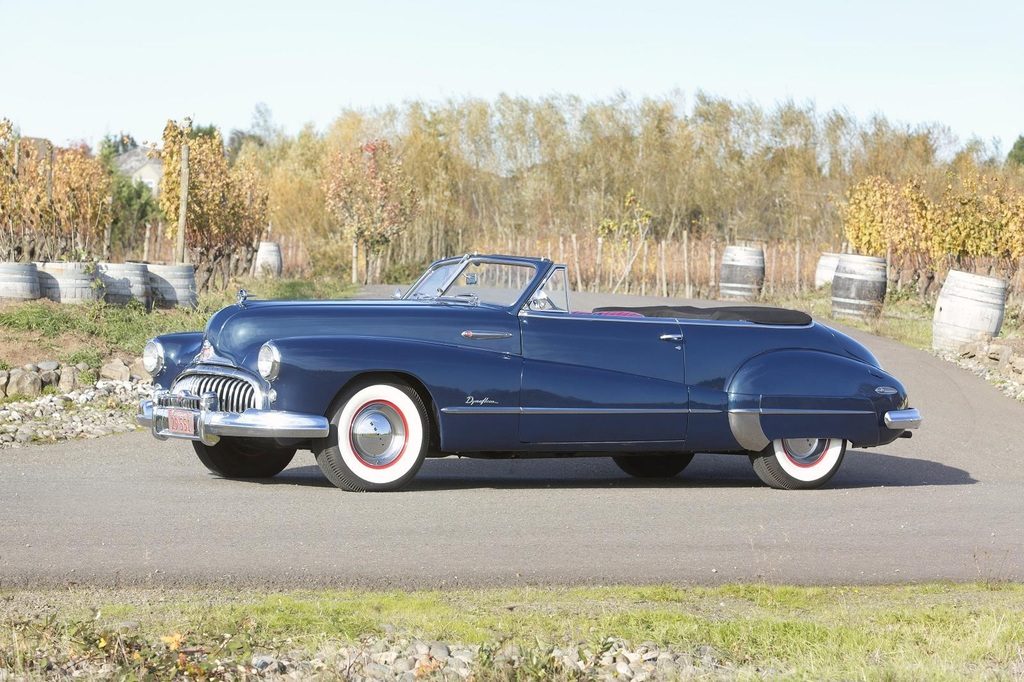 Buick Roadmaster Riviera Coupe
The Riviera Coupe offered the unusual Hardtop Convertible style to the Buick line which mimicked the look of a true convertible with the top up. Like the Roadmaster, the 1949 had three portholes and the "fuselage style" body also shared with Cadillac
Learn more: Buick Roadmaster Riviera Coupe