Personally, I still think the BRABUS B63S 6×6 is the most impressive 'car' this German tuner ever made, agreed, it's 'only' 700 hp, but just look at this one for a second … it's a six-wheeled, extremely tall Mercedes based beast with portal axles, what more could you ask for? Perhaps a little smaller and possibly less expensive? In that case, a BRABUS 800 based on the Mercedes G-Wagon might be an option, 800 hp in somewhat the same body style (not a pickup mind you), but lower than the 6×6, with regular axles, so less intimidating.
If you want to most extreme SUV possible you'll be set with the BRABUS 900 ROCKET EDITION, their latest conversion based on the G63 model, limited to only 25 units worldwide at nearly $700,000, this is the one if you really want to have the comfort of a massive off-road vehicle, but still want to reach 100 km/h from a standstill in 3.7 seconds and have a car that doesn't run out of breath until she reaches 280 km/h … in a car that's styled like a brick house!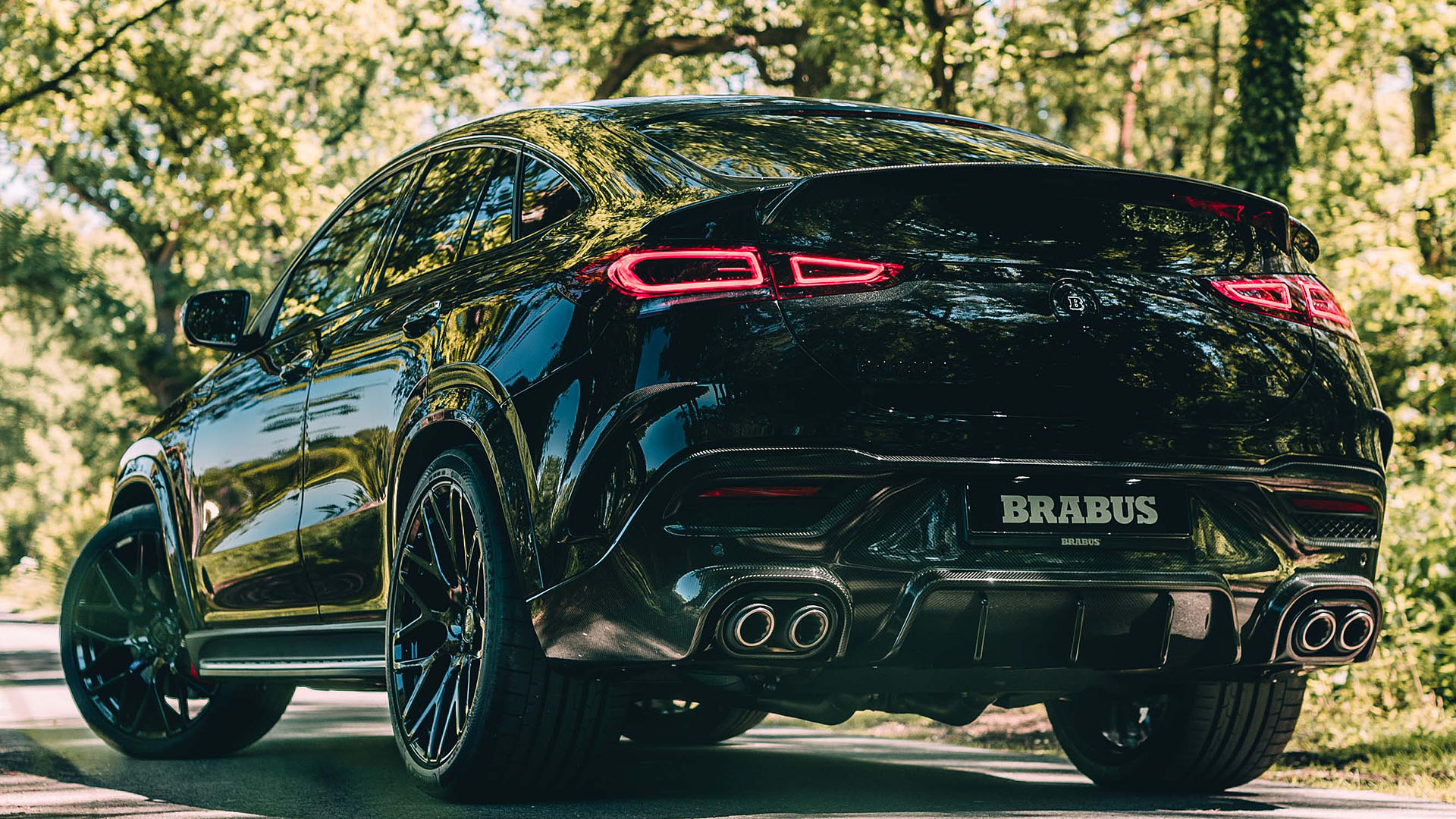 But for argument's sake, let's say you're not a fan of the box-style found on the Mercedes G-Class vehicles … in that case, BRABUS now has an alternative for you, based on the Mercedes-AMG GLE 63 SMatic+ Coupé (try fitting that on the rear fascia in chrome lettering), called the BRABUS 800 SUV Coupe, and you've guessed it, this coupe-styled SUV comes with 800 hp from the big V8 engine at the front.
This one comes with a much rounder, more contemporary design compared to the big G-Wagon, and because it's called an SUV Coupe, there is a sloping rear window, much like on a two-door car, now keep in mind that could mean a little less headroom for the rear seat occupants, but it does look cool nonetheless, something we've also seen on the BMW X6 model for instance, but back to the BRABUS 800 SUV Coupe now, which on these presentation photos is finished in black, the trademark color from BRABUS.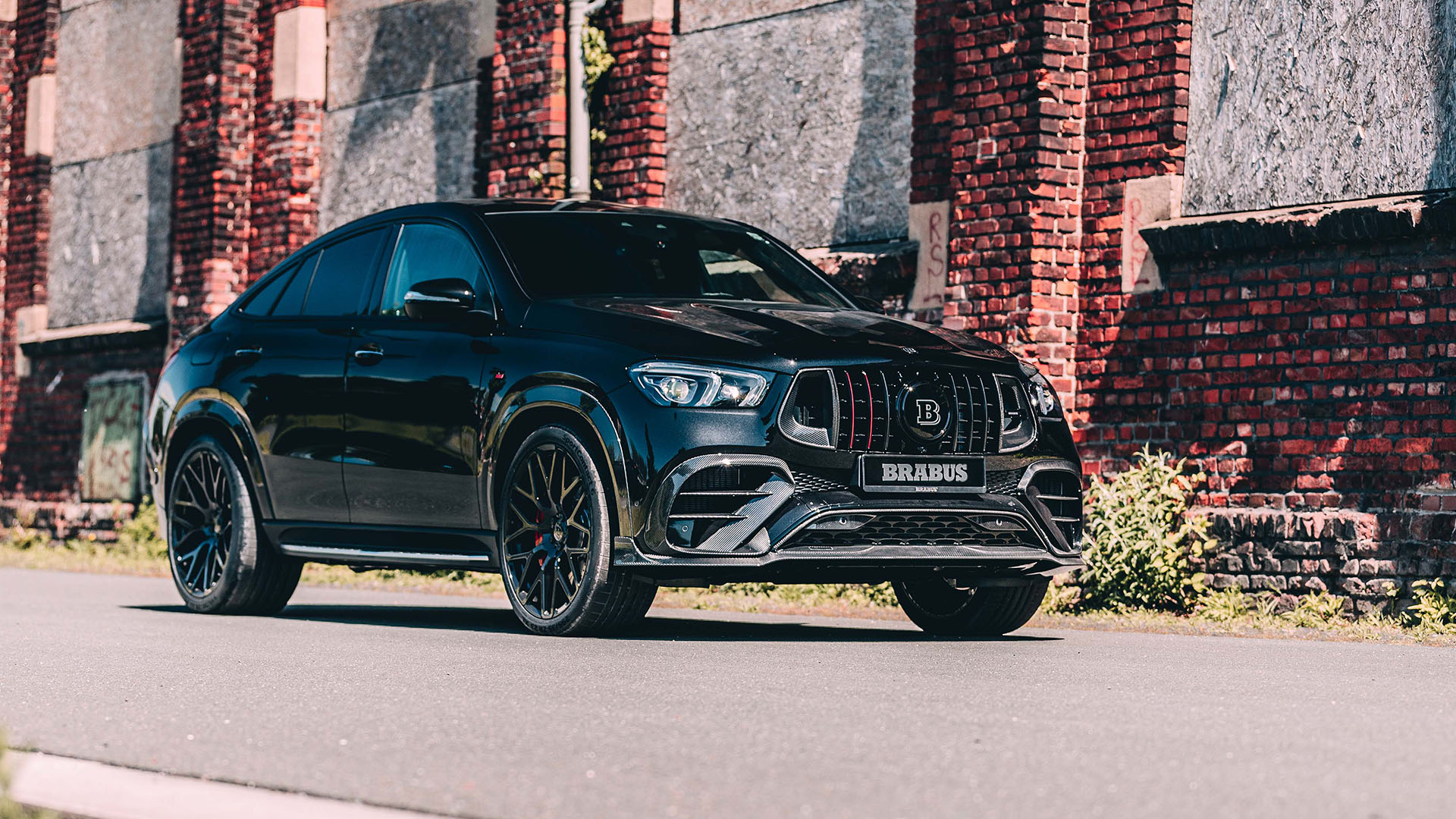 When you receive your Mercedes-AMG GLE 63 SMatic+ Coupé from the factory, there will be a 4-Liter V8 twin-turbo engine fitted with 612 hp and 450 kW of torque under your right foot pedal, which isn't bad already … but it's nothing compared to what BRABUS will give you after a visit to their workshop in Bottrop, Germany. A power increase to 800 hp (588 kW) and no less than 1,000 Nm of torque … and while this isn't the 900 hp from the ROCKET G-Wagon version, this SUV Coupe takes only 3.4 seconds to go from 0 to 100 km/h (3 seconds less than the 900 ROCKET) and has it's top speed electronically limited at 280 km/h (174 mph), so this black beauty will outrun the G-Class ROCKET by 10 km/h.
A lot of this power increase is thanks to the modifications to the base engine, BRABUS has over four decades of experience in this field, adding 188 hp or 138 kW to a modern engine might be more difficult than you imagine, and let's not forget the base GLE 63 S comes with an integrated mild-hybrid starter generator, so any engine tuning has to take that into consideration too.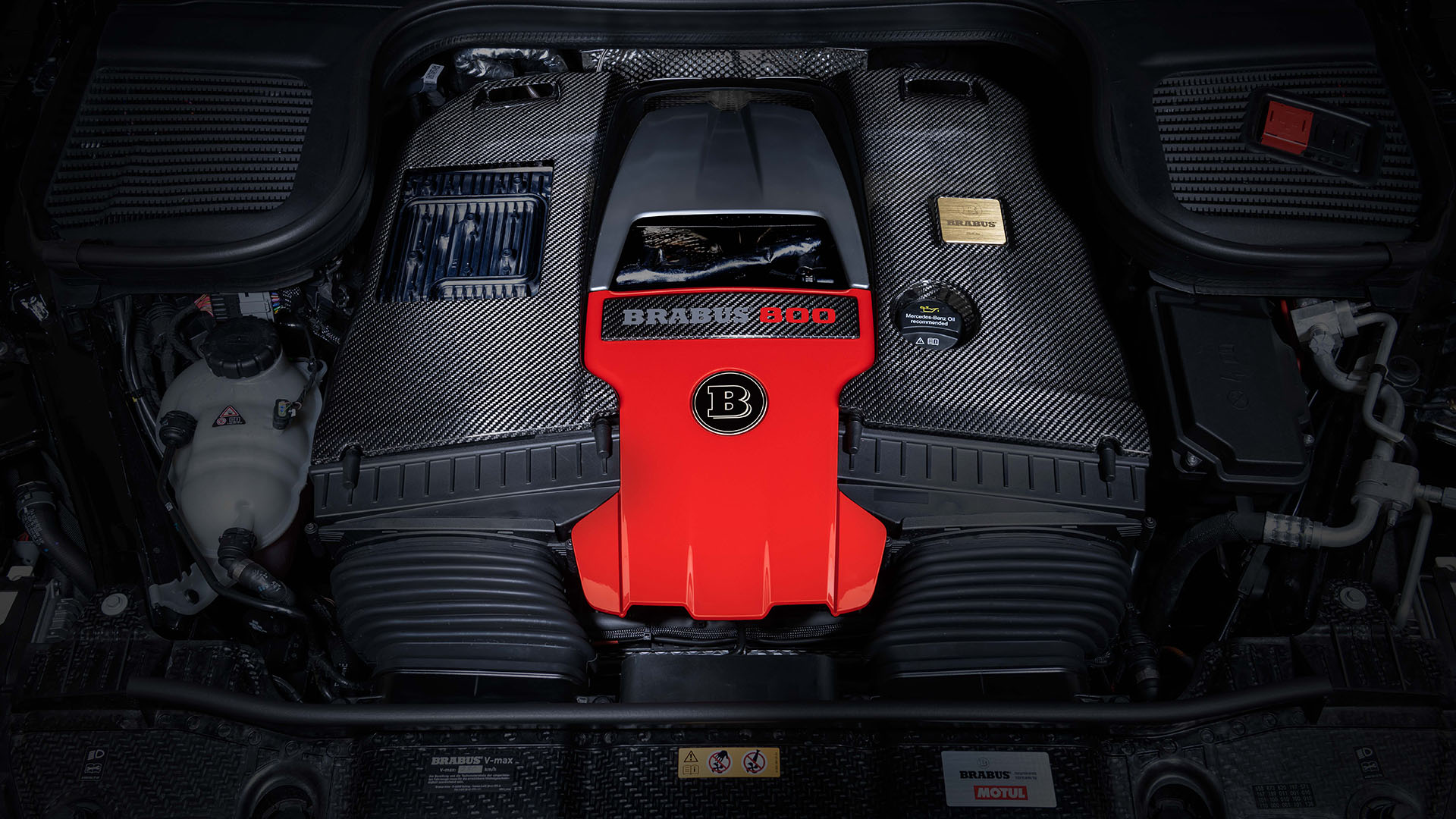 To get to a power output of 588 kW (800 hp) at 5,900 rpm and reach a peak torque of 1,000 Nm (737 lb-ft) at a low 3,500 rpm, custom turbos with larger compressor unit, modified core assembly, and reinforced axial bearings are required, these new units can produce a maximum boost pressure of 1.6 bar, add the BRABUS PowerXtra auxiliary control unit and the engine is remapped in terms of injection, boost pressure, and ignition. More importantly, BRABUS engine tuning comes with a 3-year/100,000 km (62,000 miles) warranty.
If you are not ready to go for the full BRABUS 800 package on your Mercedes-AMG GLE 63 SUV, there is also the BRABUS PowerXtra B40 option, this plug-and-play control unit will add 88 hp (64.7 kW) to the base engine effectively creating a BRABUS 700 model in that case, which is still not bad, but that 800 does sound a lot more impressive in the end.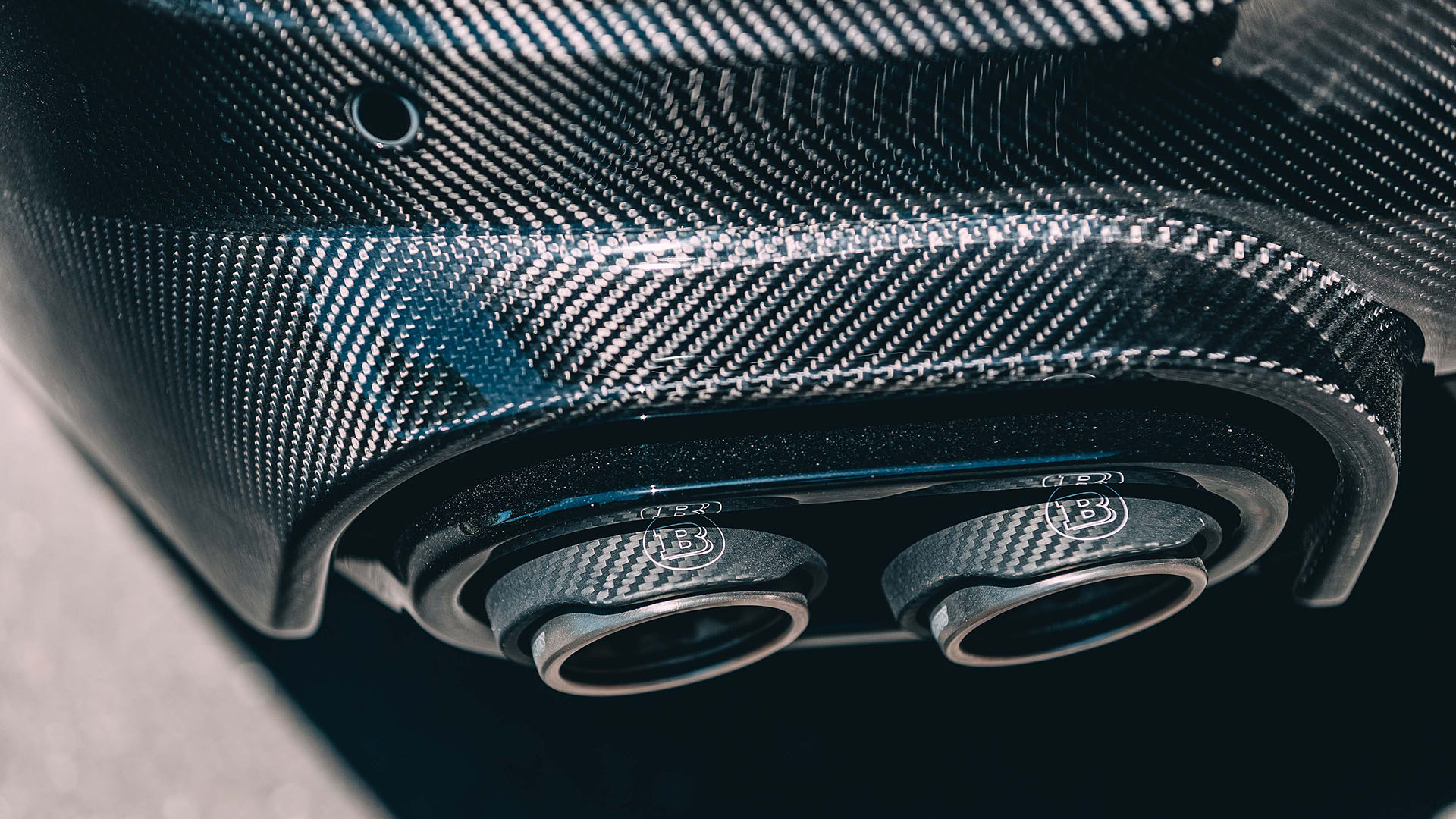 BRABUS engine tuning can be requested on its own, but you really should add their stainless-steel high-performance exhaust system to your order too, if you do something, do it right from the start, with actively controlled flaps in the pipes, and a quartet of massive 90mm (3.5 in) titanium/carbon fiber exhaust tips, I'm sure you'll have the 'Sport' mode set all the time … except when you have to leave early in the morning or arrive late at night … and you are still on speaking terms with your neighbors… in that case, the 'Comfort' mode might be a good idea so you don't wake them up.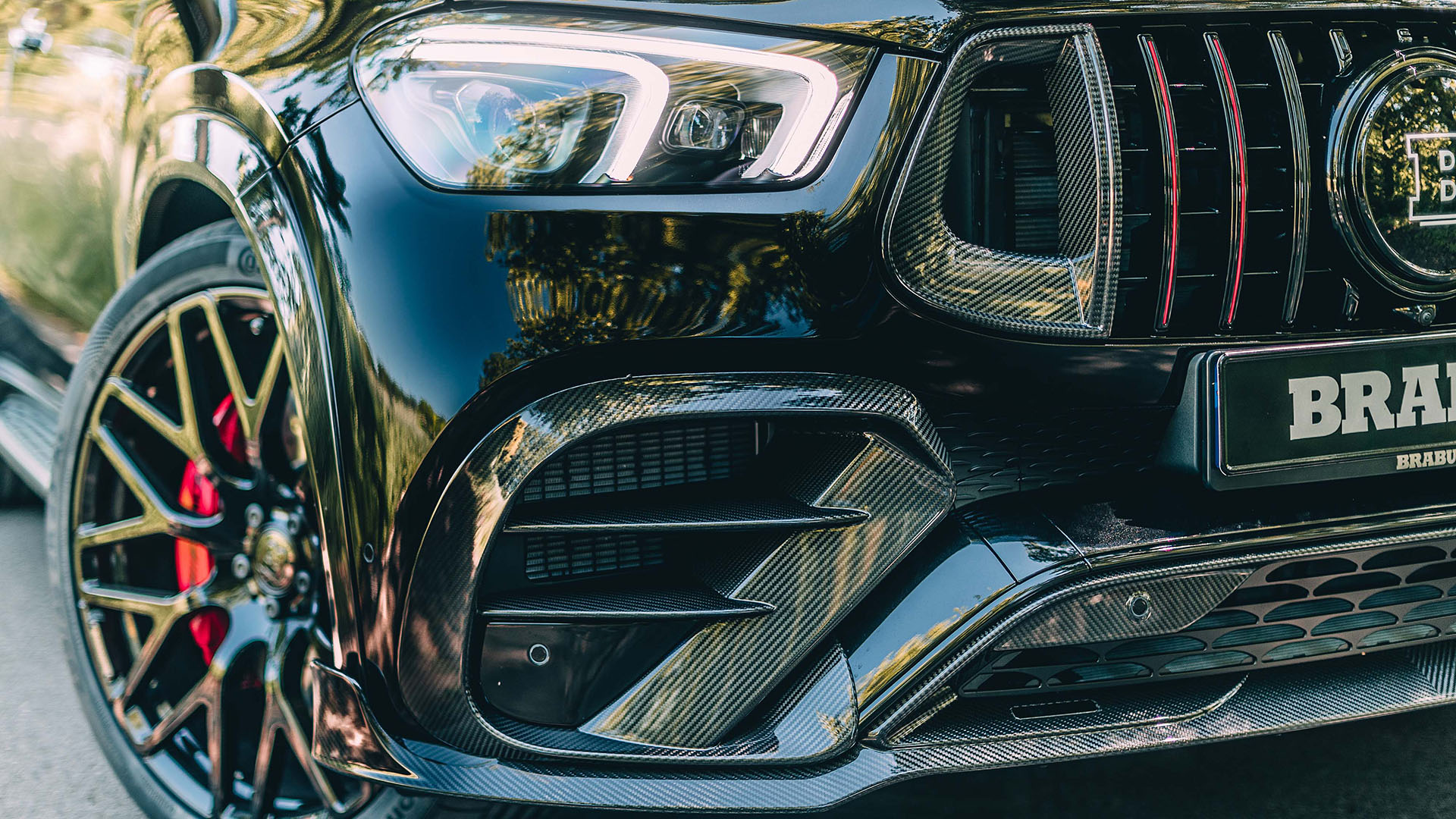 Now you have the power and the sound to match … so what's next? The looks of course, and we wouldn't be talking about this BRABUS 800 SUV Coupe if they didn't have a nice aerodynamic package available too, available in either glossy or satin-finished, clear carbon fiber. For the front, you can get a lower spoiler that fits onto the factory original bumper, the BRABUS spoiler comes with vertical stabilizers on either side for that aggressive look, add the custom BRABUS front grille, with their touch of red on two spokes, and you've completely transformed the looks of your GLE as seen by your fellow drivers in their rearview mirror.
Air intakes for the front bumper made from carbon fiber are another option from BRABUS, as are the integrated intakes in the grille, on the driver's side there is even a crosspiece with the famous BRABUS logo, complete with lights that are activated by pulling a door handle or when you approach the super SUV with the key card in its vicinity.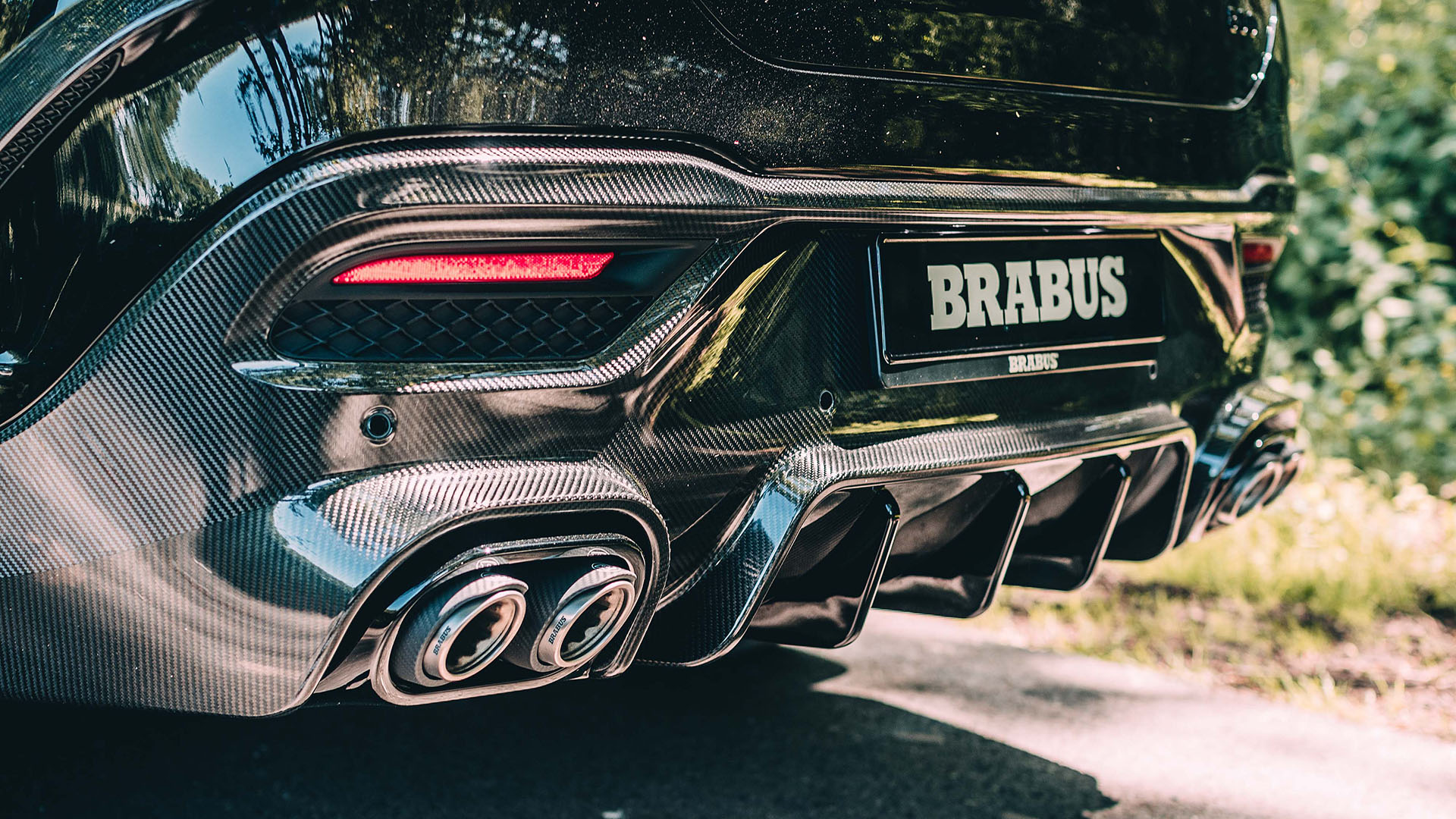 If you did opt for the BRABUS exhaust system, you might want to consider the custom rear diffuser too, made from visible carbon fiber, it is integrated perfectly into the factory original rear bumper, but more importantly, it comes with the perfect openings to fit those 90 mm exhaust tips from the BRABUS sport exhaust system. Beautiful carbon fiber side air vents for the rear bumper are another must-have, especially if you also fit the BRABUS exposed carbon fiber wheel arch extensions and the rear spoiler, which is a three-piece unit for this GLE 63 based BRABUS conversion.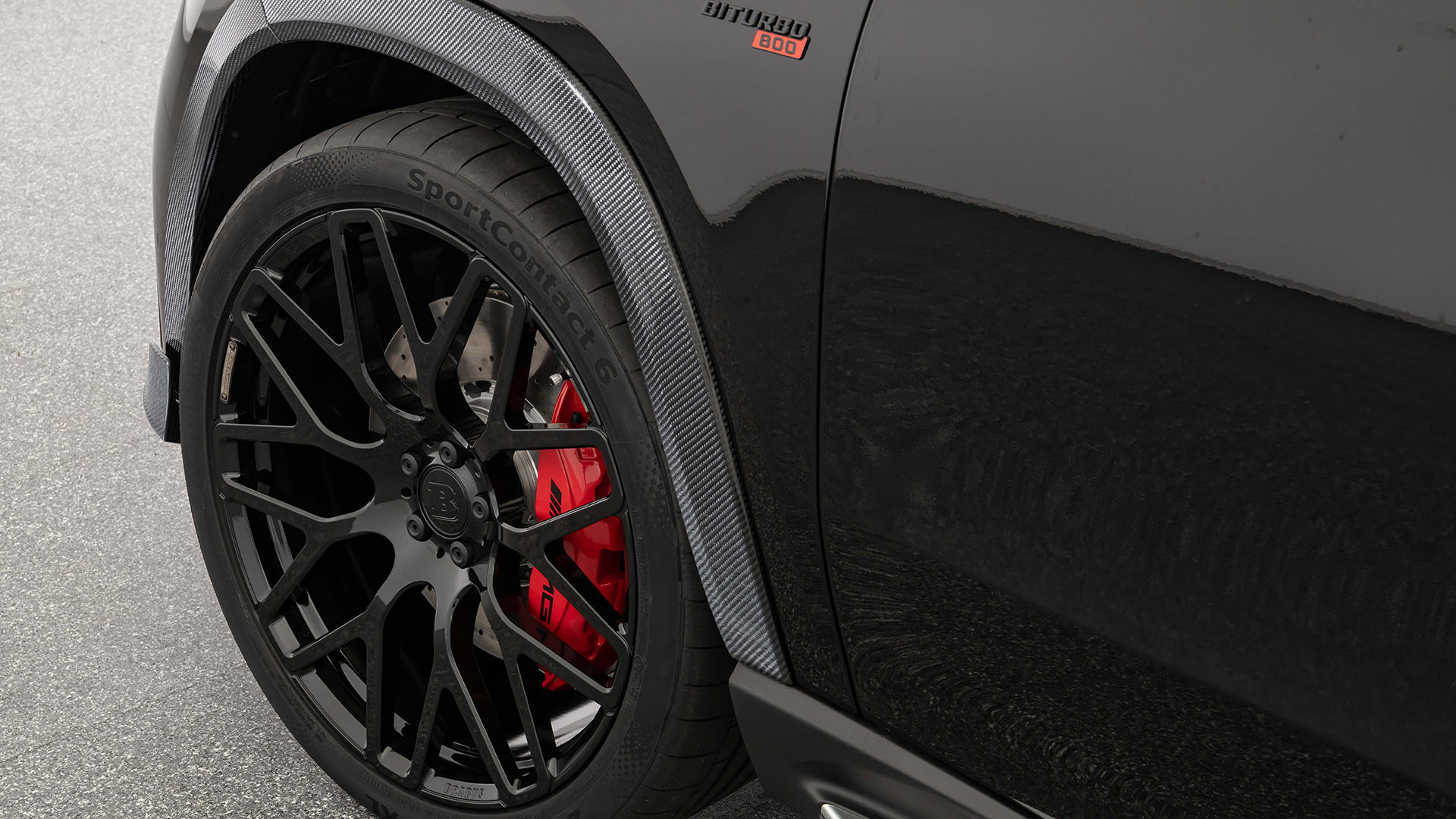 A BRABUS car wouldn't be complete without a new set of shoes either, so you can choose between Monoblock alloys in different designs and sizes that go from 22 up to 24 inches, the show car on these photos rolls on a set of BRABUS Monoblock Y "BLACK PLATINUM" hi-tech forged wheels, 10×23 inch at the front and an even wider 12×23 on the rear axle, shed with 295/35 R 23 and 335/30 R 23 respectively so those wheel arches are nicely filled, especially with the BRABUS control module for the standard AIRMATIC air suspension that results in a 25 mm (1 in) lowered ride height.
The BRABUS 800 SUV Coupe can be bought as a complete BRABUS vehicle but you can also ship your GLE 62 S to them for conversion, both options are available, as is a complete interior overhaul with the finest leathers and custom stitching patterns, prefer Alcantara, no problem. Aluminum pedals, carbon fiber interior parts, tv screens for the rear … BRABUS can accomplish just about any request a client might have … and if you bring in your existing Mercedes-AMG GLE 63 S you can ask to convert it in stages, so you can save up for the invoice inbetween.