Contents: Production Variants / Special Variants / History & Evolution / Specs & Performance / Pictures / Recent News & Posts
The Ultimate Guide To The Lamborghini Miura: Variants, Specs, Pictures, Performance & More
Years: 1966-1973 / Assembly: Sant'Agata Bolognese, Italy / Layout: Transverse rear mid-engine, rear-wheel-drive / Engine: 3.9L Naturally Aspirated V12 / Units Made: 764 / Original price (base): US$20,000 (1966) / Successor: Lamborghini Countach
Before the first production Miura was completed on April 20th of 1967, Lamborghini produced five developmental prototypes which were used for testing and as show cars. A total of five prototypes were built in 1966 and 1967 which progressed towards the final production specification. These cars were chassis 0502, 0862, 0706, 0961 and 0979. The first one appeared at the 1966 Geneva Motor Show as the Miura P400 GT, also known as the Sperimentale.
The first three of the prototypes featured counter-clockwise crankshaft rotation which later turned clockwise with car number four with the addition of an idler gear. These first three cars also featured a roof-mounted pop-out vents which were abandoned after car four due to leaking issues.
The first four cars benefit from a slightly lower roofline that was raised by car number five to offer additional headroom. Further distinguishing features of these cars include a lack of Lamborghini script on the rear, different rear window slats and more interior indicator lights.
Lamborghini Miura Variants
Lamborghini Miura P400 (Production)

Lamborghini Miura P400S (Production)

Lamborghini Miura P400SV (Production)

Lamborghini Miura P400 Jota (Special)

Lamborghini Miura P400 SV/J (Special)

Lamborghini Miura Roadster (Special)

Lamborghini Miura P400 SVJ Spider (Special)
Lamborghini Miura Models: In Depth Guides
Very few cars managed to change the automobile world like the Miura. It was the first true supercar. It had a radical specification in relation to common engineering of the time. The Miura was endowed with a quad-cam V12 that sat transverse and behind the drivers. Immediately, everything from Ferrari to Aston Martin looked outdated by comparison upon release. It redefined the concept of a sports car. Below we dive into the details on the variants made by Lamborghini.
Lamborghini Miura Special Editions
It turns out that while most of us though the Lamborghini Countach was near perfect as a supercars, there were other (really rich) people who wanted more from their cars. That meant the creation of several special edition Countach cars over the years. There were also factory efforts that never made series production worth mentioning too. We go over some of them below.
The Story. Lamborghini Miura History & Evolution
Only three years after the first Lamborghini prototype appeared at the 1963 Turin Motor Show, Miura number 1 was parked on the Place du Casino during the 1966 Monaco F1 week. The car shared its name with the fierce fighting bulls from Seville and it was completely different from anything Ferrari had on offer. Ferruccio said "the Miura is for the keenest sporting driver who wants the ultimate in looks and performance."1 It caused a stir that weekend and had to be one of Ferruccio Lamborghini's best moments.
efore the Miura, Ferruccio had established himself as a successful industrialist and decided to take on Ferrari with a series of high-quality grand tourers known as the 350 GT and 400 GT. These laid foundations for the Miura, such as the V12 engine designed by ex-Ferrari engineer Giotto Bizzarrini to have as much available horsepower as possible. Initially, this high-revving, 3.5-liter V12 produced a maximum output of 360 bhp at 9800 rpm and was enlarged on the SV to 3929cc for a reported 385 bhp. For the Miura, it was formed from a single aluminum casting that combined the cylinder blocks, crankcase and transmission.
Gian Paolo Dallara and assistant Paolo Stanzani designed the unique steel tub chassis that placed Bizzarrini's V12 engine directly behind the driver in a transverse position. They were inspired by both the Lola GT, a race car developed by Eric Broadley that lent its chassis tub design to the Ford GT; and the Austin Mini with its transverse engine that had a common crankcase for the engine and transmission. The final design was first presented as a bare chassis at the 1965 Turin Motor Show where everyone could admire its radical layout and only imagine what the final product would look like.
Although the Miura chassis design could be mistakenly interpreted as a race chassis, Ferruccio had a strict no-racing attitude. He wrote a policy in the company's bylaws that prohibited racing and avoided the pitfalls of expensive development by trying to intercept Ford vs Ferrari at Le Mans. Instead, the Miura was destined to be a road car of the highest order.
At the Turin show, design of the Miura's body was still up for grabs and at the end of the show Ferruccio gave Nuccio Bertone the job as he was well suited for series production at Carrozzeria Bertone SpA. Initial sketches were laid out by Giorgetto Guigiario who thought he was designing a new Bizzarrini. When he left the firm, Marcello Gandini finished the work which included a lower nose that repositioned the front radiator. Bertone then sent Gandini on vacation while he finalized the design himself before submitting to Lamborghini. Due to these three talented men, the Miura didn't have a wrong line anywhere. Later, Carrozzeria Bertone became responsible for manufacturing the Miura bodies and interiors on chassis produced by Marchersi. Final installation of the engine, transmission and suspension were completed at Lamborghini's factory in Santa'Agata Bolognese.
The first completed prototype was painted orange and personally driven by Bertone to the 1966 Geneva Motor Show where it became the highlight of the event and overshadowed the debuting Ferrari 330GTC. Furthermore, with a press release proclaiming 198 mph, everyone in Maranello took notice. A later trip down to Monte Carlo for the F1 weekend was another resounding success.
Initially, orders exceeded production and Lamborghini had to only worry about manufacturing. Several pre-production prototypes were built and tested which varied only slightly to the final production specification. Over time, upgrades and small details were changed, but a huge update called the SV was planned in 1971 starting with chassis 4758. The main focus of the SV was a new rear suspension that made the car much wider. Longer wishbones were fitted that added 1.5 inches of length. Furthermore, larger Campagnolo cast magnesium wheels were added with wider Pirelli Cintaurato tires. Many of these changes were undertaken by chief test driver Bob Wallace in conjunction with Claudio Zampolli and greatly improved handling of the Miura.
The result was a much more aggressive car that emphasized the Miura's rear-engine power. Options such as Borletti air conditioning were also offered for the first time and fitted as standard on cars shipped to America. Only 30 cars were fitted with this essential option.
In the end, the Miura SV was a remarkable performer. Lamborghini's own specification listed a horsepower of 380 bhp and a top speed of 180 mph but these were probably exaggerated figures compared to any regular production model. In fact, only around 350 bhp was produced from a standard SV engine and the top speed is actually slower than the P400S model due to the larger tires.
Eventually the oil crisis and lack of demand halted Miura production in 1973 after nearly 150 cars were completed. By this time, development emphasis had been placed on the Countach which the public first saw in 1971. In April of 1972 Ferruccio sold off his controlling shares of the Lamborghini, probably because he achieved everything he had set out to do with the Miura.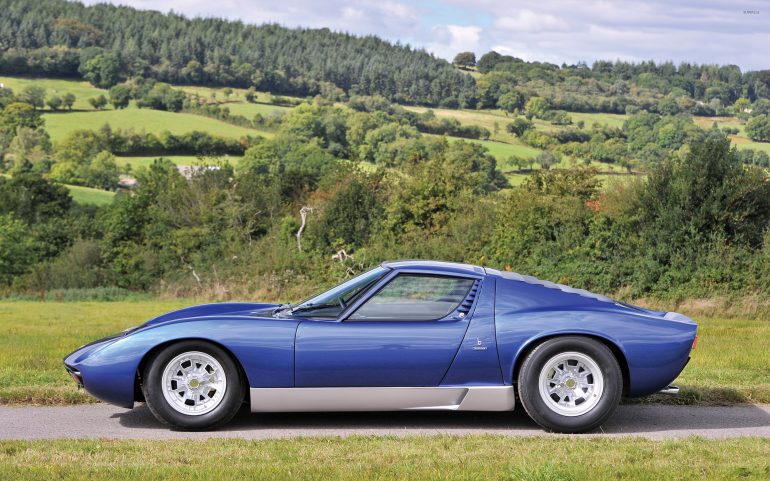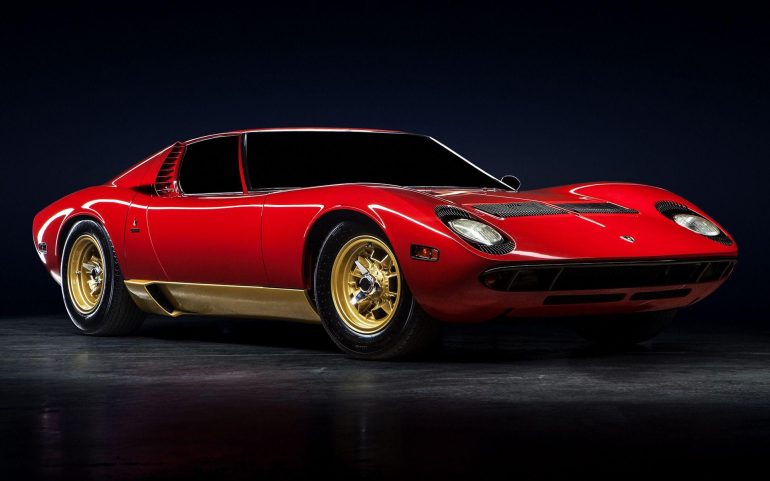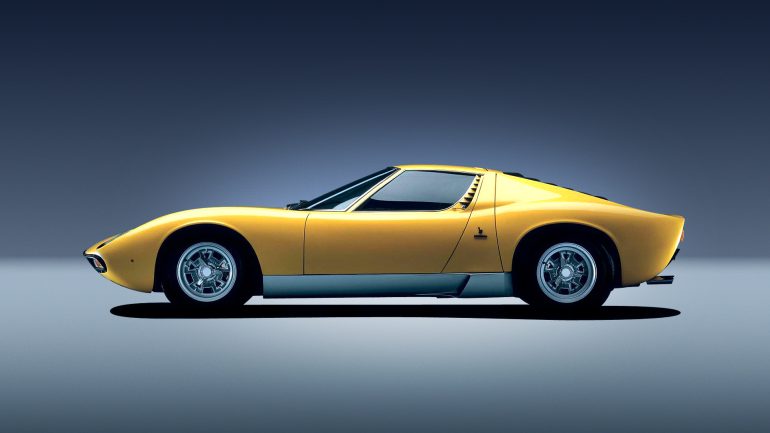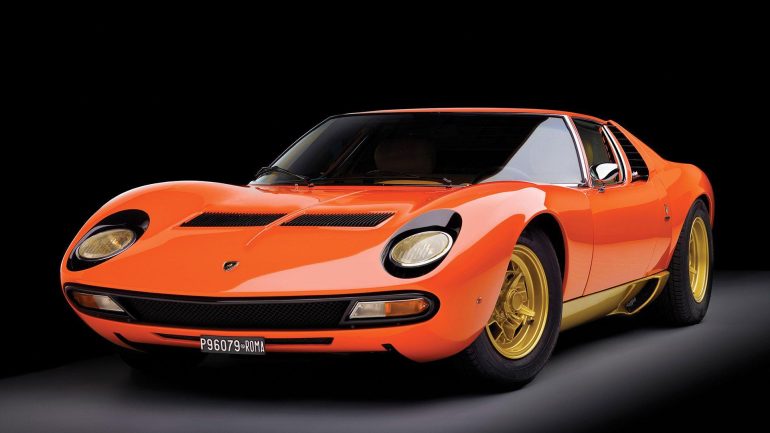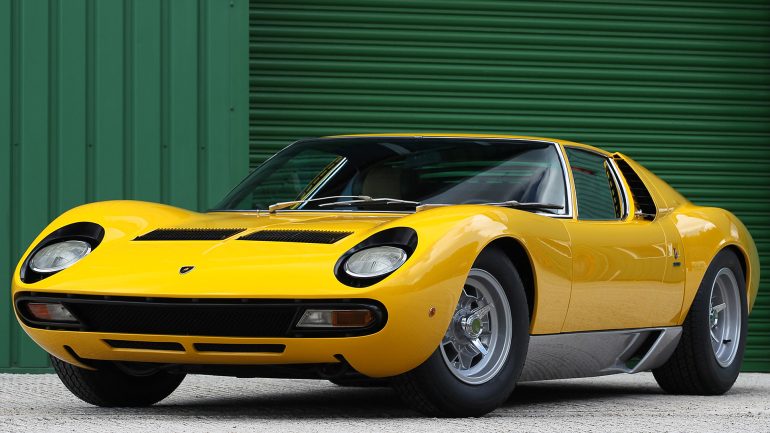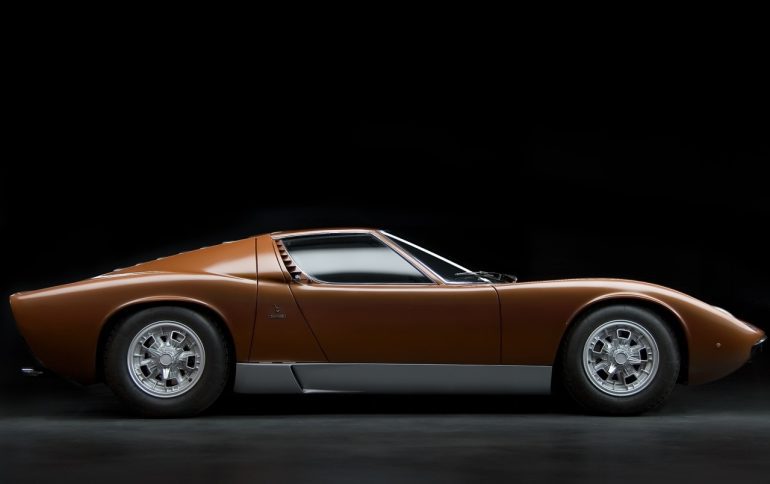 Lamborghini Miura Specs & Performance
A summary of production Miura specifications and performance numbers.
| Model | Miura P400 | Miura P400S | Miura P400SV |
| --- | --- | --- | --- |
| Year of production | 1966-1969 | 1968-1971 | 1971-1973 |
| Number produced | 275 units | 338 units | 150 units |
| Layout | Mid-engined, Rwd | Mid-engined, Rwd | Mid-engined, Rwd |
| Size (L / W / H / WB) (mm) | 4360 / 1760 / 1060 / 2500 | 4360 / 1760 / 1060 / 2500 | 4360 / 1780 / 1060 / 2500 |
| Engine Summary | 4L Nat Aspirated V12 | 4L Nat Aspirated V12 | 4L Nat Aspirated V12 |
| Cylinders | V12 | V12 | V12 |
| Camshaft | DOHC | DOHC | DOHC |
| Valves | 2 Valves/Cylinder | 2 Valves/Cylinder | 2 Valves/Cylinder |
| Bore x Stroke: | 82 mm × 62 mm | 82 mm × 62 mm | 82 mm × 62 mm |
| Compression Ratio | 9.5 : 1 | 10.7 : 1 | 10.7 : 1 |
| Capacity | 3929 cc | 3929 cc | 3929 cc |
| Power | 350 hp @ 7,000 rpm | 370 hp @ 7,500 rpm | 385 hp @ 7,850 rpm |
| Torque | 300 lb-ft @ 5,500 rpm | 287 lb-ft @ 5,500 rpm | 295 lb-ft @ 5,750 rpm |
| Gearbox | 5-Speed Manual | 5-Speed Manual | 5-Speed Manual |
| Suspension (F/R) | All: double-wishbones | All: double-wishbones | All: double-wishbones |
| Tires (F/R) | 72 205 VR-15 | GR70 VR 15 | FR70 HR 15, GR70 VR 15 |
| Weight | 2,480 lbs | 2,862 lbs | 2,862 lbs |
| 0-60 mph | 6.3 seconds | 5.5 seconds | 5.75 seconds |
| Top speed | 163 mph | 168 mph | 170 mph |