Economics 101 by Ferrari S.p.A
Supply: Ferrari produces an incredible car, often in very limited quantities.
Demand: Aforementioned incredible car is (predictably) highly desirable.
Price: Low supply, high demand drive up prices at an exponential rate over time.
So basically, this list could just as well have been titled "Most Expensive Ferraris of All Time" or "Rarest Ferraris of All Time", but being the "most sought after" provides a happy medium that allows us to pick from a more well-rounded pool of cars. That'll give us a good mix of collector cars and modern machines, since selections are not made solely on the highest sold-for prices and/or limited quantities built. Our focus is also on production and street-legal examples.
Here are 10 of the Most Sought After Ferraris of All Time.
1962 Ferrari 250 GTO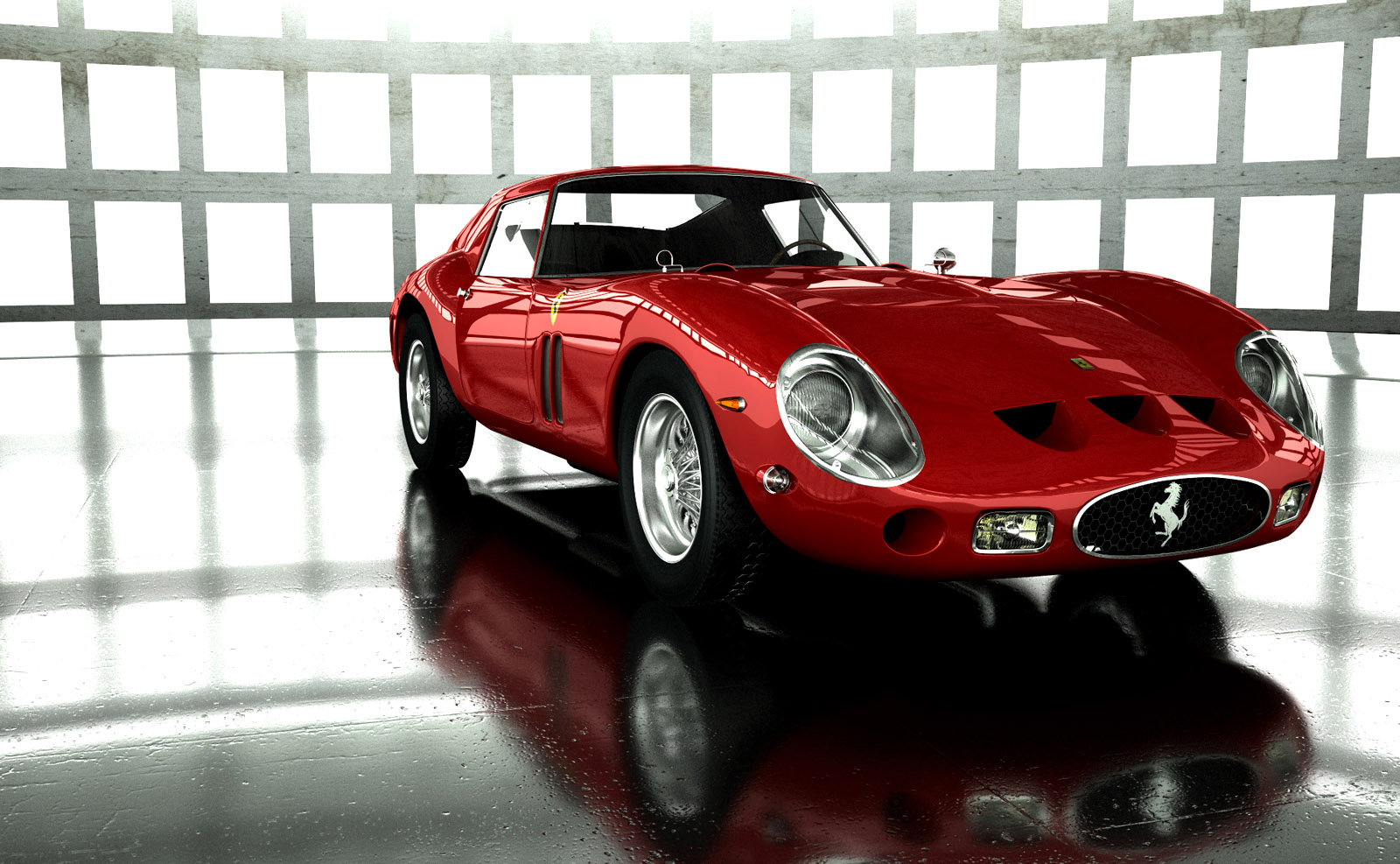 The Holy Grail of Ferraris.
Using hyperbole to describe the Ferrari 250 GTO is unnecessary. The car speaks for itself. Everybody knows that Ferrari GTOs are considered the biggest trophies in the car-collecting world for their rarity, power, beauty and success on the race track.
In 2018, the record was broken when a US$70 million 250 GTO was sold to David MacNeil (founder of WeatherTech). That particular car won the famed 1964 Tour de France race, followed by a 4th place finish at Le Mans. It's painted in silver and yellow and despite a winning record on the track, it was remarkably never crashed – unlike many of the other GTOs which remain in existence. Prior to that, the highest price ever paid for an automobile was US$52 million, which was for another (1963) Ferrari 250 GTO in 2013.
1958 Ferrari 250 Testa Rossa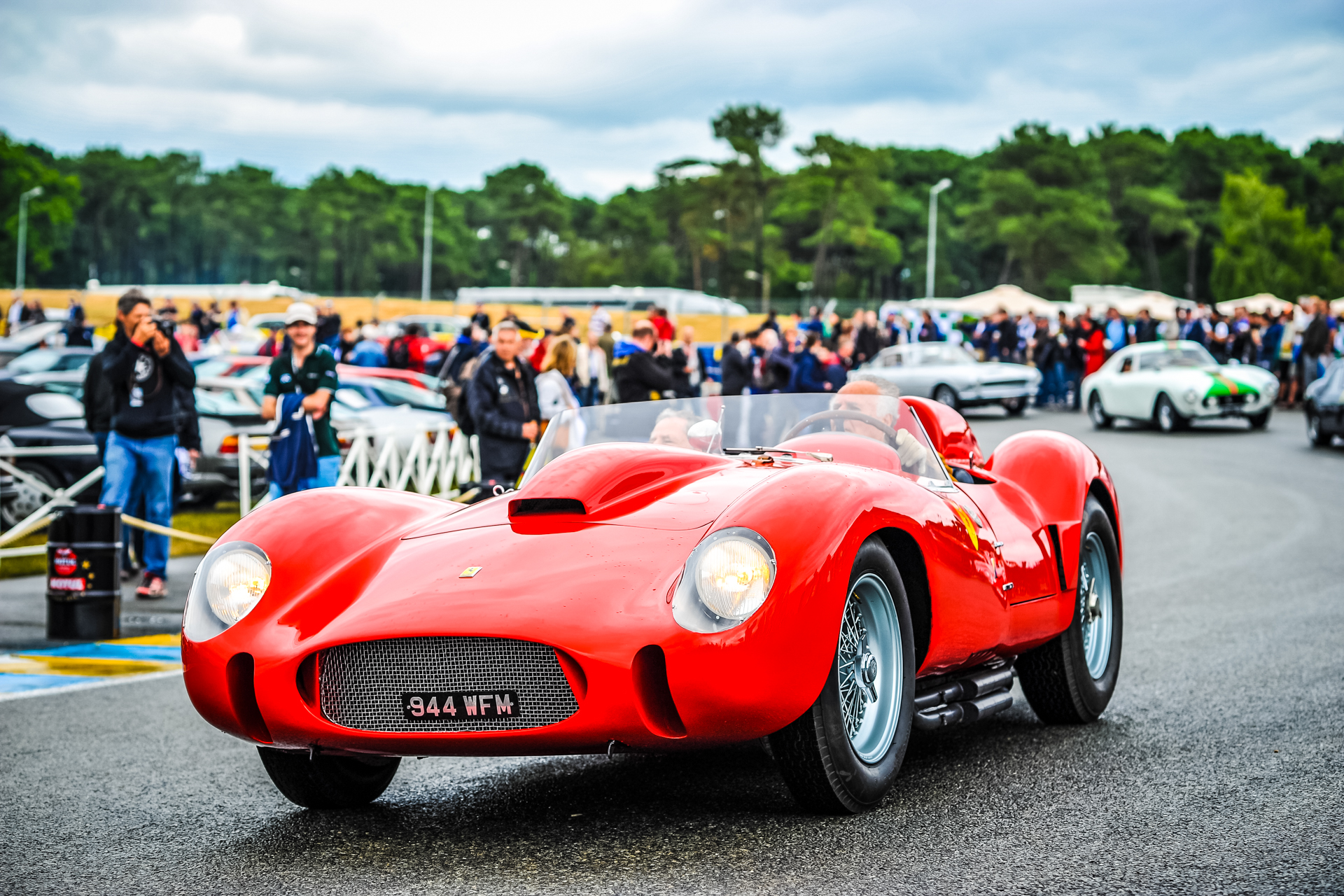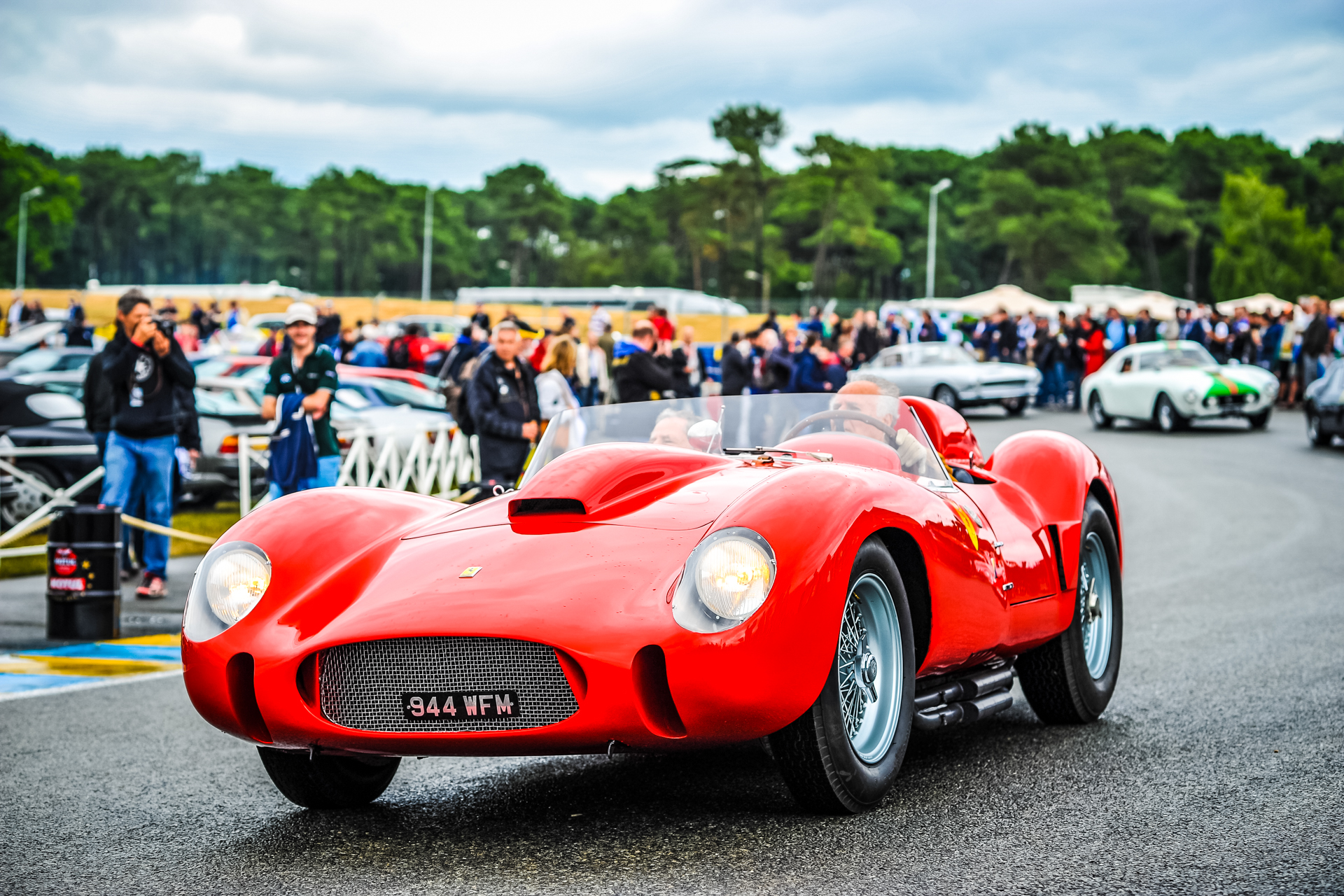 While Testa Rossas might bring back memories of the 1980s, Miami Vice, and a mid-engine supercar with massive side strakes, it's this 1958 model which holds the more important place in Ferrari history. Not only was the 250 Testa Rossa (TR) one of Ferrari's most successful race cars on the track, but it also had an unorthodox, but purposeful body by Scaglietti & C.
As released, the 250 Testa Rossa had seemingly modest engineering. The drum brakes or 250 engine were indeed old technology compared to the disc brakes and DOHC setups that were available. Also, compared to other cars of the era, the Testa Rossa chassis was made bulkier to take on many of the ditches and walls which these cars met. Such throwbacks followed the original design philosophy and helped the Testa Rossas endure to win many races.
1987 Ferrari F40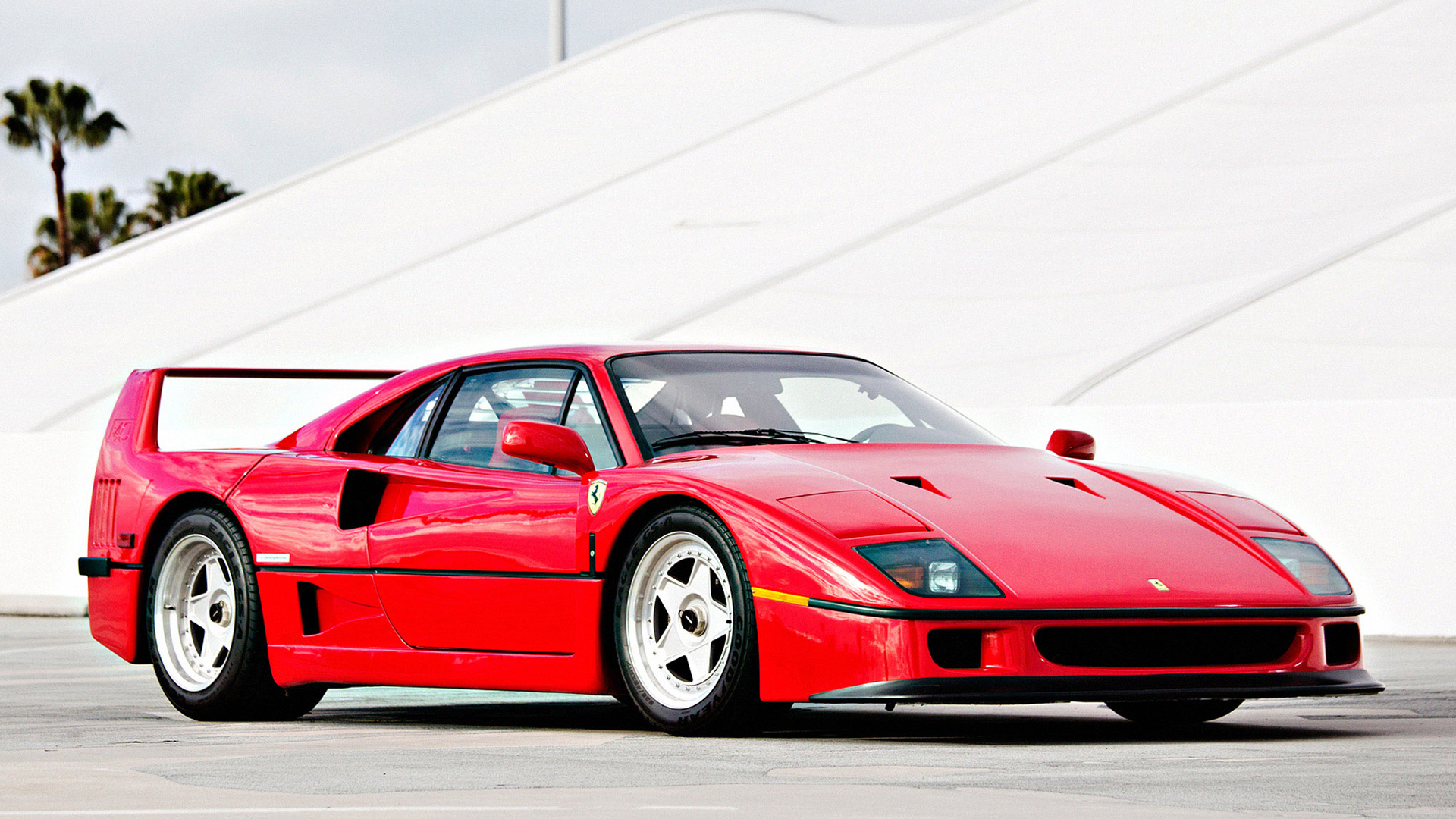 To celebrate 40 years of Ferrari, Enzo had his design team create a supercar that translated racing car technology to the road. Furthermore, it was built with only the most essential systems and in many regards is a supercar with functional simplicity. It was also the last car developed and built under Enzo Ferrari's direct supervision before he passed away.
Although inspired by some of the cars that came before it, the Ferrari F40's body was an entirely new design. Developed by the Italian Design and Engineering group Pininfarina, the F40 was unique not only in appearance but by the fact that it was the first series-production car ever to use mainly composite materials – including Kevlar, carbon fiber, and aluminum – for all of its body panels. The materials were chosen both for their durability and low weight.
2002 Ferrari Enzo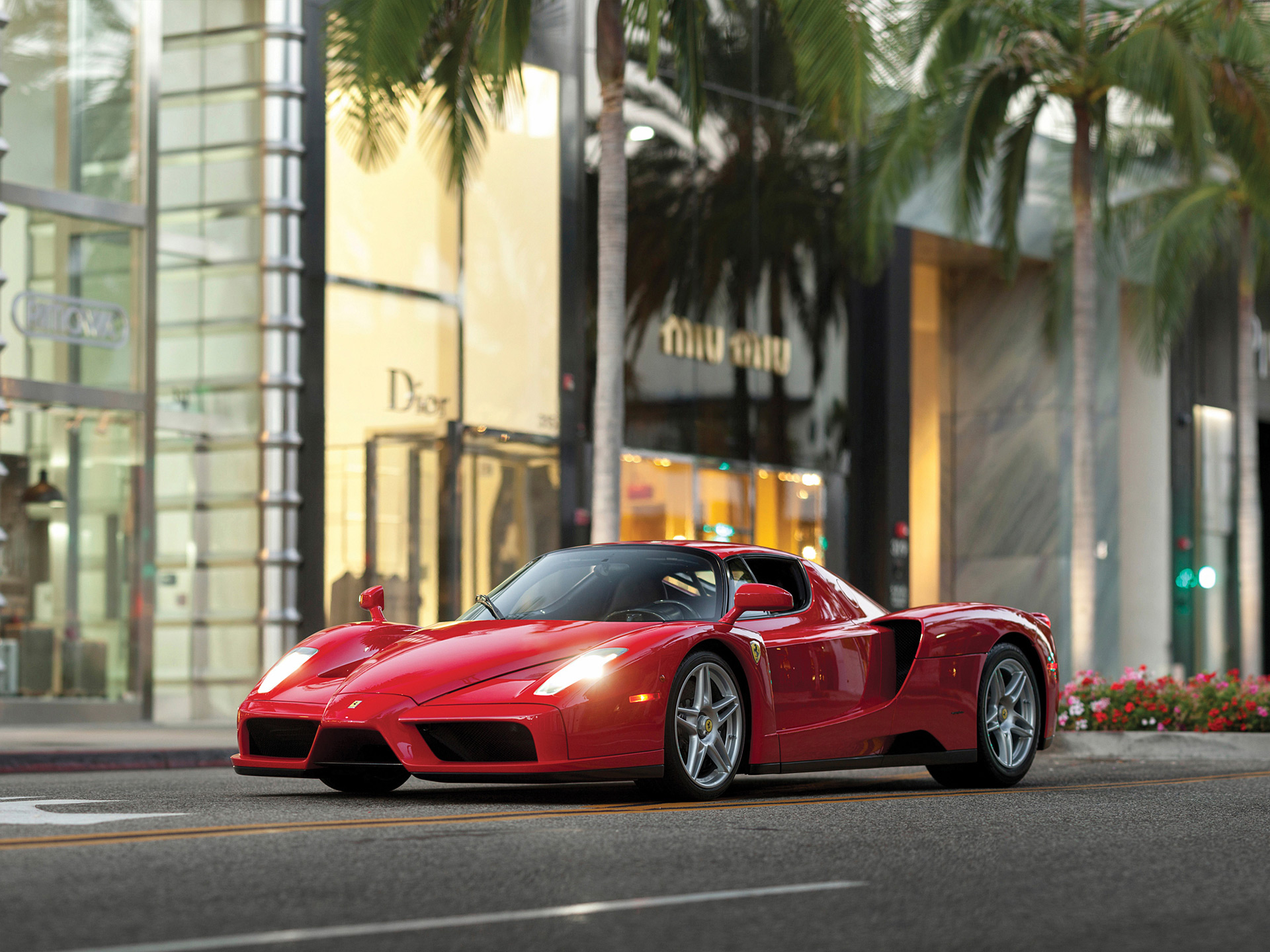 Inspired by Formula One technology, Ferrari's new Gran Turismo benefits from over fifty years of Ferrari success. Named in honor of the company's founder, the Enzo is one of a limited series of road cars including the 288GTO, F40, and F50. These cars represent Ferrari's continuing desire to produce the most exclusive and technologically advanced road car. Branding race-derived technology to road cars is not a new idea, especially to Ferrari. Up until the late fifties, Ferrari's road and racing cars were practically the same product. Since that time, safety regulations, manufacturing costs, and practicality have distinctly split the cars we race from the cars we drive daily. The goal of the Enzo was to bridge this gap.
During a period of great achievement for Ferrari, the Enzo reflects victories which include four consecutive F1 championships. The Pininfarina styling and semi-automatic, six-speed transmission trace their roots to the heart of motorsport. No doubt, Enzo Ferrari himself would be most proud of this limited series named in his honor. Unlike the Ferrari F50, the Enzo was made with compromises towards driver comfort. Fortunately, Ferrari has used sufficient active systems allowing the level of comfort to be adjusted from the driver's seat. It is these sophisticated electronics, centered around Ferrari's best road-worthy engine that makes the Enzo as special as it is.
2011 Ferrari 458 Italia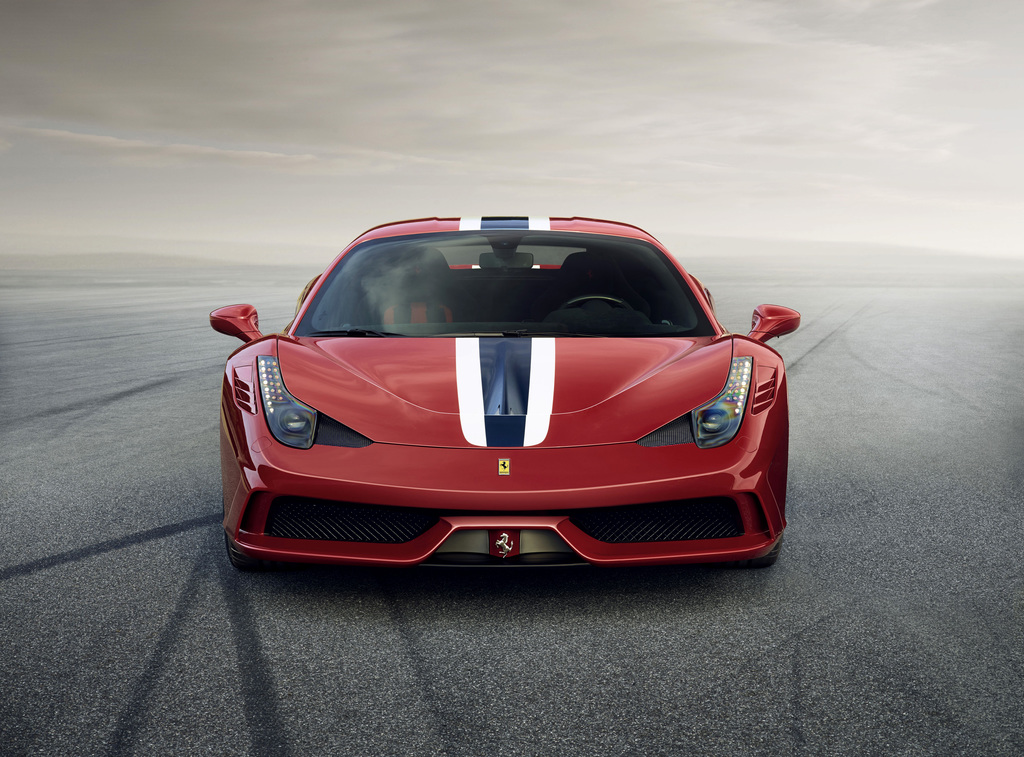 It really is no surprise that the Ferrari 458 Italia is being praised as one of the best cars Ferrari has ever made. Collectively, the Ferrari 458 Italia is one of our most-loved vehicles here at supercars.net. You wouldn't have to dive very deep to find out why that might be the case, as even just a cursory glance at the car is more than suggestive enough. Whether it be its sleek and timeless Pininfarina design, or its epic 562 hp naturally-aspirated V8 engine with a 9,000 rpm redline; the 458 was destined for greatness the moment the first car drove off the production line. It has already become a modern classic.
In spite of having a naturally-aspirated engine with a 9,000 rpm redline, the Ferrari 458 Italia still isn't one of the rawest and tactile Ferrari road cars out there. Mind you, we don't consider that a negative when it comes to this car; one that truly feels greater than the sum of all its parts. But, the Ferrari 458 Italia is a car for the serious occasion – whatever occasion that might be – and it never fails to impress anyone. It gets full marks from us, while the sands of time reveal how iconic the 458 has become and will continue to be. The car is barely a decade old and it's already a classic in our books. I mean, look at it: it's timeless.
Subsequent models and trims such as the Spider, Speciale, and Challenge command varying degrees of premium over the original car.
2013 Ferrari LaFerrari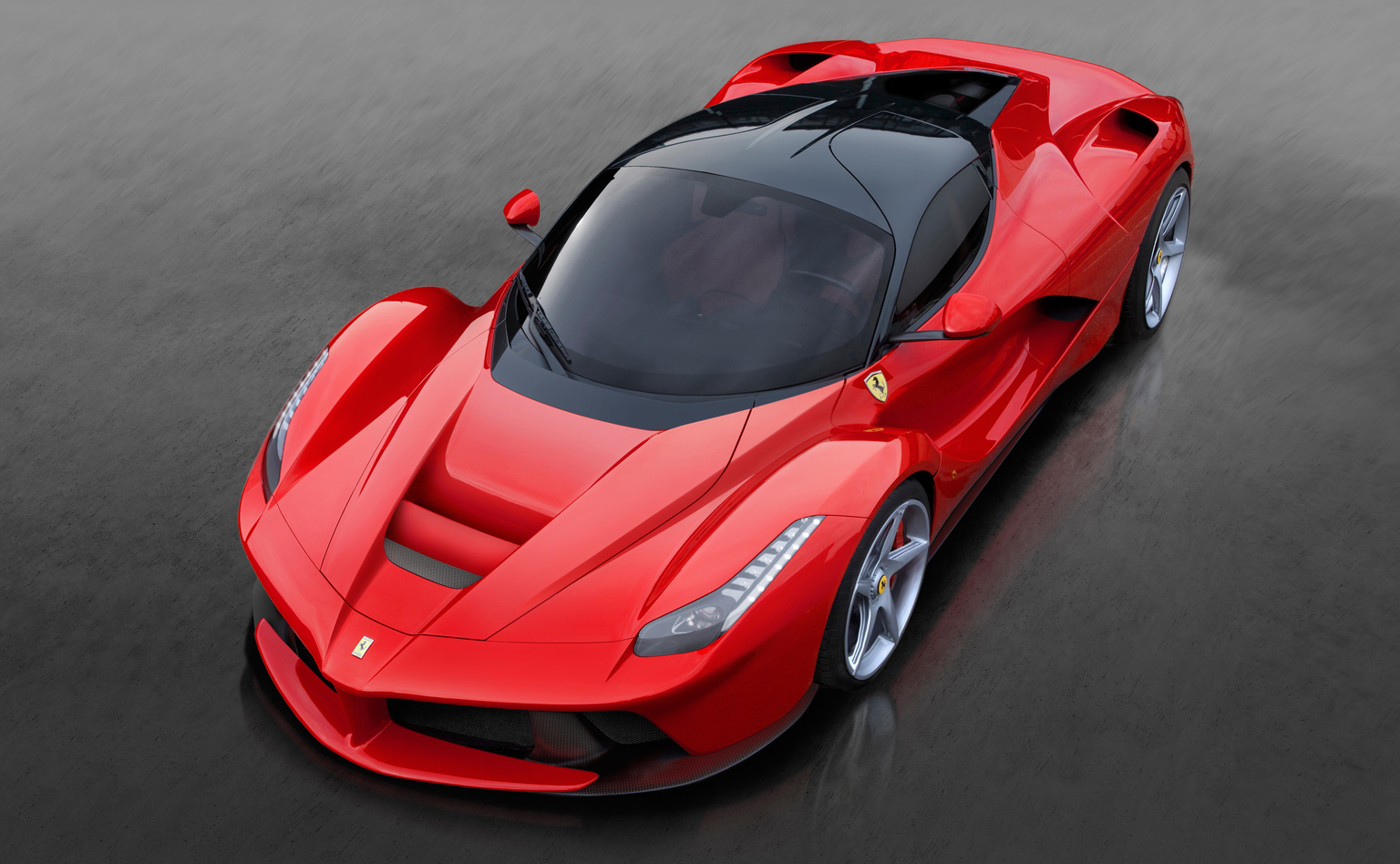 What happens when quite possibly the world's greatest supercar and hypercar maker sets out to create its greatest model ever? The Ferrari LaFerrari – that's what. Described at launch by company president Luca Di Montezemolo as "the maximum expression of what defines our company," the LaFerrari was revealed at the 2013 Geneva Motor Show.
Limited to just 499 examples (although since an additional 210 Aperta open-top LaFerrari have been produced), the LaFerrari featured a Formula-One derived HY-KERS system – an electric motor teamed to a 6.3-litre V12. Some would shirk at the concept of a hybrid Ferrari, but while enhanced efficiency is a by-product of the LaFerrari's powertrain, this was by no means Ferrari's motivation with the system.
Following in the footsteps of legendary Ferrari halo cars like the 288 GTO, the F40, F50, and Enzo, the LaFerrari had its work cut out from the start. Add to that competition – yes, at this insane level of performance and prestige – from Porsche and McLaren with their hybrid hypercars, the 918 and P1, and this ultimate Ferrari model had a lot to deliver in order to stand out.
Ferrari auctioned off the final "new" examples of the Aperta and coupe LaFerrari to benefit charity. The final coupe (car number 500) went for $7 million, in aid of reconstruction in Italy following 2016's earthquakes. More recently, the last of the run (210th) Aperta convertible broke records when it went under the hammer at RM Sotheby's, fetching almost $10 million, with the proceeds of the sale going to Save the Children.
2015 Ferrari F12tdf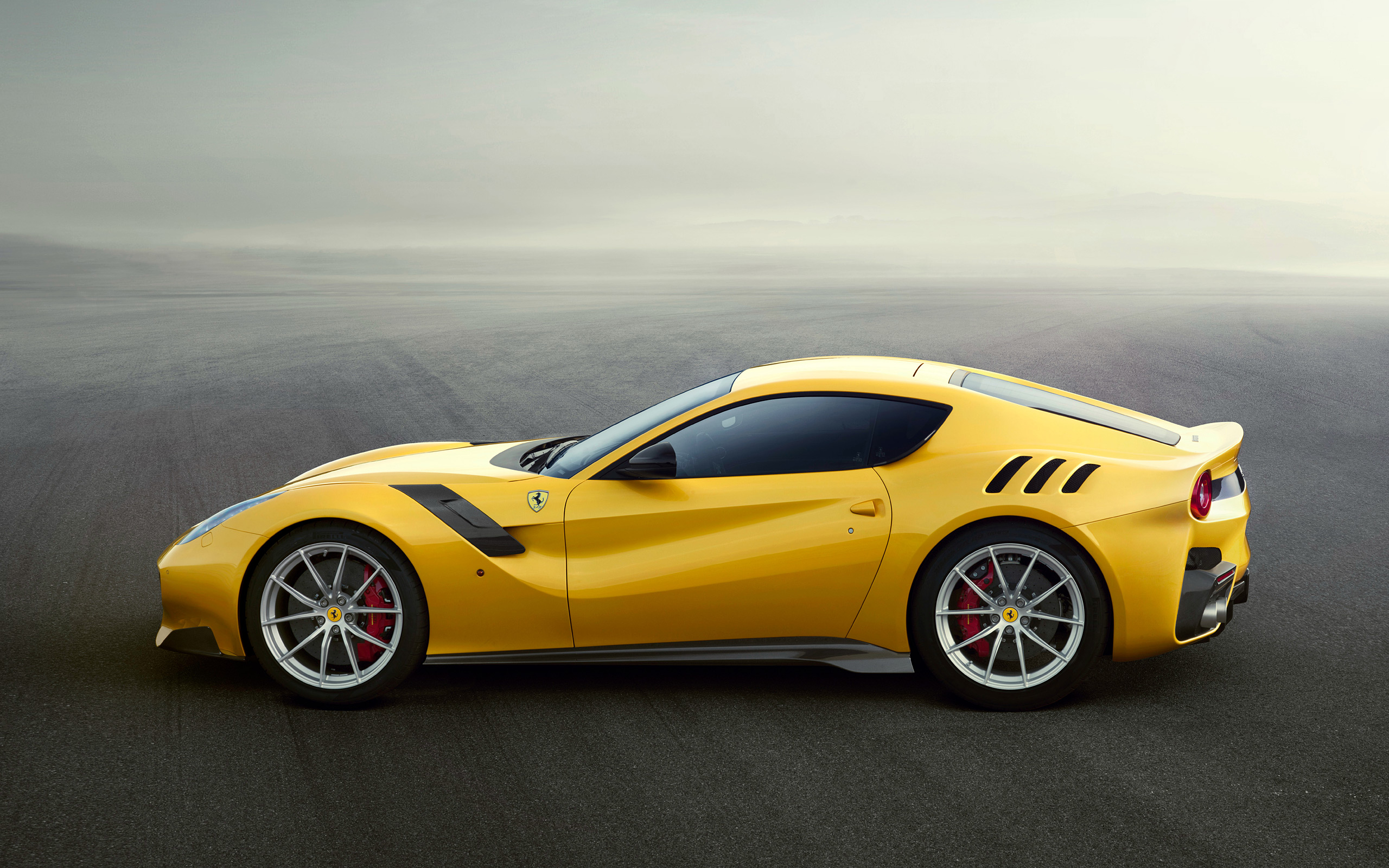 This is the Ferrari F12tdf – a faster, lighter, and more powerful special edition of the Ferrari F12 Berlinetta. Ferrari says the car has been created in homage to the legendary Tour de France road races, which it dominated in the 1950s and 1960s with the likes of the 1956 250 GT Berlinetta.
The F12tdf is described as "the ultimate expression of the concept of an extreme road car that is equally at home on the track". Just 799 examples were built. The car keeps the same 6.3L naturally-aspirated V12 engine as the regular F12 Berlinetta, but power has been boosted from 730 bhp to 770 bhp at 8,500 rpm, while torque has increased from 509 lb-ft to 520lb-ft of torque at 6,750 rpm. But the changes don't stop there. The F12tdf is a concentration of technical innovations which involve all those areas central to Ferrari's DNA: engine, aerodynamics, and vehicle dynamics. As a result, in terms of acceleration, road holding, and agility, the new Berlinetta is second to none.
1957 Ferrari 335 S Spider Scaglietti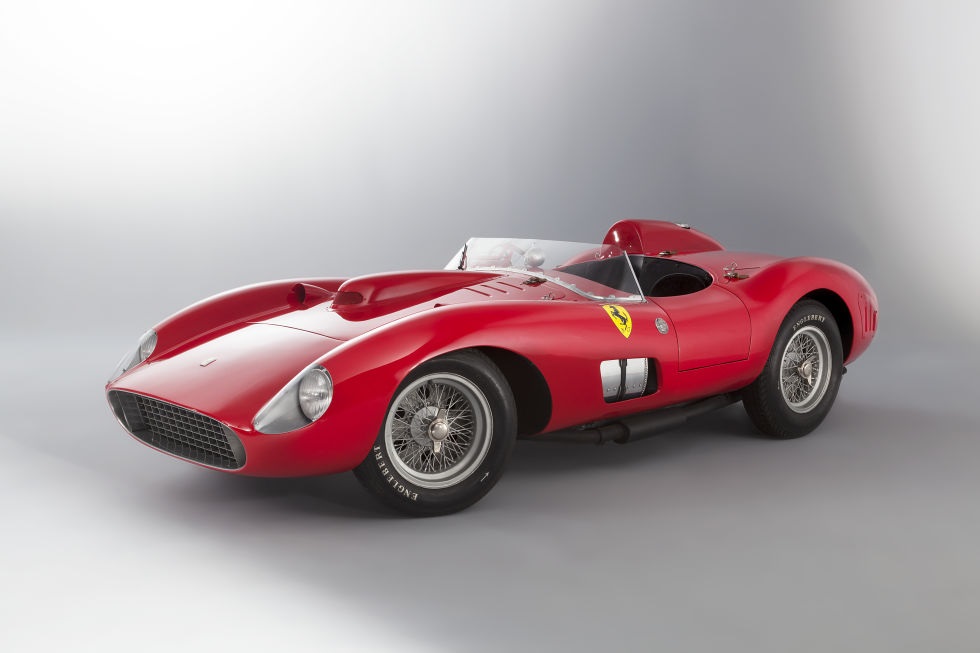 The 1957 Ferrari 335 S Scaglietti is one of the rarest and most expensive Ferraris in the world with only four ever made. The beast is equipped with a 4.1L V12 engine that produces 400 hp and can reach a top speed of 190 mph, which was unheard of in the 50s. Adding to its value is the fact that it was driven by some of the greatest Formula 1 drivers of all time, including Mike Hawthorne and Stirling Moss.
In 2016, a 335 S Spider Scaglietti sold at the Artcurial Retromobile auction in Paris, becoming the second most expensive car ever sold at an auction at the time. The US$35.7 million vehicle was compared to Picasso's artwork by auctioneers, which was not an unreasonable tactic given what was at stake. While the car enjoyed only a brief existence during its day – with a mixture of successes and failures in motorsport – it nevertheless left a lasting impression in the world of racing and has unquestionable pedigree.
1959 Ferrari 250 GT California Spyder SWB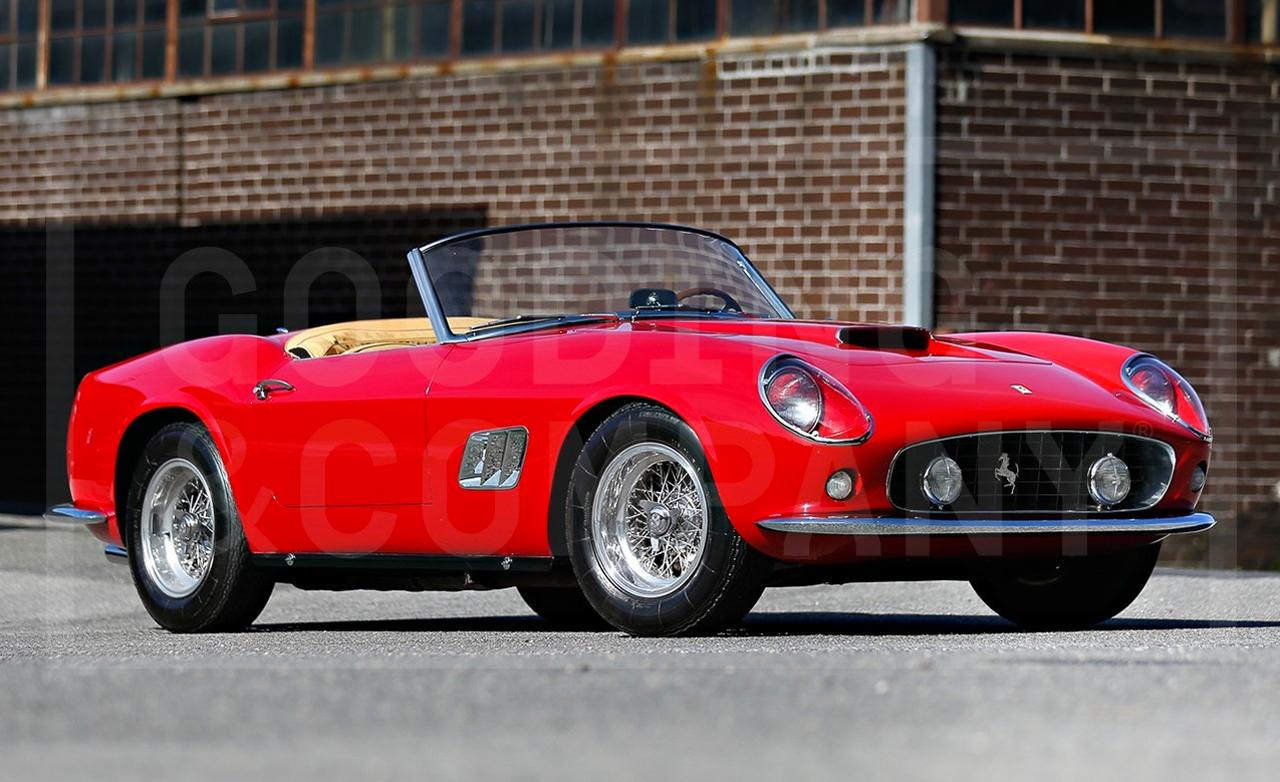 "Bueller. Bueller. Bueller."
While the 250 GT was primarily a racing car, it did spawn a line of desirable road-going models, too. In 1959, Ferrari debuted the shorter California Spyder on their stiffer short wheelbase (SWB) chassis. These cars were superior as they had disc brakes, a more powerful engine, and less bulk. Like the LWB model that preceded it, the SWB benefited from a competition-bred chassis and engine.
Sharing its drive train with the legendary 250 GT that won the Tour de France, the California Spyder was a car to get excited about. It had the same 140 mph performance and the same competition chassis as the Ferraris lapping the race tracks. Therefore, it only made sense to equip some examples with competition engines and aluminum bodywork to race at Le Mans and Sebring. These Spyder Competiziones did well in the GT class and tied all California Spyders to a sporting pedigree.
It most famously made a cameo appearance in the cult-classic movie, Ferris Bueller's Day Off – a 1986 American comedy film written, produced, and directed by John Hughes. These days, there'd be no argument in saying that the Ferrari 250 GT California Spyder SWB ranks alongside fellow 250 compatriots – the GTO and Testa Rossa – as one of the most sought after Ferraris of all time.
1947 Ferrari 125 S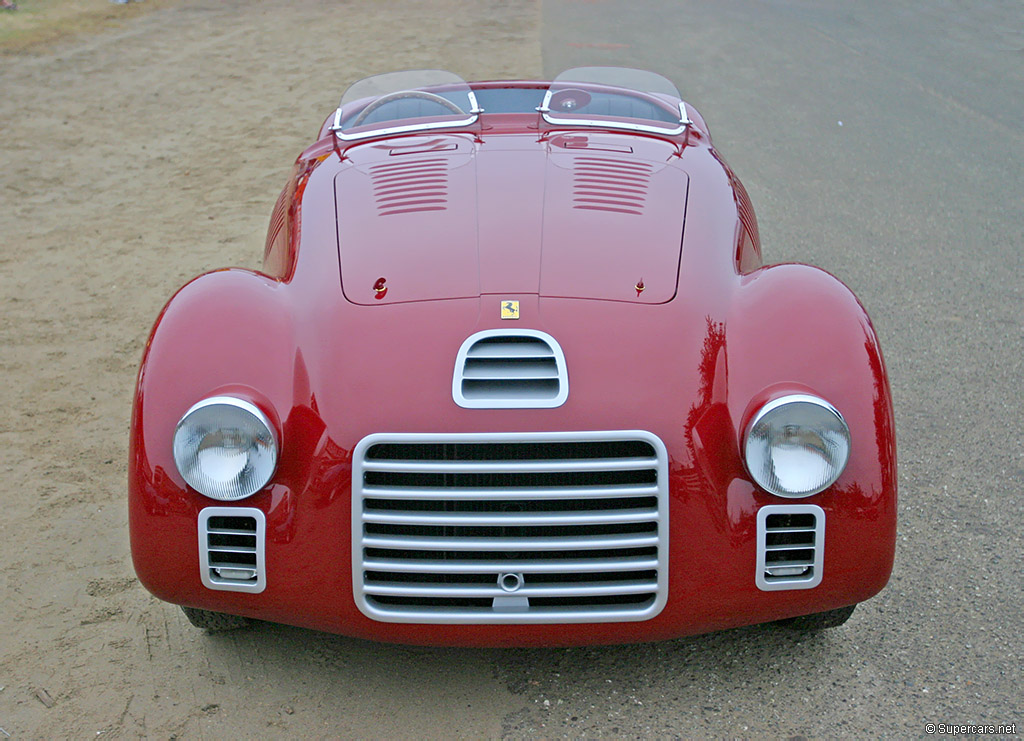 The Genesis of Ferrari (no, not of Hyundai).
The Type 125 Sport (or Tipo 125 S Competizione) was Enzo Ferrari's first race car and the first Ferrari to win a race outright. It followed earlier projects such as Scuderia Ferrari – a talented racing crew that brought Alfa Romeo to the top of Grand Prix – and Auto Avio-Construzioni (AAC), Enzo's immediate pre-world-war creation. Both of these helped shape the 125, which itself would become a testbed for good and bad ideas until the final specification was reached for the 166 Spyder Corsa.
Since enough time had passed since Enzo Ferrari signed his severance agreement with Alfa Romeo, the new car could finally bear his name and his name alone. It was conceived over two years beginning with a clean slate, and its overall design borrowed nothing from any other manufacturer of the day. As a highlight, it would use a V12 engine –  being somewhat of a rarity at the time, the V12 was inspired by Packard's unit and would garner necessary attention from customers that would eventually bear the fruit of an iconic automaker.