Contents: Model List / In Depth Guides / Pictures / News / History / Performance
Acura
Acura is the luxury vehicle brand of Japanese automaker Honda. The brand was launched in the United States and Canada in March 1986, marketing luxury, performance, and high-performance vehicles. Acura holds the distinction of being the first Japanese automotive luxury brand.
While we cover a few of the Acura vehicles on supercars.net, the 1990 launch of the NSX is what we really care about. A mid-engine supercar that took the fight straight to Ferrari and Porsche. It offered a reliable and practical alternative to these exotic European sports cars, and introduced Honda's VTEC variable valve timing system to the North American market. Developed for many years and with many flavors the NSX became a fan favorite.
Fast-forward to 2016 and the guys from Honda managed to brought us the best NSX to-date, the 2017 Honda NSX. The new NSX features a weight-saving body design with a hybrid powertrain that has three electric motors and a mid-mounted twin-turbo 3.5-liter V-6 engine which produces 573 of horsepower. Combine all of that together and you now have a car that will totally give you fun
The Basics
Parent organization: Honda

Founded: 27 March 1986

Headquarters: Minato, Tokyo, Japan

Notable Model: NSX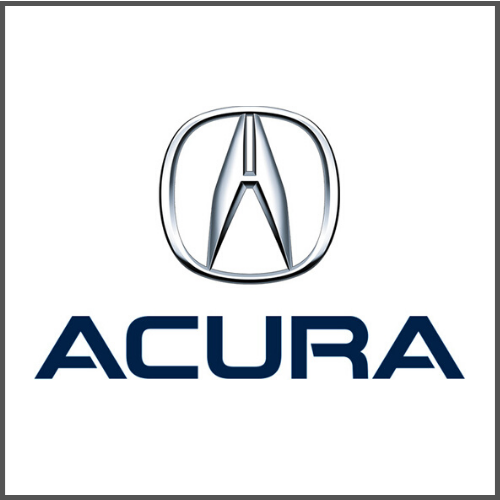 What Does the Acura Logo Mean?
Most people think the Acura logo is a stylized letter A, for Acura, just like Honda's logo is a stylized H for Honda. But according to Honda the image is a caliper, a design instrument used for measuring thickness and a node to accuracy and preciseness.
Current Acura Models
SUV & Crossovers
Acura MDX (2001–present)

Acura RDX (2007–present)

Acura CDX (2017–present) (China Only)
Sedans
Acura ILX (2013–present)

Acura TLX (2015–present)
Supercar
Acura NSX (1991–2005) (1st Generation)

Acura NSX (2016-Present) (2nd Generation)
Legacy Acura Models
SUV & Crossovers
Acura SLX (1996–1999)

Acura ZDX (2010–2013)
Sedans & Wagons
Acura RL (1996-2012)

Acura CSX (2006-2011)

Acura TL (1996-2014)

Acura TSX (2004-2014)

Acura EL (1996-2005)

Acura Vigor (1992-1994)

Acura Integra (1986-2001)

Acura Legend (1986-1995)

Acura RLX (2014–2020)

Acura TSX Wagon (2011–2014)
Coupes
Acura RSX (2002–2006)

Acura Integra Coupe (1985-2001)

Acura Legend Coupe (1985–1994)

Acura CL (1997–1999 2001–2003)
Our weekly email newsletter gives you all the supercar news, reviews, videos, rumors and much more. Only the best cars on the planet.
Acura Models: In-Depth Guides
We take a look at the Acura model list and take a deep dive into the models that make this marquee so special. We have primarily focused our in depth guides on the Acura NSX and concepts around it (because this is a supercar website obviously).
Some More on Acura History
In 1986, Honda launched the Acura division in the United States and Canada. The idea was simple, a high end brand that was focused on the needs of the North American consumer that sat above the economical Honda brand. Almost immediately Acura cars captured serious market share and started a new mid-level luxury segment. The other impact was that is raised the stature of Japanese cars when it comes to creature comforts, technology and comfort.
From an enthusiasts perspective the first few models weren't that exciting. There was the the Legend and the Integra. While they didn't light a fire with sports car fans they did have remarkable success, enough so that it forced Toyota and Nissan to copy the strategy with Lexus an Infiniti.
Enthusiasts and sports car dans had to wait till the 1990 to get some awesome machinery from Acura. The car was the NSX. The acronym stood for 'New Sports eXperimental' and the NSX quickly became a cheaper and fun alternative to costly European counterparts such as the ones delivered by German and Italian manufacturers like BMW and road-cruising and racing supremacists Ferrari. You can thank the NSX for Ferrari and Porsche radically improving the quality and drive-ability of their cars.
By the mid 1990s the rest of the Acura lineup got shaken up. The Legend and Integra names were dropped and replaced with a bunch of weird alphanumeric names that still confuse us today. In recent years, Acura has gone all-in on the SUV and crossover market. It still sits in that middle market luxury spot and is an also-ran in terms of innovation these days. Their cars are good, but not great.
The most exciting thing to happen at Acura in the last few years is obviously the relaunch of the NSX. TheA new generation NSX was introduced as a 2016 model year car. Like the original, the idea was to make a techno-marvel that anybody could drive fast. Unfortunately, times had changed and the NSX has not garnered the praise of the original. To some degree this is unfair because we think of the current Acura NSX as a Porsche 918 for 20% of the price. It is a techno marvel that is insanely fast, engaging and original in its approach. Long live Acura.