Top 20 Supercars Of 2020 – The Coolest, Best & Most Exciting Cars In The World This Year
Ladies and Gentlemen, it's that special time of the year again here at supercars.net! With the end of the 2020 calendar year quickly approaching, we are back at it to present you with this year's list of awesome cars, in our annual 'best supercars & exotics' list.
This year in particular has been a special one, for more than a few reasons. Despite the current economic and social climate our world is enduring, our favorite automakers have persevered, if not managing to blow 2020 out of the water.
There was no shortage of amazing automobiles being manufactured, delivered and enjoyed by customers throughout the year. By all accounts 2020 can be considered a relatively fruitful year in the supercar landscape; such automobiles as Porsche's Taycan and new 911 Turbo S, McLaren's 765 LT, Ferrari's Roma and SF90 Stradale, Chevy's new Corvette Stingray – and others to be mentioned – all making their debuts.
Models from previous years also make it on the list, as they continue their production run into the 2020 year with some updates and refreshes. Suffice to say, it is a big ask not to continue including cars such as the McLaren Senna, Ferrari F8 Tributo, Lamborghini Aventador SVJ and Aston Martin Valkyrie on this year's list.
2020 can also be considered the year, where we got the first real sneak peak into what the future of automobiles looks like with electrification on the horizon. It is just a matter of time before this becomes the norm even within the realm of exotic vehicles. However EVs such as the Porsche Taycan and hybrids such as the Ferrari SF90 Stradale are convincing ambassadors for the cause.
We hope you enjoy this year's compilation of the best supercars & exotics. Great efforts have been made to include every worthy automobile on this list without turning it into an encyclopedia for cars, and for this reason, some of your own personal choices may have been omitted. Anyway, see you again this time next year!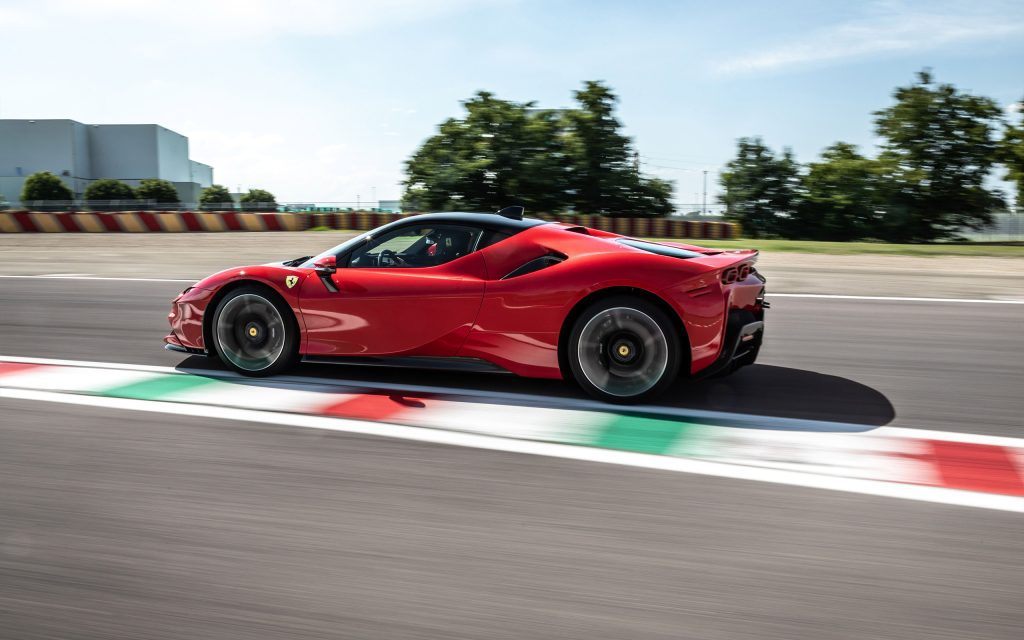 Ferrari SF90 Stradale
At first glance the SF90 Stradale sounds like a car we should all fear, a soul crushing proposition. It is a plug-in hybrid electric vehicle (Ferrari's first) with four-wheel-drive, built on a new 'multi material' platform and has even more electric driver aids than ever before. It is enough to make old-school Ferrari fans and drivers run straight for the exits (probably to pick up a 458 Speciale instead).
Read on and you quickly realize that in addition to the (boring) electric drivetrain is the fact that the SF90 also has Ferrari's most powerful V8 ever with an absurdly awesome 769 bhp. This 4 liter twin-turbo V8 when combined with the three electric motors gives the SF90 a total of almost 986 bhp, making the SF90 Ferrari's most powerful road car ever.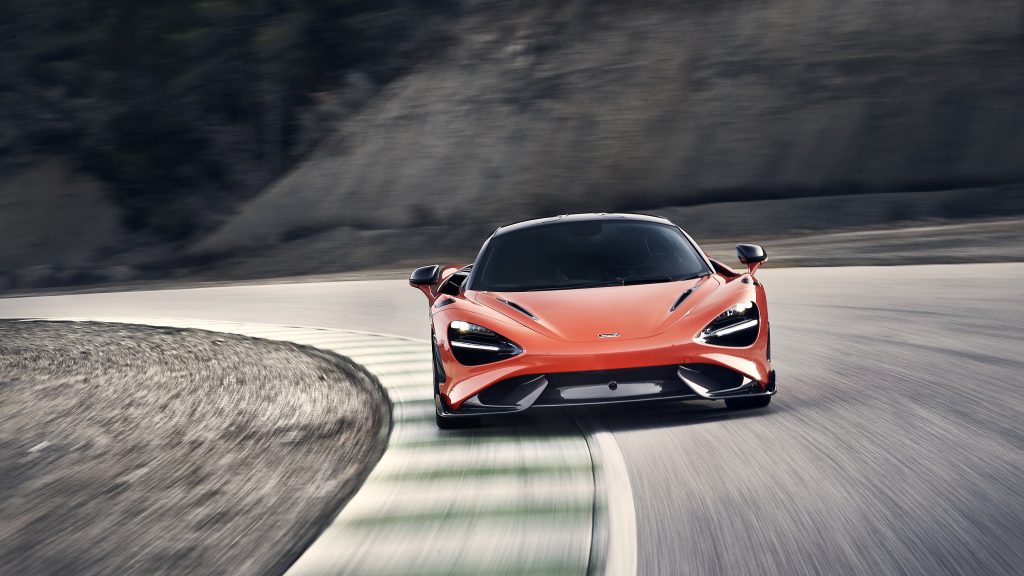 McLaren 765LT
While the new McLaren 765LT technically isn't out yet, it's eventual release later this year was always going to be just a matter of time. The latest of the Woking manufacturer's esteemed Long Tail variants is based on the already impressive 720S, and adds to a growing lineup of track-optimized McLaren supercars.
Limited to a production run of just 765 units, the McLaren 765LT becomes the fifth member of the Long Tail roster, joining the 675LT, 675LT Spider, 600LT and 600LT Spider. Once those sell out, buyers will have to look forward to the (most probable) release of the Spider version which will follow shortly thereafter.
The McLaren 765 LT is just beginning production, with the first deliveries expected late in 2020.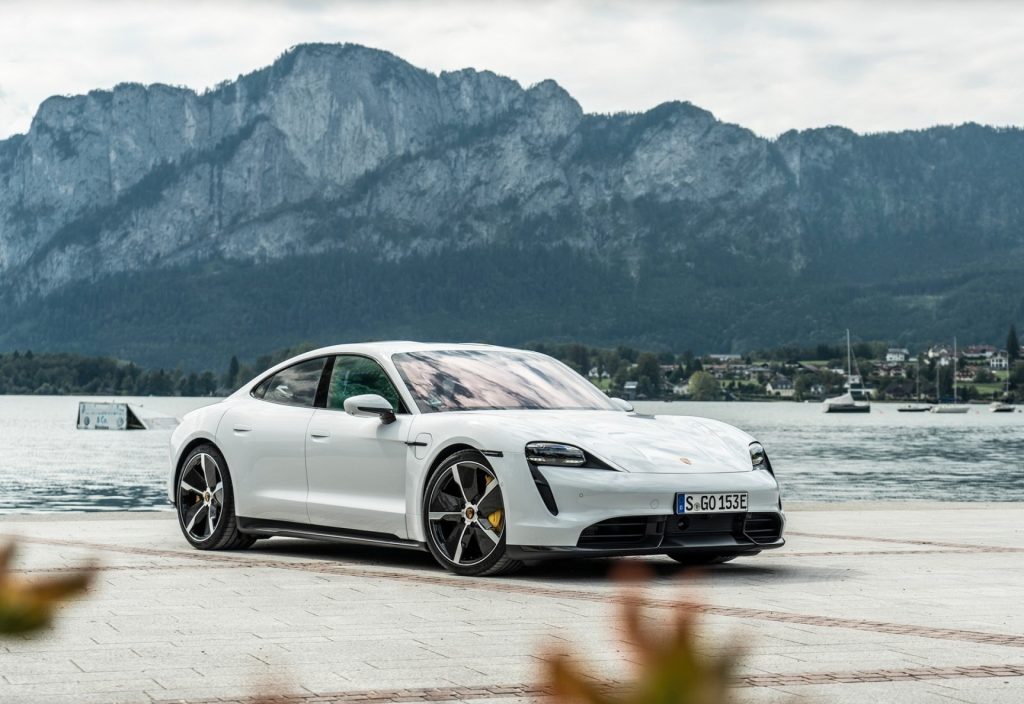 Porsche Taycan Turbo S
Porsche's first EV is the statement car of 2020, proving that a future with electrification can still embody the soul of a true sports car in the Taycan Turbo and Taycan Turbo S. Shortly after their release, Porsche added a slightly detuned version of the Taycan in a trim level known as the Taycan 4S. The company will expand the Taycan lineup with even more versions, with a rear-wheel drive base model and a GTS version rumored to be in the works.
With the introduction of the Taycan, we are ushered into a new age of Porsche cars and a new era for all automobiles. No longer are electric cars something that have to be a compromise. We're just getting started, and things are only going to get better.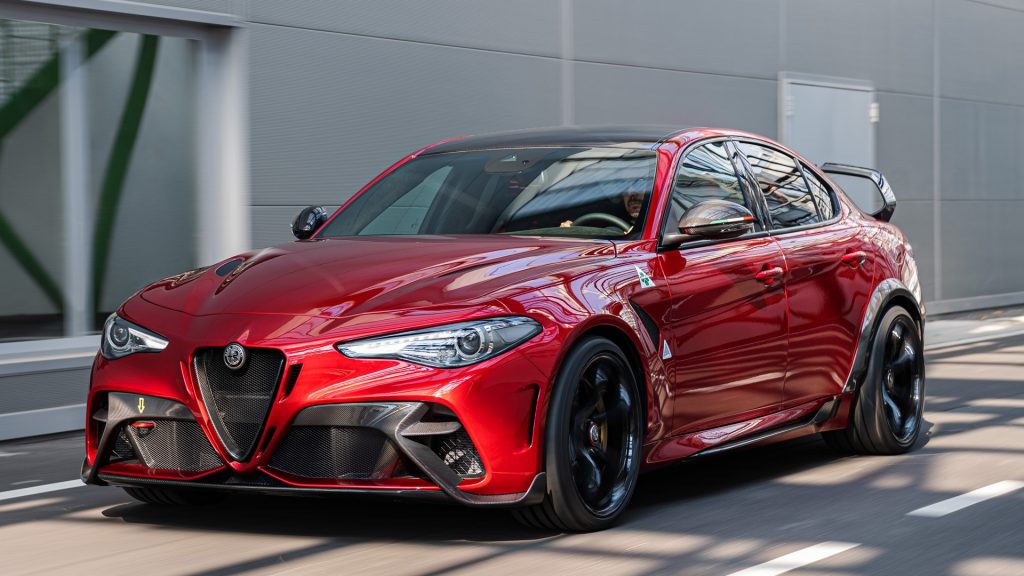 Alfa Romeo Giulia GTA
Speaking of statement cars, the Alfa Romeo Giulia GTA is a pure badass and is the most impressive display of showmanship we have seen from the company in a very long time. Equipped with a unique twin-turbocharged 2.9-liter V6 engine, the sedan is capable of completing a 0-60 mph sprint in just 3.6 seconds.
Pure power is definitely not the car's calling card, but it is as track-ready and balanced as you would want any sports car to be. With a focus on aerodynamic, chassis, suspension and braking upgrades, the GTA will allow you to clip those apexes and 'send it' through the tight corners with great aplomb. The Giulia GTA will be available in two trims – the standard GTA and the GTAm – with the latter upping things a notch to 'race car mode' with a roll bar, carbon fiber bucket seats, Sabelt six-point racing harnesses, and a more aggressive arsenal of aerodynamics. Only 500 will be produced.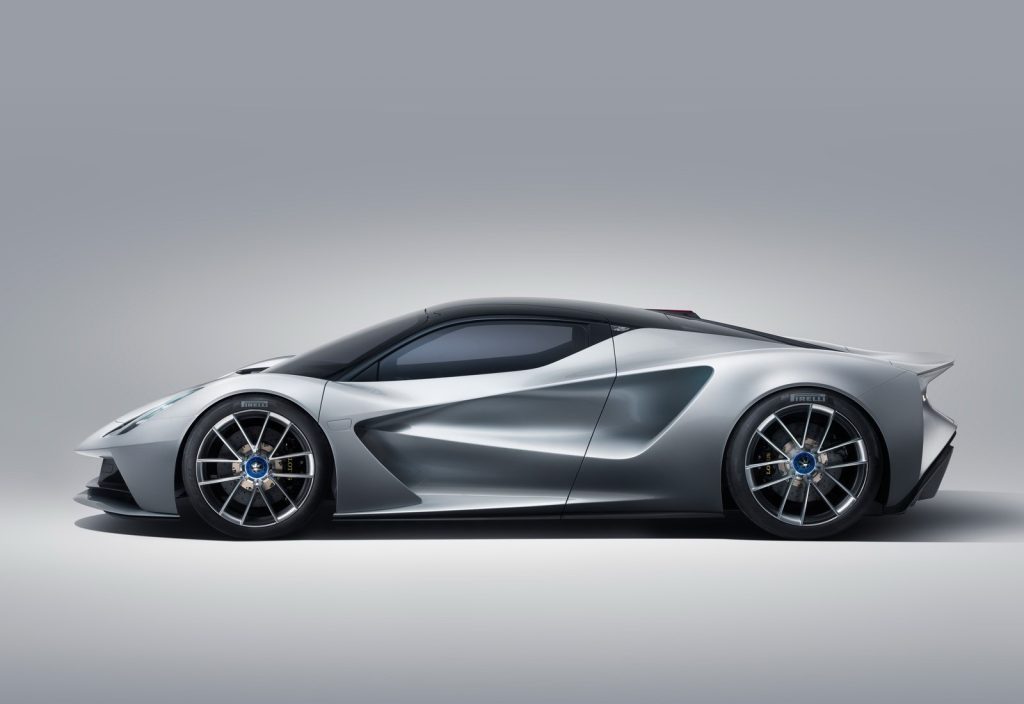 Lotus Evija
Lotus, the storied British car brand best known for its Elise and Evora sports cars, unveiled their all-electric hypercar in mid 2019. Despite the challenges which the 2020 year presented to the industry and to the world as a whole, Lotus remained steadfast in delivering the first examples to customers late in the year.
In the 11th hour however, the company announced that "The [Evija] project has been delayed due to the pandemic and we are currently looking at a loss of 5 months testing and development. Our plan is that the first customer deliveries will arrive mid 2021."
By all accounts we still consider this car eligible to make it on our '2020 list', given that the entire list of Evija build slots sold out months ago, despite each slot costing USD $2.2 million. Only 130 Evijas will ever be made, excluding prototypes, and I have an inkling that customers won't mind waiting a few more months to make sure their 2,000 hp hypercars are all that they have been made out to be, and more.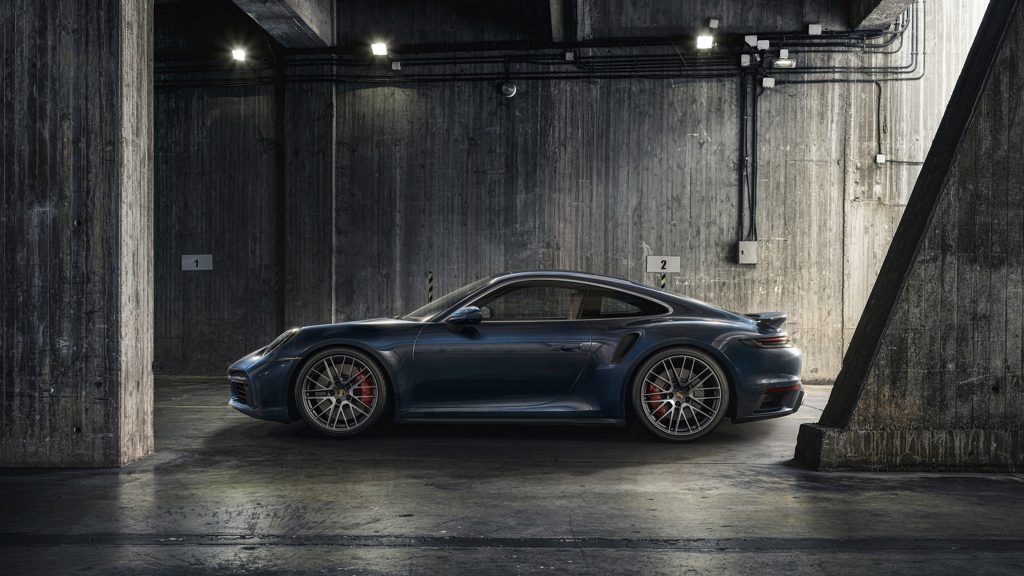 Porsche 911 Turbo S (992)
The new 992 generation Turbo S was released earlier this year in both coupe and cabriolet variations. The new Turbo S comes equipped with an all-new, 3.8 liter boxer six with two variable turbine geometry (VTG) turbochargers. The power output is a staggering 640 HP and 590 lbs-ft of torque.
In keeping with previous Turbo models, the engine powers all four wheels. A new 8 speed automatic transmission with a manual mode manages the power, and can power the car to 60 MPH in a hair under a claimed 2.7 seconds.
Performance wise, the Turbo S is faster, angrier, and more capable than any previous Turbo model. In fact, it accelerates 0 to 125 MPH in 8.9 seconds, a full second faster than the previous generation Turbo. It also features active aerodynamics, with both the front splitter and rear wing perpetually adapting to the situation. Even the two "sidepod" air flaps open and close as needed, to improve cooling and reduce drag.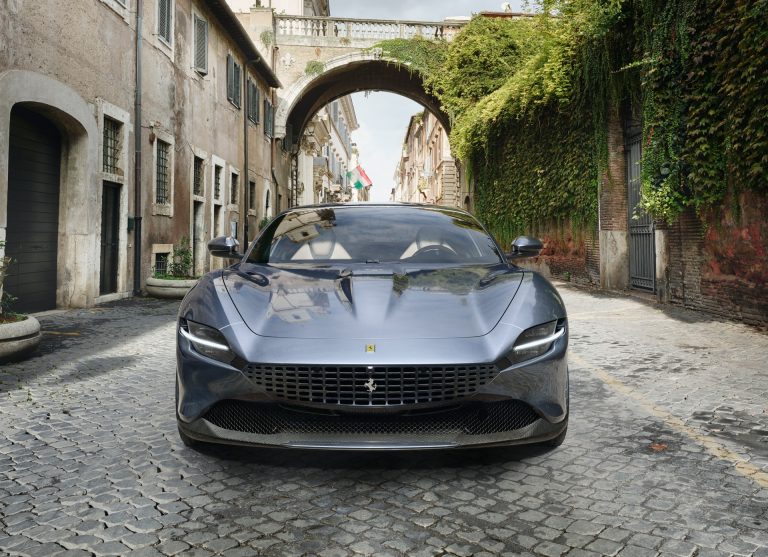 Ferrari Roma
It's a front-engined car with a hardtop, and it's one of the more beautiful cars the Prancing Horse has come out with recently. Inside the car, you can see that it's one of the most high-tech cabins of any Ferrari.
The specifications and details only exacerbate this. The car gets a turbocharged 3.9-liter V8 engine with new cap profiles and a speed sensor that allows the maximum rpm to rise by 5,000 rpm. In other words, this is an Italian Stallion that can truly sing. The engine has a single-piece exhaust manifold that's designed to make the most of the engine's efforts. All told, it makes 612 hp and 560 lb-ft of torque.
Inside, you get what Ferrari calls 2+ seating, meaning the back seats (if you can call them that) are pretty much useful only for some luggage. There's a new steering wheel with haptic controls, a 16-inch digital instrument cluster, an 8.4-inch infotainment system (it's optional), and a passenger 8.8-inch widescreen display for settings and navigation. There are also many driver assistance systems, including adaptive cruise control, automatic emergency braking, lane departure warning, blind-spot detection, and cross-traffic alert.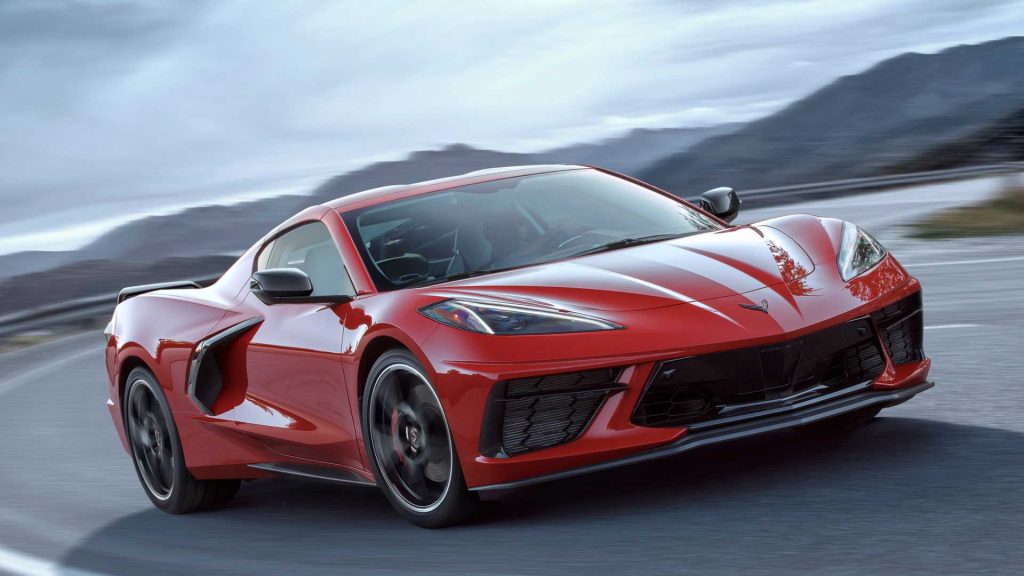 Chevrolet Corvette Stingray
Probably the most exciting thing to come from the American brand (and perhaps the entire automotive industry) for a long time, is the new mid-engine 2020 Chevrolet Corvette. In its most basic form, the car is equipped with a power plant which produces 490 horsepower and 470 lb-ft of torque.
It is a purpose-built machine which signals Chevy's intent to go full-tilt against the likes of exotic brands such as Porsche, Ferrari and McLaren on the performance front, while costing substantially less to own. The optional Z51 package takes the already capable base car, turning it into a worthy track machine with upgrades in the power and chassis department.
The first iteration of the reborn Corvette is already on most journalists' "Best of" lists, and there are no signs of the plaudits ending anytime soon. On paper, its bang-for-buck looks untouchable and potentially industry-disrupting. It comes in both coupe and convertible body styles with additional trims slated to be released throughout the lifecycle of the car.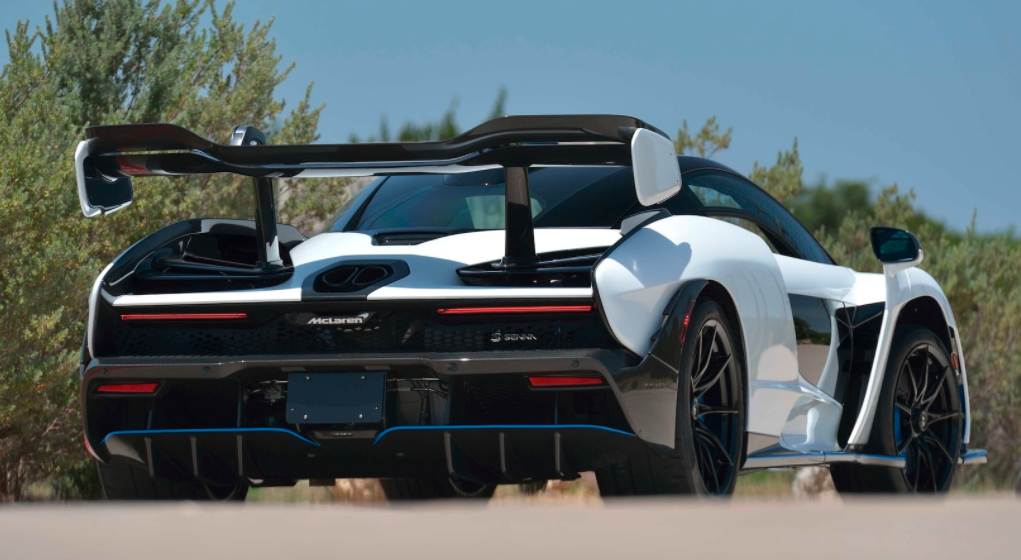 McLaren Senna
Another returnee from last year's version of this list, the McLaren Senna is just a car that won't be denied being put on its pedestal. After all, the McLaren Senna is the pinnacle of McLaren performance. It combines the three principal matters of a high performance vehicle – aerodynamics, chassis and power – in an unrivaled manner.
McLaren's marketing team accurately sums things up, stating "The McLaren Senna is the personification of McLaren's DNA at its most extreme, creating the purest connection between car and driver. It is the most track-focused road car we have ever built, and it will set the fastest lap times of any McLaren to date. That is what has driven us to build a track car that is unashamedly without compromise. One that is legalized for road use, but not sanitized to suit it. Nothing else matters but to deliver the most intense driving experience around a circuit."
As a purpose-built track car, it still manages to be road-legal; however, all 500 units have already been spoken for, so don't expect to see one roaming the streets or hitting up the circuits with any preferable degree of frequency.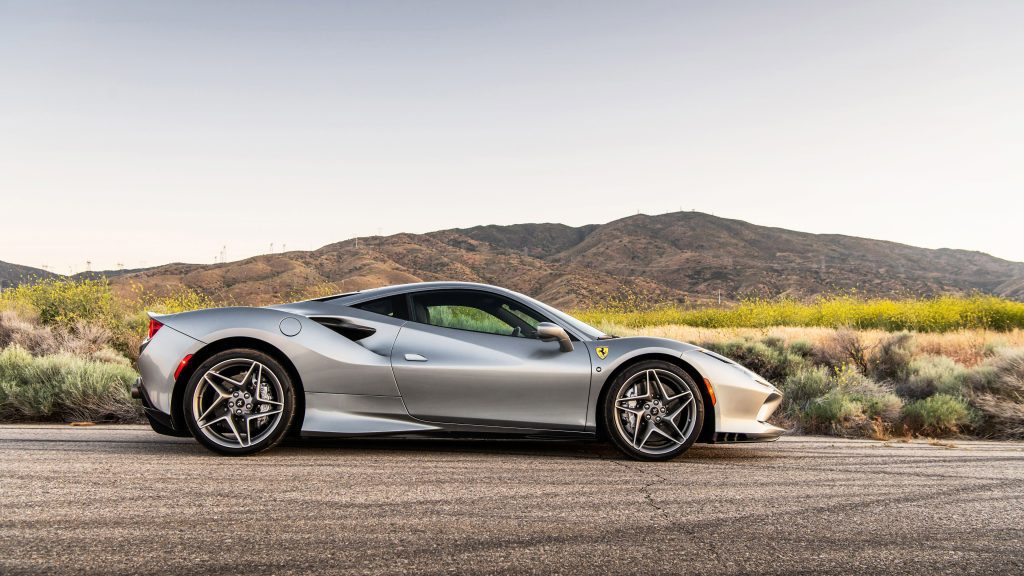 Ferrari F8 Tributo
The 2020 Ferrari F8 Tributo is the latest and greatest V8-powered Berlinetta to be produced by the prancing horse marque. Considered 'entry-level' in the Ferrari model lineup, the F8 Tributo is nevertheless the greater of the sum of its parts; it is a highly capable all-rounder, standing out amongst an expanding club of  'everyday supercars'.
Elegant but not without a functional brawn to it, the mid-engine 710 hp F8 Tributo has an outstanding, yet purposeful appearance to match its disposition; especially as it relates to matters of tarmac-carving and apex-clipping.
This Tributo is a nod to over 40 years of the latter's existence, while also a soft confession that the F8 will likely be the last of its kind – Ferrari's historic internal combustion V8 is next-in-line for the hybridisation treatment. The Ferrari F8 Tributo is a fitting celebration of this extensively storied history.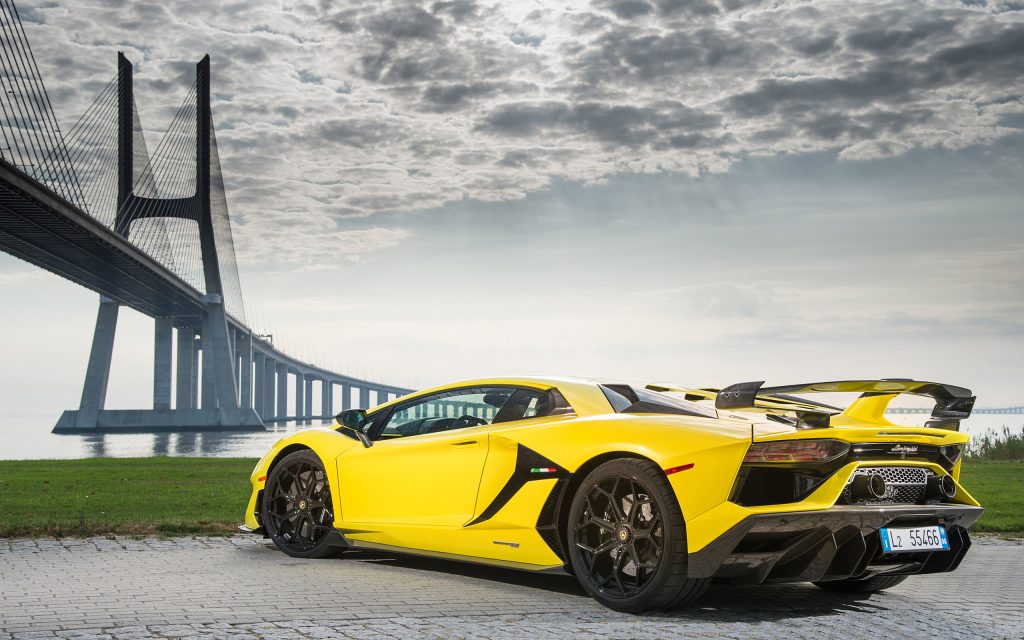 Lamborghini Aventador SVJ
In late July 2018, the Lamborghini Aventador SVJ became the latest production car to break the lap record at the legendary testing ground that is the Nürburgring Nordschleife.
It would be more than a month later before the car was officially unveiled to the public, during Monterey Car Week taking place in Pebble Beach, California. It was going to take nothing short of special to dethrone the Porsche 911 GT2 RS, and Lamborghini's new flagship car is something beyond even that.
To power its way around this treacherous course, the Aventador SVJ – available as both a coupe and roadster – employs a naturally aspirated 6.5L V12 engine which delivers 770-horsepower at 8,500 rpm and 530 lb-ft of torque at 6,750 rpm to its all-wheel-drive system. It is able to do 0-100 km/h in only 2.8 seconds and has a top speed of over 349 km/h.
On the street, the car is remarkably civil and suffers no loss of character or fun factor. Simply one of the greatest road cars available right now.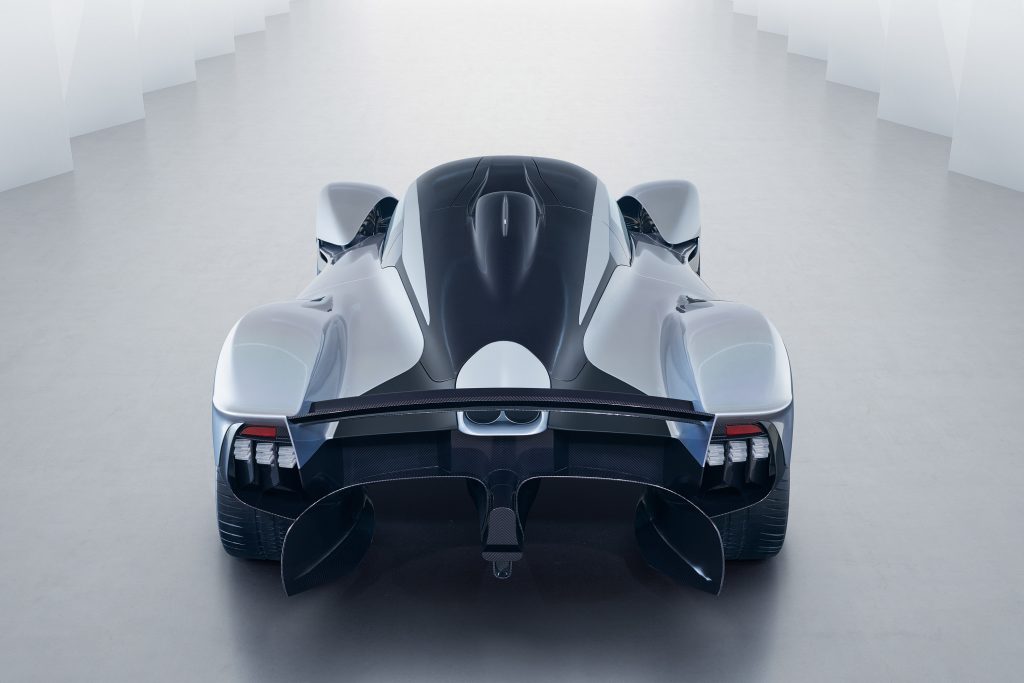 Aston Martin Valkyrie
Aston Martin is feeling the effects of COVID-19 just like many other businesses. The company was forced to put its test program that is currently handling the Valkyrie hypercar on hold. Since that was announced in June, he has confirmed that development for their range of mid-engined cars – including the Valkyrie – has resumed. However, the COVID-19 delays have forced Aston Martin to plan for a Q2 of 2021 delivery for the Valkyrie.
This is very much a car, that's worth waiting just a little longer for. Afterall, it has a 6.5-litre V12 that will produce an absolutely insane 1,000 hp at 10,500 rpm and 546lb ft at 7,000 rpm.
Additionally, the Valkyrie includes a KERS-style hybrid system, which should add 160 hp and 207 lb-ft of torque to the powertrain. Electric battery and supercar manufacturer Rimac is developing the technology for this hybrid system.This will make it the most powerful road car ever produced. I'm buzzing to see this one.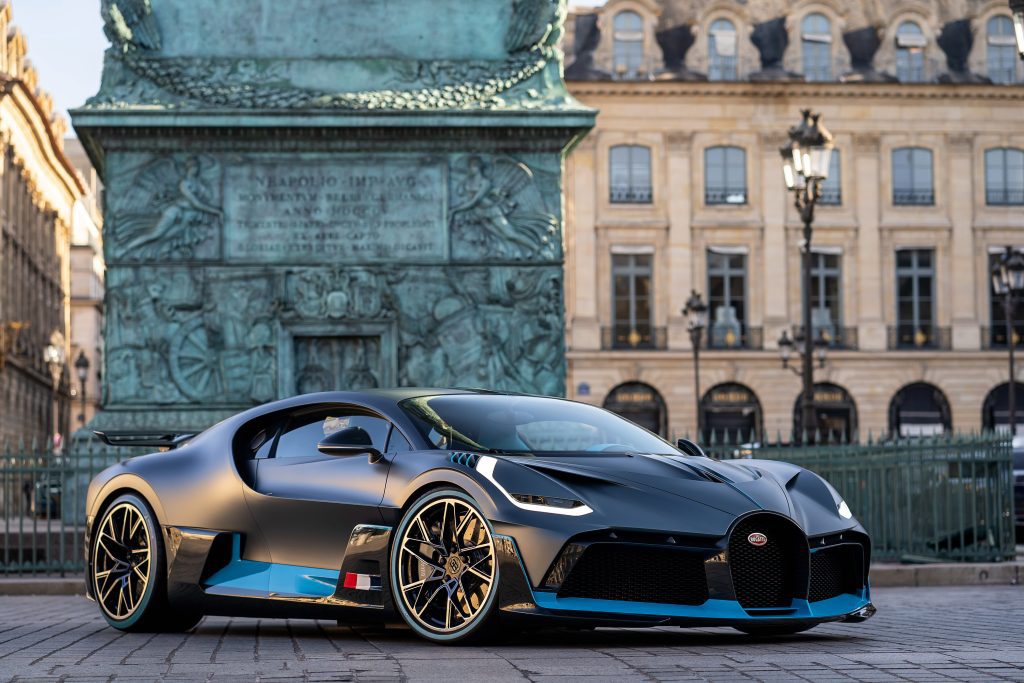 Bugatti Divo
The Bugatti Divo is based on the Bugatti Chiron, and is certainly no less over-the-top. The Divo shares most of the important mechanical features with the Chiron; most notably the same quad-turbocharged 8.0L W16 engine which produces an extravagant 1,500 horsepower.
However, to make the Divo "the most agile and dynamic car Bugatti has ever created" drastic changes elsewhere have made the two cars otherwise very distinguishable from one another. Functional air inlets were added to the front bonnet, along with a NACA duct on the roof, and a larger adjustable rear spoiler. The headlights and tail lights were reimagined for further effect, while its lower stance suggests added performance purpose. The interior is least affected, with some finishing touches added to make it distinctive.
Overall the Divo also has sharper angles and more aggressive looking body lines, with the horseshoe shaped grill, centre line running over the top of the car, and scoop-shaped doors being the only truly pronounced Bugatti features. The remaining design elements seem fairly reminiscent of present day Lamborghinis – and the fact that Mr. Winkelmann is the former Automobili Lamborghini CEO, leads me to believe this may not be much of a coincidence.
Only 40 are going to be produced, and they're already sold out.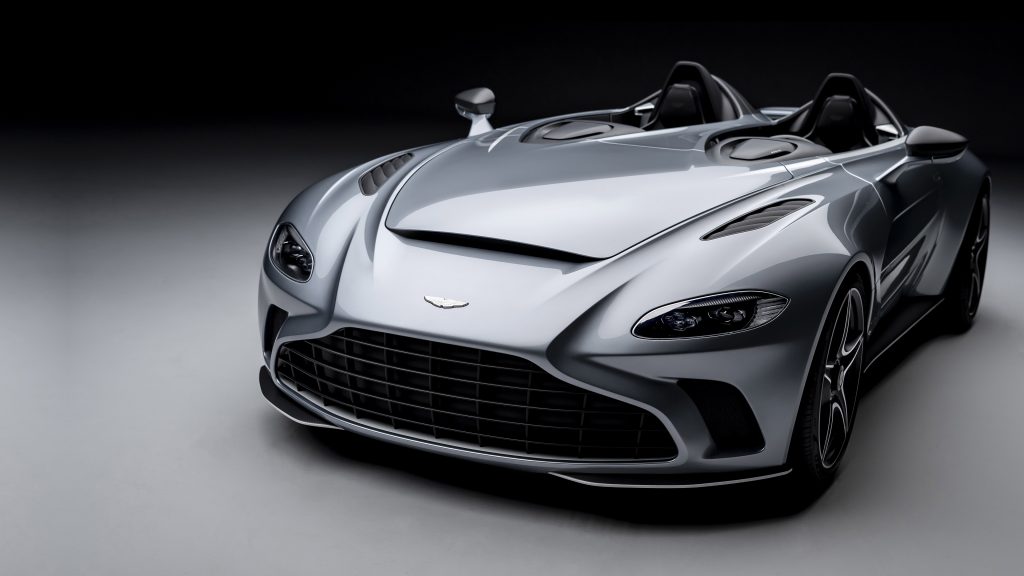 Aston Martin V12 Speedster
The V12 Speedster, as the name suggests, is powered by a 5.2 liter twin-turbocharged V12 developing 700 HP and 555 lbs-ft of torque, in a front-mid mount position behind the front axle. That power is mated to an 8-speed ZF automatic, and the car comes in rear-wheel drive configuration only.
The car had an extremely short design and development period; only 12 months from original concept to production ready. This is partly due to the new Aston Martin division "Q By Aston Martin," which is the same as AMG is to Mercedes and the M Division is to BMW.
Capable of accelerating from 0 to 60 in 3.5 seconds, the Speedster promises a visceral open top experience that harks back to Aston Martin's participation in Le Mans during the 1950s and 1960s. Pricing starts at $950,000 and only 88 units will be produced. Aston Martin started accepting orders in 2020, with deliveries expected early in 2021.
One of the key design elements of the Speedster is that it will not have a roof or windscreen at any point, so a proper set of goggles that can handle its 186 MPH top speed is highly recommended.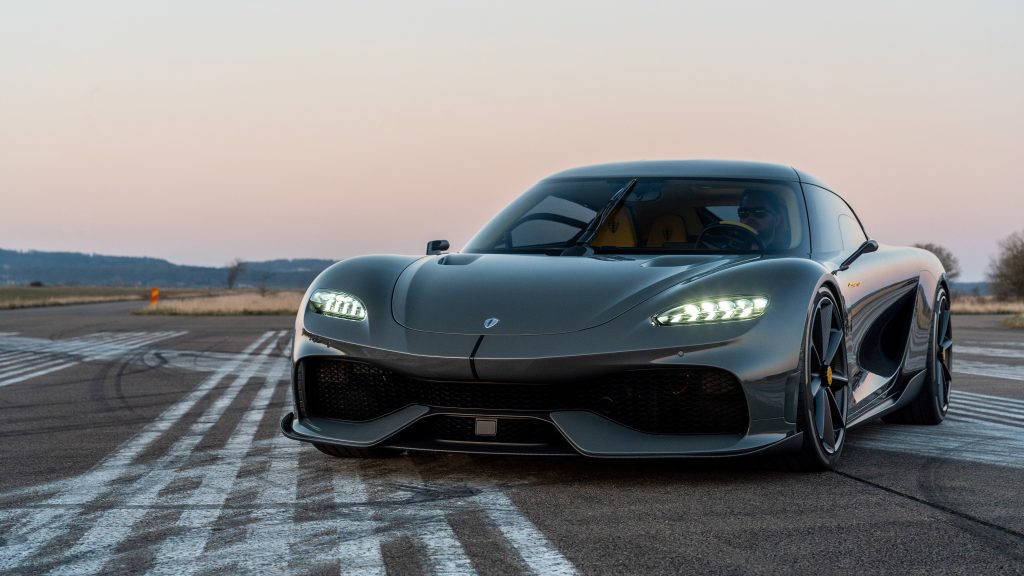 Koenigsegg Gemera
Hinted at for a long time under the codename KG12, the latest Koenigsegg megacar has been revealed: The 2021 Koenigsegg Gemera. The Gemera is Koenigsegg's first proper 2+2 GT car, or, due to the power it produces, mega-GT.
The car outputs a combined total of 1.27 MW of power, or 1,700 HP, and 2,581 lbs-ft of torque. This is achieved with a combination of an extremely powerful, 2.0 liter twin turbo camless freevalve inline three engine, nicknamed the Tiny Friendly Giant, that produces 600 HP all on its own that powers the front axle, combined with three electric motors.
Two electric motors are placed at each rear wheel, with a third motor attached to the crankshaft of the engine to boost power to the front axle. All three motors have a combined output of 1,100 HP.
Koenigsegg has confirmed that orders can be taken through the Expressions Of Interest website, and that the base price is $1.7 million USD.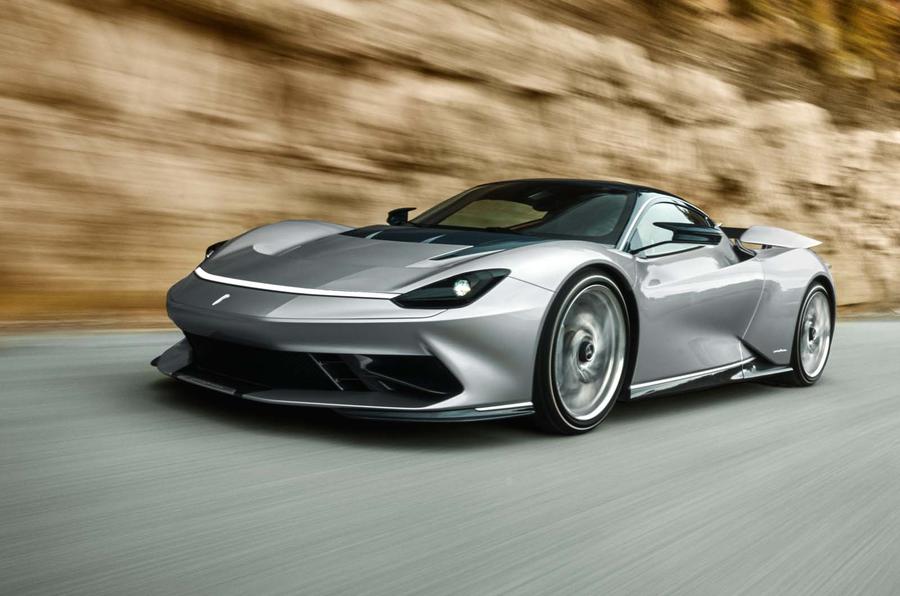 Pininfarina Battista
When the Pininfarina Battista was unveiled at the Geneva Motor Show in March 2019, it was touted as the first fully-electric hypercar. Having been teased with bits and pieces up to that point, the Battista would finally secure its place in history as the first complete amalgamation of a zero-emissions hypercar.
Like the car itself, delivery of the first examples are coming in faster than you can blink, with customers told to expect their cars no later than the third quarter of 2020. Before we know it, an automobile which could revolutionize the way we travel will be taking center stage.
The Pininfarina Battista draws power from its four electric motors – one for each wheel, also making it AWD – which in combination, produce up to a mind-boggling 1,900-horsepower (or 1,400 kW). Thanks to its 120kWh battery (which is rated 20kWh higher than Tesla's Model X and Model S), the car is able to generate 1,696 lb-ft of torque (the equivalent of 2,300 Nm), with Pininfarina claiming 0-60 mph is possible in less than 2 seconds. A top speed of 217 mph is what is currently theorized. The aforementioned figures by these accounts, makes it faster than a Formula 1 race car.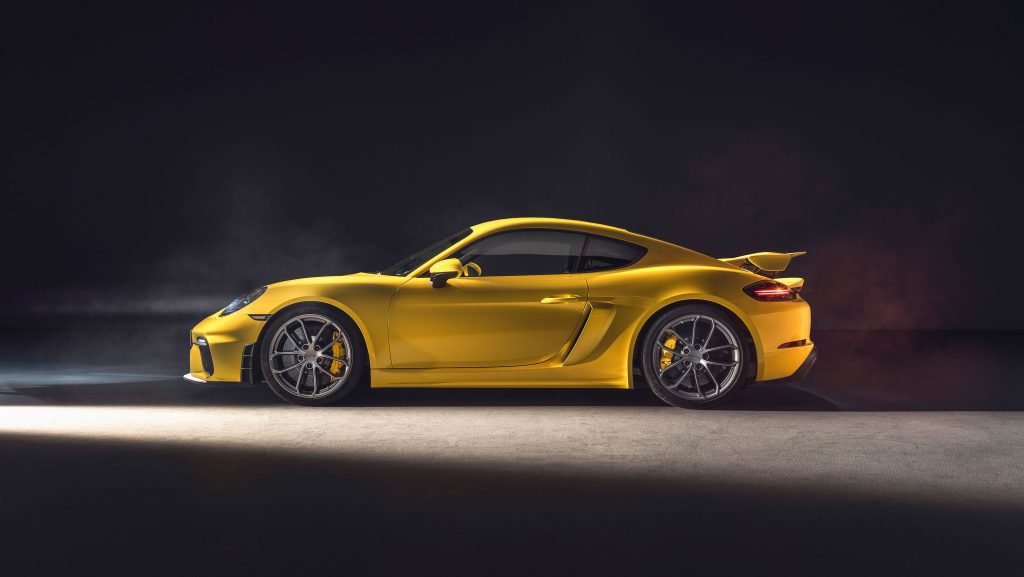 Porsche 718 Cayman GT4 / Boxster Spyder
The first iteration of the Porsche Cayman GT4 made its debut in 2015, drawing a conclusion to the third generation of Boxster/Cayman (981). Since that time, the GT4 has become a cult hero amongst purists with its absence of frills (not to be misheard as 'thrills'), relative affordability and undisputable demi-god-status as one of the ultimate driver's cars.
The most welcome fact about the new next-gen (982) GT4 models, is that they mark the reintroduction of the naturally aspirated 6-cylinder into the Cayman/Boxster series, and for the first time into the 982 generation. With the main difference between the two GT cars being that the GT4 is a coupe while the Spyder is a drop-top, both cars are mechanically identical and benefit equally from the typical GT-treatment we have all come to adore.
Like the inaugural GT4, the incoming 'twins' once again infringe on Porsche 911 territory with their stunning performance metrics to rival Stuttgart's own flagship car. However, there is some irony in this as a Porsche GT car has never put an emphasis on padding the spec sheet, and the new GT4 and Spyder are no different.
The famed Motorsport division continues to use their cars to highlight the pinnacle of vehicle driving dynamics and enjoyment, so it's safe to say that we are in for one hell (or two hells?) of a ride. Underrated by the masses, and worshiped by its supporters, the Cayman GT4 / Boxster Spyder is the Porsche model that every fan now lusts after.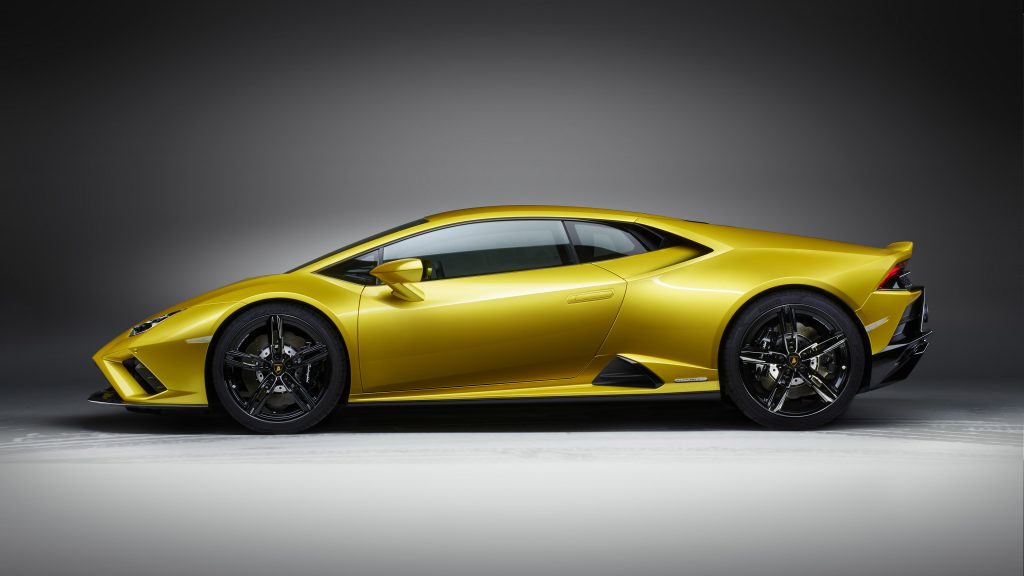 Lamborghini Huracan Evo RWD
The Huracan Evo is an amazing supercar, and Lamborghini is working to make the most of the design. The company released the Huracan Evo Rear-Wheel Drive. The model is a paired back version of the car that looks to be possibly the best version for the true drivers out there.
The model is powered by a 5.2-liter V10 but it's been detuned. It produces 610 hp and 413 lb-ft of torque. The car will cost £137,000 (about $179,000). Removing the all-wheel-drive system also removes about 73 pounds. The car can do a 0-62 mph run in 2.9 seconds. It takes 9.3 seconds to get to 124 mph. The car will top out at 201 mph.
While the car isn't the quickest Huracan out there, it's supposed to be the best to drive. The company provided this through reprogramming the car's electronic driver aids, specifically the Performance Traction Control system. I don't know; there's just something about a driver-focused, spartan, and no frills Lamborghini that just does it for me.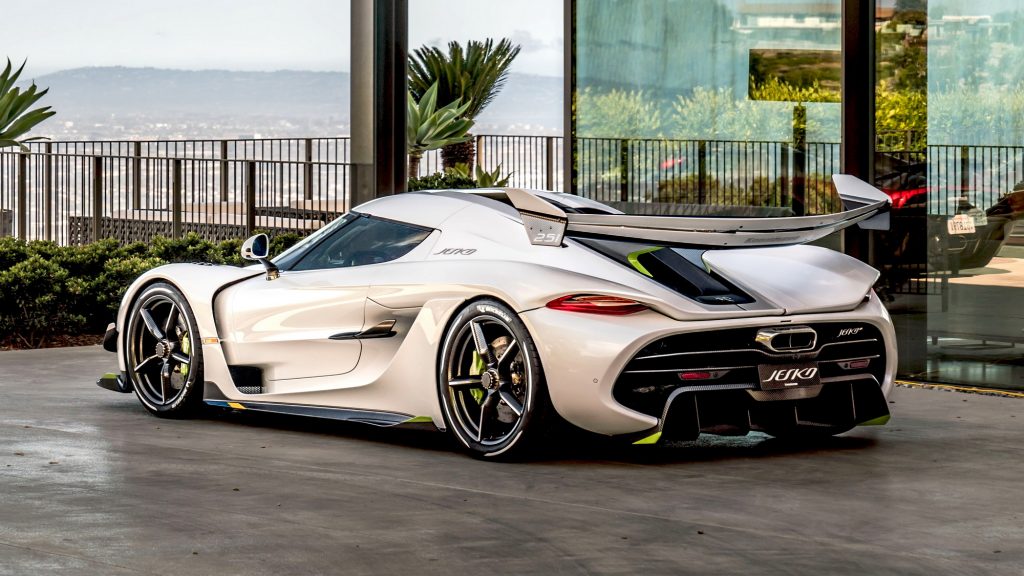 Koenigsegg Jesko
Koenigsegg's new Jesko hypercar – named after his father who helped him start his company – claims over 300 mph as its top speed.
There are two different versions of the car; Koenigsegg designed one for top speed excursions to achieve 300 mph, and other with some serious downforce specifically tailored for the racetrack. No matter the variant, you get a new carbon fiber and aluminum chassis, new suspension setup, redesigned engine, and a special gearbox.
The car comes with a 5.0-liter twin-turbo V8. The company worked on the engine to make it more powerful and lighter than any other V8 it has produced. It'll make 1,600 hp on E85 biofuel and 1,280 on regular gasoline. Torque numbers sit at 1,106 lb-ft. The car comes with a special 9-speed multi-clutch gearbox the company builds in-house.
Thanks to the huge front splitter, the big wing at the back, and the body's overall aerodynamic shape, the car produces a whopping 2,200 pounds of downforce at 170 mph. At the vehicle's top speed it makes over 3,000 pounds of downforce.
Koenigsegg plans to build 125 Jeskos over the course of the next few years. If you've got your heart set on one you'll need just under $3 million. As always, Koenigsegg is expected to have at least one entrant in the current hypercars market.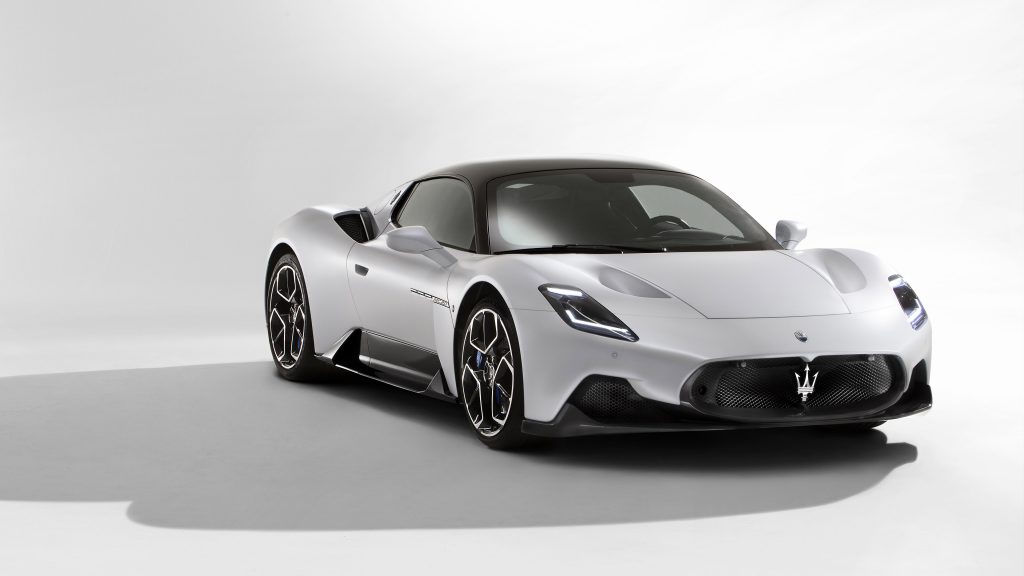 Maserati MC20
Just in time to make this list, the Maserati MC20 was originally supposed to be delivered in late 2020, but the pandemic put a slight dent into those plans. However, the production version was recently unveiled in September, and with orders being filled, deliveries will begin in early 2021.
By far the biggest celebration of the new MC20 – which is short for 'Maserati Corse 2020' – is that the entirety of its engine, body and interior, is made in-house. Yes, everything is made within the  Modena headquarters, and it's also the first time in over 20 years that Maserati will be building their own power plant.
The Nettuno engine has been confirmed as having 630 BHP from a 3.0-liter twin-turbocharged V6. It produces 539 lbs-ft of crank torque and motivates a super-lightweight car that weighs less than 1,500 kg (3,307 lbs).
The car also symbolizes a huge step forwards in design for Maserati, as the entirety of the car, from concept to final prototype, took only 24 months in total. This was achieved through extensive use of computer-aided prototyping. The MC20 is sure to bring renewed excitement and energy to the brand; something that Maserati has been in need of for some time.