Porsche has made a lot of cracking 911s over 50+ years. We Pick the Best Production, Limited Edition & Race 911s of All Time.
While we were researching our 911 buyers guide for new Porsche buyers and our best (Non 911) Porsches lists it became clear pretty quickly that an epic post about the best 911s ever made was going to have to happen. Porsche has been making 911s since 1963 and there have been some cracking cars since then. How many? Well, our current list includes more than thirty 911s we consider to be awesome and we are only in April of 2018 so we are sure we will add even more over time.
First things first. This is a living list. We expect Porsche fans and historians to contact us and argue for the inclusion of cars we missed. Send us your thoughts. We will note that while your favorite 911 may not have made our list, but that doesn't mean we don't love it. We really did struggle to pick the right balance of pedigree, history and specialness and you can see we ended up with over thirty cars and the list could have been double the size.
Anybody who knows the history of Porsche knows that 1963 was "our year". In 1963 Porsche introduced their seminal 901 at the 911 at the Frankfurt Motor Show. Thanks to our friends at Peugeot the 901 became the 911 and the world was never the same again for sports car fans. The 911 was a small, powerful and fun sports car with a boxer six engine out back in the wrong place. As the successor to the Porsche 356, the 911 won the hearts of sports car enthusiasts from the outset and sales of the diminutive rear engined flat six sports car started strong.
Ten years after its launch, Porsche gave the 911 a big update with the G Series which ended up being produced from 1973 to 1989. Next up was the 964 in 1989 and this was a totally new platform with an air-cooled 3.6 liter flat six engine with over 250 hp and a modern design that is still coveted by collectors everywhere. Perhaps the most popular and most-loved 911 is the 993 that was launched in 1993. Peopled loved the design and it was the last air-cooled 911 – sigh.
The 996, which rolled off the assembly line from 1997 to 2005, represented a major turning point in the history of the 911. It retained all the character of its classic heritage, but was an entirely new car. This comprehensively redesigned generation was the first to be driven by a water-cooled flat engine. Models like the 996 GT3 are still some of our favorites here at Supercars.net. 2004 was another update with the all new 997. With no more ugly lights and a cleaner and crisper design, it upped power, drivability and technology. The now 3.6 liter flat six was 325 hp in base model while the Carrera S got a new 3.8 liter engine with 355 hp.
Next was the launch of the 991. A completely new chassis with modified wheelbase, greater track width and beefier tires, plus an ergonomically optimized interior produced an even sportier and more comfortable driving sensation. With its low, stretched silhouette, its bristling surfaces and precisely shaped details, the Porsche 911 Car. Once again, engines were more powerful, more efficient and significantly more advanced. Driver aids and advanced chassis tech were also launched. We also saw a big increase in the number of variants made, with the Targa and GTS models launched. In 2015 Porsche moved away from natural aspiration with the 911 now powered by a new 3.0-liter twin-turbocharged six-cylinder flat engine developed 370 hp in base trim.
With more than five decades of evolution and seven model generations, the 911 was always modern but never fashionable. Ask any Porsche fan out there what the best 911 of them all is and chances are every one of them will give you a different answer. There have been countless 911 models that were awesome and picking our favorites was so hard we decided to simply include all the best 911s in one long list. So here it is, our list of the best 911's of all time.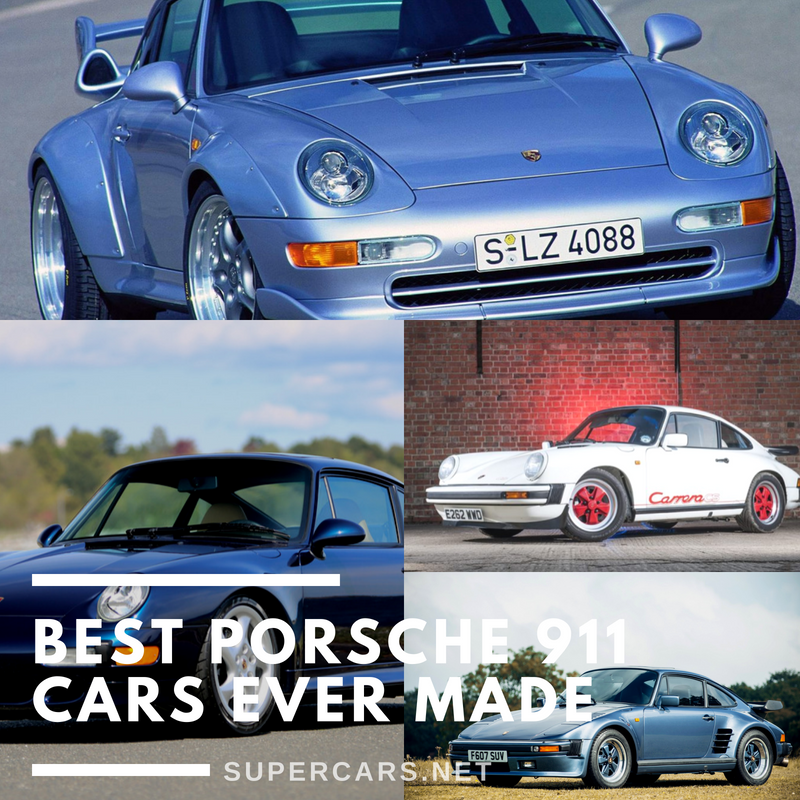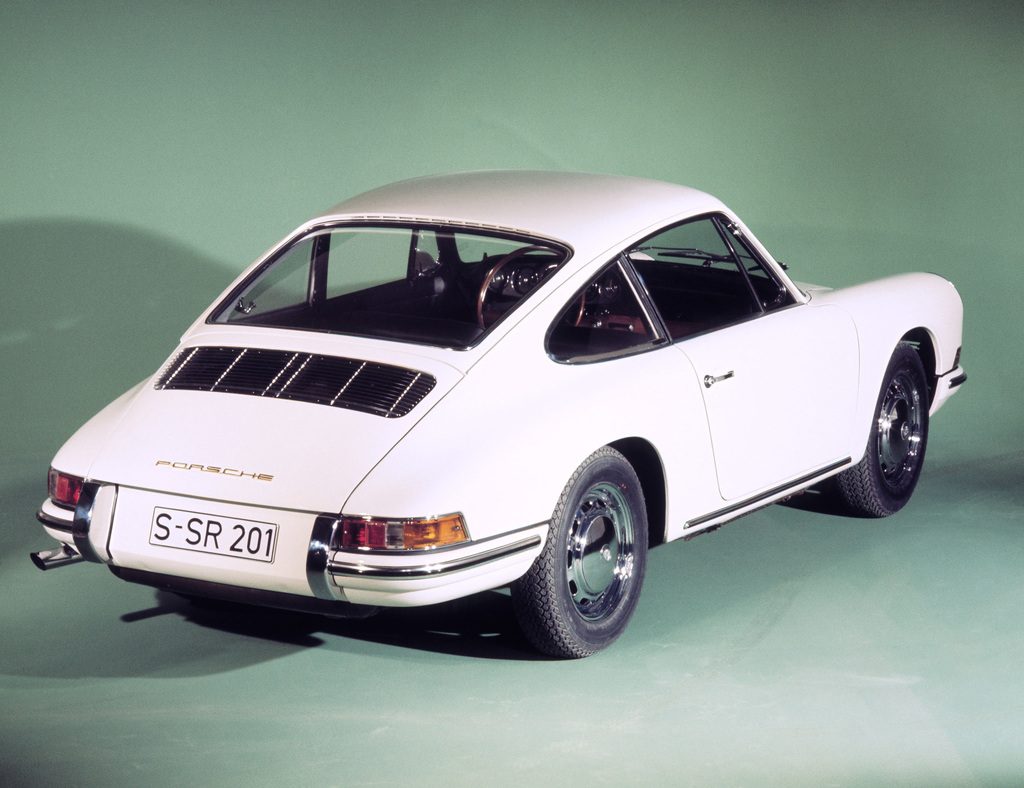 1963 Porsche 901
Year: 1963 Generation: 901 Units built: 82
Engine: Flat-6 Power: 130 bhp 0 – 60 mph: 8.3s Top Speed: 130mph
In 1963 Porsche introduced their seminal 901 at the 911 at the Frankfurt Motor Show. When Porsche presented the vehicle at the Paris Motor Show in October of that year, the French car manufacturer Peugeot objected to the model designation. The reason: Peugeot had patented a three-digit type designation with a zero in the middle.
The 901 was renamed 911 for the 1964 model year. We still count it as the first 911 which is why it makes our list over the 1964. Series production of the 901 began in September 1964. The new car was sold alongside the 356C as an alternative with more power and room for a rear seat.
The massive undertaking of replacing the 356 began as early as 1959 with Ferdinand Alexander "Butzi" Porsche largely responsible for the project. By 1961 the first clay models were being made and in July of 1964 the first prototypes were being made.
At the 1963 Frankfurt show the public saw Porsches new direction. Compared to the 356 it had a longer wheelbase, a more compact suspension setup and much more power from the flat-6 engine. This is the car that started the legend. 82 units of the 901 were produced before the name change.
More: 1963 Porsche 901
---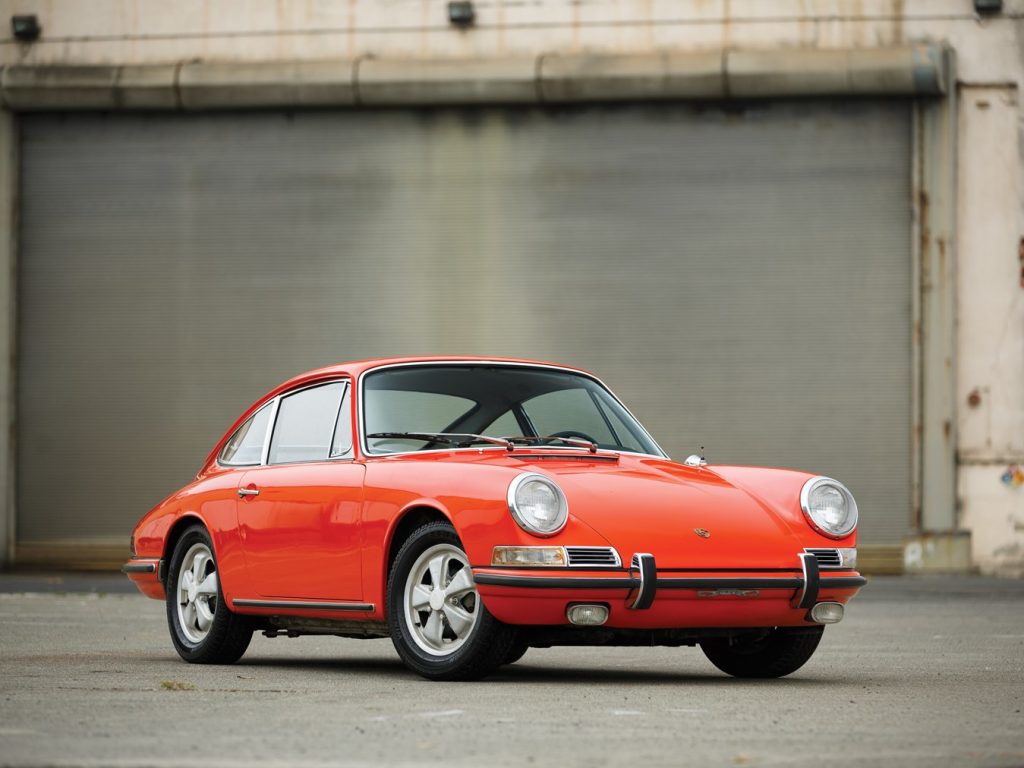 1967 911 S Coupe
Year: 1967 Generation: Early Years Units built: 1,823
Engine: Flat-6 | Power: 160 bhp | 0 – 60 mph: 6.5s | Top Speed: 140mph
We considered adding the Targa from 1967, but ultimately we felt the 911 S was a more important model. The 911 S was introduced to increase the performance potential of the very successful 911. It had a more powerful engine along with a number of chassis enhancements that made it very desirable. Becoming the flag­ship of the fleet, the $6990, 180-hp, 6-cylinder 911S was loaded with per­formance and luxury features.
Distinctive 5-leaf wheels from Fuchs that were made from forged magnesium-alloy, a leather-covered steering wheel rim, extra instrumentation, an auxiliary gaso­line heater, fog lights, pile carpets, and waffled padding on the dash (all pretty luxurious back in 1967 folks).
The tradition of race-inspired 911s really started here. A 2.0-liter flat-six producing 180-hp with a 7,200 rpm redline in 1967 was pretty special. This was clearly a more powerful and sportier car and much better than other cars of the same era.
---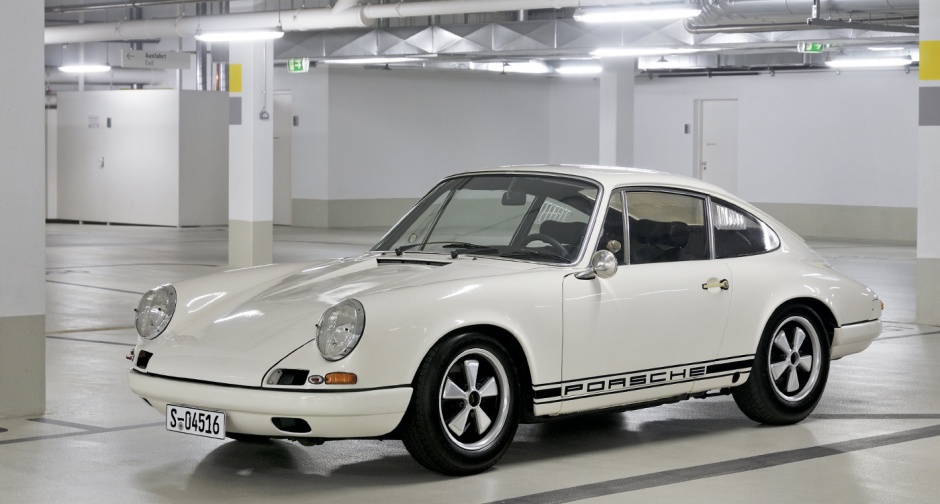 1967-1968 Porsche 911 R
Year: 1967-1968 Generation: Early Years Units built: 23 (19 vehicles plus 4 test cars)
Engine: Flat-6 | Power: 230 bhp | 0 – 60 mph: 5.9s | Top Speed: 152mph
In 1967, you could walk into a Porsche dealer and buy a 911 S which was essentially the pumped up 911. No so the 911 R. To take the newly released 911 to its limit, Porsche developed a small series of racing versions that focused primarily on weight reduction. These racers were the first among a series of 911s that would dominate GT racing for over 40 years. Only 23 were built.
Four prototypes initially surfaced from Porsche's experimental department in Spring of 1967. Every possible component was replaced by a lightweight counterpart. With the standard interior deleted, lightweight windows, fiberglass doors, hood, engine cover and bumpers, the 911R was only 1786 lbs (810 kg), some 500 lbs (230 kg) less than the standard 911! Wow.
Included was the Type 901/22 engine from the Carrera 906 with a standard alloy crankcase. Most cars used Weber 46 IDA3C carburetors, while some featured the mechanical Bosch fuel injection system. Optionally the four-cam Type 901/21 engine which produced 230 bhp (171 Kw) was available. With this engine, the 911 R accelerated from zero to 100 km/h in 5.9 seconds and could cover a distance of one kilometre from a standstill in just 24.2 seconds – one second faster than a Porsche 904 Carrera GTS and a full 5 seconds faster than an Alfa Romeo GTA.
Outwardly, the 911 was distinguished by flared wheel arches, smaller bumpers and distinctive circular rear lights. In detail, the extent of the 911R program becomes apparent with details such as a bank of louvers in the rear quarter windows, plastic door hinges and wider Fuchs alloy wheels.
While initially conceived to race in the sports car class, the R never met homologation requirements and was forced to race with the potent prototype classes. With an estimated sales price of 45,000 DM, a 911 R was nearly twice as expensive as a regular 911 S and did not sell enough units (500 were needed for homologation). The 911 R would have contributed much more to the 911's legacy had Porsche filled its 500 car requirement for homologation.
More: 1967 911 R
---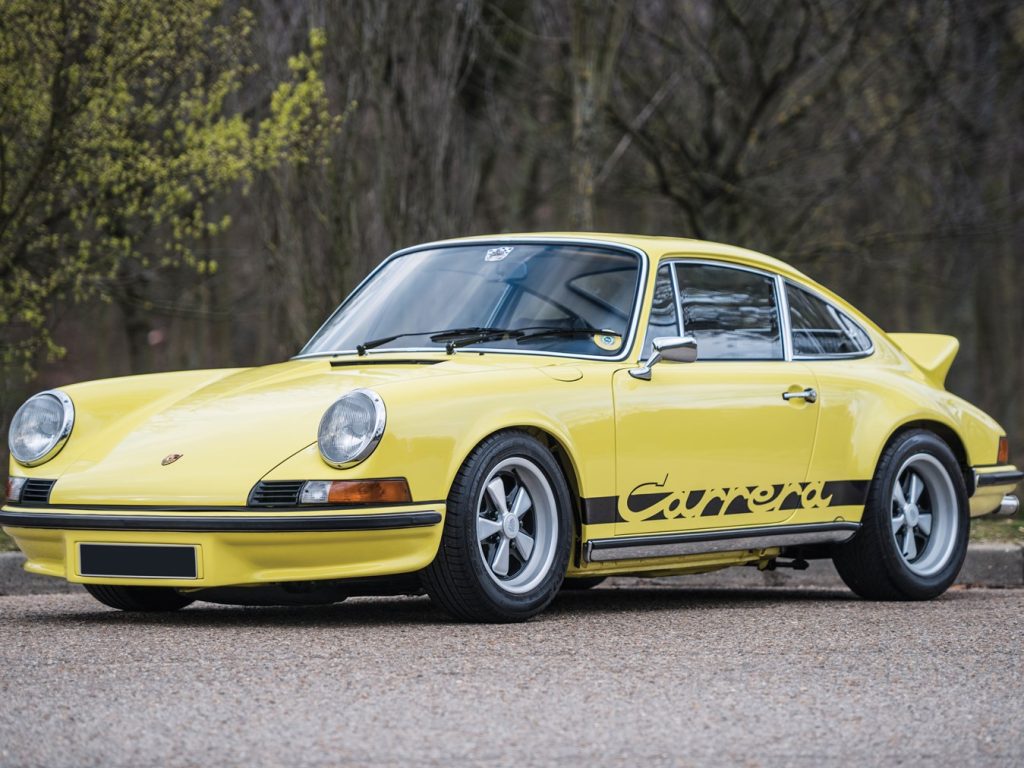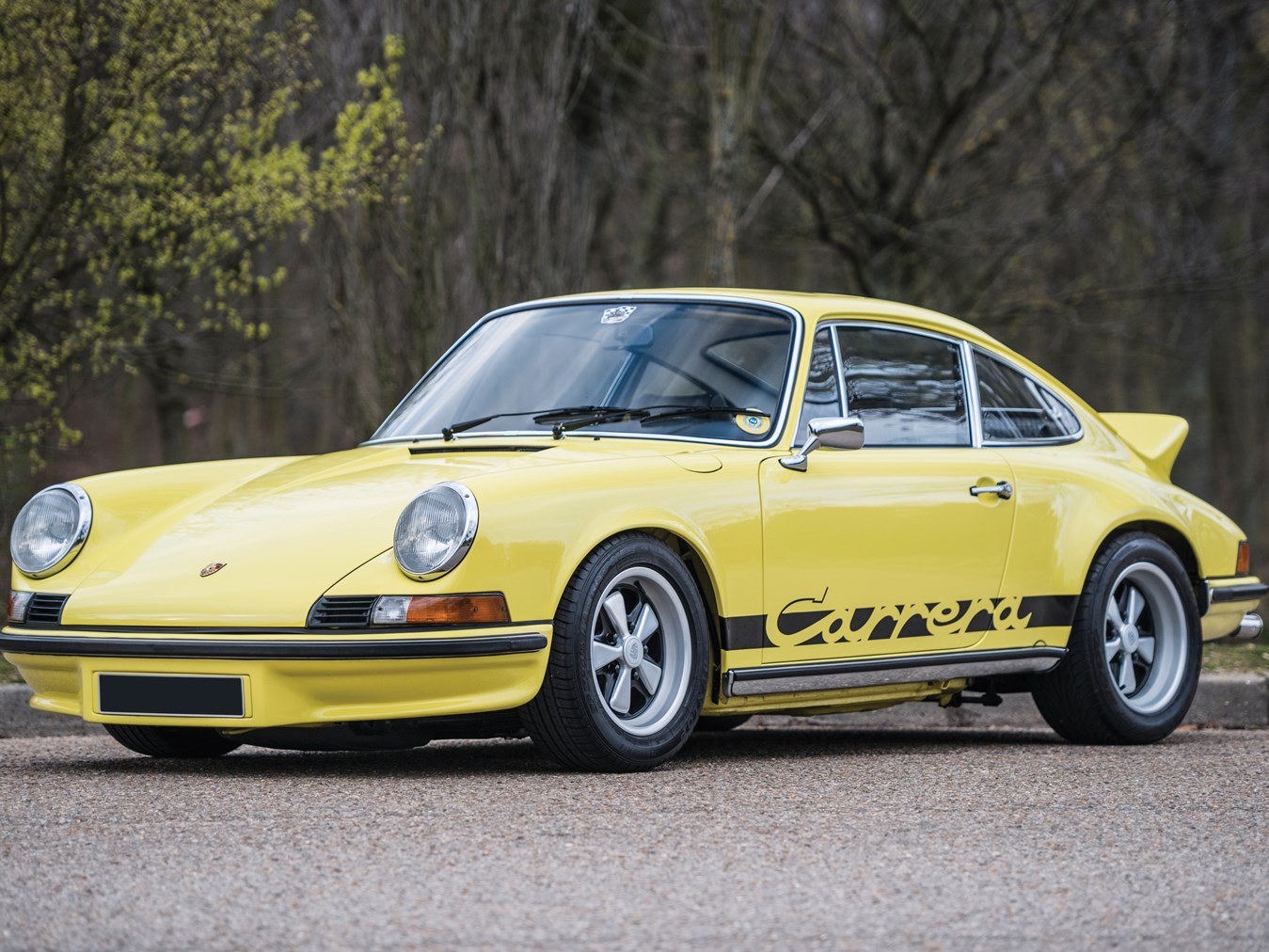 1973 911 Carrera RS 2.7
Year: 1973 Generation: Carrera RS Units built: 1580 (200 Lightweight, 1300 Touring, 80 Race)
Engine: Flat-6 | Power: 210 bhp | 0 – 60 mph: 5.8s | Top Speed: 150 mph
This is one of the most desirable 911s ever and auction prices will scare the bejesus out of you. The Carrera RS 2.7 was lighter, more powerful, and rarer than other 911s of the era.
Revealed at the 1972 Paris Auto Show, the Carrera 2.7 RS was a special model used to homologate the 911 in Group 4 racing. Developed from the 911S, the 2.7 was more potent in almost every area. Compared to the standard Carrera, the 2.7 RS featured a larger engine, wider flares to accommodate the Fuchs alloy wheels, stiffened suspension, larger brakes and a ducktail rear spoiler.
With the use of a Nikasil coating on the cylinder walls, the 2.4 unit could be bored out to a capacity of 2687 cc, but the standard valve train was retained. At the time, this became the largest engine available on a Porsche and was good for 210bhp at 6300 rpm. And with a taller 4th and 5th gear, the top speed was increased to 152 mph.
Initial production for the 2.7 was only 500 cars and it sold out almost immediately. Three versions were available, including a lightweight Sports trim, Race Trim or more opulent Touring trim for the road. The lightweight version was substantially lighter with thin-gauge body panels, lighter windows and a stripped out interior.
More: 1973 911 Carrera RS 2.7 Touring, 1973 911 Carrera RS 2.7 Lightweight
---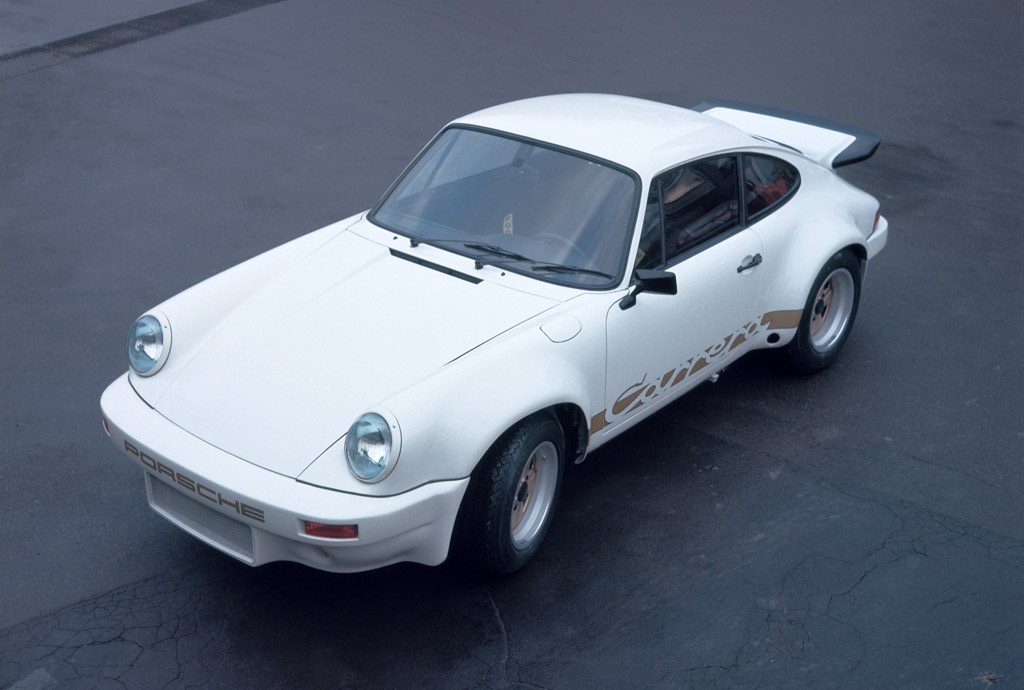 1974 Porsche 911 Carrera RS 3.0
Year: 1974 Generation: Carrera RS Units built: 109 RS 3.0s, 54 RS trim
Engine: Flat-6 | Power: 230 bhp | 0 – 60 mph: 5.2s | Top Speed: 155 mph
During a successful 1973, Porsche took the opportunity to develop an evolution of the RS 2.7 (having now met stricter requirements of building 1000 road cars per year in line with Group 3 rules). A quirk in the Group 3 rules allowed previously homologated cars (like the RS 2.7), to be homologated with just 100 examples built. So in 1974, Porsche launched the Carrera RS 3.0. It was almost twice as expensive as the 2.7 RS but was much more of a track machine. The chassis was similar to the '73 Carrera RSR and the brake system was from the Porsche 917. It was a continuation of the race cars for the road trend that all of us Porsche fans love so much.
The 3.0 made 230hp with what was basically as detuned 3.0-liter RSR engine with an aluminum (rather than magnesium) crankcase and street exhaust fitted in place of the open racing unit. Cylinder heads were single-plug rather than the racing twin-plug type, and the compression ratio was given a significant bump over the outgoing 2.7's 8.5:1 ratio, though it still runs on the equivalent of 93 octane U.S. pump gas.
With its systematic lightweight construction the RS 3.0 only weighed in at 900 kg. This low weight was achieved by using thin-gauge sheet parts and by basically removing parts and equipment from all over the place. Brakes were upgraded to larger four-piston units and the suspension was revised with RSR rear pick-up points allowing for more camber adjustment. There was a five-speed gearbox and limited-slip differential, and the fenders were widened even further to accommodate 8.0-inch wheels up front and 9.0-inches in the rear. The RS 3.0 also had the taller, larger bumpers introduced in all 1974 911s and the new rear "tray"-style spoiler.
Before you ask we love both the RS 2.7 and RS 3.0 the same. The 2.7 is the ultimate dual-purpose 911 from the era. Somebody once nailed it when they said: "The RS 2.7 is 80 percent 911 S. The RS 3.0 is 80 percent RSR."
More: 1974 Porsche 911 Carrera RS 3.0
---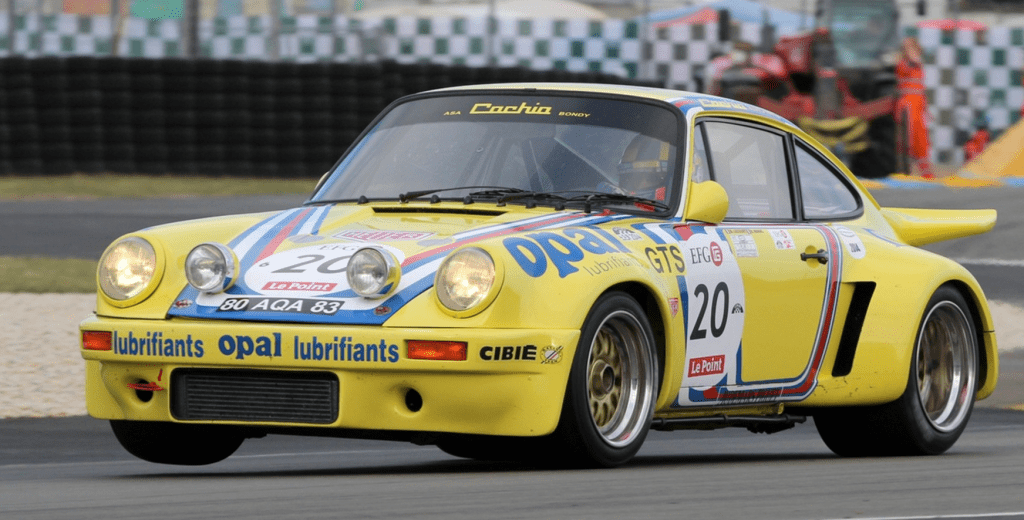 1974 Porsche 911 3.0 RSR
Year: 1974 Generation: Carrera RS
Engine: Flat-6 | Power: 280 bhp | 0 – 60 mph: 5.6s | Top Speed: 178 mph
Introduced in 1973, the RSR was a factory-built racing car based on the 911 chassis. These were not converted street cars, but rather purpose built competition models designed and built from the ground up for serious racing use. In 1974 the factory made significant changes to the car including a new 3.0 liter engine, wider wheels with center lock hubs and improved aerodynamics. The result was a car that would dominate the GT category and challenge for overall wins around the world.
The RSR dominated international GT racing in 1974 and 1975, it blew the competition out of the water in the Trans Am, IMSA, and the FIA World Championship racing series – cementing its place in Porsche history as one of the most important factory race cars ever built by the Stuttgart-based marque.
Porsche built the Carrera RSR on the frame of the road-spec 911 for homologation purposes, much of the body was replaced with fibreglass to save weight and the cockpit held a single seat on the left hand side. The widened wheel arches held racing slicks with a 10 inch wide tire fitted in front and a hefty 14 inch tire at the rear, the engine utilised a twin-plug ignition system and a capacity of 2,992cc.
The engine block was cast from aluminium to keep weight down and a large dry sump oil tank fed fluid to a front bumper mounted oil cooler, allowing the Carrera RSR to remain competitive during endurance racing events. For 1974 the compression ratio was increased from 9.8:1 to 10.3:1 which resulted in 330hp reaching the rear wheels at 8,000rpm.
With a kerb weight of 900 kilograms (1,984lbs) the Carrera RSR was lightning fast, with its predictable handling and almost bullet-proof reliability it's undeniable that it forced other GT racing marques to up their game significantly in order to stay competitive.
More: 1974 Porsche 911 RSR
---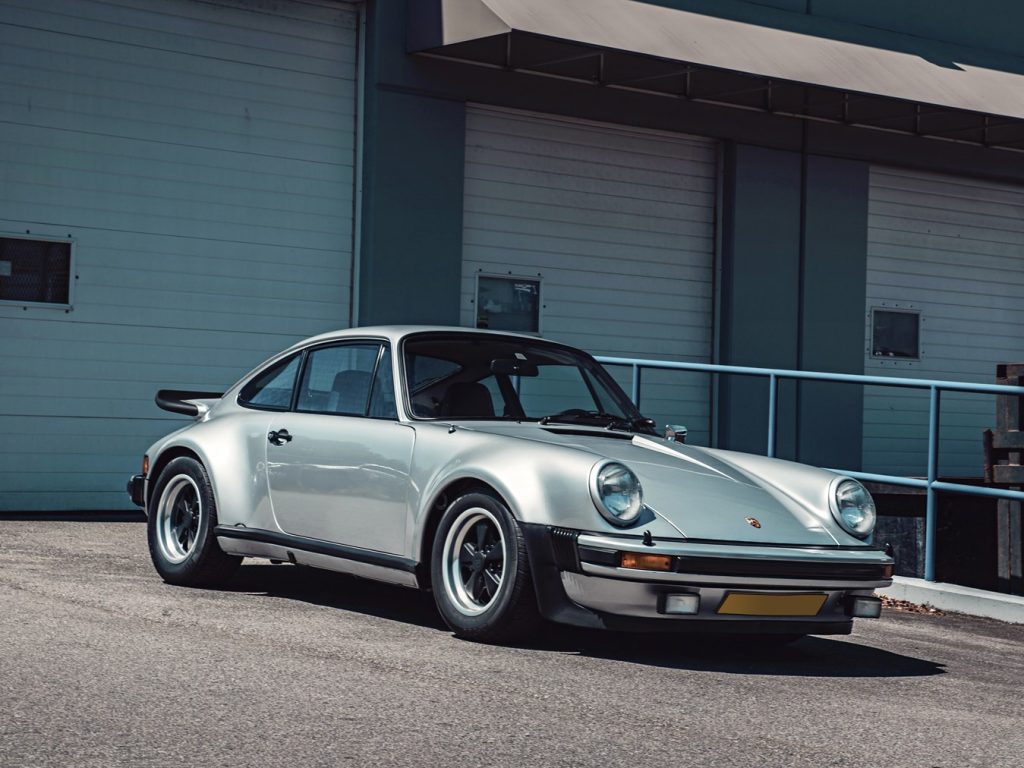 1975-1989 Porsche 930 Turbo
Year: 1975-1989 Generation: 930 Units built: '75–'77 (3.L) 2,819, '78–'89 (3.3L) 18,770
Engine: Single turbo flat-six | Power: 260 to 330 hp | 0 – 60 mph: 4.9-5.2s | Top Speed: 155-173mph
In 1974 Porsche introduced the first production turbocharged 911. In Europe it was called the Porsche 911 Turbo and in the United States it was called the Porsche 930. It looked different than the normal 911s, with wider wheel-arches, bigger wheels and tires and a large rear "whale tail" spoiler. Starting out with a 3.0L engine with 260 hp, it rose to 3.3L and 300 hp for 1978. Only in 1989, its last year of production, was the 930 equipped with a five-speed gearbox. The 930 was replaced in 1990 with a 964 version featuring the same 3.3L engine. There have been turbocharged variants of each subsequent generation of 911.
The 930 Turbo was Porsche's top-of-the-range 911 model for its entire production duration. It was the fastest production car available and very quickly became known as the supercar beater and widowmaker. With 260 horsepower out of its 3.0-liter flat-six and a propensity to oversteer it was a real handful for even experienced drivers. This makes our list because it spawned an entire generation of Porsche cars we now love and it was the first time Porsche really gave it to the folks at Ferraris and Lamborghini, showing it could beat the big guns.
A single turbocharger gave a huge boost in engine output. Unlike the smooth, predictable performance of modern Porsche turbos, the 930 had an on-off switch. All was well until the primitive turbo spooled up and then all hell broke loose. That unpredictability and rear engine layout was scary and people loved it (in a snap oversteer is scary and mind kill you kind of way of course).
Other than the notorious handling characteristics and turbo lag, the 930 is an epic display of automotive pornography. The whale tail, the wide wheel arches, the noise it makes, nearly everything else about the 930 Turbo makes this Porsche 911 breed great.
More: 930 Turbo Models
---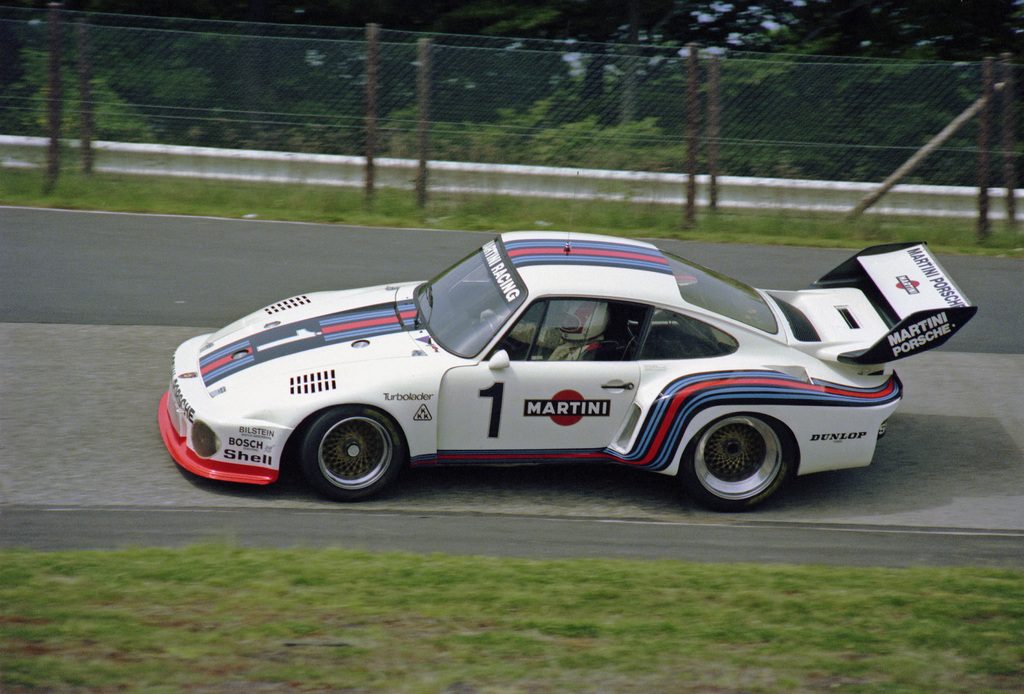 Porsche 935
Year: 1977 – 1979 Engine: 3.0–3.2 L twin-turbo H6 | Power: 560 bhp
From 1977 into the 1980s, Porsche 935s were the popular choice in Group 5, GTP, and GTX racing both in Europe and North America. Later versions were made by Kremer, Joest, Gaaco and Fabcar left little room for any challenge to Porsche dominance. The culmination of these efforts resulted in a first overall at the 1979 24 Hours of Le Mans.
The 935 was initially offered as version of their 935 for private racing teams that raced alongside the technically superior Martini-sponsored factory cars. These were based of the 1976 the Porsche Carrera RSR 2.1 Turbo which contested the 24 Hours of Le Mans in 1974 provided a basis for the 935.
Due to the more relaxed Group 5 regulations, engineer Norbert Singer could drastically alter the outer-bodywork of the standard 930 unitary steel monocoque. This allowed for much larger fender flares and a huge rear wing. Half way through the 1976 season, Porsche relocated the front headlights to the Flachbau or flatnose design.
The design retained the 930 Turbo bodyshell which was stiffened by an aluminum roll cage. The attached front and rear sections were made from fiber-glass and 5-inch wheel arches were fitted covering 15-inch tires in the rear. Plexiglass windows and other lightweight construction meant that the car was produced 90 kg underweight which was offset by ballast.
Using the 1.4 equivalency factor given to turbocharged engines, Porsche could assemble a 2.9-liter engine that fit well within the 4-litre restriction. To offset the smaller displacement, a huge KKK turbocharger was fitted which helped the 2808cc flat-6 produce close to 600 bhp. This number varied depending on the boost which ranged from 1.35 and 1.55 bar.
The engine used dual-ignition, a 908-style fuel pump, plunger-type fuel injection and spraybar lubrication. Consumption was rated at 4.38 mpg.1 A knob on the dashboard controlled the boost which could vary the power from a reliable 550 bhp to 650 bhp in sprint mode. Some private teams opted for the larger 2994cc engine which raised power to 630 bhp but they were forced to carry 122 extra lbs of ballast.
The suspension and wheels were also drastically upgraded including coil springs, adjustable anti-roll bars, and larger ventilated discs. Naturally, the car was completely stripped and Porsche managed to reduce weight to 900 kg. With ballast the car could then meet the required 970 kg formula.
Porsche offered the car again in 1978 with the twin-turbocharged specification and running boards as on the factory team cars. That year IMSA champion was Peter Gregg driving the Brumos Racing 935. The World Championship of Makes was secured by the 935 after winning 7 rounds. The German Nation Championship was also contested by 12 separate 935s of which the Gelo-entered cars were fastest.
More: Porsche 935
---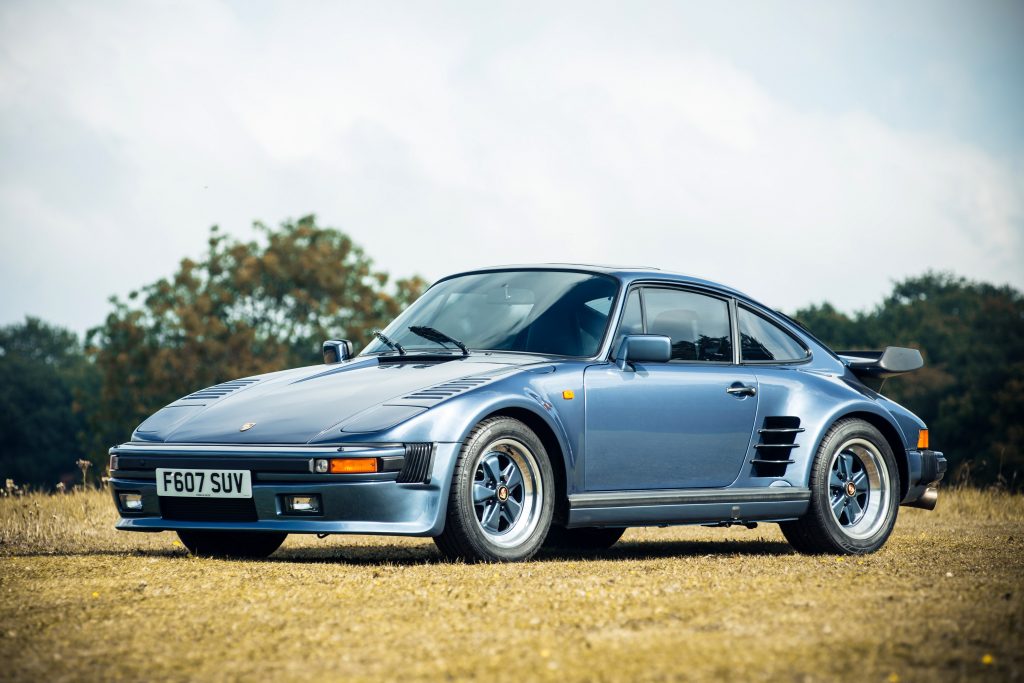 Porsche 911 Turbo Flachbau (930)
Year: 1981-1987 Generation: 930 Units built: 948
Engine: Single turbo flat-six | Power: 260 to 330 hp | 0 – 60 mph: 4.7 s | Top Speed: 171 mph
Demand for the 930 Turbo soared at the turn of the 1980s, which is why Porsche decided to introduce option M505 which was known as the Flachbau or "flat nose" or "slant nose". The Porsche 911 Turbo "Flachbau" was a special edition of the car which came with a different look.
The model was offered as part of the special order program beginning in 1981, an otherwise normal 930 with a 935-style slantnose instead of the normal 911 front end. Each Flachbau unit was handcrafted by remodeling the front fenders (option code M505). In 1986 (1987 model year) Porsche finally offered the slantnose straight from the factory. The official designation in the UK was Turbo SE.
The regular 930 Turbo was costly enough, but the stylistically different Flachbau commanded a big premium over it because the '80s were all about having the most expensive whatever. That sharply drooped snout may not be to some people's liking, yet Porsche had no problem at all with selling the Flachbau for almost double the cost of the regular Turbo.
Besides the flat front, the car also came with a different engine than the older Porsche models, namely a 3.3-liter which produced 330 horsepower. With a rear-wheel drive and a top speed of 171 mph, the Porsche 911 Turbo "Flachbau" was the fastest mass production car at the time of its launch. To put that firepower into perspective, think of the 930 Turbo Flachbau as the next best thing after the naturally aspirated Ferrari BB 512i, a supercar which was never sold in the U. S..
Despite the panels being slightly heavier, they were modeled after the 935 race car for top speed. The conversion required extended rocker panels, wider rear flares with scooped vents and flip-up headlights up front with functional louvres.
More: 1987 Porsche 911 Turbo 'Flachbau'
---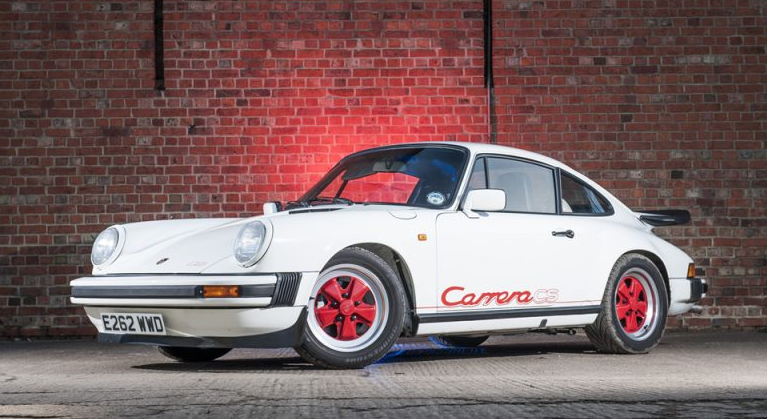 1989 Porsche 911 3.2 Carrera CS
Year: 1987-1989 Generation: 3.2 Carrera (1984–1989) Units built: 340
Engine: 3.2 L flat-six | Power: 228 hp | 0 – 60 mph: 5.9 s | Top Speed: 154 mph
In 1983 the SC 911 went away and was replaced by the 911 3.2 Carrera. This was the final "classic" 911 before the Type Porsche 964 was introduced in late 1989. A comeback of the Carrera nameplate was combined with a new, bigger and more advanced engine. A 3.2-liter horizontally opposed flat 6 with between 207 bhp (in the U.S) and 231 bhp (other markets). Three basic models were available – coupé, targa and cabriolet. There were a few special edition cars made too, including the "commemorative edition", "anniversary edition" and "911 Speedster". The 1987-1989 Carrera Club Sport, of which 340 were produced, is a collectible 911 that had a blueprinted engine with a higher rev limit, and had 50 kg (110 lb) in weight removed.
We love all 3.2s to be honest but we had to pick a favorite. There are a lot 3.2s on the market so it's a great classic car to buy for those looking to get into Porsche 911 without breaking the bank. Cars built between 1984 and 1989 feature an improved 3.2-liter flat-six engine and modern electronic fuel injection, while 1987-89 editions come with upgraded G50 gearboxes as well. The late Eighties never got their own official 911 RS so the rate 3.2 Carrera Clubsport was some comfort for Porsche fans with its 2.7 RS-inspired aesthetics and lighter weight.
The 911 CS was more extreme yet affordable at the time. Porsche put the 3.2 Carrera on a weight watchers program with things like air-conditioning, rear seats, electric windows and central locking all removed. All up they were able to remove about 50 kg (110 pounds) of weight, getting the car's kerb weight to 1260 kg. Revised engine management gave a higher rev limit of 6,840rpm, but Porsche never claimed there was any increase in power. Suspension was uprated and a limited-slip differential was standard.
In a shock to anybody who has tried to by a special edition Porsche, the 911 CS was actually a few grand cheaper than the regular car.
More: 3.2 Carrera (1984 – 1989) Models
---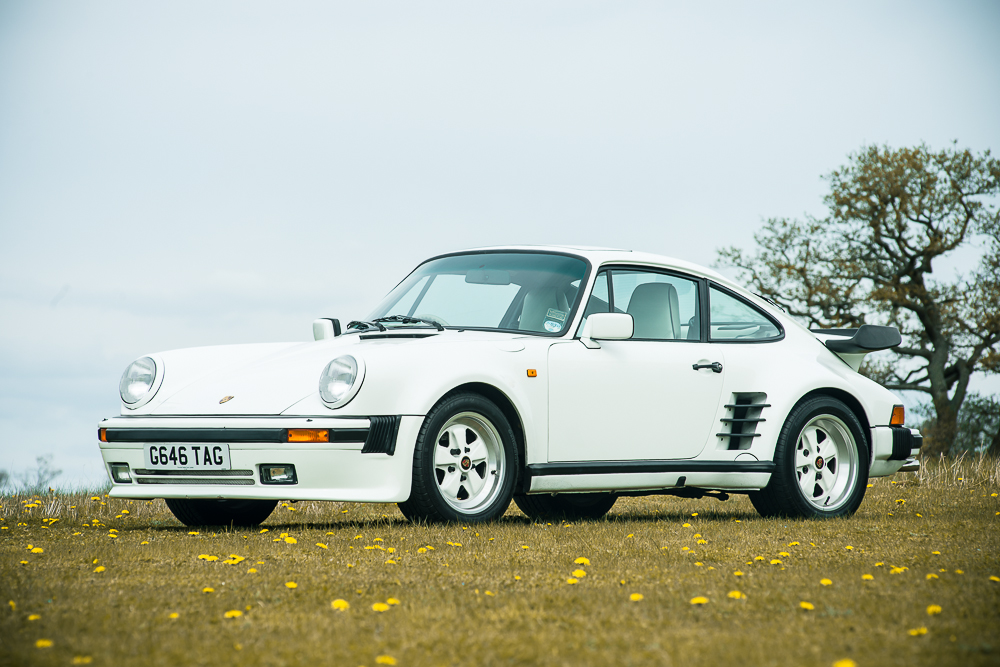 1989 Porsche 930 LE
Year: 1989 Generation: 930 Units built: 50
Engine: 3.3L turbo flat-six | Power: 330 hp | 0 – 60 mph: 4.6 s | Top Speed: 173 mph
Mechanically, the Porsche 930 LE was essentially identically to the slantnose SE. However, the LE – shorthand for 'Limited Edition' – stuck with the Porsche 911's idiosyncratic raised front wings but gained a deep, 934-esque chin spoiler. Just one example was delivered to each contemporary Porsche Centre for a total of 50 rare units.
The reason this 930 makes our list was because almost everybody thought it would be the last ever 911 Turbo. The 964 Porsche was on its way and many thought that meant the end of the Turbo range. Porsche went ahead and made this limited edition. The original list price for the 930 LE was a staggering £84,492 (its close to £300,000 in today's money). With the 930 LE, Porsche went out of its way to create the ultimate Turbo and that is special to us.
Each car started life as a standard 3.3-litre Turbo before being passed over to the 'Exclusive' team at Zuffenhausen. Each car was rebuilt by hand to include a host of no-cost options but the coolest thing of all was a final gold plaque on the centre console highlighted the LE's place at the end of the Turbo's 15-year tenure as Porsche's true everyday supercar.
More: 930 Turbo Models
---
1989 Porsche 911 Speedster
Year: 1989 Units built: 2,104 (171 narrow body, 1933 Turbo-look)
Engine: Air-cooled Flat-6 | Power: 231.1 bhp | 0 – 60 mph: 6.0 s | Top Speed: 152.2 mph
The 911 Speedster was introduced alongside the new 964 Porsche Carrera 4 at the 1988 Frankfurt Show.
It was immediately popular amongst Porsche buyers. Unlike the 964 prototype this Porsche 911 Speedster catered to comfort. It was basically a low-roof version of the Cabriolet and was produced in limited numbers (2,104) as both a narrow body car and a Turbo-look. The Speedster started as a design under Helmuth Bott in 1983 but was not manufactured until six years later.
This was the last vehicle with the old 911 body and that's why it makes our list of greatest 911s. The Speedster stole some body bits from the 930 Turbo as well as the Turbo's beefier chassis and heavy-duty four-piston cross-drilled disc brakes. The Speedster is best known for its double-hump cover design .
Undeniably, the Speedster had "collectible" written all over it, and all 2,100 were quickly snapped up by would-be profiteers.
More: 1989 Porsche 911 Speedster, 964 Model List, Speedster Porsches
---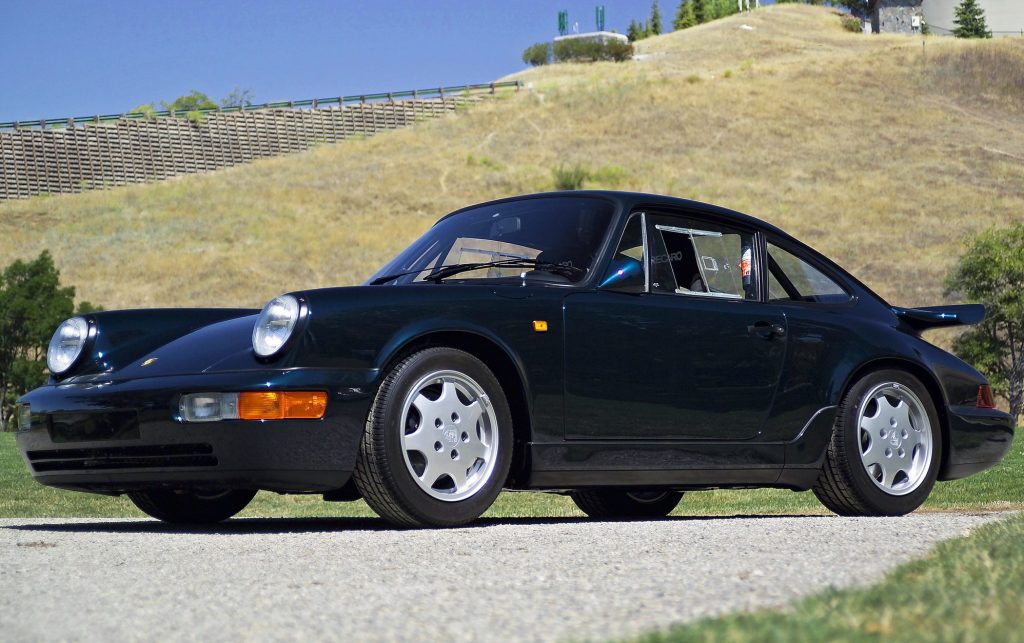 1990 Porsche 964 C4 Lightweight
Year: 1990 Generation: 964 Units built: 22
Engine: 3.6L Air-cooled Flat-6 | Power: 300 bhp | 0 – 60 mph: 4.9 s | Top Speed: 161.59 mph
A handful of specially prepared lightweight 911s were fabricated by the Porsche factory and called the Carrera 4 RS Lightweight. Built by Porsche's customer motorsport division, the Porsche 964 Carrera 4 Lightweight programme was Jürgen Barth's way of keeping his department employed in the wake of Group C's collapse.
130kg lighter than a 964 RS, the Carrera 4 Lightweight used the four-wheel drive drivetrain from the Dakar-winning 953 rally car and was originally envisaged for off-road use. The cars employed the same six-cylinder 3600cc boxer engine as the 260hp "regular" RS, but produced some 40 more horsepower due to the exclusion of catalytic converters and mufflers.
The RS Lightweight earned its name thanks to the combined use of an aluminum front lid, aluminum doors, Plexiglas side windows and a fiberglass rear engine lid. Its overall weight was pared down to 1100kg (2200 lbs) thus making for an exceptional power to weight ratio. For those keeping count that is 350kg (770 lbs) lighter than standard 964 C4. They also added a short ratio 5-speed transmission with lightweight flywheel.
The list of weight reduction features included an aluminum safety cage, two Recaro race seats with five-point safety belts, sport steering wheel coupled to a power assisted steering rack and a type 953 Paris-Dakar transmission. The doors and front hood replaced with aluminum versions and side window glass replaced with plexiglass. Carpeting and sound deadening was removed and left as bare metal.
More: 964 Model List, 1990 Porsche 964 C4 Lightweight
---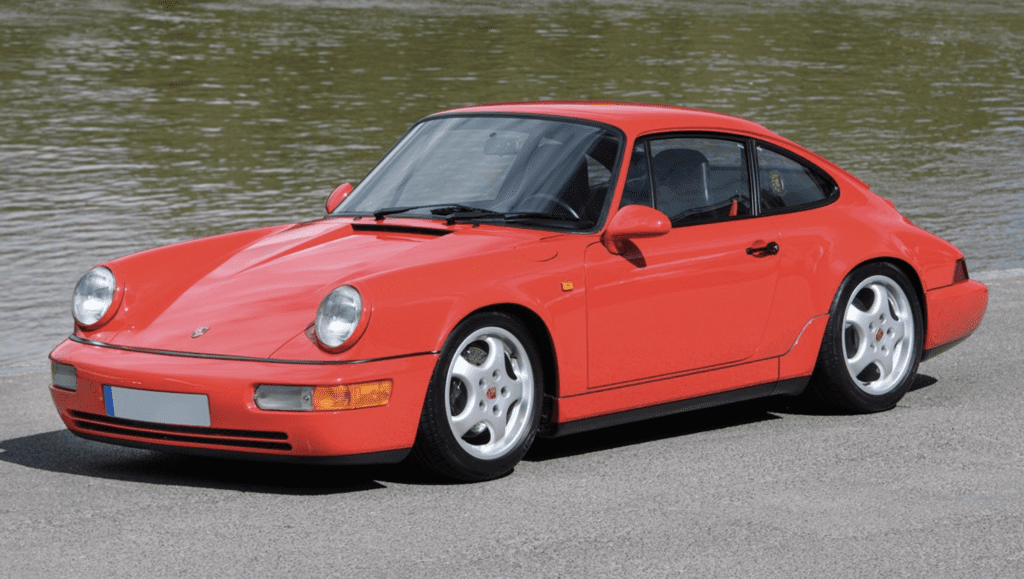 1992 Porsche 964 Carrera RS
Year: 1992 Generation: 964 Units built: 22
Engine: 3.6L Air-cooled Flat-6 | Power: 260 bhp | 0 – 60 mph: 4.9 s | Top Speed: 161.6 mph
Introduced in 1989, the 964 was the first major revision to the 911 since it debuted in 1963. In 1992, Porsche brought back the iconic RS moniker for a stripped-out 911 aimed squarely at hardcore enthusiasts. At first, it didn't come to the U.S., but American 911 fans complained and we ended up with the brilliant RS America.
In hommage to the 1973 911 Carrera RS, Porsche used the same formula to produce a lightweight version of the Carrera 2 from the race-ready Cup car known simply as the Carrera RS. Using the lightweight bits from the Cup car Porsche stripped 175 kg (386 lbs) off the car by use of aluminum doors, hood and trunk as well as a stripped out interior that removed power steering, power windows, rear seats, electronically adjustable front seats and front armrests.
The 3.6 engine got a slight boost in power and came equipped with a lightweight single-mass flywheel that weighed 12 pounds. The revised 260-bhp version of the air-cooled M64 3.6-liter engine also had a limited-slip differential and track-optimized suspension with a 40-mm drop in ride height and a non-power-assisted steering set-up.
The Carrera RS was not sold in the United States because Porsche Cars North America felt the car's aggressive tuning was not suited to the American market. In 1992, 45 US-legal cars that were very similar to the Carrera RS were imported to the US for a proposed "Porsche Carrera Cup" racing series.
More: 964 Model List, 1992 Porsche 911 Carrera RS
---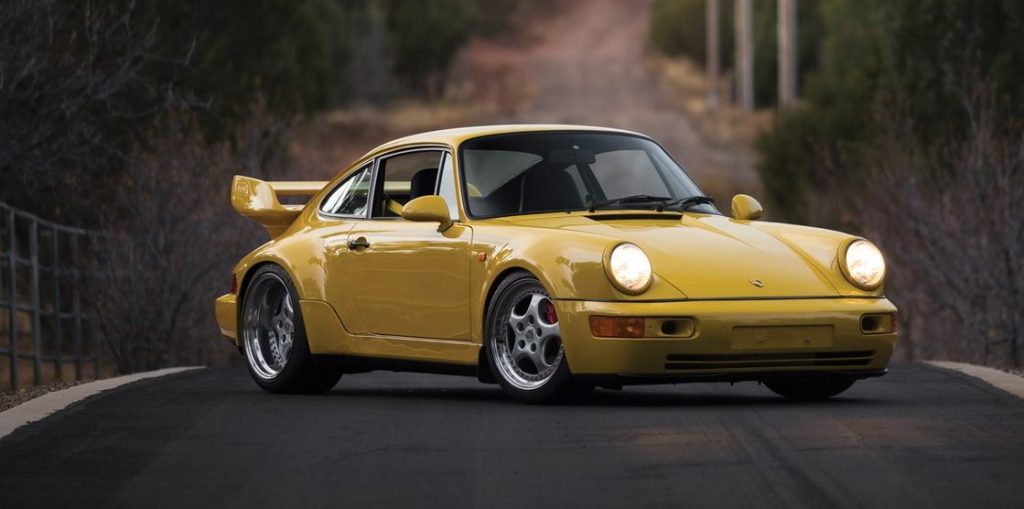 1993 Porsche 964 Carrera RS 3.8
Year: 1993-1996 Generation: 964 Units built: 55
Engine: 3.8L Air-cooled Flat-6 | Power: 300 bhp | 0 – 60 mph: 4.9 s | Top Speed: 170 mph
Is it cheating that we have two 964 Carrera RS models on our list? We don't think so.
In 1992 Porsche produced the super-lightweight, rear-wheel-drive only version of the 964 dubbed Carrera RS for the European market (it the car above you just read about). The Carrera 3.8 RS is even more ultra-limited. Specifically conceived as a homologation special, the car was based on the Carrera Cup competition car; producing the car for the masses allowed the RSR 3.8 to qualify for BPR GT3 and GT4 racing. Adding to its exclusivity was the fact that it was offered only to the European market.
The car featured the wide-body look of the Type 964 Turbo, had a massive rear spoiler, and three-piece Speedline wheels. It was powered by a 300 bhp 3.8 liter version of the M64 motor. This engine was bored out by 2 mm for a total of 3,746 cc, and was also available in a more powerful competition version called the 3.8 RSR. The car was fitted with Porsche's innovative Variocam variable-length intake system and also featured newly designed forged pistons of a reduced height and a relocated wrist-pin, helping to keep piston weight below that of the base engine. The six-speed manual transmission had gearing optimized for acceleration and the track.
The competition RSR version, which was distinct from the "standard" model with an interior and exterior stripped down and modified for circuit use, would rack up stunning race results, winning overall at the Spa 24 Hours, Suzuka 1000 KM, and 24 Hours of Interlagos, while clinching class victory.
More: 964 Model List, 1993 Porsche 911 Carrera RS 3.8
---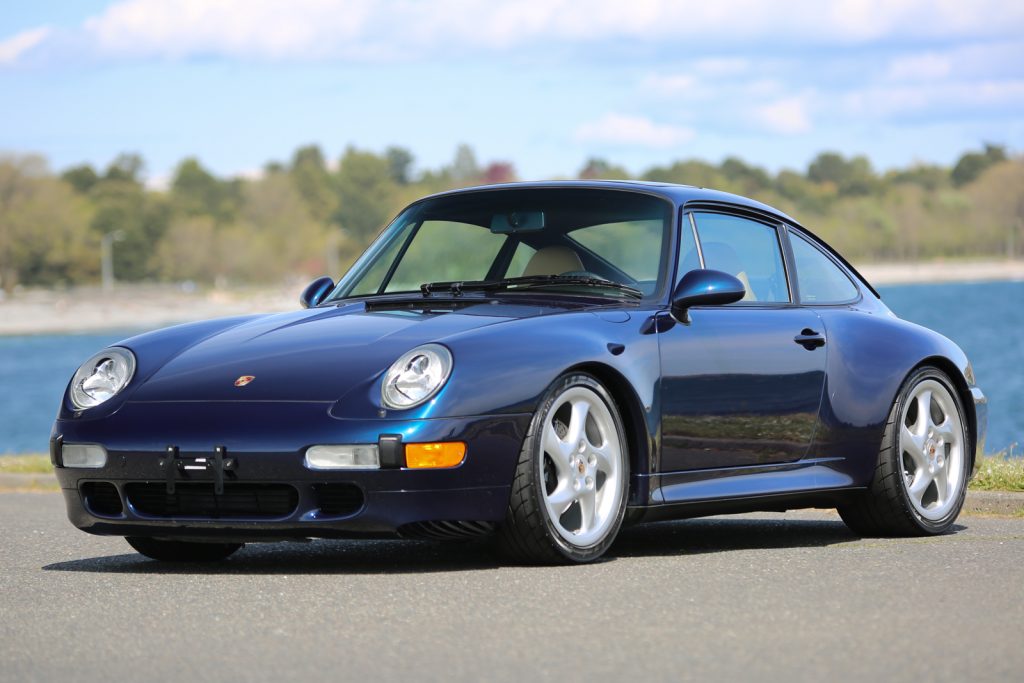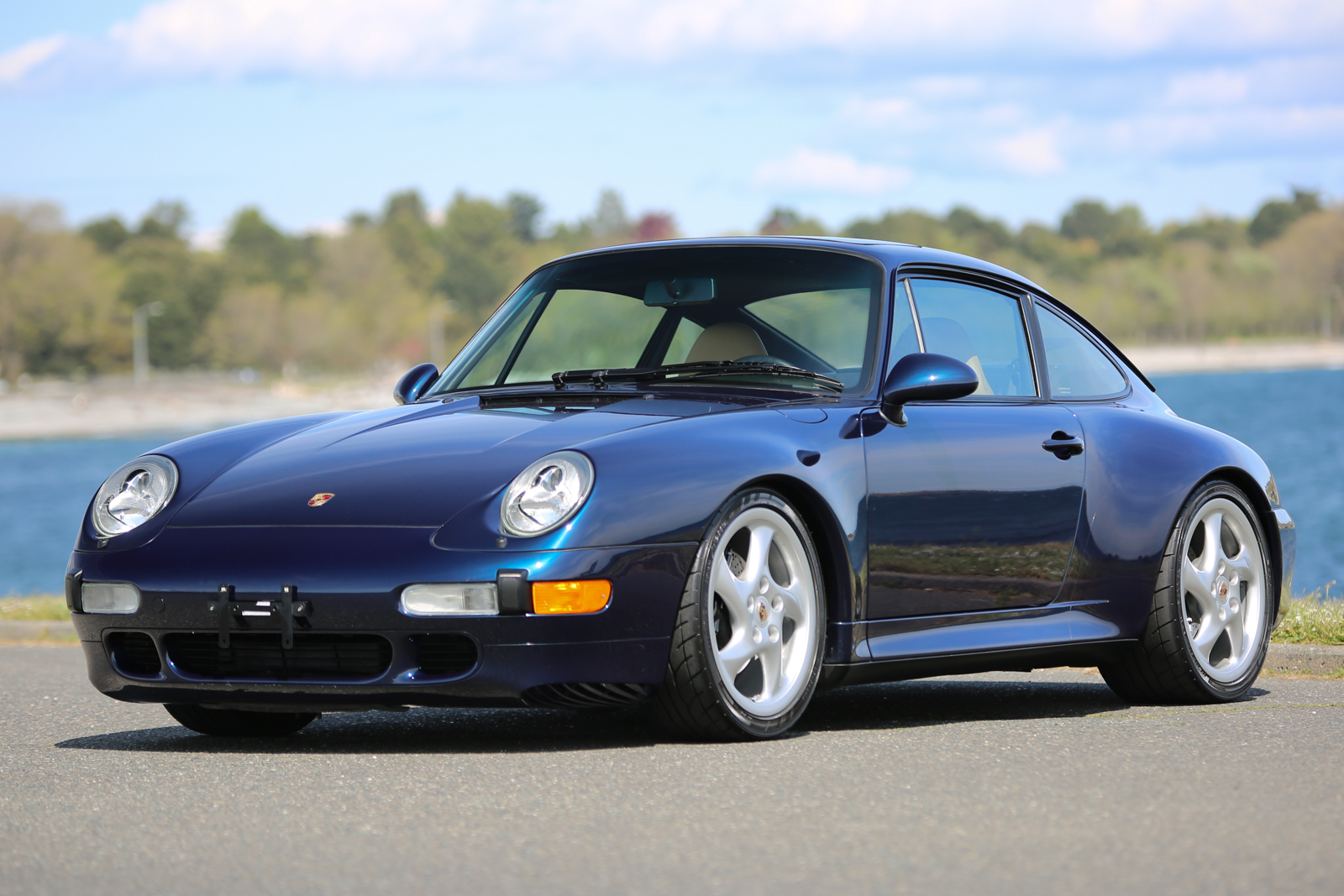 1996-1998 Porsche 911 (993)
Year: 1994-1998 Generation: 993 Units built: 68,029 (all 993s)
Engine: 3.6/3.8L Air-cooled Flat-6 | Power: 268-444hp | 0–60mph: 3.7-5.2s | Top Speed: 165-187mph
The Porsche 911/Type 993 was sold between January 1994 and early 1998 (with US based models going on sale from 1995-1998. The Type 993 was developed byPorsche as the replacement to the Porsche 964 model (which had been introduced in 1990 as a successor to the earlier 911 platform). We're being picky here by specifying our love for the 1996-1998 models specifically.
Considered by many Porsche enthusiasts as the "ultimate 911", the type 993 represented a unique blend of power and simple elegance. The car had a more streamlined look and was "lower slung" than earlier versions of the 911. The styling was perfect and it is still the best looking 911 series.
More importantly the 993 saw big improvements in chassis engineering and performance that was a big step up. Rear suspension geometry was a massive improvement over previous technology, specifically developed to produce improved handling characteristics during inclement weather while retaining the stability and this transformed the 911 driving experience.
This was the last of the "air-cooled" Porsche 911s (insert sad face here). The air-cooled engine was mated to a standard six-speed manual transmission – making the 993 the first-generation of 911 to feature a six-speed transmission (all earlier variants had either 4- or 5-speed gearboxes). A turbo-version of the Type 993 Porsche 911 was also introduced in 1995 and featured a bi-turbo engine that was at the top of the performance pack for the time. The discontinuation of the Porsche 993 in 1998 officially marked the end of the air-cooled Porsches.
993s got the standard M64/05(06) engine with 3.6 liter displacement. It basically carried over from the 964, making 268 hp and was used through model year 1995. In 1995 Porsche switched to the VarioRam -equipped M64/21(22) engine and power output increased to 282 hp. The RS got a more powerful version with 3.8 liter and 300 hp. For Turbo 993s the 3.6 liter got twin KKK K16 turbos and made 402 hp although you could customize your order (on Turbo S and GT2 models) to up that to 444 hp.
Powerful, comfortable, nicely balanced, air-cooled flat six and gorgeous looks. What's not to like about the 993.
More: 993 Model Range
---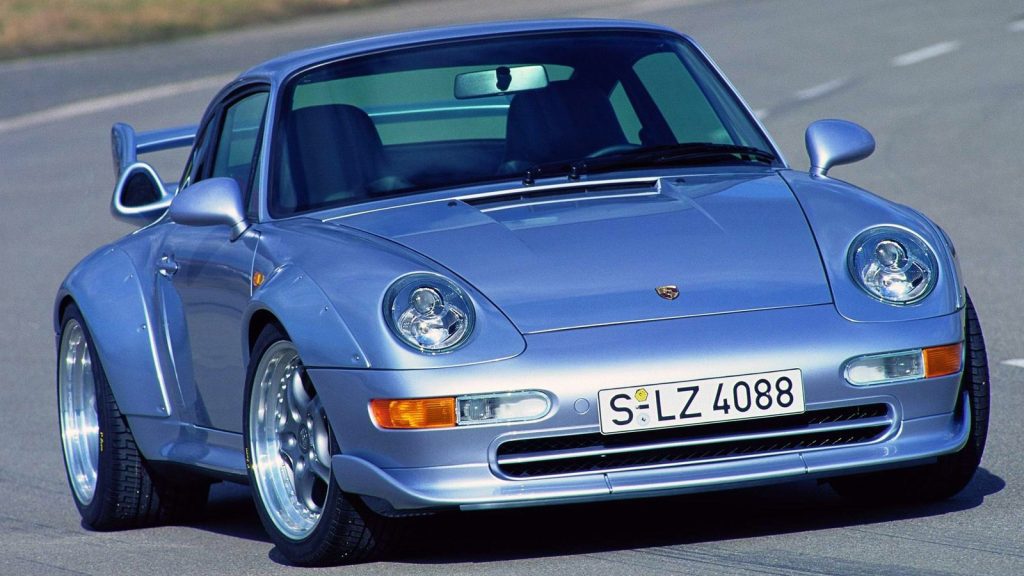 1995 – 1998 Porsche 911 GT2 (993)
Year: 1995-1998 Generation: 993 Units built: 57 road cars
Engine: 3.6L twin-turbo H6 | Power: 429-444 hp | 0 – 60 mph: 3.9 s | Top Speed: 187 mph
The 993 GT2 is special. Based on the 993 Turbo, the 993 GT2 was built for homologation purposes. Porsche took the twin-turbo flat-six engine from the 911 Turbo and combined it with the wide-body rear-drive chassis to create one of our favorite Porsches ever. Only 57 were built and they go for over a million dollars today so don't expect to find a bargain (remember, this is the last of the air-cooled turbocharged, extreme 911s).
The 993 GT2 featured widened plastic fenders, more aggressive front bumper with side canards and a massive rear wing with air scoops in the struts. It wore new, wider wheels and the ride height was dropped. The 993 GT2's original 3.6 L (220 cu in) engine developed 429 hp and in 1998 it was upgraded to 444 hp. Top speed of 187 mph and a 0-60 sprint of 3.9 seconds was devastatingly fast back in 1995.
Development work behind the Turbo S LM-GT was a big contributor to the GT2. To take all this hard-earned knowledge and tech to the track, Stuttgart had to meet the FIA's stringent requirements and build a road-legal homologation run. Thus the 993-generation 911 GT2 was born. The 993 GT2 was introduced in 1995, two years after the 993 911 had been launched.
More: 1998 Porsche 911 GT2
---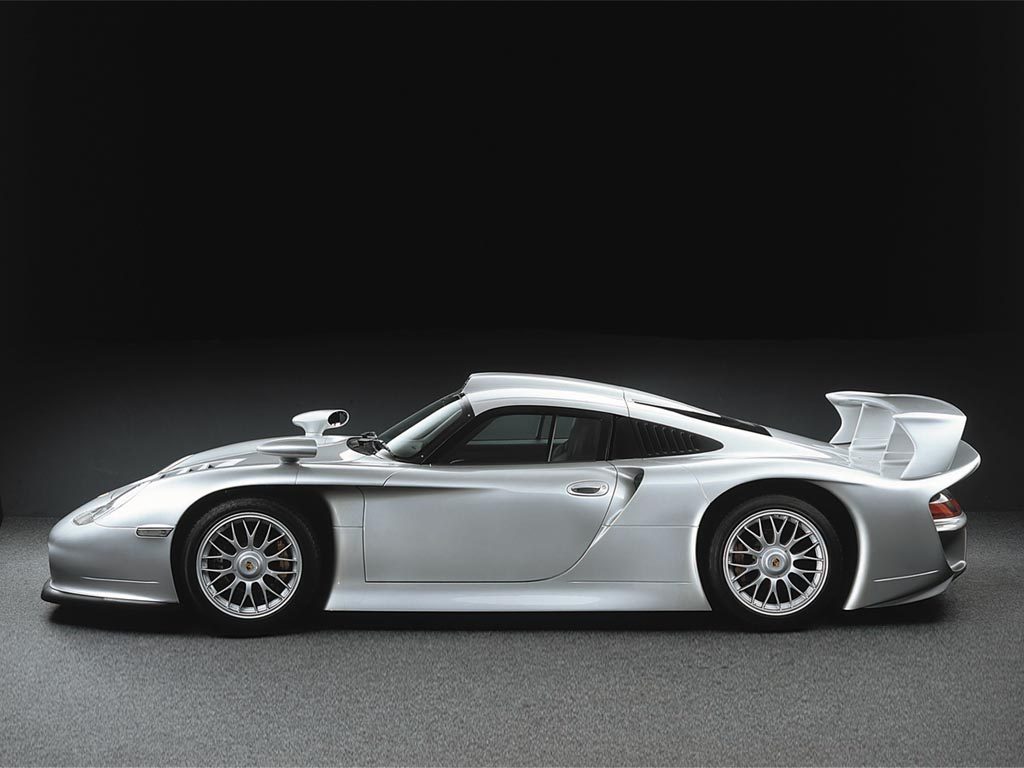 Porsche 911 GT1 Straßenversion
Year: 1997-1998 Generation: 993 Units built: ~20
Engine: 3.2L twin-turbo flat 6 | Power: 537 hp | 0 – 60 mph: 3.65 s | Top Speed: 191 mph
We freely admit that calling the GT1 a 911 is *slightly* cheating. In spite of its 911 nameplate the car actually had very little in common with the 993 911 of the time. Sure the front of the car was from the 993 911 but the rear was the Porsche 962 as was the water-cooled, twin-turbocharged flat-six engine. The engine was also mid-mounted compared to the rear-engined layout of a conventional 911. In production car mode the engine made 537hp and only two units were ever made. It's our article so we're counting it.
The production version of the GT1 was created to homologate Porsche's 911 GT1 contender. The street version was known as the 'Strassenversion' and is considered the most fierce and rarest 911 ever. Apart from the sparse interior, little differentiates the GT1 from the full-on, race-ready counterpart. The homologation regulations demanded that the car complied to both the rules of the road and track. This included comprehensive European regulations which created a golden age of GT1 racing.
Apparent from the front and rear lights, the GT1 shares many components with its series production counterparts, but puts them together in a more competitive way. Gone is the rear engine layout which isn't suitable for prototype GT racing, the GT1's turbocharged flat-six engine sits in front of the rear axle and is supported by chassis tubes instead of the typical 911 rear sub frame. Sitting behind the engine is a longitudinal six-speed transmission which the rear suspension attaches directly onto.
The GT1 was based on the 993 body shell, but with modified exterior panels and a substantial roll-cage that also supported the engine, gearbox and suspension. This helped Porsche avoid necessary crash testing and reinforced ties to the production cars.
But in almost every way, the GT1 was purpose-built race car. It had a carbon fiber body, full width wing, a tiny cockpit and a maximum power of 600bhp was developed at 7,200rpm.
Compared to the GT1s which raced Le Mans, the road-going version had only slight modifications. These changes include a higher ride height, softer suspension, road-going gear ratios and steel brakes which replace the race car's carbon discs. The engine was only slightly detuned from the race version's and a complete interior included sport seats and a full dashboard from the 993 line.
While the first version of the GT1 debuted at the 1996 season, Porsche only produced a single homologation car. The following year, the 'Evo' version was released with new kidney-shaped headlights and improved aerodynamics. This was good enough for Porsche to build twenty examples for select customers. These lucky few owned one of the most radical and unforgiving road-going supercars of their time.
More: 1998 Porsche 911 GT1 '98 Straßenversion, 1997 Porsche 911 GT1 Straßenversion
---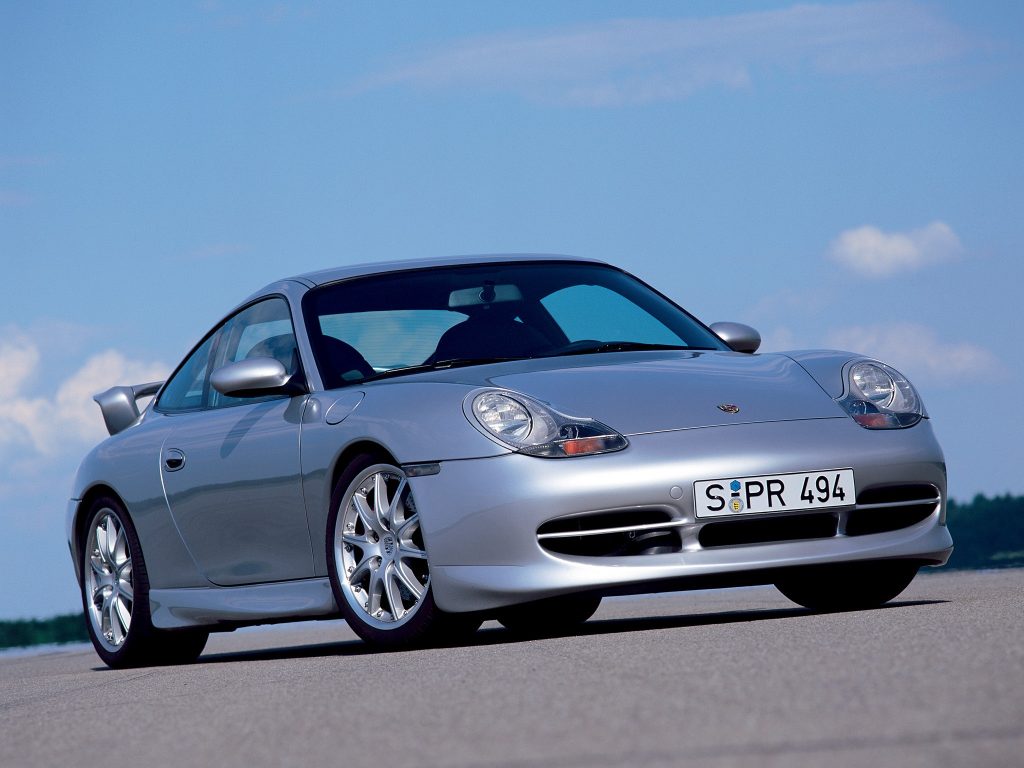 1999-2001 Porsche 911 GT3 (996.1)
Production: 1999-2001 Generation: 996 Units built: 1,868
Engine: 3.6L Water Cooled Flat-6 | Power: 355 hp | 0 – 60 mph: 4.7 s | Top Speed: 187.7 mph
The GT3 we love today all started in 1999 with the 996 model GT3 and it all started because Porsche wanted to enter the GT3 class of the FIA. Porsche began investing in developing both the race car and the road-going version which was required by GT class homologation rules and the GT3 was the result. The GT3 became the 996's range-topping model until until a new GT2 was launched.
Based on the 996 Carrera, the 996 GT3 was a really a track focused sports car that was lighter, sharper and more potent than its everyday sports model siblings. To help in the performance stakes, the GT3 the water-cooled flat six was loosely based on the GT1 and got a dry-sump crankcase with an external oil tank making it more powerful and higher revving. Gone were the rear seats, sunroof, air conditioning, radio and a boatload of sound deadening.
Major design changes included a more aggressive front end with larger headlamps shared with the Boxster, a sleeker body, and a more raked windshield. Design and aerodynamic features exclusive to the GT3 included slimmer air vents for the front bumper, a front splitter, new side skirts, a revised rear bumper, new wheels, and massive rear wing.
The GT3 quickly became the choice for drivers because of its remarkably sharp throttle response, better steering, steady balance, and amazing engine. While a Turbo had it beat for outright speed, this was the ultimate drivers Porsche. Its lighter body and race tuned suspension tuning also made it a perfect machine for attacking weekend drivers who wanted a track car.
If you are in the U.S you may at this point wonder why you can't find any GT3s from the era for sale. Porsche did not bring the GT3 to the United States until 2004 (see the 996.2 model just below).
More: 2000 Porsche 911 GT3 details
---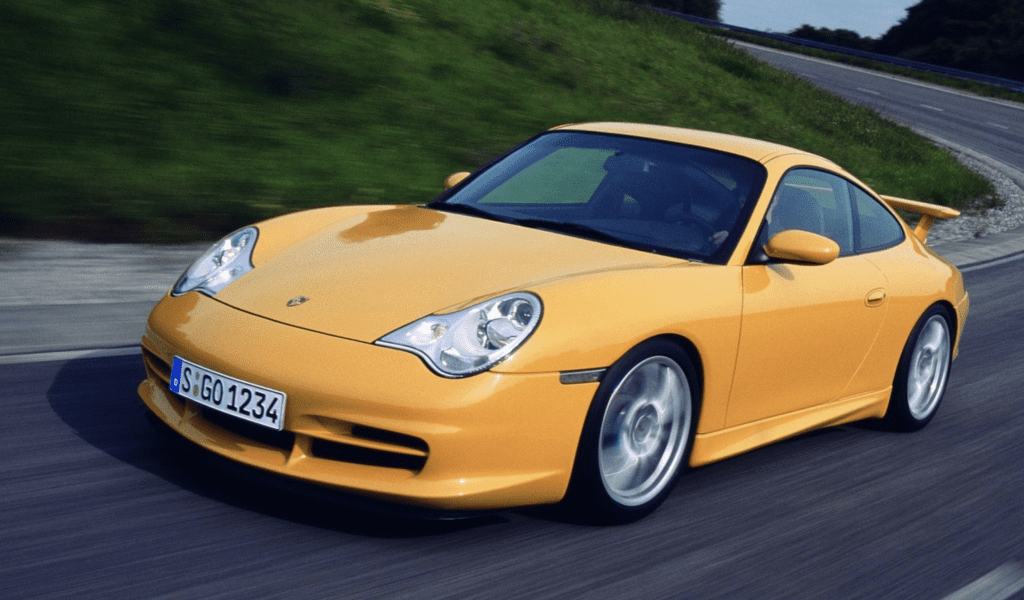 2003-2005 Porsche 911 GT3 (996.2)
Year: 2003-2005 Generation: 996 Units built: 2,313
Engine: 3.6L Water Cooled Flat-6 | Power: 376 hp | 0 – 60 mph: 4.7 s | Top Speed: 187.7 mph
In 2004, when Porsche updated the car to 996.2 specs, the GT3 inherited the 996 facelift's new headlamps, but also received a more pronounced front splitter, a slightly reshaped front bumper, and an even bigger rear wing. The new headlamps were introduced following complaints from Porsche fans who were unhappy that the original units were identical to the Boxster's. The restyled cars not only looked fresher, but they finally had their own appearance worthy of a genuine 911. This is our pick of the 996 series Porsche 911s.
Initially, the 996 GT3 came with 355 horsepower on tap. The 2004 update increased output to 376 horses and 284 pound-feet of torque, 80-percent of which was available from 2,000 rpm. This new figure made it 60 horses more powerful than the base 911 and 100 horses less powerful than the range-topping GT2.
On the inside, Porsche focused on weight reduction and getting the GT3 as close as possible to its race-spec sibling. But even though the cabin was stripped off many of the 911's usual creature comforts, Stuttgart made sure the GT3 would still provide comfort on long distances. The most significant changes included a pair of new bucket seats for the driver and passenger, both wrapped in soft leather. The new seats alone shaved about 44 pounds off the car's curb weight. Additionally, the rear seats were removed entirely, reducing the weight of the car by another 18 pounds. Further changes were noticeable in the center console and center stack areas, with some of the standard car's equipment missing.
More: 2003 Porsche 911 GT3
---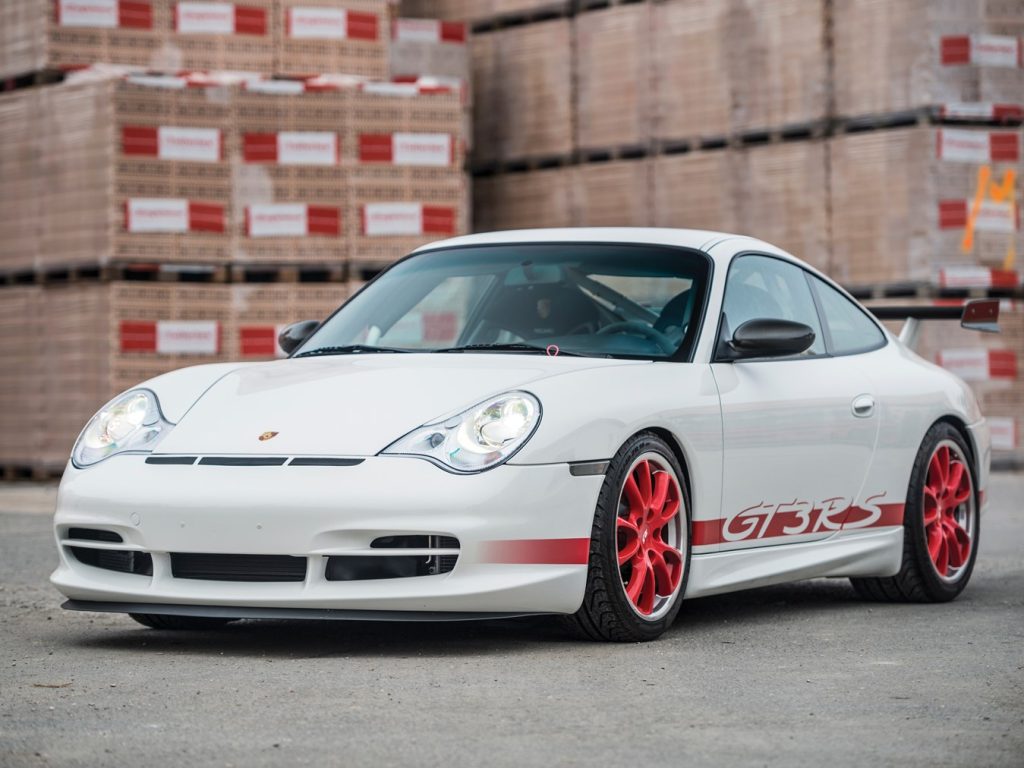 2003-2004 Porsche 911GT3 RS (996)
Production Years: 2003-2004 Generation: 996 Units built: 682
Engine: 3.6L Water Cooled Flat-6 | Power: 376 hp | 0 – 60 mph: 4.2 s | Top Speed: 190 mph
In 2003 Porsche launched the GT3 RS in order to homologate the GT3 RSR for racing. While you could drive the 996.1 and 996.2 GT3 on the road, the GT3 RS was a more uncompromising track-ready 911 that was tough as a road car.
GT3 RS horsepower remained the same as the GT3 but there was a real difference in performance from other changes. Wider tires were fitted with a revised suspension for track use, and a large rear spoiler was fitted to help increase downforce. Weight was reduced by removing interior sound deadening, air conditioning, rear seats, and adding a Perspex rear window. The diet meant the GT3 RS tipped the scales at just under 3,000 pounds (110 pounds lighter than the GT3). All GT3 RS cars were also fitted with a full roll cage. Reduced mass was advantageous to the car's performance, since power and torque remained identical to the 996.2 GT3.
The emphasis for Porsche was on achieving the best possible power-to-weight ratio and with a figure of 4.86 kg/kW has resulted it was 4% better than GT3. The GT3 RS power is transmitted via a close-ratio six-speed gearbox. Between the engine and the gearbox the "RS" has a single-mass flywheel with a lower rotating mass than the double-mass version. Performance improved with 0–60 mph time of 4.2 seconds and top speed of 190 mph. The biggest differences came on track however, with the GT3 RS being a purer race car and perfect circuit car.
As for the 996 GT3 RS, its place in history is already secured. Rarity, status and ability have already led to soaring prices. It's not unusual to find examples on sale for far more than a brand-new 991 GT3 RS.
More: 2004 Porsche 911 GT3 RS
---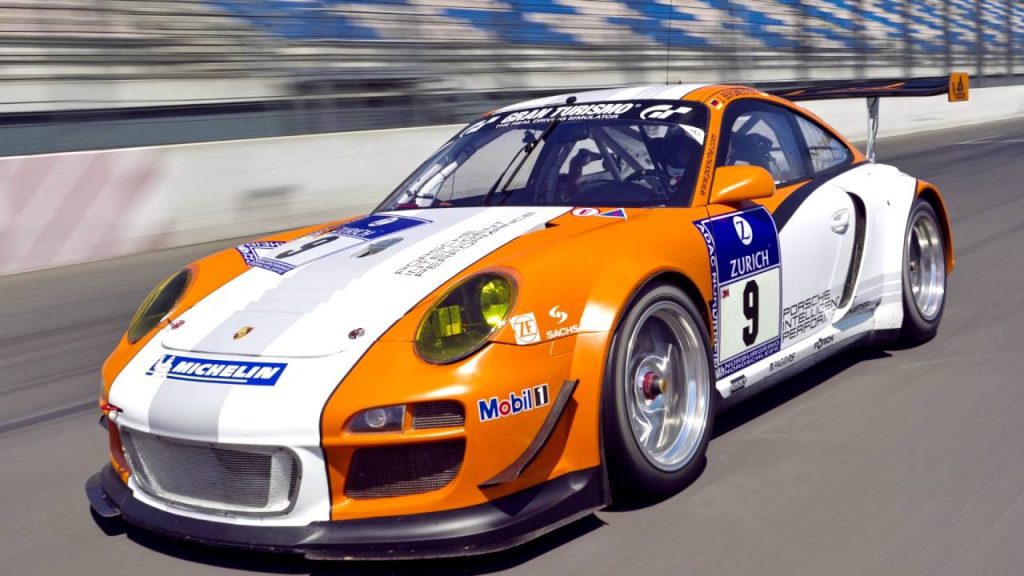 Porsche 911 GT3 R Hybrid 2.0
Engine: 4L Water Cooled Flat-6 + 2 electric motors | Power: 470 hp + 218 hp
This hybrid race car is no Prius. Porsche decided to work with the Williams F1 Team to develop hybrid tech that it could use to go racing. They essentially took the F1 kinetic energy recovery system (KERS) (but used kinetic energy stored in a flywheel rather than batteries) to create the epic GT3-R with its two electric motors assist.
The electric motors added 218 hp to the front wheels to supplement the 470 hp four-liter flat-six engine at the rear. The 911 GT3 R Hybrid was a game changer and that was clear when racing bodies at the time didn't know how to classify the car.
Compared to its predecessor the second-generation hybrid is our pick. It was 20 percent lighter and more efficient. The GT3 R Hybrid 2.0 features a monocoque body of hot-galvanized steel with a welded roll cage. Body panels are carbon fiber and there are lightweight polycarbonate windows on all sides, including the front windshield. At each corner is a height-adjustable suspension with dual coil springs and Sachs gas-pressure fixed-position dampers. The steering rack is power-assisted, with an electro-hydraulic pressure feed.
With a curb weight of just 2,866 pounds and a total system power of 672 horsepower, the all-wheel-drive Porsche GT3 R Hybrid 2.0 will accelerate to 60 mph in about 2.5 seconds. Its top speed is gearing limited to about 175 mph but that doesn't seem to be an issue when racing. In September 2011 it impressed everybody when it competed in an exhibition class during an American Le Mans Series (ALMS) race at Laguna Seca. Starting last it outran the entire GT class.
More: 2010 Porsche 911 GT3 R Hybrid
---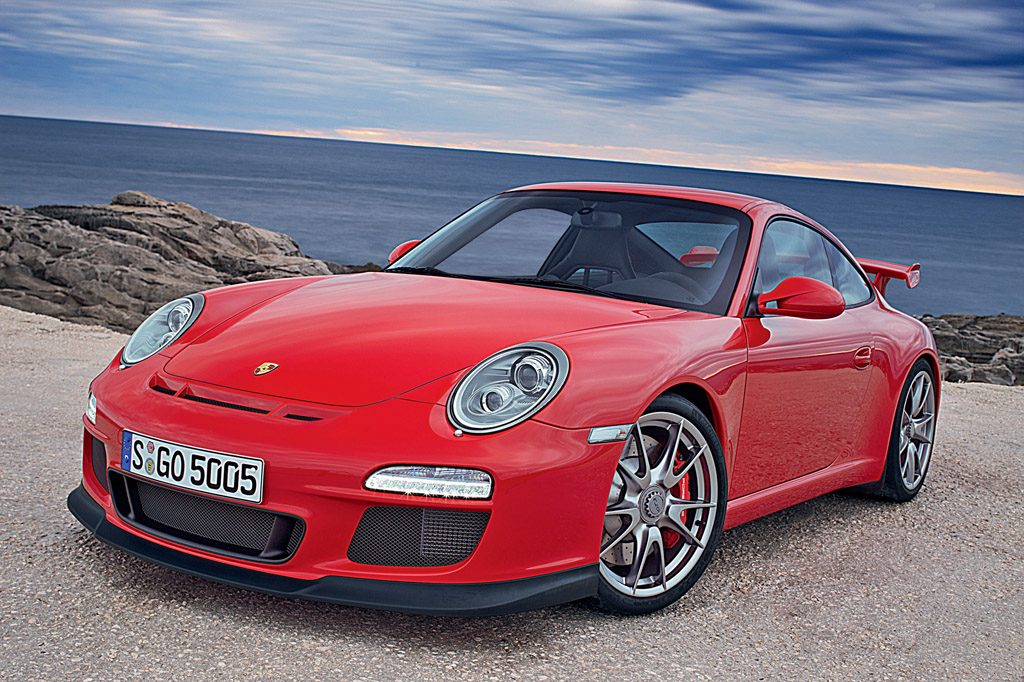 2009-2011 Porsche 911 GT3 (997.2)
Production Years: 2009-2011 Generation: 997.2 Units built: 2,256
Engine: 3.8L Water Cooled Flat-6 | Power: 429 hp | 0 – 60 mph: 4.0 s | Top Speed: 194 mph
By now you are probably annoyed by the number of GT3s on this list. Get used to it because there are even more further down. They are all awesome and they all deserve to be here.
In 2009, Porsche launched the 2nd Generation 997 GT3. The 997.2 GT3 got a larger 3.8 litre engine producing 429 hp and also had a number of new options including dynamic engine mounts and different rear spoiler as well as other styling changes.
The engine 3.8 liter titanium con-rodded engine revved to over 8,500rpm and produced 429bhp at 7600rpm (up 20bhp) and 317lb ft of torque at 6250rpm (up 19lb ft). The biggest difference between the gen 2 997 GT3 and the first generation GT3 was the difference in mid-range torque. Combined with a weight of 1395kg (the same as the 997.1 GT3 the 0-62mph time dropped to 4.0 seconds and the GT3 had a much broader performance envelope.
Performance was monumental as expected and this was still from the days of manual gearboxes and direct hydraulic steering so it felt amazing too. The most incredible thing about the GT3 is its stability and precision and the fact that you can feel everything going on underneath you. As EVO said when they tested the car back at the launch, "the reaction when you turn into a corner is absolutely instant, faithful and solid, allowing you to pick up a clipping point with complete confidence. It reminds me of the Audi R8 but more hardcore".
More: 2009 Porsche 911 GT3
---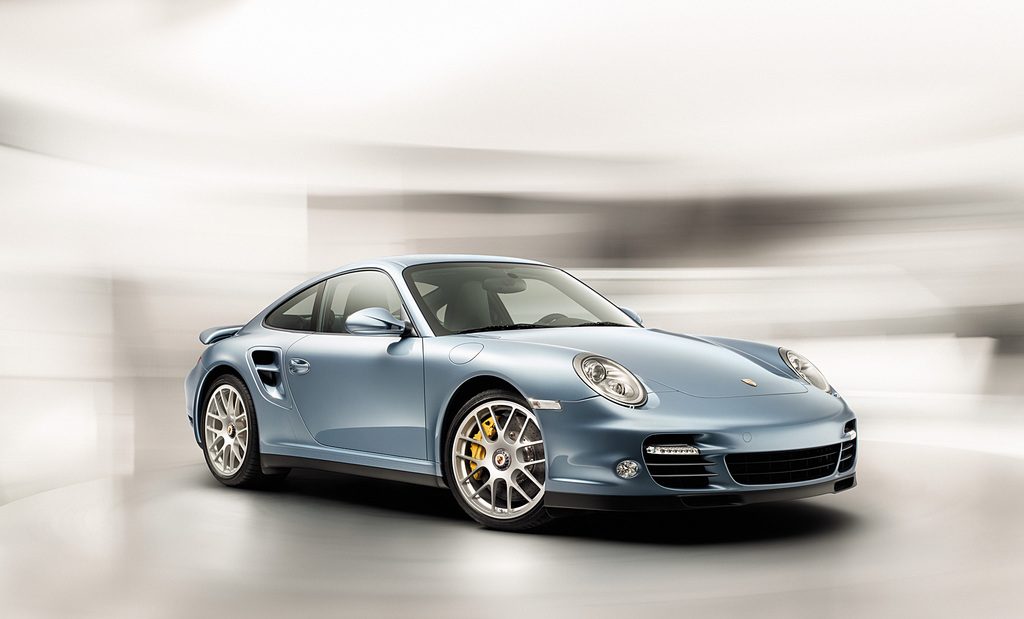 2010-2013 911 Turbo S (997)
Production Years: 2010-2013 Generation: 997.2 Units built: unknown
Engine: 3.8L twin turbo flat-6 | Power: 530 hp | 0 – 60 mph: 2.9 s | Top Speed: 195 mph
The 997 Turbo S is on our list because even today it is a super fast, comfortable and luxurious car that still looks modern and can still destroy most new cars in the performance stakes. It had aged the best out of all the 911s from that same era and can be bought a relatively bargain price these days in the used car market. While more recent Turbo and Turbo S models are clearly faster, this is our favorite Turbo model in recent history.
By 2010 it was clear the GT model cars were designed for track supremacy and Porsche invested more money in making the Turbo and Turbo S models more luxurious and perfect for daily driving.
The Turbo S has all the goodies people recommend you choose on the regular Turbo. Things like dynamic engine mounts, brake-based torque-vectoring, ceramic brakes, and the Sport Chrono package and launch control are all standard. The dual clutch PDK gearbox is the only gearbox choice.
Performance is staggering (even by today's standards). 0 to 60 mph is an astonishing 2.9 seconds, and top speed is 195 mph. The Sport Chrono package works perfectly and in sport mode with the chassis is stiffened by way of the active suspension, the Turbo S is perfect for a back road blast.
Want a daily driver that can destroy your friends Tesla S and still be a legitimate sports car on weekends? This is the Porsche for you.
More: 2010 Porsche 911 Turbo S Coupé
---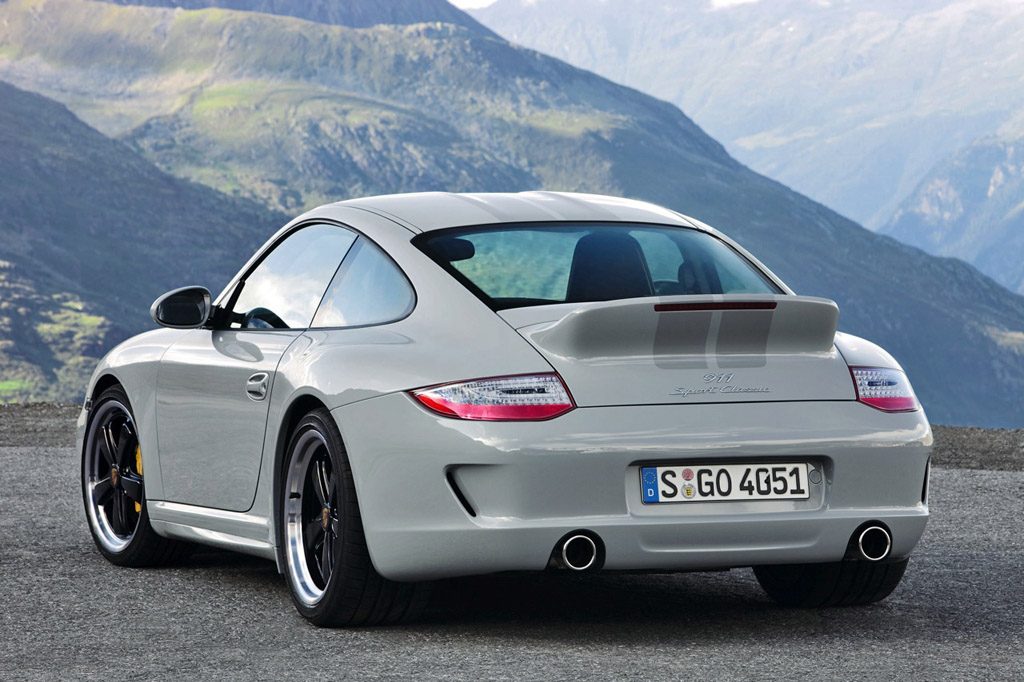 2010 Porsche 911 997 Sport Classic
Production Years: 2010 Generation: 997.2 Units built: 250
Engine: 3.8L flat-6 | Power: 408 hp | 0 – 60 mph: 4.6 s | Top Speed: 187 mph
Launched alongside the 997 Speedster (didn't make our list but worth looking at) the Porsche 997 Sport Classic was built to celebrate 25 years of Porsche Exclusive. Complete with a double-bubble roof, genuine Fuchs alloys and a ducktail, the Sport Classic was the ultimate embodiment of Zuffenhausen's special build skills. Some may argue that this is just a 911 Carrera S with a ducktail but to us this is more special, a nod to the good old days.
First of all the Sport Classic is fettled by the folks on the Porsche Exclusive team (the guys will customize a new Porsche with just about any options you could ever dream of). The package is based on the Carrera S but uses 4S rear bodywork for that wider and lower look plus the wider rear track. The most obvious aesthetic change is the double-dome roof and the SportDesign fascia and unique lip spoiler in front. At the rear the famous ducktail spoiler brings back Carrera RS 2.7 memories. Speaking of memories, check out the black-painted 19-inch retro-styled Fuchs wheels. Other small touches, such as black headlight-trim rings and black side-mirror brackets. It is the prettiest 911 of that generation.
Mechanical bits include the Carrera S's 3.8-liter flat-six paired only to a six-speed manual gearbox (no auto available). While it is also shared with the Carrera S (where it makes 385 horsepower), the Sport Classic is fitted with the optional engine "Powerkit" as standard equipment. In addition to updated engine management software, the expensive option delivers a carbon fiber air filter casing, variable double-resonance intake manifold, modified cylinder heads and a sport exhaust system with the aforementioned special tailpipes. The result is 408 horsepower (at 7,300 rpm) and 310 pound-feet of torque (at 4,200 rpm) with the redline set at 7,500 rpm. A sport suspension, a locking rear diff, and carbon-ceramic brakes are all standard.
The interior also gets the full bespoke treatment. Espresso-Nature colored leather is everywhere. The upholstery in the middle of the seat cushions, seat backs and door panels is made of a beautiful woven leather that looks old school. Grey piping matches the Alcantara headliner as well as the double center stripes on the exterior.
The Porsche's 911 Sport Classic was rare, unique and very, very expensive and with only 250 copies they go for a lot today on the used car market.
More: 2010 Porsche 911 Sport Classic
---
2011 Porsche 911 Carrera GTS (Type 997.2)
Production Years: 2011 -2012 Generation: 997.2 Units built: unknown
Engine: 3.8L flat-6 | Power: 408 hp | 0 – 60 mph: 4.2 s | Top Speed: 190 mph
2011 is the year Porsche did the best thing ever for us 911 lovers. As the 997 911 was coming to the end of its life people were skeptical that the announcement of the Carrera GTS was a mere marketing ploy to squeeze some sales out of the end of lifer. Instead we found that Porsche created the "perfect" 911, the right balance of daily driving, sporting ability and track day capability in a familiar package.
The GTS is a rear-drive 911 Carrera S (comes as a cabrio and AWD too) with the wider rear track from the Carrera 4, cool design touches like center-lock RS Spyder wheels, black logos and trim, Alcantara interior, bodykit changes and some extra helping of horsepower.
The 2011 Carrera GTS also has a back seat big enough to seat two people, a rarity in a segment where rear seats are often so small they're mostly just for show.
GTS version of the naturally aspirated 3.8-liter flat-six propelling the Carrera S isn't vast: 408 horsepower versus 385, plus a 200-rpm drop in peak torque availability, imparting a slightly more agreeable curve to the torque band. On the surface it doesn't look like much has changed, but we found the GTS was transformed and that extra punch and dynamic ability made it more fun the regular Carrera S.
---
2011 Porsche 911 GT2 RS (Type 997.2)
Production Years: 2011 Generation: 997.2 Units built: 600
Engine: 3.6L twin turbo flat-6 | Power: 620 hp | 0 – 60 mph: 3.3 s | Top Speed: 209 mph
We struggled a little when adding the 2011 GT2 RS to the list of ultimate 911s because we also have the GT3 RS 4.0 from the same year on the list. To be clear, the GT3 RS is our favorite of the two. So, how can a car that wasn't as good as the GT3 RS 4.0 still make our list then? Our logic is that the GT2 RS is a better track car than the 4.0 and is a little less exclusive than the GT2. Ultimately Car and Driver put it best when they said that driving the GT2 RS was an "extraordinary event on par with that of nearly any blue-chip exotic. We won't call it the best 911 ever, but it's definitely Porsche at its most extreme". So this is an awesome 911 that was made in the same year as our favorite 911 and is still better than any other exotics made that year.
The GT2 RS was definitely extreme too. While the "standard" GT2 has the same output as a Turbo S at 530 hp, the GT2 RS has 620 hp sent to the rear wheels only and was the fastest 911 ever produced. It weighs 150 pounds less than a "regular" GT2 and adds 90 hp and no PDK gearbox with manual the only option. Thanks to different turbos, intercoolers, pistons, and ECU, the GT2 RS also gets 516 lb-ft of torque. The GT2 RS also differs on the visual front from the regular Porsche 997 GT2 with more aggressive splitter and rear diffuser plus a bigger wing.
While top speed was 205 mph the real performance kudos came on track. The 911 GT2 RS smashed the Nurburgring lap time, doing a time of 7 minutes 18 seconds making it one of the fastest Nurburgring times even today. Please note that the premium is worth it, more so if you remember that the 997 GT3 RS is the first Porsche to one-up the Carrera GT on the Ring (7 minutes 18 seconds versus 7 minutes 28 seconds).
More: 2010 Porsche 911 GT2 RS
---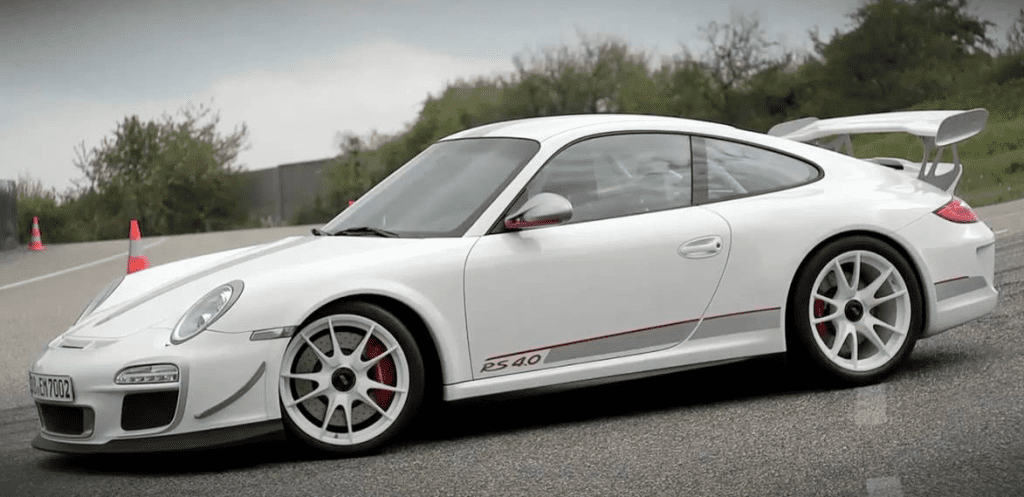 Porsche 911 GT3 RS 4.0 (997)
Production Years: 2011 Generation: 997.2 Units built: 600
Engine: 4.0L flat-6 | Power: 493 hp | 0 – 60 mph: 3.5 s | Top Speed: 193 mph
The last 997 Porsche and the best by far. Built to homologate the 2011 GT3 RSR racecar, the RS 4.0 is fitted with 4 liter flat six engine which raised power output from roughly 444 to 500 bhp. The GT3 RS is a collectible car already and for good reason.
When it was released in 2011 the 997.2 GT3 RS 4.0 was the most powerful and largest displacement naturally aspirated 911 ever made. The flat-six had 493bhp and the same crank as the GT3 R and RSR race cars. The 4.0-liter boxer is good for 125 PS per liter or 500 PS (493 horsepower) in total at 8,250 rpm. Yup, this is a howling lump enhanced by titanium connecting rods and a crankshaft borrowed straight from the 911 GT3 RSR racecar.
So what is it like to drive? We let the guys at EVO magazine summarize it for us:
Stunning. Perhaps this comes as no surprise considering the starting point, but every aspect of the GT3 RS has been built on. The engine is nothing short of incredible; on the road it impresses with is flexibility and overall smoothness as much as it does with the power at the top end. If you expected a little lumpiness at lower revs, think again; it's more tractable than the 3.8 and there's a delicious kick as you head to 8500rpm. In terms of handling it is noticeably sharper in its responses (and it was hardly sluggish before), but the ride remains utterly composed. Track-bred machines are not supposed to be this compliant on a B-road. Oh, and as you might expect it's devastatingly fast across the ground too.
Air flow was been improved and numerous strengthening upgrades too. Chassis development has been influenced by the GT2 RS and uses parts from other RS 911s. Front dive planes give additional downforce up front. The unique spring, damper, toe and camber settings along with rose joints, and liberal use of carbon make this a lightweight 911 at just 1360kg. With a manual transmission and the last car to use the Mezger engine it is probably our top pick on this list of top picks and is arguably the best modern 911 ever.
More: Porsche 911 GT3 RS 4.0 (997)
---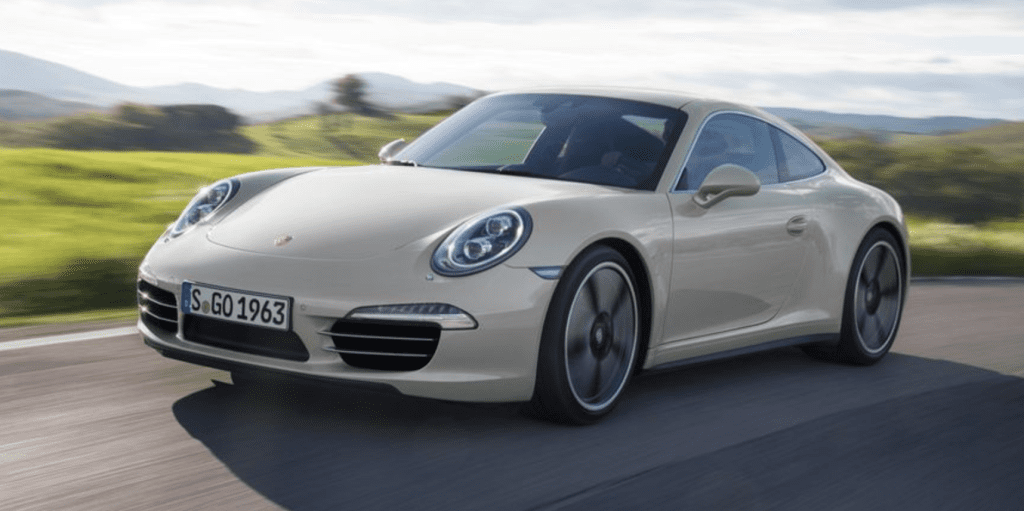 Porsche 911 Carrera S 50th Anniversary Edition (991.1)
Production Years: 2014 Generation: 991.1 Units built: 1,963
Engine: 3.8L flat-6 | Power: 394.3 bhp | 0 – 60 mph: 3.7 s | Top Speed: 188.78 mph
If you're buying a 911 Carrera S 50th Anniversary Edition we hope you like Graphite Grey or Geyser Grey metallic because they are the only color options. Built to celebrate the 50th birthday of the Porsche 911 in 2013, the Porsche 991 Anniversary Edition was essentially a 991 Carrera S with a widebody conversion and a number of retro touches, including green-numbered dials, chrome decklid grill and 'Pepita' houndstooth seat centres.
In addition to the pair of color choices, the special edition 911 Carrera S also has a distinctive '911 50' badge that has been finished in two-tone 3D-style on the rear lid. High-gloss window frames are also part of the package, as are SportDesign exterior mirrors, and a new set of "Fuchs" style 20-inch alloy wheels.
More: Porsche 911 50th Anniversary Edition
---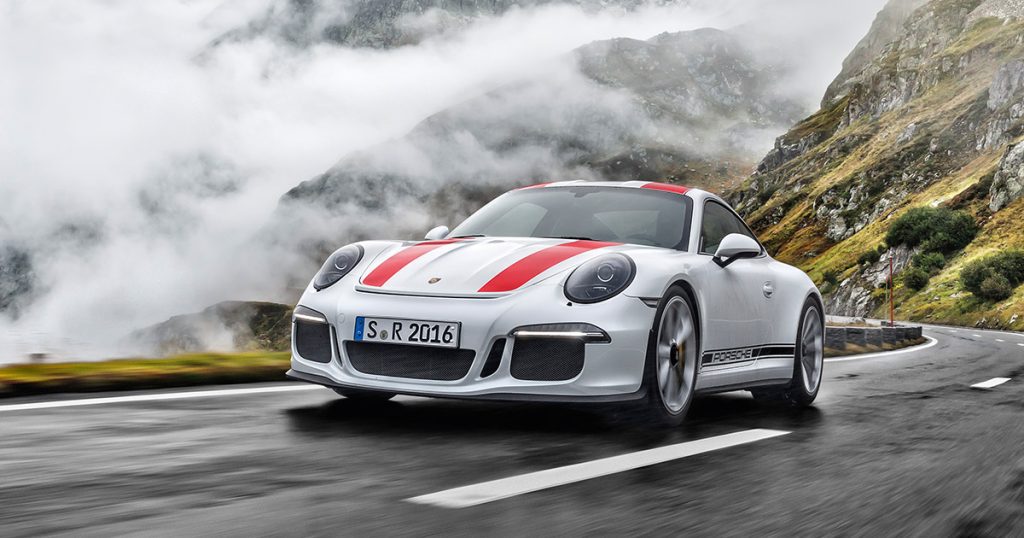 Porsche 911 R (991.1)
Production Years: 2016 Generation: 991.1 Units built: 991
Engine: 4.0-liter flat-six | Power: 500 bhp | 0 – 60 mph: 3.7 s | Top Speed: 200 mph
Porsche went dual-clutch only with the 991.1 generation 911 GT3 and GT3 RS which upset a lot of Porsche buyers. In true Porsche fashion they made every koscher again by building the amazing 911 R with the GT3 RS's engine and a perfect six-speed manual. Our perfect 911 (if we could afford the $400k+ used prices they fetch for these days) .
The original Porsche 911 R was built specifically for motor racing in 1967. Making the car lightweight was an obsession with bumpers, fenders, windows and more all made from light plastic. This 911 R was powerful, extremely fast and way ahead of its rivals at the time.
In 2017, the Porsche 911 R came back and we're very happy campers. Think of it as a manual GT3 RS and you're pretty close. The limited edition (991 units were made) is the perfect Porsche on paper with its 500 hp 4.0-liter naturally aspirated flat-six engine, 6-speed GT sport manual transmission, exotic lightweight materials and lots of cool Porsche motorsports tech thrown in.
This isn't the fastest 911. It is designed to be a sports car, something you can enjoy driving even if you're not wringing it's neck out or trying to break lap records. It is refreshing. As much as the current GT3 and GT3 RS are epic cars, they're not much fun or approachable on real roads. The Porsche 911 R is much more than that. It is the kind of car you take when you want to hit some mountain passes or some back roads to let off some steam.
Flat-six naturally aspirated engine. Screw turbocharging, this is what engines should be like. Naturally aspiration and large-volume flat-six engines will always have a place in our hearts. This masterpiece takes it to an even higher level. From its 4-liter displacement it delivers 500 hp (specific output of 125 hp per liter). Maximum torque is 346 lb.-ft and it revs to a stratospheric 8,800 rpm.
6-speed GT sport manual transmission. A high performance Porsche with a 6-speed manual gearbox. As if that wasn't enough, the precise manual transmission also includes a cool rev-matching function. The focus of the box is not on shaving tenths of a second off lap times on the Nordschleife, but on pure driving pleasure and unfiltered emotion. This is Porsche driving the way it used to be.
The chassis of the new 911 R is based on the 911 GT3 and provides extremely sporty day-to-day driving. The tuning is extremely direct and the vehicle lies as low as the 911 GT3. All chassis control systems have been adapted to the manual transmission. The 911 R includes rear-axle steering, dynamic engine mounts, PASM, PSM and Porsche Torque Vectoring.
More: Porsche 911 R (991)
---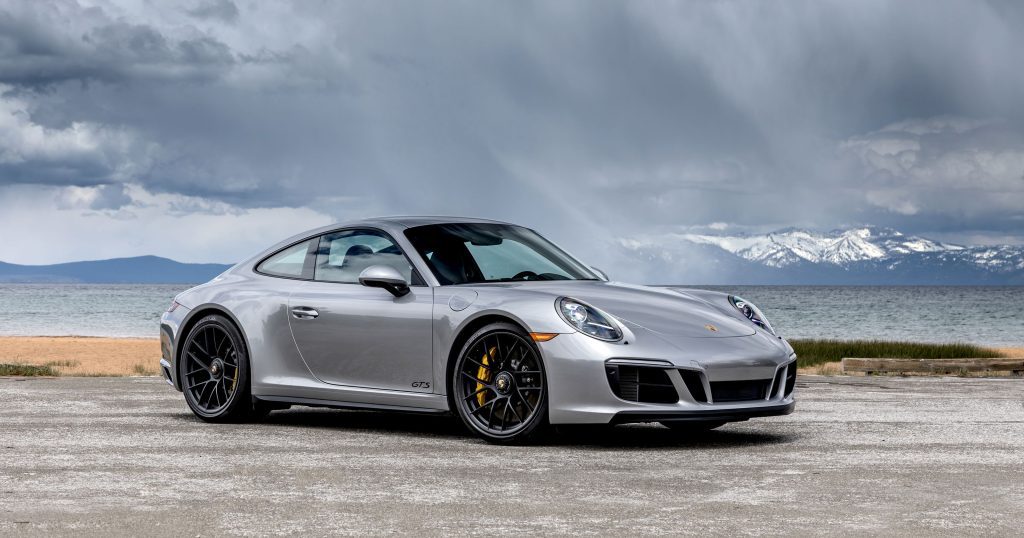 2018 Porsche 911 Carrera GTS (991.2)
Production Years: 2017- Generation: 991.2 Units built: –
Engine: 3L turbo flat 6 | Power: 450 bhp | 0 – 60 mph: 3.5 s | Top Speed: 193 mph
You guys already know we love the GTS from our best 911s you can buy today post from a few weeks ago. This is the best-value, all-around street-oriented 911 and in our review probably the best all-around 911 you can buy new today. Balanced, bracing, and the best driving experience under $150,000. The manual GTS is a perfect synthesis of power and grip: to drive and live with every day.
The Carrera GTS sits nicely between the Carrera S and the GT3. The GTS gets a larger turbocharger and a little more boost than the Carrera S, giving it 30 more horsepower and an extra 37 lb-ft of torque. That means 450 hp at 6,500 rpm and 405 lb-ft of torque between 2,150 rpm and 5,000 rpm. You can really feel and hear the differences behind the wheel, the twin-turbo flat-six is so quick to respond and there is so much power across the rev range. 0 to 60 mph takes 3.9 seconds with the manual gearbox and just 3.5 seconds with the PDK. We say that's conservative and expect the GTS is actually four tenths faster.
The GTS models take the best options you can buy on a Carrera S and are include them as standard. That means the Carrera GTS gets Sport Chrono and the cool different drive settings that come with it. If you opt for dual clutch you also get a cool "push-to-pass" power button on the steering wheel. GTS Coupes get PASM Sport Suspension, which drops the ride height 0.4 inch, though the standard PASM setup is available for those who want the option to dial up a more comfortable ride. You also get cool center-lock wheels and black trim kit that looks epic. Not to mention a lower sport suspension setup and the mean-looking wide-body shell from the Carrera 4. The GTS is pretty perfect. Our pick is the manual gearbox but the PDK is awesome too.
In terms of personality, the GTS is more Carrera S than GT3. It is a great daily driver, with good visibility, a relatively upright seating position, supportive buckets good for long-distance travel, and an easy-to-use cockpit with its controls arranged logically. This is one of the best cars we have ever driven and is nearly perfect.
---
2018- Porsche 911 GT3 (991.2)
Production Years: 2017- Generation: 991.2 Units built: –
Engine: 4L naturally aspirated flat 6 | Power: 493 bhp | 0 – 60 mph: 3.4 s | Top Speed: 193 mph
You will notice that the 991.1 GT3 did not make our list. The reality is that it was an awesome car but had too main issues. First, it was plagued by engine issues and needed a recall and second it had no manual. With the 991.2 GT3 Porsche got everything right, it took the most involving 911 ever and bulletproofed the engine, added a manual and made it even better across the board. That's why it gets the nod over the 991.1.
The GT3 has a screaming engine, is available with a manual gearbox and is the most involving sports car money can buy. It is a little rough around town so opt for a different 911 of you are looking for a daily driver. If you want to look a little more subtle, you can now opt for the Touring package which removes the rear wing (we love it).
The powerplant is a masterpiece. It's a dry-sump, 4.0-litre flat six engine that can scream up to its 9,000-rpm redline, making 500 horsepower and 339 pound-feet of torque. While the rest of the 911 range has torque-rich turbocharged engines, this is one you still have to work with and one you want to wind up to 9,000 rpm. The GT3 can be equipped with a six-speed manual transmission or a seven-speed dual-clutch PDK gearbox. The PDK is faster but as manual men we know we'd opt for the stick shift every time.
With the PDK and the launch control system activated, the 2018 Porsche 911 GT3 gets to 62mph in 3.4 seconds. With the manual gearbox, a similar sprint takes 3.9 seconds. That makes the GT3 barely faster than the 911 GTS which is a better daily driver and a 580-hp 911 Turbo S is an entire second faster to 60 so why would you choose the GT3 over these models. It's easy. It is how it drives and how it makes you feel.
The GT3 has the best handling I've ever experienced. It is fast, precise and you can feel everything going on beneath you. The car is surgically precise, the suspension is firm with almost no body roll, and the various scoops and vents on the body not only help cool down the mechanical components, but also increase downforce so the car sticks to the pavement. A GT3 feels like a totally different experience to other cars. It's loud, stiff, rough and pointy. It is full sensory overload at slow speeds around town and an almost religious experience at speed on track. There is nothing better.
---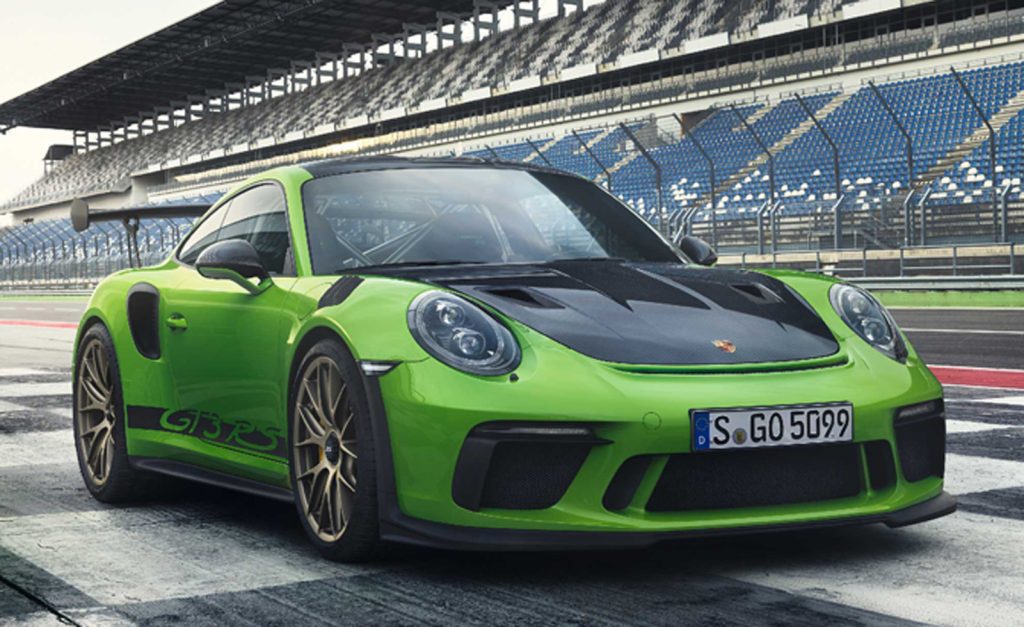 2018 Porsche 911 GT3 RS (991.2)
Production Years: 2018- Generation: 991.2 Units built: –
Engine: 4L naturally aspirated flat 6 | Power: 520 hp | 0 – 60 mph: 3.2 s | Top Speed: 193 mph
In February 2018, Porsche revealed a facelifted GT3 RS and the early reviews suggest that while it is clearly an evolution of the previous GT3 RS that Porsche has done enough that the current model gets nod over the previous generation on our list of the best 911s. Does that mean the old 991.1 GT3 RS doesn't deserve a spot? Of course not, it is still a cracking track car and likely one of the best cars on the planet. We are simply being super picky.
The GT3 RS gets 520 horsepower and 346 lb-ft of torque from the same flat-six engine in the GT3 (the redline set at 9000 rpm, making it the highest-revving GT3 RS ever). The whole car is heavily based on the GT3 with lots of shared stuff. But it's the engine that sets the RS apart thanks to an extra 20 horsepower, as well as the fact that you can't get it with a manual transmission. The chassis setup is also different, so the RS is quicker on the race track. The GT3 RS is 0.1 second quicker than the old GT3 RS to 60 mph, which now happens in just three seconds. The car also gets front brake cooling and new ball joints inspired by the GT2 RS, and a tweaked rear-steering system. If you think of the GT3 RS as a GT3 with more downforce, more power and more grip then you are pretty close to the money.
The more aggressive aerodynamic features stand out on the GT3 RS with NACA ducts guiding air to cool the brakes and smoother channeling air to a new diffuser. The side sills come straight off the GT2 RS, as does the manually adjustable carbon-fiber wing. The GT3 RS makes a lot more downforce than the GT3—more than double at 124 mph, in fact. It also effectively makes more than the GT2 RS, because while both make the same maximum downforce at top speed—750 lbs with wings in their stock settings, 992 lbs at maximum attack—the top speed of the latter is much higher, 211 mph verses 193 mph. This means the GT3 RS is making more downforce at lower speeds.
You guessed it, the GT3 RS is a race car and doesn't make much sense on the road. On 18 April, 2018 the 991.2 GT3 RS set a lap time of 6:56.4 around the infamous Nürburgring Nordscheleife race track. It is the third Porsche production car to break the 7 minute barrier around the track, the first being the 918 Spyder.
---
Conclusion
The Porsche 911 is an iconic sports car with lots of history and improvements over fifty plus years. From the current crop of awesome Porsche 911s to classic 911s and limited edition models there are so many special 911s that add to the legend of this model. Here's to keeping this list alive and continuing to add epic 911s for many years to come.