Ferrari Supercars
Supercars are the pinnacle of automotive performance, design and technology. Our friends at Ferrari are no strangers to building some of the most desirable supercars ever. Each decade or so we see a new Ferrari supercar at the top of the automotive world and they are absolutely amazing, every single one of them.
Ever since the FIA refused to homologate the 250 LM in 1964, Ferrari have focused their motor sport efforts on Formula One. After the sixties, this transition largely contrasted Ferrari's factory race cars from their road cars. To bridge this engineering gap, Ferrari have offered limited production road cars which both reflect Formula One technology and pay for Formula One efforts.
After the 250 GTO, the first special-series Ferrari road car was the 288 GTO. Like the original, the 288 GTO was homologated for racing. This time Group B rally was the target and five distinct GTOs were prepared. Unfortunately, the Group B series ended in 1987 without a 288 GTO ever seeing action.
Following the 288 GTO, a second limited production road car was built. Motivated by the 288 GTO Evolution, the F40 was released to celebrate Ferrari's fortieth anniversary. The car was packed with racing technology including twin IHI turbochargers, a Kevlar reinforced steel space frame and composite body panels. Its performance figures from zero to sixty and top speed remained hard to beat even ten years after production. Initially only 279 cars were to be built, but with such a high demand over 1300 examples were sold.
For Ferrari's fiftieth anniversary, another limited production supercar was planned. Following the release of a car like the F40 was no easy task and the F50 had to impress. Adopting Formula One technology would be a major selling point for the F50. The F50 dropped the turbocharged V8 engine in favor of a high-revving V12, itself a development of Ferrari's contemporary Formula 1 engine. The F50 was criticized in some quarters for its harsh engine and tricky driving dynamics, but it again represented distinct progress for this Ferrari model line.
Next up with the Ferrari Enzo, again a celebration of Ferrari's hard work in Formula One. Built in Maranello and tested around Fiorano by both Michael Schumacher and Dario Benuzzi, the Enzo was built from a wealth of talent within Ferrari. It was also Ferrari's last naturally aspirated V12 supercar.
The Ferrari LaFerrari is the latest in this long line of spectacular Ferrari supercars, now called a Hypercar, along with the McLaren P1 and Porsche 918 when released in 2013. With an hybrid powertrain and a laundry list of advanced technology and electronics, many feared it would be fast but lack in fun factor. They were wrong, Ferrari nailed. Since then we have seen cars like the Ferrari SF90 and Ferrari Monza SP1 and SP2 claim to be hypercars, but the truth is that they aren't special enough, they aren't true Ferrari supercars. We just know one when we see one.
Ferrari Supercar List
Ferrari 250 GTO (1962 -1964)

Ferrari 288 GTO (1984 - 1985)

Ferrari 288 GTO Evolution (1985)

Ferrari F40 (1987 - 1992)

Ferrari F40 LM (1989 - 1994)

Ferrari F50 (1995 - 1997)

Ferrari F50 GT (1996)

Ferrari Enzo (2002 - 2004)

Ferrari LaFerrari (2013 - 2016)

Ferrari LaFerrari Aperta (2016 - 2018)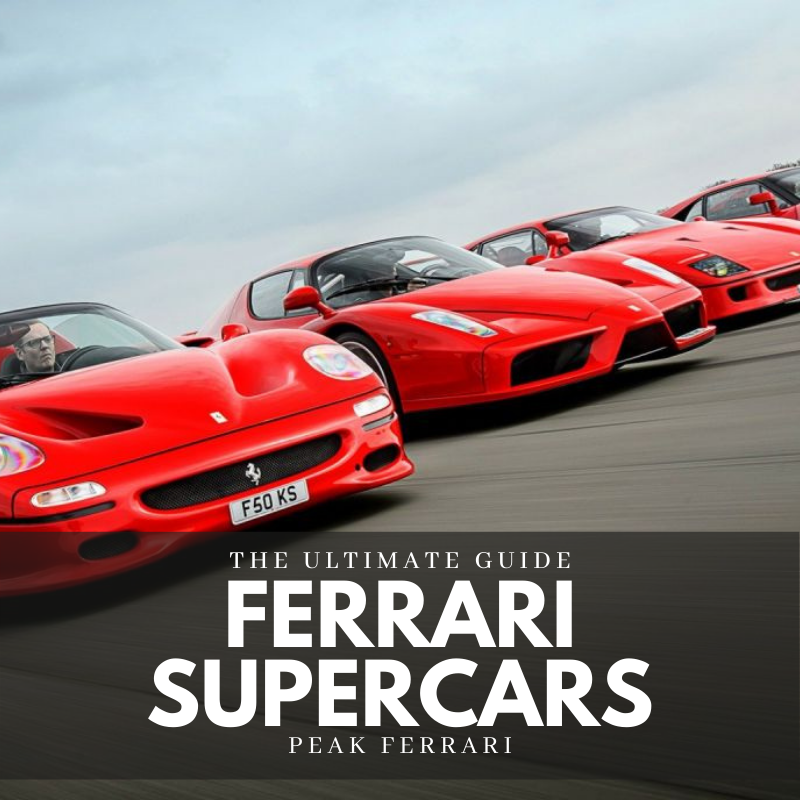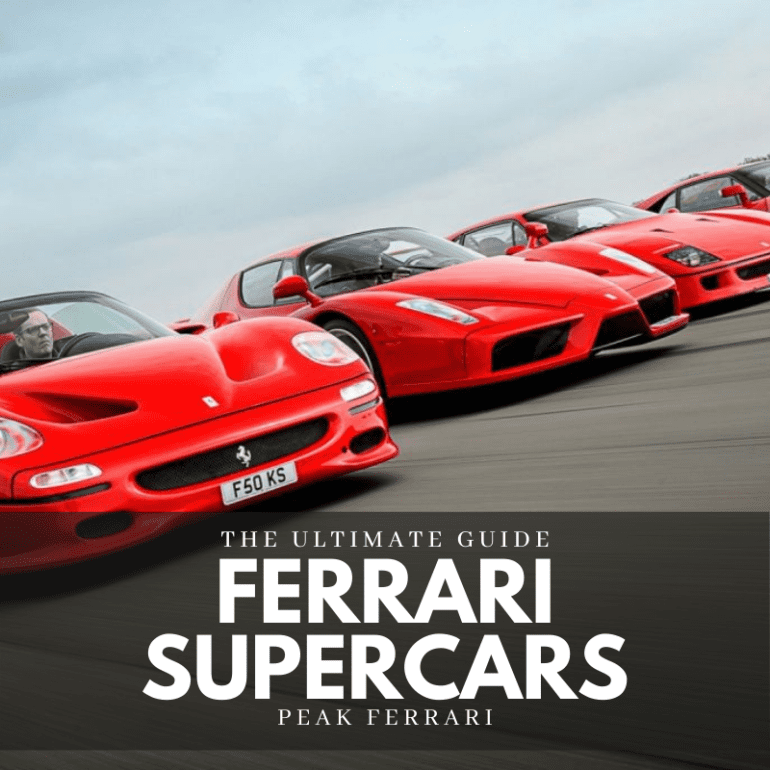 Our weekly email newsletter gives you all the supercar news, reviews, videos, rumors and much more. Only the best cars on the planet.
Years: 2002 - 2004

Production: 400

Engine: 6.0L Tipo F140B V12

Power: 660 hp @ 7,800 rpm

Torque: 485 lb-ft @ 5,500 rpm

0-60 mph: 3.1 seconds

Top Speed: 217 mph
With no hybrid setup, no turbochargers, nodual-clutch, and wind-up windows, the Ferrari Enzo is the last old-school Ferrari supercar, before the hypercars came around. It is also the last naturally aspirated Ferrari supercar, with a wonderful 6 liter V12 that just screams. With 650bhp, a claimed 3.1s 0-60mph time and a 217mph top speed, the Enzo had figures that spoke for themselves. The Enzo's sharp detailing and Formula 1-derived aerodynamics look just as good today as they did back then. This is a tough car to drive fast, and thats what we love about it, a true old-school supercar.
Years: 2013 - '16, 2016 - '18 (Aperta)

Production: 499, 210 (Aperta)

Engine: 6.3L V12 + Electric Motor

Power: 950 bhp @ 9000rpm

Torque: 664 lb-ft

0-60 mph: 2.7 seconds

Top Speed: 217+ mph
Limited to just 499 examples (an additional 210 Apertas were made), the LaFerrari featured a Formula-One derived HY-KERS system – an electric motor teamed to a 6.3-litre V12. Some would shirk at the concept of a hybrid Ferrari, but while enhanced efficiency is a by-product of the LaFerrari's powertrain, this was by no means Ferrari's motivation with the system. The LaFerrari was part of the new wave of supercars, now called Hypercars. Journalists all agreed that the hardware might be modern, but LaFerrari's heart remains a screaming naturally aspirated V12 engine.