The Awesome Gang. These Are The 25 Most Certifiably Crazy & Absolutely Coolest Cars Ever Made
We present to you The 25 Most Terrifying, Certifiably Crazy Cars Ever Made. As a precursor, I would like to mention that this list was particularly difficult to compile because it is so subjective; and on top of that, there are many great cars to choose from through the scope of madness we are looking into.
The biggest question then becomes, what metrics are used to determine whether a car is so terrifying, and so crazy in this context? Well, in my opinion a few criteria are key – all out performance, unique/standout characteristics, and overall historical significance.
You may have already made the association that these cars must all be scary and difficult to drive, or even live with (literally). However, not all of these cars come from a quandary of wall-smashing, fishtailing, spontaneously-combusting widowmakers, per se – though some cars with those reputations are certainly on this list.
They do however, more commonly exhibit traits that break the mold, shake up the status quo, and create new perceptions of what a car can (and sometimes shouldn't, for civility's sake) do. At the best of times, we humans tend to initially treat change and the unknown, with apprehension and caution.
That's what makes these cars "terrifying" – they defied the normal, safe, cookie-cutter conventions of what a car was meant to be. They are "certifiably crazy" because their defiance risked the reputations of their makers, with an air of authority that would only reward those who dare to do things differently, and do them well.
These cars shouldn't be treated as pariahs – quite the opposite in fact. I believe we have these cars such as these to thank, for shaping the automotive landscape in a positive, significant and memorable fashion.
Here are 25 of our picks that meet the aforementioned criteria. There are definitely more than that which are worth mentioning, if not for the interest of keeping this list at a more digestible size.
See Also: The Most Awesome Homologation Cars Ever Made
The Coolest Cars Ever Made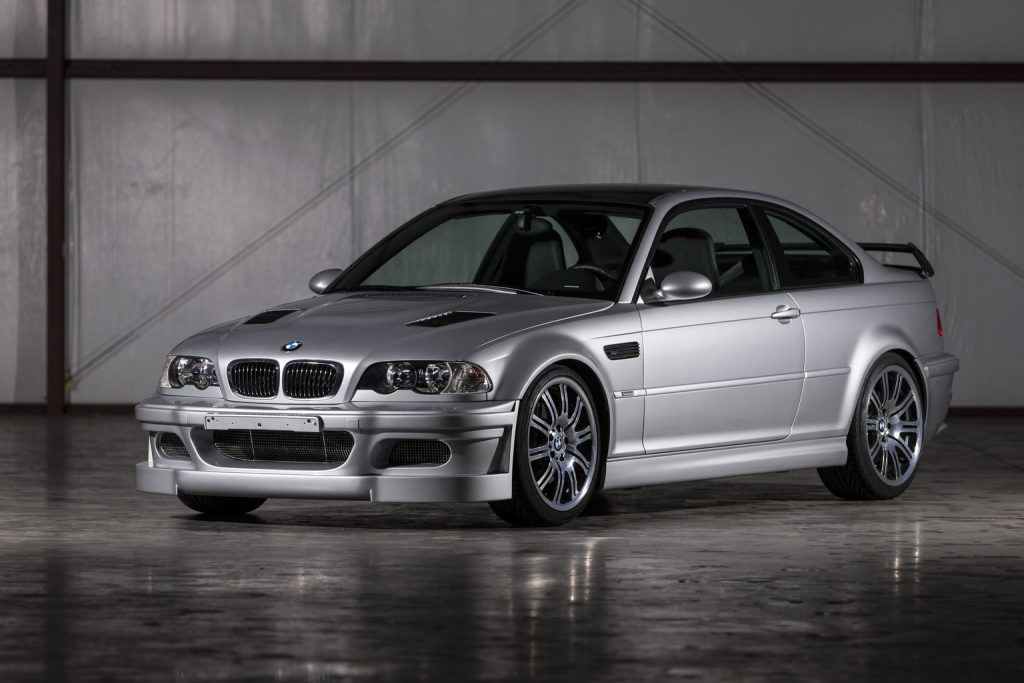 1. 2002 BMW M3 GTR
Engine: 4.0L 90 degree, naturally aspirated V8 / Power: 444 bhp / Torque: 269 ft lbs / 0-60 mph: 3.4 sec / Top Speed: 177 mph
It takes a lot to spook Porsche – of all the manufacturers – into resorting to the dark arts to win, or at least gain the upper hand in motorsport competition. The 2001 BMW M3 GTR managed to do just that.
Beneath the beefy silhouette of the M3 GTR beats a powerful heart: a four-litre V8 engine delivering more than 400 bhp. This short-stroke, high-speed unit epitomizes the tradition of M power and is compact enough to fit into the M3.
After the M3 GTR decimated the GT class competition in its inaugural season, Porsche complained that BMW was stretching the rules too far. The governing bodies concurred with Porsche, and changed the homologation rules such that the BMW would need to add an extra 100 lbs of weight and install 20% larger air restrictors, or make 1000 road going examples.
Unable to comply with the new rules in time, BMW decided to completely remove itself from participating in GT motorsport competition in 2002.
Learn more about the 2002 BMW M3 GTR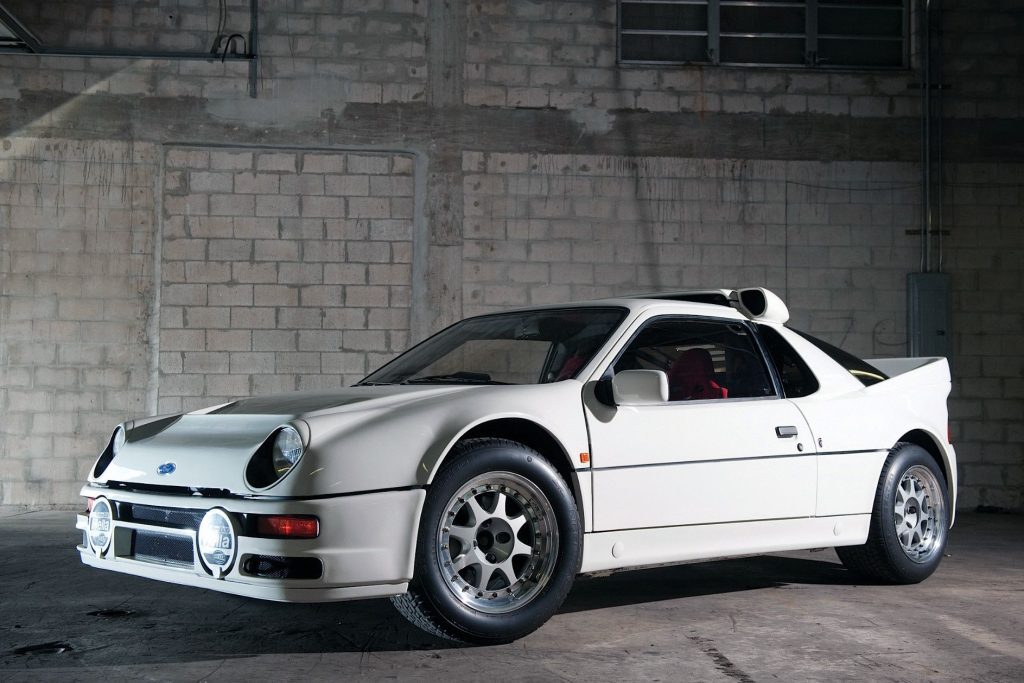 2. 1985 Ford RS200
Engine: 1.8L turbocharged Inline-4 / Power: 250 bhp / Torque: 215 ft lbs / 0-60 mph: 6.1 sec / Top Speed: 142 mph
Ford has created some phenomenal motorsport machines, but one that often gets overlooked is the RS200. Aside from the Ford GT, it has to be up there as my favorite Ford car. Built from the ground up as a Group B rally car, the RS200 was a short wheelbase, four-wheel drive missile which demanded both incredible finesse and bravery, to extract its full potential.
In order to meet homologation requirements, the FIA required that 200 road going models needed to be produced. The road car featured a 1.8-litre Cosworth tuned four-cylinder motor that produced around 250bhp. It continued to embody its rally roots with its characteristically short overhangs, large hood scoop, roof air-inlet, and eccentric rear wing.
Already a lot to handle for even the best drivers, 24 of the 200 cars were upgraded to the 600 bhp Evolution spec by owners who wanted more power. After the death of Henri Toivonen in 1986, Group B cars were banned and the RS200 was retired after only two years of competition.
Learn more about the 1985 Ford RS200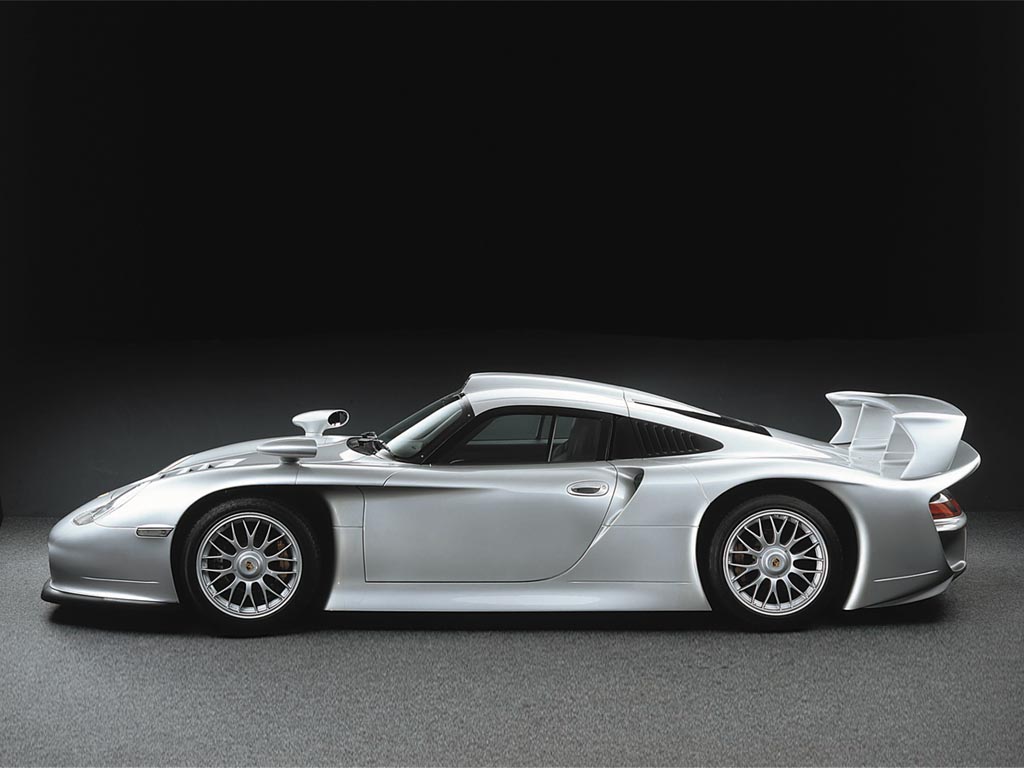 3. 1997 Porsche 911 GT1 Strassenversion
Engine: 3.2L water cooled, twin-turbocharged Flat-6 / Power: 544 bhp / Torque: 443 ft lbs / 0-60 mph: 3.7 sec / Top Speed: 174 mph
Created to homologate Porsche's 911 GT1 LeMans contender, the road version, often referred to as the 'Strassenversion', is one of the most fierce and rare 911s.
The GT1 was based on the 993 body shell, but with modified exterior panels and a substantial roll-cage that also supported the engine, gearbox and suspension. This helped Porsche avoid necessary crash testing and reinforced ties to the production cars.
Apart from a few relatively minor revisions, the Strassenversion is virtually the same as its full-on, race-ready counterpart. These changes include a higher ride height, softer suspension, road-going gear ratios and steel brakes which replace the race car's carbon discs. The engine was only slightly detuned from the race version and a complete interior included sport seats and a full dashboard from the 993 line.
Porsche would go on to produce twenty examples for a select group of customers who would become the owners of one of the most radical and unforgiving road-going supercars of their time, earning the distinction of being one of Porsche's famed widowmakers.
Learn more about the 1997 Porsche 911 GT1 Strassenversion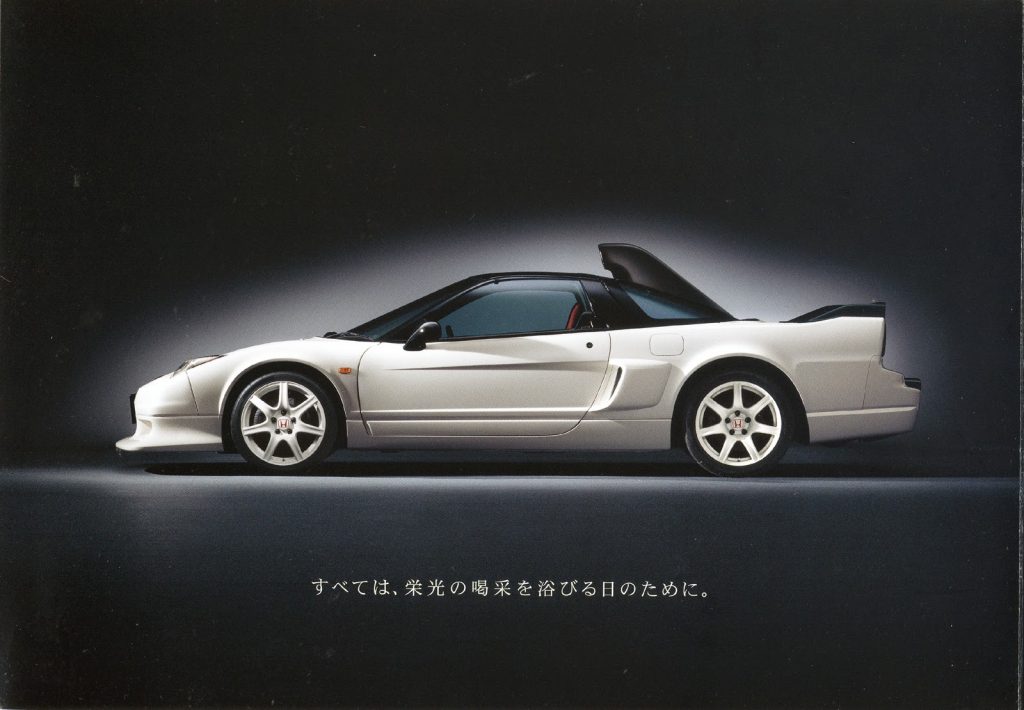 4. 2005 Honda NSX-R GT
Engine: 3.2L naturally aspirated V6 / Power: 290 bhp / Torque: 224 ft lbs / 0-60 mph: 4.7 sec / Top Speed: 174 mph
The Honda NSX – or Acura NSX as it is branded in North America – is a car synonymous with Japanese supercar legacy. When the NSX was first introduced to the world in 1990, it sent shockwaves throughout the automotive dimension, pioneering an unprecedented amalgamation of road-friendly characteristics and state-of-the-art engineering principles.
Like many of the cars on this list, the NSX-R GT was born from a need to satisfy race car homologation requirements for production-based cars in the JGTC, in which Honda competed with a race version of the NSX-R. Such rules stated at least five production cars for any race car version was required to compete, and Honda decided to meet the bare minimum, producing only five examples.
This would end up being the ultimate incarnation of the car, produced strictly for the model year only; it was a more agile, more responsive, quicker, and more limited version of its more mainstream range-topping NSX-R. In addition to some aerodynamic modifications and weight reduction measures, the NSX-R GT continued to be operated with the absence of power steering, further highlighting its pure, raw and involving driving dynamics.
Learn more about the 2005 Honda NSX-R GT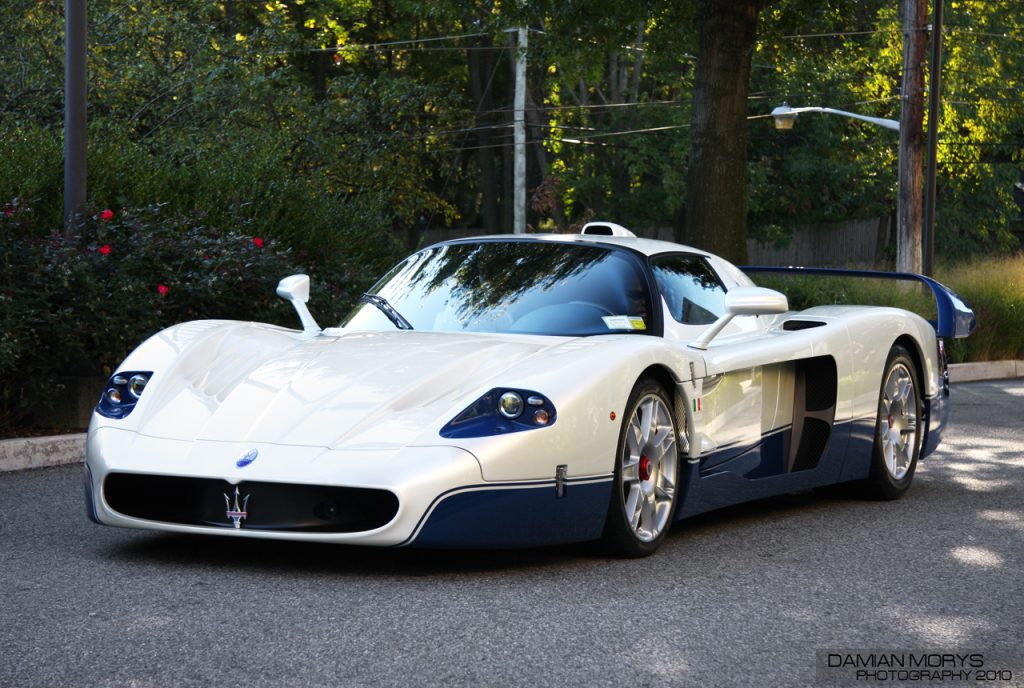 5. 2004 Maserati MC12
Engine: 6.0L 65 degree, naturally aspirated V12 / Power: 621 bhp / Torque: 481 ft lbs / 0-60 mph: 3.8 sec / Top Speed: 205 mph
At its core, the Maserati MC12 – particularly its carbon composite chassis and 65-degree V12 engine – is a Ferrari Enzo. Maserati built upon this favorable foundation to create a car that would race under its own company banner, as an FIA GT race car.
Around 25 road legal Maserati MC12s were produced, in order to meet the homologation requirements needed to participate in the races.The client versions of the car came exclusively in a white and blue livery, harking back to an old Trident tradition. In fact, blue and white are the colours of the America Camoradi (Casner Motor Racing Division) Scuderia which raced the famous Maserati Tipo 60-61 Birdcages in the very early 1960s with Stirling Moss as their lead driver.
Designed to embody the traits of the race car, the road version can exceed 330 km/h at full throttle, and sprint from 0 to 100 km/h in just 3.8 seconds. Although easy and pleasant to drive on the road, the MC12 is also a brilliantly dynamic car. It handles very sweetly and fluidly, yet the driver can still feel all the power of a genuinely sporty thoroughbred under the surface.
Learn more about the Maserati MC12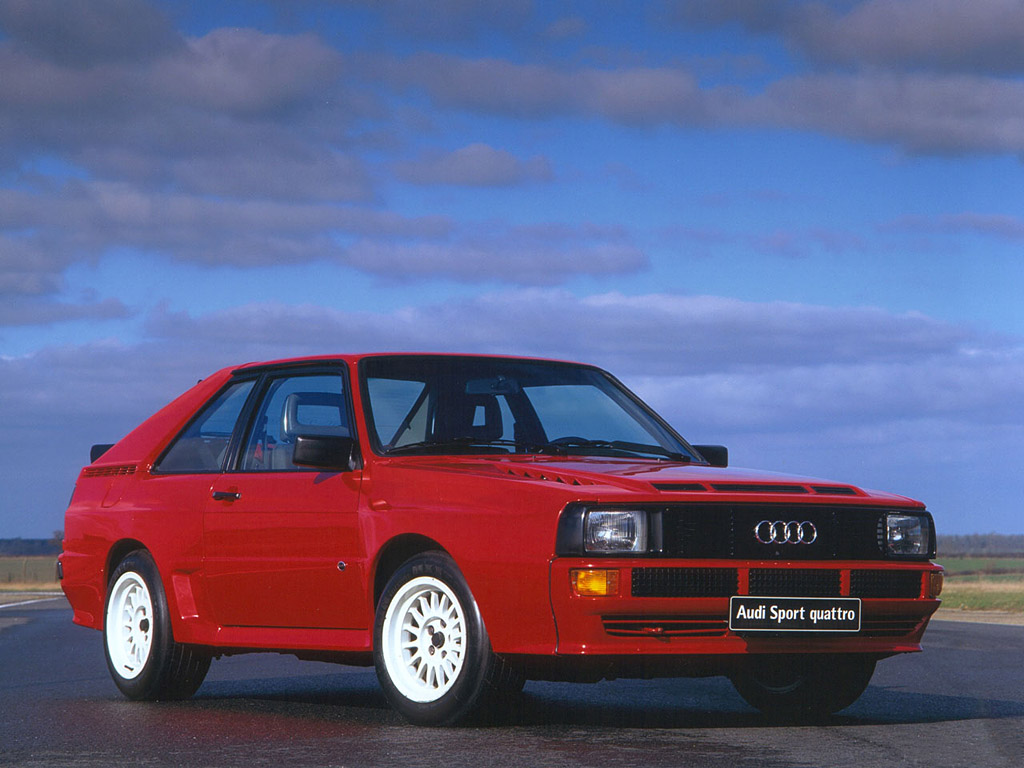 6. 1984 Audi Sport Quattro
Engine: 2.1L turbocharged Inline-5 / Power: 306 bhp / Torque: 258 ft lbs / 0-60 mph: 4.8 sec / Top Speed: 155 mph
The Audi Quattro is a prominent figure in automotive history. First introduced in 1981, the Audi Quattro would revolutionize rally racing; and subsequently the trajectory of production car technology. It ushered in an era where all-wheel drive would become mainstream technology for the general public.
Eventually, it would be replaced with the Audi Sport Quattro in 1984, after shortcomings of the aforementioned car – such as its relatively large weight and dimensions – became too apparent. Taking advantage of the lenient homologation requirements of the time, Audi engineers went full tilt in creating a successor to the Quattro, doing so after producing the required 200 Sport Quattro cars.
With 4WD, high gearing and a low weight, the Sport Quattro could hit 0-100 kph in 4.8 seconds, which is an incredible figure still to this day. By comparison, the S1 Rally version had 530 bhp and was probably the fastest way to get from point A to point B in 1986.
Learn more about the 1984 Audi Sport Quattro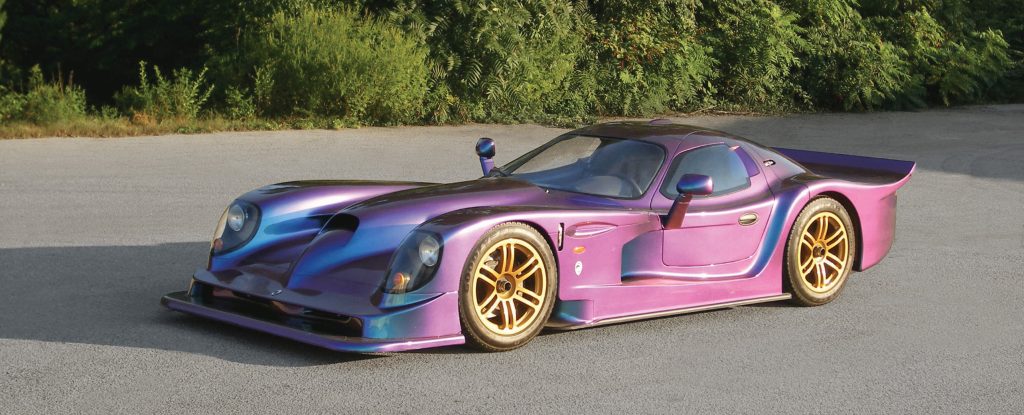 7. 1998 Panoz Esperante GTR-1
Engine: 6.0L naturally aspirated V8 / Power: 600 bhp / Torque: 500 ft lbs / 0-60 mph: 3.3 sec / Top Speed: 155 mph
The Panoz Esperante GTR-1 was a race car developed by Panoz Auto Development and Reynard Motorsport for GT endurance racing in the 1997 season. Although it was the namesake of the Panoz Esperante roadster, the GTR-1 bore no relation to the Esperante in any significant way, only sharing some minor styling cues.
Almost a race car in street-legal trim, the GTR-1 exceeds the level of performance of many track-only vehicles. Relentless power comes from an aluminum block V8 engine pushing over 600 horsepower.
The GTR-1 returned the front engine race car to the racing circuit at the 24 hours of LeMans. The game-changing design places the engine between the front axle and the driver, proving that front-mid engine construction is the next generation of the supercar.
Two road going versions of the GTR-1 had to be made to compete in the FIA GT1 championship. One was used primarily for crash testing and the other was kept by Panoz themselves (the purple one).
Related: See the Panoz Esperante GTR-1 in our Forgotten Supercars Of The 1990s list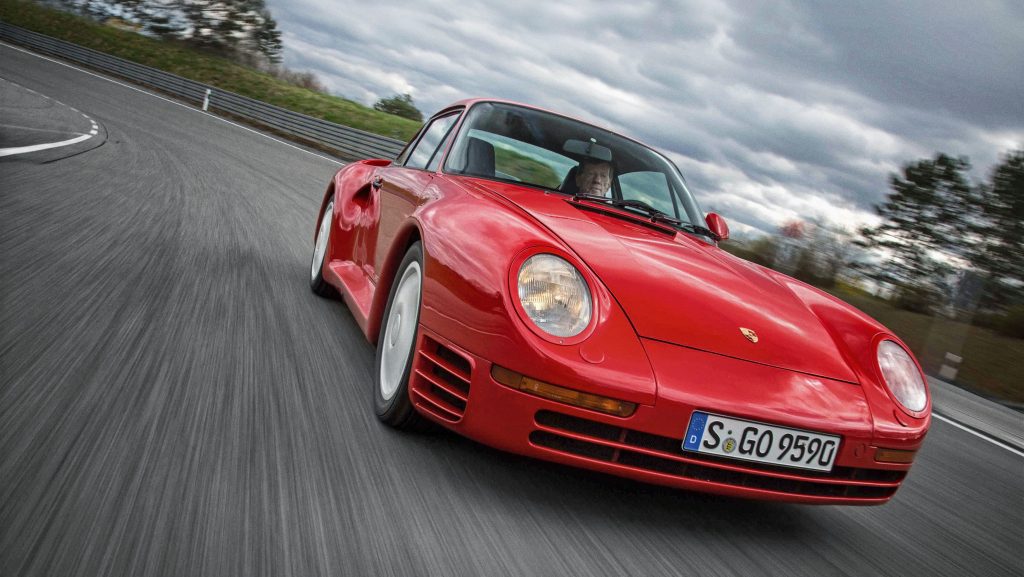 8. 1987 Porsche 959
Engine: 2.85L twin-turbocharged Flat-6 / Power: 444 bhp / Torque: 369 ft lbs / 0-60 mph: 3.7 sec / Top Speed: 197 mph
The Porsche 959 remains one of the most interesting supercars ever built. In years past, they were an extra-rare sight in the US, as only about 50 or so of the 329 (or 337, depending on who you ask) models built made it here to the US. Its iconic design cues – especially from the B-pillar to the rear bumper – have made it one of the most desirable collector cars on the planet.
Perfect traction was Porsche's goal when they designed the 959. The proprietary PSK 4-wheel drive system was the technological highlight of the 959. PSK could vary the ratio of torque to the front & rear wheels, in the process becoming Porsche's inaugural torque-vectoring technology on a production level car – and essentially, a forefather of the modern all-wheel-drive system.
The 959 also had an adjustable ride height system which had 3 different settings; another piece of forward-thinking technology of the day. The height was easily changed via a knob on the dashboard. Above 50mph the ride height automatically adjusted to the lowest setting. It also had an equally sophisticated powertrain, thanks to its legendary 2.85-liter de-stroked flat-six boxer motor with sequential turbochargers hanging off each bank of cylinders.
Learn more in our ultimate guide to the Porsche 959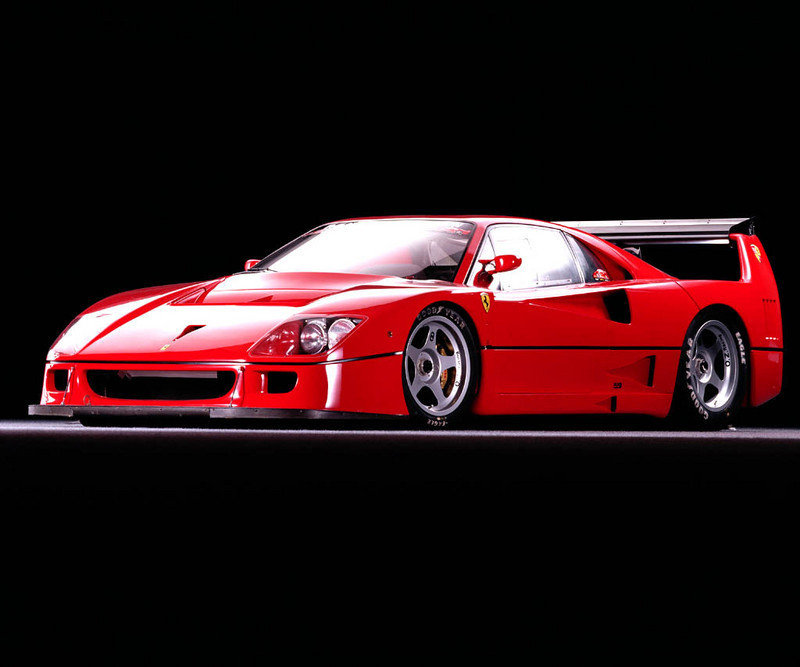 9. 1989 Ferrari F40 / F40 LM
Engine: 2.9L 90 degree, twin-turbocharged V8 / Power: 471 bhp / Torque: 426 ft lbs / 0-60 mph: 3.8 sec / Top Speed: 202 mph
When it made its debut in 1987, the Ferrari F40 was the fastest, most powerful, and most expensive production car to come by the renowned Italian marque. The car (and by association, its designers) made no apologies for it being a solely-purposed performance machine.
However, the initial sampling of the F40's performance capabilities subsequently sent demand soaring for Ferrari to release a factory race-spec version of the car. Thankfully Ferrari didn't take long to mull over the idea, and the Prancing Horse would delegate Michelotto Automobili – Italian race car builder and long-time business partner, who they collaborated with for the 512 BB LM and 308 GTB  – to the task of bringing the idea of such an F40 to life.
Here enters, the Ferrari F40 LM. This race-spec variant packs more power, better aerodynamics and less weight than the car it is based on. The LM, which stands for Le Mans, was specced to satisfy IMSA regulations with the goal of competing on the world's highest stage in its performance category.
Learn more about the Ferrari F40 LM and Ferrari F40 in our ultimate guides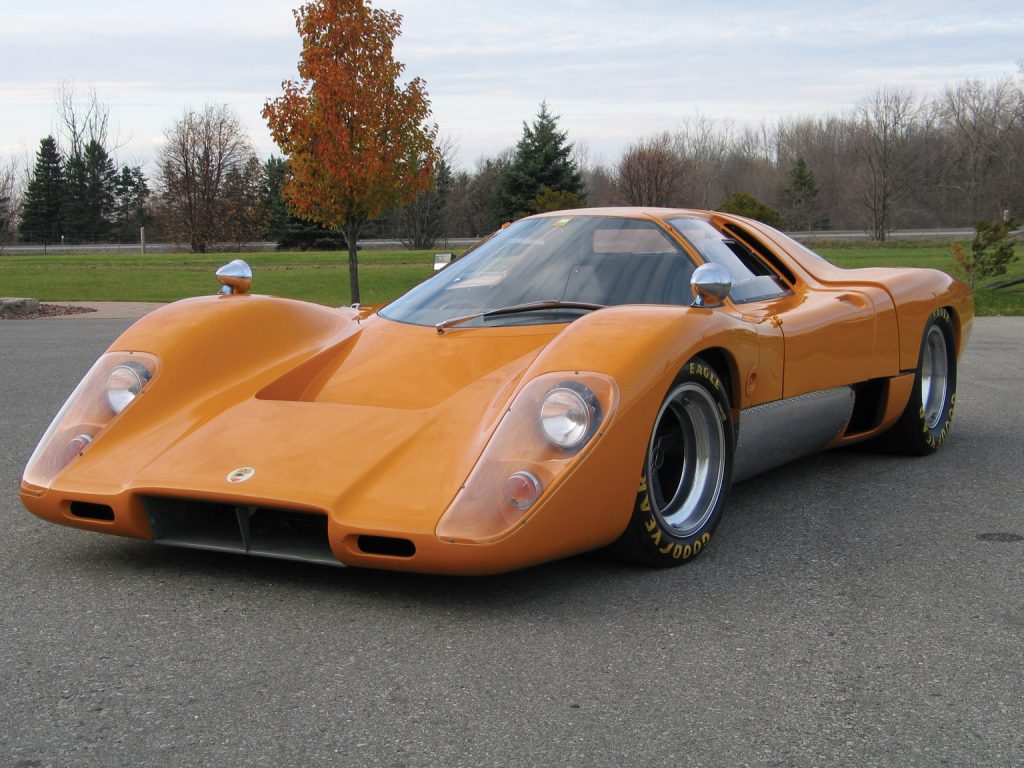 10. 1969 McLaren M6 GT
Engine: V8 / Power: 370 bhp / Torque: 370 ft lbs / 0-60 mph: 3.2 sec / 0-100 mph: 8 sec / Top Speed: 165 mph
I just wanted to preface with how few cars there are in the world, that are as era-defining as the McLaren M6 GT. Such was its impact in fact, that the M6 GT is considered the spiritual forefather of the McLaren F1 – produced over two decades later – which has come to define, and ultimately establish the McLaren brand commercially on a global basis.
Road-legal, but based essentially on a prototype race-car, the M6 GT had a cramped interior and no real semblance of usability or practicality. But more importantly, it did come with a Bartz-tuned Chevrolet engine and had an estimated top speed of 165 mph, amongst a host of other outstanding features.
While performance was always going to be at the forefront of the car's overall disposition, Bruce McLaren wanted to use the M6 GT as an opportunity to benchmark future McLaren road cars. In fact, he had a red M6 GT made as a personal car – infamously registered as OBH 500H – which he drove on a daily basis in order to get the reliable data needed for his ongoing research in creating the ultimate "everyday supercar".
Only 4 units of the M6 GT were ever produced – two painted red, another in yellow, and the last finished in the iconic McLaren Orange.
Lear more about the McLaren M6 GT here and find it in our Best McLaren Cars Ever List.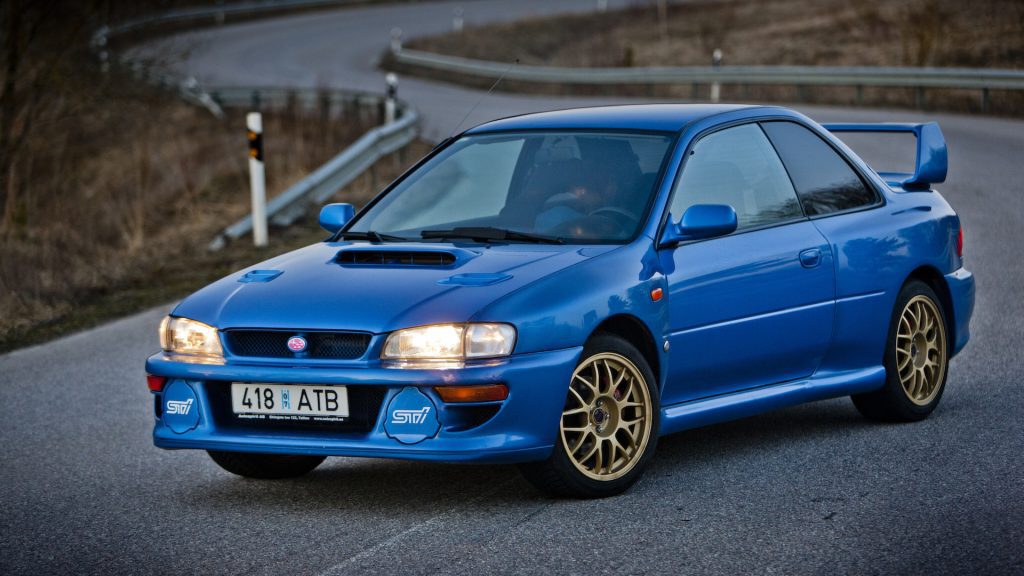 11. 1999 Subaru Impreza 22B STi
Engine: 2.2L turbocharged Flat-4 / Power: 276 bhp / Torque: 268 ft lbs / 0-60 mph: 4.3 sec / Top Speed: 157 mph
Having grown up admiring Japanese cars, the Subaru Impreza 22B STi was definitely one of my poster cars. If you're particularly fond of the modern WRX STi, this is the car you have to thank for shaping it into the car you see today.
For the 22B, Subaru took the standard Impreza STI's 2.0-liter engine and increased the displacement to 2.2 liters, with power rising to (a widely believed to be underrated) 280 hp. The aggressive fender flares and and large rear wing would set the visual template for all WRX STIs which followed.
Car & Driver was so impressed with the 22B STi, that it gave the nickname "The Subaru from Hell". While the 22B STi didn't have the price tag of a mainstream supercar, it definitely had supercar levels of performance of the time. It was one of a handful of Japanese cars during that era which were taking it to the exotics, and its build-quality made for a remarkably reliable car as well.
There were only 424 copies of this "holy-grail" Subaru ever made, with the addition of 3 prototypes, many rally enthusiasts (Subaru loyal or not) lust after the wide-body haunches and the rally cred this car brings. Due to the rarity and limited production numbers of the car, this Subaru easily fetches six-figures and will likely continue appreciating in value over time, having more than doubled its original sale price since launch.
Learn more about the 1998 Subaru Impreza WRX STi 22B and check it out in our best sports cars of the 90s list.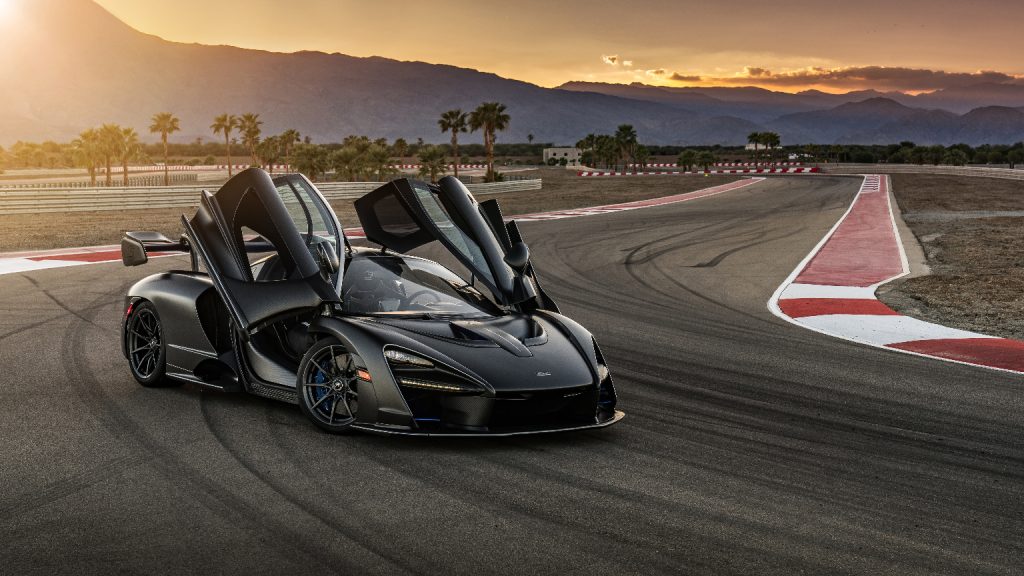 12. 2019 McLaren Senna
Engine: 4.0L twin-turbocharged V8 / Power: 789 bhp / Torque: 590 ft lbs / 0-60 mph: 2.6 sec / Top Speed: 211 mph
Named after Formula 1 driver Ayrton Senna, the McLaren Senna is a track-focused hypercar. Its aggressive appearance tells you immediately that this thing is designed to destroy lap times. It is an intensely involving and immersive experience.
With a dry weight of 2600 pounds, it delivers the fastest lap times of any road-legal McLaren to date. As crazy as all that sounds, get this – there is also a track-only version of the Senna, known as the Senna GTR. Yes, the regular Senna is street legal, and is the fastest McLaren road car ever around a racetrack, with downforce numbers up there with proper race cars.
The McLaren Senna is the pinnacle of McLaren performance. It combines the three principal matters of a high performance vehicle – aerodynamics, chassis and power – in an unrivaled manner.
McLaren's marketing team accurately sums things up, stating "The McLaren Senna is the personification of McLaren's DNA at its most extreme, creating the purest connection between car and driver. It is the most track-focused road car we have ever built, and it will set the fastest lap times of any McLaren to date. That is what has driven us to build a track car that is unashamedly without compromise. One that is legalised for road use, but not sanitised to suit it. Nothing else matters but to deliver the most intense driving experience around a circuit."
Learn about the McLaren Senna
13. 2016 Bugatti Chiron
Engine: 8.0L quad-turbocharged W16 / Power: 1,479 bhp / Torque: 1,180 ft lbs / 0-60 mph: 2.5 sec / Top Speed: 261 mph
At the world premiere of the successor to the phenomenal Veyron, Bugatti President Wolfgang Dürheimer declared "With the Chiron, we will make the best significantly better." Never a company to do things by half-measure, expectations for Bugatti's world-beating hypercar were astronomical – how do you follow up the fastest, most prestigious production car ever made?
The challenge of redefining the pinnacle of automotive excellence was compounded; making a fast car is easy when you're authorized with absolute engineering and design freedoms – not so with the Chiron. While the engineers had been given license to produce the fastest, most powerful production car on the market, they also had to satisfy Bugatti's mandate for the extreme luxury that its customers had come to expect from all of its products.
Power is required to build a machine capable of the sort of speeds Bugatti had targeted with the Chiron. A lot of power. The 8-litre W16 from the Veyron is no bad place to start from that perspective. Bugatti's engineers stripped that enormous power plant back to its baseline features, then fitting a quartet of turbochargers – even bigger than those fitted to the Veyron. The drivetrain benefitted from Bugatti's two-stage turbocharging, a system developed specifically for this car which acts to eliminate turbo lag throughout the rev range. Two turbos spin up from the get go, with two more joining in above 3,800rpm.
All of this comes together for a power output of 1,500 bhp and 1,600 nM of torque – available throughout virtually the entire rev range, from 2,000 to 6,000rpm.
Check out the Bugatti Chiron in our best Bugatti cars ever created list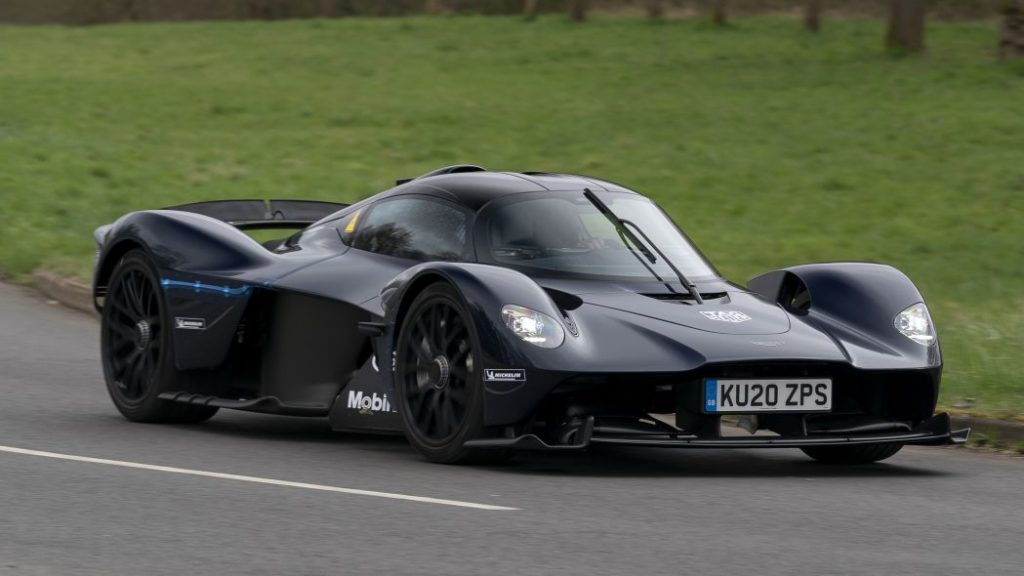 14. 2020 Aston Martin Valkyrie
Engine: 6.5L hybrid engine w/ electric motor / Power: 1,160 bhp / Torque: 664 ft lbs / 0-60 mph: 2.5 sec / Top Speed: 250 mph + (est)
This collaboration between Aston Martin and Red Bull Advanced Technologies is known as the Aston Martin Valkyrie; a hyper car which will only have 150 units produced. The Valkyrie will come out as a no compromise, high performance machine.
Valkyrie comes as close as possible to a Formula One car without being restricted to the track. Otherworldly performance comes from the 6.5-litre V12 engine developed with Cosworth. Starkly different from a traditional hybrid system, the V12 is torque-enhanced during take-off and uses the electric motor for a power boost. Throttle response of the V12 is honed for a seductive sound; the hybrid tech gives an immediacy of acceleration.
There's not one steel component in Valkyrie's structure – it's all carbon-fiber, every last bit of it. This will effectively give the car a 1:1 power-to-weight ratio.  Absolutely remarkable. An incredibly special car with an equally remarkable name. One that immediately evokes connotations of power and honor, of being chosen by the Gods. Valkyrie is Aston Martin's first ever hypercar and it leaves nothing in reserve.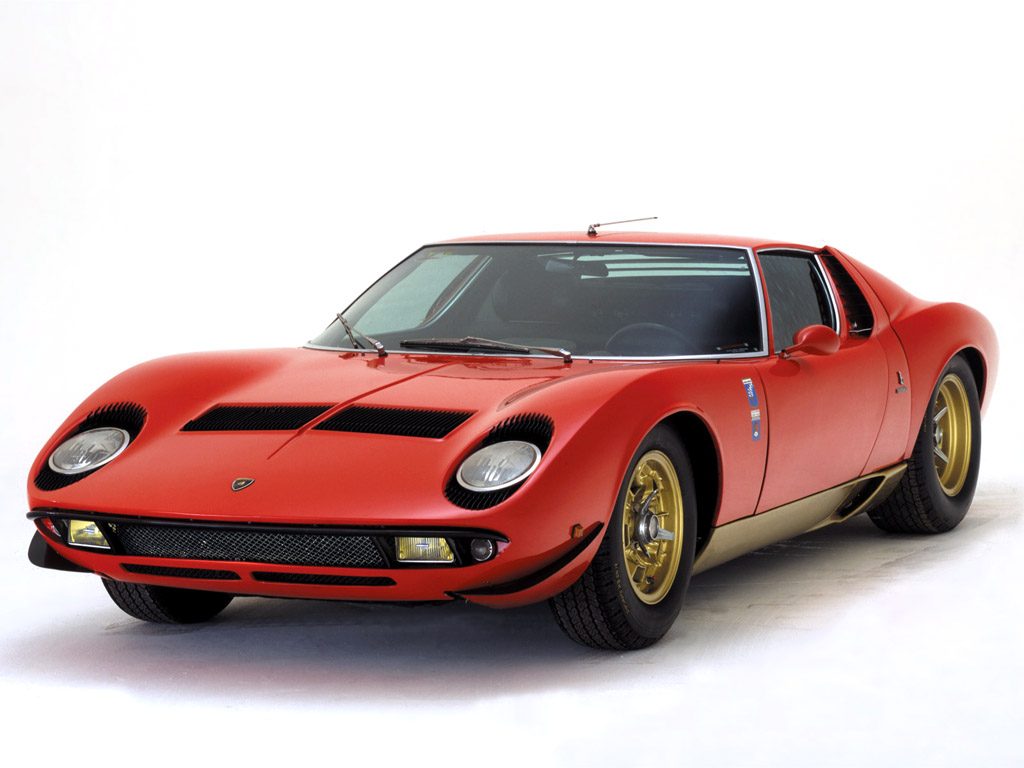 15. 1968 Lamborghini Miura P400
Engine: 3.9L naturally aspirated V12 / Power: 350 bhp / Torque: 300 ft lbs / 0-60 mph: 6.3 sec / Top Speed: 163 mph
In most circles of supercar connoisseurs, the Lamborghini Miura is considered one the greatest and most influential models there is. Many consider it the first true supercar. This is due in large part, to the car's radical elements in relation to common engineering norms of the time.
The Miura brought many "firsts" to the automotive industry. For starters, it was among the very first two-seater, mid-engined cars in the world. It was endowed with a quad-cam V12, that sat transverse and behind the driver. Upon its release, everything from a Ferrari to an Aston Martin looked outdated by comparison. It would also end up being the forefather of a long line of V12, mid-engined cars to be produced by Lamborghini over the next few decades.
The Miura was not just different from anything else out there; it was also quicker, having earned the distinction of being the world's fastest production car at that time, topping out at 171 mph. Its timeless styling has made it an icon amongst both Lamborghini fans, and the broader car enthusiast spectrum alike.
Learn more about the Miura in our 1968 Lamborghini Miura P400 Guide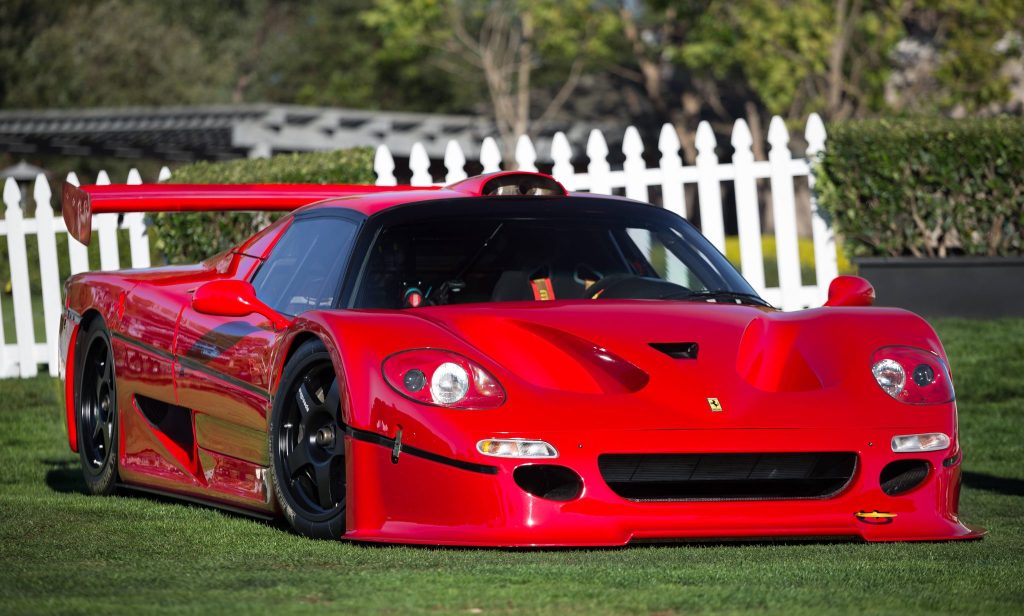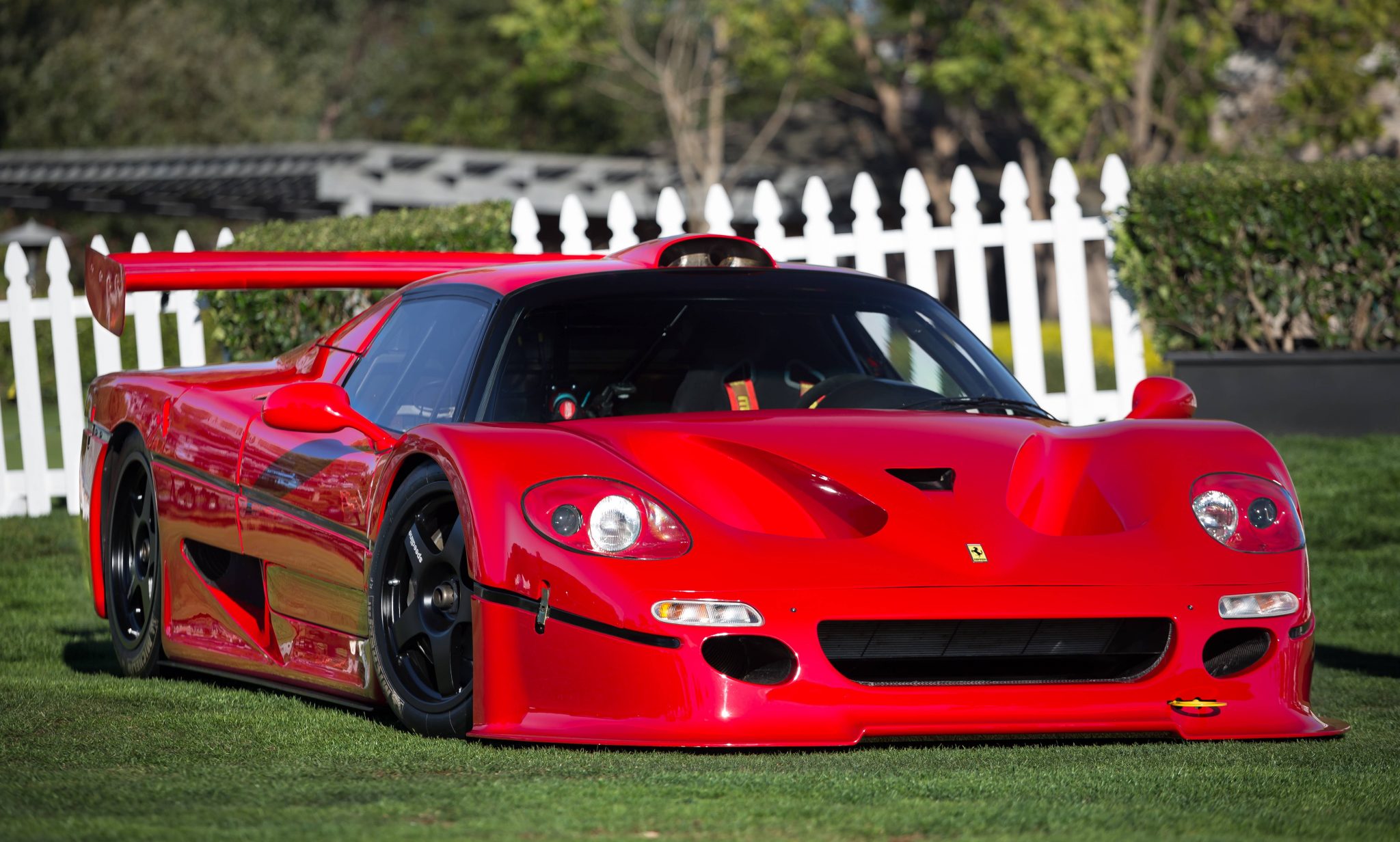 16. 1996 Ferrari F50 / F50 GT
Engine: 4.7L 65 degree, naturally aspirated V12 / Power: 513 bhp / Torque: 347 ft lbs / 0-60 mph: 3.7 sec / Top Speed: 202 mph
For Ferrari's 50th anniversary, another limited production supercar was planned. Following the release of a car like the F40 was no easy task and the F50 had to impress. Adopting Formula One technology would be a major selling point for the F50. As such, Ferrari made no compromises to comfort when designing the car.
A highlight of the F50 was its rigidity. It had no front, rear or engine subframes and featured a solid mounted chassis, with little rubber in the suspension system. Attached directly to the central tub, the engine and transmission doubled as the rear support structure and held the rear suspension components.
It seemed only fitting for the F50 to set its sights on a race program, like the F40 before it. Not surprisingly, Ferrari flirted with this idea and eventually began a development of the F50 GT. For reasons which Ferrari was never really clear about, the F50 race program ended up being axed after five tubs and one complete car had been made.
Despite the fact that the GT never saw action on the track, we are thankful that Ferrari completed two more examples and sold all three cars to a very specific clientele who were told not to race the cars in modern race series. Being such a limited version of an already limited series, the F50 GT is one of the most exclusive modern day supercars, and one of the great 'what-ifs' in Ferrari history.
Learn about the Ferrari F50 and Ferrari F50 GT.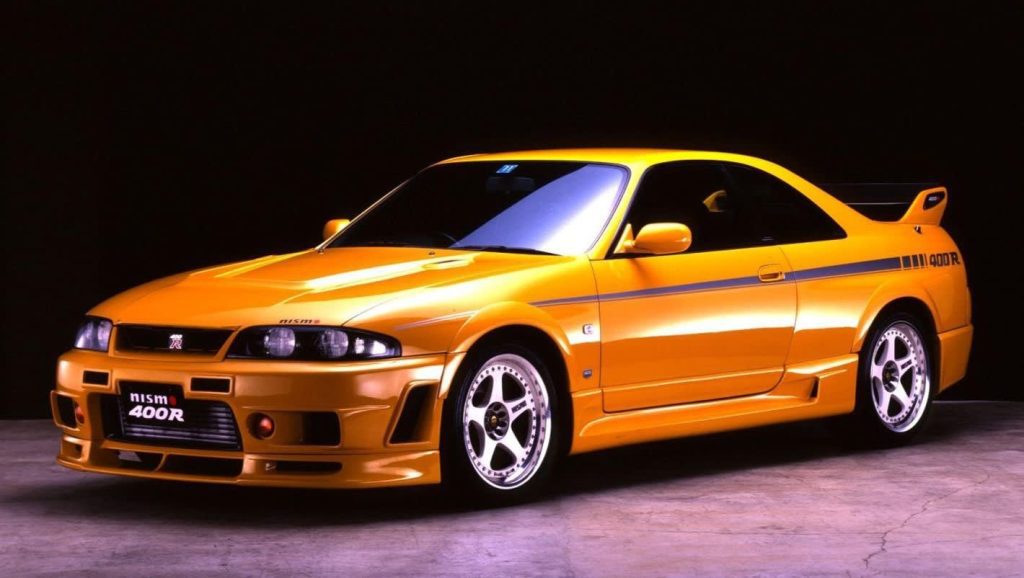 17. 1996 Nismo 400R
Engine: 2.8L twin-turbocharged Inline-6 / Power: 395 bhp / Torque: 346 ft lbs / 0-60 mph: 4.0 sec / Top Speed: 186 mph
Built by Nissan's racing division – Nissan Motorsport or more commonly known as, 'Nismo' – the 1997 Nismo 400R is a celebration of the Le Mans racing car, with both aforementioned vehicles based on the Nissan Skyline GT-R R33. Although Nismo had originally planned to produce 100 units of the 400R, only 44 units were made before production of the R33 ended in 1998. Suffice to say, the 400R was a real unicorn car back then, and as time passes, this becomes even more so the case.
Even as a street-legal production car, it is far above merely being a novelty with a catchy paint job, bold racing stripes and a fancy aero package; the Nismo 400R is loaded with radical improvements over the base GT-R model in every department imaginable. In fact, the car's name is a derivative of rather simple function – the 'R' stands for racing, with '400' representing the engine's output in horsepower. Fitted with all the attributes needed to take on the supercars of the day – which it did – the Nismo 400R was definitely not the R33 that could be picked on for being the oddball middle-child of the Nissan Skyline. Many consider the Nismo 400R as the car that put Nismo on the map, which is why it beats any of the later Nismo cars to a place on this list.
The Playstation racing game – Gran Turismo – is credited for being the primary catalyst for the exposure it has received since the late 90s, and even until now, having featured in every one of the series' titles over the past 20 years.
Learn more about the 1997 Nismo 400R in our ultimate guide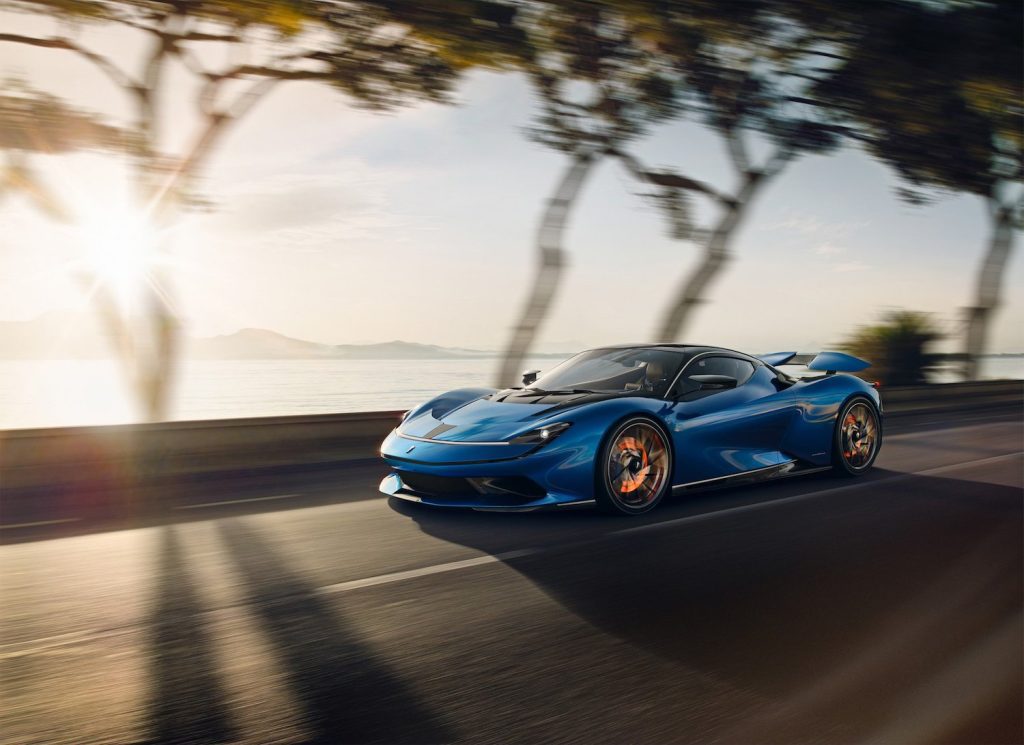 18. 2020 Pininfarina Battista
Engine: Fully electric drivetrain w/ 4 motors / Power: 1,900 bhp / Torque: 1,696 ft lbs / 0-60 mph: 1.9 sec / Top Speed: 217 mph
When the Pininfarina Battista was unveiled at the Geneva Motor Show in March 2019, it was touted as the world's first fully-electric hypercar. Having been teased with bits and pieces up to that point, the Battista would finally secure its place in history as the first complete amalgamation of a zero-emissions hypercar.
I doubt that anyone would be offended – least of all, Pininfarina – if the Battista was mistaken as "just another one of Ferrari's supercars". Afterall, the design elements are deliberately signature from the company which has designed more than 60 iconic Ferrari automobiles over the decades; and that's really the best part of it all.
The Battista utilizes 4 motors – one for each wheel – which produce a combined 1,900-horsepower and 1696 ft-lb of torque. That level of performance and technological sophistication won't come cheap either, with each car priced at around $2.3 million USD.
The decision for Automobili Pininfarina to start producing electric cars right off the bat came relatively easy for the company, which was not tied down by a past involving the combustion engine – they could begin their journey with a clean (no pun intended) slate.
"We saw a window of opportunity here," said Perschke. "We're at a tipping point where EVs (electric vehicles) are becoming more acceptable, and yet we don't have to manage a transition to being an electric car manufacturer. From the start, 100% of our vehicles will be zero-emission."
The Pininfarina Battista will be delivered to its first customer by mid-2020, which coincides with the 90th anniversary of Pininfarina.
Learn more about the Pininfarina Battista in our Ultimate Guide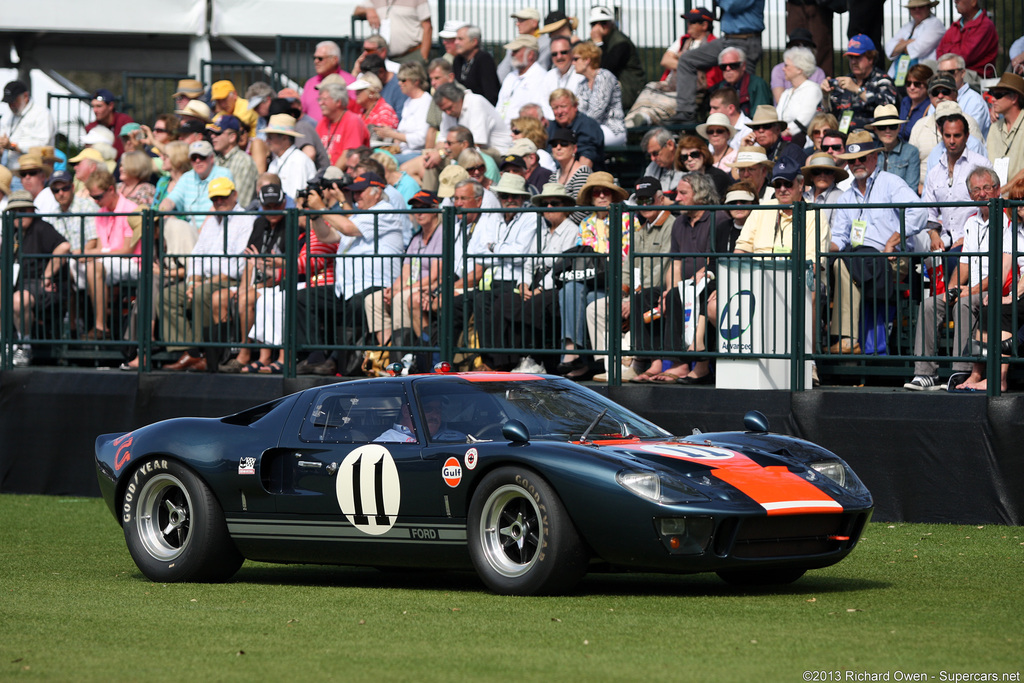 19. 1965 Ford GT40 MK I
Engine: 4.7L naturally aspirated V8 / Power: 390 bhp / Torque: 325 ft lbs / 0-60 mph: 3.8 sec / Top Speed: 150 mph
The Ford GT40 is one of the most significant and recognized figures in automotive history. In 1963, Ford Motor Company was on its way to becoming the majority owner of financially-floundering Scuderia Ferrari. After having invested millions of dollars on due diligence and transaction costs, Ford was in for a big shock when Enzo Ferrari abruptly backed out of the deal.
Angered by this turn of events, head honcho Henry Ford II smelled blood. This fueled his determination to develop an endurance race car capable of beating Ferrari on the world stage. The end result was the Ford GT40 race car, which went on to win at Le Mans in four successive years, lasting from 1966 to 1969 – an indisputable success and historic accomplishment.
Ford changed little for their road-going orders, handing over keys to Le Mans-ready cars for diminutive street use. Under the large clamshell hood, the production GT40 used the Ford Fairlane V8 which was first installed by Shelby American. For the road, Ford supplied 335 bhp, in competition trim, with a lighter flywheel and no mufflers, this engine produced 380 bhp. The interior is where Ford Advanced vehicles changed the road cars the most. As one would guess more interior trim, pockets and sound deadening where added in the mix. Further amenities included a heater, a radio and glass windscreens.
In total, 87 production GT40s were made from chassis GT40P/1000 to GT40P/1086. Around 30 of these were delivered with full interiors and wire wheels for use on the road. The car has had a cult following ever since, being replicated through a variety of kit cars over the decades. Demand for a new factory version was enough for Ford to create modern versions of the car – dubbed the Ford GT – in the 21st century.
Learn more about the 1965 Ford GT40 Mark I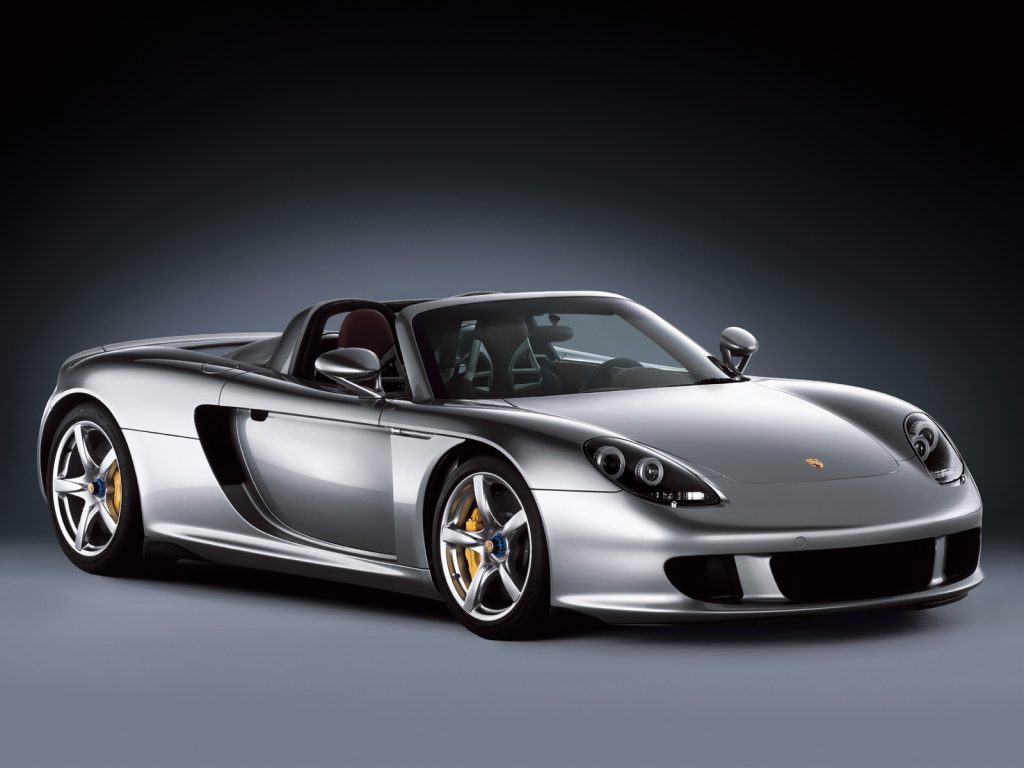 20. 2004 Porsche Carrera GT
Engine: 5.7L naturally aspirated V10 / Power: 612 bhp / Torque: 435 ft lbs / 0-60 mph: 3.8 sec / Top Speed: 205 mph
When the Porsche Carrera GT was released in 2004, it was anticipated to stir up plenty of fervor. It certainly had all the attributes to do so. It was a mid-engined V10 hypercar – one of the first to be considered a step beyond supercar status – and introduced a variety of industry-first technologies and features to the production car market.
Interestingly enough, we can thank the ongoing technological advancements taking place in the automotive industry for the Porsche Carrera GT's resurgence into the limelight. Besides being equipped with a wicked state-of-the-art, naturally aspirated, 612-horsepower engine which was ahead of its time, the Carrera GT was otherwise an extremely analog machine and it is this very characteristic that would elevate its appeal over time.
It is one of the last hypercars/supercars that isn't like anything that is produced today – in all the best ways possible, of course. For instance, it is one of the last mass production supercars to be fitted with a true manual transmission.
Find the Carrera GT in our Best Porsches Of All Time and our in-depth guide to the Porsche Carrera GT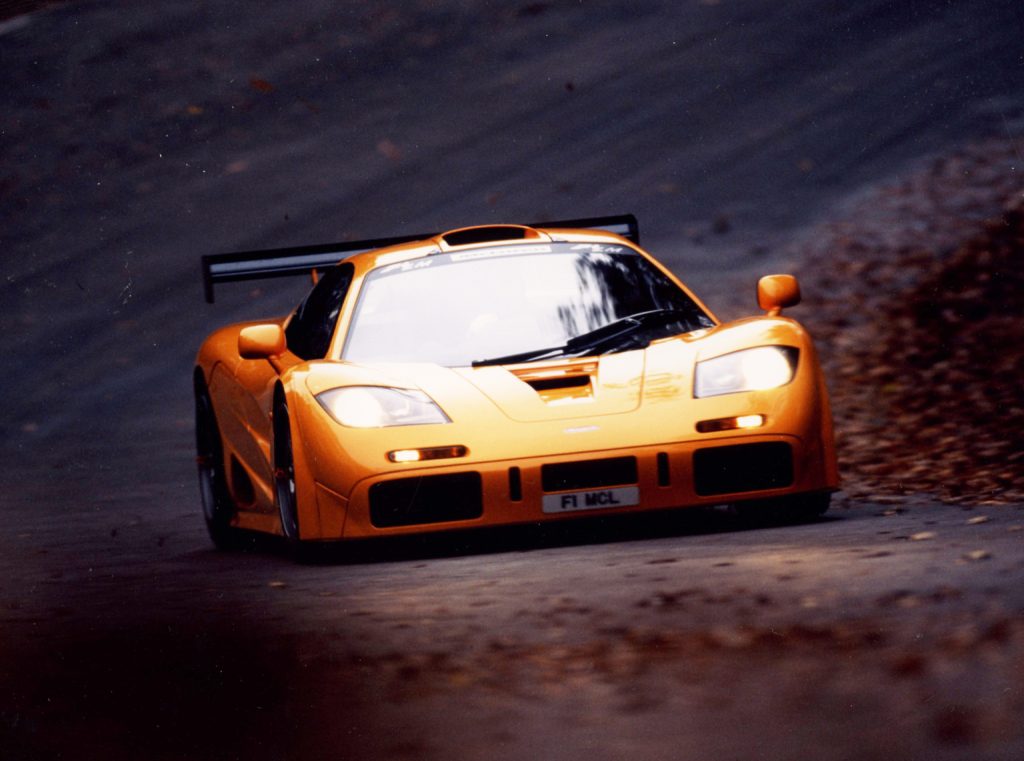 21. 1992 McLaren F1 / F1 LM
Engine: 60 Degree V12 / Power: 627.1 bhp / Torque: 479.0 ft lbs / 0-60 mph: 3.2 sec / 0-100 mph: 6.7 sec / Top Speed: 240.1 mph
Launched in 1992, the McLaren F1 would go on to revolutionize the supercar industry with many of its core characteristics still referenced in the production of today's most exotic vehicles. It is the McLaren model everybody knows. It paved the way for an increasingly mainstream use of materials such as carbon fiber, kevlar and titanium in sports cars and was the first production car to use a monocoque chassis.
Designed by the legendary Gordon Murray, who had one goal in mind, the McLaren F1 was built to be the fastest and best handling production car in the world. Namely, the ultimate road car – one that is enjoyable in everyday conditions, while still at the zenith of road car performance.
To commemorate its success at Le Mans, McLaren was quick to unveil a celebratory road-legal variant called the F1 LM later that year. The LM was limited to just five examples, one for each of the F1 GTRs that competed in that memorable race.
The McLaren F1 LM was much more than just another cosmetic recreation of a race car. Not only was it far from being just a replica, the LM is actually lighter and more powerful than the GTR race car. Without any racing restrictions in place, the LM was able to shed 60 kg compared to the GTR and produced an additional 68-horsepower, for a total of 680-horsepower.
Learn more about the McLaren F1 LM and read the ultimate McLaren F1 guide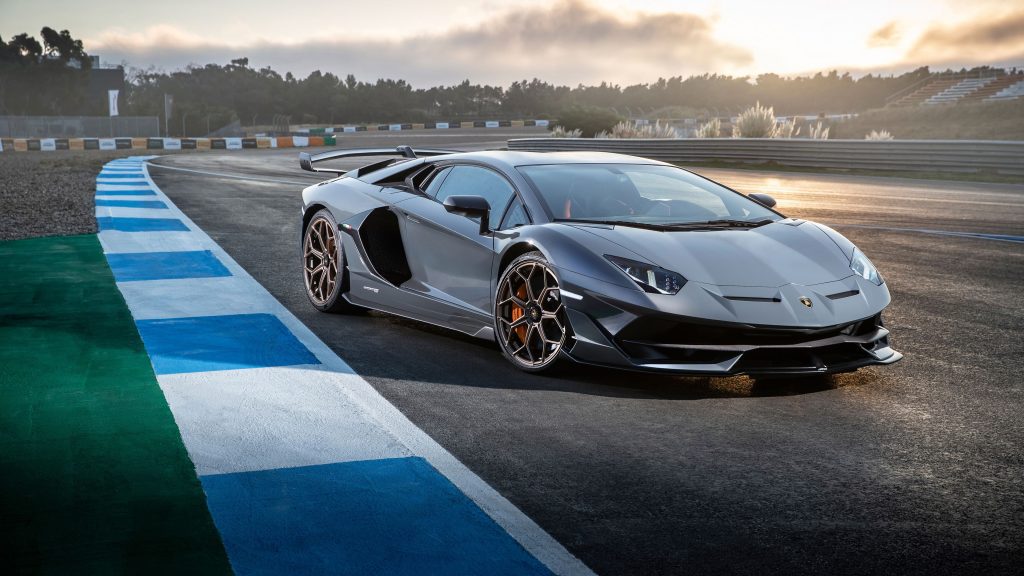 22. 2019 Lamborghini Aventador SVJ
Engine: 6.5L naturally aspirated V12 / Power: 770 bhp / Torque: 530 ft lbs / 0-60 mph: 2.8 sec / Top Speed: 217 mph
Being the current production car lap record holder at the 'Ring takes a lot more than just a flashy paint job and hype. To power its way around this treacherous course, the Aventador SVJ employs a naturally aspirated 6.5L V12 engine which delivers 770-horsepower at 8,500 rpm and 530 lb-ft of torque at 6,750 rpm to its all-wheel-drive system. It is able to do 0-100 km/h in only 2.8 seconds and has a top speed of over 349 km/h.
With the prolific use of carbon fibre and lightweight materials throughout the car, the SVJ weighs only 1,525 kg. Four-wheel steering remains a feature on the SVJ and it also benefits from suspension upgrades over the regular Aventador to improve overall mechanical grip, rigidity and driving feel.
'The challenge to Lamborghini designers and engineers was to improve the purest essence of the Lamborghini super sports car, drawing on every inspiration from a spaceship to a jet fighter: all the most exceptional examples of super-fast, super-athletic, aerodynamic superiority,' said Lamborghini CEO, Stefano Domenicali. 'The Aventador SVJ takes another step into the future, shaping the potential for super sports car development.'
Learn more about the Lamborghini Aventador SVJ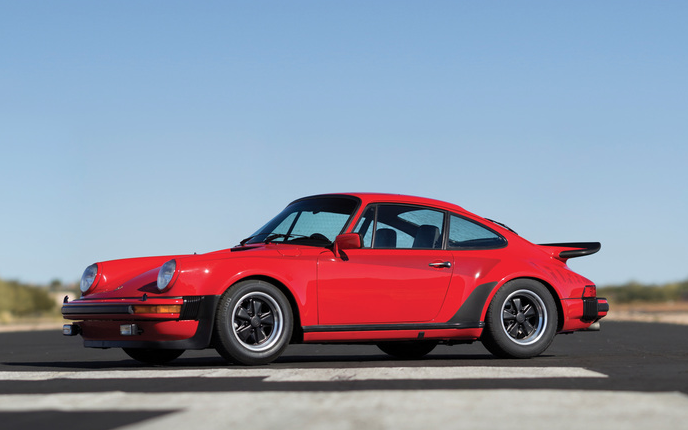 23. 1974 Porsche 930 Turbo
Engine: 3.0L turbocharged Flat-6 / Power: 256 bhp / Torque: 258 ft lbs / 0-60 mph: 4.9 sec / Top Speed: 165 mph
In 1974, Porsche introduced the first production version of a turbocharged 911. Although it was referred to as the Porsche 911 Turbo in Europe, the car was marketed as the Porsche 930 in North America.
Porsche had injected all of its sportscar experience with exhaust-gas turbochargers into its series production models. At the onset only a small number of Turbos were planned. However, in the light of its amazing impact, production figures were boosted.
Compared to other 911 trims, the Turbo was visually unique with wider wheel-arches, larger wheels and tires, and a large and soon-to-be-iconic "Whale Tail" rear spoiler. Early models were equipped with a 3.0L 260 hp engine. which was eventually upgraded to a 3.3L unit producing 300 hp, for the 1978 refresh.
The Porsche 930 Turbo is widely considered to be the original "widowmaker", as it was the first car to really become synonymous with the term. This reputation was earned due to the car's difficulty to be controlled at the limit, and was one of the scariest road-going Porsches ever built. A less foreboding distinction the 930 had is that it is the very first turbocharged 911, making it the forefather of the long and successive line of series production 911 Turbo models that followed it.
Find the 930 Turbo in our Best  Porsche 911s Ever Made and Best Porsches Of All Time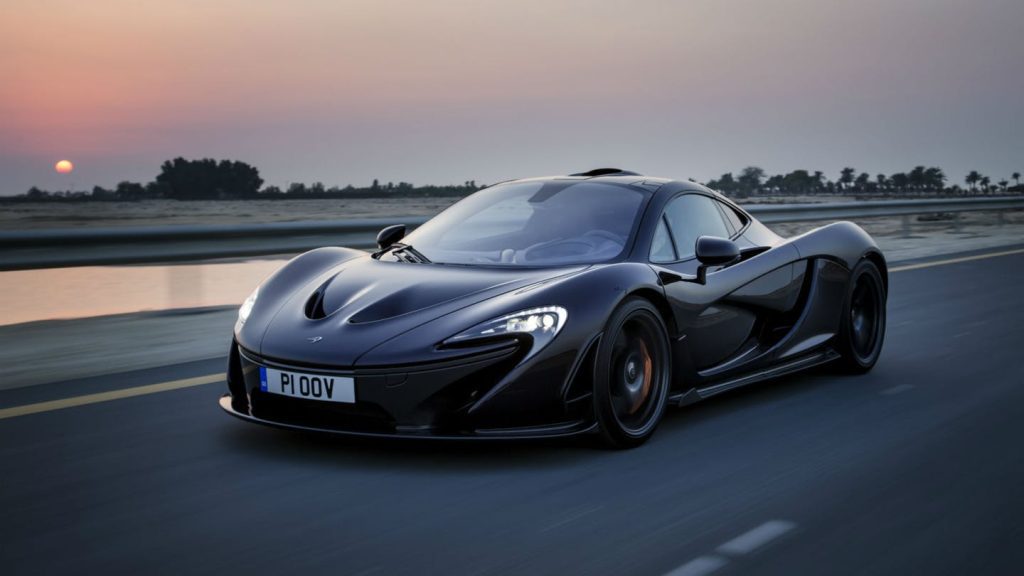 24. 2013 McLaren P1
Engine: 3.8 L twin-turbo V8 + electric motor / Power: 986 hp / Torque: 774 lb/ft / 0-60 mph: 2.8 sec / 0-124 mph: 6.8 sec / Top Speed: 217 mph
The McLaren F1, released back in the nineties, was designed to be the most technically capable sports car of its era. It surpassed expectations, becoming the world's fastest production car – a record it held for seven years until the Koenigsegg CCR and Bugatti Veyron overtook it.
By that yardstick, the McLaren P1 had a lot to live up to as the F1's spiritual predecessor at the top of the McLaren range. But McLaren, as a company, had changed a lot since the creation of the P1.
Unlike previous endeavours, McLaren's engineers were given complete freedom from the get-go with the P1; the sole aim was to create the best driver's car on both road and track.
Compared to the controllable yet vivacious characters of the cars it met when it emerged in production in 2013 – the Ferrari LaFerrari and Porsche 918 Spyder – the P1 delivered an altogether more sinister side, gaining it a reputation for having more of a bite. As much as it's a driver's car, this is a car that demands the respect of the person behind the wheel.
Find the McLaren P1 in our ultimate list of McLaren models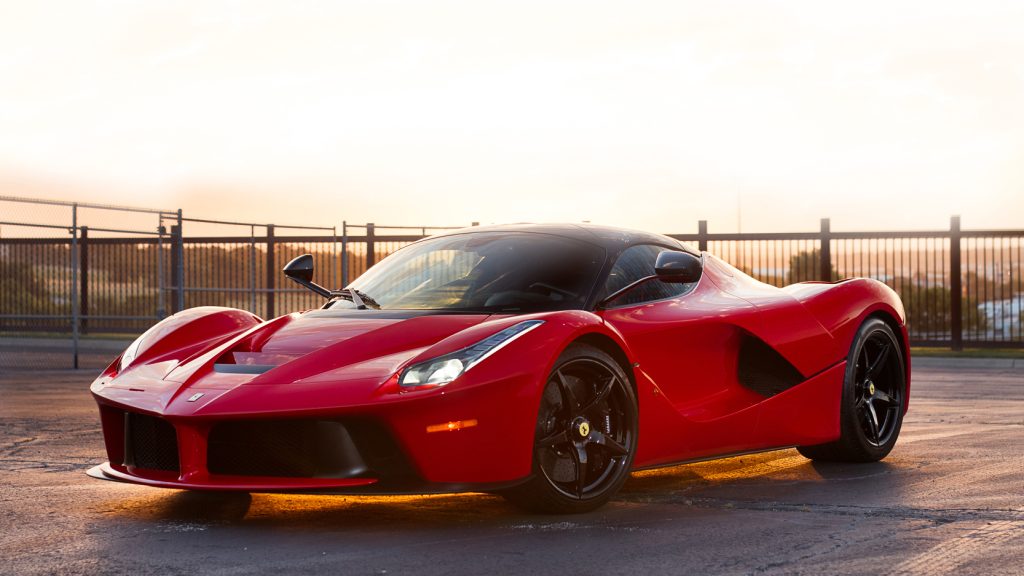 25. 2013 Ferrari LaFerrari
Engine: 6.3L hybrid V12 / Power: 949 bhp / Torque: 663 ft lbs / 0-60 mph: 2.6 sec / Top Speed: 217 mph
What happens when one of the world's greatest supercar and hypercar makers sets out to create its greatest automobile, ever? The Ferrari LaFerrari – that's what.
While its name seemed redundant, the car was limited to just 499 examples (although an additional 210 'Aperta' open-top LaFerraris, have been produced since). The LaFerrari featured a Formula-One derived HY-KERS system – an electric motor teamed with a 6.3-litre V12.
Some would scoff at the idea of a hybrid Ferrari, but while enhanced efficiency is a by-product of the LaFerrari's powertrain, it was by no means Ferrari's primary motivation behind using this type of system; all-out performance was, and that's something I'm sure anyone can get behind.
With the LaFerrari we got an incarnation of the ultimate Ferrari, using the pinnacle of technology available to the company in its development prior to 2014. Ferrari showed the world it could make almost unthinkable performance accessible, while demonstrating that as we head into a future further removed from the internal combustion engine, there will always be a place and a provision for cars that push the envelope, excite, enthrall and entertain, regardless of drivetrain.