Hot Hatches, Rally Weapons, Japanese Rockets & Magic 911s. This is Your Our List of the Greatest Sports & Performance Cars of the 1990s
This is the third post in our series about the best cars of the 1990s. First we ranked the best supercars of the '90s. Second, we tackled the forgotten supercars of the '90s. In this post we switch things up and move away from supercars to look at everyday sports and performance cars. Our goal is quite simply to curate the ultimate list of the best '90s sports and performance cars. A warning for new readers. Our special list posts are very detailed and thorough, we prefer having a list of ALL the awesome 90s cars over some bullshit short top 5 list that gets more clicks.
The 1990s were a great era for sports car enthusiasts at all levels. At the top end there were crazy homologation specials and cars like the McLaren F1. The Honda NSX and Porsche 911s of the era made true sports cars much faster, more usable and significantly more reliable. Dynamically they were much better too that anything from the 1980s. The 90s also ushered in a plethora of fun and fast hot hatches and AWD rally bred cars built on entry level cars anybody could afford. In Japan you had cars like the 300ZX, R32/33/34 GT-Rs and twin turbo Supras fighting Porsches and Ferraris for performance honors. In Australia the local Holden versus Ford rivalry was getting out of hand (in a good way), leading to some epic and iconic muscle cars on they could get away with.
Car design also improved a lot in the 1990s. Misguided enthusiasm for flashy futurism actually gave way to practicality. The frivolity of the '80s and its flashy techno-paradise of lasers and blinking digital displays gave way to a bunch of hungover engineers who looked at each other, slowly took off their Duran Duran hats, and said, "OK, seriously. Now what?" Gone were the boxy designs, poor fit and finish and horribly ergonomic interiors.
From a technology perspective the 1990s led to a lot of advancements that made cars more efficient, faster and more fun to drive. Fuel injection, ABS and power steering all went mainstream and all three improved dramatically from what we saw in the 1980s when they were fairly new. It was also an era before advanced electronic chassis controls and electric steering. The cars of the 1990s have wonderful feel on the road and you can enjoy the mechanical connection between your hands and wheels.
In terms of raw speed, the cars on this list were fast for the 1990s today but most sub-$20k new cars will beat them in a straight line. Cars today are just too fast and too easy to drive to really enjoy (as an enthusiast). A Tesla Model 3 will destroy a McLaren F1 in a straight line. You can't wring out a 2019 Nissan GT-R without going to jail within 4 seconds. You can hit 90mph in second gear in a 992 Porsche 911, all shifted for you with a dual clutch auto mode gearbox. Getting the most out of a 1990s sports car took work and that's what made them fun. The sports and performance cars of the 1990s had the right balance of capabilities that you could really enjoy but you had to work hard to really get the best out of. The golden era of sports cars for sure.
Lets get on with the list. We grouped the best 1990s cars by country. We have the best 90s cars in Japan, United Kingdom, United States and Europe to make it a little easier to navigate. In terms of coverage we have everything from hot hatches to top of the line sports cars just under supercar status and we hope we got all the 90s sports car icons. The 1990s were a golden age of handling and performance for both budget-conscious and sky's-the-limit budgets and for overall enthusiast enjoyment.
Best 1990s Cars
Important notes: The best 90s supercars are listed in another post. If you don't see a car in this post that deserves to be here, make sure to check out the supercar list first in case it made it there: Ferrari 355, Lotus Esprit V8, 911 Turbo S (993), Nissan R390 GT, V8 Vantage, Ferrari F512 M, Porsche 911 GT3, Pagani Zonda, Dodge Viper, Toyota GT-One, Porsche 911 GT1, RUF CTR-2, Mercedes CLK-GTR, Jaguar XJ220, Lambo Diablo GT, Ferrari F50, Dauer 962 Le Mans, Porsche 911 GT2, Bugatti EB110, Honda NSX, McLaren F1.
Author note: Nick Dellis (with help from car nut Kenny Herman).
---
Best 90s European Sports Cars
As expected the best European cars of the 90s are a varied bunch.
Audi was starting to build some powerful cars including the Hollywood star that was the S8 in the Ronin movie. Mercedes and AMG (not part of Mercedes at the time) started the trend of stuffing monster engines into small cars and actually engineering them well (unlike the Americans), forever changing what we expect from executive saloons.
BMW gave us the second iteration of the M3 and E39 M5, both arguably the best the motorsports division has ever delivered. Porsche had really hit its stride in the 1990s too, with the Porsche Boxster, a totally new model at the time and the final special versions of the 993 Porsche 911 as well as the 968 Clubsport.
The era of the hot hatch was also on the minds of European carmakers in the 90s, with the Renault Clio Williams and Peugeot 306 GTI-6 coming to market and trying to give it to the VW Mk3 Golf.
Check out the best European cars of the 1990s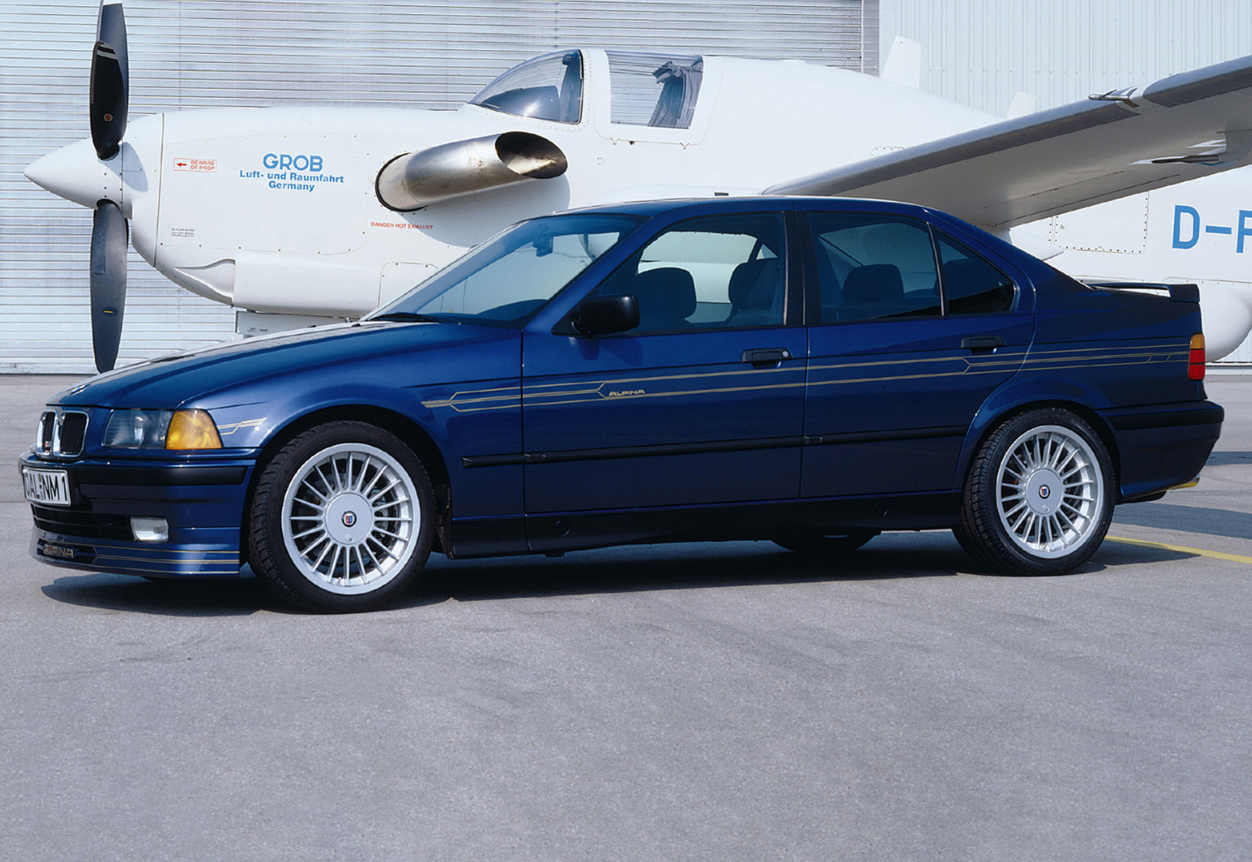 Year: 1995-1998 / Engine: 4.8 liter V8 / Power: 333.0 bhp / Torque: 346.7 ft lbs / 0 – 60 mph: 5.5 seconds / Top speed: 174.0 mph
The B8 4.6 is a pretty special car. Alpina managed to shoehorn a V8 into the E36 3 series (it took serious modifications to the engine bay to make it fit). The engine was based on BMW's 4 liter V8 from the E34 540i. The engine needed a new sump because it sat so low in the chassis. Alpina also added new exhaust system. The result was 333hp and a 0-6-mph time of just 5.5 seconds.
Learn more: Alpina B8 4.6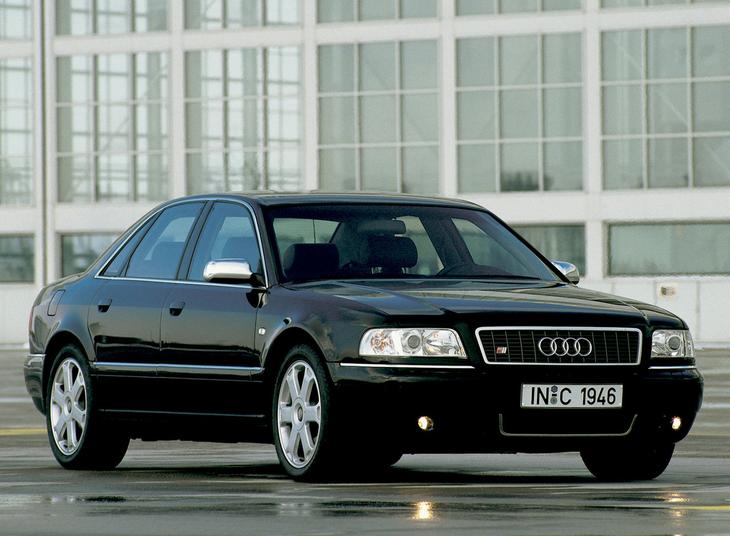 Year: 1996 – 1999 / Engine: 4.2 liter V8 / Power: 335.3 bhp @ 6600 rpm / Torque: 302.4 ft lbs @ 3500 rpm / 0 – 60 mph: 5.8 seconds / Top speed: 155.25 mph
The first generation S8 was a spectacular 90s executive sports car. Based on the A8, the S8 was made to look at little more aggressive. It had solid aluminium alloy door mirror housings, chrome-effect beltline and lower front grille trim, and polished twin exhaust pipes, along with subtle "S8" badging. The biggest change was under the hood. With an uprated 335hp from its 4.2 liter V8 it was the perfect getaway car for the bad guys in Ronin.
Learn more: 1996→1999 Audi S8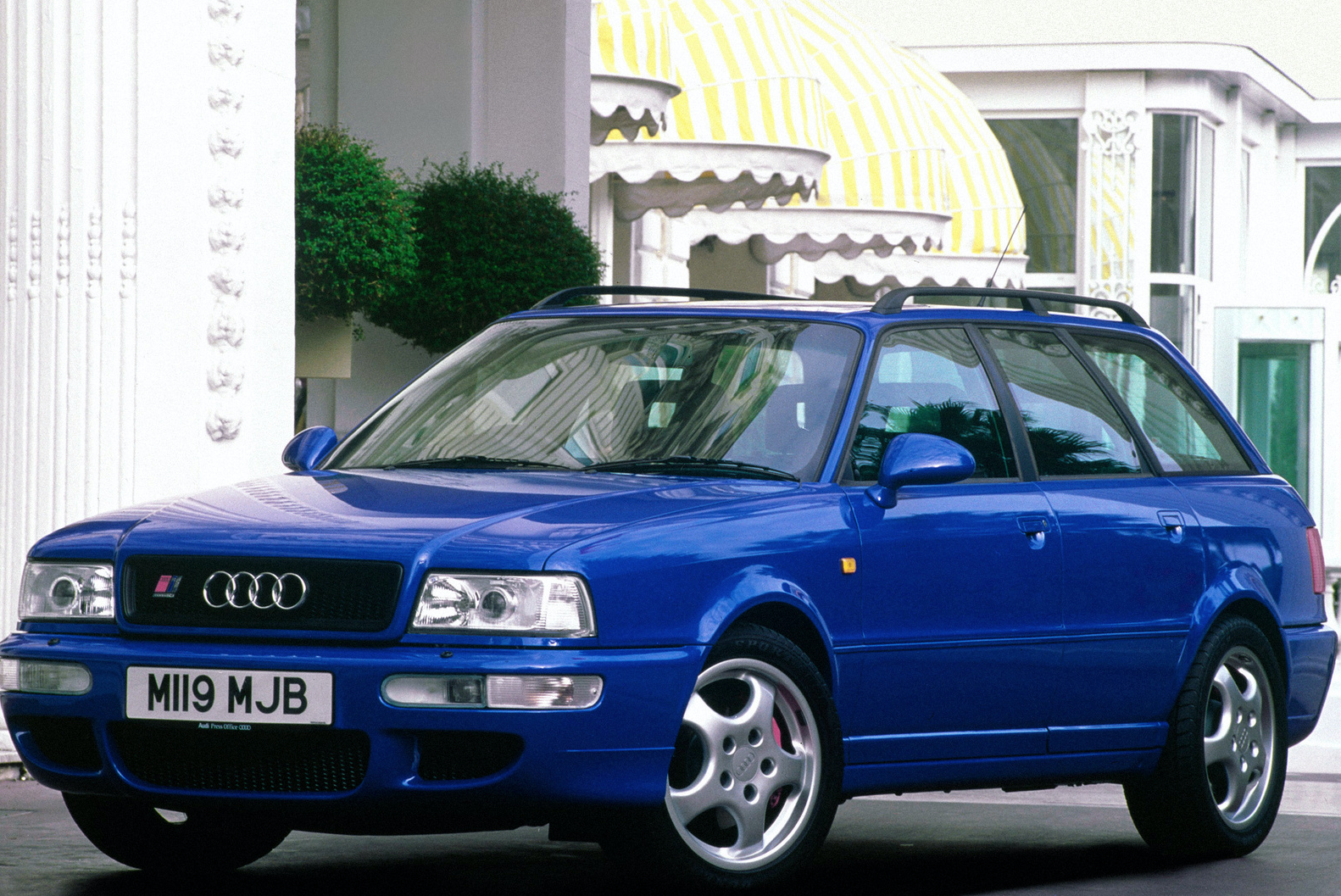 Year: 1994 – 1995 / Engine: Turbo Inline-5 / Power: 315.0 bhp @ 6500 rpm / Torque: 302.4 ft lbs @ 3000 rpm / 0 – 60 mph: 4.8 seconds / Top speed: 163 mph
The history of the RS 4 family began in 1994 with the Avant RS 2. It established the high-performance station wagon segment – which comprised sports cars with large luggage compartments. Audi developed the high-flier on the basis of the Audi 80 Avant in cooperation with Porsche.
The engine was Audi's classic five-cylinder turbo in its last production development stage. The 2.2-liter engine used a large turbocharger, high boost pressure and expanded airways to produce 232 kW (315 hp). 410 Nm of torque (302.40 lb-ft) was available at 3,000 rpm. The Audi Avant RS 2 sprinted from zero to 100 km/h (62.14 mph) in 5.4 seconds and reached a top speed of 262 km/h (162.80 mph).
A six-speed transmission delivered the power to the quattro drive system, which in addition to a Torsen differential included a manually activated locking differential at the rear axle.
Learn more: Audi RS 2 Avant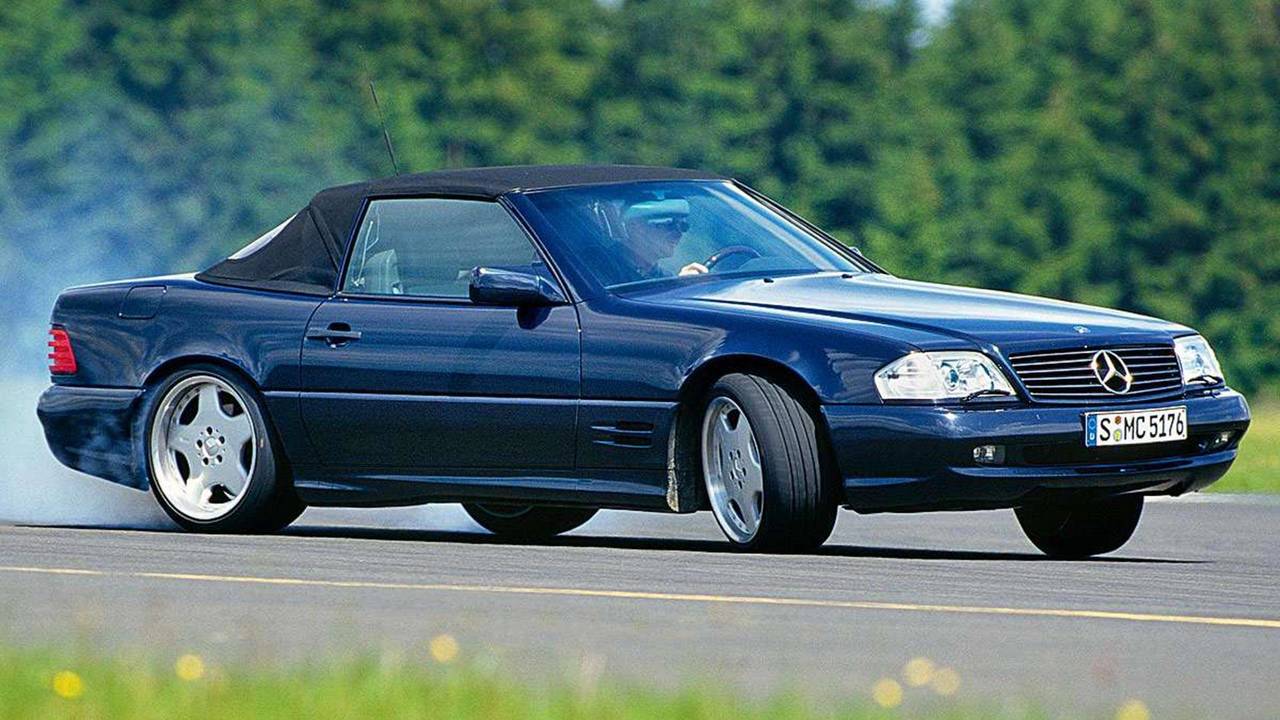 SL 60 AMG
Year: 1993—1998 / Engine: 6.0 liter V8 / Power: 375 bhp at 5,500 rpm / Torque: 258 lb/ft at 3,250 rpm / 0 – 60 mph: 5.4 seconds / Top speed: 155 mph
We already talked about the awesome AMG SL73 in our forgotten supercars of the 90s list, but the folks at AMG had a whole host of great sports cars in the 1990s. The SL 60 AMG was the most numerous of these rare cars. Sold from 1993 to 1998, it used a 6.0 litres (5,956 cc) V8 engine producing 375 bhp at 5,500 rpm. AMG claimed a 0–100 km/h (62 mph) speed of 5.4 seconds. Its top speed was limited to 250 km/h (155 mph). AMG also had other rare cars during that era that we should mention. The SL 72 AMG had a 7.12 liter V12 with 500 hp. There was also the SL 55AMG which sold from 1998 to 2001 and had a 5.4 liter naturally aspirated V8 with 350 hp.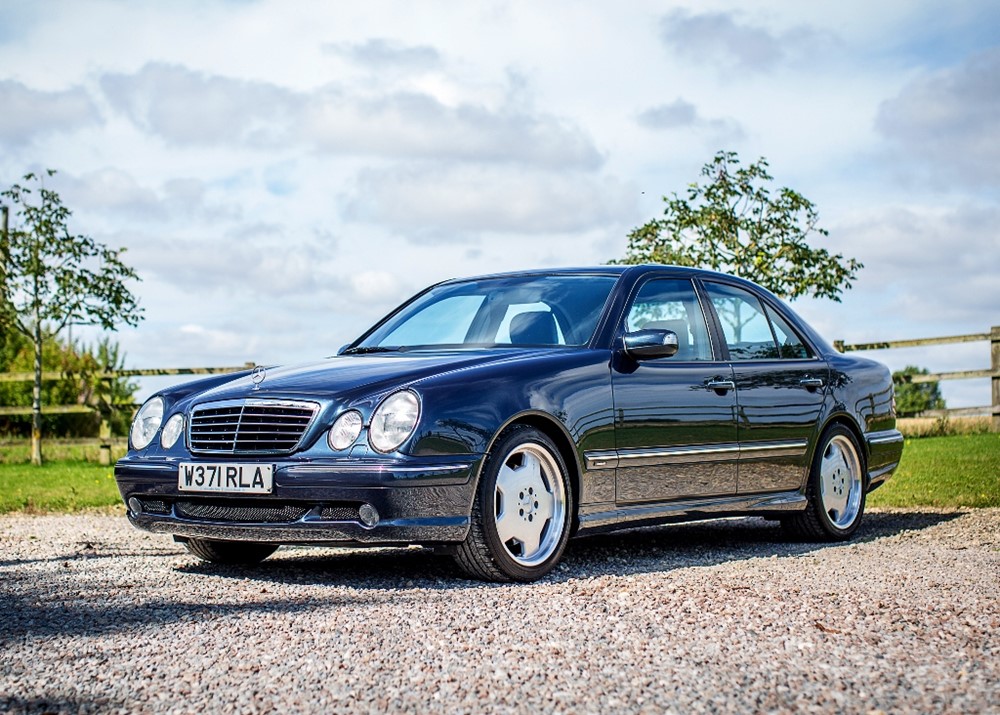 Year: 1993—1998 / Engine: 5.4 liter V8 / Power: 354 bhp @ 5500 rpm / Torque: 390.9 ft lbs @ 3000 rpm / 0 – 60 mph: 5.6 seconds / Top speed: 155.3 mph
This was truly a wolf in sheep's clothing. It is true to AMGs simple formula of shoehorning monster engines into their everyday family sedans. The E55 had a 5.4 liter V8 with 354 horsepower. Thanks to a longer stroke, a higher compression ratio and an AMG-designed low back pressure exhaust system, the E55 also had a very useful 391 pounds-feet of torque at a low 3,000 rpm. Climb a little further up the rpm scale and there's a very impressive 349 horsepower at 5,500 rpm.
This was true torque monster. You could get instantaneous response whenever you touched the throttle. Its linear delivery keeps going and the car always felt like it had a lot more in reserve. The smooth 5-speed automatic transmission was a perfect companion to the torque-filled engine. This was a car you could take the kids to school and then hit the backroads and truly enjoy (thank AMG-tuned Bilstein dampers, upgraded coil springs and massive tires). It transformed from mild-mannered family transport to uber sedan whenever you wanted.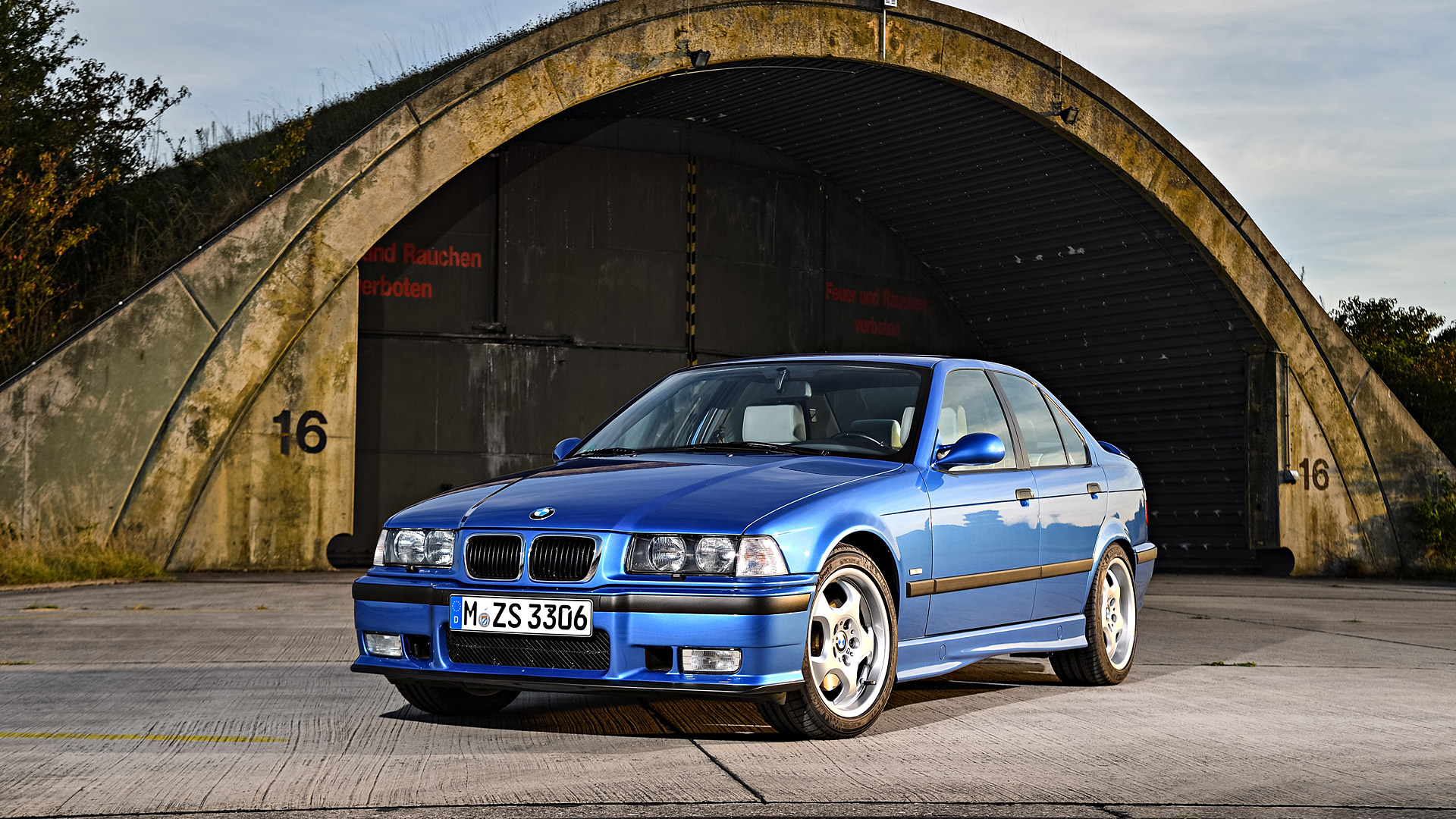 Year: 1992—1999 / Engine: 3.2 liter Inline-6 / Power: 316 bhp at 7,400 rpm / Torque: 258 lb/ft at 3,250 rpm / 0 – 60 mph: 5.5 seconds / Top speed: 155.3 mph
The second iteration of the M3 brought classiness and refinement that the first generation didn't have (more on the first generation later on).
The E36 M3 was the model that really launched BMW's M division to the masses. It was targeted at the exec who wants speed in a tamer package than the original E30 (which was more of a true enthusiast's car). With a 240-hp, 3.0-liter inline-six that was silky smooth and rock solid. The motor was torquey and the car was easy to drive. The brakes and the suspension was replaced in the base 3 series to make way for more performance oriented units, the transformation was clear.
In the autumn of 1995, BMW M subjected the M3 E36 to a model upgrade. The engineers lifted the M3 E36 to a new level, especially on the engine side. As well as this facelift, the S50B30 was also further developed. Thanks to the S50B32's now 3.2-litre displacement and 321 hp, the BMW M3 was able to sprint to 60mph in 5.5 seconds, about half a second faster than before.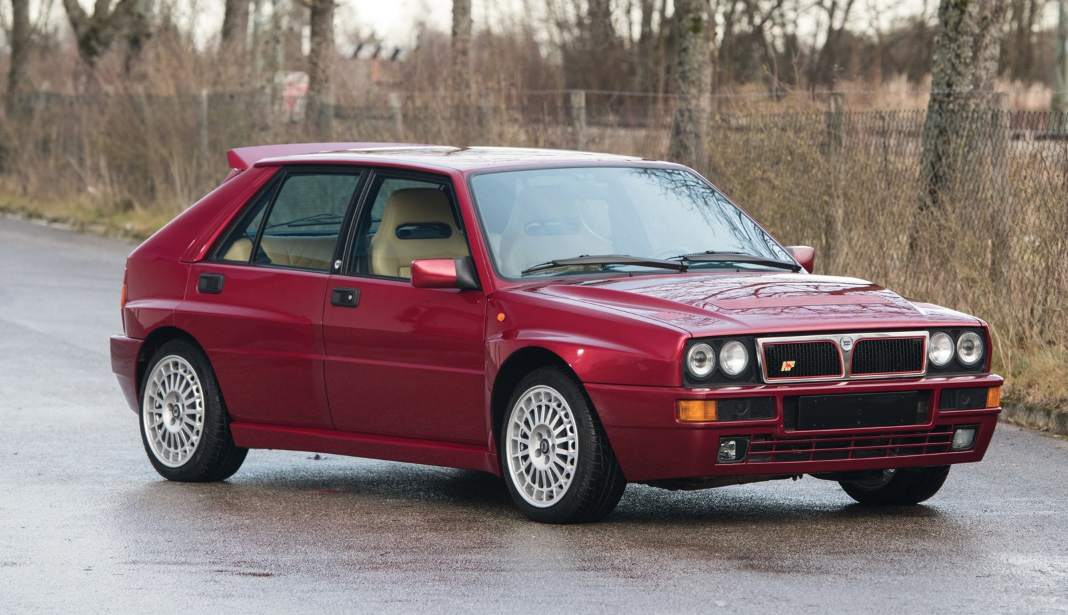 Year: 1993 / Engine: Inline-4 w/Garrett Turbocharger / Power: 215 bhp @ 5750 rpm / Torque: 227.2 ft lbs @ 2500 rpm / 0 – 60 mph: 5.7 seconds / Top speed: 137 mph
One of Lancia's most successful products was the Delta. It was produced from 1979 to 1994 for many different road and track applications. The car debuted at the Frankfurt motor show as a Giorgio Guigaro design based on Fiat Ritmo components. Surprisingly, this Delta would lead Lancia into its most successful rally program. Many great road-cars have been created for homologation requirements and the Lancia Delta Integrale is one such car. After the Delta HF 4WD's successful debut year, Lancia started the work on the Integrale. This was a car which integrated the developments from the 1987 season into both a road and rally car.
The final version of the Delta series was the Evoluzione II. It was the only Integrale which was never raced and instead made in honor of the six consecutive victories achieved with the Delta.
With Alcantara-trimmed Recaro seats and additional sound deadening, additional creature comforts highlight the Evoluzione II. Basically the rest of the car is identical to the Evoluzione except for the sixteen inch wheels, remapped engine mototronics and a three-way exhaust catalyst.
Learn more: Integrale Evoluzione, Integrale Evoluzione II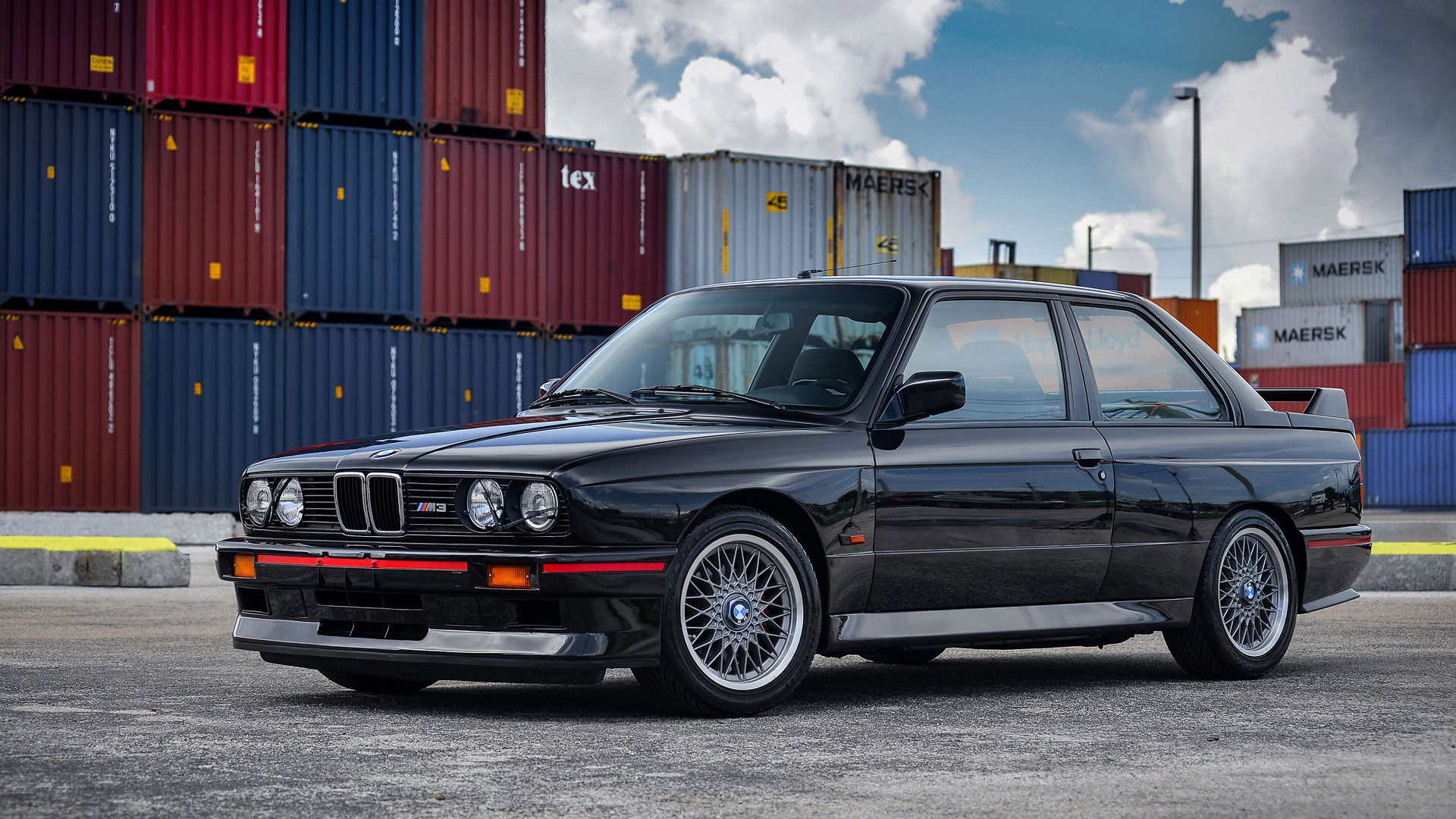 Year: 1990 / Engine: 2.5-liter straight-four / Power: 238 bhp @ 7000 rpm / Torque: 177.0 ft lbs @ 4750 rpm / 0 – 60 mph: 6.3 seconds / Top speed: 154.1 mph
The pinnacle of the E30 series. BMW built several limited run E30 M3 specials over the course of four years, from 1988 through 1991. Our favorite is this Sport Evolution (only 600 units were made).
As the high-profile M3 became the most successful touring car of all time, its civilian version became increasingly exciting. To stay on par with seasonal developments, BMW Motorsports released updated versions each year. These cars mimicked the performance changes required to keep the Group A race car ahead of the competition. The last and most potent evolution of these was the M3 Sport Evolution. When the Touring rules increased capacity limits to 2.5 liters in 1990, BMW endowed the M3 with its largest engine. They increased the stroke and the bores of the four cylinders from 93.4 millimeters each to 95.5 millimeters.
To meet homologation, BMW released a road-going model that featured this new 238 bhp, 2.5 liter engine which used sodium-cooled exhaust valves, a larger intake tract and a signature red spark plug wires. Aside from the engine, each car had an adjustable front apron and rear wing, as well as a special interior with Sparco seats and suede controls. There was no air-conditioning or electric windows and each of the 600 cars had a numbered plaque on the centre console.
Learn more: BMW M3 Sport Evolution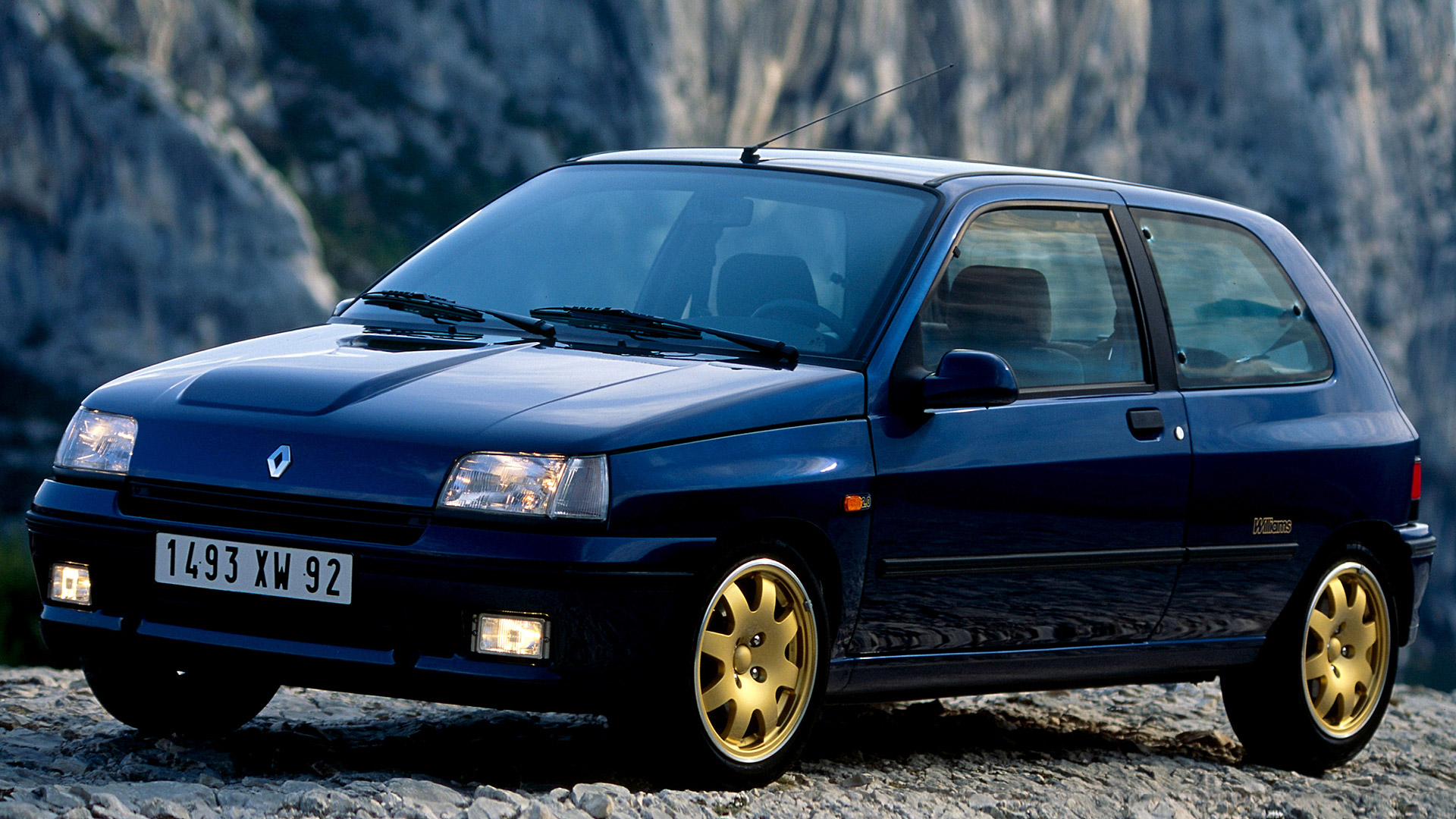 Renault Clio Williams
Year: 1993 / Engine: 2 liter inline 4 / Power: 145 bhp @ 6100 rpm / Torque: 129 lb/ft @ 4500 rpm/ 0 – 60 mph: 7.8 seconds / Top speed: 135.0 mph
The Clio Williams was the first hot hatch to worry the Peugeot 205 GTI. I guess that is what happened when you build a real homologation special to compete with the king at the time. It was built because Renault Sport wanted to go rallying and the class maximum displacement stood at 2 litres. Renault simply had to build 2500 road cars to qualify.
Powering the Renault Clio Williams was a 2 liter naturally aspirated 4 cylinder engine that had 145 bhp at 6100 rpm and 129 lb/ft torque at 4500 rpm. Combined with a tight 5 speed manual gearbox and upgraded suspension it was super fun and very fast.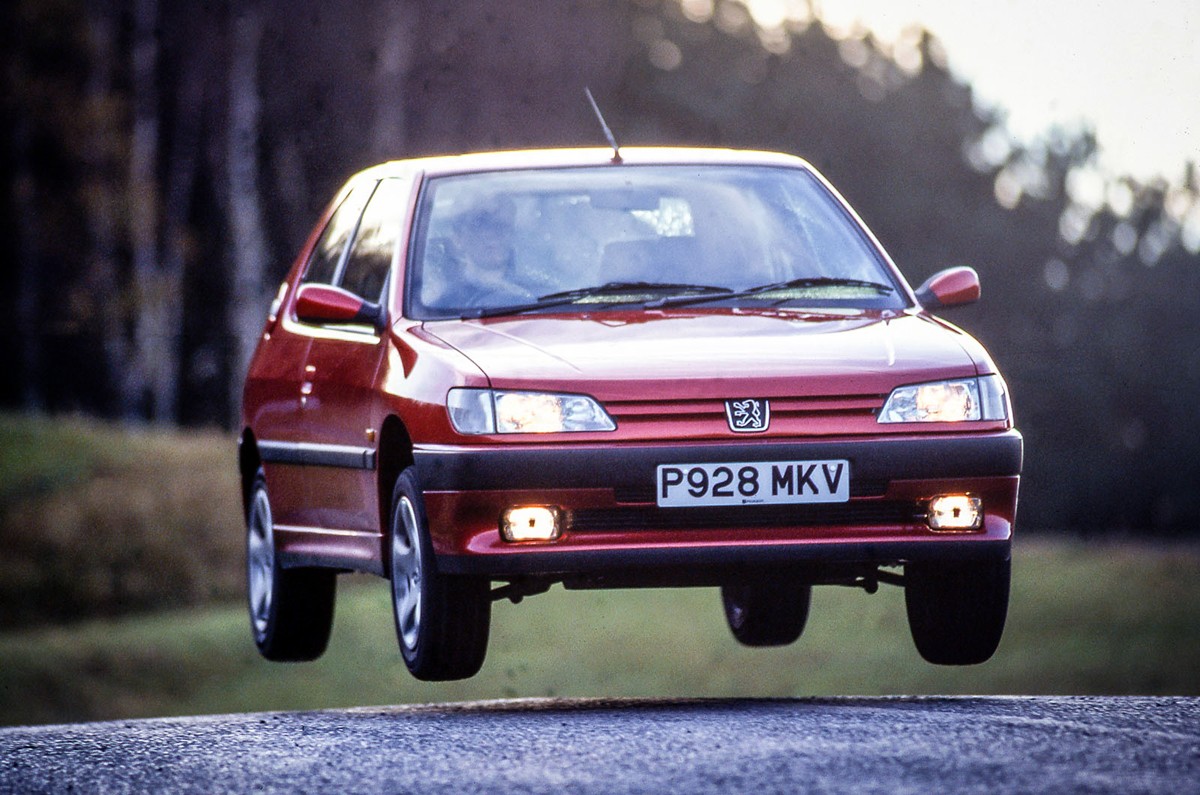 Peugeot 306 GTI-6
Year: 1996-2001 / Engine: 2 liter inline 4 / Power: 167 hp / Torque: 145 lb/ft / 0 – 60 mph: 7.9 seconds / Top speed: 130.0 mph
Sometimes a car is great not because of how fast it goes because of how it makes you feel when driving. The Peugeot 306 GTI-6 is one of those cars. It was a fun car to drive, with great balance, enough power and great turn of speed. Few cars could match its eagerness to slip into corners. Its passive rear-wheel steering – enabled by using soft bushings at its torsion-beam rear axle – resulted in a turn-in sharper than many rear-drive machines.
It started life in 1993 as 306 S16 and in 1996 Peugeot updated it to GTI-6 with a refreshed face, a heavily improved engine and a new 6-speed gearbox. The 2 liter 16-valve engine got a host of updates that made is rev more freely and increased power to 167 hp.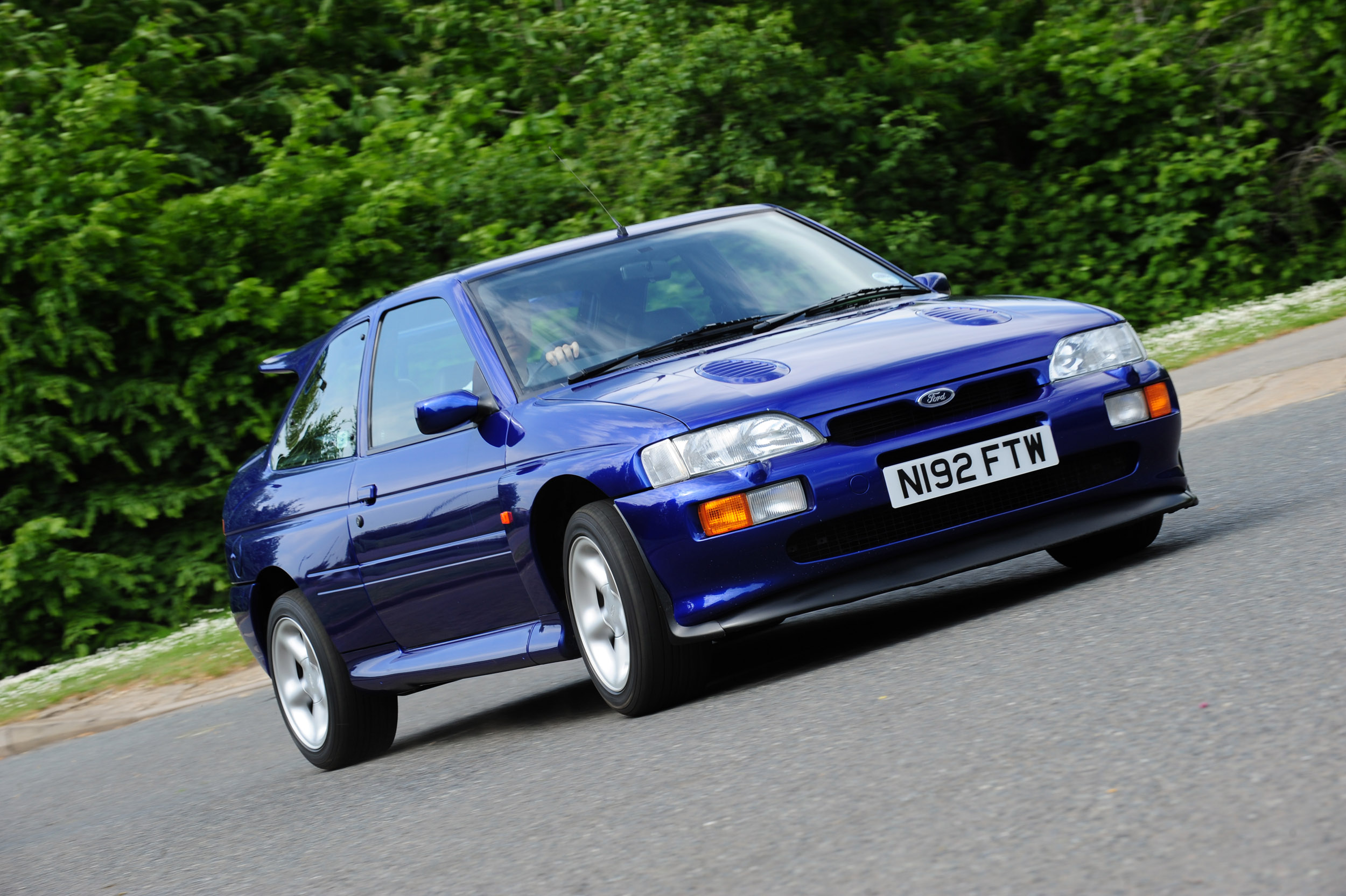 Year: 1994 / Engine: 2 liter turbo Inline 4 / Power: 224 bhp @ 6,250 rpm / Torque: 224 ft/lbs @ 3500 rpm / 0 – 60 mph: 5.7 seconds / Top speed: 144 mph
The Ford Escort RS Cosworth was built to qualify as a Group A car for the World Rally Championship. Based on the not-so-exciting Ford Escort, it was a rally homologation special. With advanced AWD and turbocharged 2 liter turbo Inline 4 engines they were victorious at 10 different WRC events from 1993-1997. With its massive rear wing, robust, race-bred twin-cam four and excellent handling, the car remains an absolute icon of the 1990's homologation era machinery.
Learn more: Ford Escort Rs Cosworth
Mercedes-Benz 500 E
Year: 1991–1994 / Engine: 5.0 L M119 V8 / Power: 322 bhp @ 3,900 rpm / Torque: 354 ft/lbs @ 3900 rpm / 0 – 60 mph: 6.1 seconds / Top speed: 161.6 mph
The Mercedes-Benz and Porsche collaboration is a relatively unknown, but awesome car from the 1990s. Mercedes-Benz asked Porsche to redesign the W124 chassis. The main goal was to take the saloon shape and make it a real sports car performer. The first step was getting the 5.0L V8 (used in the SL) into the engine bay and to totally upgrading the suspension system and drive train. Little known fact is that the car itself was actually assembled by Porsche.
The 500 E's naturally aspirated 5.0L V8 engine was awesome, rocketing the 500 E from standstill to 62 mph in a rapid 6 seconds, with the quarter-mile over in 14.1 seconds. Remember this is a big and heavy four door executive saloon in the 90s.
The 500 E was full of tasty sports car components. Brakes came from SL components with 300 mm disks with 4-piston calipers initially (later upgraded to 600 SL 320 mm units). Rear brakes on all years were 278 mm brakes from the 500 SL. There was also a specialised E60 AMG model built in very limited numbers from 1994 to 1995 which had the 6.0L V8 engine. The vehicle made 381bhp and can reach 0-60 mph in 5.3 seconds.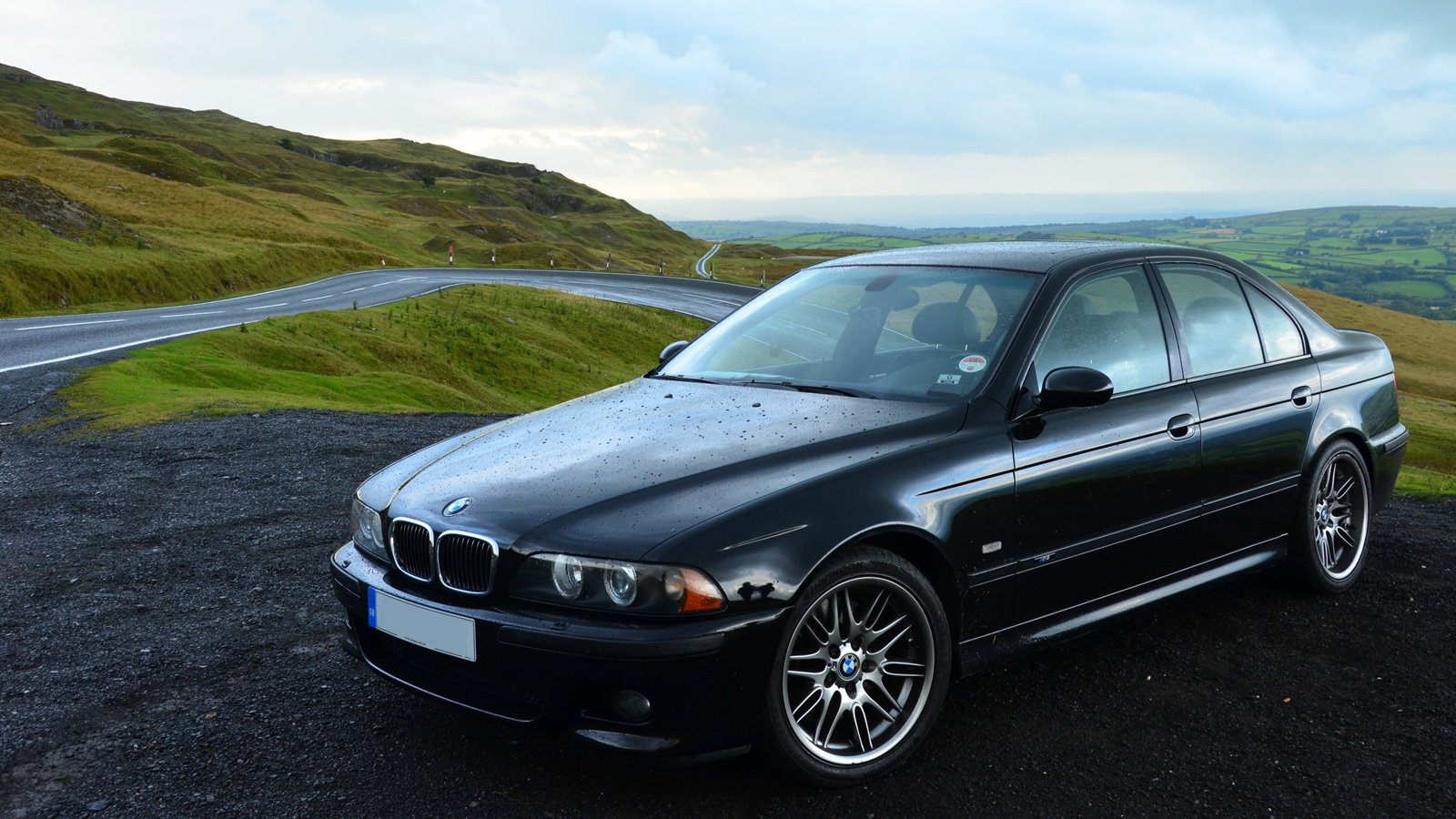 Year: 1998–2003 / Engine: 4.9 L S62 V8 / Power: 394 bhp at 6,600 rpm / Torque: 369 lb⋅ft @ 3,800 rpm / 0 – 60 mph: 4.4 seconds / Top speed: 155 mph
A wolf in sheep's clothing. That's the best way to describe the E39 BMW M5. It started the "let's put a massive engine and awesome suspension into a mild-looking body" trend. It is also largely credited as the car that really started the German saloon horsepower war of the 2000s. This was the first M5 to get a V8 under the bonnet and with 400bhp, 370 lb-ft. of torque, it had serious performance. A 4.4 second 0-60mph time and 180+ mph top speed were supercar beating speeds in a sedan you could take the kids to school in.
Learn More: BMW M5 (E39)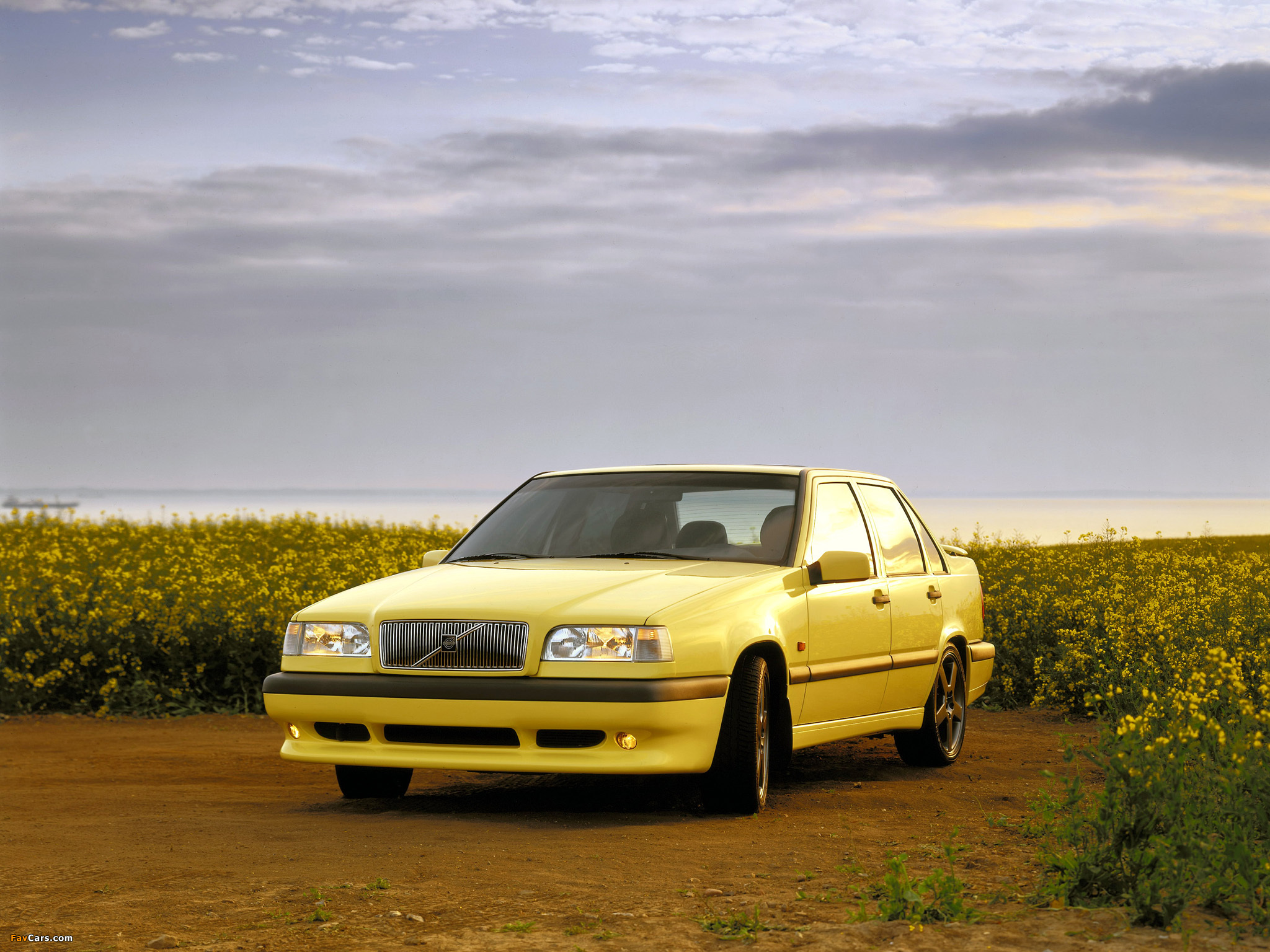 Volvo 850 T-5R
Year: 1995 / Engine: Turbo Inline-5 / Power: 243 hp / Torque: 250 lf/ft / 0 – 60 mph: 5.8 seconds / Top speed: 152.2 mph
From the days when Volvo has a sense of humor. For 1995, the special limited edition 850 T-5R was offered, and was a commercial success, leading Volvo to produce a second run in 1996. The original Volvo 850 came out in 1993 and it was a cracking car from day one with a solid 170 hp engine. Soon after in 1994 came the "Turbo" model, with 222 horsepower In 1995 was our favorite, the T-5R. The T-5R was available in yellow or black and it was offered as a sedan or a wagon. The T-5R was unique in that it had a cool a rear wing, larger wheels, alcantara seats and a slightly more power, up to 240 horsepower.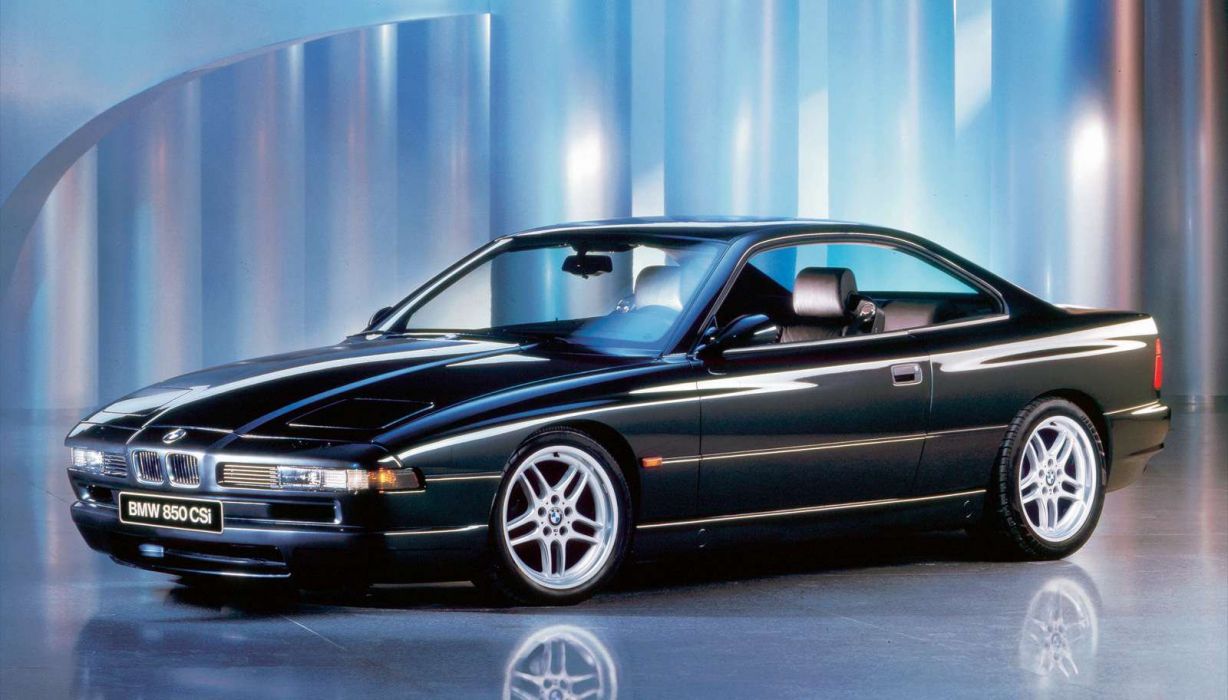 Year: 1992-1996 / Engine: 5.6 L S70 V12 / Power: 372.0 bhp @ 5300 rpm / Torque: 545.0 ft lbs @ 4000 rpm / 0 – 60 mph: 5.9 seconds / Top speed: 155 mph
This was the top of the 8 series heap. The 850CSi used the same engine as the 850i, which was tuned significantly. The 8 Series Coupé, of which more than 31,000 units had been sold between 1989 and 1999, was a further technological milestone in BMW's history of coupés: Powered by eight- and twelve-cylinder engines, it was absolutely no problem for this car to reach a top speed of up to 250 km/h (155 mph). A select circle of fans very much enjoyed the unprecedented driving feel offered by this car. Thank the 850CSi's modified suspension which included stiffer springs and dampers and recirculating ball steering ratio that was altered for better driving dynamics.
Learn more: BMW 850 CSi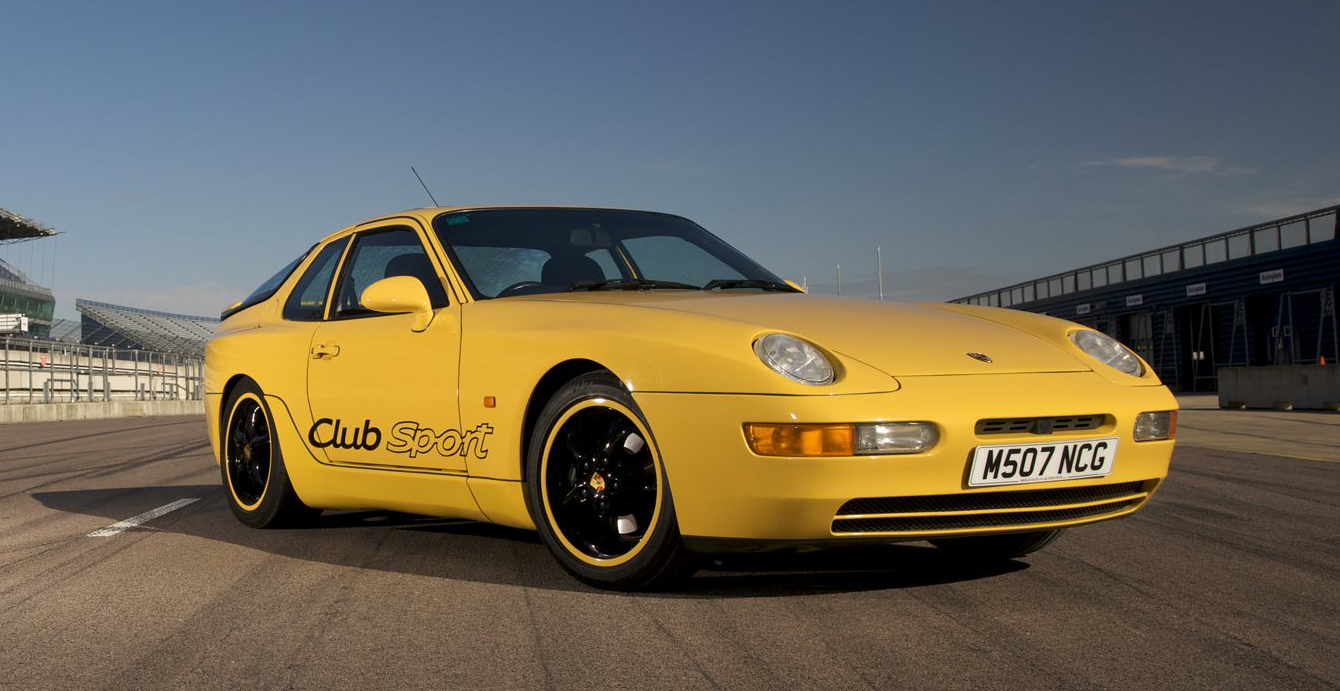 Year: 1993-1995 / Engine: Water Cooled Inline-4 / Power: 240.0 bhp @ 6200 rpm / Torque: 369 ft lbs @ 3000 rpm / 0 – 60 mph: 4.7 seconds / Top speed: 156.6 mph
For 1993 through 1995, Porsche offered a lightweight "Club Sport" variant of the Porsche 968 which was specifically developed for owners looking to run their cars at the racetrack. Much of the base model 968's "luxury-oriented" equipment was stripped out of the car, or simply not offered to consumers purchasing the Clubsport edition. Mechanically, the car was specially set up for use at the race track.
Porsche leveraged the track-ready Porsche 968 to help bolster declining sales of the sports car. The car was named "Performance Car of the Year" in 1993 by United Kingdom-based "Performance Car" magazine. The 968 was the last representative of the four cylinder transaxle models.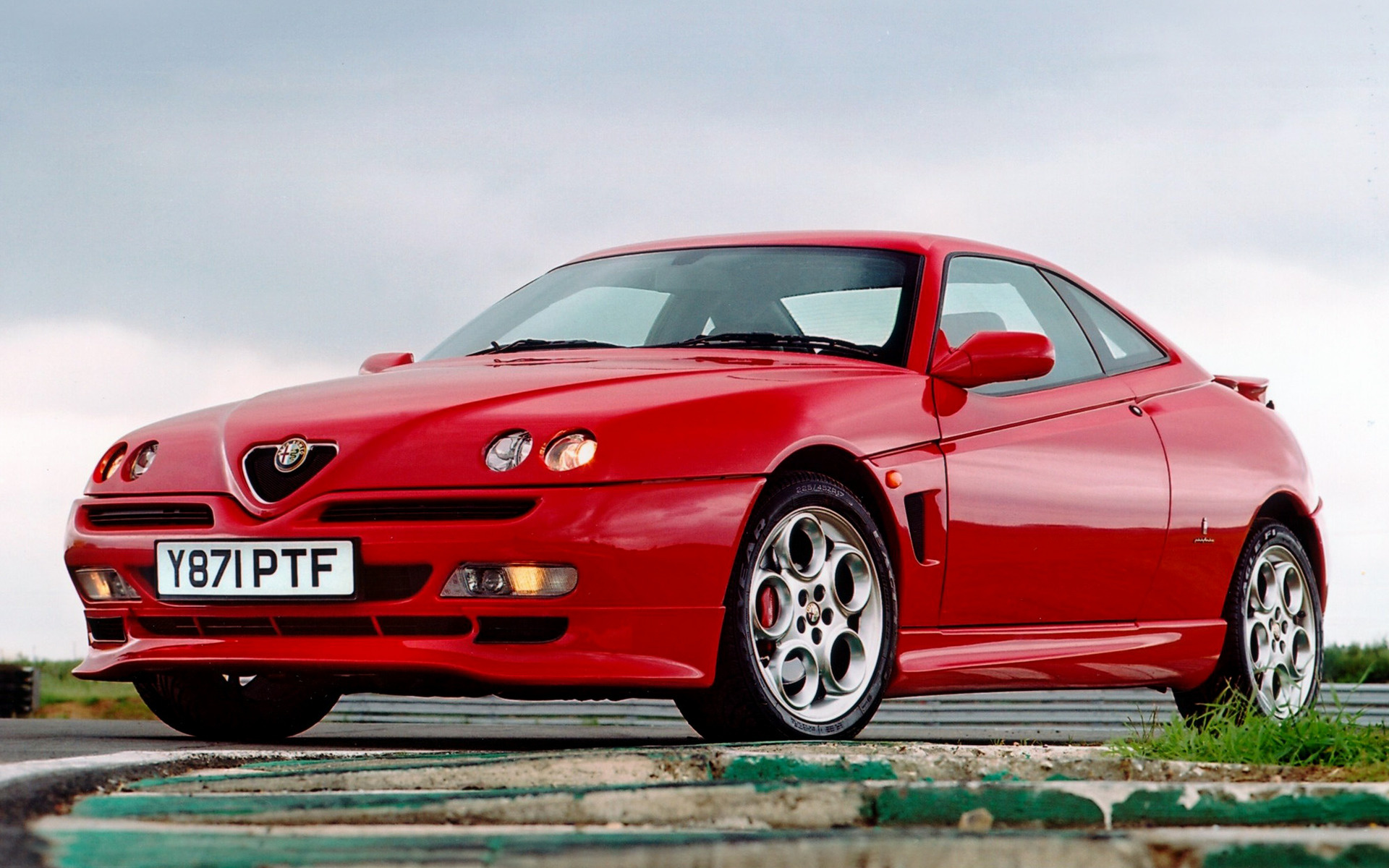 Alfa Romeo GTV/Spider
Year: 1995–2004 / Engine: 24-valve 3.0 litre V / Power: 215 bhp at 6,300 rpm / Torque: 199 lb⋅ft at 5,000 rpm / 0 – 60 mph: 6.7 seconds / Top speed: 149 mph
The 1997 was the sweet spot in the GTV/Spider history. The turbocharged 2.0-litre V6 was a solid engine but as a car guy it is hard to ignore that 1997 saw the introduction of the awesome sounding 24-valve 3.0 litre V6. Fabulous engines, super fast 'Quick-Rack' steering and gorgeous styling made it a no brainer for this list. It was also genuinely fun to drive and far more reliable than anyone expected.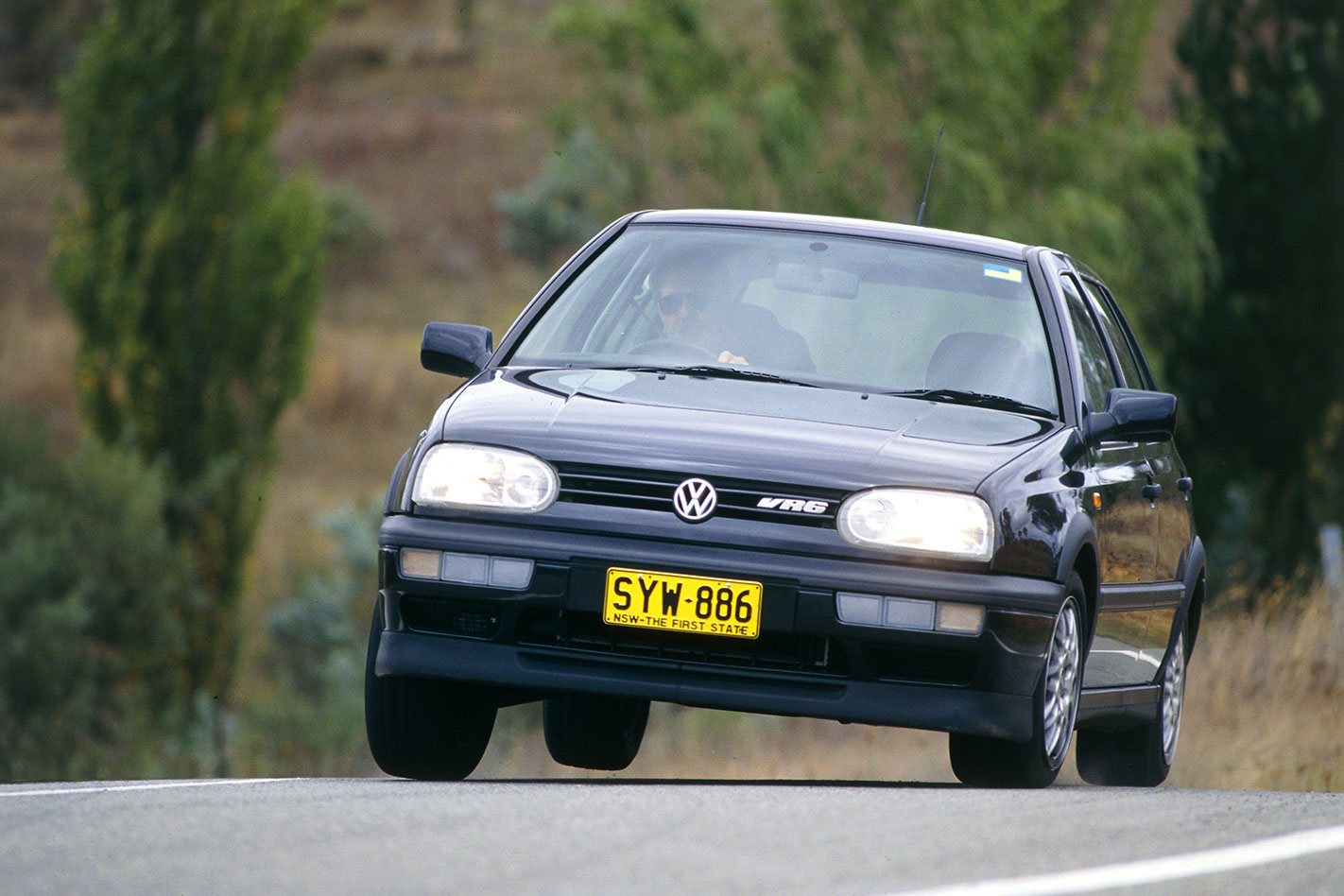 VW Mk3 Golf VR6
Engine: 2.792cc V6, SOHC, 12v / Power: 172 bhp @ 5800 rpm / Torque: 173 lb/ft @ 4200rpm / 0 – 60 mph: 7.6 seconds / Top Speed: 140 mph
When it debuted in the early 1990s, Volkswagen's VR6 engine was pretty revolutionary. By arranging six cylinders in a zig-zag pattern on one cylinder head, VW managed to put V6-level power in an engine not much larger than an inline-four.
Our favorite use of that engine was in the Golf VR6. Without the hp draining AWD system and less weight to carry around we liked the VR6 more than the R32. The VR6's front-drive platform was tied down more firmly than a conventional Golf. A journalist at the time said it best, "the VR6 is a ripper way to get into a quicker-than-average car that has all the practicality of a VW Golf and some of the cachet of the mighty R32".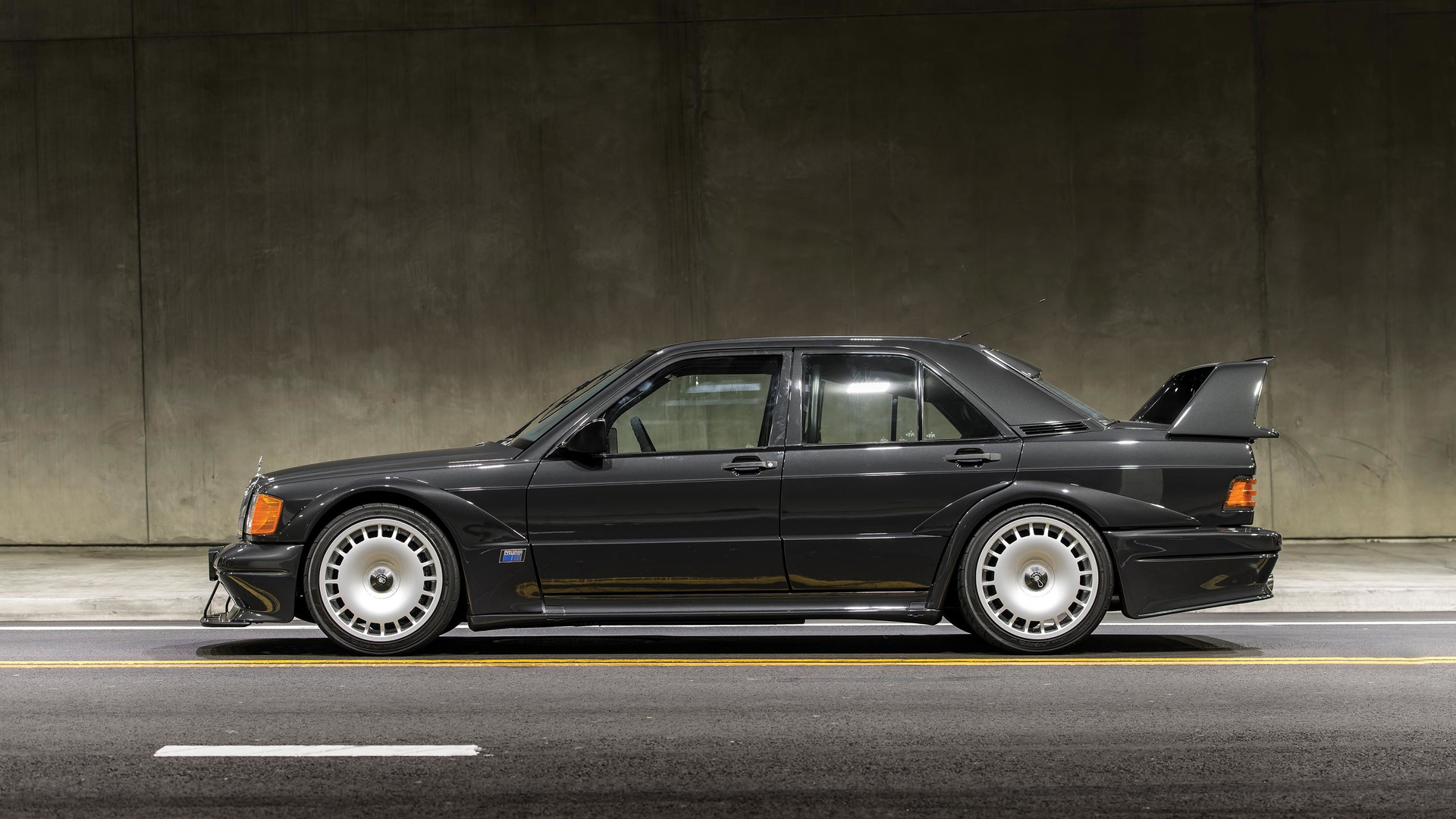 Year: 1990 / Engine: M102 E 25/2 Inline-4 / Power: 231.3 bhp @ 7200 rpm / Torque: 181 ft/lb @ 5000-6000 rpm / 0-60 mph: 7.1 seconds / Top Speed: 155 mph)
When Mercedes-Benz pulled out of racing at the end of the tragic 1955 season, it stayed away (at least on a factory-supported basis) for almost 30 years. The company's first foray back into circuit racing came with the W201 chassis 190E 2.3-16, a special version of the company's compact sedan fitted with tauter suspension, a body kit, and a variant of the company's venerable 2.3L inline-four that was fitted with a twin-cam, 16-valve cylinder head designed and built in England by Cosworth. Cossie Benz development culminated with the 190E 2.5-16 Evo II of 1991. The flared fenders, towering (and adjustable) rear wing and super low bumpers and side skirts ensured that the DTM racers based on it generated impressive aero numbers, while the larger 2.5L engine (rated at 232hp in showroom trim) provided some extra boom. The E30 M3 could not have asked for a more fearsome rival.
Learn more about the 1990 Mercedes-Benz 190E 2.5-16 EVO II.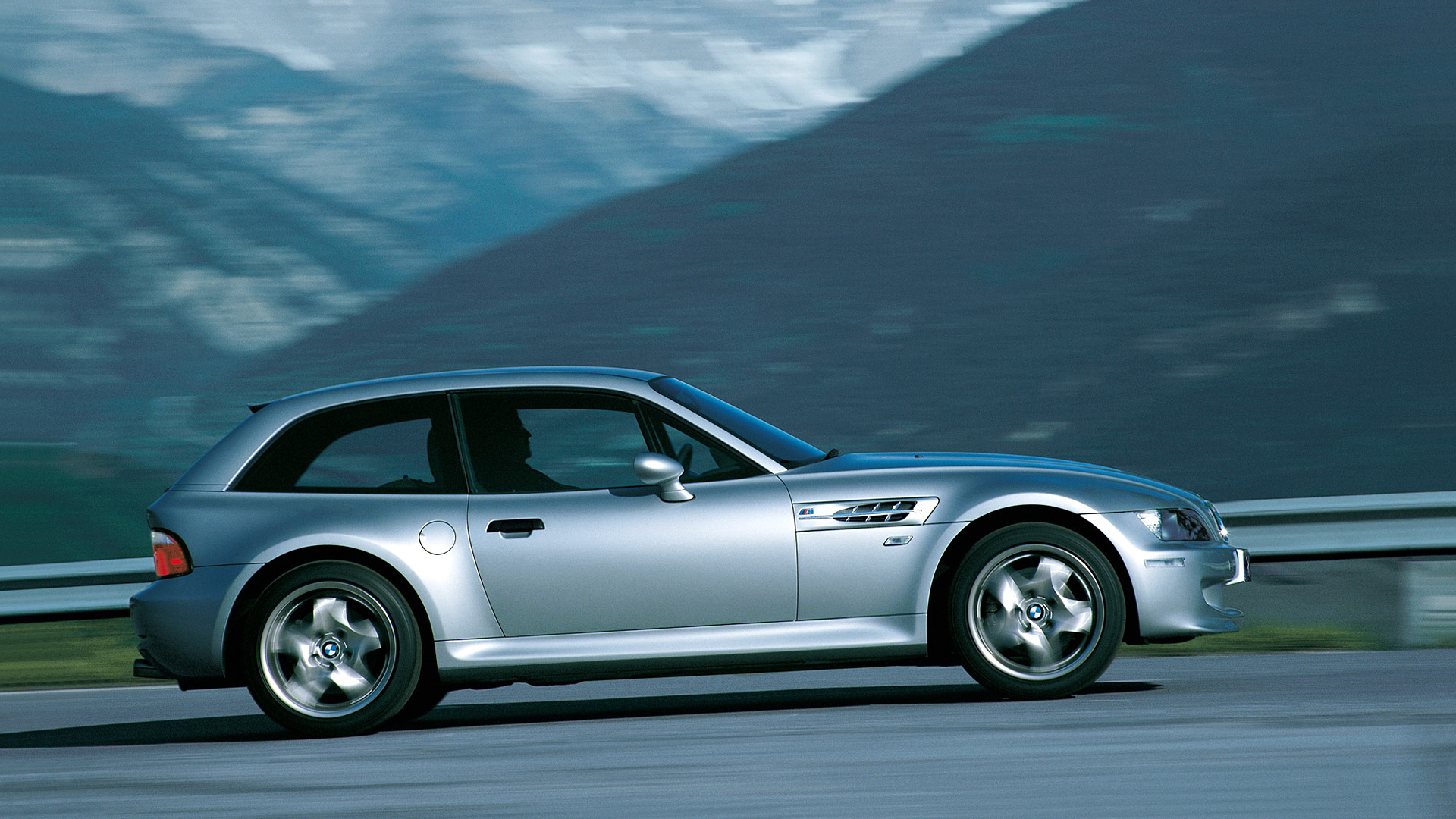 Year: 1998–2002 / Engine: 3.2 liter DOHC Inline 6 / Power: 315 hp @ 7,400 rpm / Torque: 251 lb-ft @ 4,900 rpm / 0 – 60 mph: 5.5 seconds / Top speed: 137.0 mph
We are sports car purists here at Supercars.net so when deciding between the BMW M Coupe and BMW Z3 M Roadster we went for the coupe. It is the better car. Today it has a cult-like following and having driven one recently I can tell you it is a phenomenal car, an icon for sure.
Lots of begging was needed to get approval from the BMW board to build the coupe. Without much budget to work with the small dedicated team had their work cut out for them.
The focus on improving chassis rigidity (see I told you coupes are better) meant that the engineering team was able to make massive handling improvements over the Z3. It also meant that the chassis could handle more power.
Enter the 3.2-liter S52 inline-six (from the U.S. spec E36 M3). While this is a 1990s post, things got really interesting in 2001 when the M Coupe they upgraded to the S54 spec 3.2-liter inline-six which had 315 hp and 251 lb-ft of torque. A fun sports car for sure.
Learn more: BMW M Coupe, BMW Z3 M Roadster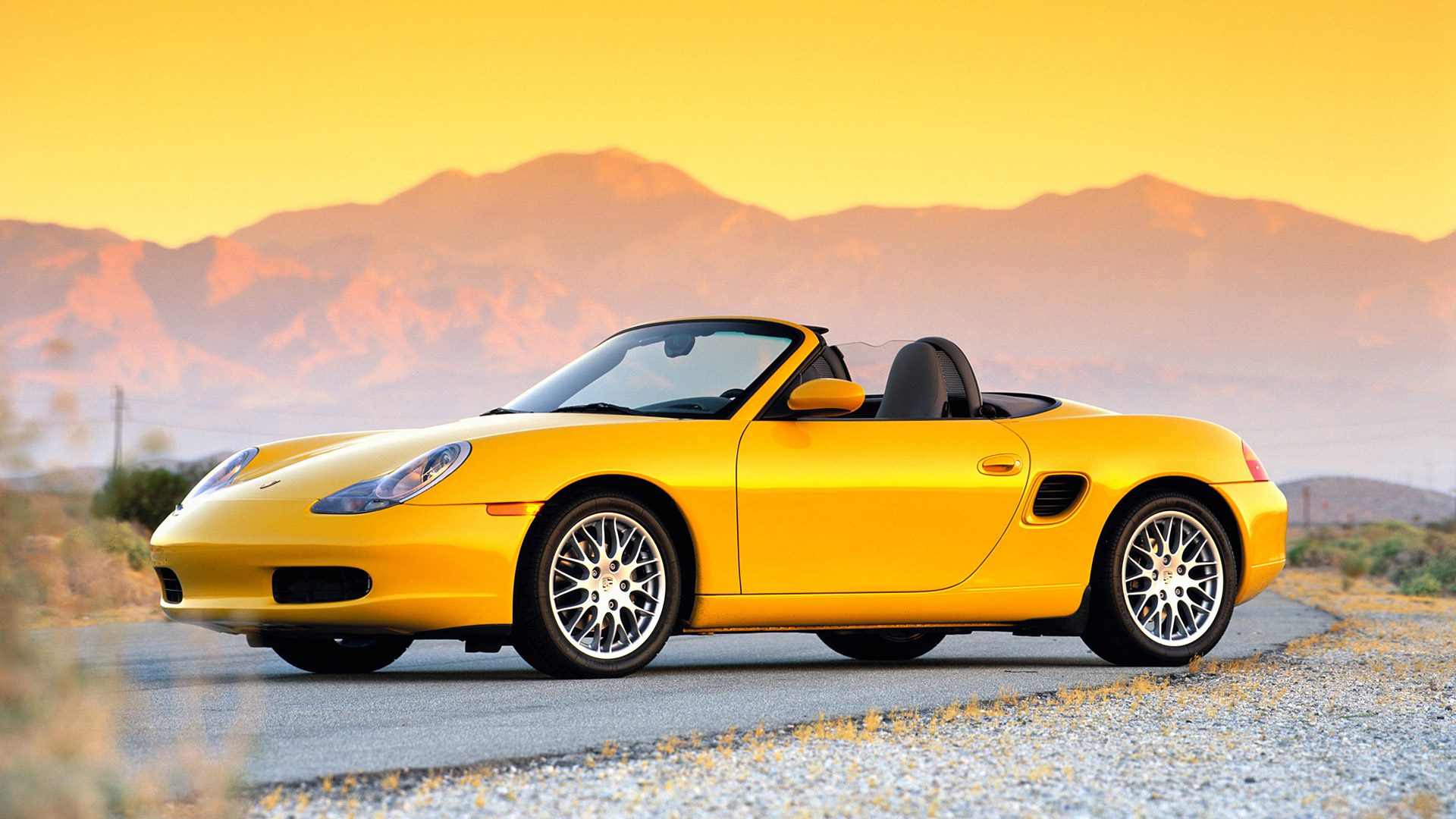 Year: 1996–2004 / Engine: 2.5 L flat-6 (1996–1999), 2.7 L flat-6 (1999–2004), 3.2 L flat-6 (1999–2004) / Power: 201.0 bhp @ 6000 rpm / Torque: 181.0 ft lbs @ 4500 rpm / 0 – 60 mph: 6.1 seconds / Top speed: 149 mph
The Porsche Boxster (Type 986) was introduced in late 1996 as part of Porsche's 1997 model year lineup. The car featured the Porsche Type M96 engine – a water-cooled, 2.5-liter, flat six-cylinder engine rated at 201 horsepower. The flat, mid-engine layout provided the Boxster with a low center of gravity, near-perfect weight distribution, and neutral handling. The Boxster was released ahead of its big-brother, the new Porsche 911 (type 996), and the initial response the car received was an affirmation to the engineers behind the new 911 that they'd designed a car that would be incredibly well received. The 986 Boxster shared many of the same body components as the new 911 including the same bonnet, front wings, headlights, interior and engine architecture.
The Boxster was the right car at the right time for enthusiasts and for Porsche. When it was released it quickly became a big seller and steadied the ship at Porsche. Reviewers gushed that the car was near perfect. Motor Trend said this in its first Boxster test: "On the road, the drivetrain, suspension, brakes, and rack-and-pinion steering work in concert like a well-rehearsed philharmonic. Each element fuses with the next to create a rewarding, communicative link between driver and car, transforming subtle inputs into controlled responses. It's all Porsche all the time."
Learn more: All Boxster posts / 986 (1996-2004 model info)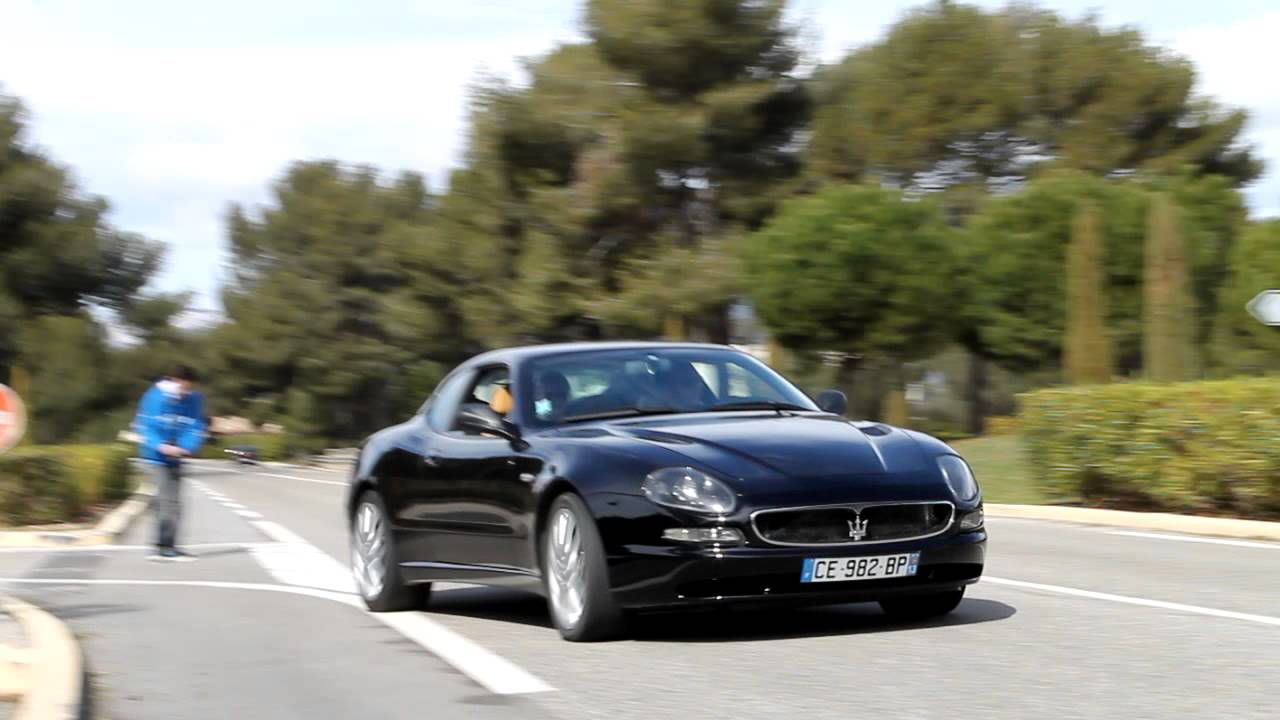 Year: 1998 – 2001 / Engine: Twin Turbo V8 / Power: 363.4 bhp @ 6250 rpm / Torque: 362.1 ft lbs @ 4500 rpm / 0 – 60 mph: 5.0 seconds / Top speed: 174 mph
The elegant Maserati four seater coupé was styled by Italdesign. The 3200 GT's 104.8 inch wheelbase was just a centimetre longer than that of the Quattroporte IV, which explains its class-leading cabin space. The 3200 GT shared the saloon's twin-turbo 3.2 litre V8, revised and tuned to produce 370 hp (271 kW) at 6,250 rpm and mated to a six-speed gearbox. Mixed flow turbines allowed response times that were 20% quicker compared to conventional turbo set-ups. To guarantee the highest manufacturing standards, the assembly line at the historic Modena factory was completely modernised. Performance was on par with expectations, highlighted by a 280 km/h top speed (174 mph) and a 0 to 100 kph time of just over 5.1 sec. The sleek body returned a 0.34 Cd. Besides its pace, the 3200 GT's opulent interior added to its appeal. In June 1999, Group President Luca Cordero di Montezemolo could already celebrate the 1000th 3200 GT to roll off the production line.
Learn more: Maserati 3200 GT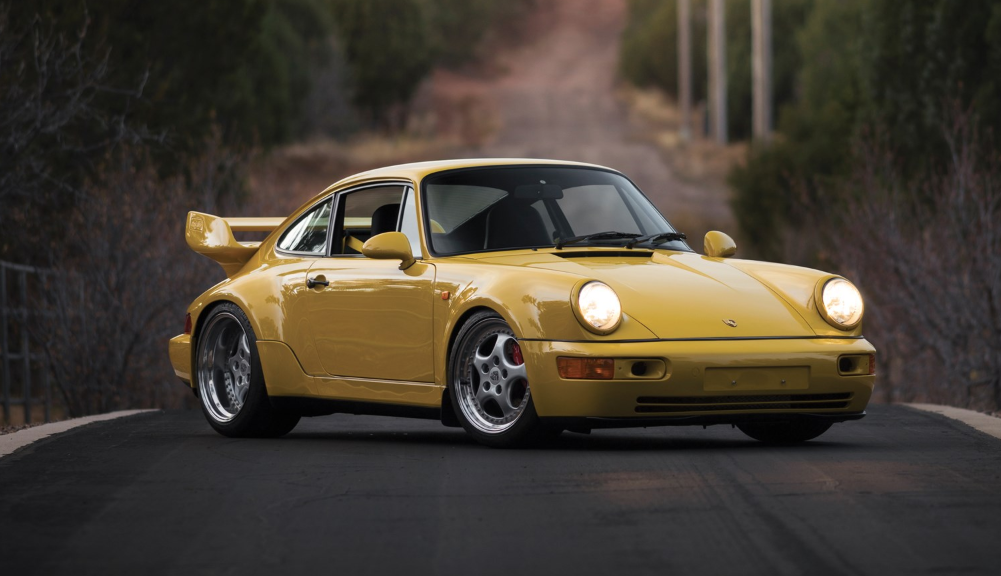 Year: 1995-1996 / Engine: 3.8 flat six / Power: 300.0 bhp @ 6500 rpm / 0 – 60 mph: 4.7 seconds / Top speed: 172.1 mph
We got some abuse on our Facebook page for including so many Porsche 911s in our best 90s supercars list. I can't help it if Porsche created some cracking cars in the 1990s. Extending an olive branch however I decided that I would only include two 911s in this list. One is the best of the 964s and the other is the best of the 993s.
Porsche's Carrera 2 was the basis for the higher-performance and racing versions that Porsche developed. The first of those was the RS 3.6 of 1992, which was powered by a warmed-up version of the standard twin-plug, normally aspirated 3.6-liter engine. Porsche then upped the ante with its Carrera RS 3.8 for the 1993-1994 model years. The cars served as the homologation base for the 3.8 RSR for international competition.
The Carrera RS is a lightweight variant of the Carrera. It features a naturally aspirated 3.8 liter engine with 300 hp (DIN). On the outside, it is easily distinguishable by a special non-retractable rear wing, small front flaps and 3-piece 18-inch (460 mm) aluminum wheels. The headlight washers were deleted for weight saving reasons. Inside the rear seats were removed, and special racing seats and spartan door cards were installed. Sound proofing was reduced to a minimum.
Most people who have driven the RS say that it's the ultimate experience in rawness and purity and easily the best of the 964s.
Best 1990s 911s: 1994 Porsche 911 Turbo 3.6 S, 1994 Porsche 911 Speedster, Porsche 911 Turbo S (993), Porsche 911 GT3 (996.1), Porsche 911 GT2, 1993 Porsche 968 Turbo S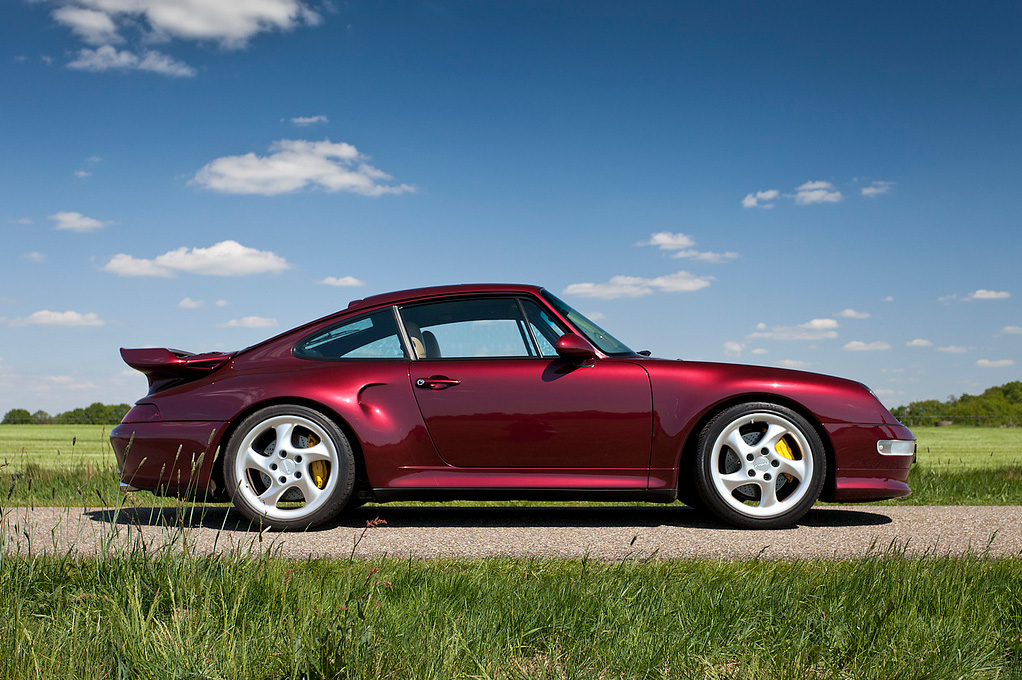 Year: 1997 / Engine: 3.6 L twin-turbo Flat-6 / Power: 424bhp @ 6250 rpm / Torque: 423 lb-ft @ 4500 rpm / 0 – 60 mph: 4.4 seconds / Top Speed: 183 mph
While the 1998 Porsche 911 GT2 is my favorite 993 generation 911 of the era, it already made our top supercar list so we instead went with the Porsche 911 Turbo S instead.
Considered by many Porsche enthusiasts as the "ultimate 911", the type 993 represented a unique blend of power and simple elegance. The car had a more streamlined look and was "lower slung" than earlier versions of the 911. The styling was perfect and it is still the best looking 911 series. This was the last of the "air-cooled" Porsche 911s (insert sad face here).
The turbo-version of the Type 993 Porsche 911 was also introduced in 1995 and featured a bi-turbo engine that was at the top of the performance pack for the time. For Turbo 993s the 3.6 liter got twin KKK K16 turbos and made 402 hp although you could customize your order (on Turbo S and GT2 models) to up that to 444 hp. The 993 Turbo was the first 911 Turbo with all wheel drive, essentially lifted from the 959 flagship model.
During the second to the last year of production of the 993 (1997), Porsche offered the 993 Turbo S. The X50 power pack had larger turbos, intake and exhaust upgrades, and a new computer. Power upgrade got it to 424 hp and included extras like carbon fiber decoration in the interior as well as very cool yellow brake calipers, a slightly larger rear wing, a quad-pipe exhaust system and air scoops behind the doors. This was the last of the air-cooled 911 Turbos and our favorite.
Read more: Porsche 911 Turbo S (993)
---
Best 90s British Sports Cars
The United Kingdom motoring public are obsessed with sports cars. Local manufacturers and sportscar makers are a driving force behind a lot of the innovation in motorsports as well as being home to some of the most well known names in the sports car business.
The British are responsible for some of the greatest sports cars the world has ever seen and the 1990s were no different. The McLaren F1 was the best ever (in my humble opinion).
Lotus was on a roll in the 1990s, punching well above its weight in terms of creating cracking cars. The Lotus Carton was a cool collaboration and the Esprit was fun, but it was the Lotus Elise that was so refreshing that it is still considered the ultimate sports car. Super light, stiff, glued to the road and with the right amount of poke to make you wonder why you ever need anything faster. This 90s originality was not unique to Lotus because you had the crazy guys at TVR building some special sports cars and their approach and ideas were truly unlike anything else. Their scariest model was the TVR Cerbera Speed 12 and we love that it even exists, but it was the base TVR Cerbera that won our hearts at the time.
For other British car companies, the success of the sports cars they sold in the 1990s went a long way to helping them survive and eventually thrive. If it wasn't for the Aston Martin DB7 and Jaguar XKR you could argue that those two brands would be out of the business or at a minimum relegated to the also runs in the performance car side of the game.
With that, please enjoy the best British cars of the 1990s.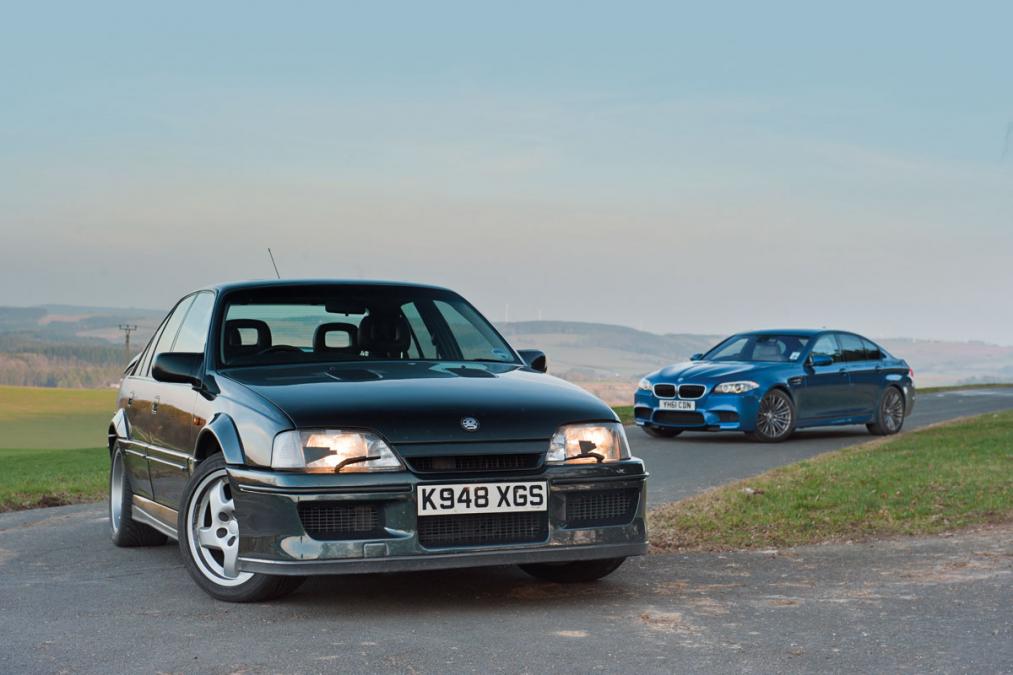 Year: 1990–1992 / Engine: 3.6 L twin-turbocharged I6 / Power: 377.0 bhp @ 5200 rpm / Torque: 419.0 ft lbs @ 4200 rpm / 0 – 60 mph: 5.4 seconds / Top speed: 175 mph
One of the most distinct cars in the Lotus lineup is the Carlton/Omega. The name Omega name was given to the left-hand-drive cars while Carlton's had their driver on the right. Internally at Lotus the car was known as the Type 104. The motivation behind the car came from Opel and Vauxhall who wanted to improve the image of their platform car. Lotus used the Vauxhall Carlton 3.0 GSi 24v as a base for the car, improving almost every component.
The engine used was a GM inline-6 although the block is the only original component. To cope with the 100 bhp per litre load Lotus replaced the pistons, crankshaft, induction system, cooling manifold and induction bodies. The Inline-6 was bored and stroked to a capacity of 3.6 litres. A redesigned cylinder-head and twin Garett turbochargers were also added in the mix. The result was 377 bhp from an engine that originally had 204 bhp.
As expected, Lotus also reworked the suspension, brakes and aerodynamics.
This super-tuned saloon offered the fastest four-door experience in 1990. It was leaps and bounds ahead of the competition which included the BMW M5. The Lotus Carlton/Omega was built up to 1992 with around 900 examples being built, all in Imperial Green Metallic.
Learn more: Lotus Carlton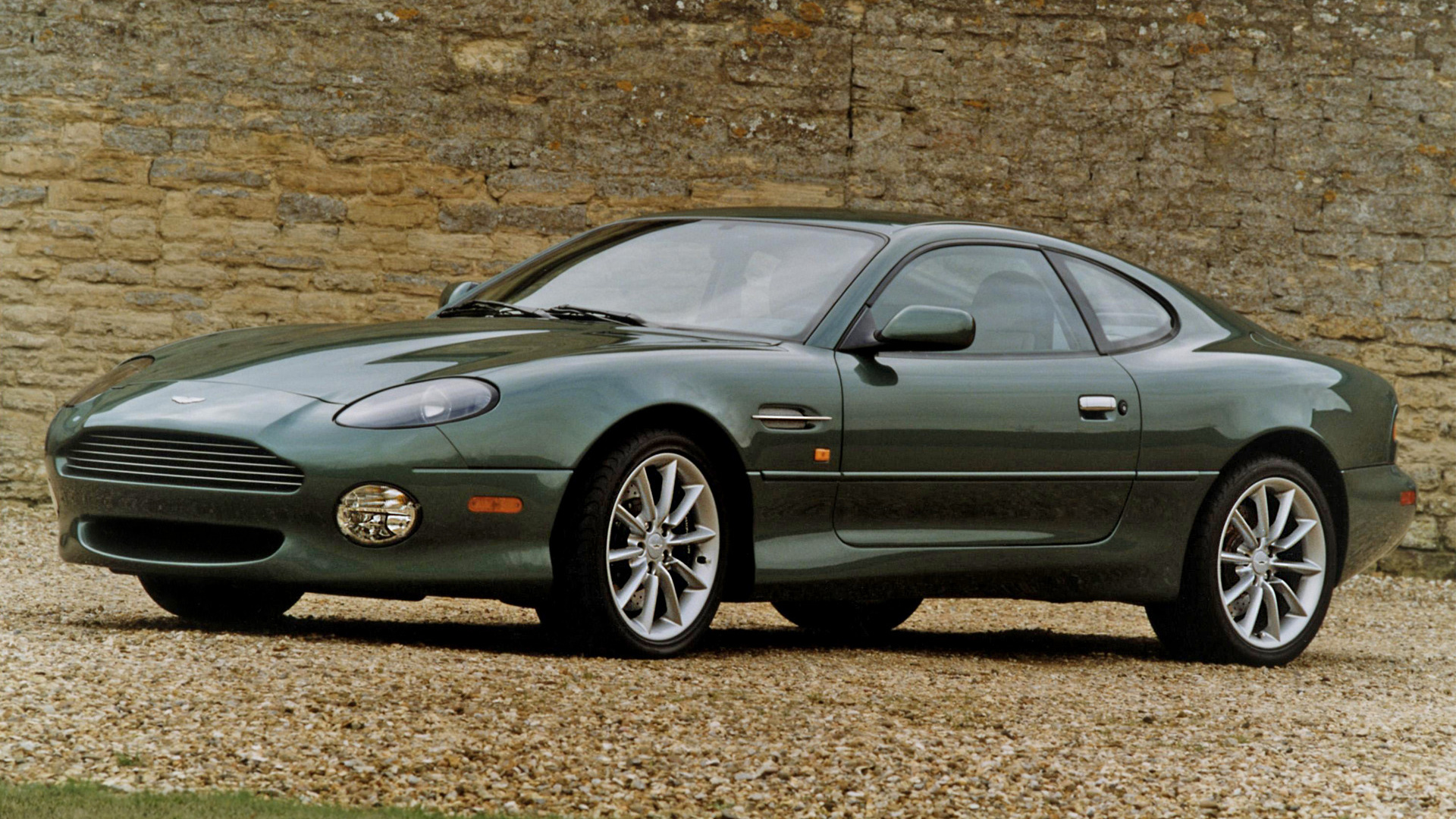 Year: 1994–2003 / Engine: Supercharged Inline-6 / Power: 335.0 bhp @ 5750 rpm / Torque: 361.0 ft lbs @ 3000 rpm / 0 – 60 mph: 6.2 seconds / Top speed: 165 mph
Under the direction of Ford Motor Company, the DB7 was engineered by Tom Walkinshaw Racing as a smaller alternative to the V8 Vantages. TWR worked with both Jaguar & Ford components and the result was the first regular steel bodied Aston Martin.
Ian Callum was responsible for the overall design which bears a slight resemblance to the first generation Jaguar XK8 which uses the same chassis.
TWR was also responsible for the development of the Inline-6 which used a Zytec electronic multi-point fuel injection and water-cooled Eaton Rootes-Type supercharger.
In 1996 a Volante convertible version became available and in 1999 the much more powerful Vantage was released with a 5.9-liter V12.
Learn more: Aston Martin DB7
Year: 1996–2001 / Engine: 1.8 L Rover K-series inline 4 / Power: 120.0 bhp @ 5500 rpm / Torque: 122 ft lbs @ 3000 rpm / 0 – 60 mph: 5.9 seconds / Top speed: 126 mph
The Lotus Elise was a true sports car that took the world by storm, winning countless awards for handling, innovation and just pure fun. The Elise was first unveiled at the Frankfurt Motor Show in 1995 before entering production with first deliveries in August 1996. The Elise was designed as a sports car to be appreciated by real driving enthusiasts, fashion leaders and those who really appreciate technology and innovation.
The Lotus Elise introduced a range of technologies that revolutionised the automotive industry; such as a chassis made from extruded and bonded aluminium, a composite energy absorbing front crash structure and lightweight composite body panels. The whole car weighed in at half the weight of an average family saloon. This light weight bestowed the car with phenomenal acceleration and handling. In 1996 the Lotus Elise was easily pulling 1g in steady state cornering with standard production tyres and a 0-100km/h in 5.9 seconds. The original Lotus Elise was so special and game changing that it deserved a place on this list, if I had to buy a 1990s Lotus Elise, I'd be looking at the Lotus Elise 111S.
Learn more: Lotus Elise S1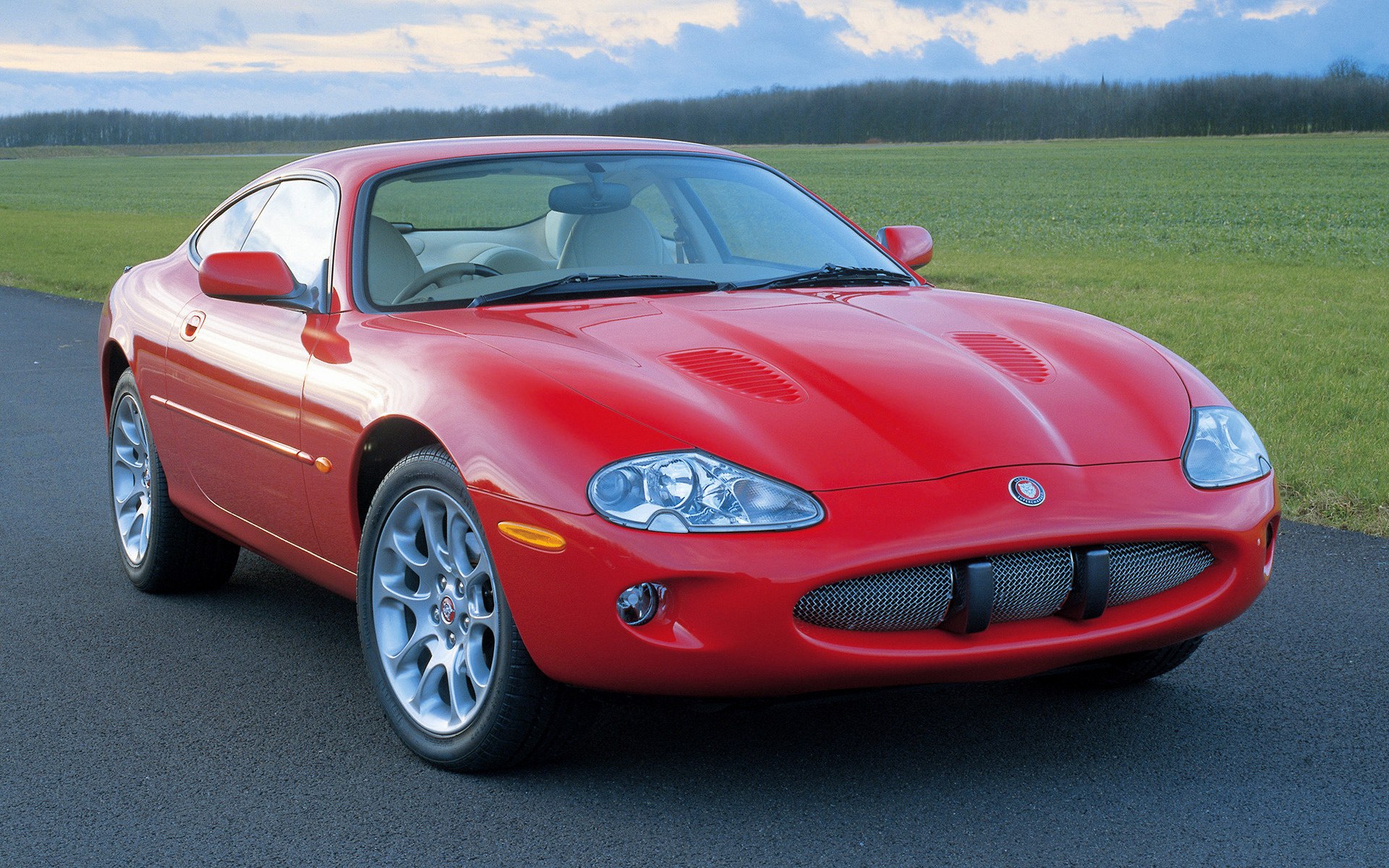 Year: 1998–2003 / Engine: 4.0 L AJ26S supercharged V8 / Power: 370 hp at 6,150 rpm / Torque: 387 lb⋅ft @ 3,600 rpm / 0 – 60 mph: 5.4 seconds (Coupé) 5.6 seconds (Convertible / Top speed: 155.4 mph
It all started with the XK8 which was a new two seater sports car launched by Jaguar in 1996. It was a stunner. The XK8 was available in two-door fastback coupé or two-door convertible body styles with the new 4.0-litre Jaguar AJ-V8 engine. In 1998, the XKR was introduced with a supercharged version of the engine and the addition of a new intercooler and a two-piece driveshaft. The supercharger was manufactured by Eaton and displaced at 2.0-litre. It also looked more aggressive, with visual differences from the XK8 including a rear spoiler, mesh front grille and hood louvres on the bonnet for improved airflow to the engine.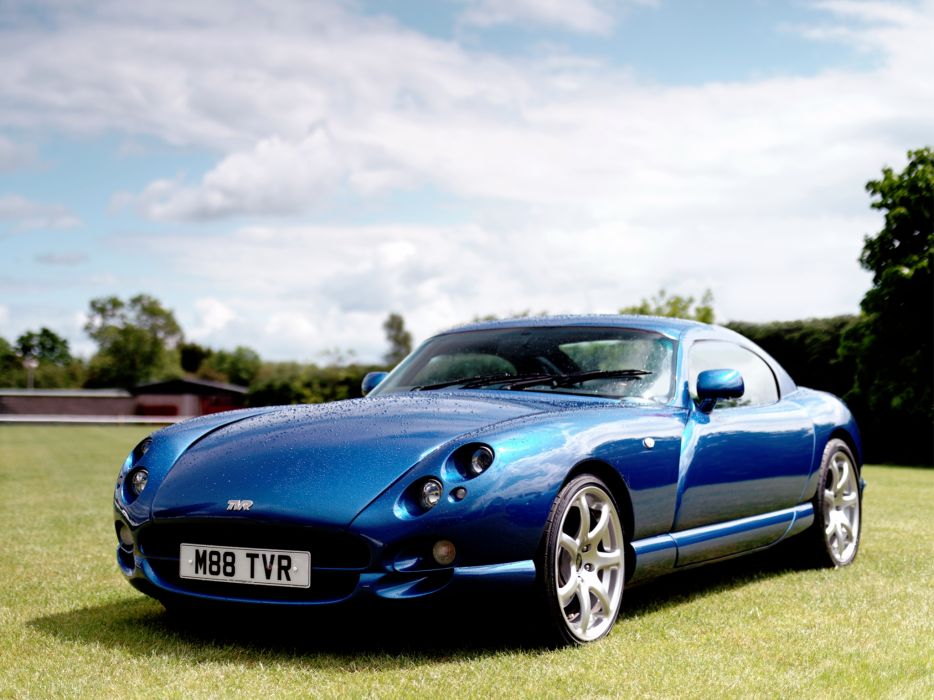 Year: 1996 – 2005 / Engine: 4.2-litre V8 / Power: 350.0 bhp @ 6500 rpm / Torque: 320.1 ft lbs @ 4500 rpm / 0 – 60 mph: ~4.2 seconds / Top speed: 161.6 mph
The TVR Cerbera showed that a small boutique company could hang with the big boys when it came to building engaging, beautiful and fast sports cars. It is unthinkable in today's day and age that we would imagine an upstart building their own engines from scratch and yet that is exactly what TVR did back in the 1990s.
The Cerbera was TVRs coming out party. It was a small sports car that looks out of this world, was really quick, had tons of power and could actually handle. Sure, maintenance was as issue later on and the engines were unreliable, but the Cerbera did the whole pop on overrun thing well before anybody thought it was cool, doesn't that count for something?
Our pick is the 4.2 liter V8 engine. Known as the AJP8, it had one of the highest specific outputs of any naturally aspirated V8 (83.3 hp/liter) for a total of 350 horsepower.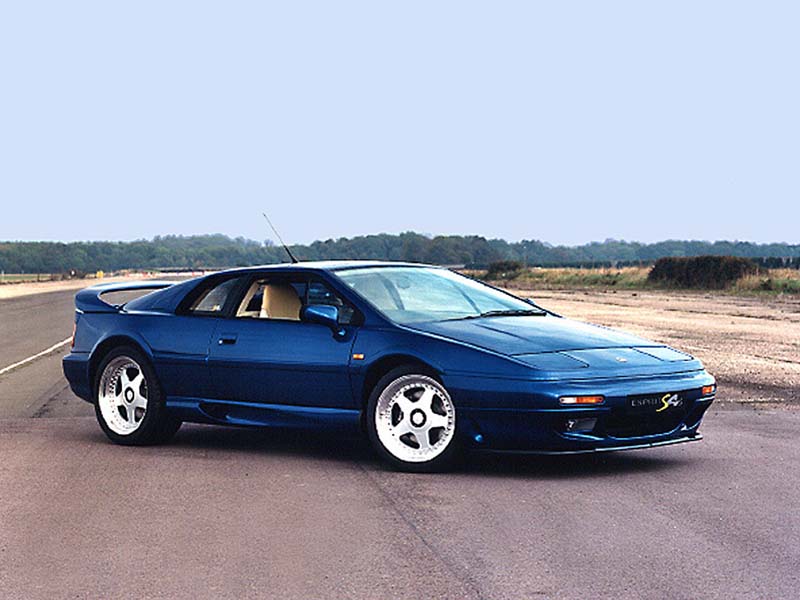 Year: 1999 / Engine: Twin turbo V8 / Power: 349 bhp @ 6500 rpm / Torque: 295.0 ft lbs @ 4250 rpm / 0 – 60 mph: ~4.7 seconds / Top speed: 175 mph
Hailing from the UK, Lotus has a rich motorsport heritage. It was also the Bond's choice of car in two of the Bond movies. The Esprit was built between 1976 and 2004, the Sport 350 was made only in 1999 as the "ultimate" incarnation of the Esprit with only 50 made.
As the name would suggest, it was tuned to produce 350hp and 295 lb-ft of torque out of a 3.5L V8 force-fed by two Garrett T25 water-cooled ball-bearing turbos mated to a Lotus tweaked Renault 5-speed gearbox. The Sport 350 made the same power as the regular Esprit V8 Turbo, but the "special sauce" comes from the bespoke AP Racing brakes, track-tuned suspension, aero package, and magnesium alloy wheels.
Unfortunately what put this Lotus as the 14th on the list is the French origin gearbox, which limited the reliability of the Esprit as well as the power it could take. Due to the limited production of this specific Esprit, prices are still quite high. However good examples of regular V8 Esprits are less than half the cost of a new Lotus Evora 400 and has similar acceleration and top speed figures, except the Esprit, has that "old-school" cool factor and unique look.
Learn more: Lotus Esprit Sport 350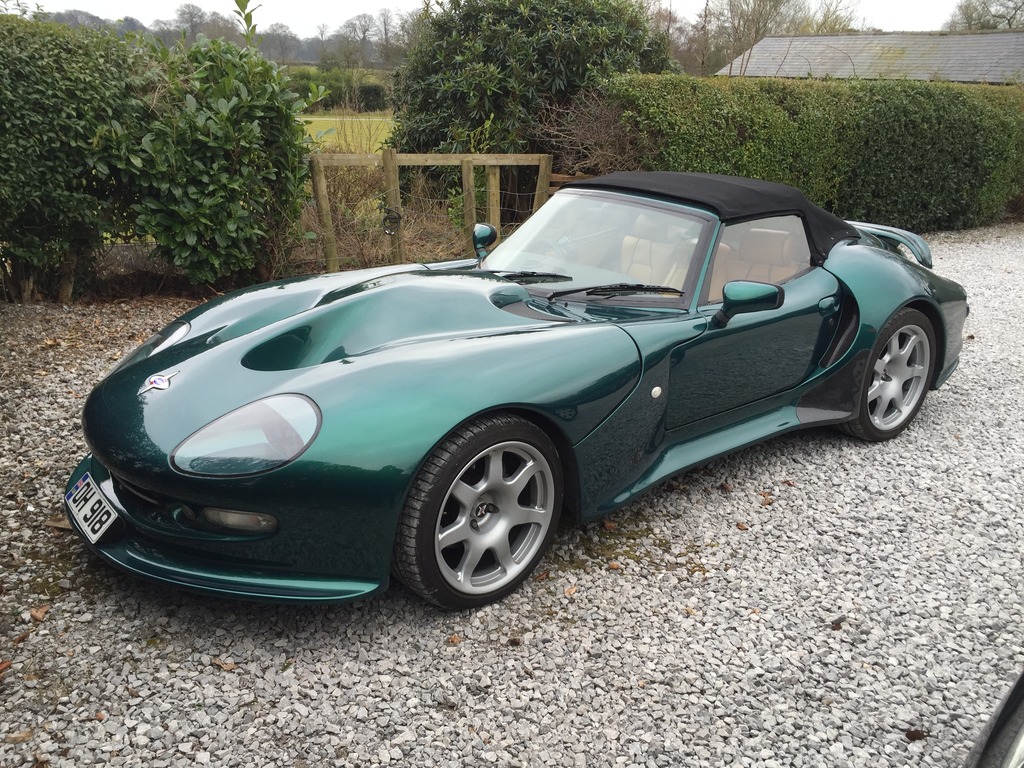 Marcos Mantis
Year: 1997 / Engine: 4.6 liter quad-cam Ford Cobra V8 / Power: 327 bhp / Torque: 295.0 ft lbs @ 4250 rpm / 0 – 60 mph: 4.2 seconds / Top speed: 170 mph
In 1997, Marcos reused the Mantis name for the latest version of the LM-series cars. It had a 4.6 liter quad-cam, small-block, Ford Cobra V8.
The front-end has been improved by smoothing the various aerodynamic addendums into the bonnet, so that it looks sorta like the old GT. The headlamps are now a pair of small, high intensity units that make the old (well, not that old!) units look huge and clumpy, and this further enhances the front-end. From the windscreen back it looks like the LM series cars. Performance was strong with 0-60 in 4.2 secs and a top speed of 170 mph!
Autocar tested this car and reported that "The doors close with a satisfying clunk, the interior doesn't rattle or squeak and nothing failed or fell off during the course of its time with us – a rare occurrence for any low volume British sportscar in our experience" and commented that "How a company that builds just 70 cars a year can…design, engineer and produce a car as good as the Mantis is beyond comprehension." Their verdict was "A credible rival to the TVR Griffith".
---
Best 90s Japanese Sports Cars
I was a huge Japanese sports car fan boy in the mid 1990s. I even imported Japanese cars into Australia to help pay for college, owning several tasty cars (R32 GTR, Twin turbo Supra, 300ZX and Pulsar GTi-R). The 90s were exciting times and the pinnacle period for Japanese car manufacturers and enthusiasts alike.
For every dull Camry that came out of Japan was a sports car that was purely awesome. Honda had the NSX, Subaru had the WRX, Mitsubishi had the Evo, Nissan had the Skyline GT-R and Toyota had the Supra. Wow what a list.
On top of that you had the aftermarket tuner ecosystem going apeshit. They were tuning Supras and GT-Rs to over 1,000hp and releasing VHS videos (yes, I am old) that showed street racing and quarter mile drag times in the 8 and 9 second range (in street cars). Oh I miss those days.
The impact that the best Japanese cars of the 1990s had on the industry cannot be underestimated. The cars built by Japanese car companies in the 1990s scared the Europeans and Italians legitimately. Cars like the NSX were revolutionary. Great performance, awesome handling and bulletproof in terms of reliability. You could get a 90s Japanese sports car that was so good it would destroy any Ferrari point to point and it cost no more than a Camry to maintain. Ferrari and other sports car makers had to improve quickly (thankfully they did).
Here are the best Japanese cars of the '90s.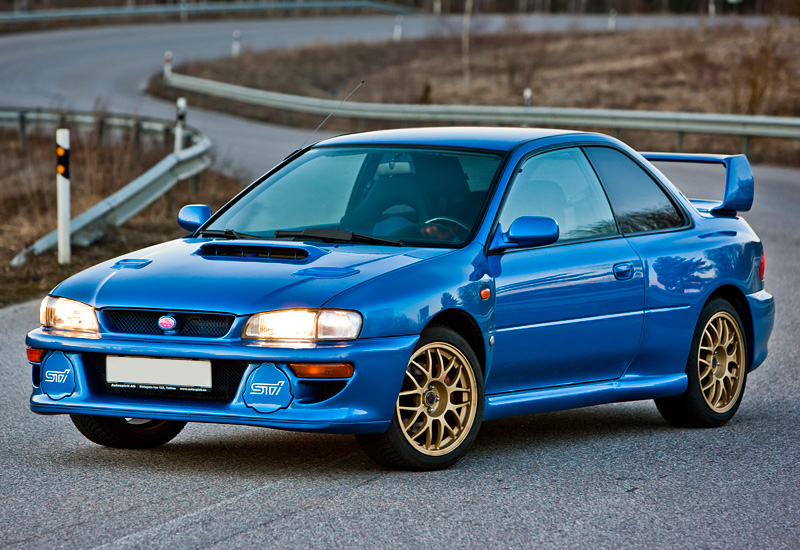 Year: 1998 / Engine: Turbo Boxer-4 / Power: 276 bhp @ 6000 rpm / 0 – 60 mph: ~4.0 seconds / Top speed: 155.0 mph
From the Land of the Rising Sun, we have our 6th place entrant on the list of reliable vintage supercars. Car & Driver was so impressed with the 22B STi, that it gave the nickname "The Subaru from Hell". While the 22B STi didn't have the price tag of a mainstream supercar, it definitely had supercar levels of performance.
The 2.2L closed-deck flat-4 engine produces 276 hp and about 268 lb-ft torque (at least on paper), however, based on performance tests, the actual numbers should be north of 300 hp Equipped with a driver adjustable center differential (DCCD) and a close ratio 5-speed gearbox driving the symmetrical all-wheel-drive system, the 22B can sprint to 60 mph from a standstill in 4.7s whether it be tarmac or dirt.
There were only 424 copies of this "holy-grail" Subaru ever made, with the addition of 3 prototypes, many rally enthusiasts (Subaru loyal or not) lust after the wide-body haunches and the rally cred this car brings. Due to the rarity and limited production numbers of the car, this Subaru easily fetches six-figures and will likely continue appreciating in value over time, having more than doubled its original sale price since launch.
Learn more: Subaru Impreza 22B STi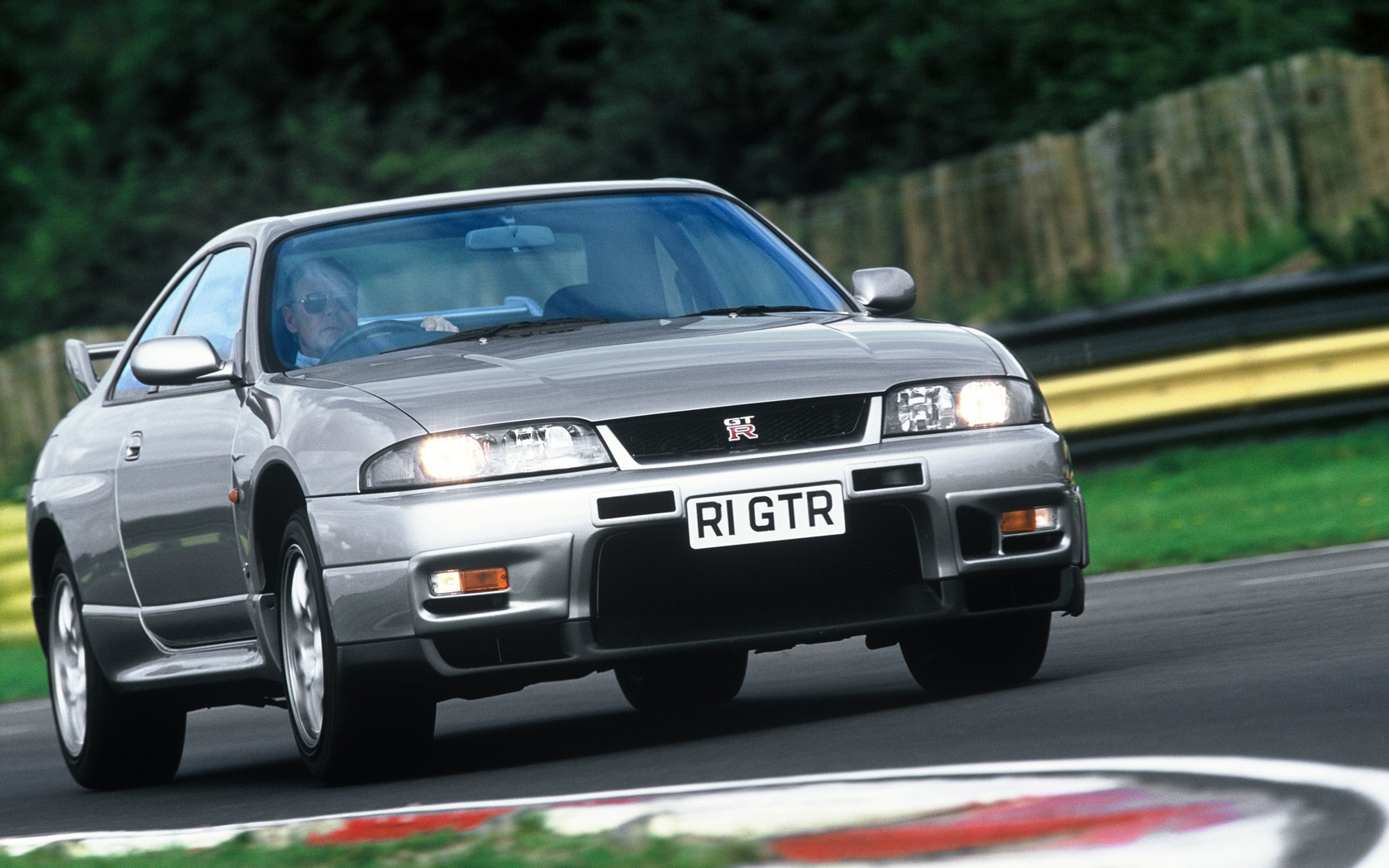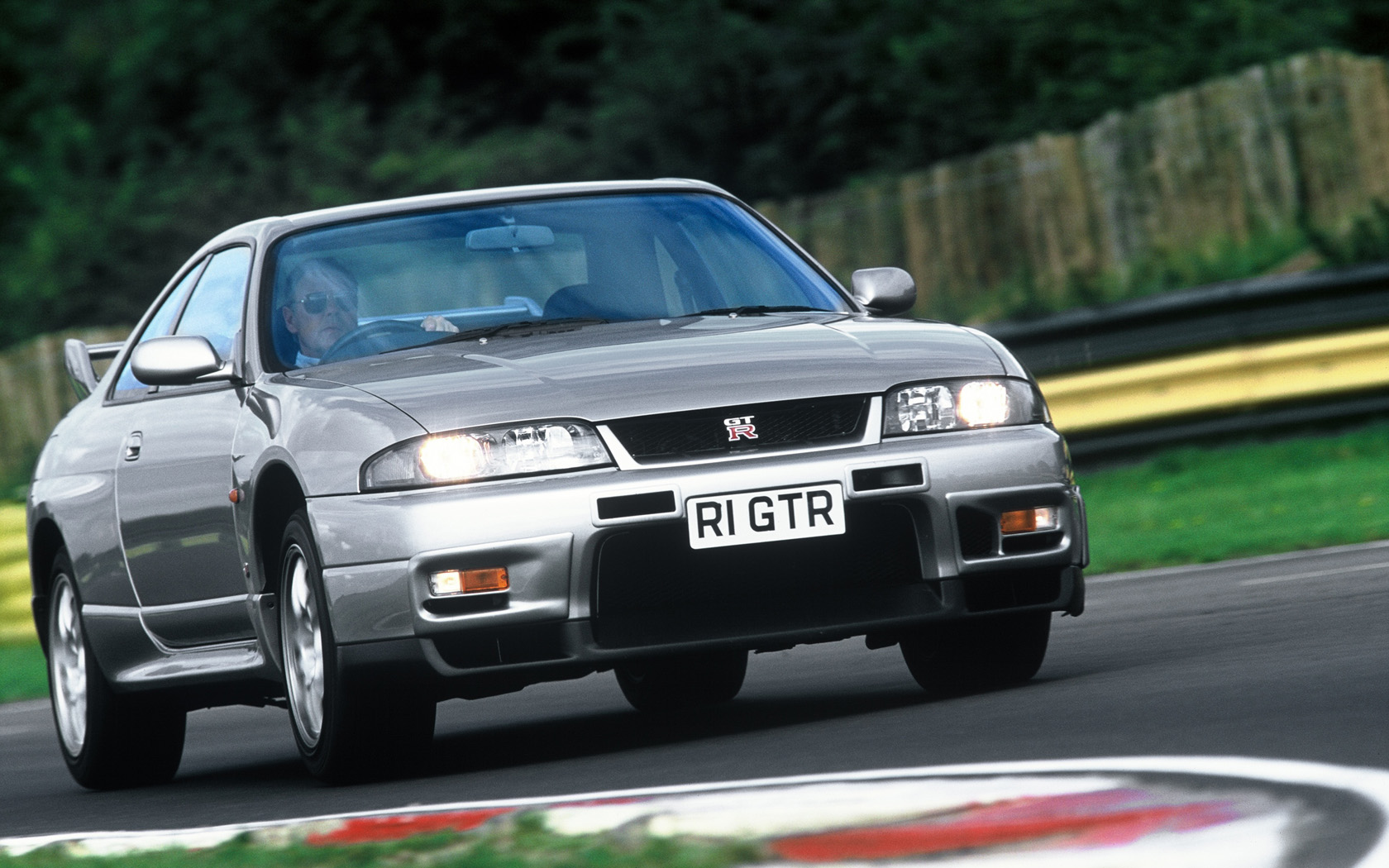 Year: 1995 / Engine: Twin Turbo Inline-6 / Power: 280.0 bhp @ 6800 rpm / Torque: 264.0 ft lbs @ 4400 rp / 0 – 60 mph: ~4.0 seconds / Top speed: 155.0 mph
Heading into the top 5 reliable vintage supercars we have the 1994 Nissan Skyline GT-R V Spec II. This was the last variant and one of best road-going versions of the R32 Skyline GT-R's, featuring bespoke 17" BBS wheels, larger Brembo Brakes and active rear LSD. Originally introduced in 1989, the Skyline GT-R dominated every class of racing that it was entered in Japan. The "Victory" Spec Skyline GT-R's were built to commemorate this utter domination.
Due to its success in the Australian Touring Car Championship, automotive press in Australia dubbed the Skyline GT-R as "Godzilla" referencing the Japanese monster from the 1954 film. This name stuck and spread like wildfire, and the Skyline GT-R has since been known as "Godzilla" to automotive enthusiasts.
At the heart of Godzilla, is a twin Garrett T28 turbocharged straight-6 engine, known as the RB26, on paper makes 276hp and 271 lb-ft of torque due to the gentleman's agreement between Japanese manufacturers; however, due to Group A homologation rules, the RB26 is over-engineered and known to reliably make 5-600 hp with few supporting modifications while the 5-speed manual transmission just being as stout as the engine.
Godzilla also features a very advanced rear-biased all-wheel-drive system known as ATTESA E-TS (an acronym for Advanced Total Traction Engineering System for All-Terrain Electronic Torque Split), sending as much as 50% of the power to the front wheels depending on traction condition of the rear tires. With the V Spec II now becoming legal to import in the US in 2019 (having been legal since 2009 in Canada), expect prices to likely go up with the increasing demand from those nostalgic of the Group A touring car era wanting a piece of the action.
Learn more: Nissan Skyline GT-R V·Spec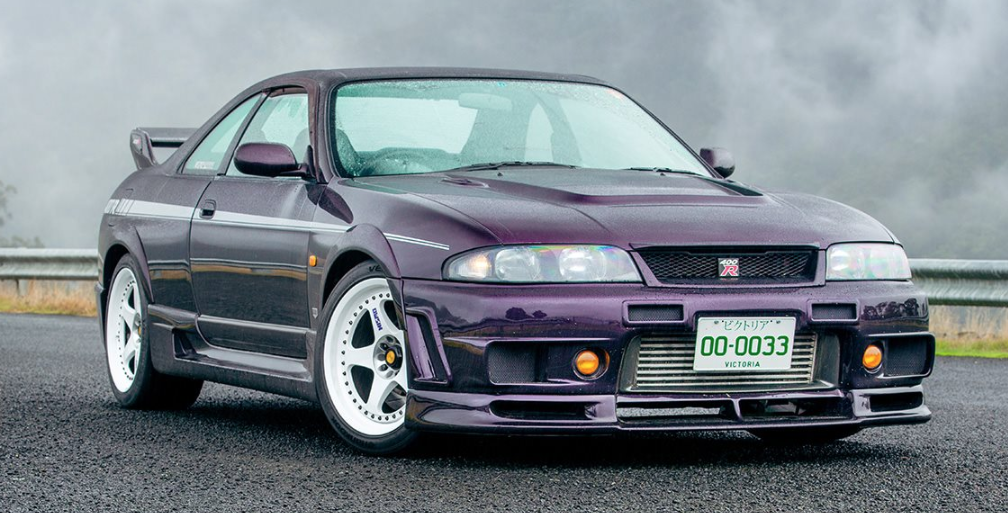 Year: 1997 / Engine: Twin Turbo Inline-6 / Power: 400 bhp @ 6800 rpm / Torque: 345.9 ft lbs @ 4400 rpm / 0 – 60 mph: ~4.0 seconds / Top speed: 198.0 mph
This ultra limited model is a derivative of the R33 Skyline GT-R handcrafted at Nissan's motorsport division, Nismo, based in Omori. Inspired by the Nismo Le Mans entry of the GT-R LM, the 400R adopts many of these styling cues and performance modifications.
Sitting 30mm lower, sporting a widebody like the GT-R LM, the 400R also has a crown jewel under the hood, a bored and stroked version of the RB26DETT called the RBX-GT2 with a displacement of 2.8L along with uprated billet compressor wheels on the turbos. This incarnation of Godzilla makes a detuned 400 hp and 345.9 lb-ft of torque, giving ample thrust to pin any driver to the seat during acceleration.
Nismo had originally planned for 100 to be produced, but only 44 were ever made, which coincided with the end of production of the R33 body style in 1998. Finding a 400R available for sale might be tough, however finding a good condition, well loved final year R33 GT-R might not be as challenging (at least in Canada) as they have been admissible since 2013.
The R33 GT-R was considered by many to be the bloated compared to the R32 GT-R and not as fast as the R34 GT-R, which is lusted after by the Fast and the Furious generation; however, for those who grew up playing Gran Turismo 1, the 400R is definitely a hero.
Learn more: Nismo 400R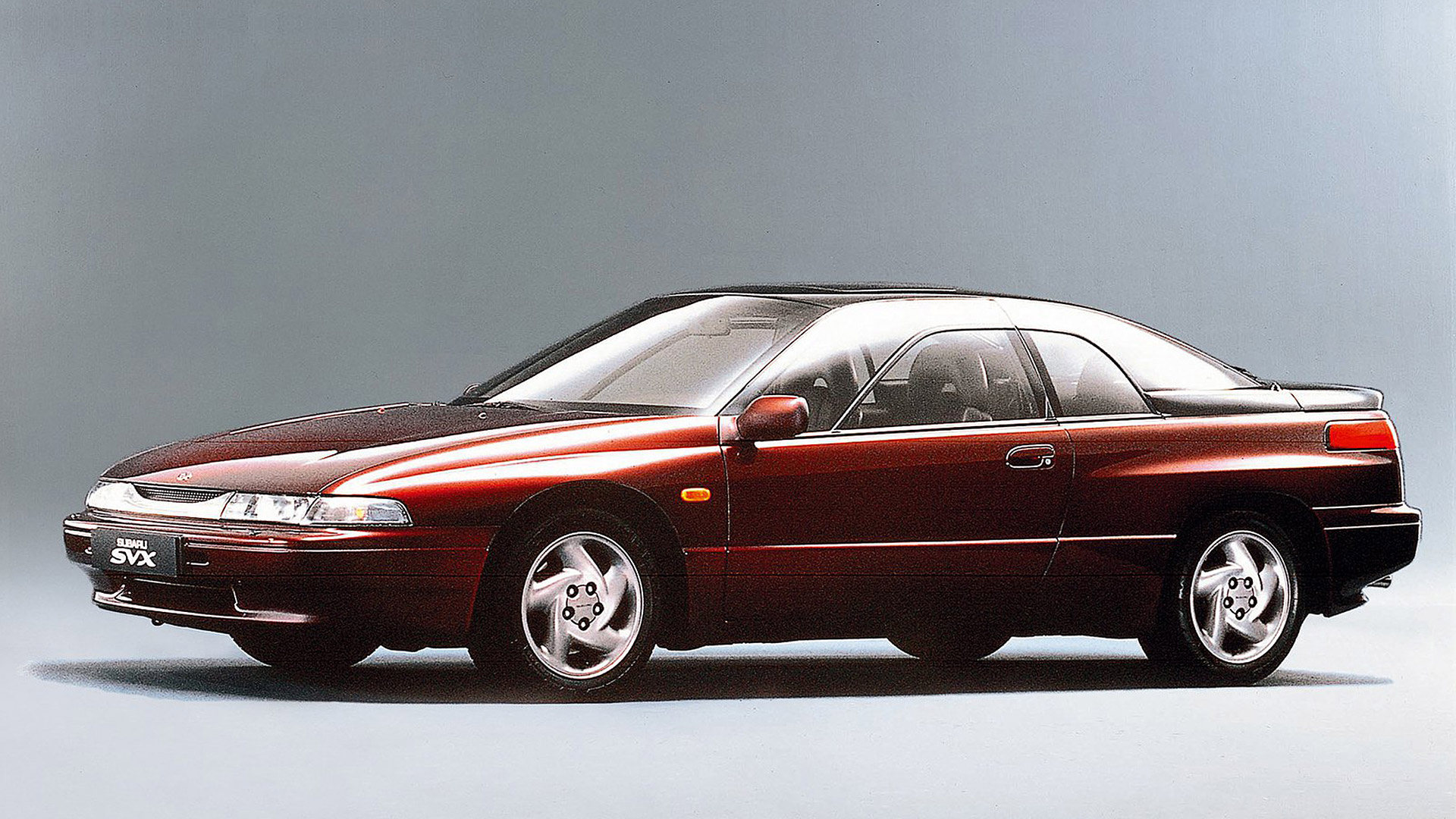 Year: 1991-1996 / Engine: Flat 6 / Power: 230 bhp @ 5400 rpm / Torque: 227.9 ft lbs @ 4400 rpm / 0 – 60 mph: 7.6 seconds / Top speed: 142.83 mph
I was on the fence about including the SVX on the list. There are just so many better sports cars from Japan during the 1990s. For some reason it just sucked me in with its unique looks, its flat six its two-tone paint and those cool windows. In this 90s era of cars like the Honda NSX and R32 GT-R the SVX is so outgunned that we aren't even going to go into pretend it compares performance wise. Ultimately, this was a big deal for Subaru, easily their most powerful car of the time. It had a cool design and unique approach.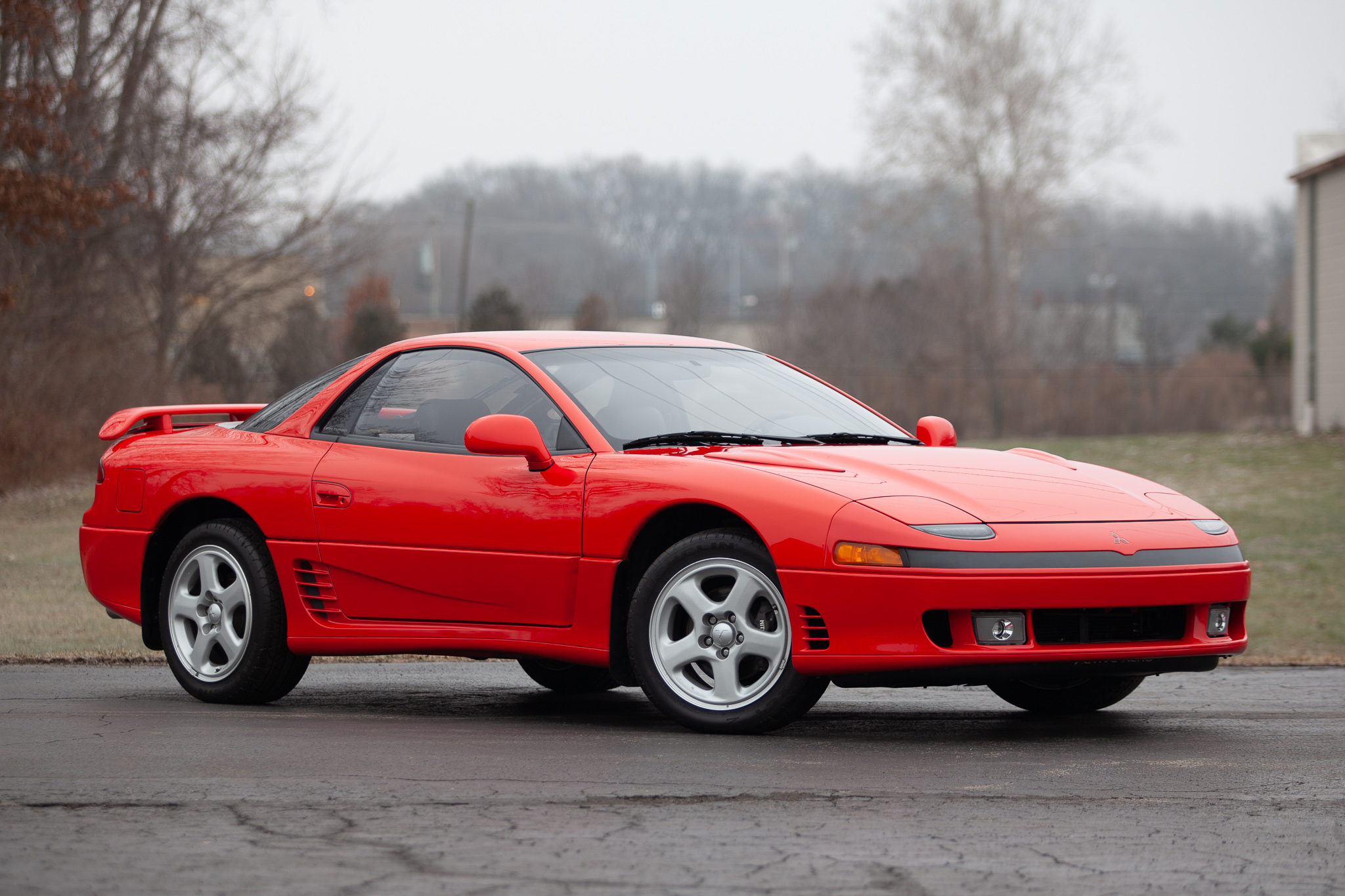 Year: 1991 – 1999 / Engine: 3 liter twin turbo V6 / Power: 320 hp at 6000 rpm / Torque: 315 lb⋅ft at 2500 rpm / 0 – 60 mph: 4.7 seconds / Top speed: 158 mph
Another car I was reluctant to add to this list is the Mitsubishi 3000GT. It sounded so great on paper with a 3 liter twin turbo V6 engine, all-wheel drive, all-wheel steering, active suspension, active exhaust and active aerodynamics. Too bad it was really heavy and that weight hurt it dynamically and commercially (especially in an era with other epic Japanese cars with none of those issues).
I once drove a 3000GT and remember being disappointed. Not surprisingly, the great mass of the car tempers its performance. The steering is heavy and relatively uncommunicative, and though its disc brakes are capable, the nose dives more than the others while entering a corner.
If we have to pick our favorite version, we would go for the VR-4. In 1999 the car received another exterior makeover, including a new aggressive front bumper, headlamps, turn signals, sail panels, and a true inverted airfoil spoiler coined the "Combat Wing" for the 1999 VR-4 to distinguish it from previous models.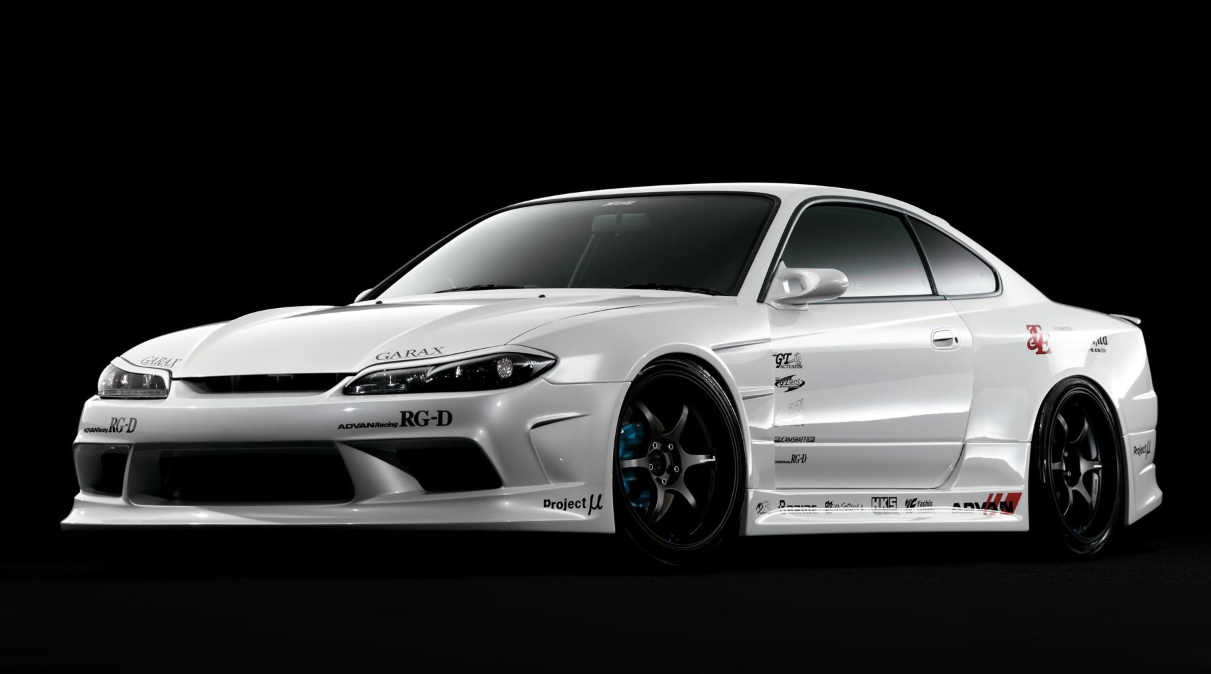 Year: 1999 / Engine: Turbo Inline-4 / Power: 247 bhp @ 6400 rpm / Torque: 202 ft lbs @ 4800 rpm / 0 – 60 mph: ~5.0 seconds / Top speed: 155.0 mph
Sold worldwide, the Nissan Silvia is best appreciated in its homeland. It is there, in the Japanese market, where Nissan has provided a 247 horsepower Silvia called the Spec-R.
To understand this 1999 Silvia Spec-R, it is important to look at the previous six generations that came before it. The Silvia range started in 1964 with the CSP311, a twin passenger coupe hand-built upon a modified Fairlady 240Z chassis. Since the bodywork was far more pedestrian than the 240Z, and performance was somewhat lacking, sales of the first generation Silvia finished at just over 500 examples..
Not until the third generation, known as the S10, did the Silvia get a foothold in the markets. Also known as the Gazelle, or 180SX for hatchback versions, this S10 sold well in Japan and abroad.
From generation three forward, the Silvia evolved with engine and styling updates: by 1983, the S12 Silvia set the standard for sports coupes in Japan by having the FJ20DET 190 horsepower engine. The following S13 generation came equipped with Nissan's HICAS four wheel steering which greatly increased the level of technology for all Silvias thereafter.
The final edition of the Silvia, the S15 was, for most parts of the world, a styling upgrade. However, in Japan, the Silvia was offered in two distinct packages: the performance orientated Spec-R and the slightly more subdued Spec-S which is similar to what shipped for export.
Learn more: Nissan Silvia Spec-R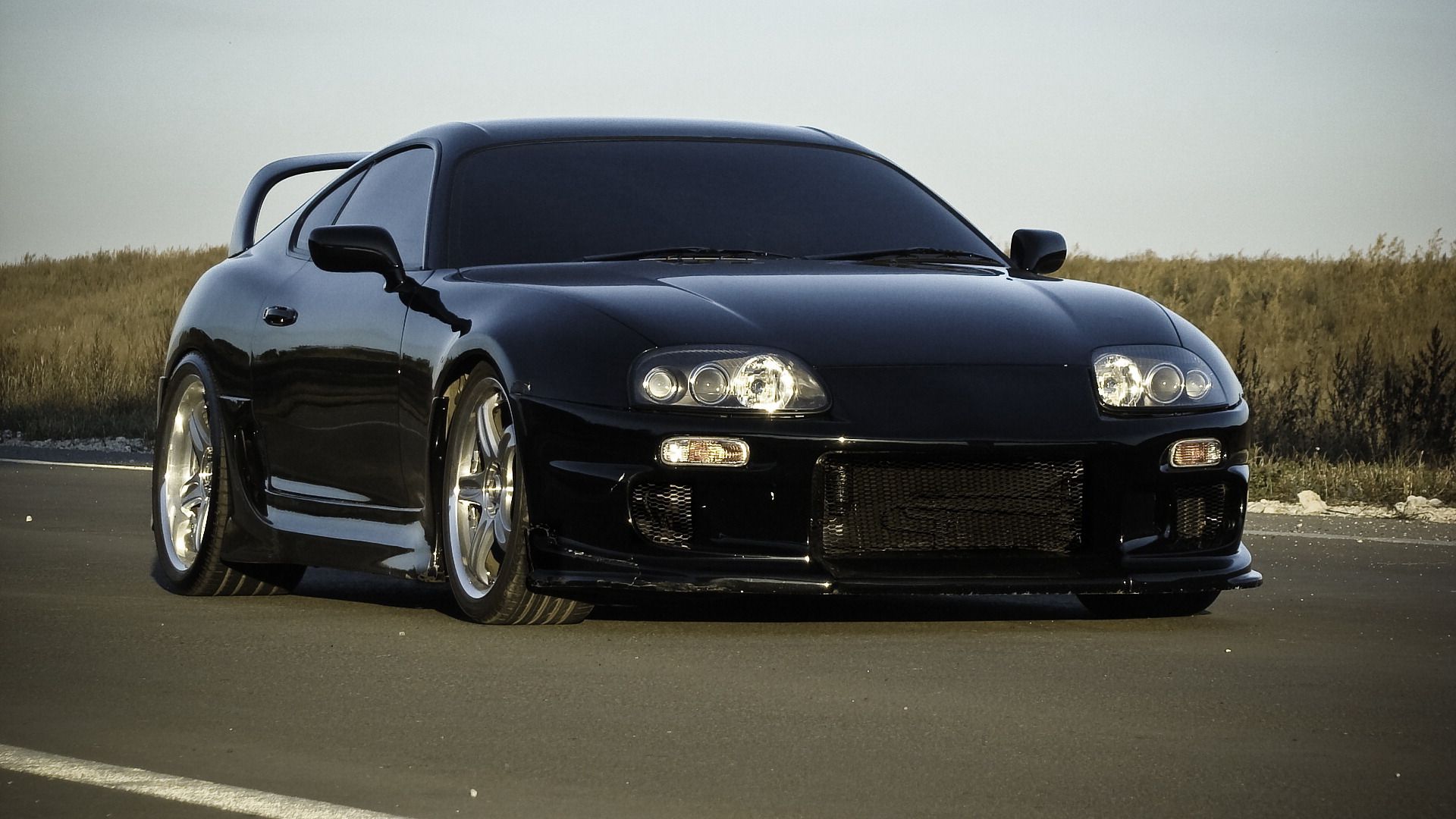 Year: 1993 / Engine: Twin Turbo Inline-6 / Power: 320.0 bhp @ 5800 rpm / Torque: 315.0 ft lbs @ 4000 rpm / 0 – 60 mph: ~5.0 seconds / Top speed: 155.0 mph
As a previous owner of the JZA80 MKIV Toyota Supra Turbo I am biased because I love this car. When the MKIV Supra was still in production, Japan was in its heyday of making sporty cars. The now legendary 3.0L twin-turbocharged 2JZ-GTE made 320 hp and 315 lb-ft of torque transferring power to the ground via 6-speed Getrag or 4-speed automatic gearbox.
Those who aim to build their MVIV Supra's into exotic slayers gravitate towards the nearly indestructible 6MT Getrag which has been known to hold over 1000 hp with the proper clutch, care, and use. The 2JZ-GTE is also just as stout, with many enthusiasts easily doubling the power on the stock long-block with less than $10k of modifications to the turbo, fueling, exhaust, ECU, and intercooler.
Learn more: Toyota Supra Turbo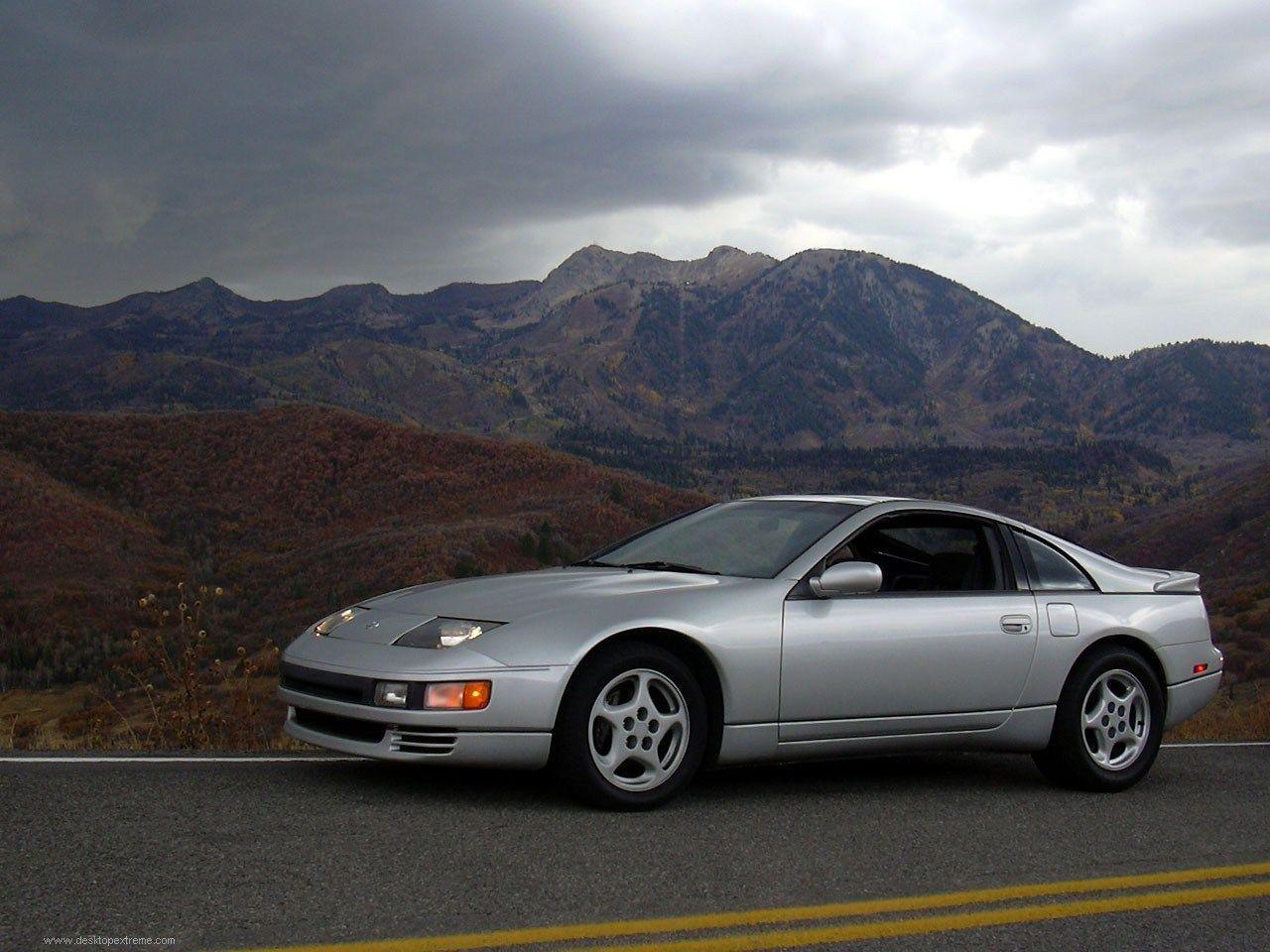 Year: 1990 / Engine: 3.0L V6 Twin Turbo / Power: 300 hp / Torque: 283.0 ft lbs @ 3600 rpm / 0 – 60 mph: ~6.5 seconds / Top speed: 155 mph
The 300ZX fought Corvettes, Porsches, Supras. The Z32 was a new design. The body was wider with a rounder profile and fewer hard edges. Twin Turbocharged Z32s also featured a then-new active rear wheel steering systems called "Super HICAS", which was actuated hydraulically until 1994 when Nissan switched to an electric actuator. The 300ZX had a 3 liter engine with dual overhead camshafts (DOHC), variable valve timing (VVT) and producing a rated 222 hp (166 kW) and 198 lb·ft (268 N·m) in naturally aspirated form. The turbo variant was upgraded with twin Garrett turbochargers and dual intercoolers producing 300 hp (224 kW; 304 PS) and 283 lb·ft (384 N·m) of torque. Performance varied from 0-60 times of 5.0-6.0 seconds depending on the source, and it had a governed top speed of 155 mph (249 km/h).
Learn more: Nissan 300ZX Twin Turbo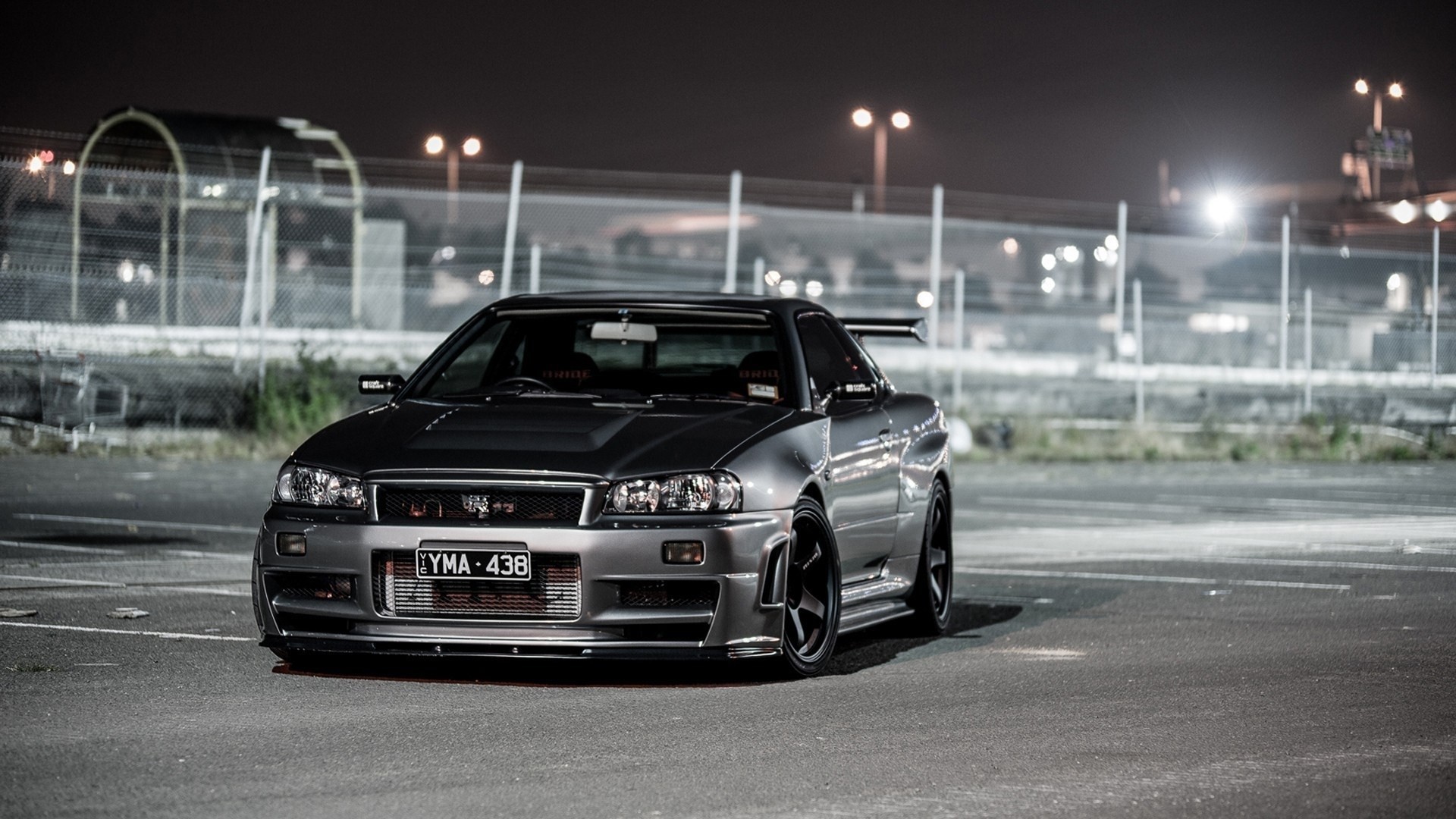 Year: 1999 / Engine: WaterCooled RB26DETT Inline-6 (twin turbo) / Power: 276 bhp @ 6800 rpm / Torque: 216.1 ft lbs @ 4400 rpm / 0 – 60 mph: ~5.2 seconds / Top speed: 155.0 mph (limited)
The Nissan Skyline GTR R34 has evolved and fine-tuned through 11 years of competitive racing and extensive testing, which has resulted in one of the best race-bred coupes on the market.
The R33 which it replaced was a great car but the R34 GTR is much more advanced in every area. Under the hood are twin ceramic intercooled turbochargers, which effectively eliminate turbo-lag. The RB26DETT in-line, 2568cc six-cylinder engine retains the 280PS at 6,800 rpm of the R33 it replaced. It also has better power delivery and more torque than it predecessor. Also the R34's body is stiffer and the aerodynamics of the car have been improved.
The R34's engine keeps the general layout of straight six-cylinder configuration with twin overhead camshafts and four-valves per cylinder and twin turbochargers. As before, the throttle chamber has six individual throttle valves (one per cylinder) isolating each engine cylinder from the rest and acting like six individual single-cylinder engines. The power is fed through a new six-speed close ratio Getrag gearbox.
Nissan's electronically controlled four-wheel drive system "ATTESA-E-TS PRO" is specifically designed for both road and racetrack use. Most other all-wheel drive systems are designed for off-road applications or rally cars. The system was designed for more high speed road use, it has a series of sensors and two centrally controlled wet multi-plate clutches to optimise torque split between the front and rear axles. It eliminates understeer and gives optimum traction and stability under acceleration, braking and cornering.
The Nissan Skyline R34 GTR has cut weight in many areas. From the light alloy wheels, which save over 7.7kg, the rear diffuser is now made from a lightweight carbon fibre. All the way to the use of light-weight audio speakers. In addition a new type of aluminium has been used for the front wings and bonnet which has saved about 1kg compared to the hoods of the previous models.
Learn more: Nissan Skyline GT-R (R34)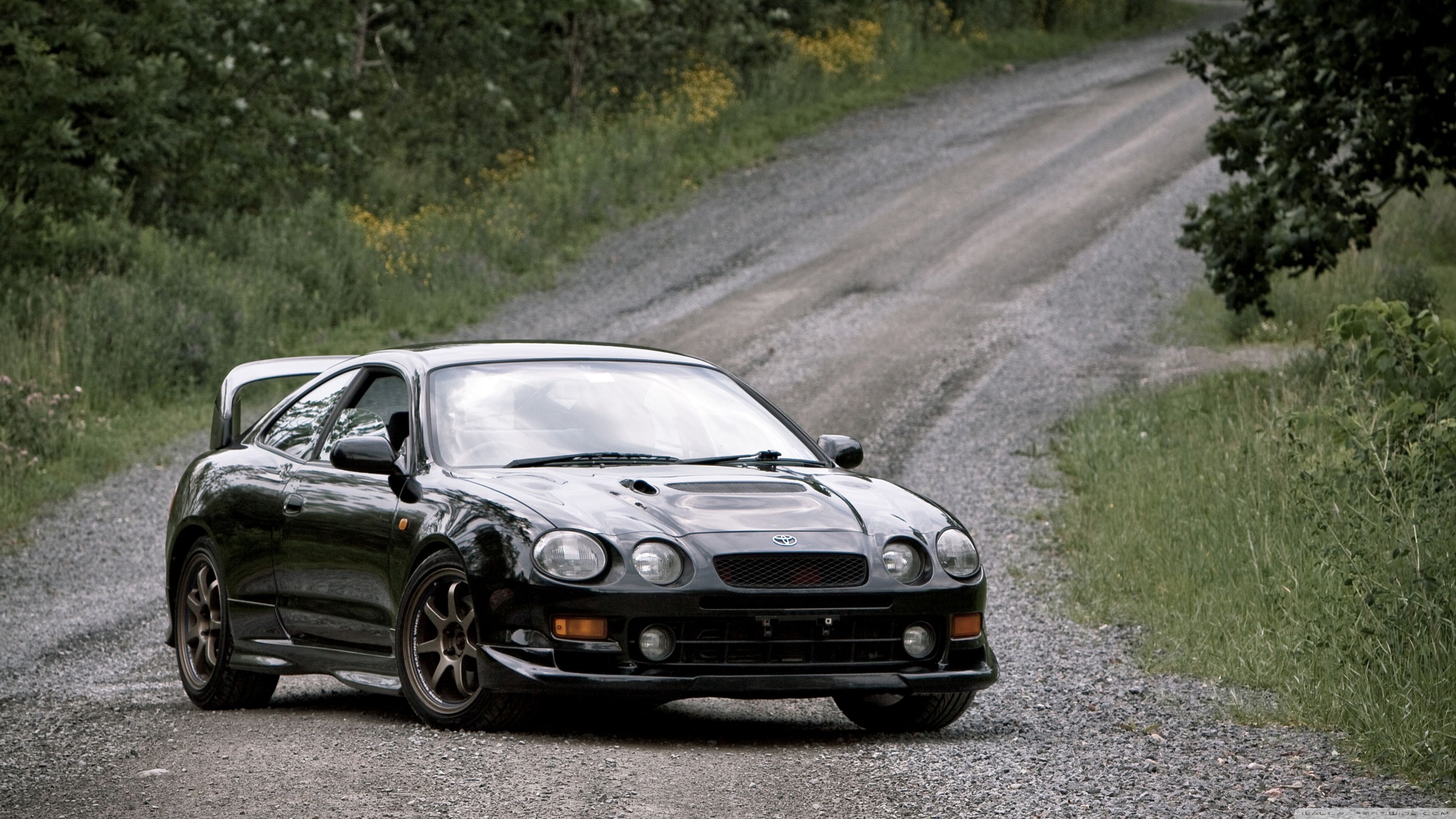 Year: 1996 / Engine: Turbo 4 cylinder / Power: 239 hp @ 6000 rpm / Torque: 223 lb-ft @ 4000 rpm / 0-60 mph: 6.3 seconds / Top Speed: 150 mph /
The Toyota Celica GT-Four was a high performance model of the Celica Liftback, with a turbocharged 3S-GTE engine, and full-time AWD. It was created to compete in the World Rally Championship, whose regulations dictate that a manufacturer must build road-going versions of the vehicle in sufficient numbers. These vehicles are referred to as "homologation special vehicles".
Learn more about the 1996 Toyota Celica GT4.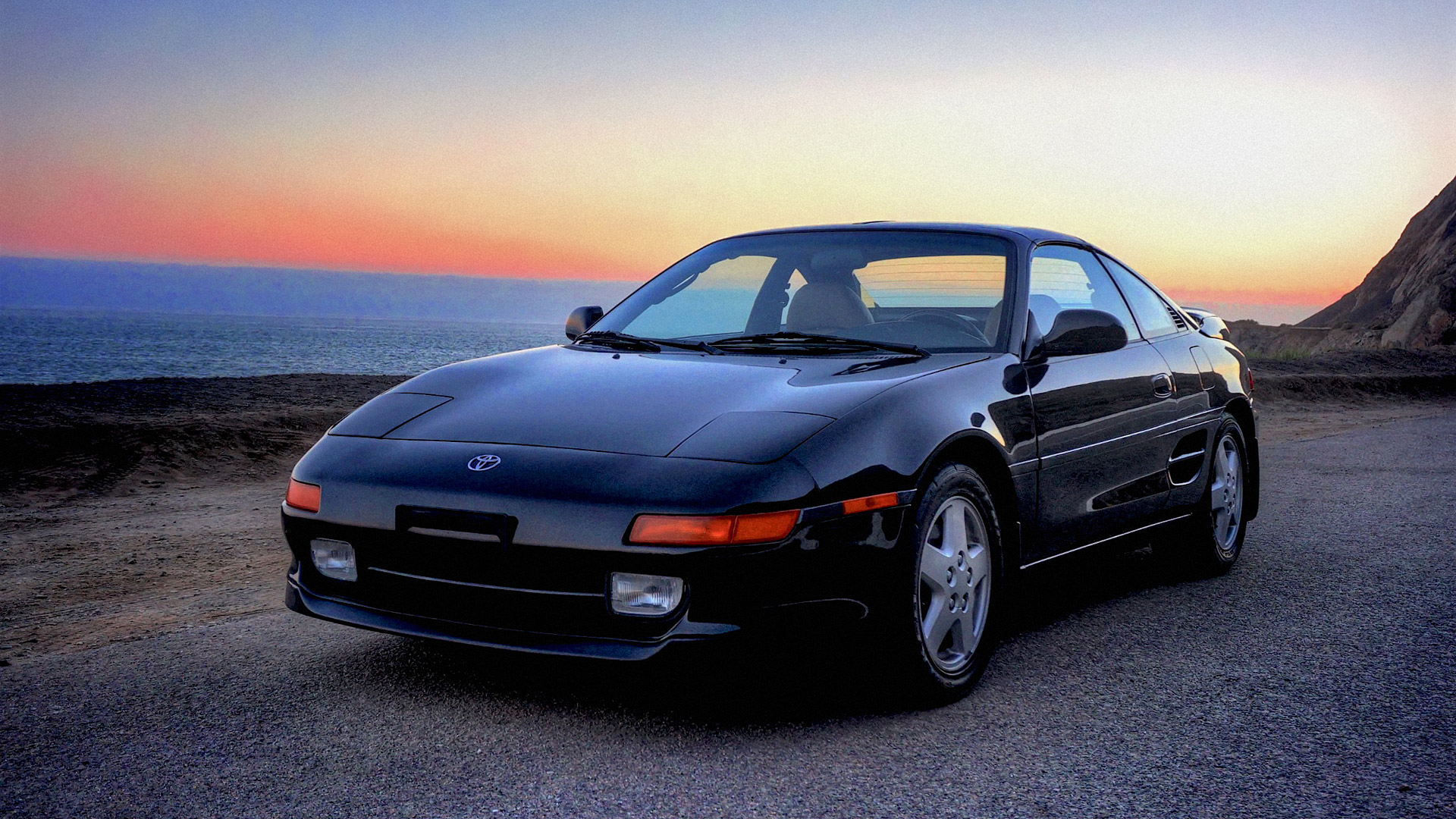 Engine: Turbocharged Inline-4 / Power: 199.9 bhp @ 6000 rpm / Torque: 200.0 ft lbs @ 3200 rpm / 0 – 60 mph: ~6.2 seconds / Top speed: 145.0 mph
When I was growing up, all I wanted was a turbo MR2. I knew enough reading car magazines in Australia that you wanted a second generation MR2 and not the first generation. It had that Ferrari 355 look about it. The second generation MR2 was better to drive too. With an upgraded suspension components and set up it just was enjoyable to drive fast. It was relatively fast in a straight line, had great feedback through the steering wheel and even gripped around corners and stayed (mostly) flat when pushed.
Motivation for the MR2 Turbo came from a 2 liter turbocharged four-cylinder engine that was good for 200 horsepower and 200 lb/ft of torque. A good old fashioned five-speed manual gearbox completed the package. The end result was a good looking, fun and pretty fast car that was unique. Nothing to complain about here, a great effort by Toyota.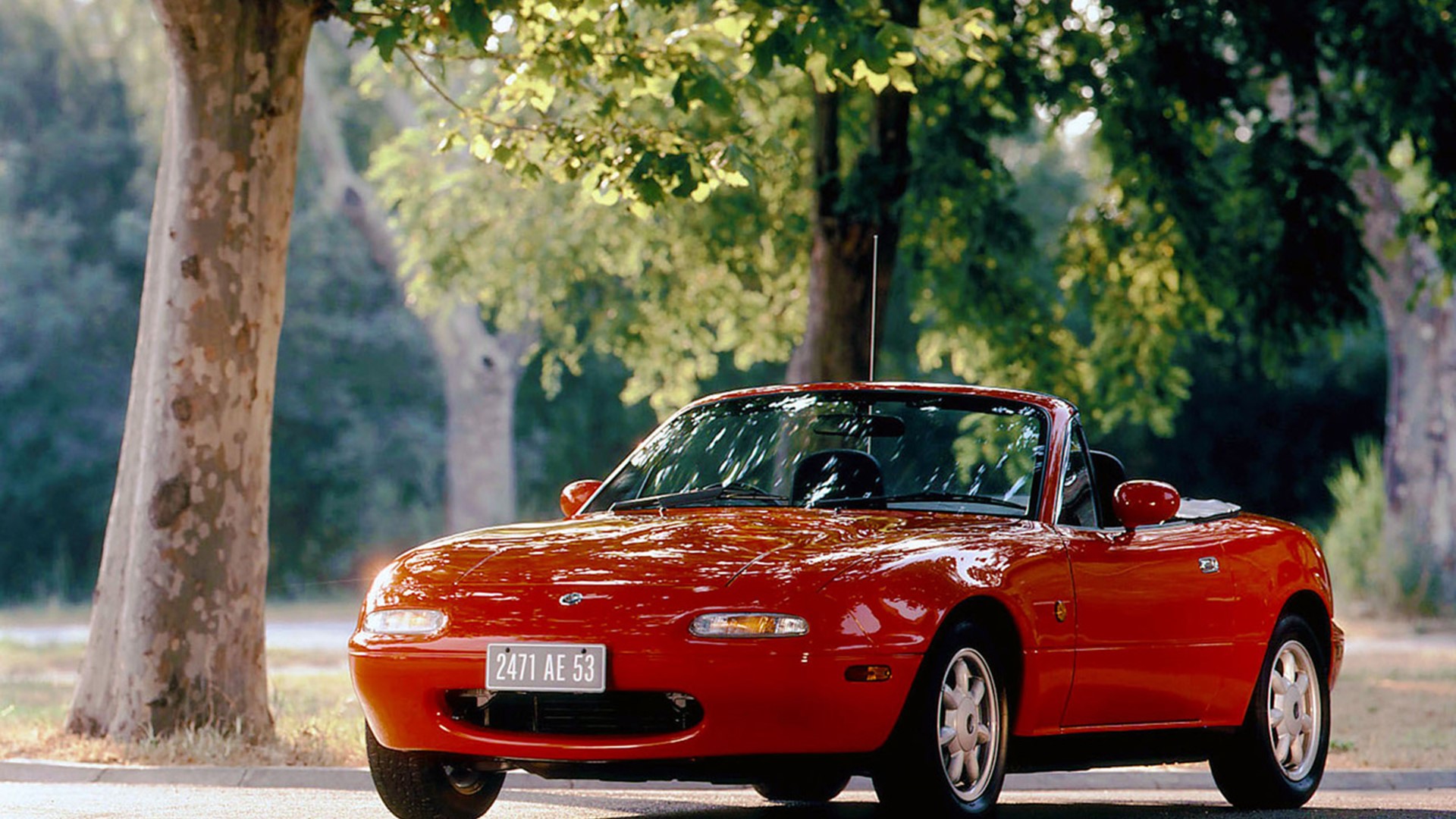 Mazda MX-5 Miata
Year: 1989–1997 / Engine: 1.6 L inline-4 / Power: 114 bhp @ 6,500 / Torque: 100 ft⋅lbf @ 5,500 / 0 – 60 mph: 8.3 seconds / Top speed: 145.0 mph
The original MX-5 Miata shook up the sports car world. It was (and still is) a lightweight, rear-wheel-drive roadster with a peppy engine, rigid chassis, manual transmission, excellent balance and perfectly weighted steering. You just get into a Miata and drive. It rewards like no other car on this list. The Miata isn't fast (and never was) and that's the beauty. It is not about speed, it is about being balanced with telepathic controls and an incredible degree of driver engagement and having to work to get the most out of the car if you want to hustle along. So refreshing.
The Miata's impact on the sports car maker goes beyond just the enjoyment for its owners and commercial success for its parent company. It drove other manufacturers to start making smaller two seat sports cars again. something. You can thank the Miata for eventually leading to cars like the BMW Z4 and the Porsche Boxster.
The first generation was basic. No real options, just motoring purity at its most basic levels. Mazda brilliantly took all the great things about old British and Italian roadsters and copied them. The car was just super fun to drive.
For the 1994 model year, a 1.8-liter engine replaced the 1.6 liter unit. We chose the original because it is the one that started it all.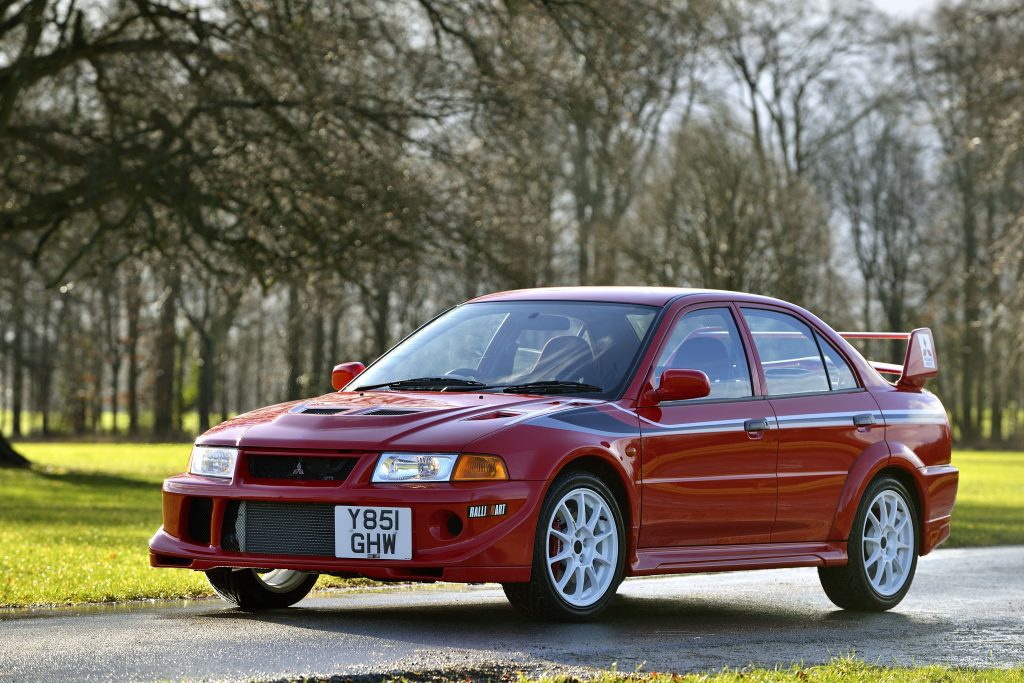 Year: 1999-2001 / Engine: 2 liter turbo inline 4 / Power: 276 hp / Torque: 275 ft lbs / 0 – 60 mph: 4.7 seconds / Top speed: 155 mph
Every generation of the Japanese performance legend should be on this list. Based on the basic Lancer these sports sedans were souped up rally beasts that could beat just about anything else on the road point to point. All of the Evo cars had two liter turbo inline four-cylinder engines and advanced all-wheel drive systems. The Evo VI is easily our favorite of the ten generations of cars. While the EVO V was a solid car, the VI focused on cooling and engine durability. It got larger intercooler, larger oil cooler, and new pistons, along with a titanium-aluminide turbine wheel. Tommi Makinen was the ultimate Evo VI version. It was largely the same as standard RS with close-ratio 5-speed, lowered ride height, Tommi Mäkinen Edition front bumper, and titanium turbine (same option with standard RS).
We think EVO magazine put it best: "You just can't help but get on the throttle earlier and earlier, revelling in the way the chassis adjusts its balance under power, making the rear wheels ease round to follow the fronts. We sometimes talk about a car pivoting around a point as though a stake has been driven through its roof – in the Mitsubishi that pivotal stake feels as though it's permanently shifting fore and aft as you move through a corner…the Evo VI Makinen hasn't been eclipsed by Evos VII to X, and 20 years down the line I think we'll still be bewitched by the way its Active Yaw Control deals with a turbo spooling up halfway through a tricky third-gear left-hander. If you want a bargain, buy blue, black, white or silver, but if you want an icon to make sure it's red with stripes."
Learn more: 1994 Evo II, 1995 Evo III, 1997 Evo IV, 1998 Evo V
Year: 1993-1995 / Engine: 13B 2-Rotor Wankel (twin turbo) / Power: 255 bhp @ 6500 rpm / Torque: 217 ft lbs @ 5000 rpm / 0 – 60 mph: ~4.9 seconds / Top speed: 155.3 mph
The third generation RX-7 was only sold in the U.S. and Canada for three years despite a Japanese production from 1992–2002. These were produced in the sixth series and had a body called the JM1FD. All cars had the 252 hp 13B-REW engine with twin oil-coolers, an electric sunroof, cruise control and the rear storage bins in place of the back seats.
The 3rd generation RX7 was unveiled at the 1991 Tokyo Motor Show and appeared on North American shores two years later. The car's reduced weight put it below the Acura NSX, MR2, Nissan 300ZX and the second generation RX7. This was achieved by a systematic analysis of every component which resulted in a lighter harness, muffler, glass and oil cooler.
That 225 horsepower always being on tap and mixed with the exceptional handling cemented the RX-7 as a no-compromise sports car and one of the best-balanced cars of all time.
Learn more: Mazda RX7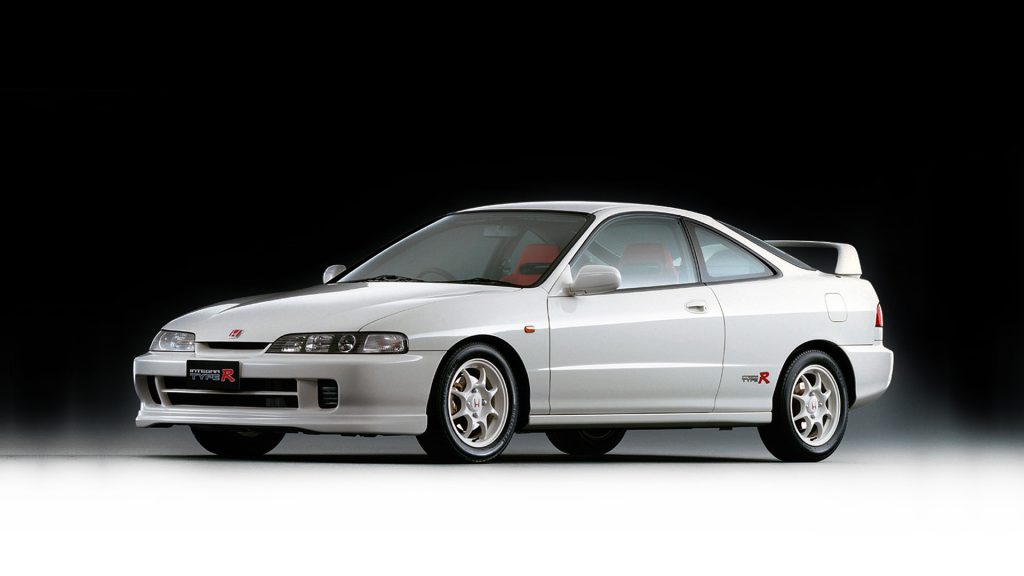 Honda Integra Type R
Year: 1997 – 2001 / Engine: 1.8-liter DOHC VTEC in-line 4-cylinder / Power: 195 hp @ 8,000 rpm / Torque: 130 ft lbs @ at 5,700 rpm / 0 – 60 mph: 6.5 seconds / Top speed: 145 mph
The front-wheel drive Type R was one of the sweetest driving and most exciting cars of the 1990s. It had a 1.8-liter four-cylinder VTEC engine that was hand built to produce nearly 200 horsepower. It was the way that it created that 200 horsepower that we remember best. Car & Drive summed up the best: "When the Type R's tach hits 5700 rpm (or even less, depending on throttle position), the VTEC system switches over from Dr. Jekyll to Mr. Hyde with an audible blare, and the engine sets about scaling its 195-horsepower peak at 8000 rpm with alacrity. Yes, that's almost 200 hp from a 1797cc engine, but before you reach for that calculator, we can tell you that it works out to a specific output of 108.5 horses per liter. The fabulous Ferrari F355 produces just 107.3 horses per liter from its five-valve V-8".
And that in a nutshell is what we loved most about The Honda Integra Type R and Japanese sports cars of the 1990s, they were able to do things that the exotics did but at 1/10th the cost. We love that about the 90s.
The Honda Integra Type R was more than just that engine though. Other performance enhancements include a close-ratio five-speed manual transmission, the addition of a limited-slip differential so both front tires pull their weight, larger anti-lock brakes, larger sway bars, and additional body bracing to reduce body flex for improved handling. Most reviewers still consider the Type R as the best-handling front-wheel-drive car of all time."
Year: 1990 – 1994 / Engine: 2 liter turbo inline 4 / Power: 227 bhp / Torque: 209.5 ft lbs / 0 – 60 mph: ~5.42 seconds / Top speed: 165 mph
The N14 series also saw the introduction of the Nissan Pulsar GTI-R three-door hatchback (badged as Sunny GTI-R in Europe). This was a homologation variant produced between 1990 and 1994 in order to enter the WRC under Group A rules at that time. It featured the turbocharged 2.0-liter SR20DET engine producing 227 hp and 210 lb·ft. The body is largely the same as the standard N14 three-door model, but distinguished by the large rear wing and bonnet scoop.
It has an ATTESA all-wheel drive system and a unique variant of the SR20DET engine (not used on any other car). With a power-to-weight ratio of 0.083 and AWD, the standard GTI-R is able to accelerate from 0–100 kph in the 5 second bracket, and cover the standing quarter mile in the 13 second bracket.
Learn more: Nissan Pulsar GTi-R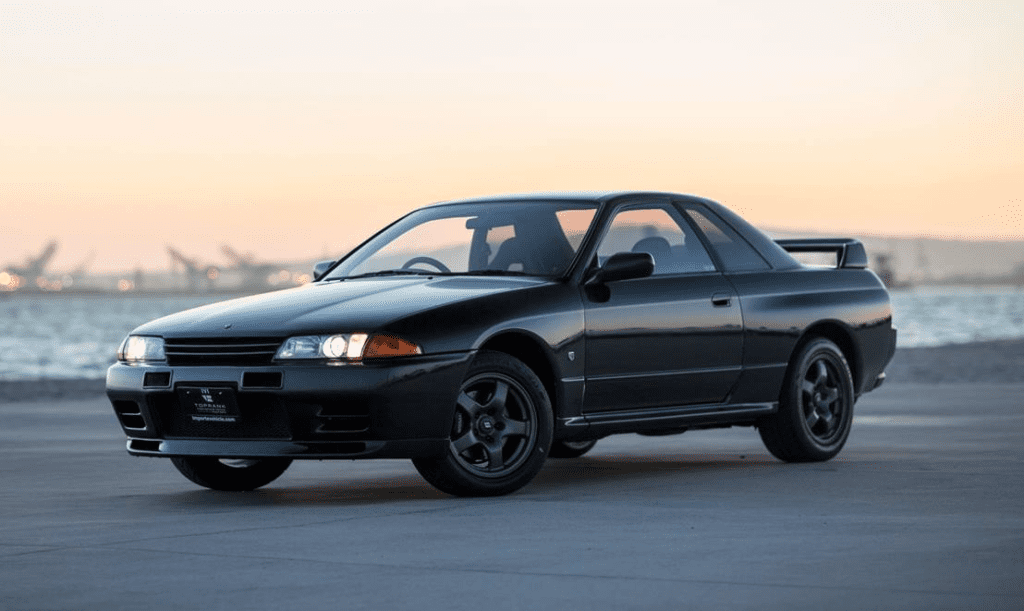 Power: 276 bhp @ 6800 rpm / Torque: 260 lb/ft @ 4400 rpm / 0-60 mph: 5.6 seconds / Top Speed: 156 mph
Most car geeks (and a good many non-car geeks) are familiar with the current Nissan GT-R, but how did Nissan settle on the AWD, twin-turbo six-cylinder formula? Well, it actually started in 1989 with the R32-chassis Skyline GT-R, the first Skyline GT-R since the fastback "Kenmeri" GT-R of the early 1970s. Thanks to a gentlemen's agreement among Japanese automakers, the 2.6L twin-turbo straight-six was officially rated at 276hp, but the real number was more like 320hp. Couple that with AWD, all-wheel-steering and a beefed-up 5-speed manual transmission and it's no surprise the first modern GT-R dominated the national touring car championships in both Japan and Australia. In fact, it was Australia that gave it the nickname Godzilla (which has been applied to all GT-Rs since), but it wasn't necessarily a term of endearment: After the GT-R of Aussie Mark Skaife and Kiwi Jim Richards romped to the win in the 1992 Bathurst 1000, they were greeted by a chorus of boos from the legions of Holden and Ford partisans. And rather than ignoring the crowd's dissatisfaction or attempting to make peace with it, Richards (in)famously retaliated by calling the spectator mob "a pack of arseholes" (though in his defense he had just been told that his friend and countryman Denny Hulme had died of a heart attack while driving a BMW M3 in the race).
Learn more about the 1990 Nissan Skyline GT-R (R32).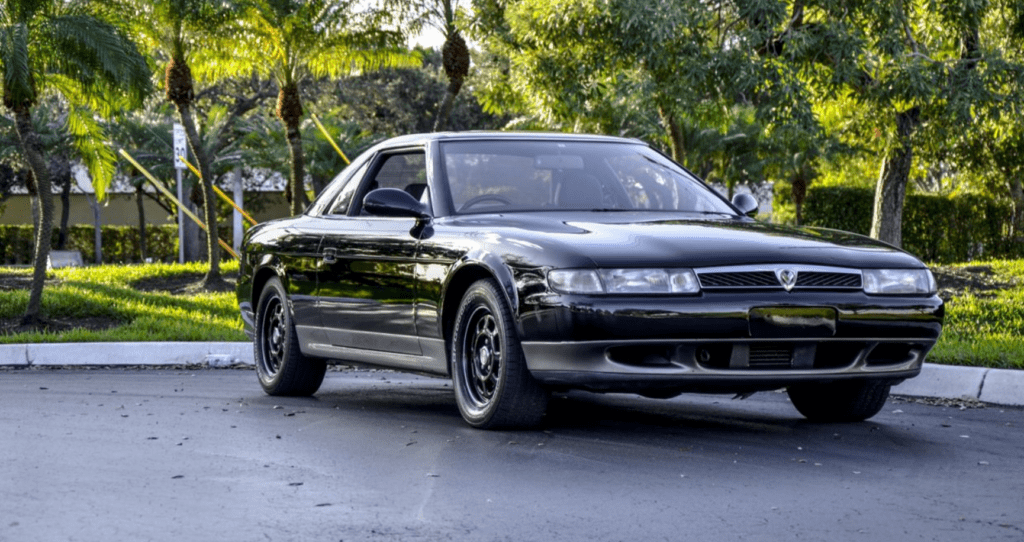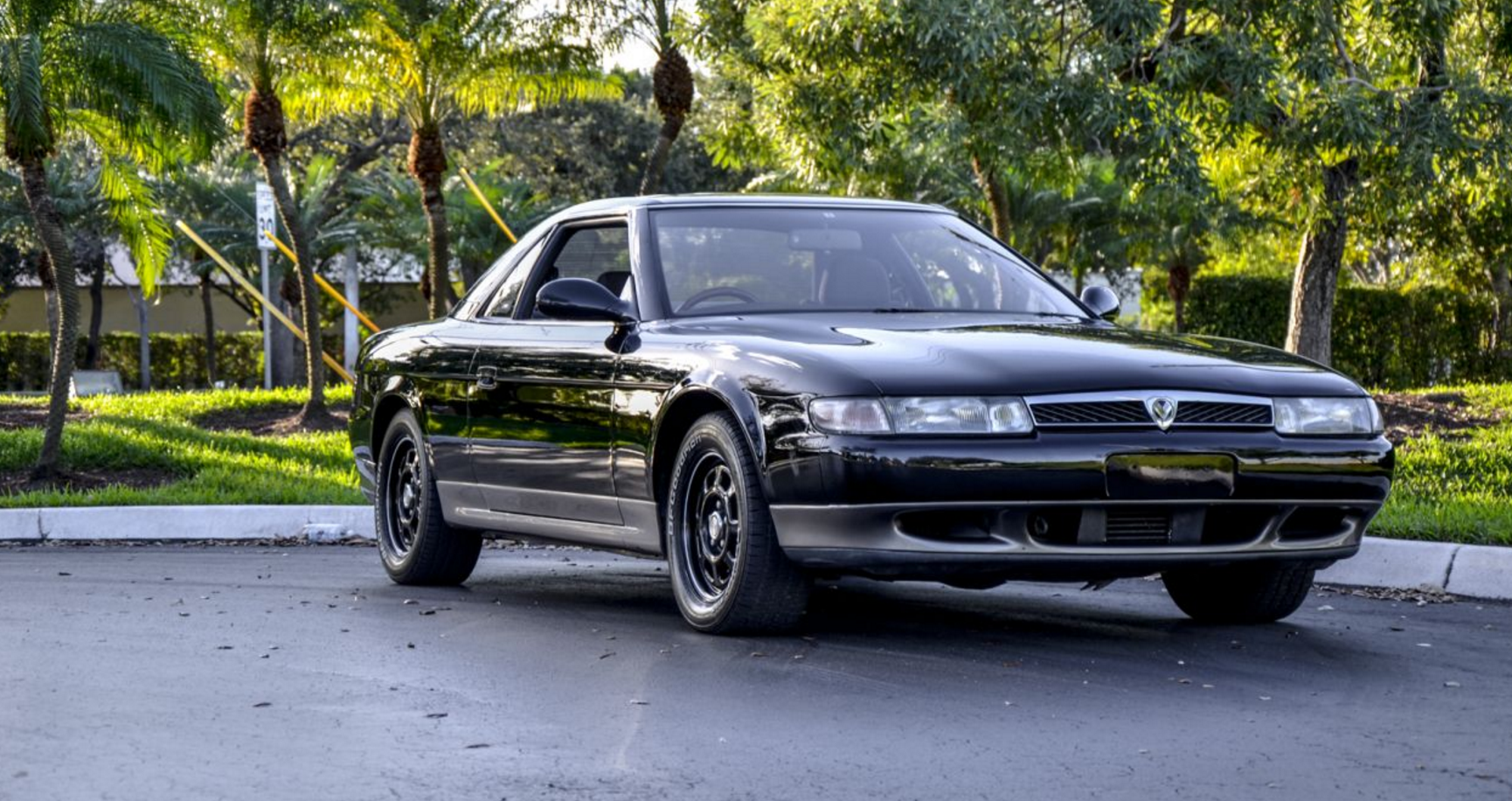 With the fourth and final generation of Cosmos of 1990, Mazda had incorporated all of its trademark rotary engine technologies with a twist. The Cosmos was the first and only Mazda equipped with a triple-rotor engine with twin-turbocharging. Two displacements of 1.3 (230 hp) or 2.0 were available. The larger engine featured a two stage turbocharger that boosted power to 280. Turbo lag, a common trait from the era was eliminated with a sequential boost system similar to what the late Toyota Supra had, but years before it popularized the concept.
The Eunos was such a technology tour de force that many of its goodies would be incorporated in future Mazdas as well as becoming commonplace years later. Although the exterior may not have excited many, the interior was much more inspiring. A curved dash with flowing lines was very much the model of ergonomics best practices, circa 1990.
Learn more: Eunos Cosmo
---
Best 90s American Sports Cars
If you loved speed in the United States, then the 1960s and 1970s was a great time to be alive. Massive V8 engines and scorching straight line performance were the norm. Emissions and other regulations would curtail things in the 1980s and would create tough times for American performance car fans. Towards the end of the decade things started to turn around and by the 1990s things were back to being exciting.
The pinnacle of the 1990s sports car scene in the United States was the Dodge Viper GTS. The GTS delivered 450 HP which was 35 HP more than the 1995 roadster version. The rest of the best included a stable of Corvette or Mustang cars that were great performers. The rest of the American cars are "ok" and a best described as regular cars with a massive V8 added.
Here are the best 90s American cars.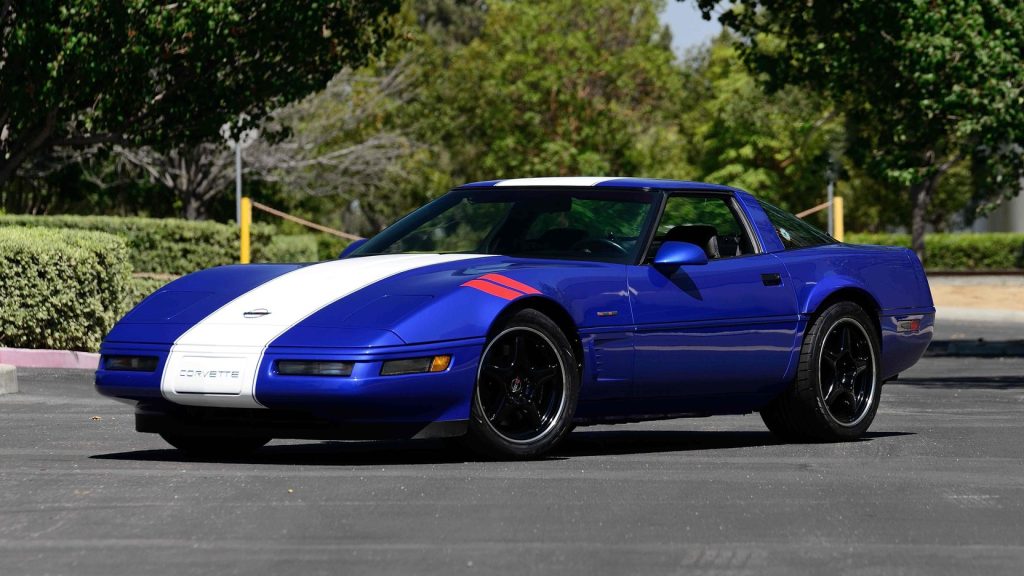 Year: 1996 / Engine: 5.7 liter V-8 / Power: 330.0 bhp @ 5800 rpm / Torque: 339.9 ft lbs @ 4500 rpm / 0-60 mph: 5.2 seconds / Top Speed: 164.9 mph
The limited-edition Grand Sport was a fitting end to the C4 Corvette. The Grand Sport package included exclusive Admiral Blue paint and featured a single white stripe that ran the length of the body as well as two red accent stripes on the driver side front fender. Unlike the ZR-1, which showcased a wider backend, the Grand Sport featured rear fender flares to cover the wider back tires.
The Grand Sport's interior upholstery was offered either in an all black or a sporty red/black combination, and all of the Grand Sport interiors featured a specialized embroidered headrest which featured the Grand Sport emblem. All Grand Sports –both coupes and convertibles- were equipped with a six speed manual transmission. Likewise, all Grand Sports were equipped with the newly revised LT4 5.7 liter small-block V-8 engine. When ordered with the Grand Sport model, the engine received a special "dress" kit that included bright red paint and red ignition wires. In all, Chevy built 1,000 Grand Sports, and each was given a special, sequential serial number.
Learn more: Chevrolet Corvette Grand Sport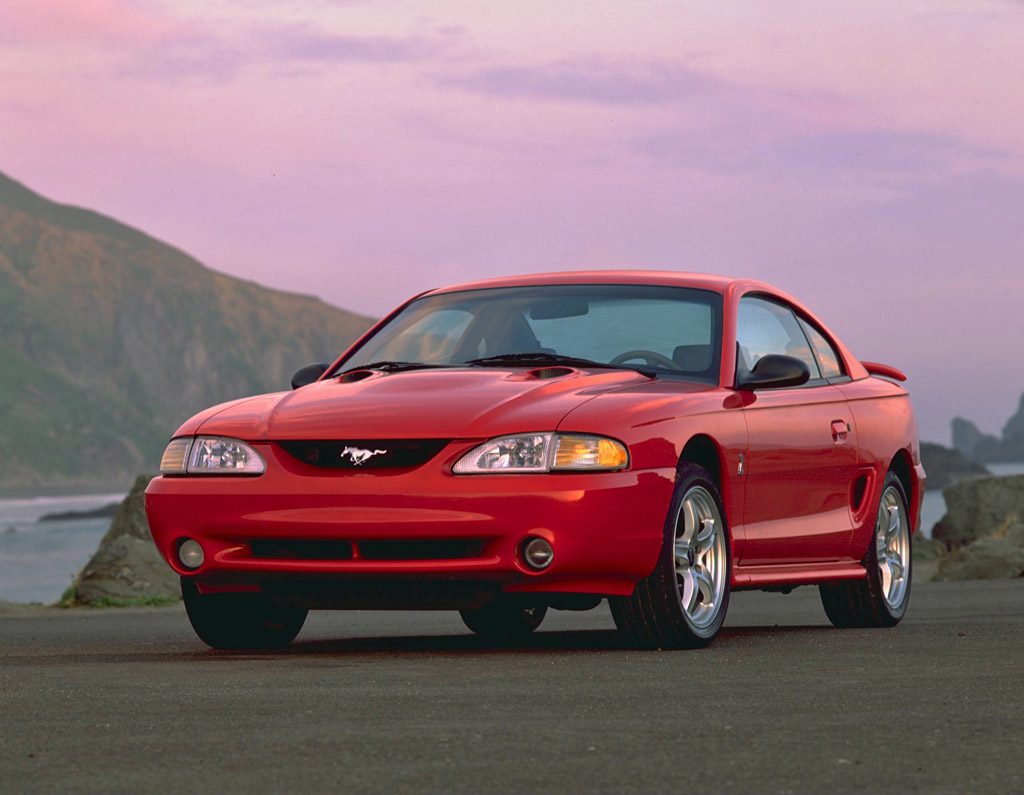 Year: 1994 / Engine: 5 liter Naturally Aspirated V8 / Power: 240 bhp @ 4800 rpm / Torque: 285 ft lbs @ 4000 rpm / 0 – 60 mph: ~6.3 seconds / Top speed: 140.0 mph
Re-establishing the Mustang as a performance vehicle, the Mustang Cobra was produced by Ford's Special Vehicle Team. This SVT Cobra is highly reminiscent of the 1983 Ford Mustang SVO which was developed by Ford's Special Vehicle Operations.
Like the SVO ,the SVT is an upgraded version of what the regular Mustang should be. Necessary horsepower and suspension components help the Cobra keep pace with other sports cars of the period. During the year it was released, the Cobra was the official pace car of the Indianapolis 500.
Learn more: Ford Mustang SVT Cobra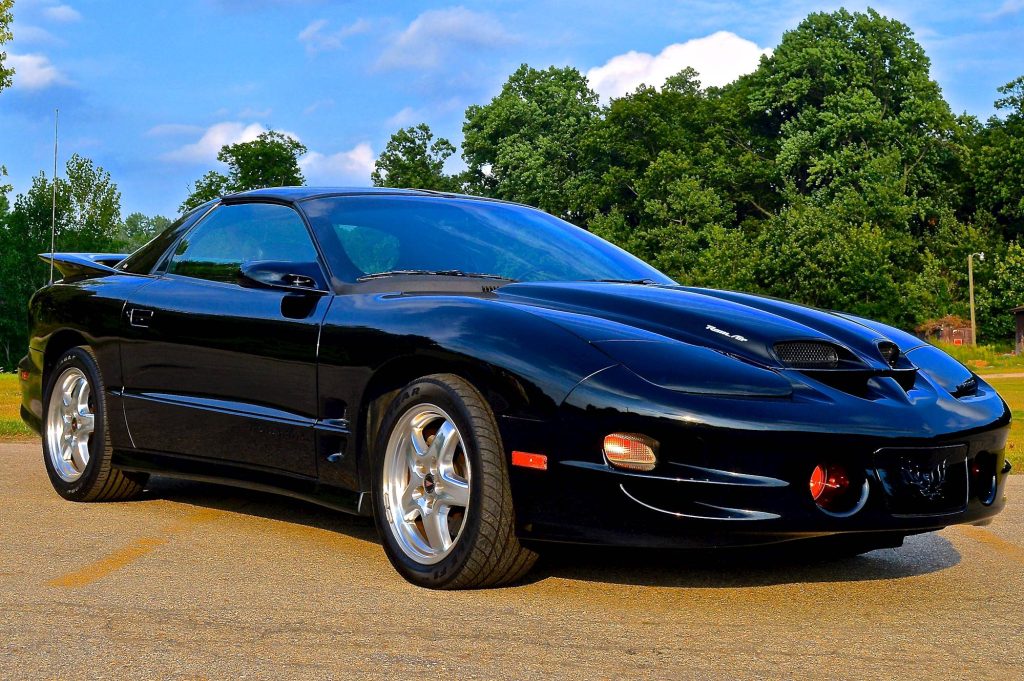 Pontiac Firebird Trans Am
The fourth generation of the GM F-Body platform debuted in 1993 with the brand new Camaro and Firebird. The new model brought much-needed modernization to the Firebird range. Most importantly for performance car fans was that the Trans Am returned with the powerful LT1 V8 engine with 5.7-liters of displacement and 285 HP. The engine was the same as in the Corvette of similar vintage.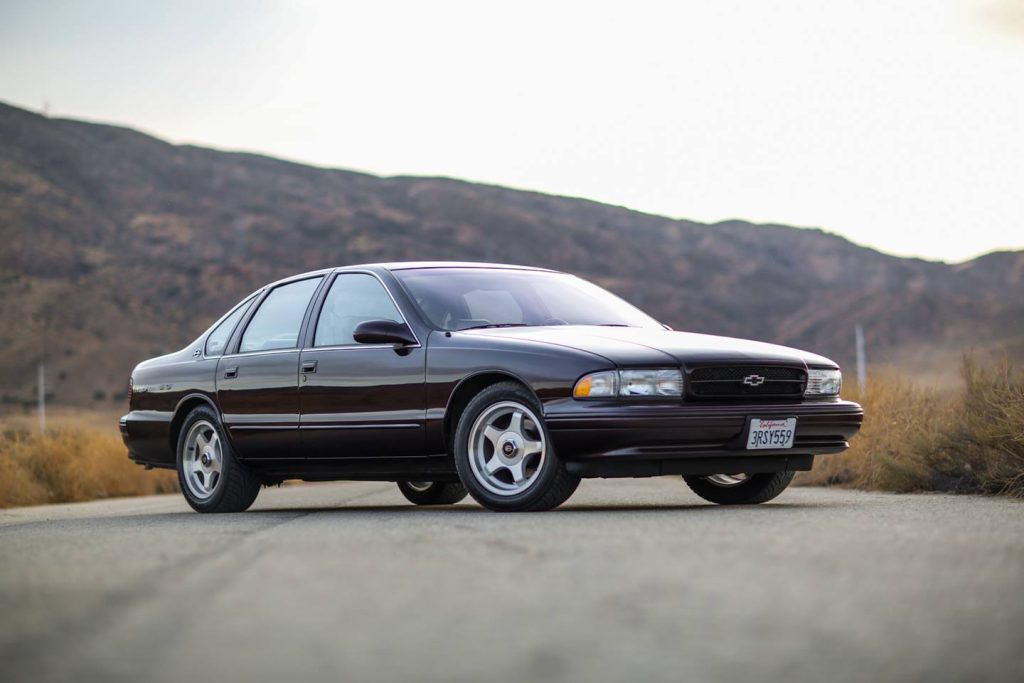 Chevrolet Impala SS
The Impala SS name was resurrected it in 1994 as an option on the seventh generation of this Impala. Since the early 90's marked the return to performance for most American manufacturers, Chevy installed the famous 5.7-liter LT1 V8 engine in the full-size rear wheel drive sedan. They also added a heavy-duty suspension and updated components to create this modern-day muscle legend. For two years, Chevrolet produced almost 70,000 Impala SS models in several colors, with dark purple being the most popular hue. The engine delivered 260 HP and propelled this big sedan to 0 to 60 mph time of 7 seconds. Not exactly spectacular numbers, but for the mid-90's, those were impressive results.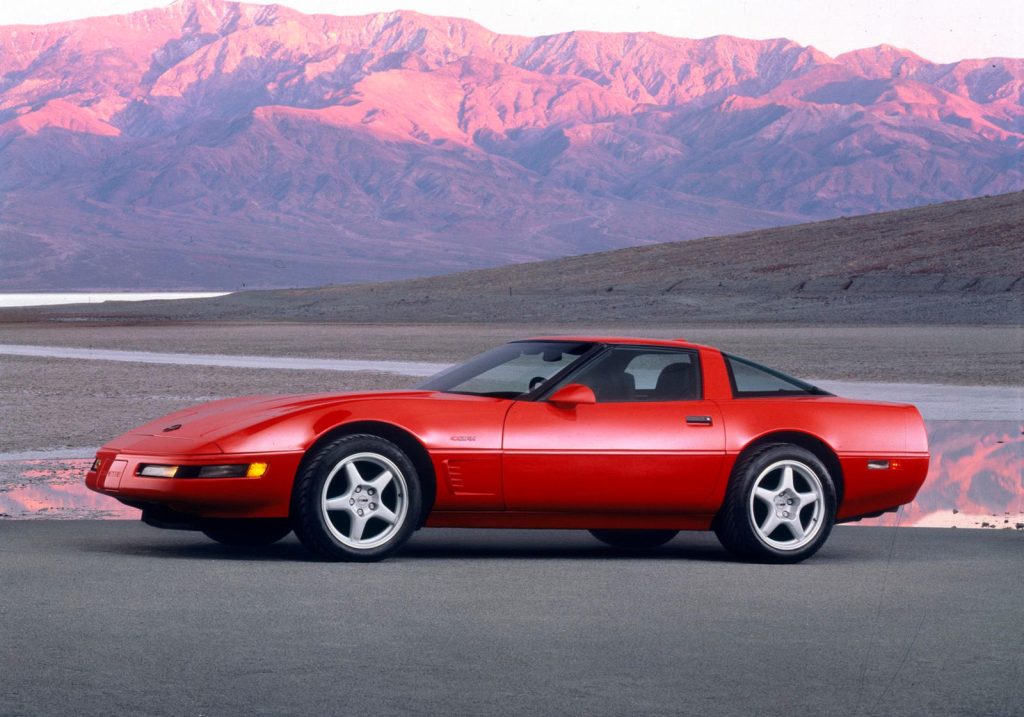 Corvette ZR1
While the C4 generation Corvette languishes for the most part in the bargain bin of classified adverts, the ZR1 is a sought-after gem. After toying with the idea of turbocharging the existing V8, the decision was taken to develop an overhead camshaft engine.
The now legendary LT5 was born with 375 hp and helped build one of GM's finest cars to date. It's not an overstatement to say the C4 Corvette ZR1 could play with Ferraris that cost double to drive off of the showroom floor. When Chevrolet introduced the ZR-1, it brought back the confidence in American performance cars. The Chevrolet engineers knew the C4 chassis had enormous potential, so they were looking for ways to improve its power and performance.
The Corvette ZR1 could accelerate from 0 to 60 mph in 4.5 seconds.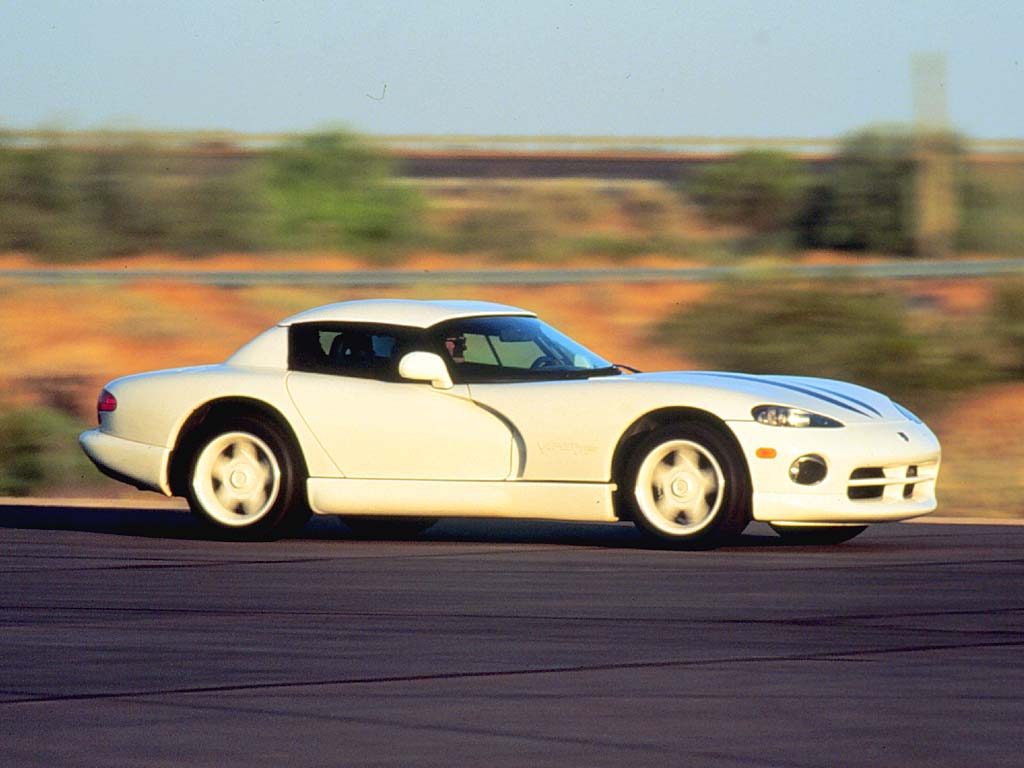 Year: 1996-2002 / Engine: Naturally aspirated 8 liter V10 / Power: 415 bhp @ 5200 rpm / Torque: 488 ft lbs @ 3600 rpm 0-60 mph: 4.7 seconds / Top Speed: 170 mph
Some might not consider the original Dodge Viper a supercar, but at the time of its release it was a revelation with its aggressive looks and insane 8-liter V10 engine. The 1996 RT/10 could be referred to as a second generation Viper and it featured a host of upgrades over earlier Vipers produced from 1992 to 1995. It was a much better car. Outwardly the main difference to the 1996 Viper was the absence of side exhausts which were replaced with two standard exhausts exiting the rear. The three spoke wheels were also gone and replaced with 5-spoke counterparts. Inside, the cabin remained largely unchanged, but a removable roof was standard as was sliding plastic panels for the windows. Underneath, the chassis was stiffened, suspension geometry revised and a more robust rear differential was installed.
Our pick of the 1990s Viper's was the GTS which was launched in 1996. It was a more powerful version of the RT/10 with 450 hp and a new double bubble coupe body. Beyond more power though, the GTS had over 90% new parts compared to the RT/10. In 1997 and 1998 model years the Viper would continue to receive minor updates and the GTS would get second-generation airbags, revised exhaust manifolds, and a revised camshaft for 1997, and the RT/10 would gain a power increase up to 450 hp (336 kW; 456 PS) for 1998.
Read more: Dodge Viper RT/10 'Phase II SR'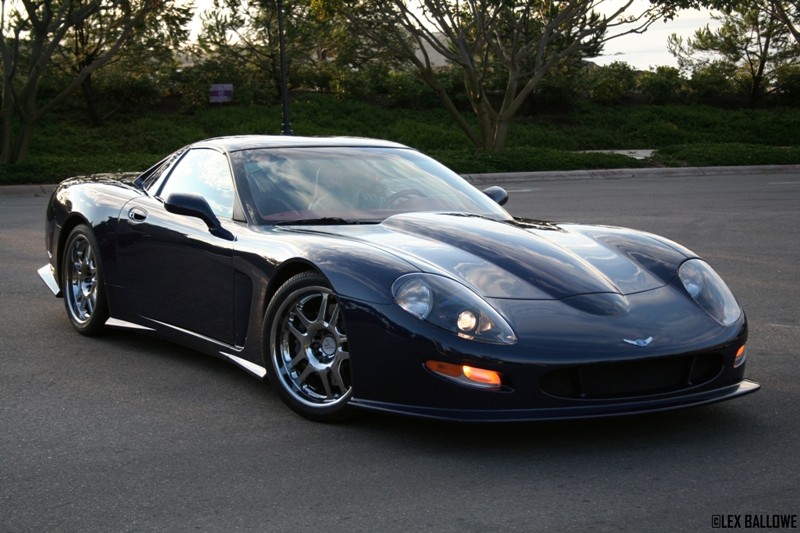 Callaway has built a firm reputation for producing some of the most sophisticated and advanced Corvette-based automobiles. Introduced in 1998, Callaway's C12 continued this proud legacy. Designed, developed and constructed by two top German engineering and development companies, Callaway and IVM, the C12 was intended as a bespoke, high-performance car that offered its occupants a civilized interior and relaxed ride.
The Callaway C12 serial number is the same as a standard production Corvette, but the C12 is in no way standard. With aerodynamic bodywork fabricated from fiberglass, carbon fiber and Kevlar™, a massaged aluminum V-8 engine, heavily revised suspension, enormous disc brakes and a thoughtfully upgraded interior, the Callaway C12 is a custom-built American supercar. It is so different from its Corvette base that cars sent to Europe were titled as Callaways. Very few of these exclusive cars were made, as most were custom-made to the specifications of the clients.
Learn more: Callaway C12 Corvette