McLaren UK presents GT by MSO; four exquisite and highly limited production specifications for the McLaren GT that have been created exclusively for the UK market. Each design will be limited to just two cars, ensuring a high level of rarity for these exclusive editions of McLaren's Grand Tourer. Each creation offers a unique specification, with color and material combinations not previously seen on the McLaren GT.
The design and materials team at McLaren Special Operations (MSO) – McLaren's in-house personalization service – created unique new interior features for the GT in tribute to the UK market. Each GT by MSO features new diamond-pattern quilted stitching in body color on the backrest and the seat base, which is combined with an MSO logo on the seat headrests. Taking inspiration from our 60th anniversary and British heritage, each model has a debossed 'Union Jack' flag design, on the armrest and key fob – an elegant homage to our home market.
Four striking and vibrant exterior paint colors make their debut on the GT by MSO, with color-coded brake calipers matching the paints chosen for the bodywork. GT by MSO is available in four exterior colors. Cerulean Blue is an MSO Bespoke paint originally developed for the McLaren P1™, the first McLaren Ultimate model. A popular option with MSO customers, it is a rich, blue metallic with bright pearlescent tones that highlight the GT's muscular lines.
XP Green was produced by MSO as an homage to the iconic McLaren F1. Dark green metallic shades are synonymous with prototype versions of the F1 road car, and this particular green is matched to the shade of the F1 XP GT 'Longtail' prototype from 1997, created to homologate an evolution of the Le Mans 24 Hours-winning F1 GTR.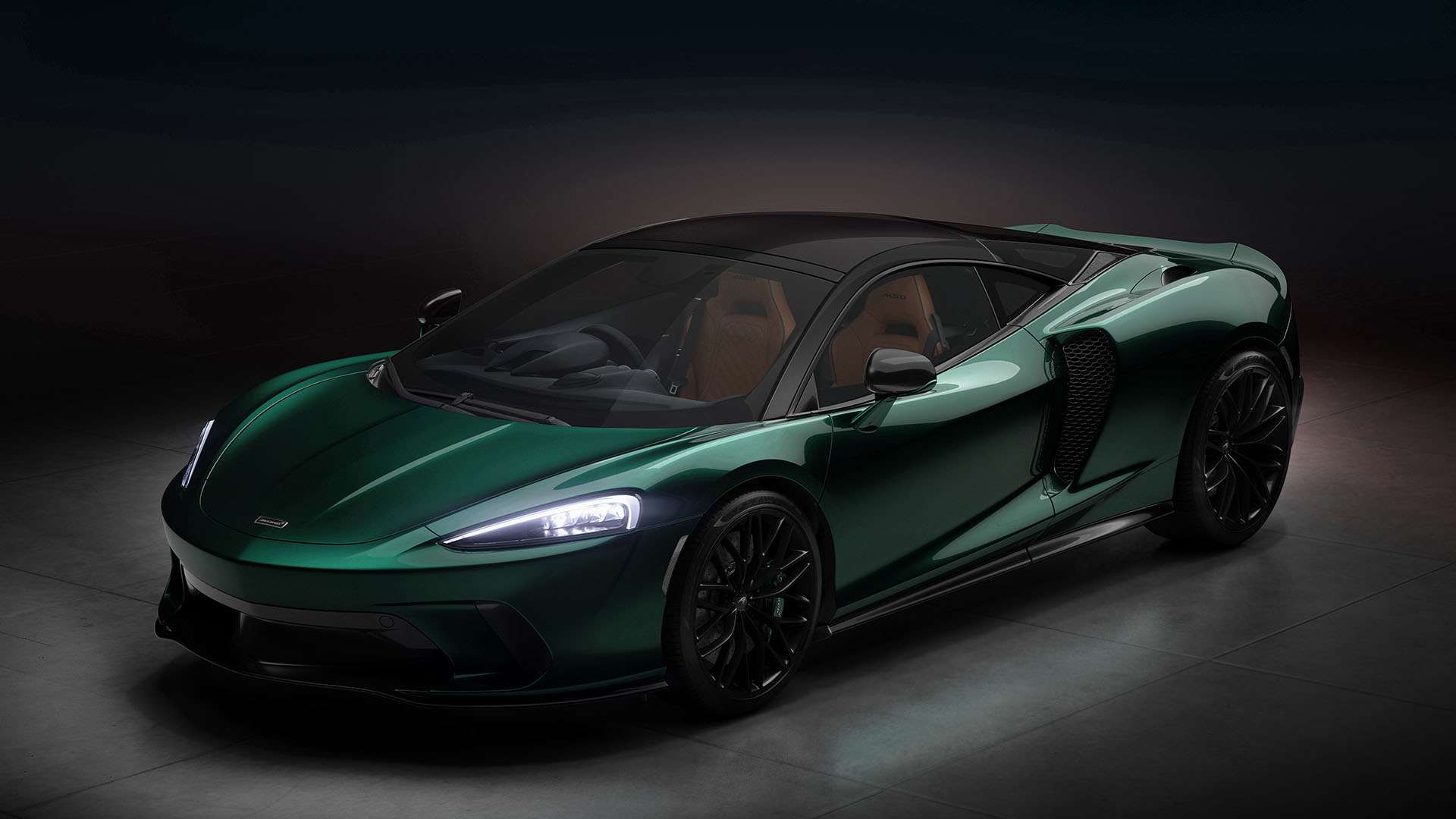 Synonymous with the launch of Speedtail, Sarigan Quartz is the color of Speedtail XP2, the development car that hit a maximum speed in excess of 250mph more than 30 times during high-speed testing at the Johnny Bohmer Proving Grounds at Kennedy Space Centre, Florida, USA. The color of the fastest McLaren road car ever built is worn here by the GT for the very first time.
An entirely new color, named Cyber Yellow, has been developed by MSO for this project. An evolution of the popular Volcano Yellow paint option with a modified pearlescent coat, when viewed in a certain light, the paint showcases a bright, silver, and white sparkle effect.
All versions of the GT by MSO come equipped with the MSO Black Pack as standard. This includes Gloss Black Door Mirror Casings, Gloss Black Exterior Upper Window Surround, and Gloss Black Exhaust Finishers. The usually optional 10 Twin-Spoke Lightweight Forged Alloy wheel design is also included – in Gloss Black finish – and the roof is also painted Gloss Black.
"The GT remains a milestone car for McLaren, and GT by MSO is the perfect way to pay tribute to its position as the everyday McLaren for the UK. Its combination of lightweight, carbon fiber supercar design and performance with versatile grand touring abilities are now celebrated in a way like never before, and exclusively for our home market." Nick Crossley, Market Director – United Kingdom, McLaren Automotive