1950s Cars – The Fabulous '50s Cars
The 1950s cars became lower, longer, and wider. The early 1950s saw the rise of chrome on cars, as an increasingly opulent society flourished in the United States. Many of the automobiles of the time were designed by stylists who took their influence from the transport industry in general and therefore used ideas from both planes and trains prevailing during that time.
The 1950s saw U.S. auto production exceeded that of Great Britain, France, Japan, Sweden and all other nations put together several times over, and Ford and GM – both of which produced their 50 millionth vehicle in the 1950s – posted healthy profits. The long pent up demand for cars caused by the Depression and World War II exploded into an irrational excess in the decade of the '50's. Tailpins and chromes was the norm and that design was the brainchild of Harley Earl. The "fabulous fifties" also saw some of the most beautiful and some of the most outlandish cars ever made.
With the advent of the jet age in the 1950's came technological and design breakthroughs in the automobile. One of those was the speed with which the automobile, despite complicated compound curves and forms, could be manufactured. The jet set lifestyle had captured the hearts of the American public and car designers of the time exploited this fascination to turn out ordinarily plain-looking family cars to come out with wings, turbines and afterburner tail lights.
Automobile Model List (1950 - 1959)
The 1950s Cars U.S Car Makers
The 1950s cars from the U.S car makers got better during the great post-war years. Radical designs were the norm, as was the addition of new luxury items in automobiles.
1950s U.S Cars
The 1957 Chevrolet Bel Air and the Ford Fairlane 500 Skyliner of 1959 showed by just name the extent to which designers looked to the skies.
However this trend ended abruptly with the 1959 Cadillac Series 62. With fins over 1 ft high and twin bullet lenses protruding rearwards, the 1959 Caddy was every bit a design icon and easily rates among the top five of all-time American classics. Two outstanding 1950s cars were: Ford's Thunderbird and Chevrolet's Corvette.
Again the two companies were fighting for the same market which was huge and the competition didn't affect those two manufacturers' bottom line. Those two outstanding cars provided enough competition to European car manufacturers like Ferrari (now owned by Fiat) and Jaguar.
Among the Big-Three automakers of the early 1950s, none was considered duller than ultra-conservative Chrysler Corporations's 1950s cars. Among Chrysler's 1950s cars , few were more plain and practical than those of the company's low-cost division, Plymouth. Occupying a niche that catered to sensible car buyers who favored solid engineering and low price over design, Plymouth had a devoted following in the 6 years immediately following World War II.
But as the 1950s progressed, public taste had changed and automobile buyers increasingly demanded flashier, more powerful 1950s cars. Plymouth responded in kind with the introduction of flamboyantly restyled 50s cars. These brash tail-finned 1950s cars almost immediately raised Plymouth's stature from dowdy to dramatic, giving rival models a serious run.
By the late 1950s, demand for Plymouth automobiles was sustained and heightened with the introduction of Fury model in 1957 which catered to youthful, style-conscious buyers.
The Henry J motorcar introduced by Henry J. Kaiser and his son Edgar has a four-cylinder engine and gets 25 miles per gallon. A six-cylinder engine will be introduced as an option, but the car costs nearly $2,000, Americans who want compacts prefer Volkwagens, and although some 127,000 Henry Js will be sold, the make will be discontinued in 1954. The larger Kaiser make will expire in 1955.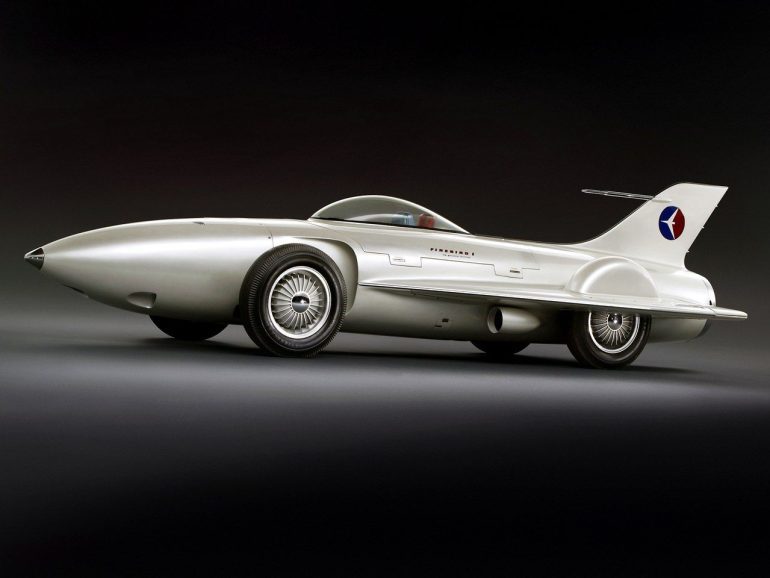 Tailfins, V-8'S, Etcetera…
The '48 Cadillac had small, attractive fin-like curves on its rear fenders to house its taillights. GM styling boss Harley Earl said he was inspired by the P-38, a twin-fuselage World War II fighter plane.
The tailfins were a trademark feature of 1950's cars and before it ran its course in the decade, it remains to this day the defining feature of one of the most curious styling fads in the history of the automobile .
Late in the preceding decade, Chrysler took a wrong turn. It went for the old-fashioned virtues of solid construction, lots of headroom, functional styling. In short, the '49 Plymouths, Dodges, DeSotos and Chryslers' cars were excellent, but dull. Ford, which had lost the No. 2 sales position to Chrysler Corp. in the '30s, passed Chrysler in 1950. Chrysler was made permanently a smaller factor in the U.S. market after those comfortable, but stodgy '49 models.
The other makers followed during the '50s with their own high-compression V-8s, but GM built a strong sales lead during those years when it not only had the automatic transmission all alone, but the high-compression V-8 also.
Packard built its last truly elegant design from '48 to '50, then it went modern, then weird, then under. Studebaker looked to aircraft for inspiration and came up with its famous bullet-nosed 1950s cars. Very attractive in Starlite coupe form, resolutely odd as four-door sedans. For '53, Studebaker unveiled a classic coupe. It was one of the most beautiful 1950s cars, both in its standard form and as the European-looking Hawk, but Studebaker would not survive the '60s.
The expensive model changes were bleeding it, as they did Kaiser-Frazer, Packard, and Willys. With GM in the lead, 1950s cars got bigger, more luxurious and more powerful through the '50s. But they also became more reliable, safer and easier to drive. The American car of the '50s was probably the best for the money in the world. Critics labeled Detroit's products "insolent chariots," but the public loved them. In 1949, new-car sales of more than 4.8 million finally topped the old record set in pre-crash 1929 by almost a million units. In 1955, sales approached 7.2 million.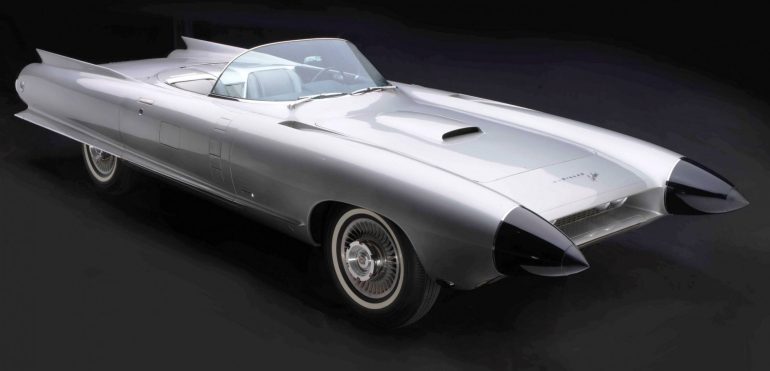 Cadillac, A 1950s Outstanding Car
For most people, the name Cadillac evokes images of the finned, chromed, and gadget-laden "Fabulous Fifties" models. The car pictured above embodied the extravagant, gadget-laden 1950s cars. These Caddys proved that America was emerging unscathed from the war and to the contrary, demonstrated a new-found prosperity which found expression in its cars. The Jet Age had spawned technologically advanced automobiles parked in new, sprouting suburban neighborhoods.
It was a time when Cadillac ownership conferred instant status as a symbol of wealth and achievement. Elvis Presley owned a Cadillac. So did captains of industry, Hollywood big-shots, and even the common worker who saved enough.
No other luxury-car brand had this power in the public consciousness: not Lincoln, not Chrysler's Imperial, and certainly not Packard, which quickly lost steam after 1958. And though Lincoln and Imperial would mount occasional challenges, neither came close to eclipsing Cadillac's 1950s car sales or prestige. For four decades starting from 1950, Cadillac had no serious competition in the U.S. market.
In an intriguing forecast of far-distant developments, Cadillac displayed several two-seat idea 1950s cars. The Le Mans above which looked much like a production 1954 Eldorado on a trimmer, 115-inch wheelbase. That same dimension served the 1954 Cadillac El Camino coupe and 1959 Cadillac La Espada convertible, which previewed 1955 Cadillac production-model styling.
Wildest of all was the 1959 Cadillac Cyclone (pictured), a rocketlike fantasy with a 104-inch wheelbase, all-independent suspension, unit construction, and a clear-plastic "bubble" top. The canopy was coated inside with vaporized silver to resist the sun's rays, and slid away as the door was opened. And those doors were electrically operated sliding types, as on modern minivans.
Cyclone was one last hurrah from GM design chief Harley Earl, who retired in 1958. His successor was longtime understudy Bill Mitchell, who would return Cadillac to more dignified styling in the '60s. The futuristic 1959 Cadillac Cyclone show car had a bubble top and doors that opened electronically.
What Happened To Edsel?
On September 4, 1957 the Edsel made its debut in showrooms across the country. The launch came on the heels of an extensive, expensive and exceptionally successful marketing campaign that had everybody talking about this mysterious 1950s cars. When September 4th rolled around consumers flocked to the dealerships in record numbers. For a day or so Edsel executives were thrilled—until they realized that people weren't buying , they were only coming to look.
The public thought there was something radically new coming out. But it was really just another 1958 [model] car, just like other 1950s cars. It had more gizmos and gadgets on it but it wasn't anything that lived up to the hype. With early sales of these 1950s cars unexpectedly sluggish, Edsel executives began to worry. Even generally positive reviews from the media weren't enough to placate their fears.
The origins of the Edsel can be traced back to 1948 when Ford decided it needed another line to compete against General Motors. After all, GM had Chevrolet, Oldsmobile, Pontiac, Buick and Cadillac — a family of 1950s cars where one could start out with an economical Chevy and progress up the line to a Cadillac. Similarly, Chrysler had Plymouth, Dodge, DeSoto, Chrysler and Imperial. Ford, however, was limited to Ford, Mercury and Lincoln, and was distressed that consumers were stepping outside the family between Ford and Mercury.
The high sales expectations became an issue when the economy slumped. The projection was that 200,000 1950s cars would be produced the first year. That would have represented about five percent of the total market, which was not too outrageous. However, 1958 was a very bad year for the automobile industry. Only two 1950s cars — the Ford Thunderbird and a compact called the Rambler American — saw an increase over their 1957 production.
Compounding this problem was the fact that Edsel pushed its biggest, most luxurious and expensive model first—a tough sell against end-of-year specials in a recession year.
Without an established customer base it's no surprise Edsel sold only 64,000 units in its first year. Ultimately, a reputation for mechanical problems preceded these 1950s cars. The Edsel's quality control issues were compounded by mechanics' unfamiliarity with the car's state-of-the-art technology. The most vexing problem was its automatic Tele-touch transmission, whereby the driver selected the gears by pushing buttons on the center of the steering wheel. "It was a pretty complicated system for its time and mechanics didn't know how to fix it like they did other 1950s cars.
Design flaws also created issues for Edsel owners. Even the hood ornament became a safety hazard. Forty-five years later many people assume that the car's name played a major role in its downfall. These 1950s cars never got a footing in the tough US car market.
Death Throes Then Going 6 Feet Under
But the 1950s and '60s were also a shaking out period for the manufacturers. Ten car companies became four. The casualties included Studebaker, Nash, Kaiser-Frazer, Hudson, Packard, Willys and Crosley.
The strategy conceived by Alfred P. Sloan and perfected by General Motors President Harlow Curtice in the '50s was working. Sloan introduced the concept of "dynamic obsolescence" and annual model changes in the late '20s and early '30s as a way to increase demand for new cars to higher levels. It also raised the expenditure and smaller companies found it harder and harder to compete with big automakers with deep pockets.
The sales of luxury vehicles began to decline near the end of the 1940's and continued into the 1950's. This hurt Packard production and sales for their high-end luxury 1950s cars declined considerably. Packard's 1950s cars were built so well that they lasted for a very long time. So Packard did not have very many repeat customers because their customers did not need to purchase another vehicle. The president of Nash Motors, Mr. George Mason, had approached Packard about a merger during the early 1950s. He believed that the days of independent car manufacturers were soon to be gone. Packard was reluctant and thought otherwise.
1954 was another bad industry for the luxury car market and Nash Motors merged with the Hudson Motor Car, forming American Motors. In 1952 James Nance was elected president and general manager of Packard. In 1954, Nance merged Packard with Studebaker in an effort to diverse their product line and stimulate sales for both struggling companies. Studebaker had a larger network of dealers, a potential benefit for Packard. Unfortunately, Studebaker sales dipped dramatically and this ultimately hurt Packard more than it helped.
World War II and the Korean War had come and gone. This meant their entire defense contracts had ceased, ending nearly half a billion dollars in income. In 1953 Chrysler bought Briggs Manufacturing, the producer of Packard bodies. Packard was forced to find another company to produce their bodies. None was found and Packard formed a temporary deal in 1955 with Chrysler to have them produce their bodies.
Hudson and Nash had merged into American Motors and Studebaker and Packard had joined forces. Soon Hudson and Nash both disappeared, replaced by Rambler, and the once proud name of Packard was affixed to some of the strangest-looking 1950s cars from Studebakers ever made. Both Packard and Studebaker were doomed.
By June of 1956, production of Packard automobiles ceased. Production of the Packard model names continued for a few years but was adorned with Studebaker nameplates. By 1959 this style had ended and only the Studebaker name prevailed. In the early 1960's the Avanti and Lark were able to make a small profit for the Studebaker-Packard Company. In 1962 the decision was made to drop the Packard name from the Studebaker-Packard Corporation. In 1966 Studebaker was out of business.
Kaiser-Frazer surprised everyone by leading all the independent makers in production in 1947, building 144,500 cars. Henry J. had done the impossible again. He had taken a seat in Detroit's high-stakes game. Or so it seemed. By 1955, Kaiser-Frazer was gone (after an abortive effort to sell a small car called the Henry J through Kaiser dealers and the Allstate through Sears, Roebuck).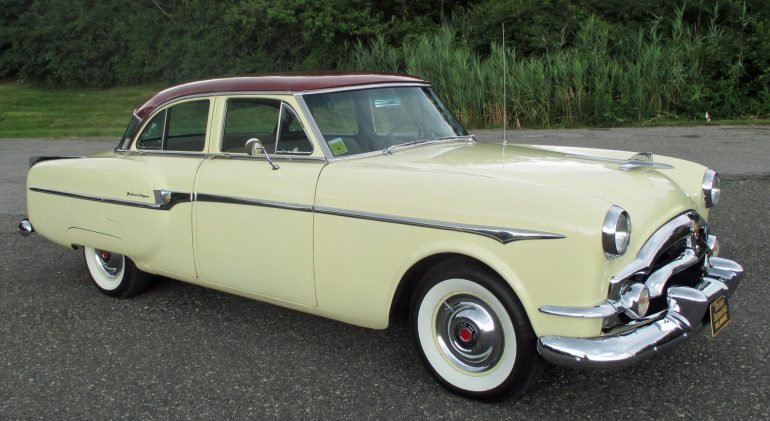 Dream And Concept 1950s Cars
The 1950's became known as the era of the dream car. One of the first postwar one-off dream 1950s cars was the 1951 GM LeSabre (Pictured above). Designed by GM's styling chief, Harley Earl, it had an aluminum and magnesium body, heated seats, built-in hydraulic jacks and a moisture sensor which raised the top if it started to rain.
The 1956 Mercury XM concept car was only 52 inches high and was surrounded by glass – the compound-curve windshield wrapped into the roof and the roof section over each door was covered a clear glass panel which raised to facilitate entry and exit. Styling foretold the look of the 1957 production Mercury. This concept car is now in private hands, awaiting restoration.
The Lincoln Futura was introduced in 1955. Fully operational, it was built by Ghia for Ford at a cost of over $250,000. It featured a Plexiglas bubble top and a 300 horsepower V-8 engine. Very low and very swoopy, the Pontiac Club de Mer debuted at the 1956 GM Motorama. This two passenger sports car had twin-bubble Plexiglas café racer windscreens, stood a mere 38″ high and had an aluminum body, a 300 horsepower modified Pontiac V-8 engine and a DiDion independent rear suspension.
The Packard Predictor was introduced at the 1956 Chicago Auto Show. It had brushed aluminum tambor roof panels which slid up into the roof, swivel seats, a compound-curve wrapover windshield and a reverse-slope rear window. Designed to 'predict' the look of the large series '57 Packards (which were never built), it's now in the Studebaker Museum in South Bend, Indiana.
The D-528 was a different kind of concept car. It was never intended as a show car, but rather, was meant to be a "research project on wheels". The most radical concept car of the 1950s was the GM Firebird III from 1958. It was powered by a 225 horsepower gas turbine engine mated to a modified Hydra-Matic transmission. The car featured a twin bubble cockpit and ultrasonic key entry, but the most radical feature was a joystick controller to accelerate, brake & steer.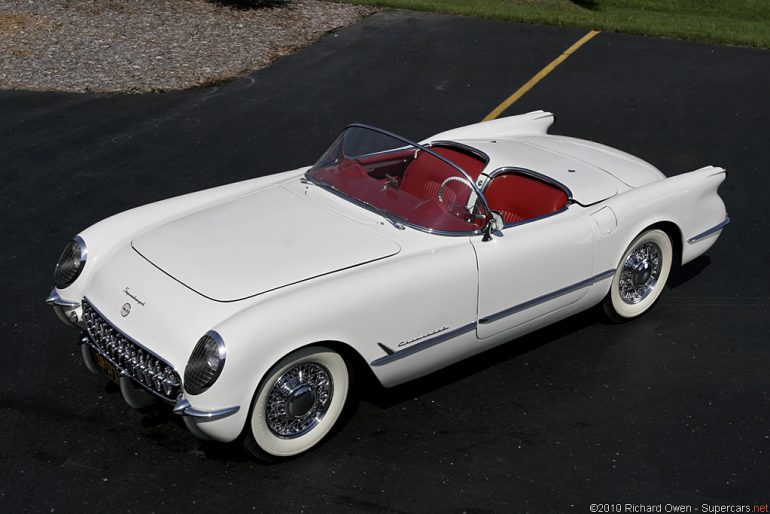 The V-8, Muscle Boom And Hot Rods
Performance became a big part of car-marketing in the 1950s and 1960s. While the sporty two-seaters from two major manufacturers were indeed fast (the Corvette held the fastest production-car record for some years), the sedans weren't exactly far behind. Engine displacement had been getting larger ever since the war, and Chrysler had been adding cubic inches as well as developing their engines internally.
A generation of young people who came of automotive age after the war were building an underground car culture based on speed and customized older cars they called "hot rods."
Fords of the '30s and early '40s vintage were the most popular machines with the hot-rodders, because they were inexpensive and they had V-8 engines. Hybrids were not unusual. In the middle and late '50s, high-compression Chevrolet V-8 engines became popular and a '34 Ford roadster with a Chevy V-8 and Hydra-matic drive was and is highly prized.
With the hot rods came the drive-in restaurants, a natural development in a culture fostered by the love of fast engines. Cars racing in remote country roads were becoming increasingly common; kids testing their toys, pitting speed against speed. Many critics disapproved of this outlaw band of auto lovers, but they became a part of American culture. They were too big a chunk of the generations now ranging from 50 to 70 to ignore. After pretending they were not there for about 20 years, Detroit began building cars for them in the '60s .
There were earlier attempts at appealing to the performance market. In '53, Chevrolet unveiled its Corvette, a beautiful fiberglass-bodied sports car which pleased hardly anyone. It had a ho-hum six and automatic transmission. Ford's Thunderbird, introduced as a V-8 two-seater for '55, was better received.
Over the years, the Corvette became a truly world-class sports car, while the Thunderbird developed into a luxury car. Both were priced well out of the ordinary car range.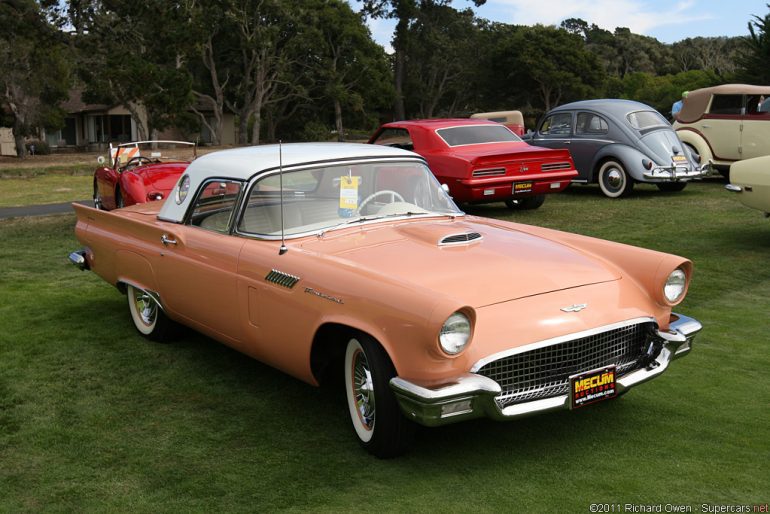 1950s European, British & Japanese Car Makers
In Europe 1950s imported cars were undergoing a less radical change, the Jet age did not manage to whip the European public into quite such a frenzy. The European cars showed this decades contribution to car design aptly, all the 1950s imported cars had gorgeous rounded, clean lines popular throughout vehicles of this era, and this trend was to continue and become more refined into the next decade. They were excellent manufacturers of 1950s imported cars.
The Italian, German & French Carmakers
1950s European Car Brands
The Volkswagen Microbus goes into production in Germany with a design sketched 3 years before by the first U.S. importer of VW Beetles, Ben Pon. The loaf-shaped, air-cooled van will be called the Bulli in Germany, the Combi in Brazil and Mexico.
The Volkswagen Microbus, which debuted in 1950, became a favorite of hippies for its unique styling and plenty of space for travelers.
The Mercedes-Benz Corp. offered 300SL in its lineups of 1950s cars. It is a two-seat, closed sports car with characteristic gull-wing doors, and later, offered as an open roadster. Built by Daimler-Benz AG the road version of 1954 was based on the company's highly successful competition-only sports car of 1952, the Mercedes 300SL which had less power, as it still had carburetors.
The 300SL was best known for both its distinctive gullwing or butterfly wing doors and for being the first-ever gasoline-powered car equipped with fuel injection directly into the combustion chamber. The gullwing version was available from March 1955 to 1957. American well-heeled buyers couldn't get enough of these 1950s imported cars.
More widely produced (25,881 units) and starting a year later was the similar looking 190SL with a 110hp 4cyl engine, available only as roadster (or with an additional hardtop, as Coupe Roadster). Production for both the 190SL and 300SL ended in 1963 when the 230SL was introduced.
A street version of the 300SL would be a commercial success, especially in the US hungry for sporty 1950s foreign automobiles. Built completely with steel except for the aluminum bonnet (hood), doors and boot (trunk), the 300SL could have been ordered with an all-aluminum outer skin, saving 80 kg (176 lb), but at tremendous added cost.
First with fuel injection was the 1957 Mercedes-Benz 300SL Roadster. In Mercedes-Benz fashion, the "300" referred to the engine's cylinder displacement, in this case, three liters. The "SL", as applied to a roadster, stood for "Sport Leicht" or "Sport Light."
In 1952, the 300SL racing history includes overall wins at Le Mans, Berne, Nürburgring, and Mexico's Carrera Panamericana. These successes, especially those on the high speed open road races, were rather surprising as the engine was fitted with carburetors and produced only 175 hp, less than the competing models of Ferrari and Jaguar, and less than the road car later on.
But low weight and low aerodynamic drag made the 300SL fast enough to be a challenger. Superior reliability made it a winner among 1950s imported cars.
Today, the 300SL with its unique doors and technological firsts is considered one of the most collectible Mercedes-Benz models of all time, with prices reaching well past the US$400,000 mark. In addition, Sports Car International magazine ranked the 300SL as the number 5 sports car of all time. Great 1950s imported cars.
Ferrari (now owned by Fiat) is passion on wheels. The theme continued through such models as the Ferrari 340 America and 375 MM of the early 1950s cars. These 1950s cars could be driven to the track, compete for the checkered flag, and carry their driver to dinner that night. This was the romance of the dual-purpose sports car, an ideal that culminated with the Ferrari 250 GT SWB coupe of 1959.
The Ferrari 375 MM racer of the 1950s wasn't a world apart from Ferrari road cars. After that, the all-out performance demanded by competition and the veneer of civility required by Ferrari's wealthy non-racing customers sent his road cars along their own route.
When Volvo (now owned by Ford Motor Company) presented an open 2-seater sports car with a body made of fiberglass-reinforced plastic in 1954, it was something of a sensation. However, the car did not go into production until 1956 and, after a great many problems, production was wound up in 1957. By this time, 67 of these 1950s imported cars had been produced.
From the beginning, the idea was that this car would only be exported. A convertible was not regarded as wholly suitable for the Swedish climate. However, in spite of this, most of the 1950s cars were sold on the Swedish domestic market.
The car was based on standard components, mainly from the Volvo PV444, but it was built on a separate tubular frame. The engine was a developed version of the 4-cylinder, 1.4-litre engine from the PV444. Using twin carburetors, a different camshaft, larger intake valves and higher compression, this engine developed 70 bhp.
1956 Popular mini of the Fifties: the Isetta signals BMW's entry into the small car sector 1957 "Stretch" version of the Isetta: the BMW 600 with a Boxer engine takes a maximum of four passengers. In 1959, after sustaining heavy financial losses in the big limousine sector, a merger with Daimler-Benz is planned. The 700 model is the first big-time series success for a BMW car.
The 1955 BMW Isetta 300 was the world's first mass-production 3-Litres/100km car. It was the top-selling single-cylinder car in the world, with 161,728 units sold. It was a small car that used the scooter and named it Isetta—an Italian diminutive meaning little. Renzo Rivolta who built the small car, licensed Isetta to BMW and to companies in France and Brazil.
The British Carmakers
1950s British Car Brands
Well known 1950s cars such as the Aston Martin DB4, and Jaguar XK120, were produced in England.
In 1949 the first customer car, chassis number 670003, was delivered to Clark Gable. The "120" in its name referred to its 120 mph top speed, which made the XK120 the world's fastest standard production car at the time of its launch, and one of the best 1950s imported cars.
The Aston Martin DB4's unique design and performance would later form the basis for future Aston Martin classics, such as the DB4 GT Zagato, the Lagonda Rapide 4-door saloon, and its ultimate replacement the Aston Martin DB5, James Bond's favorite car.
During the decade of the 1950s, Jaguar experienced unprecedented success. From a small plant in 1928, by the 1950s, the auto company needed a much bigger space in Coventry. In 1934 the company reported that exports amounted to less than ten percent of total sales; by 1951 exports of their 1950s imported cars amounted to 84 percent of total sales.
This is all due to Jaguar car's popularity in the US. Road & Track and Popular Mechanics magazines in which readers selected Jaguar as the world's most popular sports car, with Porsche a distant second in both polls had made the Jaguar marquee a household word in the automotive industry and one of the most popular makers of fifties car imports.
Add to that the success of Jaguar racing team which won the prestigious 24-hour LeMans race in 1953. A growing numbers of drivers competing in international races began to use Jaguar engines in their own 50s autos. As Jaguar team drivers earned plaudits and laurels for Coventry, export sales continued to increase, particularly in the United States.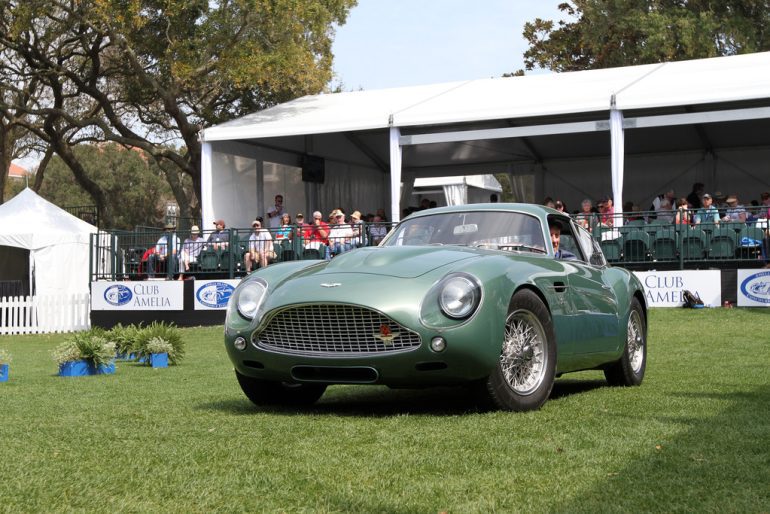 The Japanese Carmakers
1950s Japanese Car Brands
After World War II, Toyota was kept busy making trucks, but by 1947 it began making the Model SA, called the Toyopet, a name to stay with Toyota for decades. The Toyopet was not powerful and had a low top speed – 55 mph from a 27 horsepower engine – but it was designed to be cheap, and to handle the rough roads of postwar Japan. By 1955, Toyota was making 8,400 1950s imported cars per year and by 1965, 600,000 cars per year.
Toyota also produced a civilian truck named the Land Cruiser. Styled like Jeeps, the original Land Cruisers were based heavily on the legendary Dodge half-ton weapons carrier as well as the Bantam (predecessor of the Jeep). They used a bigger engine than the Jeep (their Chevrolet-clone six) and a size and configuration more like the Dodge weapons carrier, whose capacity it shares (one half ton).
In 1955, Toyota produced its first luxury car, the Crown, powered by a four cylinder, 1.5-liter engine with a three-speed column shift, followed by the 1-liter Corona; only 700 1950s cars per month were made in 1955, but this rose to 11,750 in 1958, and 50,000 per month in 1964. The start of Toyota's international sales of 1950s imported cars.
In 1958, Toyota started selling these cars, the Land Cruiser and Toyopet to the US. While neither sold well, the margins on the Land Cruiser were better, and the Toyopet was withdrawn while Toyota designed a car specifically modified for the American market – a strategy which later gave us the Avalon and Camry.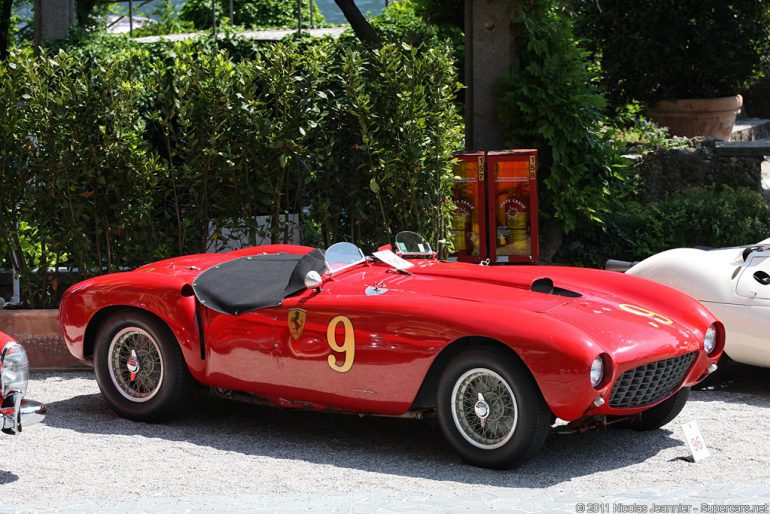 1950s Car Models - In Depth Guides
Here is a list of the important models from the 1950s decade