Maserati 3500 GTi
Dubbed 3500 GTi (thus becoming the first GTI model ever!), the car now boasted a power output of 235 hp and a top speed of over 230 kph (144 mph). Maserati had started experimenting with its own fuel injection designs in 1954 under the guidance of Chief Engineer Giulio Alfieri.
Many different systems were tested and several prototypes were built, providing Maserati with plenty of expertise in this specialist area. The first application of direct fuel injection (supplied by Bosch) in a Maserati had come on the 1955 250F Formula 1 car.
For road-going production, a partnership was formed with British supplier Lucas, and the 3500 GTi became the first Italian road car equipped with indirect petrol injection, whilst the mechanical system was also used to good effect on the second series 5000 GT. The increase in horsepower (15 bhp) was less significant than the increase in smoothness and driveability.
A carburettor version of the 3500 GT remained available for the more traditional members of Maserati's clientele. Four-wheel disc brakes became fitted as standard on all 3500 GTs from 1962. There were also some subtle revisions to the styling that same year with less chrome and new taillights. The 3500 GT's great success necessitated the creation, in the early 1960s, of a true assembly line with a raised ramp that allowed engineers to work both above and below the car simultaneously.
Looking at the 1961 sales brochures, there were some external differences between the carburettor version and the injected 3500 GT: the latter sported rectangular side indicators and the side window was divided with a fixed 3/4 piece, while the former adopted a thicker chrome surround to the front grille.
See all our Maserati 3500GT posts, read about all the great Maserati cars and check out recent Maserati news.
See full Maserati 3500 GTi Image Gallery
In Detail
| | |
| --- | --- |
| tags | Maserati 3500GT |
| submitted by | Richard Owen |
| type | Series Production Car |
| production years | 1961 – 1964 |
| built at | Italy |
| coachbuilder | Touring |
| price $ | $ 10,500 |
| engine | Inline-6 |
| position | Front Longitudinal |
| aspiration | Natural |
| valvetrain | DOHC, 2 Valves per Cyl |
| fuel feed | Lucas Indirect Fuel Injection |
| displacement | 3485 cc / 212.7 in³ |
| bore | 86 mm / 3.38 in |
| stroke | 100 mm / 3.94 in |
| compression | 8.5:1 |
| power | 175.2 kw / 235 bhp @ 5500 rpm |
| specific output | 67.43 bhp per litre |
| bhp/weight | 163.19 bhp per tonne |
| torque | 344.4 nm / 254 ft lbs @ 3500 rpm |
| body / frame | Aluminum Body over Steel Tube Frame |
| driven wheels | RWD |
| wheel type | Steel Discs |
| front tires | Pirelli 6.50×16 |
| rear tires | Pirelli 6.50×16 |
| front brakes | Hydraulic Drums |
| front wheels | F 40.6 x 14.0 cm / 16.0 x 5.5 in |
| rear wheels | R 40.6 x 14.0 cm / 16.0 x 5.5 in |
| steering | Worm & Sector |
| f suspension | Double Wishbones w/Coil Springs, Girling Shock Absorbers |
| r suspension | Live Axle w/Longitudinal Leaf Springs, Girling Shock Absorbers |
| curb weight | 1440 kg / 3175 lbs |
| wheelbase | 2600 mm / 102.4 in |
| front track | 1390 mm / 54.7 in |
| rear track | 1360 mm / 53.5 in |
| length | 4780 mm / 188.2 in |
| width | 1760 mm / 69.3 in |
| height | 1300 mm / 51.2 in |
| transmission | 4-Speed Manual |
| gear ratios | 3.00:1, 1.84:1, 1.30:1, 1.00:1 |
| top speed | ~230.1 kph / 143.0 mph |
| 0 – 60 mph | ~7.6 seconds |
| 0 – 100 mph | ~22.5 seconds |
| 0 – 1/4 mile | ~15.5 seconds |
| fuel capacity | 75 litres or 19.80 gal. |
Maserati 3500 GTi Auction Sales History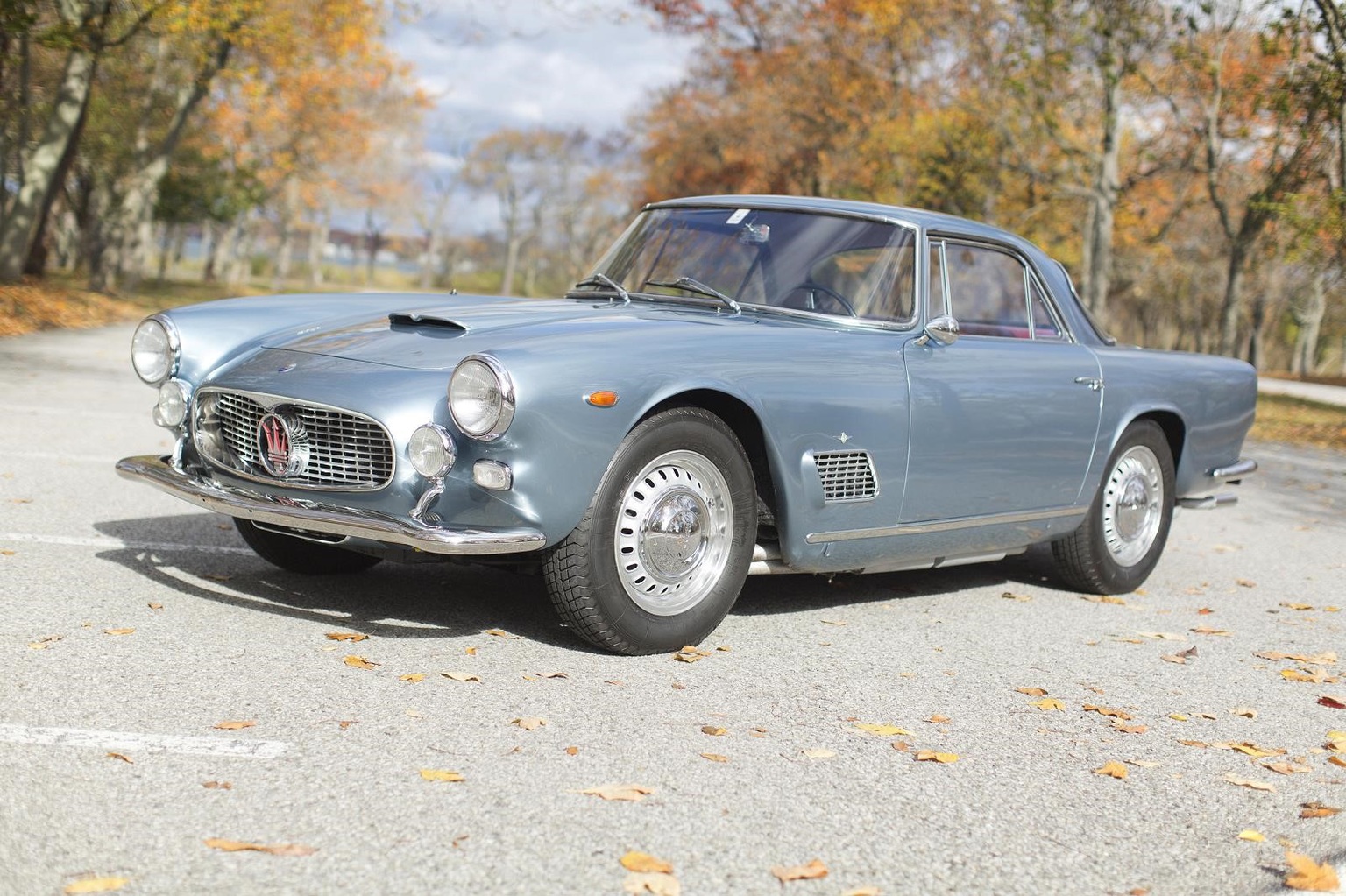 1962 Maserati 3500GTi Coupe AM101.2524 – sold for $286,000 Exceptionally well-presented example of Maserati's legendary GT. Certified by Maserati Classiche. Matching numbers and presented in original factory delivered livery. Desirable late-production example featuring 5-speed ZF 'box and disc brakes. Extensive history file includes copies of factory built sheets. Auction Source: The Scottsdale Auction 2015 by Bonhams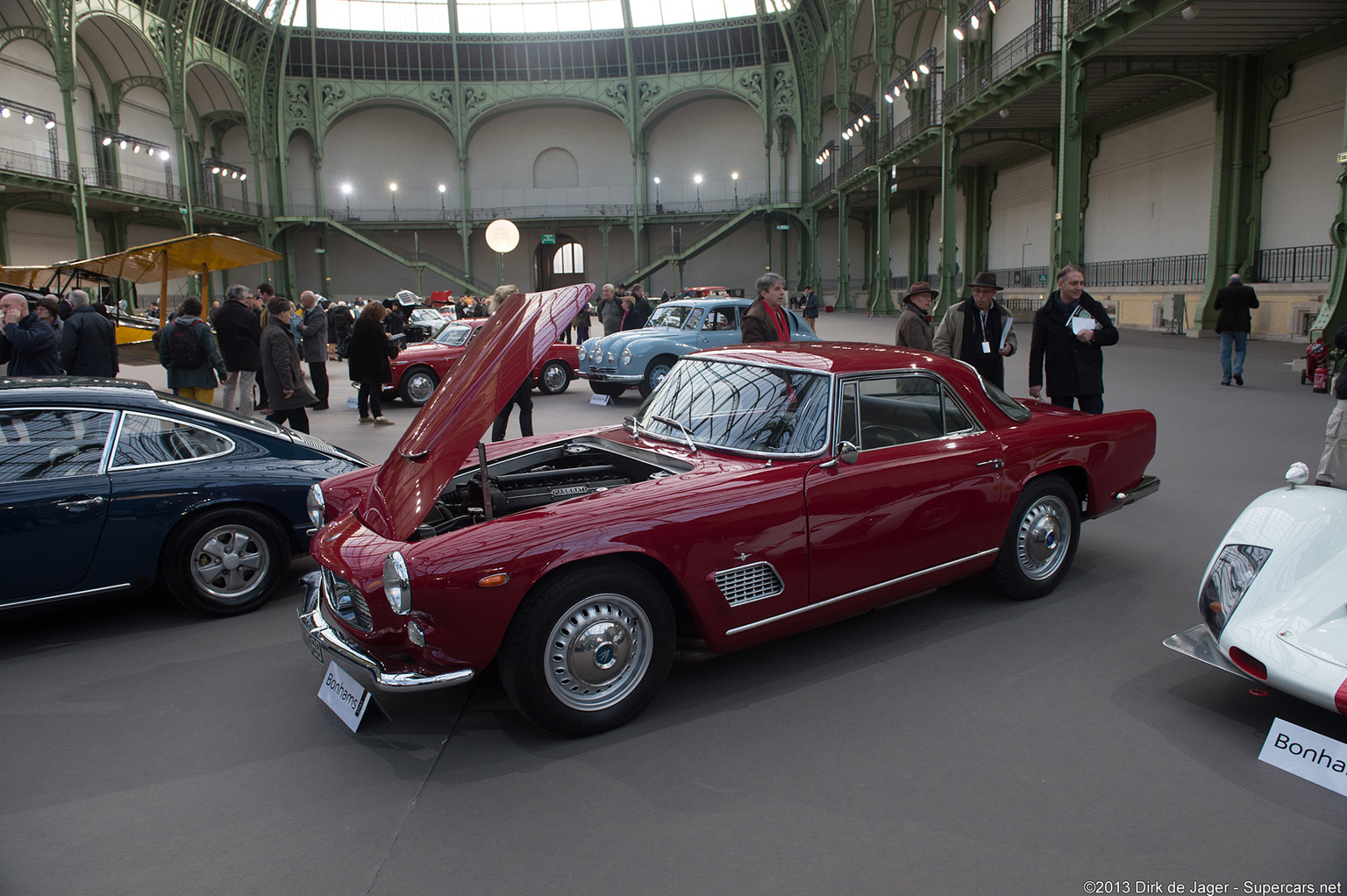 1962 Maserati 3500 GTI coupé AM101.2462 – sold for €93,150 he current vendor bought the Maserati in 2001 from a person living in Bordeaux, via a retailer based in Lyon. Since acquisition the engine has been fitted with Weber carburettors, replacing the Lucas fuel injection, and the car treated to a complete restoration. The latter commenced in 2004 and was completed in 2012, since when the car has scarcely been used. Refinished in its rare original livery of Maya Red with black Connolly leather interior, this beautiful Italian classic is described as in generally very good condition and offered with Maserati factory certificate, French Carte Grise and the original fuel injection system. Auction Source: 2013 Les Grandes Marques du Monde au Grand Palais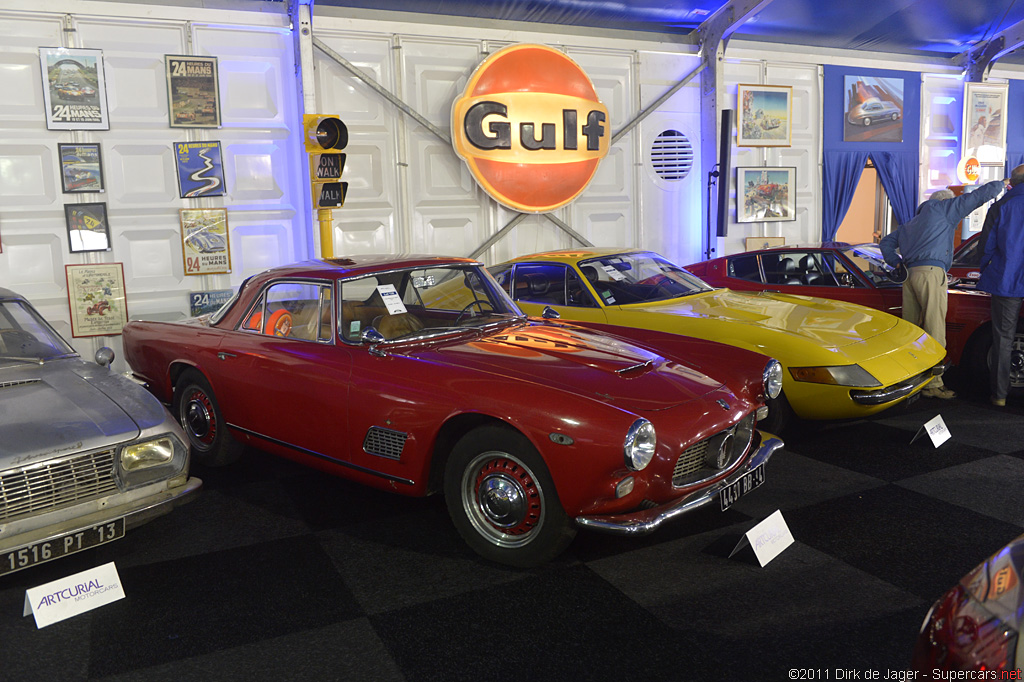 1962 MASERATI 3500 GTi – sold for €66,716 The car offered is an exceptional coupé liveried in red, that first took to the road in 1962. It has covered 108,000 km in the hands of just three owners. The current owner bought the car in 1971, from the marque importers, Thépenier. The model from this year was the most successful version, with 235 bhp available underfoot, complemented by the five-speed gearbox. The vendor, who took part in rallies in the 1950s, told us that he liked to cruise at 160 km/h when the roads were clear. During restoration work carried out by the ARES workshop during the 1980s, the paintwork was redone, and part of the leather trim was replaced, while retaining the original seats. At the same time, new brakes, clutch and a stainless steel exhaust were fitted. Cars with such continuous history are hard to come by, and this Maserati offers a remarkable opportunity to acquire a car in original condition, as might be found some thirty years ago. Auction Source: 2012 Sport & GTs au Mans Classic by Artcurial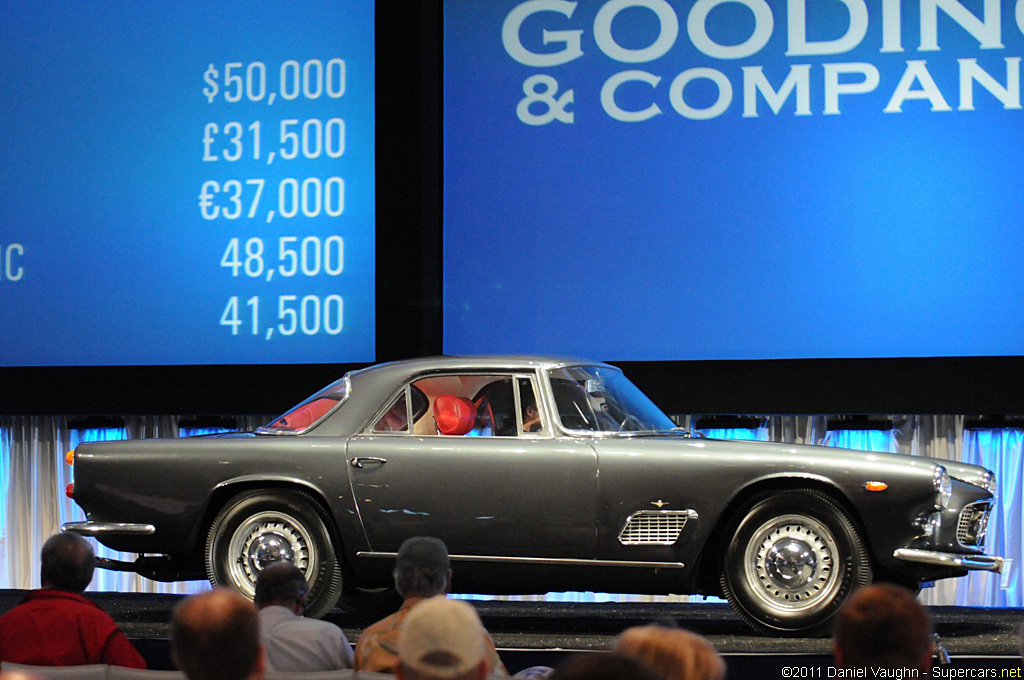 1964 Maserati 3500 GTi Coupe AM1012718 – sold for $55,000 Well cared for throughout its life, this 1964 Maserati 3500 GTi represents the landmark model. Thoughtfully restored a number of years ago, it retains a very original feel with smooth, clean body panels showing off the correct deep dark gray paint and sparkling brightwork. Rich red leather seats contrast beautifully with the dark exterior. Auction Source: 2011 Scottsdale Auction by Gooding & Company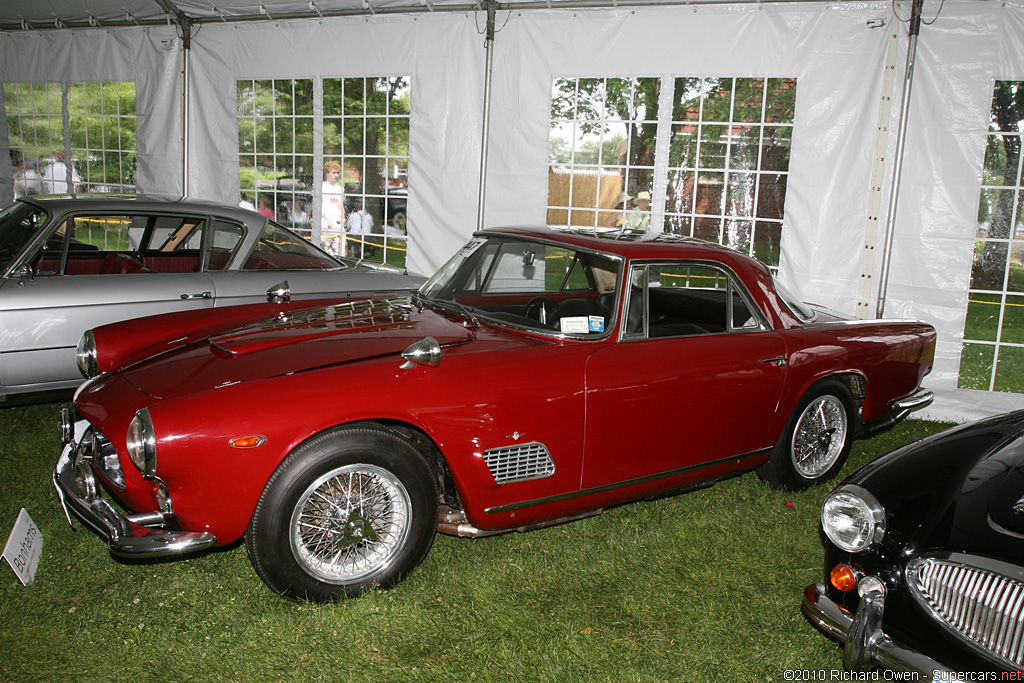 1964 Maserati 3500 GTi Coupe Chassis 101-2224 – sold for $88,920 The GT-injection Maserati 3500 was bought for the collection because in their opinion the model is the 'most beautiful post-war Maserati ever built.' As ever, the reason for acquiring this car over others was that it represented a good original and correct example of the model. This fact is supported by an interesting file of history which dates back to its original supply, which was in Germany.
The original closed German registration (Kraftfahrzeugbrief) is included in the history file and confirms that the car was first registered to Dr. Norbert Heieck of Braunschwieg on July 10, 1964. A later copy of a bill of sale from Auto-Becker of Dusseldorf charts its sale to the U.S. for DM14,000 to S. Harris of Rolla, Missouri on March 18, 1968. The car is understood to have spent much of the next two decades in Sacramento and by late 1980s, the car was with Bruce Trenery of Fantasy Junction, CA when it was sold to the previous owner, John Hansen of Sioux Falls, SD in 1993 through that same company.
Prior to Mr. Hansen's purchase Will Haible's Ferrari Service of San Leandro, CA completed a comprehensive inspection concluding it to be 'in excellent original condition in all respects, remarkable that every piece of the car is there and in such good condition. Not always the case with cars like this.' Mr. Hansen shipped the car home to Sioux Falls and appears to have used it for roughly a year before its engine needed rebuilding, this work took a while as he worked to source parts around the U.S. and Europe, receiving the most help from Kyle Fleming of Virginia. In 2000 it was sold to the current owners.
Notes from Hansen to the current owners suggest that the often troublesome fuel-injection system had been removed from the car around 1980, though it is still with the car. The Maserati can otherwise be described as correct and complete, aesthetically it remains predominantly original structurally and cosmetically and shows some signs of age and use, most notably there is some localized corrosion to the exterior bodywork and the interior shows signs of its age. It has recently benefited from a new head gasket and engine service.
Although it is conceivable that it could form the basis for a restoration, the current owners have elected to enjoy the car as it is and for what it is, reporting it to run very well, being 'powerful and driving like a modern car.' Auction Source: 2010 Greenwich Collectors' Motorcars and Automobilia Auction by Bonhams