The Ultimate Guide to the McLaren P1: Review, Price, Specs, Videos, Images, Performance & More
Introduction
The McLaren F1, released back in the nineties, was designed to be the most technically capable sports car of its era. It surpassed expectations, becoming the world's fastest production car – a record it held for seven years until the Koenigsegg CCR and Bugatti Veyron overtook it.
By that yardstick, the McLaren P1 had a lot to live up to as the F1's spiritual predecessor at the top of the McLaren range. But McLaren, as a company, had changed a lot since the creation of the P1.
Now focusing on producing sports cars developed for driver satisfaction and capability rather than all-out speed, and having ramped up production to produce its own engines rather than borrowing from the likes of BMW in the case of the F1, or joint projects like the Mercedes-Benz SLR McLaren created in intervening years.
Unburdened by the need to please other parties or incorporate other components, this gave McLaren's engineers complete freedom from the get-go with the P1, with the sole aim of creating the best driver's car on both road and track.
Compared to the controllable yet vivacious characters of the cars it met when it emerged in production in 2013 – the Ferrari LaFerrari and Porsche 918 Spyder – the P1 delivered an altogether more sinister side, gaining it a reputation for having more of a bite.
As much as it's a driver's car, this is a car that demand the respect of the person behind the wheel.
---
Design, Styling & Interior
Given the focus on performance, it's no surprise that McLaren allowed aerodynamics to define the overall design of the P1.
The carbon fibre bodywork is draped over a monocoque chassis, with a fighter-jet inspired teardrop cockpit sloping up out of the bonnet to funnel air across the rear wing, helping create a distinctly mid-engined silhouette that reveals how tightly-packaged and honed the car is.
Twin air vents up front hint at a venomous undertone to the P1, while an active rear spoiler provides F1 DRS-style aero advantages on the straights as well as acting as an air-brake.
This rises in "Race Mode", as the rest of the car hunkers down – creating an athletic stance and oozing menace.
---
Performance
In a word? Outrageous. What else could you expect from the car that launched McLaren's Ultimate Series?
The top speed may be below the F1 – an electronically limited 217mph to the F1's 240+mph VMax – but absolute maximum speed is not what P1 is about.
A 1547kg car with 903hp is not going to hang about off the line, and the P1 makes the dash from 0-62mph in 2.8 seconds. 186mph comes up in just 16.5 seconds from standstill.
That power comes mostly from a twin-turbo 3.8-litre V8 – the same as used across the McLaren range, but tweaked to output 727hp and 531lb ft of torque – combined with a lightweight and KERS-fed electric motor, that puts a further 176hp and 192lb ft at the driver's disposal. That power reaches the rear wheels via seven-speed twin clutch gearbox.
As we learned from Spiderman, with great power comes great responsibility; the McLaren P1 has both, as its plug-in hybrid "twin powerplant" powertrain allows it to run in zero-emissions mode for up to 6.8 miles – in total silence, adding further to the sinister aura.
This set up also bestows the P1 with economy figures of 34mpg on the EU combined cycle – impressive for any performance car, but even more so when you consider that the P1 is a showcase of the peak of road car capability.
---
Ride & Handling
A combination of suspension wizardry, aerodynamics and downforce help keep the P1 composed at speed. While the set up is firmer than the company's sport series cars, this is in keeping with the higher capability that the P1 offers. Comfort is not compromised by any means, with the P1's hydro pneumatic setup offering more ride comfort than you might expect.
An active suspension system increases the stiffness of the P1 more than threefold when in race mode compared to road mode, as well as dropping the ride height by 50mm – giving the P1 the profile of some sort of fluid land missile when engaged.
McLaren cites that the P1 generates 600kg of downforce "from well below top speed", with this aiding the car's grip levels through corners. This can make it unintuitive initially for drivers, with commitment and attack to corners required to activate the downforce by keeping air moving over the car. This makes the car seem more stable the faster it goes, and can leave unsuspecting drivers who dip below the downforce threshold backwards and off the track before they realise anything has gone wrong – and with a staggeringly expensive repair bill to boot.
---
Prices & Specs
At launch, the McLaren P1 had an astronomical price tag that suited its astronomical capabilities. In the US, a 2013 P1 Coupe would set you back $1,350,000 for an example out of the showroom.
That sum would net you the one and only trim level, which itself includes some niche styling details that only grace a car of this caliber. Gold heat shields adorn the engine bay – a nod back to the car's spiritual predecessor, the McLaren F1, as well as providing the P1 with excellent heat dissipation capabilities.
Buyers seeking a factory-fresh example had to act fast however – the P1's run was limited to just 375 units to preserve exclusivity, and all of those were accounted for by November 2013 after order books opened that October.
Buyers at this level can spec all the exclusivity they want, and through McLaren's MSO division around 75% of new P1's featured some form of exclusive customisation – pushing the average order price to closer to $1.6 million.
Nowadays, it's not uncommon for examples to surpass $2 million at auction – so better get saving as values have been on the up since the car's unveiling in 2013.
---
McLaren P1 Specs & Performance Numbers
On first sight, it's hard to imagine the McLaren P1 being capable of cashing the performance cheques that its styling and hype write, but scroll through the stats below and believe the prowess of this car is everything it is cracked up to be.
Joining the other two members of the 'hypercar Holy Trinity' in employing a futuristic hybrid powertrain to boost power and smooth out its torque curve, the P1 puts over 900hp through its rear wheels via McLaren's seven-speed two-clutch 'box.
A kerb weight of 1547kg and drag coefficient of just 0.34 despite all the downforce-adding aero touches mean performance off the line is razor sharp, and acceleration figures are up there with the quickest road cars of all time.
Model & Price Info
| | |
| --- | --- |
| Model & Price Info | |
| Make | McLaren |
| Model | P1 Coupe |
| Generation | 2013-2015 |
| Sub-Model | N/A |
| Car type | Super Sports Car |
| Category | Series Production Car |
| Built At | Woking, UK |
| Released at | Paris Motor Show 2012 |
| Introduced | Sep-13 |
| Base Price (US) | $1,350,000 |
| Base Price (Europe) | €1,030,000 / £866,000 |
| Units build | 375 |
Body, suspension & powertrain
| | |
| --- | --- |
| Body, suspension & powertrain | |
| Curb Weight | 1547kg (34105lb) |
| Layout | mid-engine, rear-wheel-drive |
| Body / Frame | carbon fibre monocoque 'MonoCell' w/aluminum front & rear subframes |
| Driven wheels | RWD |
| F suspension | control arms w/coil springs, adjustable shocks, hydraulic anti-roll |
| R suspension | control arms w/coil springs, adjustable shocks, hydraulic anti-roll |
| Engine | 90° M838T V8 w/electric motor |
| Position | mid-mounted |
| Aspiration | twin-turbocharged |
| Block Material | aluminium |
| Valvetrain | DOHC, 4 valves per cylinder with VVT |
| Fuel Feed | |
| Displacement (Liters) | 3.8 litres |
| Displacement (in³) | 231.89 in³ |
| Transmission | 7-speed dual clutch automatic |
Engine & output
| | |
| --- | --- |
| Engine & output | |
| Power (kW) | 673.8 kW @ 7500rpm |
| Power (bhp) | 903hp @ 7500rpm |
| Power (kw) / liter | 177.36 kW |
| Power (bhp) / liter | 237.85hp |
| Power (kw) / weight | 464.7 kW / ton |
| Power (bhp) / weight | 623.17hp / ton |
| Torque | 668.3 lb-ft |
| Efficiency | 9.3l / 100km |
| Specific output | |
| Average fuel consumption | 34 mpg (EU combined cycle) |
Performance & Acceleration stats
| | |
| --- | --- |
| Performance & Acceleration stats | |
| Top speed | 217 mph |
| 0 – 100 kph | 2.8 s |
| 0 – 120 km/h | 3.5 s |
| 0 – 140 km/h | 4.3 s |
| 0 – 160 km/h | 5.1 s |
| 0 – 180 km/h | 5.9 s |
| 0 – 200 km/h | 6.8 s |
| 0 – 60 mph | 2.7 s |
| 0 – 100 mph | 4.7 s |
| 1/8 mile | 6.6 s @ 122mph |
| 1/4 mile | 9.8 s @ 152mph |
| 1000 m | |
| Lateral acceleration | |
| Nürburgring Lap Time | |
---
Image Galleries & Videos
Photos & Wallpapers
The McLaren P1's exterior does nothing to disguise its performance focus. It is lean, purposeful and shaped entirely by the engineering and aerodynamic requirements for ultimate performance.
For all that it is not an ugly car; it derives a certain handsomeness from its pared-back proportions, and by no means is it unstyled. Proportions are very neat, with various performance-defined details scattered across its surface that serve a purpose as much as add to its exterior presence. From the teardrop-shaped cockpit that funnels air across the adjustable rear wing, or the door cutaways, harking back to the styling of the F1, to the gold trim in the engine bay that helps dissipate heat from the engine or exhaust system, you could stare at the P1 for hours and find more and more touches that all add up to the zenith of McLaren's road-going capabilities as of 2013.
McLaren P1 Videos
As one of those cars that looks great standing still, the McLaren P1 invites you to pore over it ad infinitum without it ever turning a wheel.
To understand the true drama of such a high-caliber hypercar however we've brought together some of the finest footage on the Internet for your perusal. Below you'll find the filmed opinions from some of the most trusted orators in the industry, teamed with majestic footage of the P1 doing what it does best – tearing up tracks and roads across the world.
See Also: More More McLaren P1 Coverage | 2015 McLaren P1 GTR
We begin the visual delights with Jeremy Clarkson's 'Widowmaker' review of the P1, from back when he led the Top Gear trio.
He begins by scanning the P1's details meticulously before taking to a deserted (and more than just damp) Spa Francorchamps circuit in Belgium.
Here he experiences the P1's bite, putting and it is clear from his reactions that the fear generated by the P1 is real.
Clarkson concedes however that despite its fury, the P1 is controllable enough that even he manages to kee it on the slick surface of the track.
In the blurb for his McLaren P1 video, Chris Harris calls it "the greatest car [he] will ever drive". With a list of keys that have crossed his hands over the years as illustrious as any selection I can imagine, that is certainly high praise indeed.
Harris is introduced to his P1, dubbed "XP7" as its prototype designation, by a McLaren engineer who describes just what the car has been through. 'Well used' is an understatement here.
Details and specs are delved into with some lovely panning shots of some of the P1's more intricate features – inside and out – with every minute of timecode building anticipation of seeing the car on the move.
After some time behind the wheel on a crowded highway, Harris takes to a deserted Yas Marina F1 circuit and lets the P1 loose…
In the sort of test that sounds like an eleven-year-old was asked how best to get across the sheer performance of the P1, Steve Sutcliffe for Autocar pits the McLaren up against the Porsche 918 Spyder and – in lieu of a LaFerrari – the Ducati 1199 Superleggera in a standing mile drag race.
Three vehicles, three drivers (or riders in the case of the Ducati), one deserted airfield. Which will come out on top? Watch below and enjoy the suspense…
Motor Trend's Head 2 Head are quite good at putting one Very Fast Thing against another. You might have hoped that they would have been one of the first to bring the Holy Trinity together in one place, but sadly, as is explained during the opening of the below clip, Ferrari refused access to LaFerrari even though the car sourced by the channel was a customer-owned vehicle.
You can forget all about those woes as you allow yourself to indulge in the gorgeous photography and meticulous detail that we've come to expect from Motor Trend as Randy Pobst takes two of the most prestigious and high performance vehicles of recent times around one of the most exciting circuits in the Americas – Mazda Raceway Laguna Seca.
And, finally, Richard Meaden gives his take on the P1 for EVO Magazine with an evocative evaluation that begins by considering it in light of the legacy of its spiritual predecessor – the McLaren F1.
After that, Meaden gets his first taste behind the wheel of P1 around Yas Marina. We don't feel there's anything we can add to this video so rather than get in the way we'll step back and let you enjoy:
---
Original Press Release
27 September 2012, 18.00 CEST (17.00 BST)
Global debut of new McLaren ultimate supercar
McLaren P1 aims to be the best driver's car on both road and track
The large adjustable 'active' rear wing adjusts automatically to boost downforce and optimise aerodynamics
Mid-engine design that uses a carbon fibre monocoque and roof structure safety cage called MonoCage, and lightweight carbon 'multi-purpose' body panels
McLaren Automotive will use its first ever international motor show appearance to preview its next generation ultimate supercar – the McLaren P1 – which takes much of its technological and spiritual inspiration from the company's Racing division. The McLaren P1 has one simple goal: to be the best driver's car in the world on road and track.
At the Paris Motor Show, Mondial de l'Automobile 2012, the McLaren P1 is previewed as a design study. Next year a production version, which the company aims to put on sale within 12 months, will be revealed.
"The McLaren P1 will be the result of 50 years of racing and road car heritage," says McLaren Automotive Executive Chairman Ron Dennis.
"Twenty years ago we raised the supercar performance bar with the McLaren F1 and our goal with the McLaren P1 is to redefine it once again." -Ron Dennis
"Our aim is not necessarily to be the fastest in absolute top speed but to be the quickest and most rewarding series production road car on a circuit", says McLaren Automotive Managing Director Antony Sheriff. "It is the true test of a supercar's all round ability and a much more important technical statement. Our goal is to make the McLaren P1 the most exciting, most capable, most technologically advanced and most dynamically accomplished supercar ever made."
The McLaren P1 leverages five decades of McLaren's motorsport skills. It was designed from the outset to prioritise aerodynamic performance and spent many hours in a wind tunnel and using CFD (computational fluid dynamics) aerodynamic modelling – just like a Formula One car.
The new McLaren P1 has much higher levels of downforce than any current road car – 600kg is achieved well below maximum speed. That is approximately five times as much downforce as a McLaren 12C. Its margin over most other high performance supercars is even greater. The McLaren P1's downforce is similar to current sports racing cars, including the 12C GT3 racer.
Despite the huge performance, the McLaren P1 is also a refined and comfortable high speed supercar. "It is designed to be driven to the racing circuit, with great levels of comfort and refinement," says Sheriff. "And then to be used on the racing circuit, where it will offer an experience matched only by purpose-built race cars."
The McLaren P1 showcases McLaren Automotive's advanced motorsport-based engineering, prioritising high performance through state-of-the-art technology. It will feature notable advances in weight reduction, packaging, high-speed performance, materials (especially carbon fibre), powertrain and in aerodynamics.
Racing car track performance, from a road car
"Of course, the McLaren P1 will have an immensely powerful engine, superb brakes and state of the art suspension controls," says Programme Director Paul Mackenzie. Power to weight ratio will be more than 600PS per tonne. "But a major reason for its extraordinary performance is its high level of downforce and its all round aerodynamic excellence. They do not just improve stability, handling, roadholding and braking at high speed. They also improve agility and driver confidence at much lower speeds. Our goal was to get great levels of downforce at lower speeds, and we have achieved that. It is a major boost to driving enjoyment, and to a driver's feeling of being in total control.
"Like all McLarens, the car is built around the driver. Our aim is to deliver the very best driver's car on the road, one focused on the elite enthusiast driver, but you certainly don't have to be a racing driver or a professional to enjoy it. Like all McLarens, the McLaren P1 is also technologically at the absolute cutting edge."
This goal – racing car-like track performance from a road car – was one of the primary targets for McLaren P1. "It reflects the fact that many buyers of today's fastest supercars do use them increasingly on the race track, at special owner events," says Mackenzie. "We wanted a car that would feel like a proper racing car. And then could be driven home in great comfort and refinement. In other words, a real McLaren but with an even broader breadth of ability."
The astonishing track performance also makes for a better road car. "It improves cornering composure at any speed," says Mackenzie. 'It also means no nasty surprises."
Frontal area is substantially less than the (already small) 12C, and smaller than any series production super-sports car. Cd is 0.34 – very low considering the enormous levels of downforce.
Aerodynamic led design
The McLaren P1 prioritises function over pure style, notes Chief Design Engineer Dan Parry-Williams. That is very much part of the McLaren ethos. "It is engineering design led. Yet it is a striking and handsome car. The P1 reflects McLaren's core values. It celebrates aerodynamics, great packaging and light weight. It is all about innovative technology. At the very beginning, we sought to develop a car that you could drive to a racing circuit, then press a button and race it. Maximum speed was never a priority. It's much more technically challenging, and more meaningful, to develop a car that seeks to be the fastest-ever series production car on a racing circuit. That also makes it much more road relevant than just sheer top speed.
"The priority was high speed performance matched with tremendous composure, which would come mostly from the state-of-the-art aerodynamics. We wanted a car that was benign and predictable at any speed.
"In the beginning, we produced a 'jellymould' model that reflected the initial concept. It had to be aerodynamically sound and as tightly packaged as possible around the occupants and the mechanical architecture giving it a shrink wrapped-like outer skin surface. It had a more rounded glasshouse, with greater curvature, to improve aerodynamics and visibility, and give the cabin a fighter-jet canopy shape. We wanted the deck of the car to be as low as possible. The teardrop cabin shape also meant you had a lot more air flowing over the cabin to the rear wing. We also tried to minimise tolerances and clearances. There is no "fat" on the McLaren P1."
Using Parry-Williams' basic packaging and aero principles, three in-house design themes were developed to full size. The chosen theme was then selected and developed through a continual progressive cycle in conjunction with the aerodynamicists and engineering. It was a collaboration between engineering and design, with Design Director Frank Stephenson overseeing the design process.
Parry-Williams adds: "The collaboration was one of the great things about the project and that allowed us to reach such a complete package". Stephenson agrees: "We have ended up with a car that looks as futuristic as a concept car – except that it will go into production – and with similar aerodynamic properties to a sports racing car. I believe it is a terrific achievement."
Active aerodynamics include Formula 1-like DRS
Expertise in Grand Prix racing was used to hone the aerodynamics of the McLaren P1.
The former Head of Aerodynamics for the McLaren Racing, and now Head of Vehicle Technology for McLaren Automotive, Simon Lacey, was responsible for the aero performance: "The astonishing downforce actually makes driving easier as well as faster," says Lacey. "As you go faster, you actually feel more in control."
"Every body panel, air intake, and air exhaust was designed to guide in air from the most efficient places and to maximise cooling," says Lacey. "That's partly why the body is so compact, and looks so 'shrink wrapped'. The unusual door ducts, from the initial styling sketches, draw air into the cooling circuit. That low body helps air get to the rear wing. The rear deck is extraordinarily low, just like a sports racing car. The extreme teardrop shape of the glasshouse guides more air more efficiently to the rear wing."
The large rear wing adjusts automatically to boost downforce and optimise aerodynamics. It can extend rearwards by up to 300mm on a racetrack, and by up to 120mm on the road. The pitch of the rear wing can increase by up to 29 degrees. The double element rear wing profile has been developed using exactly the same methods and software as the current McLaren Formula 1 car.
The McLaren P1 also has a DRS (drag reduction system) function, like a Grand Prix car, to reduce downforce and increase straight line speed. But while a Formula 1 car has a moveable flap in the rear wing, the McLaren P1's rear wing's pitch is adjusted.
In addition to the adjustable 'active' rear wing, the McLaren P1's aerodynamic performance is optimised using two flaps mounted under the body ahead of the front wheels. These are also actively controlled, and change angle automatically to optimise performance, boosting downforce and aero efficiency, increasing both speed and driver confidence. The flaps operate through a range of 0-60 degrees.
The rear wing and front flaps work together to boost handling, braking and straight line performance. The active aerodynamics ensures totally consistent handling and driving behavior. The rear wing can also act as an airbrake when deployed.
The smooth underbody also helps to generate 'ground effects' suction, boosting downforce.
"On the race track, the McLaren P1 would display similar levels of performance to a Le Mans sports racer, thanks to its aerodynamic shape," adds Lacey. "It would have a level of racetrack performance never before seen in a series production road car."
Every design detail optimises aerodynamics, from the door shape (which helps funnel air with maximum aero efficiency), to the numerous ducts, to the wheel-arch shapes to the snorkel intake on the roof. The latter detail also ties in with Grand Prix design, and was an iconic feature of the seminal McLaren F1 road car. Another design feature that reflects the F1 road car is the gold leaf heat shield around the exhausts. Gold is the ideal metal to reflect heat, never mind its cost.
Visibility is also exceptional for a supercar, thanks to the curved and expansive "canopy" glass, the low beltline and thin A pillars.
Lightweight carbon 'multi-purpose' body panels
As with the legendary McLaren F1 road car of 1992, the McLaren P1 is a mid-engine design that uses a carbon fibre monocoque and roof structure safety cage concept called MonoCage which is a development of the MonoCell used in the current 12C and 12C Spider. The structure of the MonoCage, unlike the 12C's MonoCell, also serves to guide air into the engine through an integral roof snorkel and air intake ducts, saving further weight. All the body panels are carbon fibre to reduce weight. This carries on a McLaren innovation: it was the first company to offer a full carbon body Grand Prix car (in 1981) and the first to offer a full carbon body road car (the F1).
There are also very few body panels. The McLaren P1 has large clamshell single-moulded front and rear panels, which are attached to the central carbon MonoCage, and that's it, apart from two small access flaps in the rear, a front bonnet and the two doors. This reduces weight and the number of shutlines, creating a cleaner appearance.
The large carbon panels are also multi-functional, with integrated scoops and ducts to boost aero performance and cooling. The panels are extraordinarily thin and light whilst being very strong. Lightness, as with all McLaren road cars, was a priority for the McLaren P1. If one component can do the work of two, or more, it replaces the need for separate components. "This approach is more weight efficient, but it does require more complex structures, with fewer parts but more design time," notes Chief Design Engineer Parry-Williams.
Parry-Williams worked continually with the design studio to improve the surfaces, making them as beautiful as possible whilst maintaining optimum aerodynamics.
"Everything is there for a reason – true form improves function. Every duct, every surface, does a job, either in aero or in cooling."
"Genuinely beautiful and at the forefront of automotive design"
Working closely with Parry-Williams, Design Director Frank Stephenson wanted a car that was "striking but also functional, a real statement of intent. I wanted a genuinely beautiful and dramatically honest 'supersports' car, in keeping with McLaren's heritage but also at the forefront of automotive design".
He further developed the surfaces, making everything as small, light and dynamic as possible. This helped give the car a natural, almost organic, quality. The design intent was to expose the carbon structure beneath, not only showing exactly where the air was going – through the door ducts into the main radiators – but also to break up the visual mass of the body side and accentuate the cab-forward stance, giving the car a real look of lightness and agility. All the ducts were developed with the aero team, giving a direct link to McLaren's motorsport heritage.
"I wanted it to look like a Le Mans racer with that low body, long rear deck and open mesh rear styling to put the mechanicals on view and to help cooling," says Stephenson. "Plus there is the most aggressive rear diffuser ever seen on a road car. Like everything on the McLaren P1, it's there for a good reason."
The glasshouse was inspired by the canopies of fighter jets, giving the occupants similar sensations to a pilot. The windscreen is deeper than it is wide, creating a feeling of lightness and airiness inside. Good visibility has always been a McLaren mantra.
The lights are a signature part of the car. The LED headlights, with their speed marque DRL, are extremely small in size meaning more frontal area can be devoted to cooling. Whilst at the back, the low rear deck and pronounced wheelarches, give the evocatively simple rear end a powerful graphic. The concept being that the rear lamps are literally the trailing edge of the bodywork, framing the diffuser and allowing more heat to exit from the engine bay. "Again, beautiful, organic forms framing and enhancing the technical features," says Stephenson
McLaren's 'ultimate car' heritage
The McLaren P1 follows in the footsteps of the classic McLaren F1 as the 'ultimate car' offering. The name ties in with Grand Prix racing. P1 means first place – and McLaren has 180 GP victories in its 46 year Formula One history – or position one on the grid (McLaren has scored 153 pole positions). There is also heritage in that name: the McLaren F1 was initially known as Project 1, or P1
The McLaren F1 was lauded as the greatest supercar of its era when it was first shown 20 years ago. At the time, it was the world's most technologically advanced and fastest supercar.
"We're confident that the McLaren P1 will continue in the same tradition," notes Antony Sheriff.
Production plans
The McLaren P1 makes its debut at the Paris Motor Show on the first press day, September 27. Further details – including its powertrain and other technical information – will be announced early in 2013, shortly before sales begin. Deliveries are expected to commence in late 2013, the year of McLaren's 50th anniversary.
---
The Verdict Is In
What The Experts Said…
The world is full of armchair commentators when it comes to cars. At Supercars.net, we have a number of journalists and automotive publications we rely on when we want to get unbiased opinions from people we admire.
Below, we've outlined some of the things these experts had to say about the McLaren P1. We have included snippets only, so definitely dive deeper into their content to find out the details behind their assessments. Please support these awesome publications because they invest a lot in the details, amazing product photographs and great writers.
Road & Track – "I'm grinning from ear to ear when I jump out; this is a car that attacks and stimulates your senses in all ways."
Birthdays and anniversaries are great excuses to do all sorts of things. In Marino Franchitti's case, the McLaren P1's fifth anniversary was a chance to take the hypercar on a tour of some of Scotland's finest driving roads – and to the home of Scottish motorsport.
Franchitti's car is P1 OOU – a box-fresh test car and successor to P1 OOV, the original test P1.
On the P1's road manners, Franchitti does not tread lightly. "People talk about acceleration being like a bomb going off. This is like being in the epicenter of a nuclear explosion…" he notes on first approaching the throttle pedal on the way to Knockhill Race Circuit. "These are roads I know better than my best friend, but each time I unleash the full acceleration it's like the roads have been reduced in scale and I arrive at each corner a hell of a lot sooner than I expect."
On reaching the track however, he finds the P1 a somewhat more co-operative personality, with his main ongoing gripe being the tyres. "Even half a decade on, it seems tire technology hasn't yet caught up with this car."
[row]
[column size='1/2']
The Good
'Nuclear' acceleration
Remains as staggering an achievement now as it was five years ago
Brake feel is akin to unassisted racing systems
[/column]
[column size='1/2']
The Bad
Destroys its tyres even in 'Sport' mode
Steering can be uncommunicative at the limit
[/column]
[/row]
More: Read the Full Review
CAR – "..the old supercar boundaries aren't so much redefined as smashed to smithereens."
Given freedom of Yas Marina F1 circuit in a McLaren P1 with a McLaren engineer sat beside him in the cockpit, former CAR Magazine editor Gavin Green initially described the P1 as "..a bit slow."
That's because the car in question had had its electric motor disengaged, leaving Green with just the 727bhp of the 3.8-litre V8 at his disposal. "..when you're used to 903bhp, 727 just doesn't feel quite enough."
With the full 903bhp reinstated, normality is restored, and hyperbole is abound.
"We swap to Sport. I stab the throttle, a towering inferno of noise and power erupts behind…"
We'll let you read on and enjoy the rest of his review below.
[row]
[column size='1/2']
The Good
Redefines the supercar
Sheer sensory overload
Driving experience outstanding
[/column]
[column size='1/2']
The Bad
903bhp can overwhelm the traction control
Things will never be the same after
[/column]
[/row]
More: Read the Full Review
Top Gear – "Redefines what we expect from a super sports car."
The title of TG's review of the P1 echos through many of the pieces highlighted here in that this car takes what you believe is possible for a car to do and takes things to another level altogether.
The review compares the McLaren P1's handling to a Lotus – high praise indeed – before noting that "you can't really push the thing and remain legal" on the road.
Despite the ballistic performance, Top Gear manages to find a more sedate side to the P1 – highlighting rear visibility and that silent-running e-mode as contributing to pleasant – even civilised – road manners when taking it easy. "It feels surprisingly small. And unthreatening. And easy."
[row]
[column size='1/2']
The Good
All-out speed
Civilised nature when not pushing it
Glorious driving experience when you are
[/column]
[column size='1/2']
The Bad
Unforgiving if not treated with respect
All are sold
[/column]
[/row]
More: Read the Full Review
---
Alternatives & Rivals
The McLaren P1, launched at any other time, would have been peerless in the same way the McLaren F1 stood out alone from the supercars and hypercars around in its day. Indeed, the F1 has even been lauded as one of the first vehicles for which the term hypercar was coined.
Fast forward to 2013 and the P1 emerged to a completely different hypercar scene. Ferrari and Porsche were weighing in with their own interpretation of how hybrid technology could be utilised in the pursuit of performance and prestige, and the legacy of the Bugatti Veyron, which pushed the performance car philosophy to new heights, continues to drive innovation and the pursuit of vehicular excellence further and further.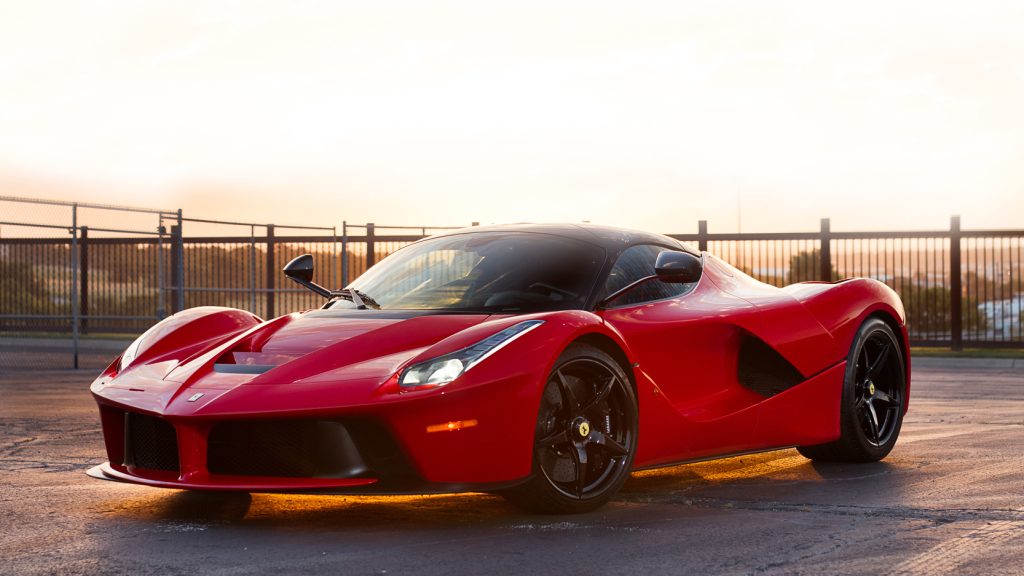 Both LaFerrari is absolute embodiment of Ferrari's attitude and philosophy towards the super sports car.
Like the P1, LaFerrari is rear-wheel drive, for purity and an edge when it comes to showing off; the 918 Spyder is four-wheel drive, for absolute grip off the line and through the bends. Ferrari prides itself in the fact that LaFerrari's hybrid system is present simply in the pursuit of speed and performance and as such it has no electric-only e-mode – unlike the McLaren.
Performance-wise, the P1 is a precision tool designed specifically for the job of all-out performance and driving sensation, while LaFerrari is a flamboyant celebration of power and speed for the sake of power and speed.
I guess this one comes down to a matter of personal preference… unless you can afford both, that is.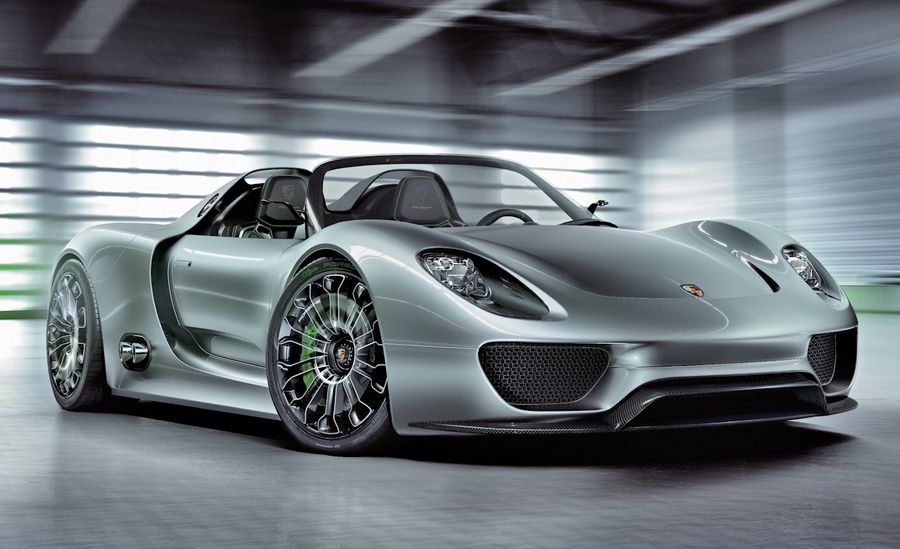 Completing the hypercar holy trinity is Porsche's entry into the hybrid race. Two electric motors here work with a rear-mounted V8 to deliver up to 770bhp, though an independent all-wheel drive system (with the fronts driven by a 116bhp electric engine while the other assists power to the rear) improves adhesion to the surface.
Arguably the most conventionally good looking of the three, the 718 includes active aerodynamics and Porsche Active Suspension Management (PASM) to futher augment the driver's skills. With technology being the main focus for Porsche with the 718, this car gains a few creature comforts in the cabin that the LaFerrari and P1 do without.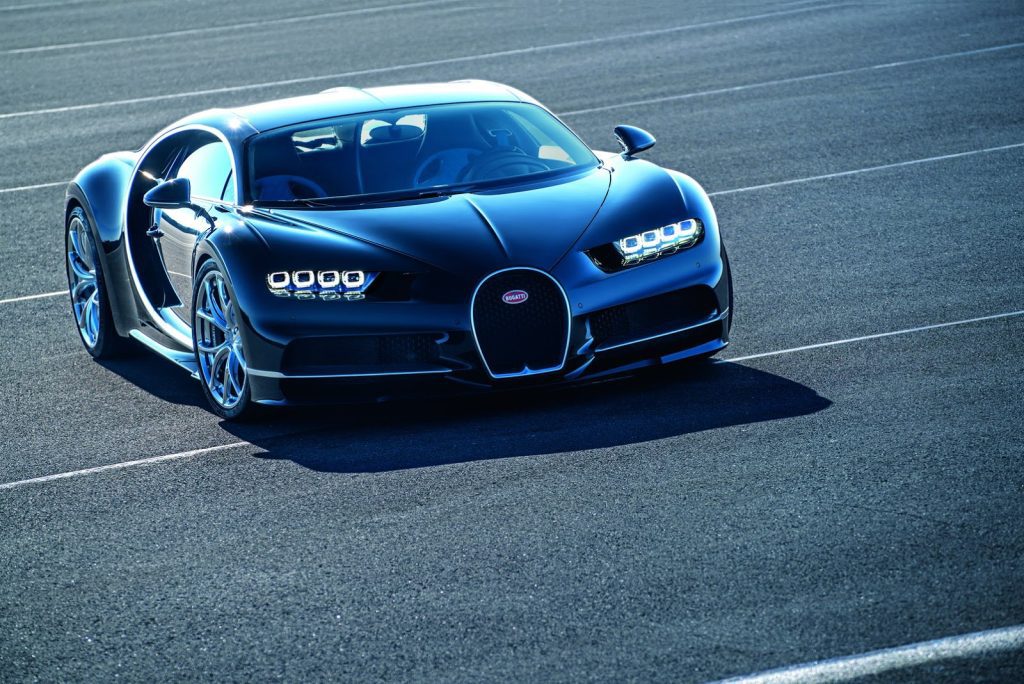 Arriving shortly after the hypercar triumvirate was the successor to one of the most legendary cars this century. The Bugatti Chiron had big boots to fill after all that the Veyron accomplished, but with this car Bugatti set out to provide a new benchmark, "redefining 'the best'" as the company put it at launch.
You'll find no hybrid system here – instead the Chiron relies on a specially-developed two-stage turbocharging system, with a pair of turbos spinning up from rest, with two more chiming in above 3800rpm.
This results in an output of 1500bhp and 1600nM of torque from 2-6000rpm. Tasty to say the least.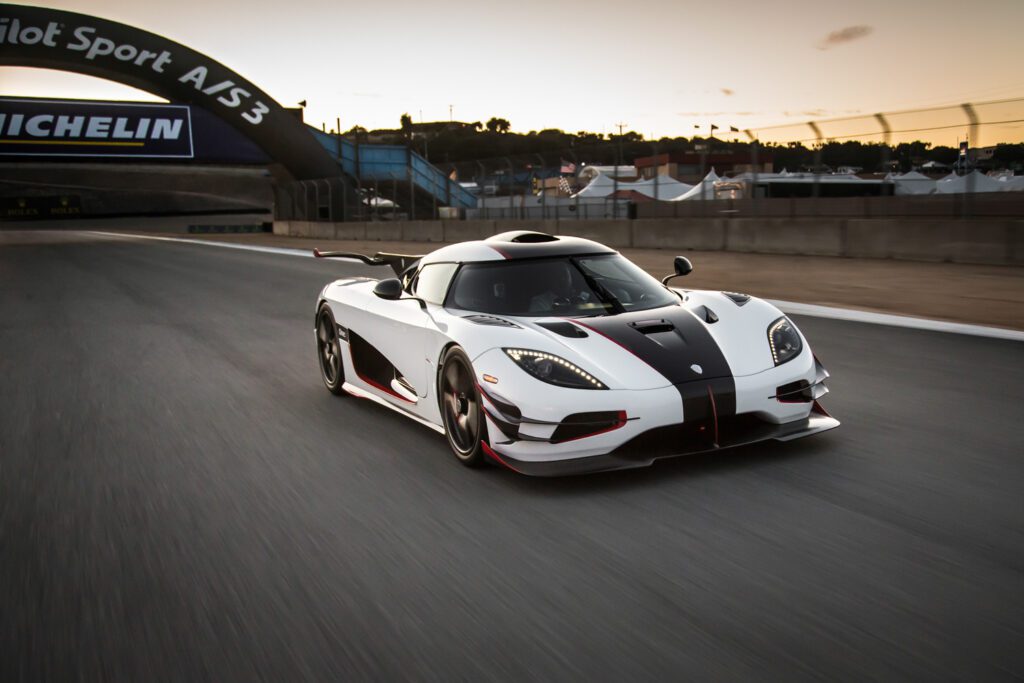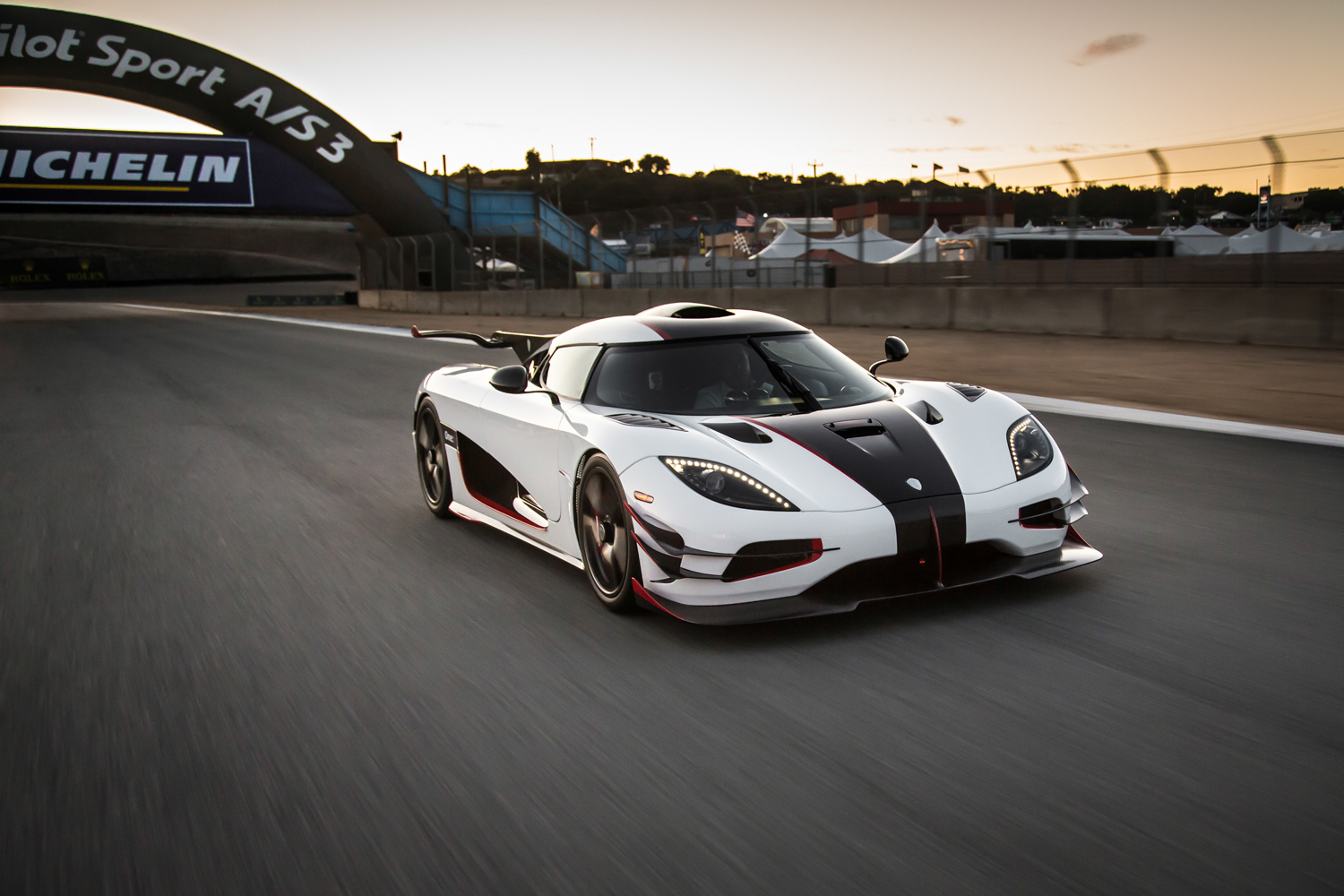 The One:1, based on Koenigsegg's Agera platform, is all about the numbers. More scarce than any of the other cars above (only seven plus one prototype were made), with the Swedish hypercar lunatics chasing one ratio: a one-to-one power-to-weight ratio.
Aptly, this 1,360kg machine is fitted with a 1360bhp V8, promising unhinged levels of performance and a sonorous 8250rpm rev limiter to allow full exploration of its ballistic capabilities.
Others Rivals: Pagani Huayra, a racecar with indicators stuck on maybe, very little else that is allowed on the road
---
Our Final Verdict
If the ultimate driving experience is what you speak, and you have a spare $2 million-or-so burning a hole in your pocket, then the McLaren P1 is what you seek.
Purposefully designed and beautifully executed without compromise, the P1 manages to be all things to all men – quiet and composed around town, possible to be driven every day, while hiding its more aggressive edge until the pilot chooses to unleash it. It is not to be approached lightly – as all we've covered above will attest, it will strike back should it be handled poorly or without due respect – but treat it well and it will return an unrivalled driving sensation that's given the rest of the automotive industry a new benchmark in excellence.
---
Find A McLaren P1 for Sale
Exclusivity is the name of the game these days in hypercar circles and, with just 375 production examples of the McLaren P1 produced, prices are only heading in one direction.
The raft of customisation options offered by McLaren to customers when specifying their P1s means that no two examples available are the same – thereby heaping on further dollops of exclusivity to any owner.
If you're lucky enough to have the funds then keep your eye on the market – you could be swapping your seven-figure sum for the privelege of one of the most incredible driving machines ever created.
[row]
[column size='1/2']
We'll get the difficult part out of the way first. This example at $2.39 million attracted the biggest price tag yet recorded on a P1 in 2017 when it went to auction at the Amelia Island Concours.
A custom finish following meticulous specification from the original owner plus the unique inclusion of a passenger-side vanity mirror complete with inscription make this P1 stand out.
[/column]
[column size='1/2']
A white P1 – one of the last produced – could be considered a bargain by comparison.
It went under the hammer at Scottsdale in early 2016, fetching $2.09 million. As number 371 of 375, it had only been in its original owner's hands for a year yet its value had in that time soared by a whopping 84% – this should give you some idea of the trajectory that P1s are on when they crop up for sale.
[/column]
[/row]
Piston Heads and James Edition each list several P1s for sale, with prices ranging from around the original asking price up to $2 million and beyond. Ominously, many of the prices are simply listed as 'price on asking' – though if you have to ask, you probably can't afford one…