1958→1959 Lister Knobbly
In February of 1958 Brian Lister debuted his Lister-Jaguar prototype which later became known as the Knobbly.
It used a custom frame and unique shaped body, the Lister was purpose built sports car. The aluminum body was made by Williams & Pritchard.
A distinct feature of the Knobbly was it's low frontal area which required a huge hump to clear the engine. With protruding fenders, the car became distinctly known as the Knobbly.
The first two cars were shipped to Briggs Cunningham with Jaguar engines and in the American racing scheme of white with blue stripes. Both cars failed to finish, but would continue on with the team until 1960.
Later, Lister offered a variant of the Knobbly that could fit the small block Chevrolet as used in the Corvette.
Although purposeful, the Knobbly was unsteady at high speeds which caused Brian Lister to go back to drawing boards with Frank Costin to design a much more aerodynamically efficient body. By 1959 all Listers used the new Costin design and the Knobbly was out.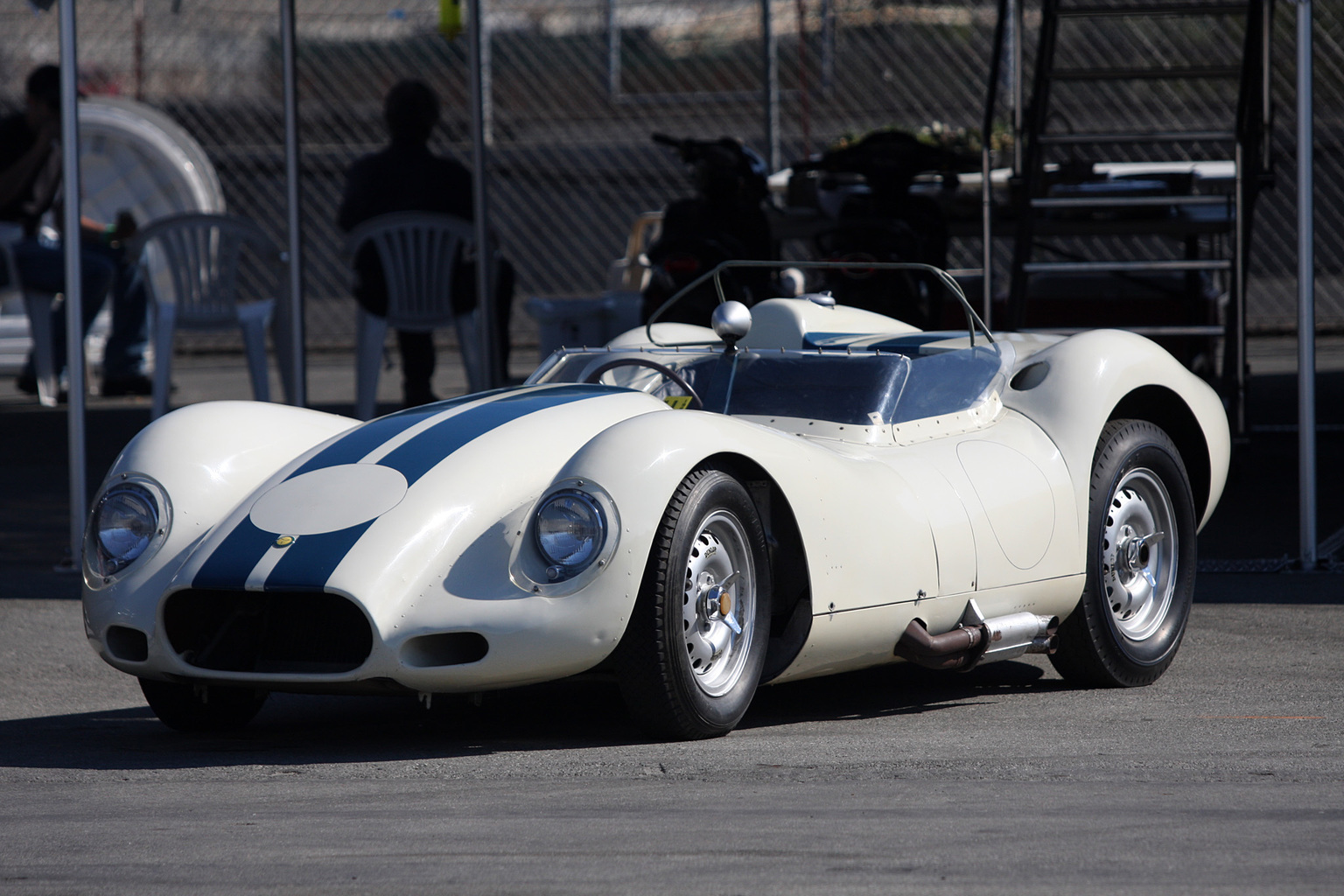 In Detail
| | |
| --- | --- |
| | |
| type | Racing Car |
| production years | 1958 – 1959 |
| coachbuilder | Williams & Pritchard |
| production | 17 |
| engine | Jaguar Inline-6 or Chevrolet V8 |
| position | Front, Longitudinal |
| aspiration | Natural |
| body / frame | Aluminum Body over Steel Tube Frame |
| driven wheels | RWD |
Auction Sales History
1959 Lister-Chevrolet BHL 127 – sold for $412,500 British chassis engineering and American grunt. Cost-no-object restoration by Lister experts. Winner of the Sussex Trophy at Goodwood and the BRDC '50s Sportscar Championship. All-time lap record holder for a 1950s sports car at Oulton Park, Goodwood, and Spa. Perhaps the fastest 1950s vintage racer available today.
Auction Source: Paul & Chris Andrews Collection by RM Sotheby's
1958 Lister-Jaguar 'Knobbly' Prototype BHL EE 101 – sold for €1,176,000 Recognised as the original Knobbly prototype. Purchased new by Briggs Cunningham. Campaigned by 1958 SCCA champion Walt Hansgen. Numerous 1st overall finishes. Featured in Autosport and Hemmings magazines. Sold with a spare, original, Momo-prepared 3.75-litre engine and FIA papers. The zenith of Lister dominance.
Auction Source: 2014 Monaco by RM Auctions
1958 Lister-Chevrolet 'Knobbly' BHL115 – sold for $1,430,000 The most original Lister in existence. A historical document that has been preserved untouched. A true investment-grade car for the connoisseur. Sensational Chevy V8 performance in a light frame. Documented in Doug Nye's book Powered by Jaguar.
Auction Source: 2013 Quail Lodge Auction by Bonhams
1958 Lister-Jaguar 'Knobbly' Prototype BHLEE101 – sold for $1,980,000 The original Knobbly Lister-Jaguar prototype. The Walt Hansgen Briggs Cunningham team 1958 SCCA World Championship car. Well-known, clear history from new. Offered in the U.S. for the first time in over 42 years. Sold with a spare original Cunningham-prepared, 3.75-liter engine and FIA papers. Built by a legend, for a legend, and driven by legends; unparalleled provenance.
Auction Source: 2013 Monterey Auction by RM Auctions
1959 Lister-Chevrolet BHL127 – sold for $528,000 Fantastic race bred heritage; complete with FIA papers. Perhaps the fastest 1950s racing car ready for vintage racing today. Cost-no-object track preparation by Lister experts. A winner of the Sussex Trophy at Goodwood in both 2008 and 2010; winner of the BRDC '50s Sportscar Championship. All-time lap record holder for a '50s sports car at Oulton Park, Goodwood, and Spa.
Auction Source: 2013 Arizona Auction by RM