Ferrari 330 GT 2+2 Series II
In 1966 Ferrari reverted from their twin-headlight layout back to the traditional setup and fitted a larger 4.0-liter engine.
The 1965 Series II version featured a five-speed gearbox instead of the overdrive four-speed of the prior year. Other changes included the switch back to a dual-light instead of quad-light front, alloy wheels, and the addition of optional air conditioning and power steering.
Prior to the introduction of the 'Series II' 330 GTs, a series of 125 'interim' cars were produced, with the quad-headlight external configuration of the Series I cars, but with the five-speed transmission and 'suspended' foot pedals of the 'Series II' cars.
Read about the Series I Ferrari 330 GT 2+2
Photos & Image Gallery
See full 1966 Ferrari 330 GT 2+2 Series II Gallery here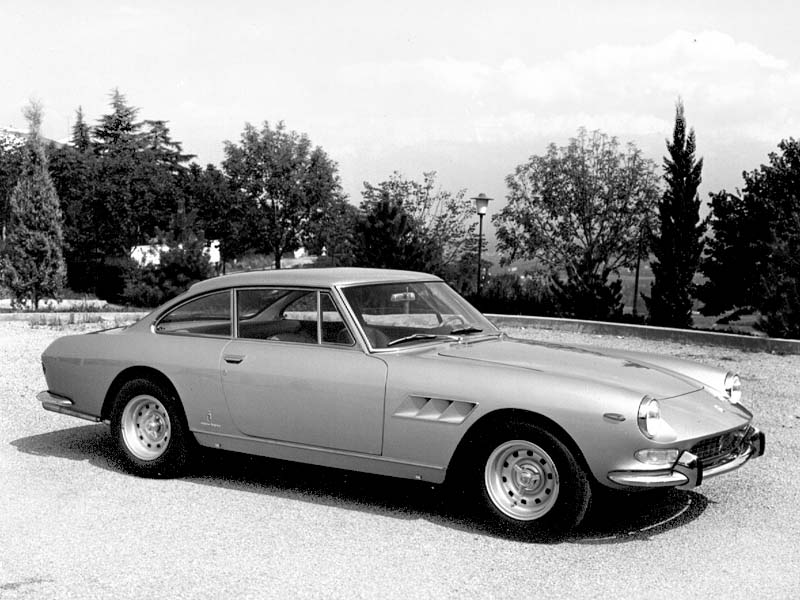 Specs & Details
| | |
| --- | --- |
| submitted by | Richard Owen |
| type | Series Production Car |
| built at | Maranello, Italy |
| predecessor | 1964 Ferrari 330 GT 2+2 |
| engine | 260 Degree V12 |
| position | Front Longitudinal |
| aspiration | Natural |
| valvetrain | OHV |
| displacement | 3967 cc / 242.1 in³ |
| bore | 77 mm / 3.03 in |
| stroke | 71 mm / 2.8 in |
| compression | 8.8:1 |
| power | 223.7 kw / 300 bhp @ 7000 rpm |
| specific output | 75.62 bhp per litre |
| bhp/weight | 217.55 bhp per tonne |
| body / frame | Steel Body over Tubular Frame |
| driven wheels | RWD w/, Limited Slip |
| front tires | 205×15 |
| rear tires | 205×15 |
| front brakes | Discs w/Hydraulic Assist |
| rear brakes | Discs w/Hydraulic Assist |
| f suspension | Wishbones w/Helical Springs, Anti-Roll Bar, Telescopic Shock Aborbers |
| r suspension | Live Axle w/Semi-Elliptic Leaf Springs, Hydrualic Shock Absorbers |
| curb weight | 1379 kg / 3040 lbs |
| wheelbase | 2647 mm / 104.2 in |
| front track | 1405 mm / 55.3 in |
| rear track | 1397 mm / 55.0 in |
| length | 4839 mm / 190.5 in |
| width | 1410 mm / 55.5 in |
| height | 1359 mm / 53.5 in |
| transmission | 4 or 5-Speed Manual |
Auction & Sales History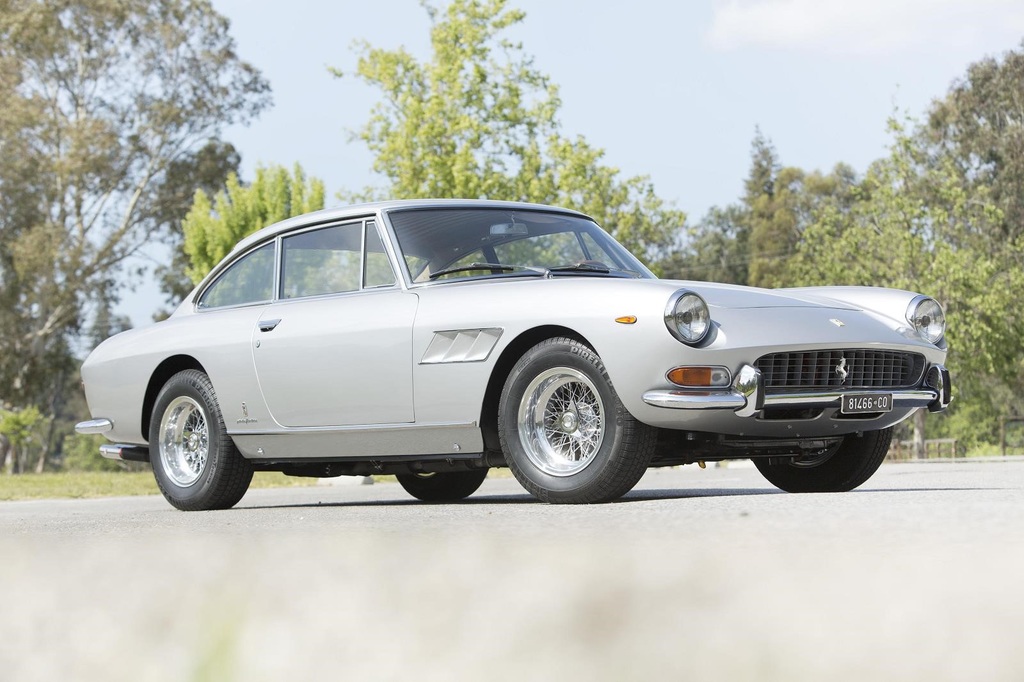 1966 Ferrari 330 GT SERIES II 8361 – sold for $352,000. Matching numbers example of the desirable "single-headlight"330 GT. Only four US owners from new. Documented by Ferrari historian Marcel Massini. In 1999, the new owner had the Pininfarina-built body re-sprayed in Silver as when new, by John Holt of Autosport Autobody in Clovis, California. The bumpers, over-riders, door handles, and other chrome trim items were replated, and all stainless steel parts polished. Finally, a new interior was crafted to original patterns by Chuck Coop at Jack's Auto Top and Upholstery in early 2012. Auction Source: 2015 Quail Lodge Auction by Bonhams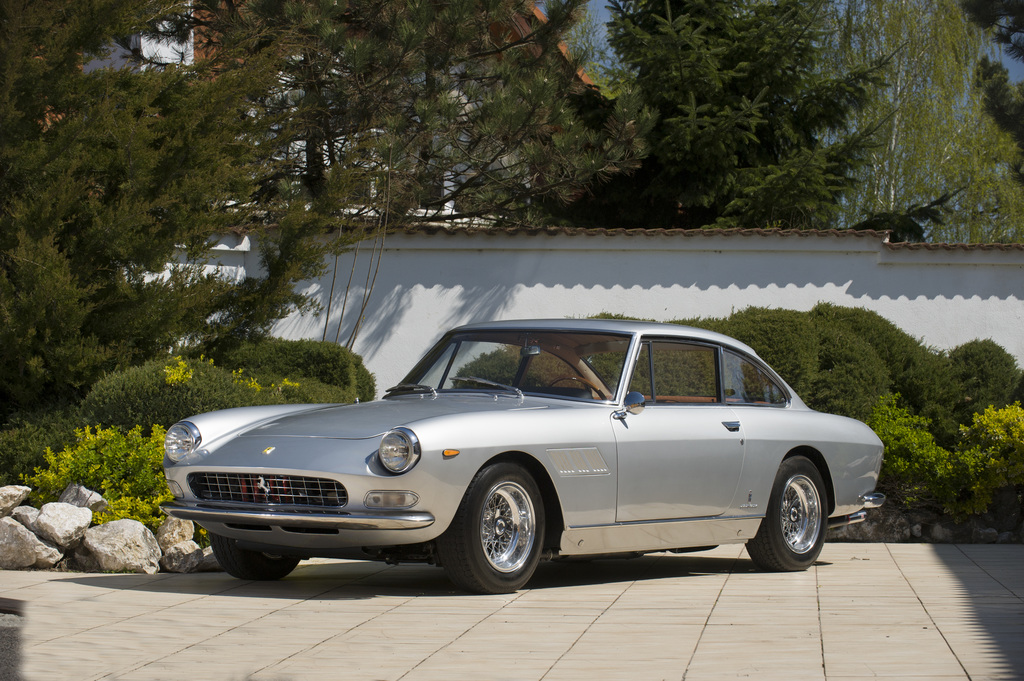 1965 Ferrari 330 GT 2+2 b7467 – sold for €246,400 According to Ferrari historian Marcel Massini, chassis number 7467 was produced in June 1965 as a Series I U.S.-specification example that was finished in Argento Metallizzato over a Rosso (VM3171) leather interior and was fitted with power windows. In 2011, chassis number 7467 was sold to its current European collector owner, who chose to fully restore the car and refinish it in Silver over a gorgeous Beige leather interior. Auction Source: Villa Erba 2015 by RM Sothebys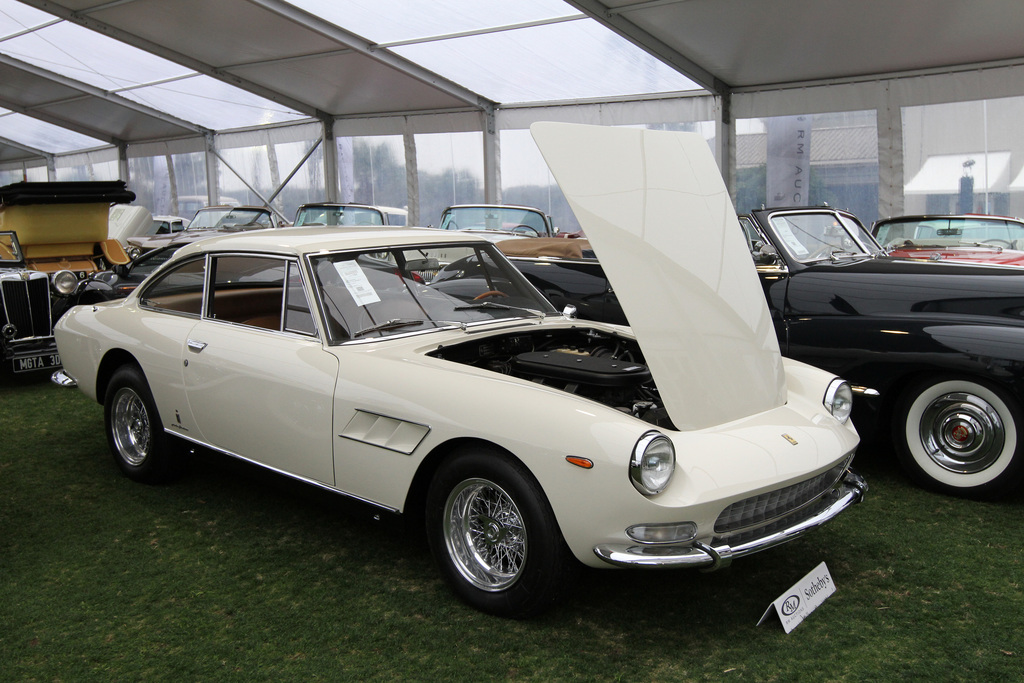 1966 Ferrari 330 GT 2+2 Series II – sold for $451,000 Believed to be the only example finished in Ivory White. Fitted with numerous custom features. Freshly completed and in beautiful condition. Finished new in Avorio (19377) with Beige Scuro interior (VM 846), power windows, and air conditioning. Auction Source: 2015 Amelia Island by RM Sotheby's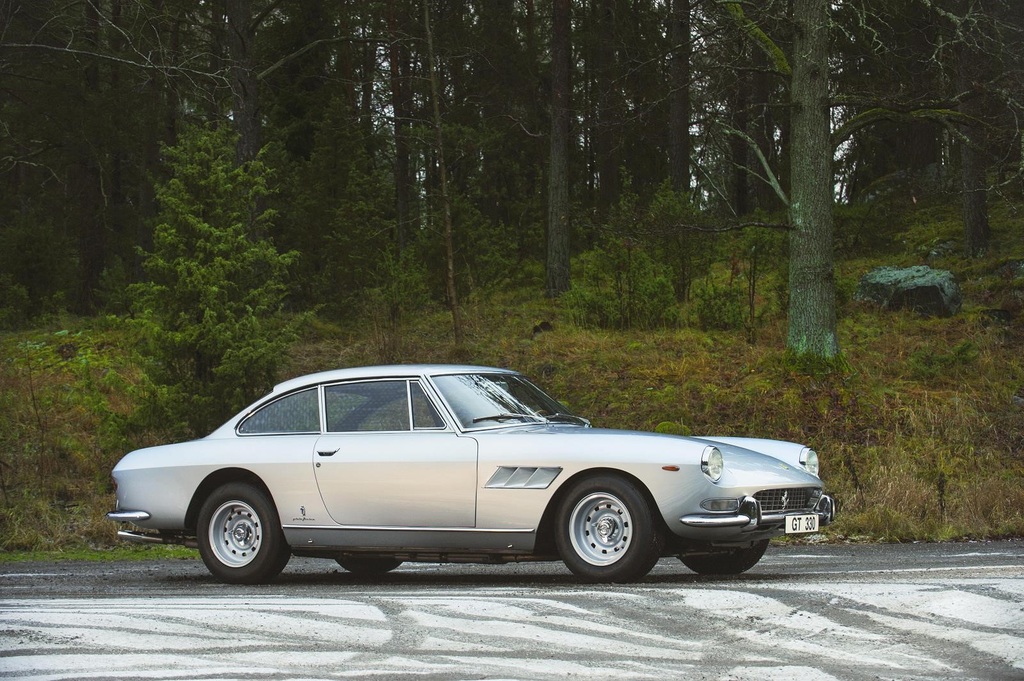 1966 Ferrari 330GT Series II Berlinetta 9097 – sold for €264,500. Chassis number '9097' featured on the Ferrari stand at the 1966 Paris Auto Show and was delivered to its first owner in France via Franco-Britannic Automobiles. The immediately preceding owner, Ando Wikström bought the car from one Paul Baber in April 1997 and had it restored in the UK by the renowned Fullbridge Carriage Company. After the restoration's completion the car was registered it in Sweden in 1998, and the following year the engine was rebuilt and converted to unleaded compatibility by Gipimo Automobiles in Brussels, Belgium. The current vendor bought the Ferrari from Mr Wikström in 2007. A stainless steel exhaust system had been fitted in 2004, and since acquisition the water pump has been overhauled and the cam chain replaced (2007); new Michelin XWX tyres fitted (2012); and the steering box and starter motor overhauled (2014). The car is described as in generally excellent condition, though there is a little smoke from the right-hand exhaust. It comes complete with jack, hammer, sales brochure and two instruction manuals (one original, one reproduction). Accompanying documentation consists of current Swedish registration papers; the 2007 purchase agreement; and sundry MoTs and invoices. Auction Source: 2015 Les Grandes Marques du Monde au Grand Palais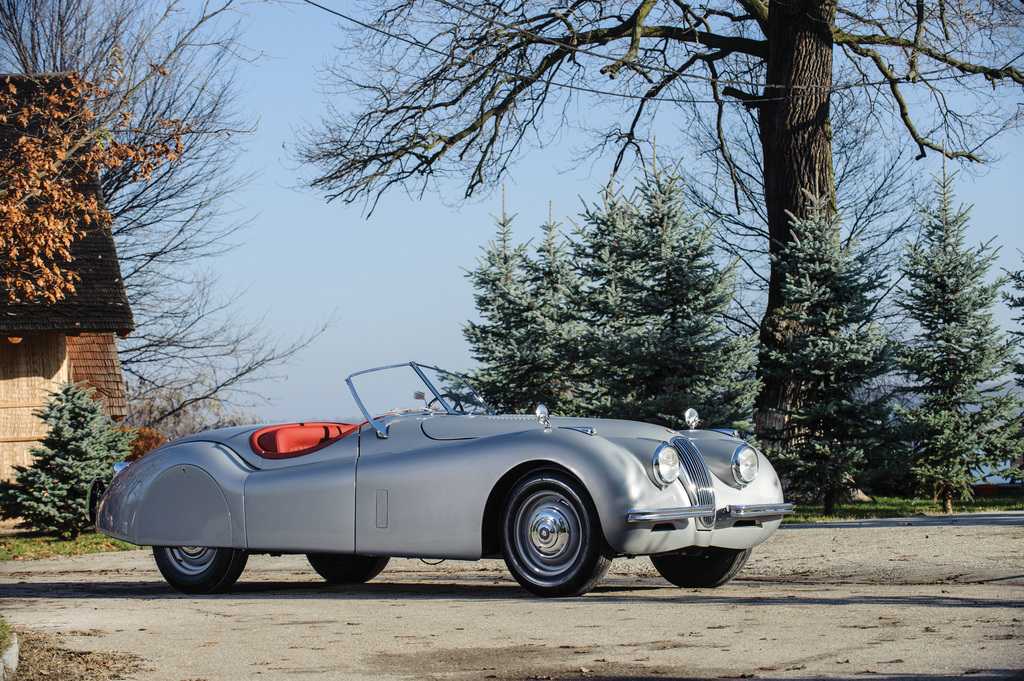 1966 Ferrari 330 GT 2+2 Series II 9319 GT – sold for €246,400. Highly desirable Series II example. Recent engine rebuild. Fitted with period-correct aftermarket air conditioning for touring. Submitted for Ferrari Classiche certification. This car, still finished in its correct colour combination of Grigio Fumo over Rosso, is currently sitting on Borrani wire wheels, and its original engine was recently professionally rebuilt by a marque specialist based in Torino. Additionally, it has been fitted with a period-correct aftermarket air-conditioning system, making the car more comfortable for touring. Auction Source: 2015 Paris by RM Auctions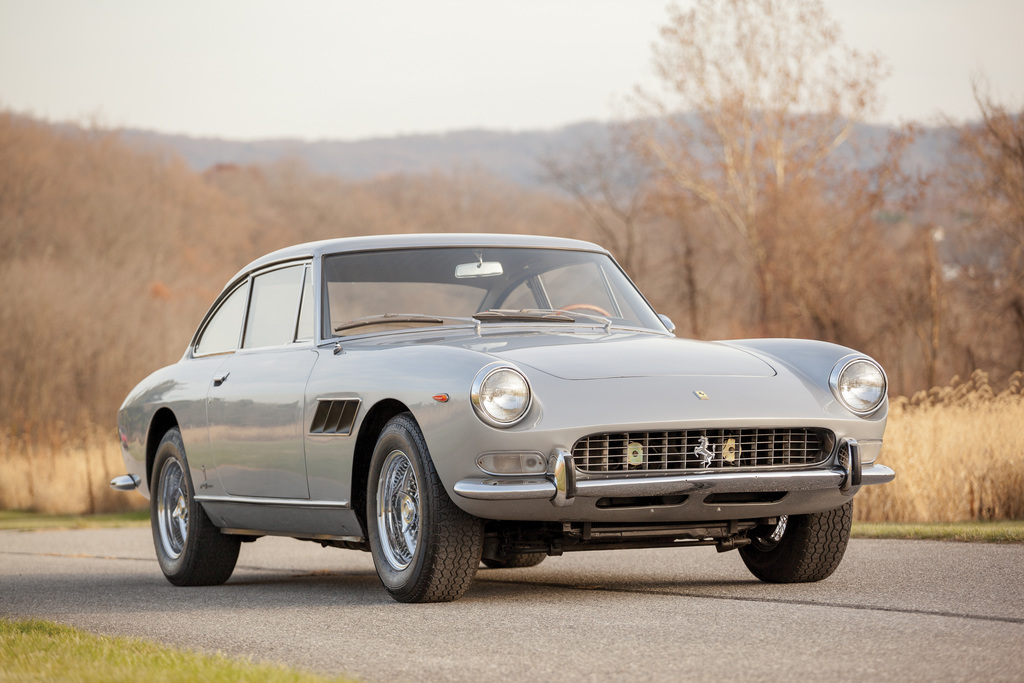 1966 Ferrari 330 GT 2+2 8725 – sold for $363,000 Long-term single ownership from 1966 to 2012; showing 79,000 original kilometers. Largely original interior; cosmetically restored. Substantial maintenance history, including a recent service. Documented by marque historian Marcel Massini. Includes original owner's manual, tool roll, original spare, wheel chalk, and jack. Matching-numbers example; Ferrari Classiche certified. Auction Source: Arizona 2015 by RM Auctions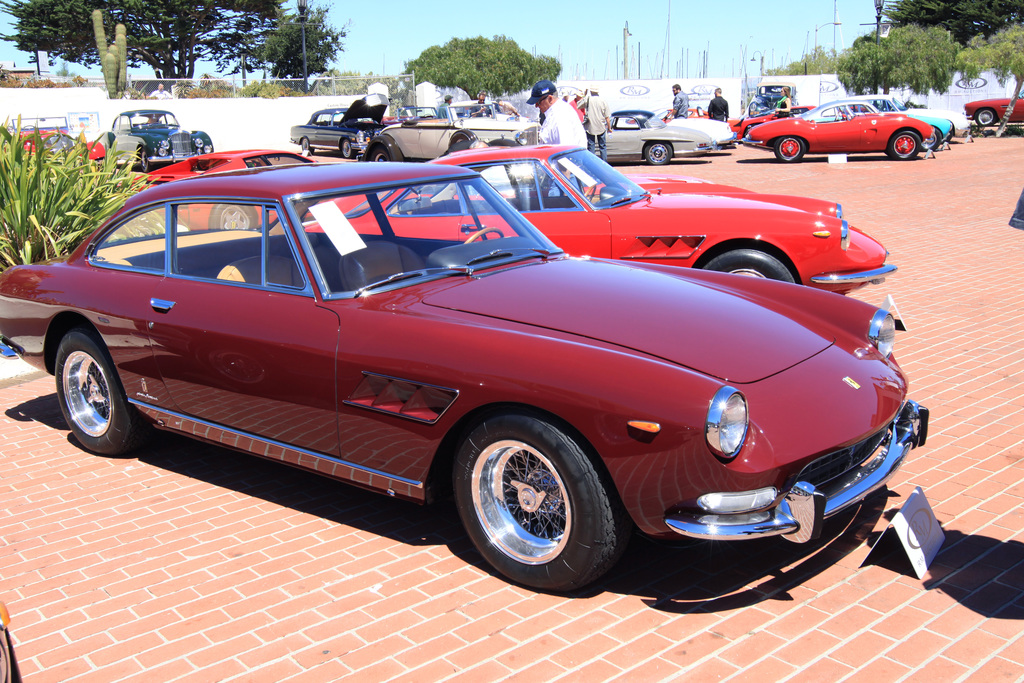 1966 Ferrari 330 GT 2+2 Series II 09089 – sold for $341,000 A wonderful cosmetically restored example. Rich and elegant original colors. An original U.S.-delivery example. Factory air conditioning. Auction Source: 2014 Monterey by RM Auctions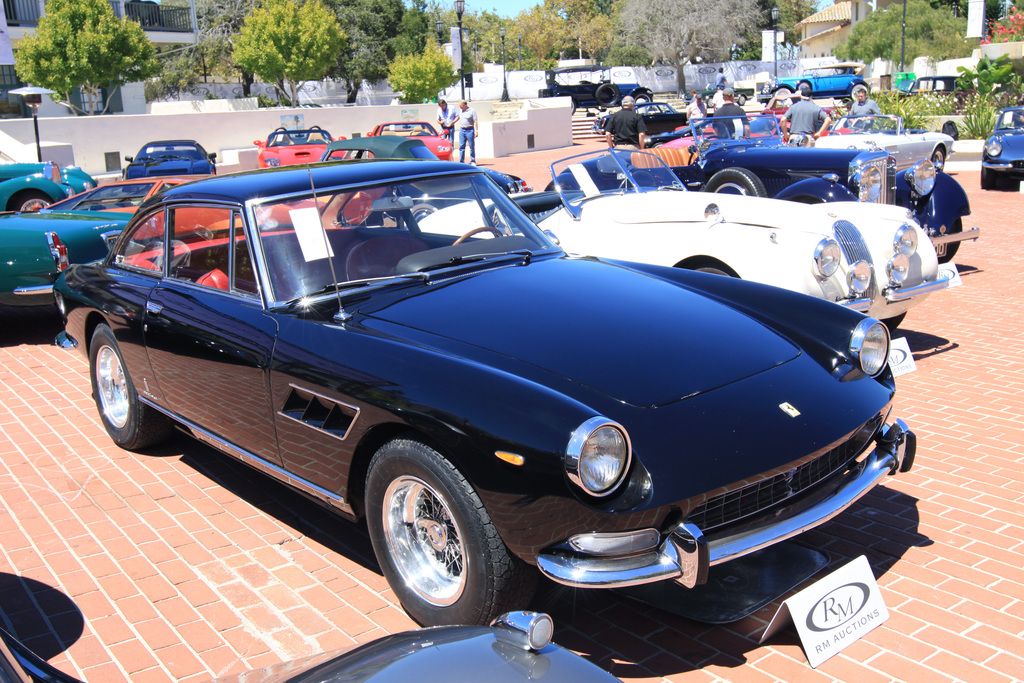 1966 Ferrari 330 GT 2+2 Series II 8947 – sold for $302,500. A well-preserved matching-numbers example. Single ownership for the past 18 years. It is rare to find a 330 GT 2+2 in largely original and very well-maintained condition, such as this car. The original engine, showing less than 52,000 miles on its odometer, has always been properly and regularly maintained, and the body is rust-free throughout. Its interior still remains in splendid original condition, showing the correct amount of patina for its age. Auction Source: 2014 Monterey by RM Auctions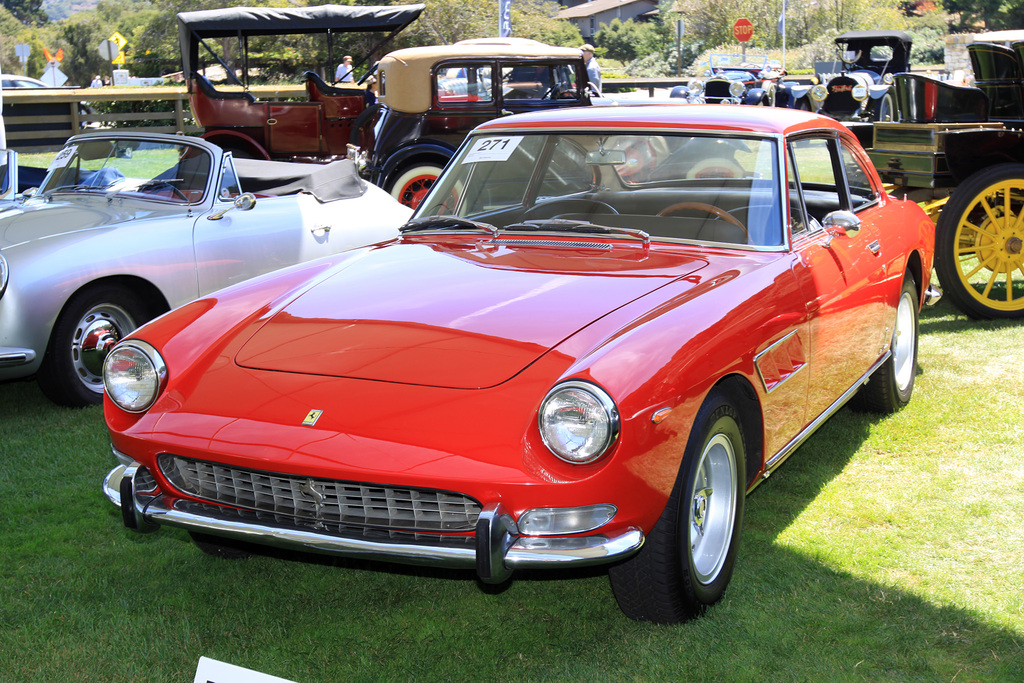 1966 Ferrari 330 GT 2+2 Series II 9209 – sold for $231,000 In the present US ownership since 1988. Fitted from new with air conditioning, power windows and power steering. Documented history, accompanied by Ferrari Market Letter report. Affordable 1960s V12 Ferrari motoring.25+ years in the hands of its most recent owner. Auction Source: 2014 Quail Lodge Auction by Bonhams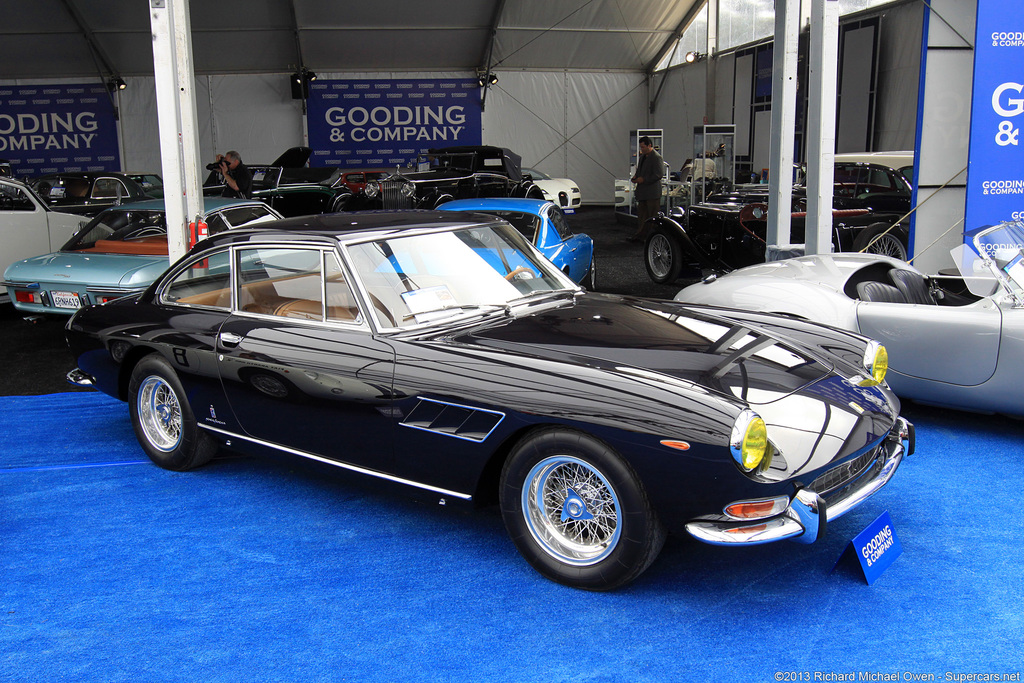 1966 Ferrari 330 GT 2+2 Series II 8379 – sold for $374,000 Originally owned by singer Pat Boone. Original California black plate car. Factory-delivered in Blu Scuro with power windows. Recent sympathetic freshening. History report by Marcel Massini. Auction Source: 2014 Quail Lodge Auction by Bonhams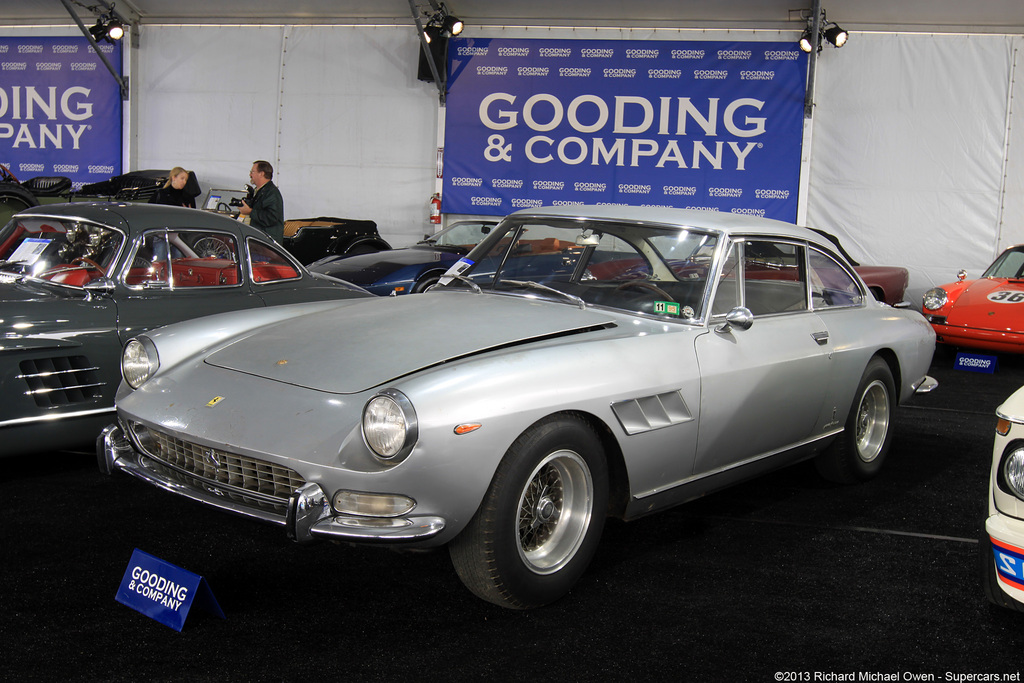 1966 Ferrari 330 GT 2+2 Series II 8469 – sold for €408,800 Ferrari factory restored and certified in its original colour combination. Single ownership since 1989 and just two previous long-term owners. Desirable and highly sought-after Series II example, complete with a full set of books and tools. Perhaps the finest example of its kind in existence. Ferrari Classiche certified. Auction Source: 2014 Monaco by RM Auctions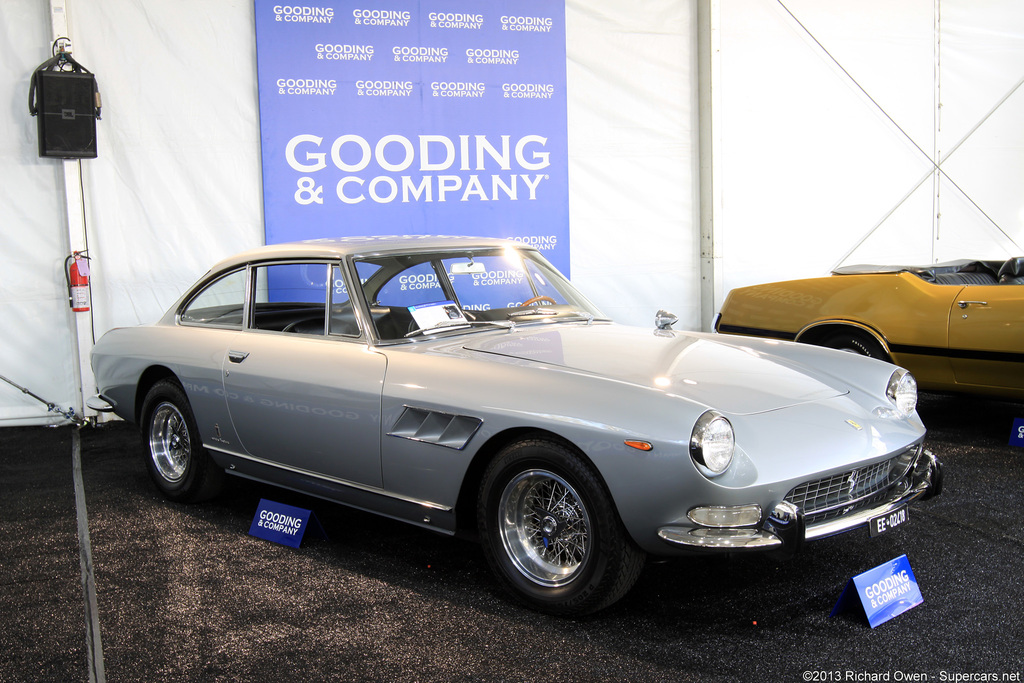 1966 Ferrari 330 GT 2+2 Series II 8251 – sold for $308,000 Highly original example, with three documented owners from new. Maintained for 40 years by the third owner. Extensive mechanical restoration by marque experts. Impressive original paint and interior. Auction Source: 2014 Arizona by RM Auctions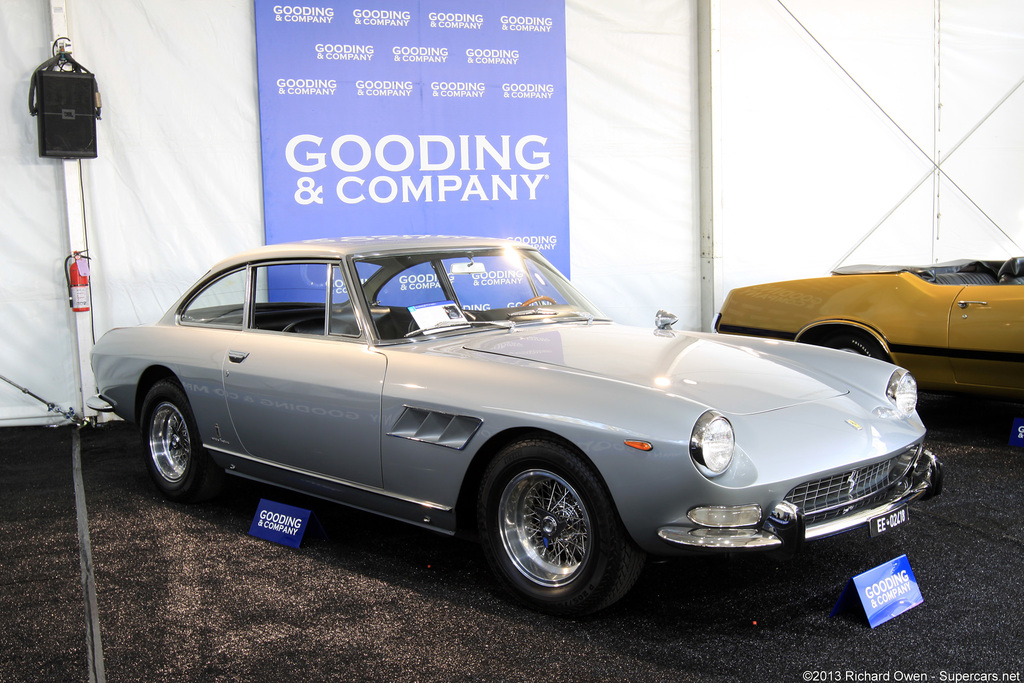 1966 Ferrari 330 GT 2+2 Series II – sold for $297,000 One of 424 Original Left-Hand- Drive Series II Cars Built. Original German-Delivery Example with Unique Features. Rare and Distinctive Original Color Combination. Former FCA Gold and Most Authentic Interior Awards Winner. Complete with Books, Tool Roll, and Borrani Wheels. Documented by Noted Ferrari Historian Marcel Massini. Auction Source: The Scottsdale Auctions by Gooding & Company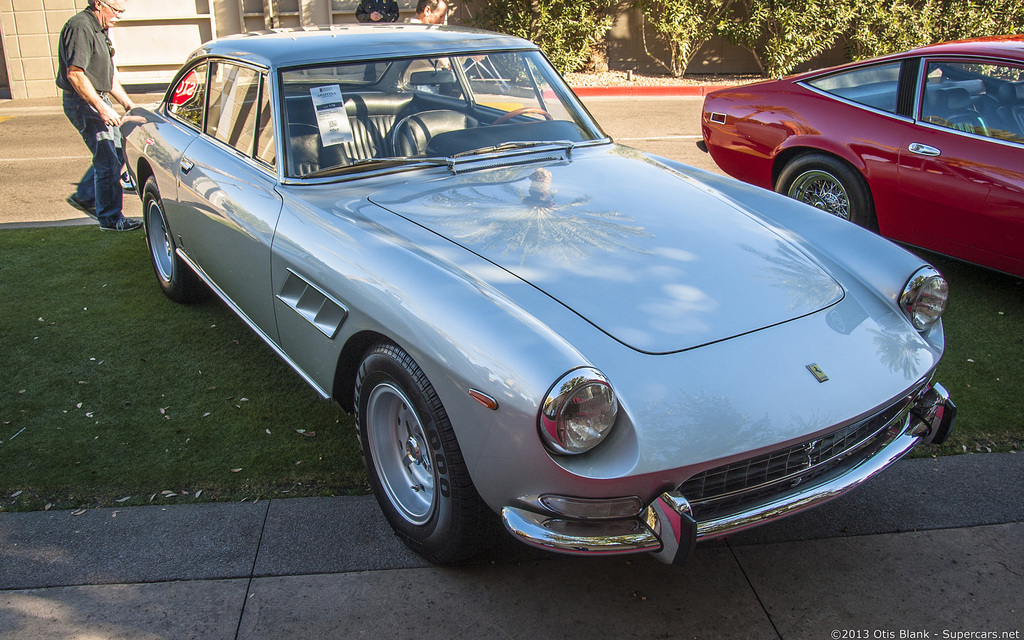 1967 Ferrari 330 GT 2+2 Series II 8601 – sold for $192,500 Ferrari Classiche certified; numbers-matching example. Desirable Series II with disc brakes, five-speed gearbox, and power windows. Striking presentation throughout. Auction Source: 2013 Arizona Auction by RM