If not for the myriad of geopolitical issues dampening the mood on things—and ultimately, affecting the automotive industry directly—2022 was shaping up to be one of the best years ever, especially for auto enthusiasts. It still can be.
For that, we can thank cars like the all new Lotus Emira; arriving as scheduled and entering the fray with a level of panache that is backed up by what it brings to the table. In many ways, the Lotus Emira kicks off a rebirth for the British automaker, who is looking to make a surge into the next decade with a relevant and forward-looking product line.
At the same time, the Emira has also been tasked with performing the swan song for Lotus' petrol-powered cars, as the company's campaign towards total electrification advances deeper into "no turning back" territory.
Modern Old-School Thinking
Purists are probably rejoicing—brand loyalists in particular—as the Emira will be very familiar in many ways, most notably with its use of a 3.5L supercharged V6 engine supplied by Toyota. Perhaps they're playing a more symbolic note here, though there's nothing wrong with sticking with what has worked so well from a practicality standpoint in the past.
There are certainly enough changes all around to consider the Emira a brand new model, not just in terms of name, but in its overall essence as well. For starters, an AMG-built 2.0L turbocharged inline-4 engine will be the default powerplant on the more economical Emira trim, and this new collaboration is sure to add some spice to the mix.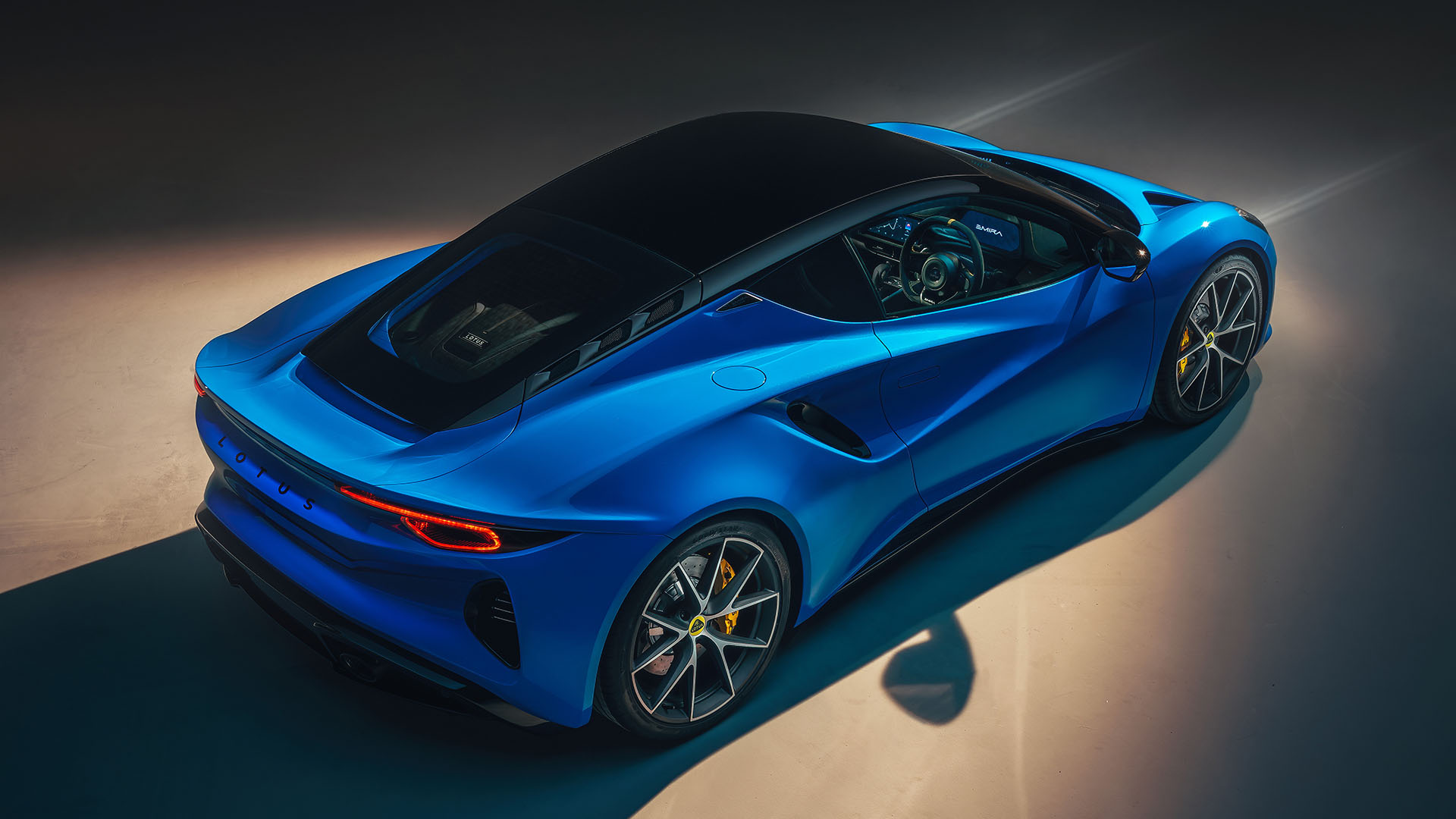 In terms of design, there are hints of the Evija in its DNA, though its general compactness and mid-engined layout reveal its irrefutable connection to the brand's more historic vehicles, like the Exige and Evora. With all that being said, the Lotus Emira will feel like a familiar old friend who is eager to share some of the new tricks it has picked up since the last time you met.
Don't worry. It's still rear-wheel drive. There's a manual transmission, too.
Performance & Drivetrain
You'd have been forgiven for expecting the Emira to be fully-electric, if not hybrid, when the British automaker announced that its "Type 131" project had kicked off. Afterall, Lotus was making very public, the fact that they were beginning the transition towards an exclusively-EV roster around that time.
Fast forward to today, and it's the more usual Toyota supercharged V6 powering the latest Emira prototype which journalists have also been able to sample. There's no hybrid version in sight, but there's most definitely a more economical engine choice in the 4-banger which will come as standard fare for the line-up's base models.
The latter will be available later on—Lotus will be launching the Emira exclusively in its V6 configuration, so those eager to procure an AMG-powered British sportscar will have to wait a bit longer. Our recommendation would be to go for the bigger engine anyway, though the smaller turbocharged powerplant makes a great value proposition.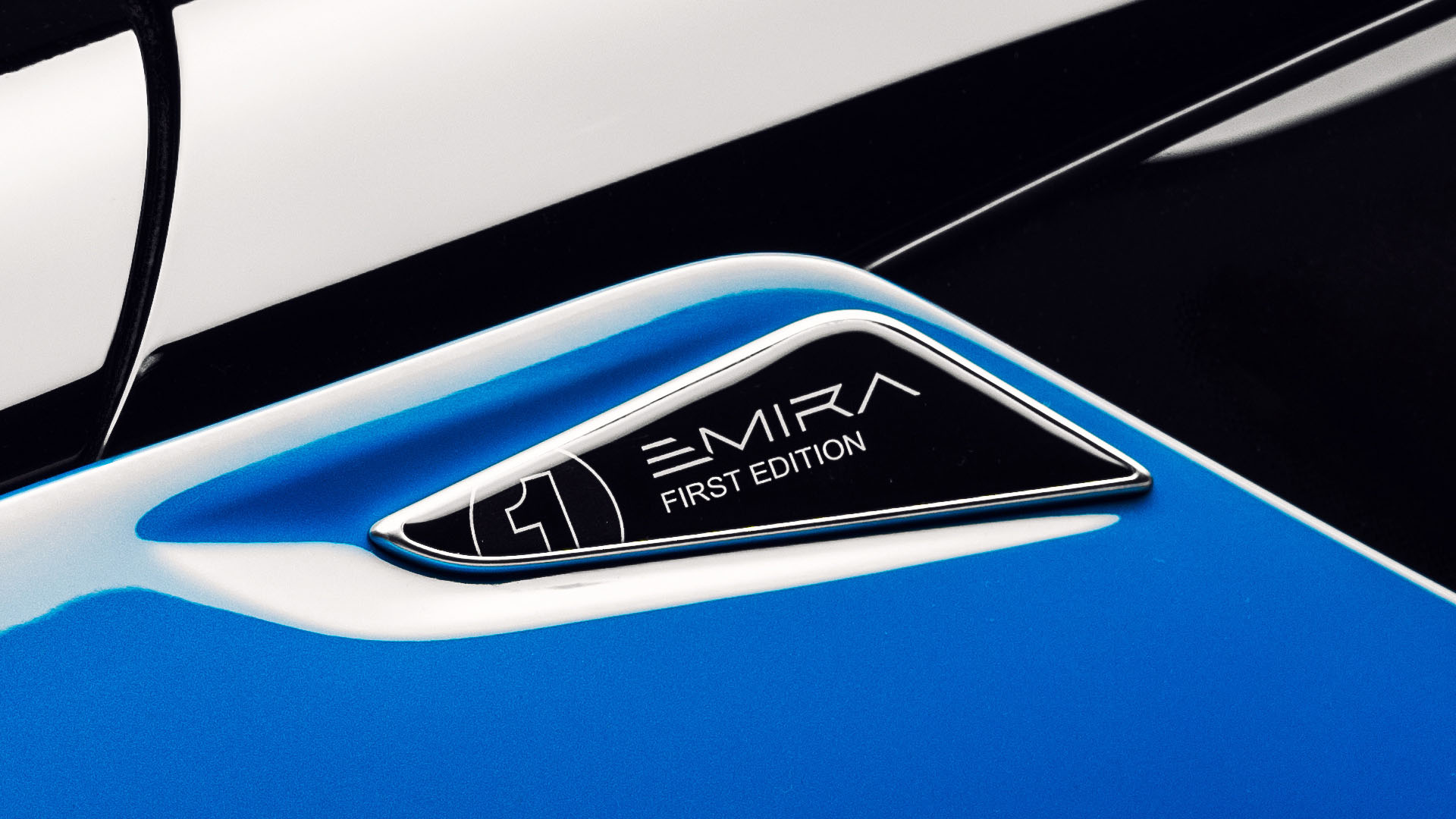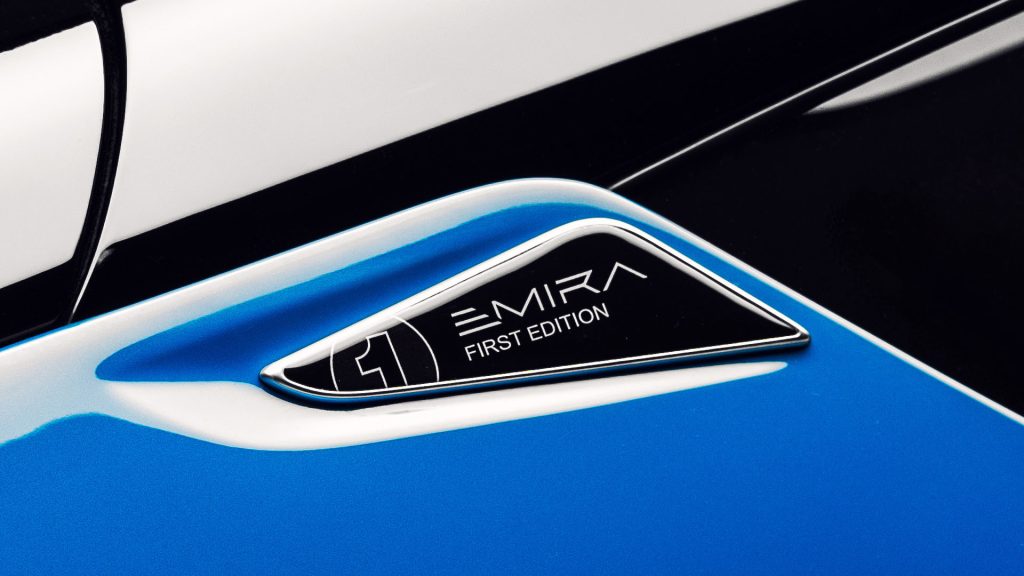 For the "First Edition" and more expensive trim levels, the 3.5L supercharged V6 produces 400 hp @ 6,000 rpm and 310 lb-ft of torque @ 3,500 rpm when mated to the standard 6-speed manual transmission. Those who opt for the automatic will get a little bit more torque, with a total of 317 lb-ft available in that configuration.
We're still waiting on more specs when it comes to the 2.0L turbocharged inline-4, but if we were to ball-park a guess, something along the lines of 280 hp and 220 lb-ft of torque makes total sense, at least in our minds.
This means the V6 model is good for 0-60 mph in about 4 seconds, while the inline-4 would end up somewhere in the 5 second range; but with all that said, a Lotus car has never been a numbers car, and that fact is not about to change with the Lotus Emira.
Chassis
If there were any sentiments that the Emira was about to stray from its Lotus roots, its quintessential driving dynamics will leave any of them on the wayside. In this computer chip augmented era, the Emira has remained decidedly analog with expected and desirable outcomes—sharp handling, precise feedback and a puristic driving spirit. Hydraulic steering is a big component of that.
Relatively speaking, a 3,152 lb curb weight doesn't exactly resonate well with the Lotus cars of old, but the Emira does come with the arsenal of necessary assists to maximize the capabilities of the car without dampening the "fundamental fun factor" that draws in the typical Lotus-loving crowd.
Different driving modes and a clever Electronic Stability Control system work in harmony to ensure that the car is behaving the way the driver wants it to for any given situation. For starters, there's a Tour mode for the more tame inner-city commute and a Sport mode for those spirted canyon runs.
There was no working Track Dynamic mode in the prototype car—though some version of that is expected on the production models—but in any case, turning off ESC completely would be the best way to explore the true potential of the car (and its driver) at the race track and experience what a Lotus car is really all about.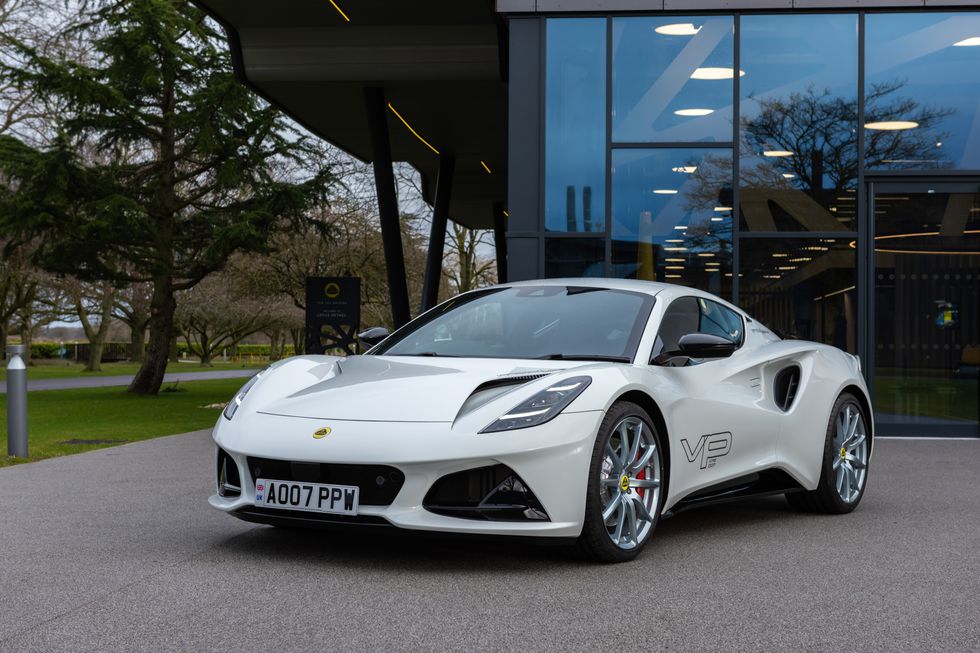 The Lotus Emira doesn't need an active suspension system likes the ones seen on most modern cars, as the minimalist philosophy is what continues to dominate the conversation at the Hethel headquarters. Brakes are optimized as generalists, but will serve well in the most demanding situations as well.
Overall, a brilliant, versatile, all-aluminum platform upon which the larger V6 engine or more compact inline-4 powerplant can thrive equally.
Design
There's really not a whole lot to say about the Lotus Emira's design in terms of it being a departure from the Lotus sketchbook. It presents a largely familiar silhouette, with some of the finer details on the front fascia—headlights and hood vents in particular—underpinning an image that is consistent with the brand's halo model, the Lotus Evija. If anything, that's good for marketing.
Elsewhere, mostly Evora-esque vibes are being given off; so while there's nothing groundbreaking or completely unique about the Emira from an exterior view, we're not eager to dock any marks here for unoriginality. Afterall, we're singing the praises of the return of the Toyota V6, so why wouldn't we be just as receptive in the looks department? We wanted a real Lotus. We got one.
Inside, comfort and ergonomics take center stage in the new Emira. This is a stark contrast from the likes of the overtly spartan Exige, but more aligned with the Evora from which it has made improvements upon. Unlike the latter however, it's a pure 2-seater, and not a 2+2 configuration.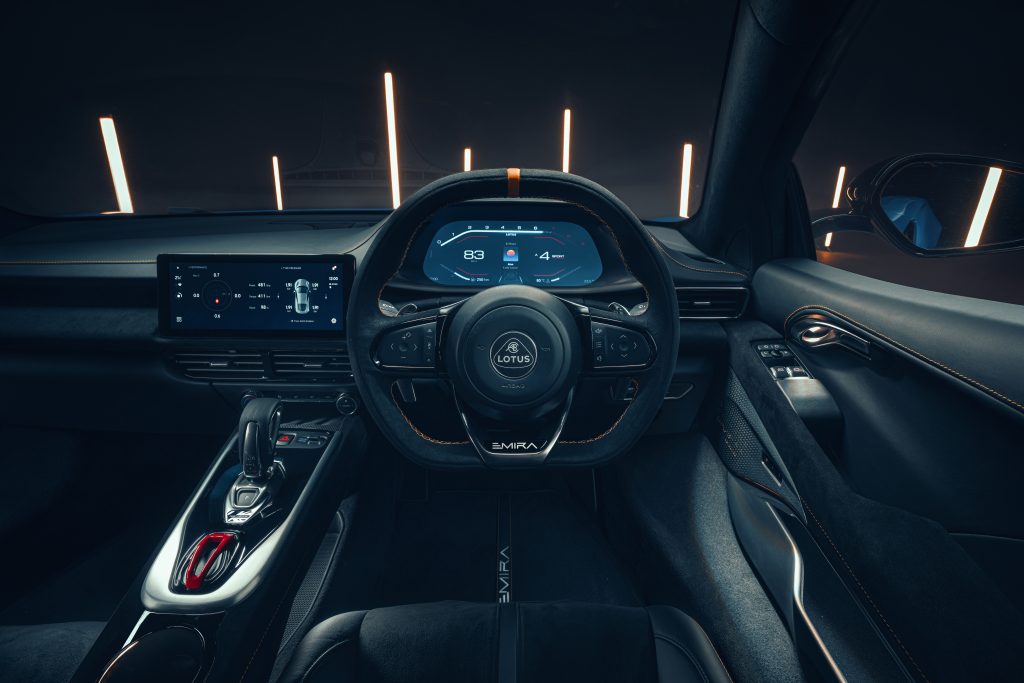 Sufficient luxury finishes, plus a digital instrument cluster and infotainment system give the Emira a more high-end and modernized persona. Other features such as cruise control, Apple CarPlay and satellite navigation all come standard; important if Lotus is looking to disrupt a market segment currently occupied by the likes of the Porsche Cayman, Audi TT and Jaguar F-Type (and we're sure they would love to do just that).
Pricing
Initial release of the special edition Emira models—known as "First Edition"—will start at an MSRP of $96,100 USD. Besides being the first cars to be delivered, they will come with exclusive features such as one-off trim colors, diamond-cut 20″ wheels, and will only be available with the V6 engine.
Starting prices for the "regular" V6 models are expected to come in a little under that, while sources have indicated that the AMG-powered versions will begin at around $77,100 USD once they become available (most likely in 2023).
Verdict
*ratings to be provided once production version has been reviewed
supercars.net
"In the Lotus Emira, the team at Hethel have made every effort to preserve the brand's distinctive reputation, while still acknowledging that times are quickly changing. As fellow car enthusiasts, we're happy when manufacturers like Lotus are willing to defy the automotive industry's shifting attitudes, if only for just a while longer.
It's a huge departure from Lotus cars of previous eras. It also occupies an awkward position in the midst of the company's transition to full-on EV production. Yet, everything about this car is familiar in all the right ways. The Toyota V6, or a peppy 4-cylinder. An analog driving experience, without the "widow-maker" label.
The Emira is 100% Lotus through and through—that's always going to be good enough for us."
What Other Experts Are Saying
Top Gear
"It might not be a huge technological achievement, but it's a giant leap for this great British company. Is it better than a Porsche Cayman? That's a question for later, it's certainly a more interesting choice and the build quality, ride and refinement gap is going to be Rizla thin. It's not quite finished then, but it's tickling me in all the right places."
Evo
"Driving this late phase prototype confirms the Emira is far closer to the no-excuses car Lotus needs. VP-007 certainly points to a car with a character that sits somewhere between the maturity of a Cayman and the purity of an A110. Exactly where its capabilities position it is something we can't wait to discover later this year."
Car and Driver
"The driving experience remains exemplary, something common to pretty much all its predecessors. But it also looks set to deliver the usability that the company's earlier cars rarely gave much concern to… a broader appeal is both necessary and understandable. We need to wait to see how the Emira copes with the real world, but our first impression is overwhelmingly positive."
Auto Express
"Much of what makes the Emira feel so special is in the way it steers and how it responds without feeling at all contrived. The manual transmission and vocal V6 should be savoured, too. The Emira is shaping up to be a memorable machine."
Image Gallery
Video Reviews
For even more video reviews and content, visit our 2023 Lotus Emira: Video Roundup page.