Ferrari 330 GTS
The 330 GTS was released in October at the 1966 Paris Auto Show. It was intended as a grand tourer that delivered quiet performance.
The 3967 CC V-12 was a development of the engine used in the 400 Superamerica, and joined to the five-speed gearbox, provided flexible power across a wider range. The 330 GTS also introduced an improved mounting for the engine and rear transaxle, joining them with a torque tube to minimize vibration.
Only 100 examples were made before the model was upgraded with a 4.4 liter engine in 1968.
Photos & Image Gallery
See full 1966 Ferrari 330 GTS Gallery here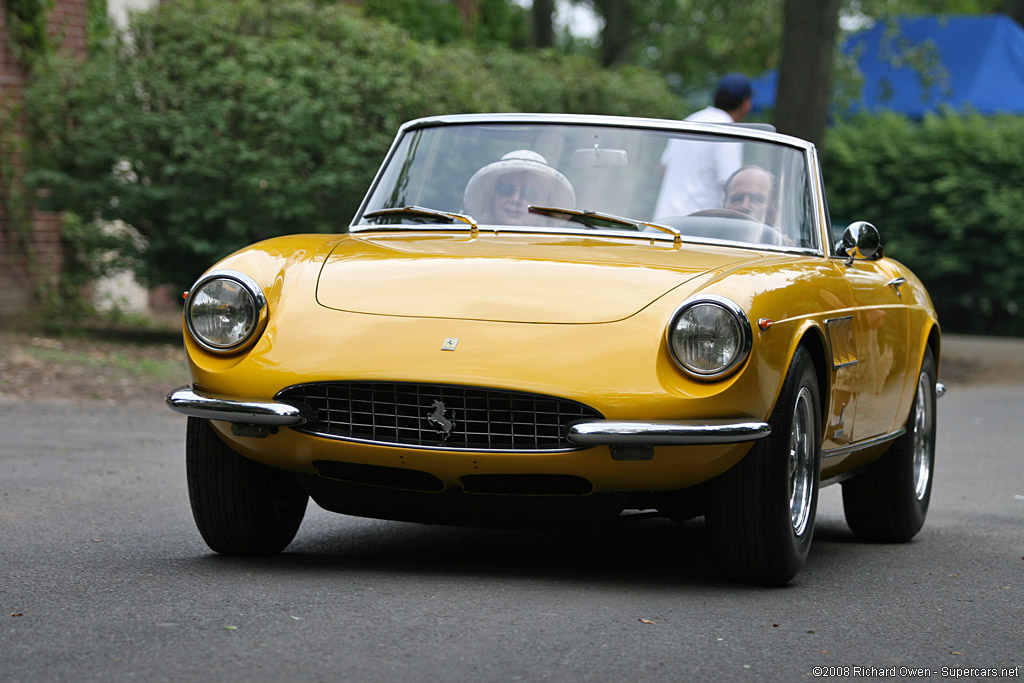 Specs & Performance
| | |
| --- | --- |
| | |
| type | Limited Production Car |
| production years | 1966 – 1968 |
| released at | 1966 Paris Motor Show |
| built at | Maranello, Italy |
| body stylist | Pininfarina |
| production | 100 |
| engine | Type 209 60º V12 |
| position | Front Longitudinal |
| aspiration | Natural |
| block material | Aluminum Alloy |
| valvetrain | SOHC, 2 Valves per Cyl |
| fuel feed | 3 Weber 40 DFI Carburetors |
| displacement | 3967 cc / 242.08 in³ |
| bore | 77 mm / 3 in |
| stroke | 71 mm / 2.8 in |
| compression | 8.8:1 |
| power | 223.7 kw / 300 bhp @ 7000 rpm |
| specific output | 75.62 bhp per litre |
| torque | 325.4 nm / 240 ft lbs @ 5000 rpm |
| body / frame | Steel Body over Tubular Steel Chassis |
| driven wheels | RWD |
| front brakes | Discs w/servo assist |
| rear brakes | Discs w/servo assist |
| steering | Worm & Roller |
| transmission | 5-Speed Manual |
Auction & Sales History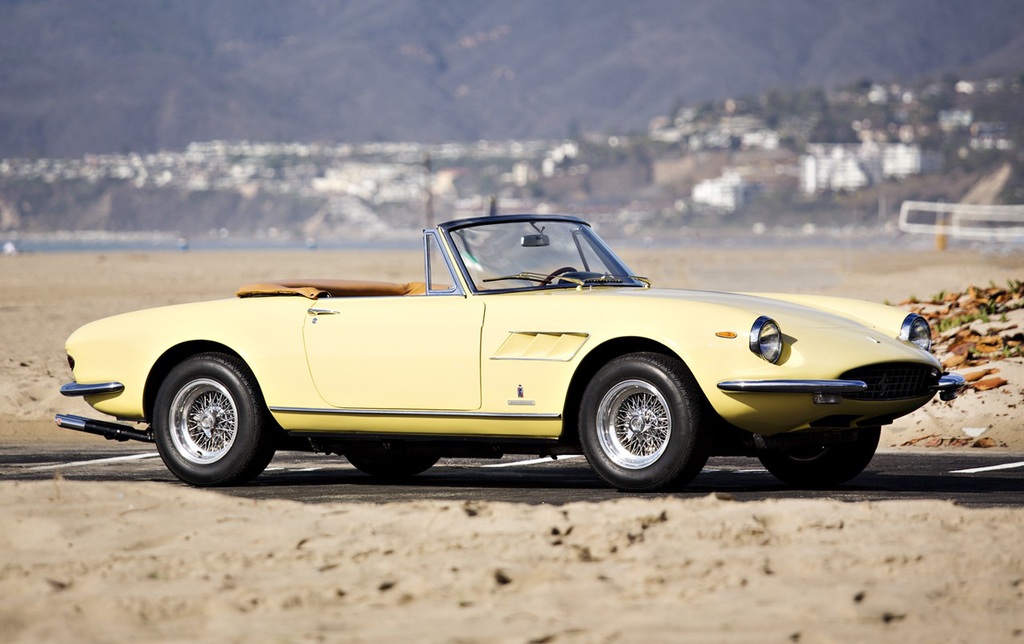 1968 Ferrari 330 GTS 10817 – sold for $2,420,000 One of Just 99 Examples Originally Produced. Single-Owner Care and Maintenance from 1998 to 2014. Bare-Metal Refinish Completed in 2000. One of Ferrari's Best All-Around Performers of the Late 1960s. Documented by Ferrari Historian Marcel Massini. Auction Source: The Scottsdale Auctions 2015 by Gooding & Company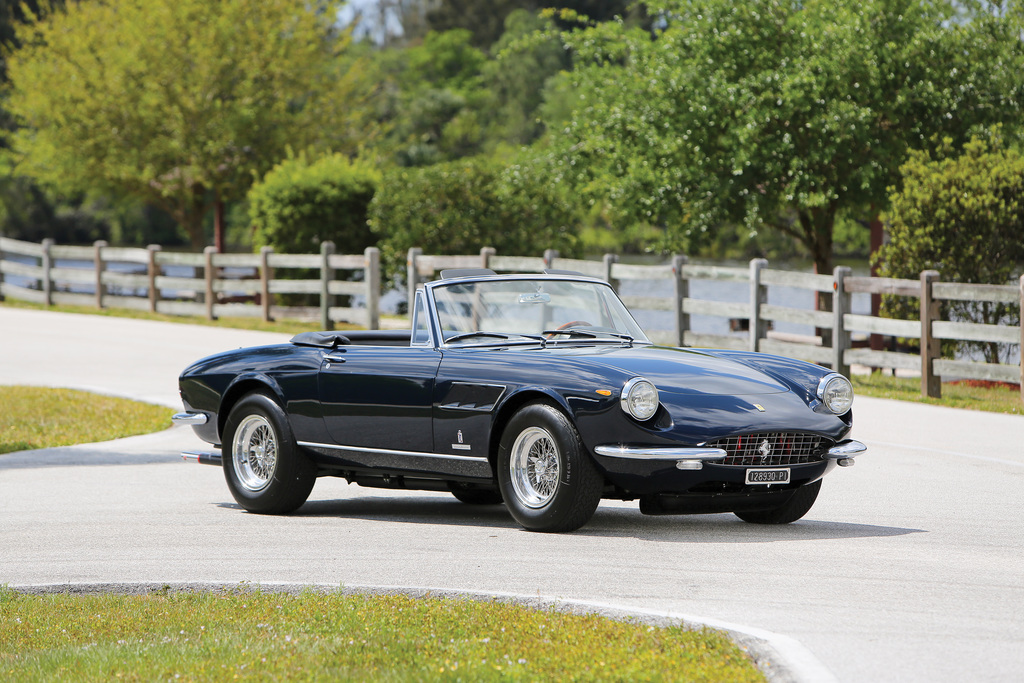 1967 Ferrari 330 GTS 10719 – sold for €2,128,000 One of 99 built; a matching-numbers example. Best of Show at the 2011 Concorso Italiano. The subject of a comprehensive mechanical and cosmetic restoration. Auction Source: 2014 Monaco by RM Auction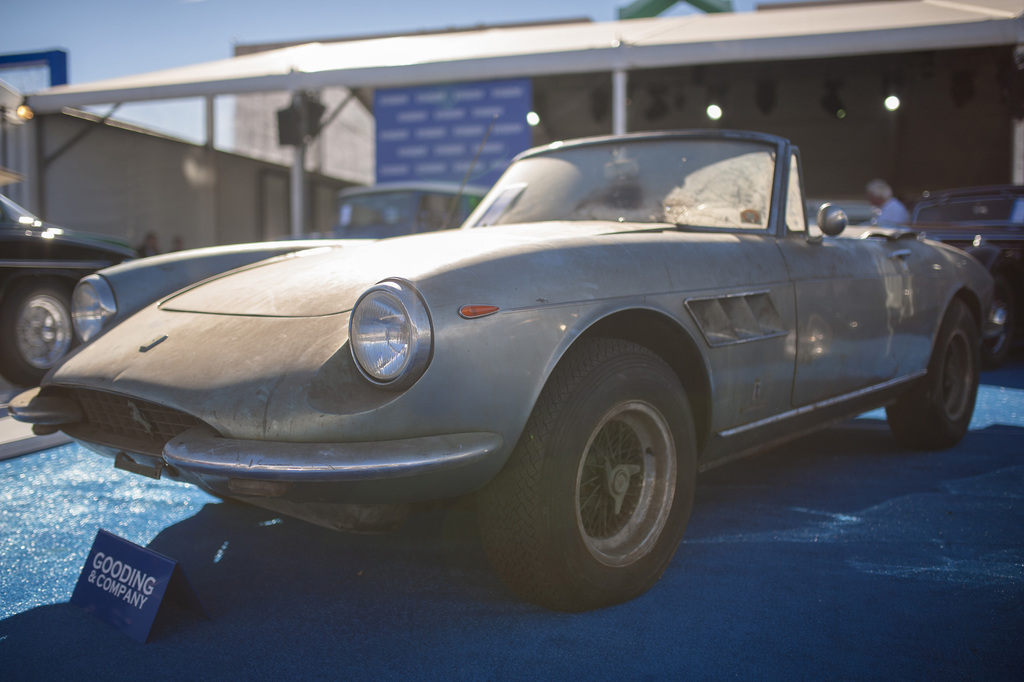 1967 Ferrari 330 GTS 9343 – sold for $2,062,500 A Truly Exciting Ferrari Discovery. The Fifth of Only 99 Examples Built. Sophisticated Celeste Blue over Dark Red Color Scheme. Less than 23,000 Miles from New. Very Original, Matching-Numbers Example. Single-Family Ownership for Over 40 Years. An Exciting Candidate for a Concours-Quality Restoration. Never Shown, Restored, or Offered for Public Sale. Documented by Ferrari Historian Marcel Massini. Auction Source: The Scottsdale Auctions by Gooding & Company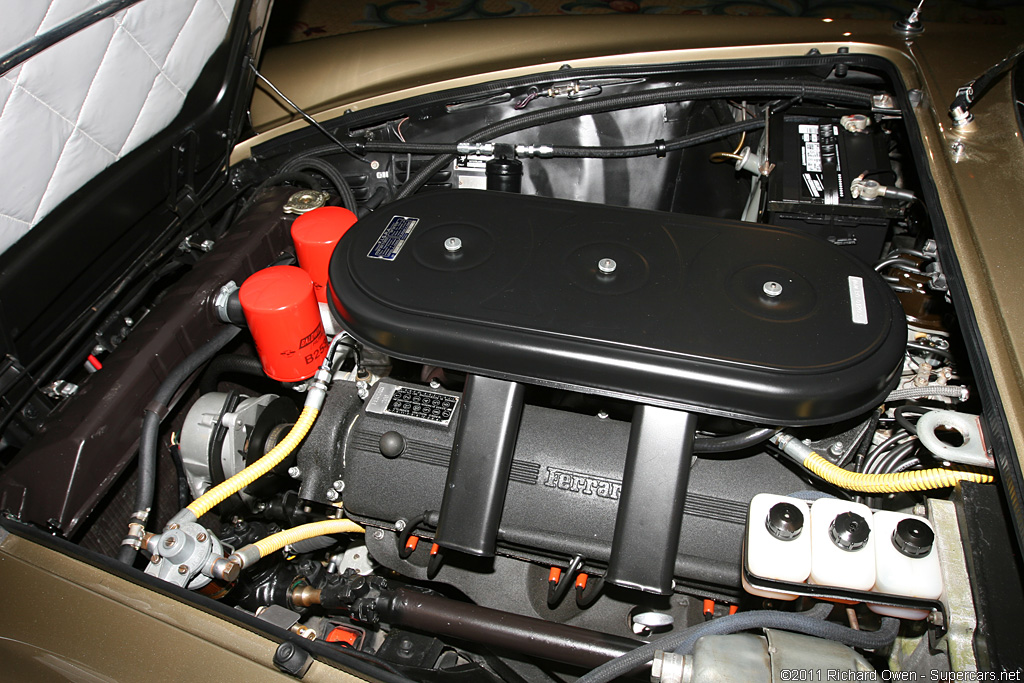 1967 Ferrari 330 GTS 10561 – sold for $770,000. One of only 99 built; correct factory colors. Single ownership and impeccable care since 1981. The subject of a comprehensive, no-expense-spared restoration. Matching numbers.
A painstaking and thorough restoration of 10561 was undertaken in 1998 and completed in 2007. The cosmetic part of the restoration process was completed over a three-year period. The V-12 engine was removed, and the body was stripped to bare metal and refinished by Euro-Craft, Inc. of Lawrenceville, Georgia in its original color of Oro Chiaro. The car's original colors were determined after considerable research by the owner in collaboration with noted Ferrari marque expert Hillary Raab. The renowned trimmer Joe Nitti restored the interior with new Nero Connolly hides and Wilton wool carpeting and fitted a new convertible top. Commensurate with the painstaking attention to detail lavished on the car, the original window-lift switches were carefully rebuilt and not replaced, and the bumpers were restored as well. Auction Source: 2011 Amelia Island Auction by RM Auctions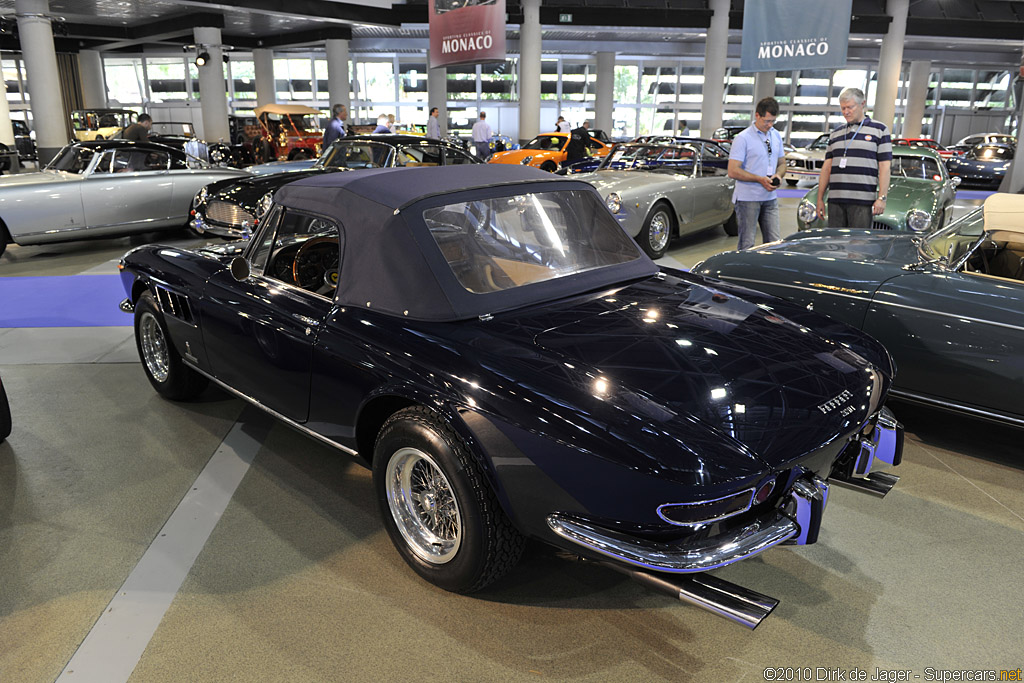 1968 Ferrari 330 GTS 10883 – sold for €520,800. Chassis no. 10883, the example offered here, was completed in February 1968 and ordered new by the U.S. Ferrari importer Luigi Chinetti Motors before being sold by Modern Classic Motors, the Ferrari dealership of Nevada casino magnate Bill Harrah. During the 1980s, 10883 was sold to an enthusiast in Japan, from where it was purchased in 1989 by Ferrari collector Baron Dr. Franz Mayr-Melnhof-Saurau of Graz, Austria.
Today, the 330 GTS is stunningly finished in Blu Scuro with a dark blue hood, Champagne leather upholstery, tan wool carpets and Borrani wire wheels on new tyres. It benefits from long-term ownership since 1990, during which time it received a comprehensive, photo-documented restoration in the late 1990s by UK marque specialists. With less than 1,000 miles since restoration and a fresh major service, it remains both mechanically and cosmetically superb. A matching numbers car, this is a landmark Ferrari model, both eminently drivable yet drop-dead gorgeous. Auction Source: 2010 RM Auctions Sporting Classics of Monaco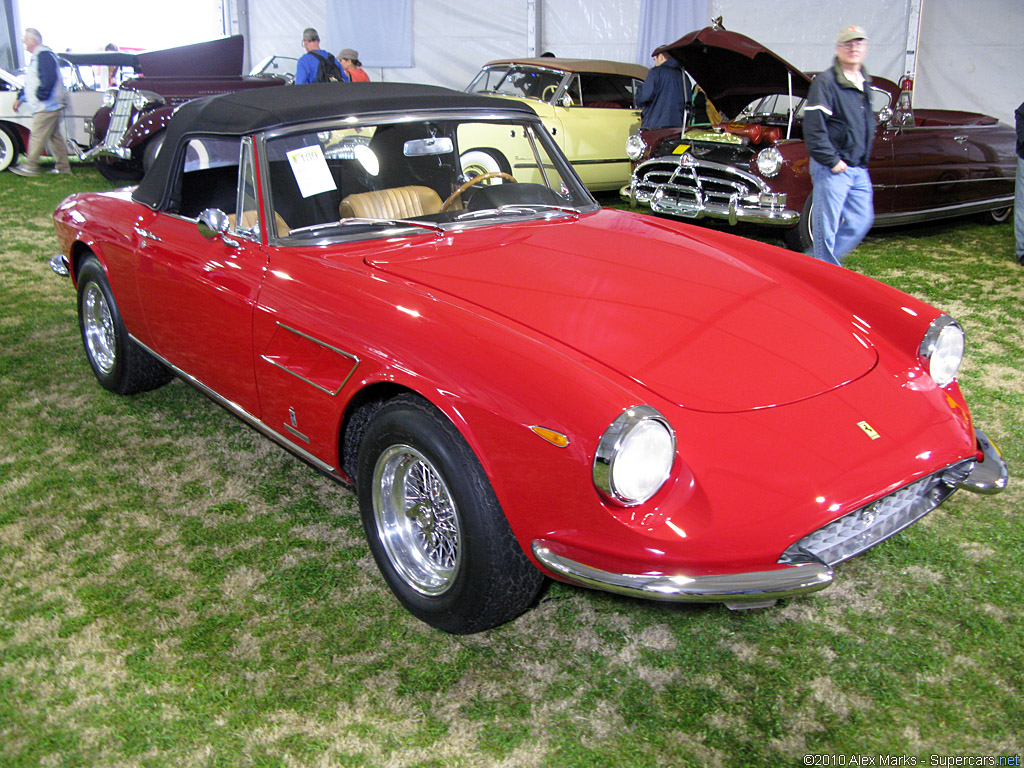 1967 Ferrari 330 GTS 9199330GTS – sold for $495,000. Chassis no. 09199, the 330 GTS offered here, is the first production GTS built by Ferrari according to the "330 Register," as well as being destined for the Torino Motor Show held at Parco Valentino in November 1966. The certificate of origin was issued on May 18, 1967, and the car was sold by dealer M.G. Crepaldi S.a.s. of Milan to a Mrs. Luisa Ferrari (not related to the manufacturer) of Milan on May 31, 1967. Mrs. Ferrari moved to Venice three years later, re-registering the car as "VE168656." In 1971 she sold the GTS to its second owner Luciano Pasotto who passed our car to the third owner, Etienne Aigner, Italy S.r.l, the Italian branch of the famous European leather manufacturer. It was then registered again on Milanese plates of MIT47918. (By this time the original white color had been changed to "Rossa Corsa" red.)
A period of "international intrigue" then commences. On July 9, 1982, Etienne Aigner reported the car stolen. Later in 1982 the 330 GTS resided in France but now bearing serial no. 09285, an actual 275 GTB/4 number. Later the car was imported into the USA by Forristal GT Cars of Texas before being sold to a James Hassan and then on to collector Jeff Mohr of Encino, California in 1983, still as chassis no. 09285.
Mohr enjoyed the Ferrari for some twelve years prior to selling it to Symbolic Motors in 1995, with a full disclosure of the car's serial number discrepancy. After consulting with several Ferrari experts and determining that the VIN number was incorrect, Mohr/Symbolic resolved the matter with all authorities, following which the original GTS VIN number of 09199 was reinstated before carrying out an extensive restoration.
In the May 1, 1999 issue of the Ferrari Market Letter, the car was advertised for sale as "330 GTS S/N 9199 (1966) Red with tan leather. Fresh concours restoration, none nicer in the US. $225,000. Symbolic Motor Car Co, Beverly Hills, CA."
The present owner, with full knowledge of the car's earlier history, purchased no. 09199 later that year and has enjoyed an event filled eleven years with his red Ferrari 330 GTS. In January 2001, the car's provenance and condition were rewarded with a Platinum Award as well as the coveted Coppa Bella Machina certification at the 10th Palm Beach Classic Concours. Additionally, as if to emphasize that this is not just a trailer-pampered show car, the car has often enjoyed successful club track days and national rallies such as the "New England 1000."
A recent mechanical service by Florida's Shelton Restoration plus a thorough paint work rectification by the highly regarded Creative Work Shop has returned the car's current condition to its former FCA show quality standards.
The owner himself states, "She's totally reliable, very fast, handles great, in perfect condition and will appreciate over time. She has been shown, rallied, tracked and enthusiastically but properly driven by me for the last ten plus years, but always maintained to my own, some say, overly meticulous standards."
The car comes with a tool kit, extensive service records, an original sales brochure and a Service Shop Manual as well as an original copy of the August 1968 issue of Road & Track, which contains a detailed road test of a Ferrari 330 GTS. Auction Source: 2010 RM Automobiles of Amelia Island Auction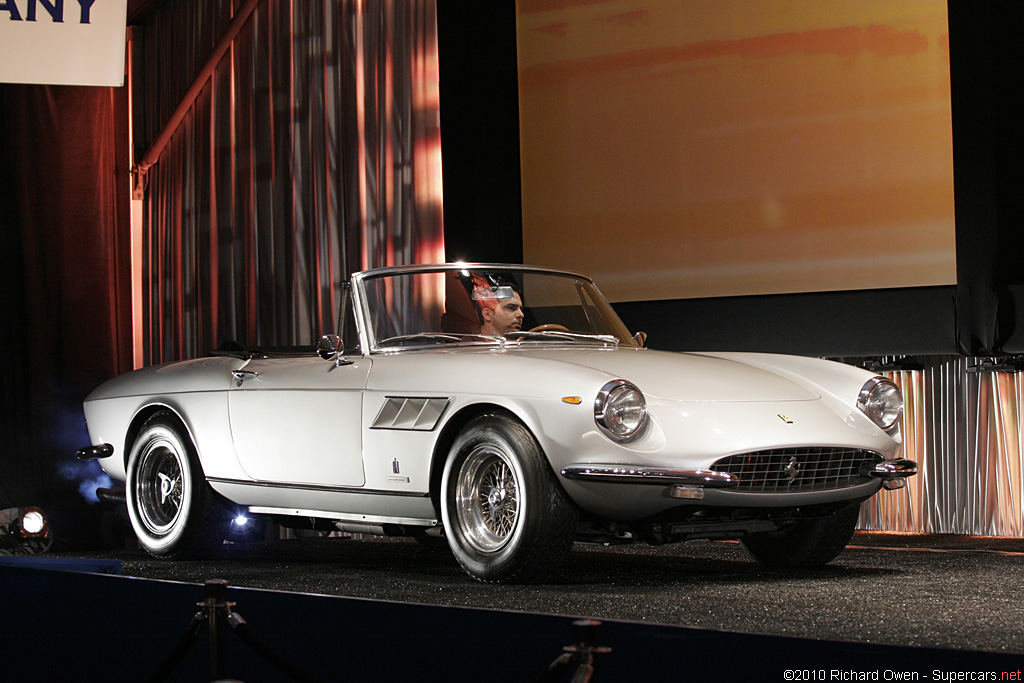 1968 Ferrari 330 GTS 10189 – sold for $627,000. This example is chassis number 10189. It was finished at the Ferrari factory in May of 1967 and was the 35th of only 100 GTS models constructed. It was originally painted in Argento with a black leather interior. The car was delivered new to Milan's official Ferrari dealer Gastone Crepaldi S.A.S. where it soon found its first owner. A short time later, it was exported to the US and, by the 1970s, was in the care of Mr. Victor Williams in North Carolina. It would remain in the Bay Area for the next two decades.
During the late 1980s, the car was owned by a Japanese collector. In 1997, it appeared in Los Angeles, California. It was still largely original and wearing its factory delivered silver paint. The odometer showed 66,900 kilometers.
The current owner has given the car an interior refurbishment. In 2004, the car was stripped to bare metal and repainted – with the body repaired as needed. Auction Source: Gooding & Company 2010 Amelia Island Auction