1963 Pontiac Tempest Wagon 421 Super Duty
Without a doubt, the most unusual and exotic factory racecars to emerge from the Motor City in the early 1960s came in plain white wrappers – the legendary Super Duty Le Mans coupes and Tempest station wagons. Pontiac's innovative engineering had paid off with domination in the Super Stock classes, and when racers such as Mickey Thompson and Jim Wangers began stuffing the 421 Super Duty V8 into the compact Tempest platform, factory engineers ran with the concept, adding special components such as aluminum body panels, Hurst shifters and tubular headers. Based on the knowledge and experience that could only come from working closely with Pontiac's racing customers, these were true factory-built racecars. Only six such vehicles of each bodystyle were built before the General Motors racing ban, and this is the only wagon known to exist.
Like the coupes, Tempest wagons were built not only to overcome the competition but contemporary tire technology as well. Traction was very much at a premium at the time and any advance paid big dividends at the finish line. The production 1963 Tempest boasted a near perfect 50/50 weight distribution with its rear-mounted transaxle, and Pontiac engineers set out to capitalize on that feature with a stronger gearbox. The automatic transmissions combined existing GM internal components with specially-designed castings and employed a clutch to engage first gear.
Of course, the cars also received the best and latest equipment Pontiac had at the time, including the dual four-barrel 421 Super Duty engine, a complete aluminum front end, factory-supplied headers and slicks and bucket seats.
Chassis & Sales
This is the famous Union Park Wagon raced out of Maryland. It features all the correct and incredibly rare factory racing equipment, including the dual-quad 421 SD engine and Powershift transaxle. Formerly a centerpiece of the famed Randy Williams Collection, it was the subject of one of the most arduous and well-chronicled restorations in recent memory, the result of two decades of research and parts-gathering by the late Randy Williams. It has recently been a part of the Dana Mecum's Pontiac Collection.
It was sold at Dana Mecum's 2010 Original Spring Classic Auction for $450,000 USD.
Story by Mecum Inc.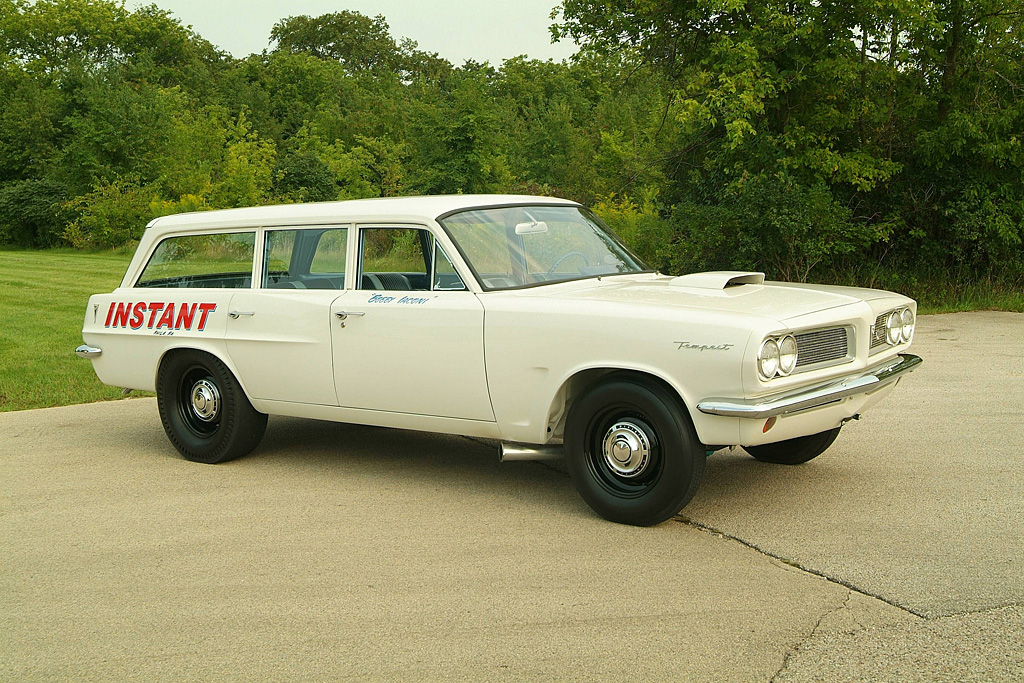 In Detail
| | |
| --- | --- |
| | |
| type | Racing Car |
| built at | USA |
| production | 6 |
| engine | Super Duty 90º V8 |
| position | Front, Longitudinal |
| aspiration | Natural |
| block material | Cast Iron |
| valvetrain | Pushrod OHV |
| fuel feed | Dual Carter Carburettors w/Bathtub Ram Intake |
| displacement | 6899 cc / 421 in³ |
| compression | 12.0:1 |
| power | 302.0 kw / 405 bhp @ 5600 rpm |
| specific output | 58.7 bhp per litre |
| bhp/weight | 269.64 bhp per tonne |
| torque | 576.2 nm / 425 ft lbs @ 4400 rpm |
| body / frame | Steel Body w/Aluminum Fenders & Hood over Pressed Steel Chassis |
| driven wheels | RWD |
| curb weight | 1502 kg / 3308 lbs |
| transmission | T-85 3-Speed Transmission |