1965 Jaguar E-Type 4.2 Roadster
In 1964, the E-Type received several important upgrades including a 4.2-litre version of the famous XK engine. Other upgrades included a fully synchromesh transmission, new Laycock-Hausserman clutch, revised engine cooling and a new alternator which replaced the generator.
The 4.2 became the most desirable version of the famous E-Type due to their increased power and usability while retaining the same outward appearance as the early cars.
Although listed as the same bhp as the 3.8, the newer model produced 255 bhp at 5400 rpm compared to 5500. Autocar also noted that torque was increased across the power band by about 10 percent. The new block was longer and completely redesigned to make room for 5mm larger bores. This gave Jaguar the opportunity to redesign the crankshaft to use newer bearings. The cooling system was redesigned to maintain the overall size of the engine. Outwardly the 4.2 is distinguished by its one-piece cast exhaust manifolds. Other upgrades include a new alternator/generator and an electric cooling fan for the radiator.
See full 1965 Jaguar E-Type 4.2 Roadster Gallery. See all classic Jaguar cars and more Jaguar E-type articles
Priced at only £66 more than the outgoing 3.8 model, the new E-Type was well worth the upgrade. The interior also had redesigned seats and ditched the aluminum panels in the center console.
Options on the roadster included a fiberglas top, radio, alternative gear ratios, chrome wire wheels, tinted glass and whitewall tires.
Total production of 4.2 coupes was 9,548 cars with just 1,182 made in right hand drive.2.
Sources & Further Reading.
1. Porter, Philip. Jaguar E-Type The Definitive History. Foulis: 1989.
2. Haddock, Dr. Thomas. Jaguar E-Type 6&12 Cylinder Restoration Guide. Motorbooks:1997.
1965 Jaguar E-Type 4.2 Roadster Image Gallery
See full 1965 Jaguar E-Type 4.2 Roadster Gallery. See all classic Jaguar cars and more Jaguar E-type articles
In Detail
| | |
| --- | --- |
| type | Series Production Car |
| built at | Coventry, England |
| production | 9548 |
| price £/td> | £1,568 |
| engine | Inline-6 |
| position | Front, Longitudinal |
| aspiration | Natural |
| ignition | Lucas Distributor & Coil |
| block material | Cast Iron w/Aluminum Cylinder Head |
| valvetrain | Chain-Driven DOHC |
| fuel feed | Tripple SU Carburetors , HD8 2 |
| displacement | 4235 cc / 258.44 in³ |
| bore | 92.07 mm / 3.625 in |
| stroke | 106.0 mm / 4.173 in |
| compression | 9.0:1 |
| power | 197.6 kw / 265 bhp @ 5400 rpm |
| specific output | 62.57 bhp per litre |
| bhp/weight | 237.24 bhp per tonne |
| torque | 383.7 nm / 283 ft lbs @ 4000 rpm |
| body / frame | Unitary Steel Monocoque w/Front Steel Subframe |
| driven wheels | RWD |
| wheel type | 72-Spoke Knock-Off Wire Wheels |
| front tires | 6.40×15 Dunlop RS5 |
| rear tires | 6.40×15 Dunlop RS5 |
| front brakes | Dunlop Discs w/Servo Assist |
| rear brakes | Dunlop Discs w/Servo Assist |
| steering | Rack & Pinion |
| f suspension | Wishbones w/Torsion Bars, Hydrualic Telescopic Dampers |
| r suspension | Half Shafts w/Transverse Links, Twin Coil Springs, Hydrualic Telescopic Dampers |
| curb weight | 1117 kg / 2463 lbs |
| wheelbase | 2438.4 mm / 96 in |
| front track | 1270.0 mm / 50 in |
| rear track | 1270.0 mm / 50 in |
| length | 4451.3 mm / 175.25 in |
| width | 1657.3 mm / 65.25 in |
| height | 1219.2 mm / 48 in |
| transmission | Model 8 Bord Warner 4-Speed Manual |
| tran clutch | Laycock-Hausserman |
| final drive | 3.07:1 |
| fuel capacity | 63.6 litres or 16.79 gal. |
Auction Sales History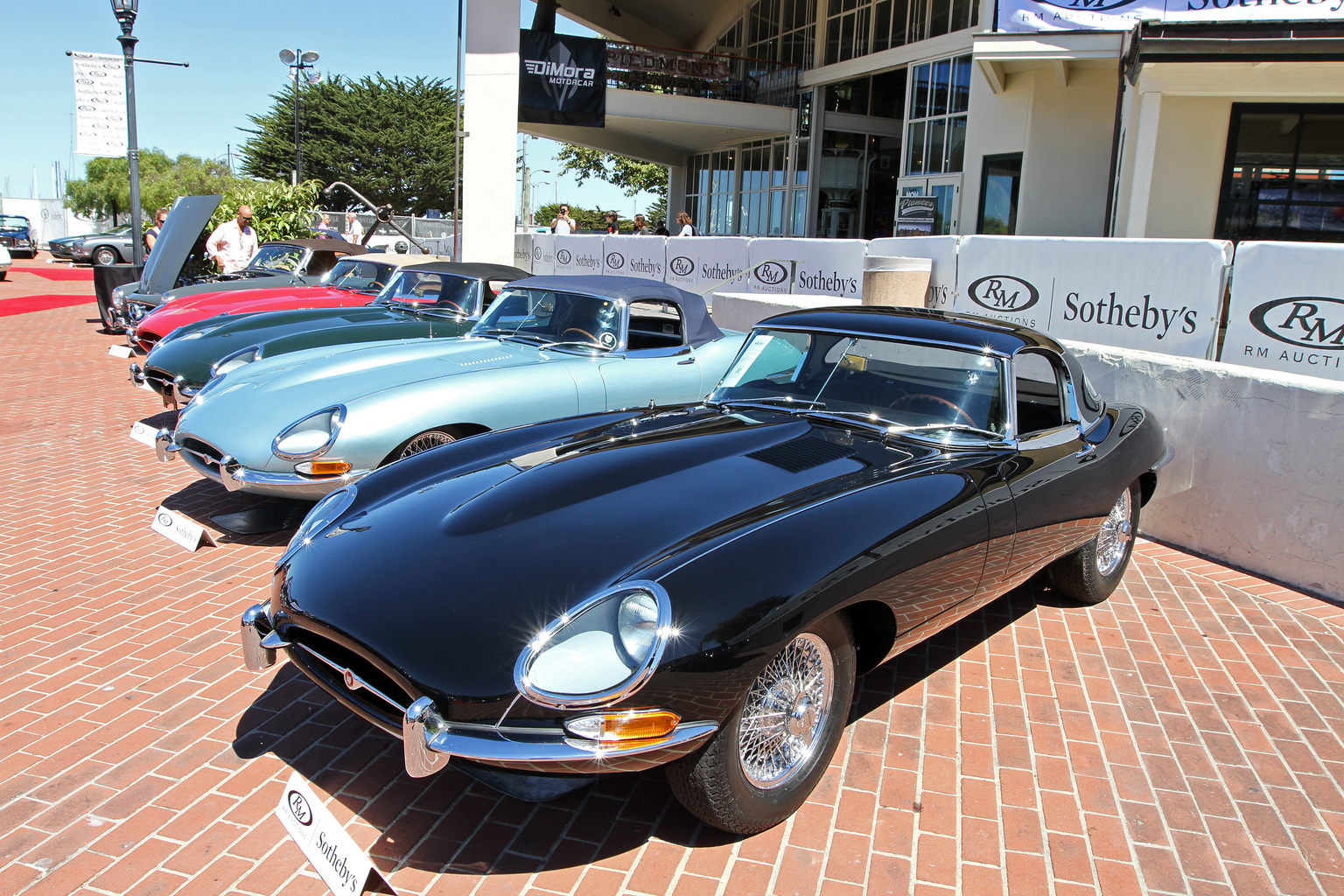 1966 Jaguar E-Type Series 1 4.2-Litre Roadster 1E 13575 – sold for $319,000 Originally delivered to Excel Electric Supply, of California, finished in special-ordered Black with a matching interior, soft-top, and factory hardtop. Correct tool kit, jack, and original factory hardtop. Matching numbers; documented by a JDHT Certificate. Only 14,000 original miles. Concours restoration by marque specialists. Auction Source: RM Sotheby's Monterey 2015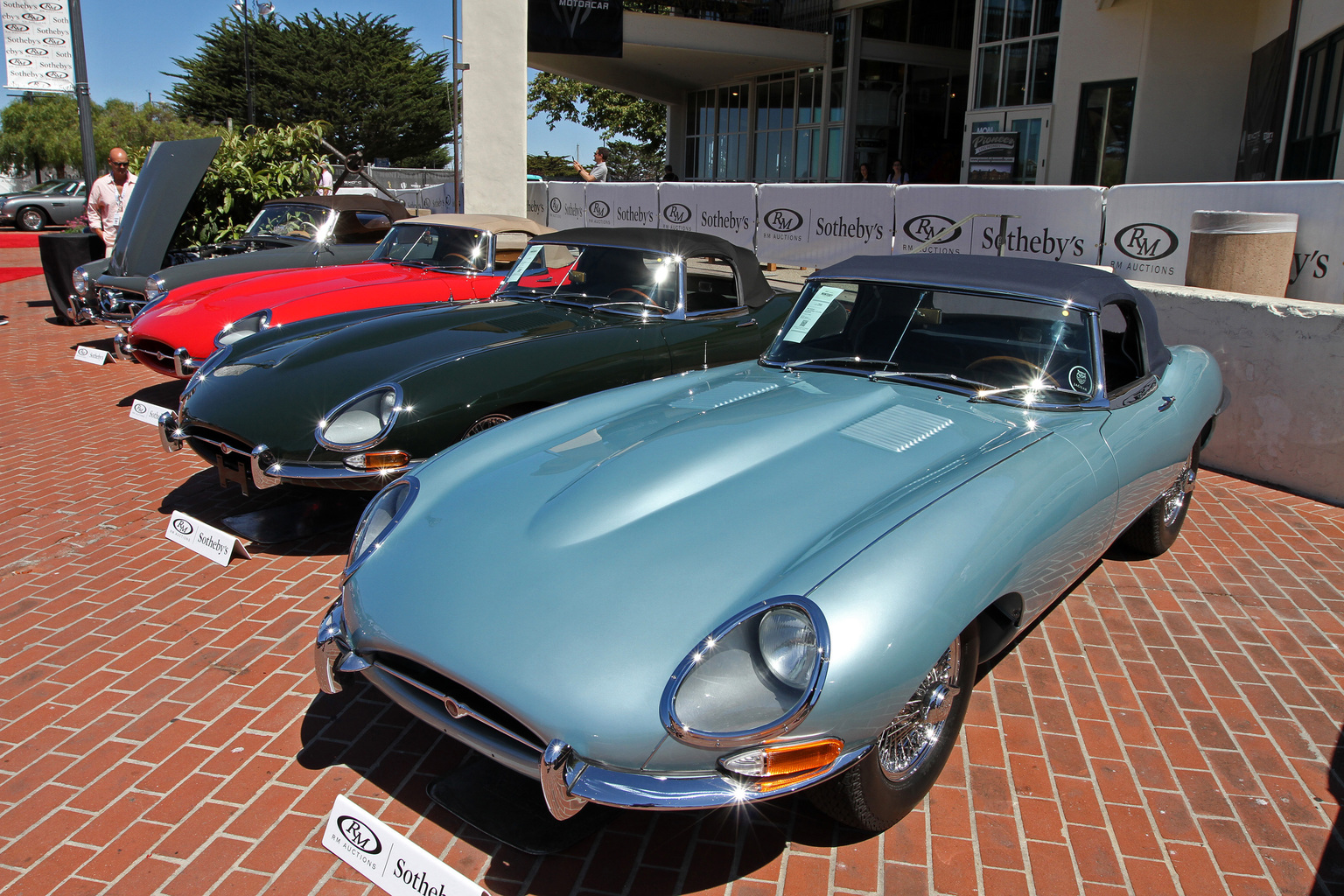 1967 Jaguar E-Type Series 1 4.2-Litre Roadster 1E 15251 – sold for $198,000 Left the Browns Lane factory on March 31, 1967. Extensive concours-quality restoration by the Jaguar marque specialists at Classic Showcase in Oceanside, California. Presented in opalescent Silver Blue exterior with a complementary dark blue. Less than 100 test miles since its completion. Auction Source: RM Sotheby's Monterey 2015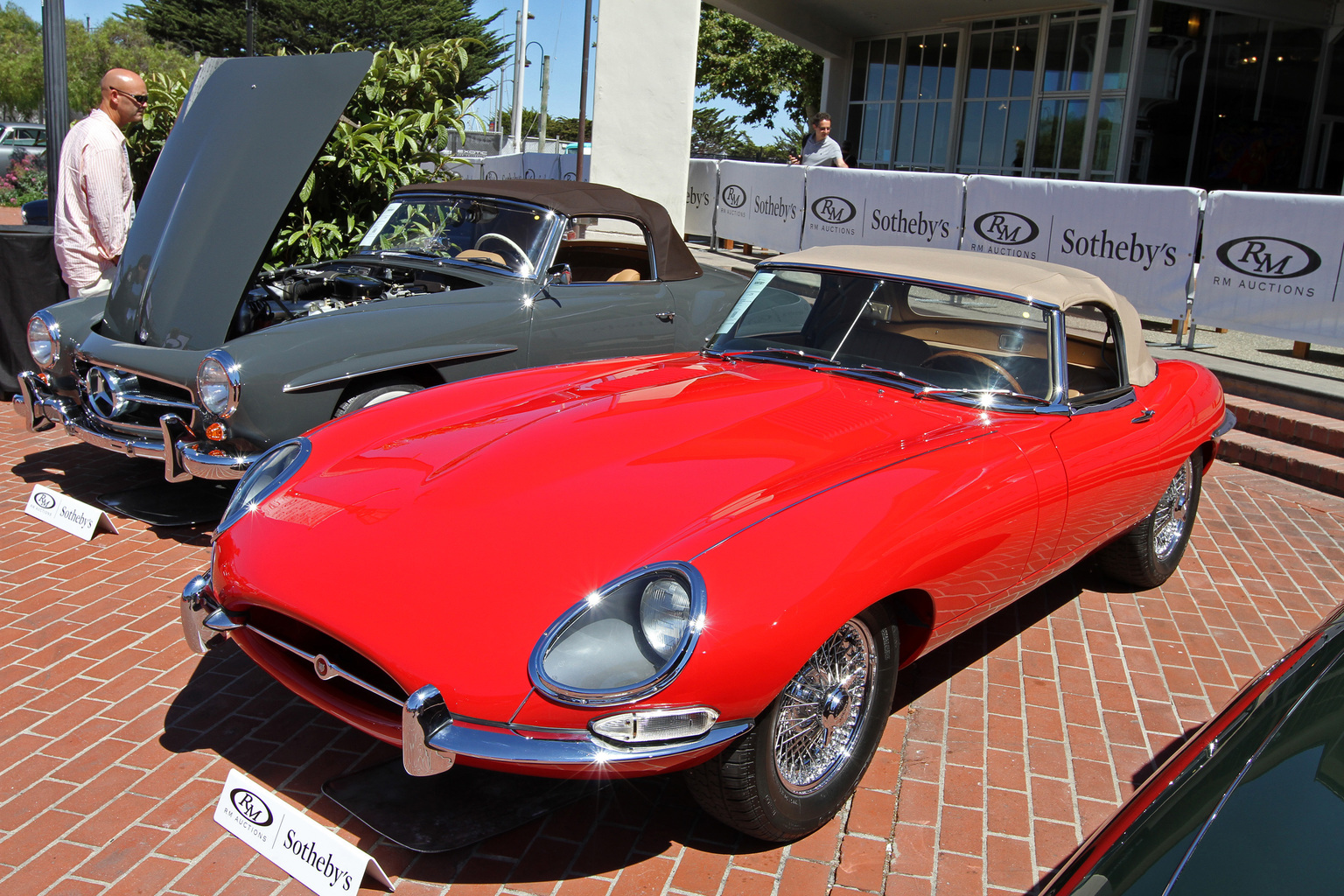 1965 Jaguar E-Type Series 1 4.2-Litre Roadster 1E 12494 – sold for $192,500 Currently showing 45,825 miles. Presented in its original colors of Carmen Red over a tan leather interior. The consignor notes that Lance Pittack purchased this car from Raymond Ray, owner of Concours Jaguar Restoration in Gilbertsville, Pennsylvania, about 17 years ago in restored condition. Mr. Pittack, a well-known collector in Omaha, Nebraska, enjoyed the car for several years but decided to further enhance it to true show-condition in the early 2000s. His restoration specialists installed a new bonnet, rectified a few remaining small issues in the body, and ultimately repainted the car as it is finished today. Auction Source: RM Sotheby's Monterey 2015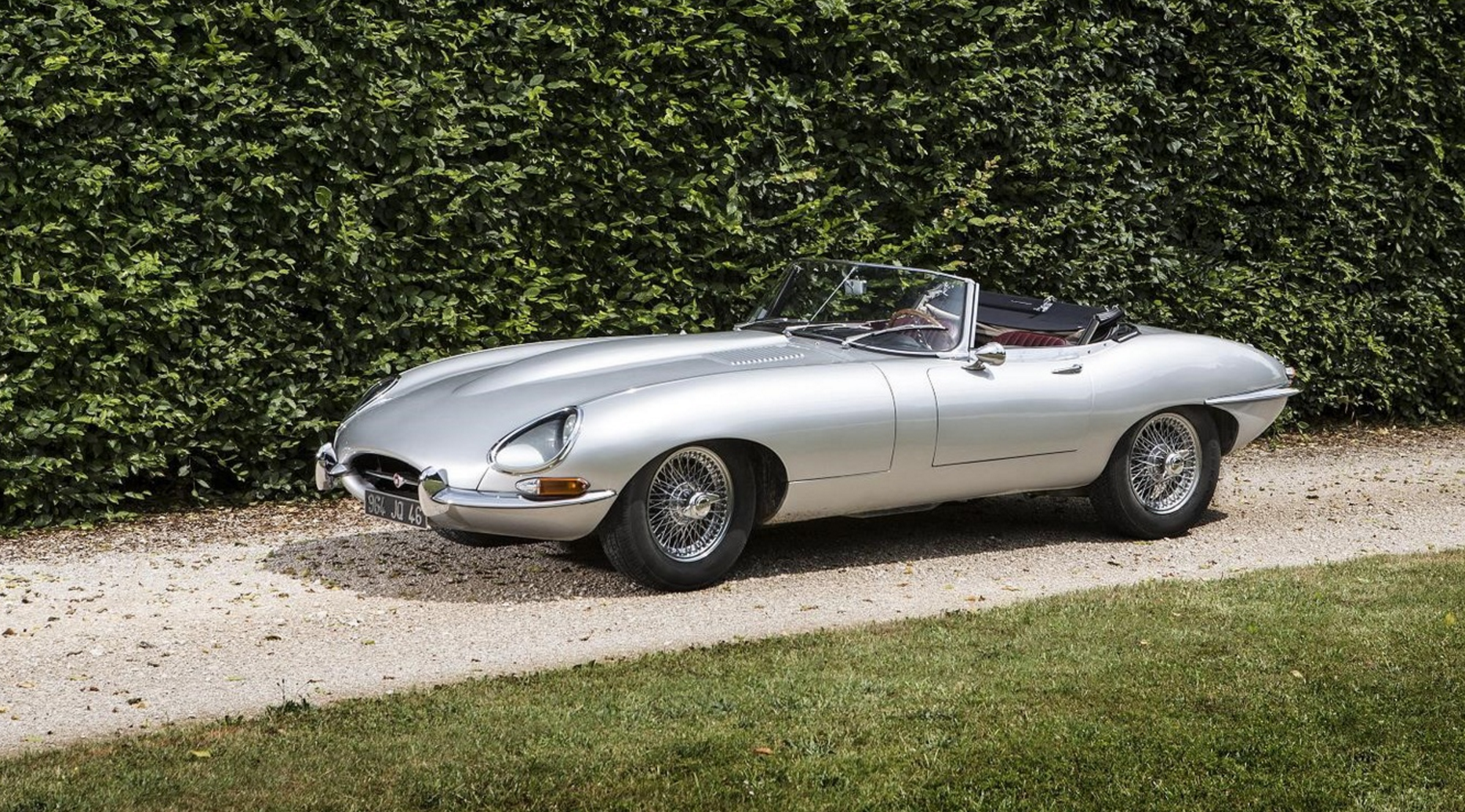 1965 Jaguar E-Type 4.2-Litre 'Series 1' Roadster 1E10552 – sold for €128,800 Manufactured in January 1965 and delivered to Jaguar Cars in New York, USA, this left-hand drive '4.2' roadster was originally finished in Opalescent Silver Grey with black interior and matching hood. Its accompanying Jaguar Heritage Trust Certificate records the first owner as one Herb Wiener. It currently forms part of the Alain Dominique Perrin Collection. Auction Source: The Chantilly Sale 2015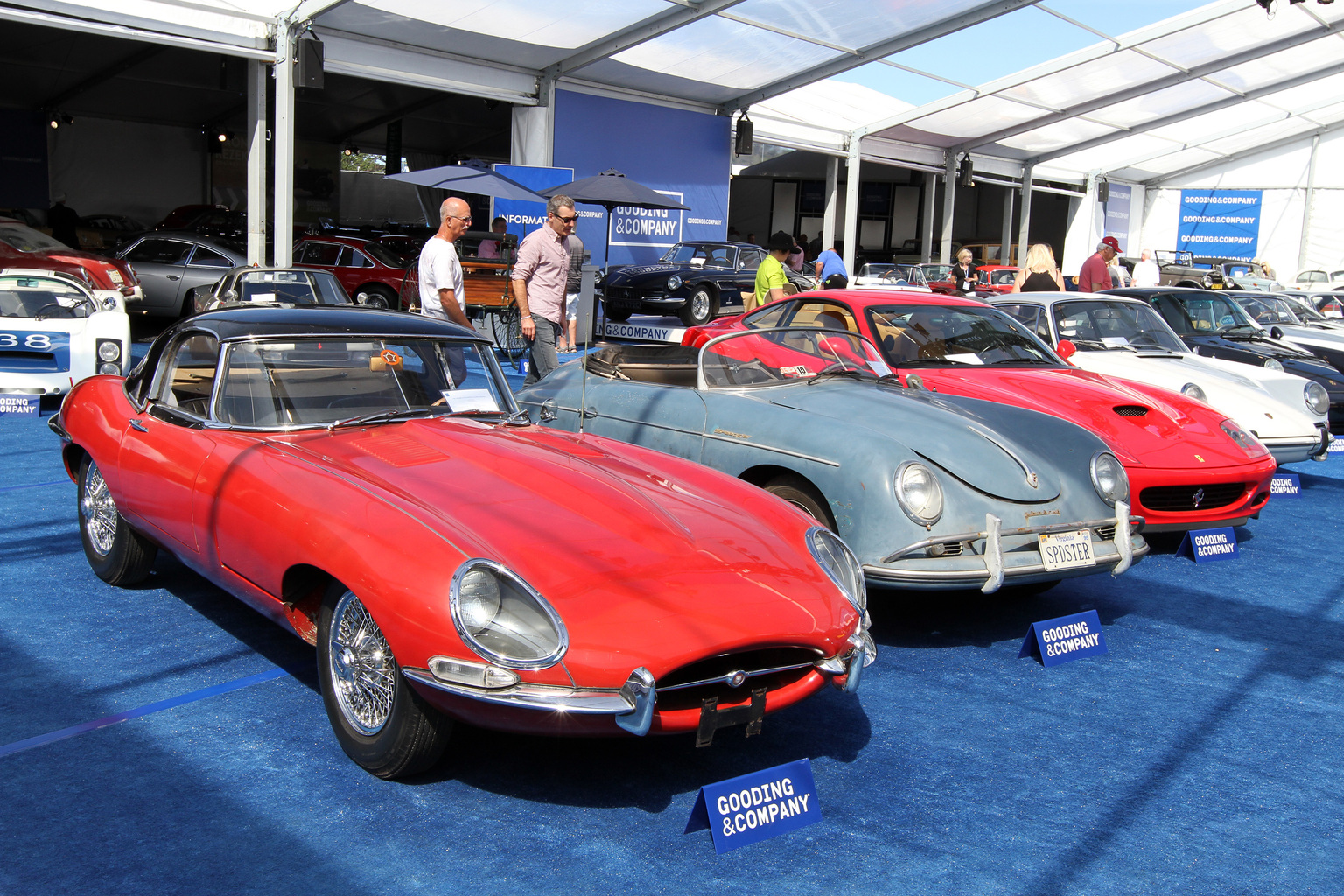 Carmen Red 1967 Jaguar E-Type Series 1 4.2-Litre Roadster 1E13563 – sold for $176,000 Final Year of Original Covered-Headlight Series I E-Type. Just Three Owners and 28,000 Miles from New. Well-Preserved Survivor with Exceptional Documentation. Consistent Jaguar Club Concours Winner. Offered with Factory Hardtop, Books, Tools, and History File. Auction Source: The Pebble Beach Auctions 2015 by Gooding and Company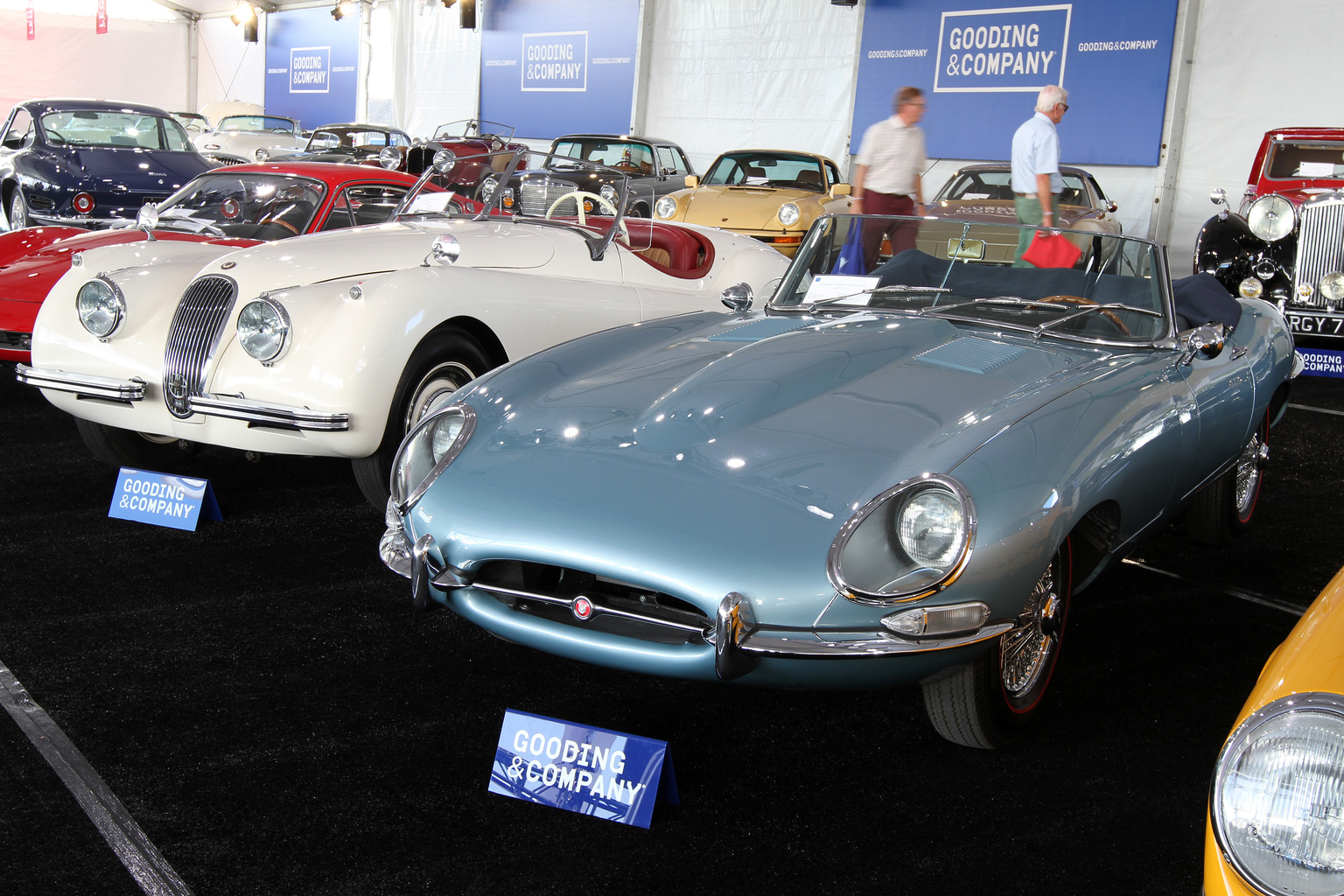 Opalescent Silver Blue 1966 Jaguar E-Type Series I 4.2-Litre Roadster 1E12816 – sold for $198,000 Purchased new by A.G. Thompson of California and retained by the Thompson family over the next four-and-a-half decades. Outstanding rotisserie restoration to original-specification of Opalescent Silver Blue with new new custom-tailored interior. Auction Source: The Pebble Beach Auctions 2015 by Gooding and Company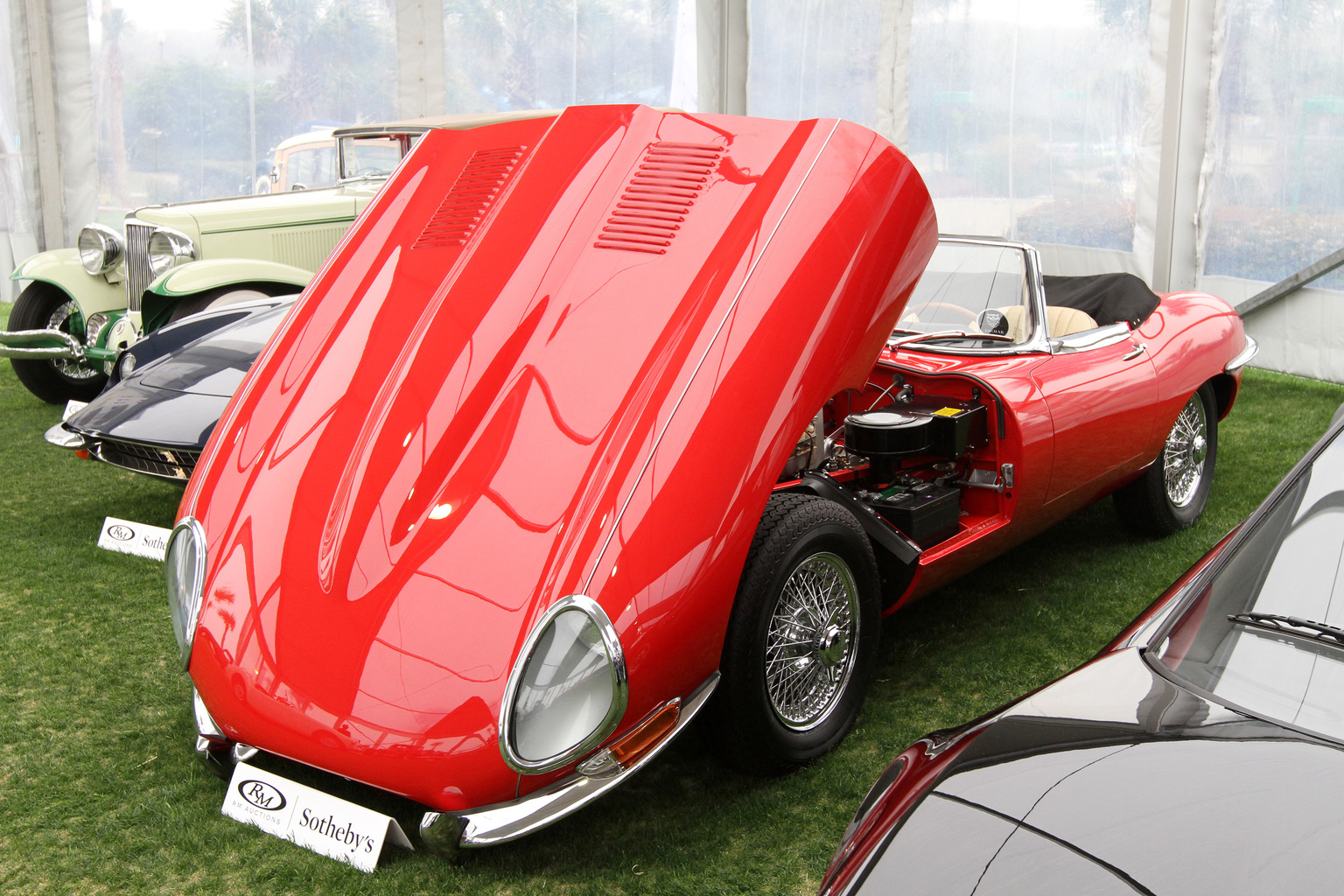 1967 Jaguar E-Type Series 1 4.2-Litre Roadster 1E14119 – sold for $181,500 Fresh, ground-up, nut-and-bolt, concours-quality restoration. Classic red paint over biscuit leather, with a black hood. A low-mileage California car with known ownership history from 1974. Auction Source: 2015 Amelia Island by RM Sotheby's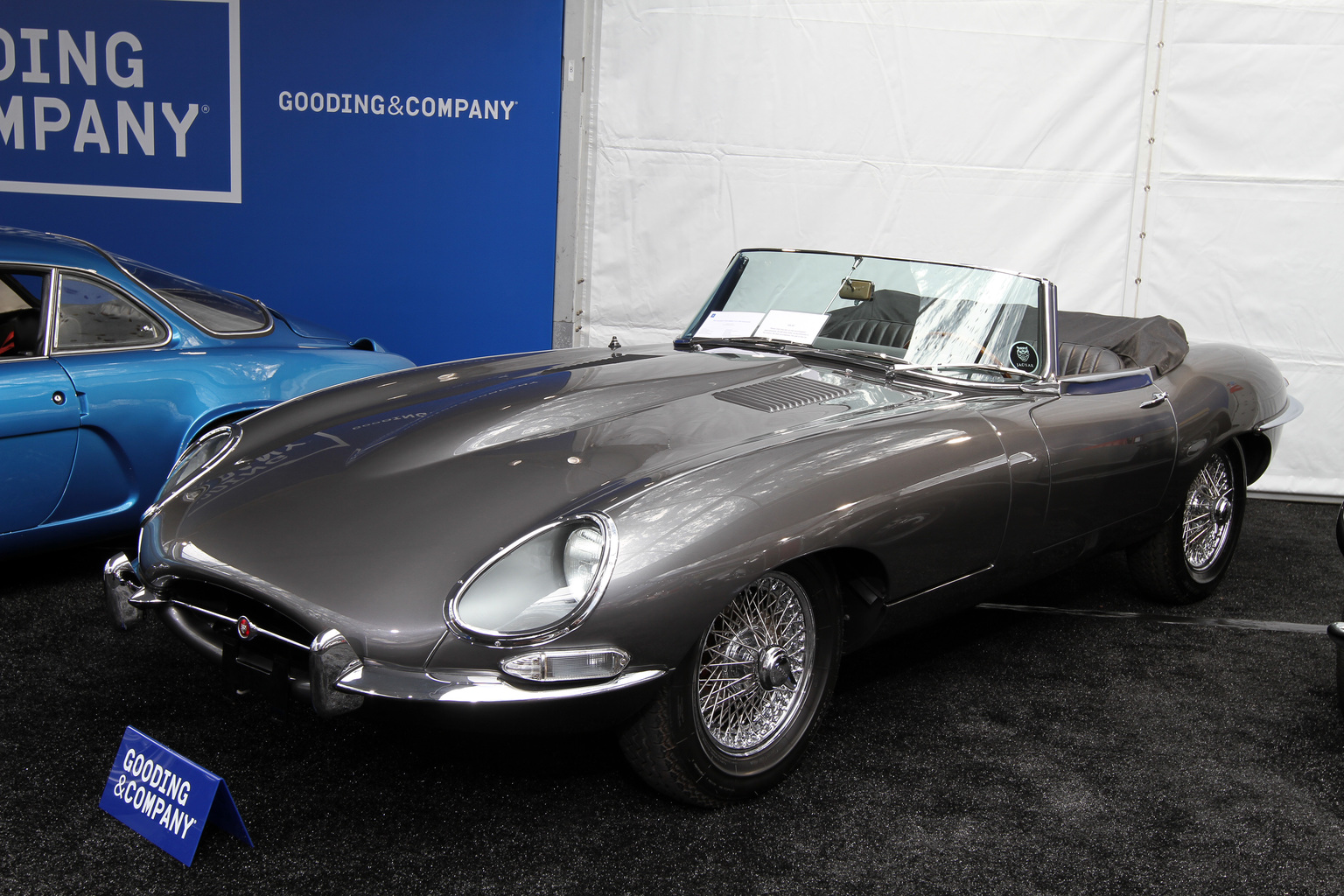 1965 Jaguar E-Type Series I 4.2-Litre Roadster 1E 10546 – sold for $220,000 Limited Chain of Ownership. Desirable Late-Production Series I Roadster. Award-Winning Restoration. Accompanied by JDHT Certifcate and Tools. Beautiful Colors and Thoughtful Upgrades. Auction Source: The 2015 Amelia Island Auction by Gooding & Company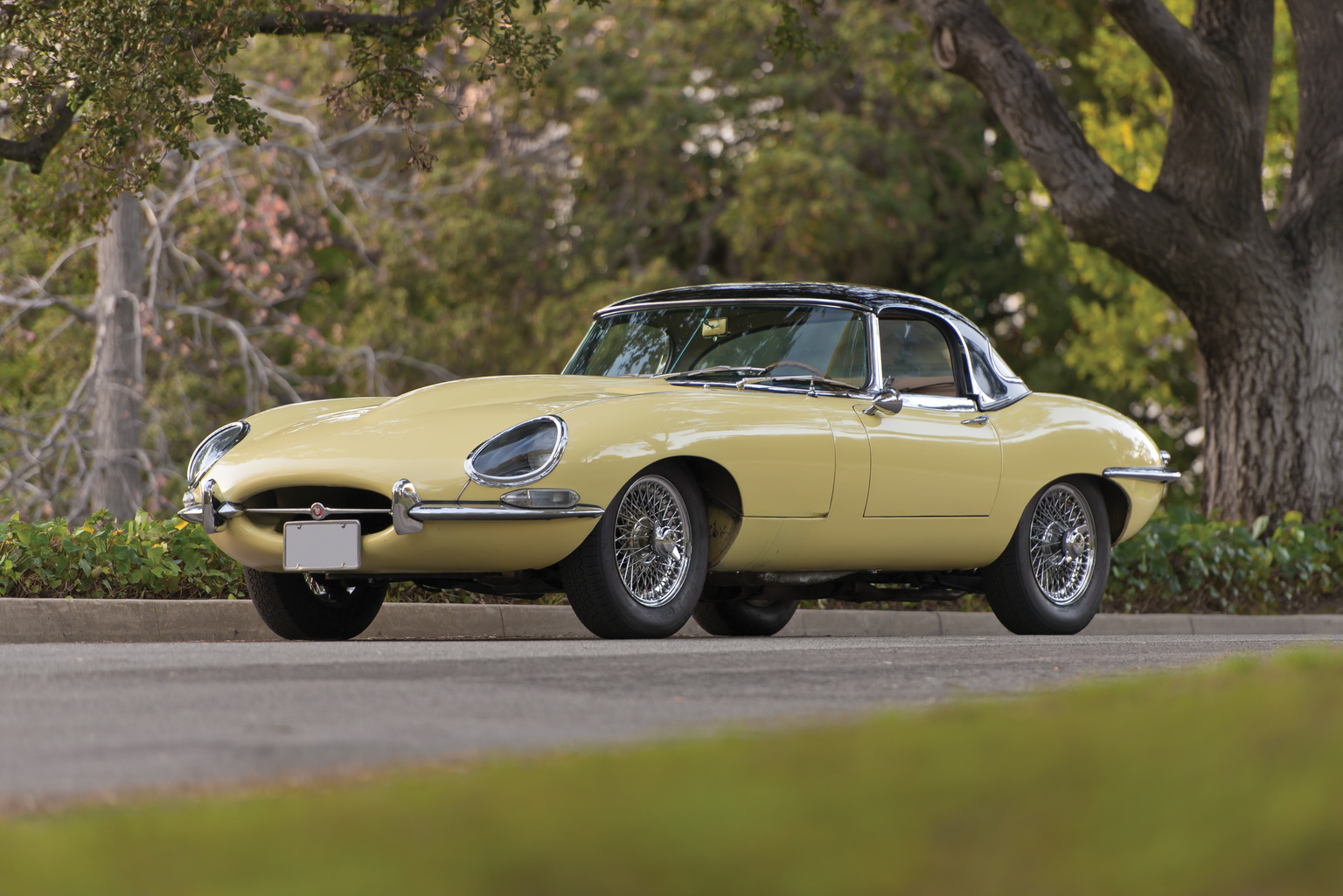 1966 Jaguar E-Type Series 1 4.2-Litre Roadster 1E13442 – sold for $192,500 An excellent, original "Preservation class" E-Type. Used by its original owners on their European honeymoon. Wonderful original paint and interior, with a matching-numbers drivetrain and a factory hardtop. Only 23,086 miles from new, with extensive documentation. Auction Source: Arizona 2015 by RM Auctions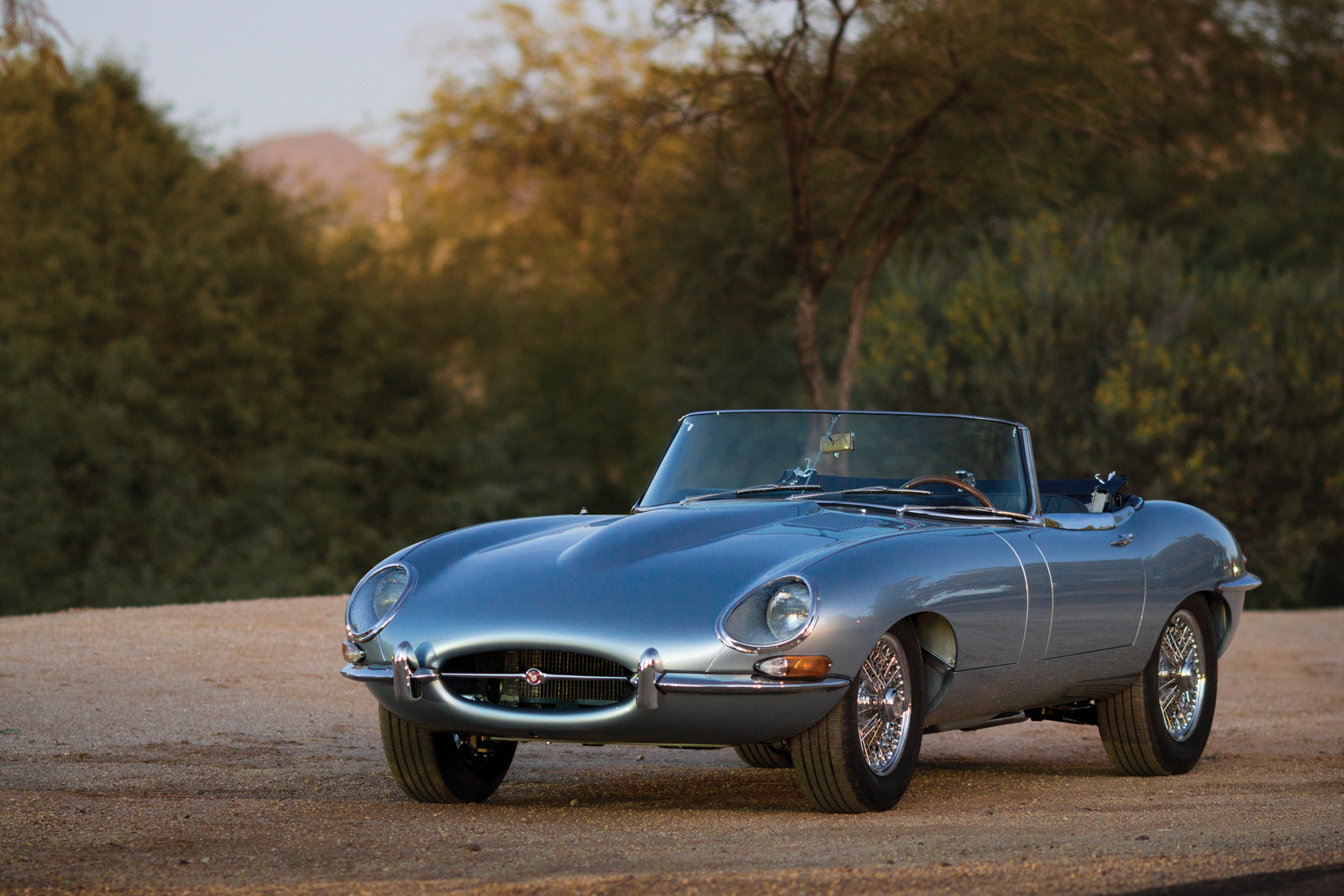 1965 Jaguar E-Type Series 1 4.2-Litre Roadster 1E 11337 – sold for $280,500 Freshly restored in beautiful colors. Original matching-numbers engine. Desirable hardtop and wire wheels and subtle mechanical upgrades. An outstanding driver's E-Type. Auction Source: Arizona 2015 by RM Auctions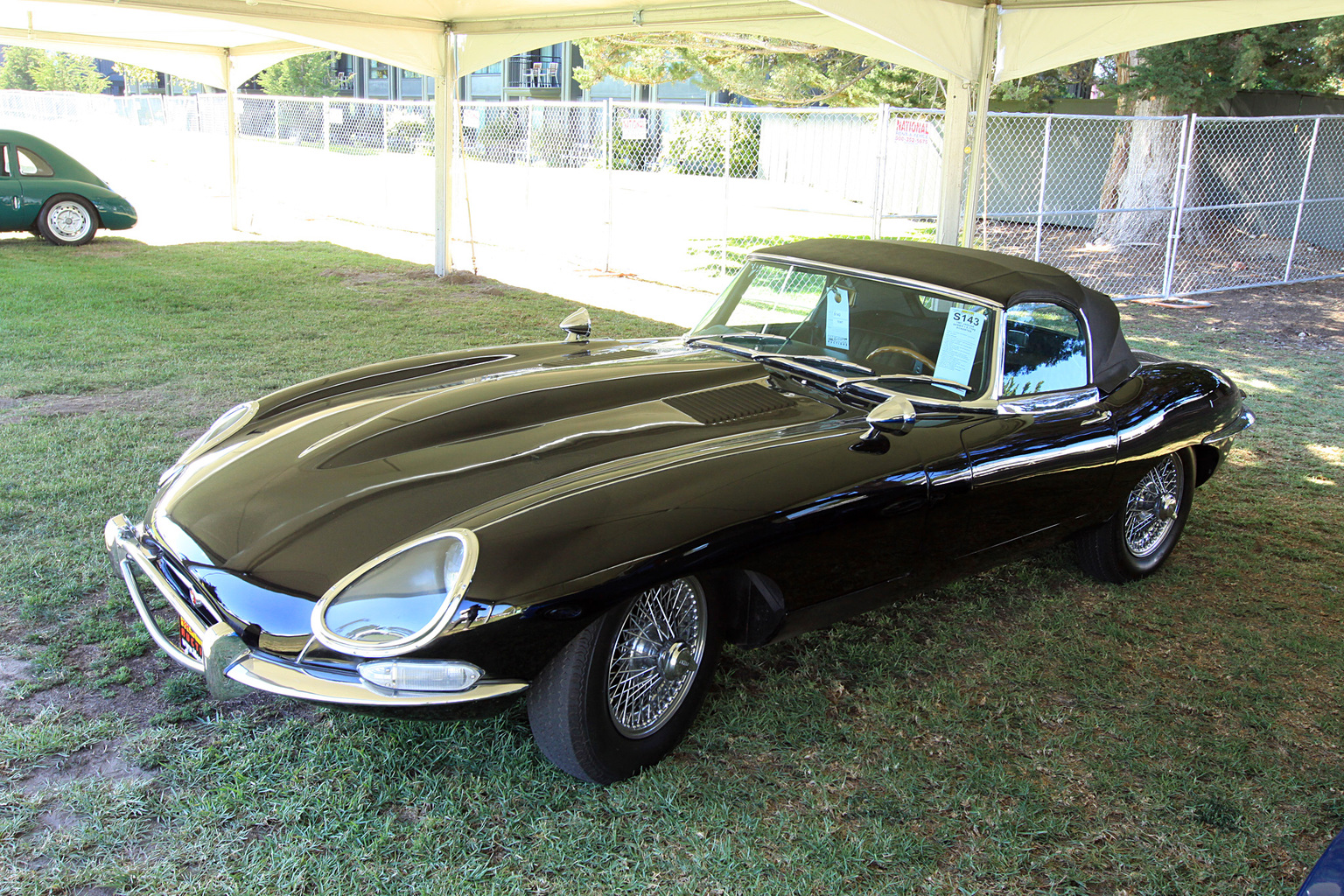 1967 Jaguar Series 1 E-Type Roadster 1E14561 – did not sell for $180,000 One of the most original E-Type Roadster to come to auction in years. Original Black paintwork and complete Black leather interior. Three owners from new, the last owner for 32 year, fully documented. 18,700 original miles from new documented by its last owner. The 8th from last Series 1 with covered headlights produced with JCNA documents. Copy of last owners check for $18,500 when purchased 11/11/82. Matching numbers motor and transmission, all original as when delivered. Freshly sorted for rallies or tours. Original tool roll, wheel hammer, owners manual and service manual. Original 1st 1,000 mile service from Snuffy Smith Motor Co. of Dallas. Factory Jaguar Heritage Certificate documenting it as original. Auction Source: Monterey 2014 by Mecum Auctions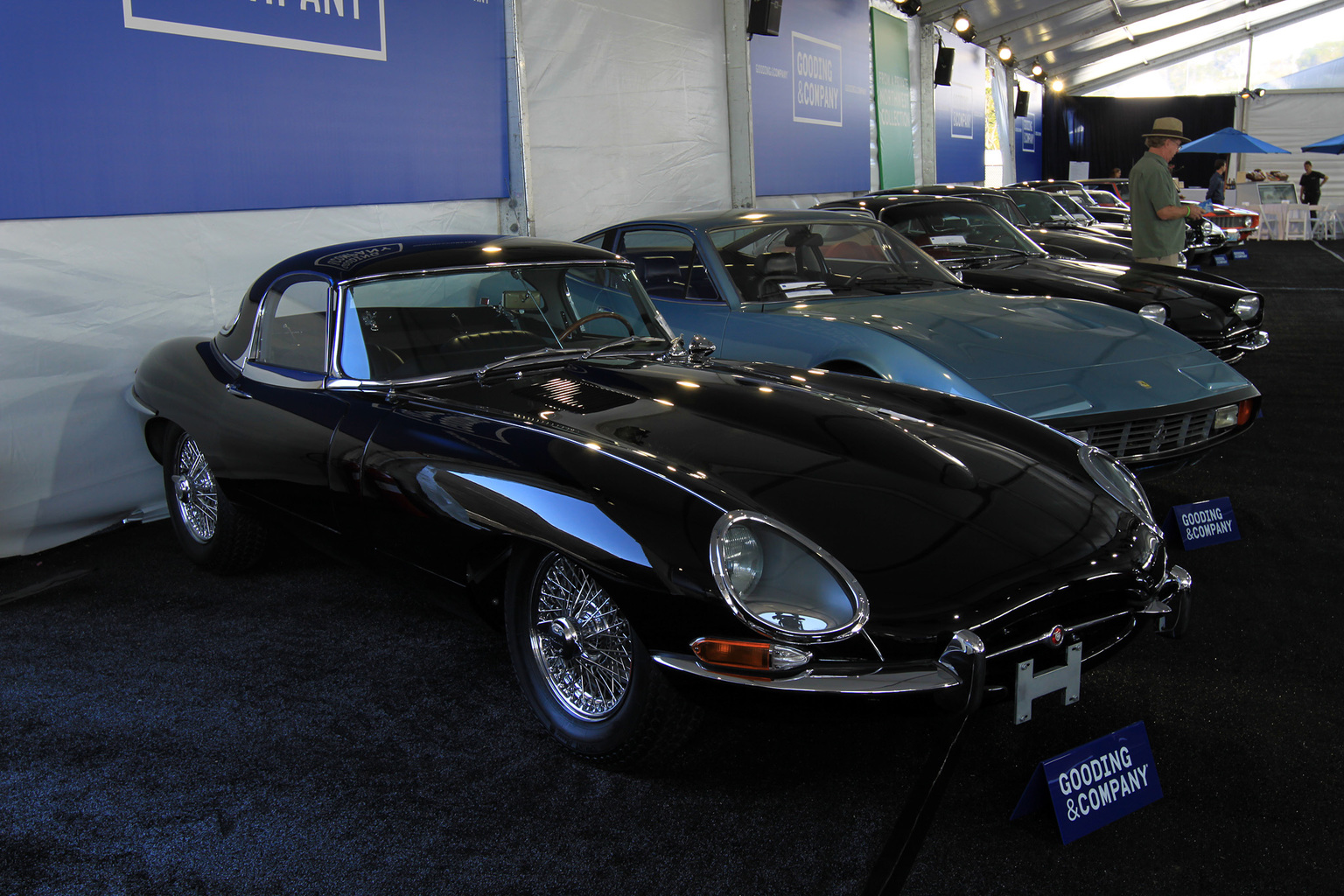 1966 Jaguar E-Type Series 1 4.2-Litre Roadster 1E12807 – sold for $209,000 Expert Two-Year, Concours-Level Restoration. Preferred First-Series Styling. Offered with JDHT Certifcate, Brochures, Factory Hardtop, Restoration Photos, Receipts, Tools, and Manuals. Auction Source: 2014 Pebble Beach Auctions by Gooding & Company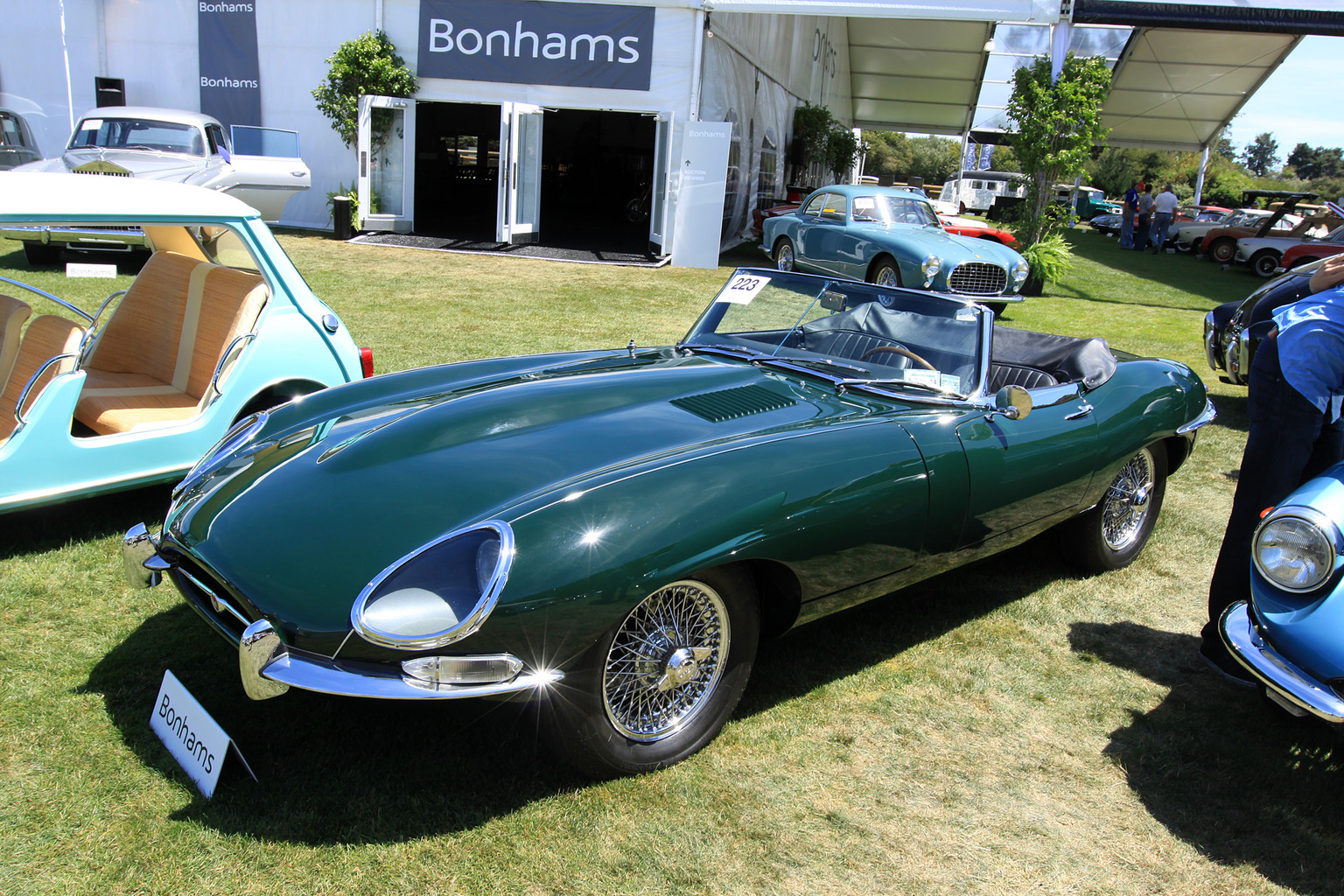 1967 Jaguar E-Type 4.2 Roadster 1E14542 – sold for $167,200 Matching numbers example. Beautifully restored. Complete with books and tools. Over $26,000 in recent receipts. Offered with history file and Heritage Trust Certificate.
Auction Source: 2014 Quail Lodge Auction by Bonhams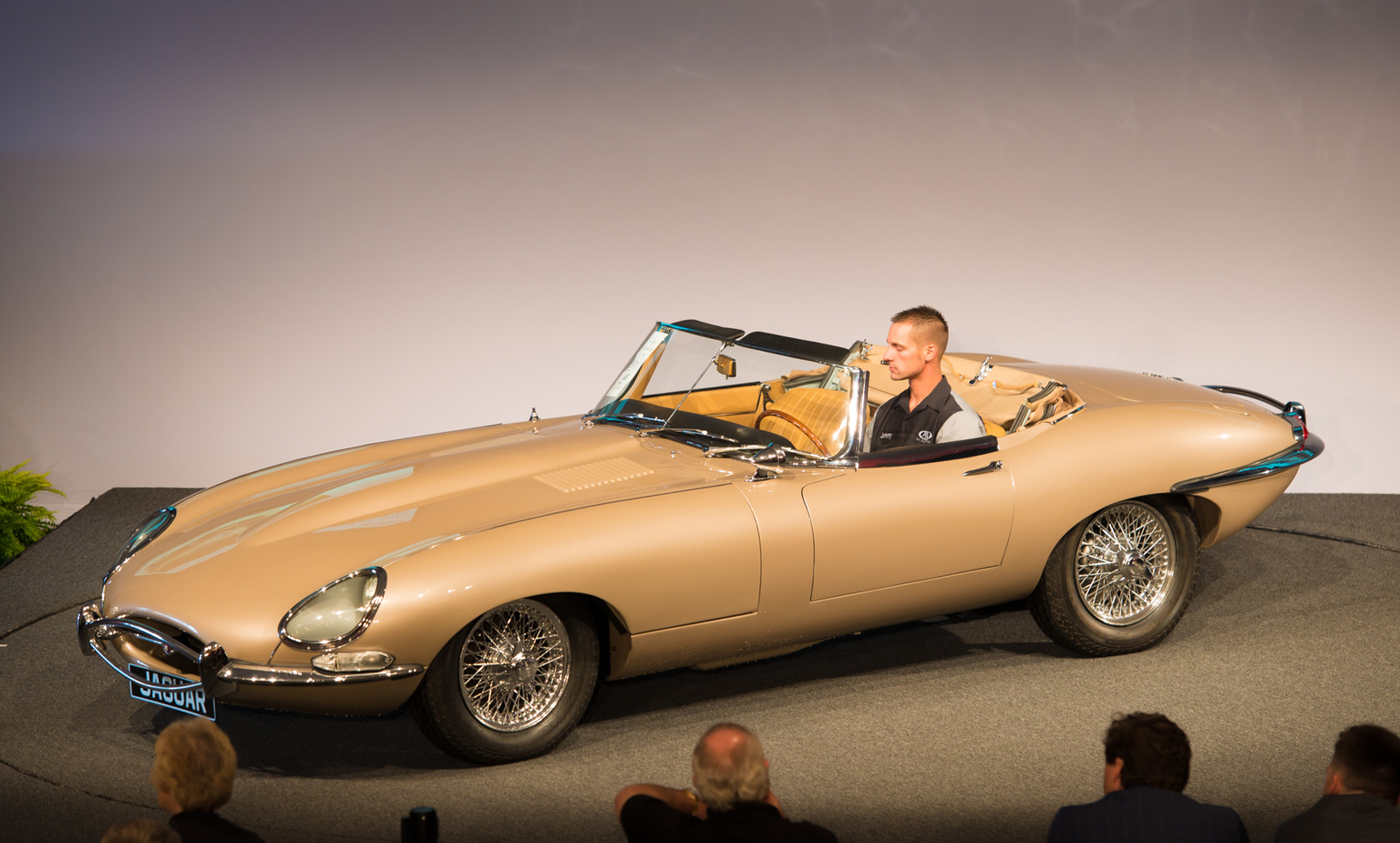 1966 Jaguar E-Type Series I 4.2 Roadster 1E/13743 – sold for $104,500 One of the very late Series I cars, this Roadster has the characteristic covered headlamps and winged knock-off hubs of the early E-Types, plus the improved gearbox, the more powerful 4.2-liter engine, and the adjustable seatbacks of the 1965 upgrade. With a restoration described as "like jewelry," it is presented in very fresh condition, with a neatly tailored tan leather interior and cloth top that beautifully complement the unusual and elegant bronze finish. Chrome wire wheels add a dash of flair. This would be the perfect E-Type for anyone seeking a beautifully presented car that can be shown or driven with equal pride and enjoyment. Auction Source: 2013 St. John's Auction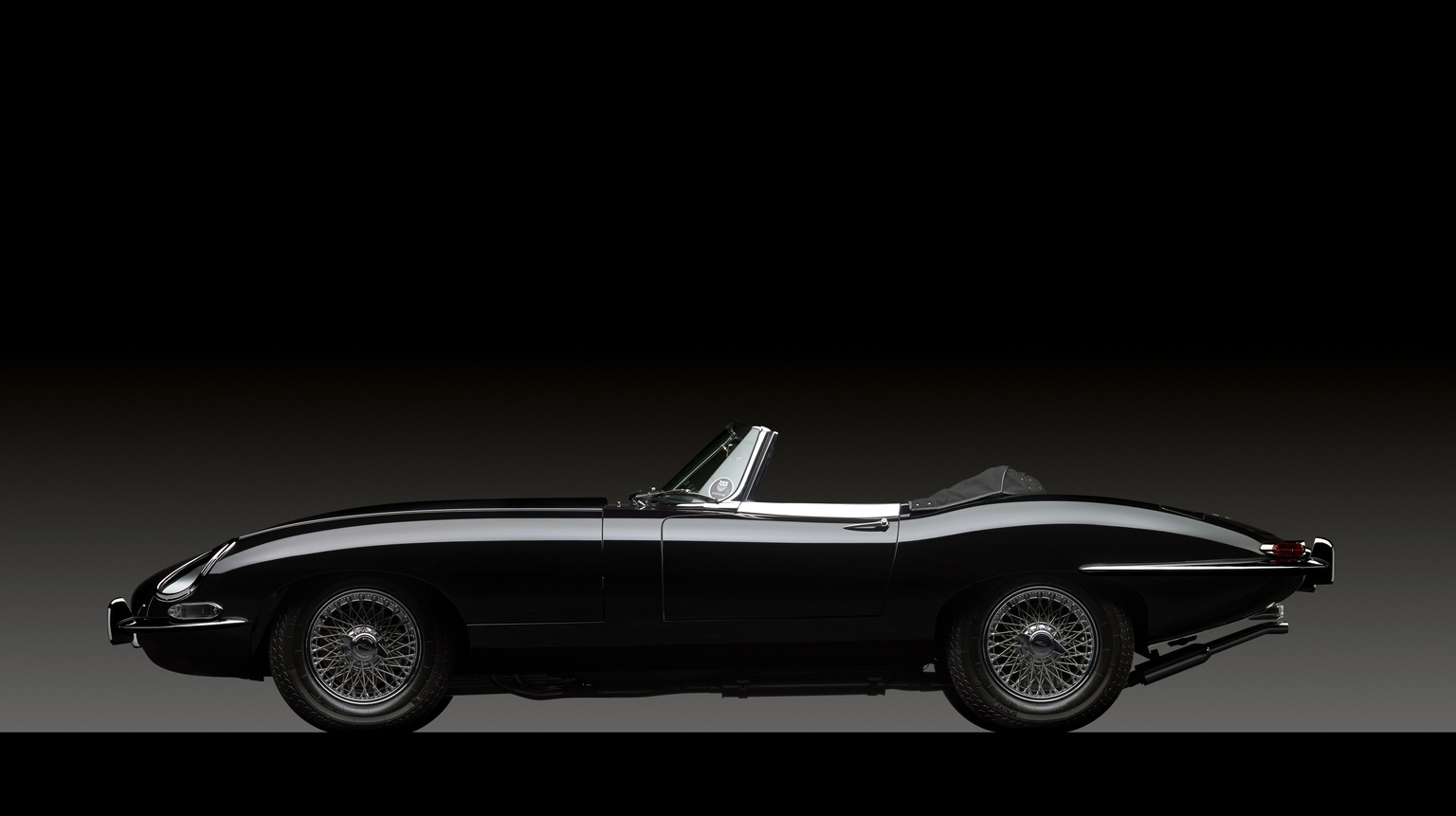 1966 Jaguar E-Type Series I 4.2-Litre Roadster IE11911 – sold for $467,500 1966 Jaguar E-Type Series I 4.2-Litre Roadster. As per Enzo Ferrari, "The most beautiful car ever made". One of the finest examples extant. Three-time 100-point JCNA National Champion. Matching numbers. Auction Source: RM's Art of the Automobile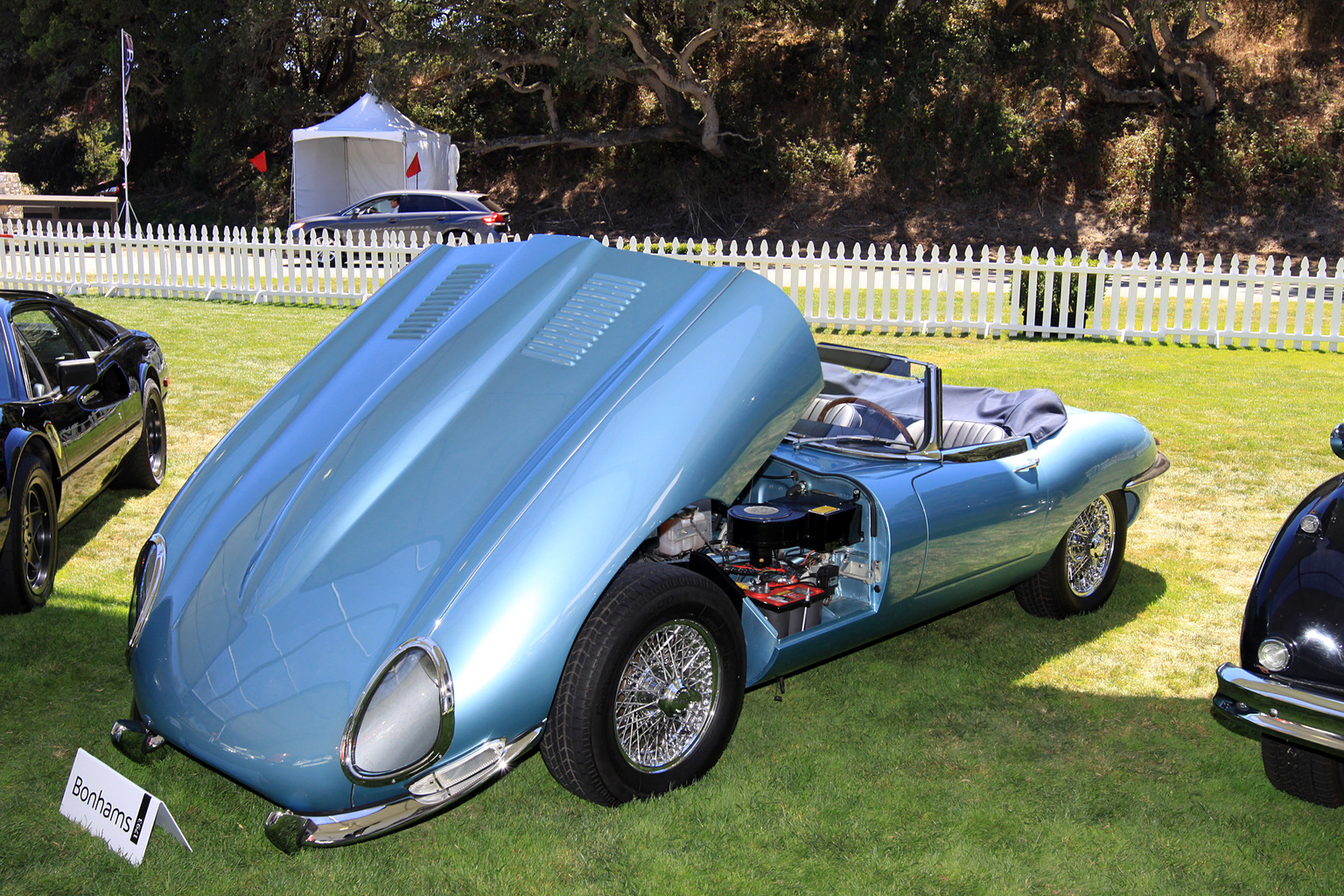 1967 Jaguar E-Type Series 1 4.2-Liter Roadster 1E14491 – sold for $187,000 Matching numbers example. Beautifully restored. Complete with books and tools. Finished in its original colors. Offered with history file and Heritage Trust Certificate.
Auction Source: 2013 Quail Lodge Auction by Bonhams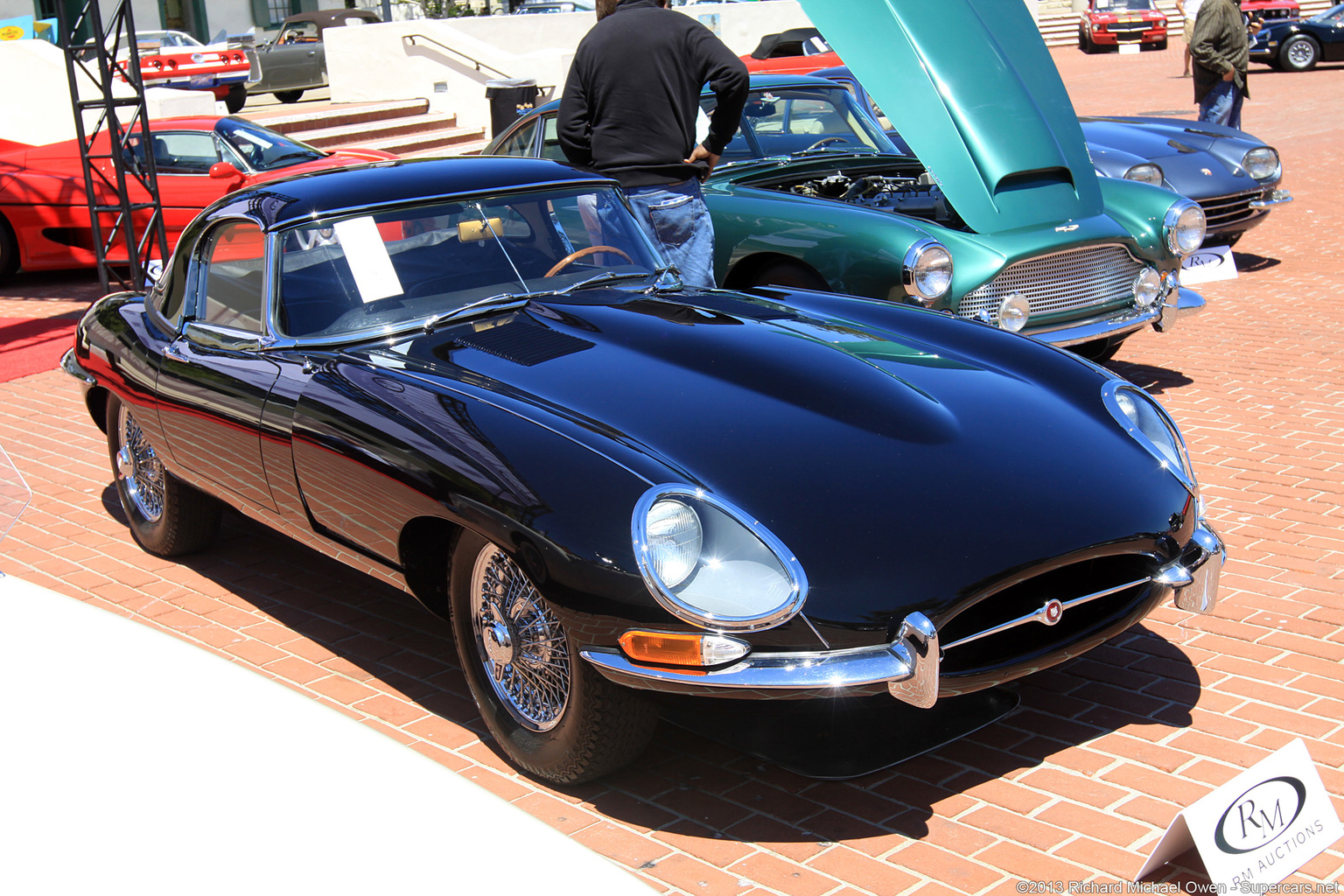 1967 Jaguar E-Type Series I 4.2 Roadster 1E15099 – sold for $253,000 Rare factory triple black color scheme. A well-maintained original California "black plate" car. Accompanied by JDHT Certificate. First in Class at the 2013 Dana Point Concours. Auction Source: 2013 Monterey Auction by RM Auctions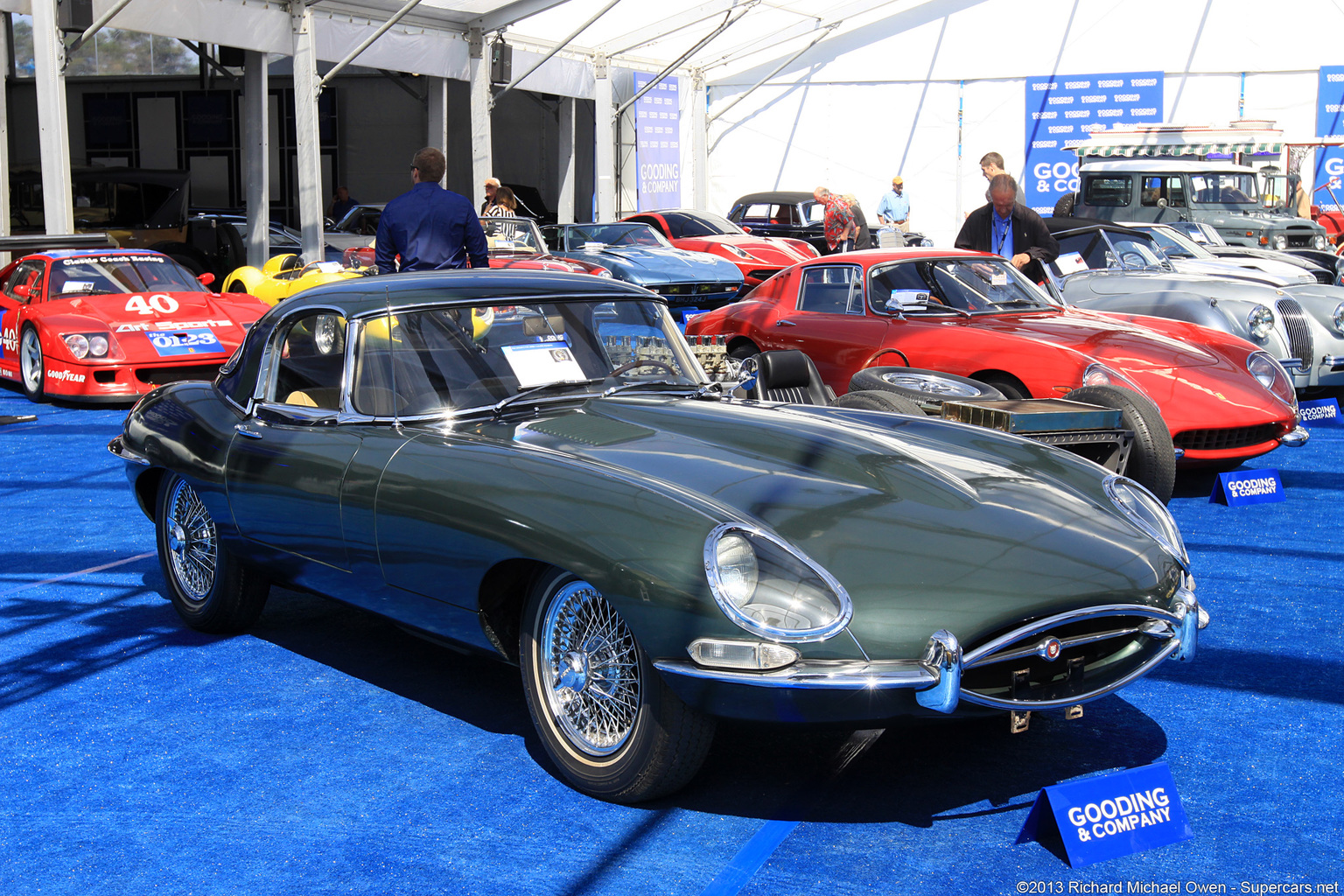 1965 Jaguar E-Type Series 1 4.2-Litre Roadster 1E11363 – sold for $269,500 A Wonderfully Original Series 1 E-Type. 40,000-Mile, Matching-Numbers Example. Cherished by One Owner for 30 Years. Classic Opalescent Dark Green over Beige Color Scheme Beautifully Preserved Factory Finishes. Equipped with Accessory Hardtop and Period Motorola Radio. Auction Source: Gooding & Company's 10th Anniversary 2013 Pebble Beach Auction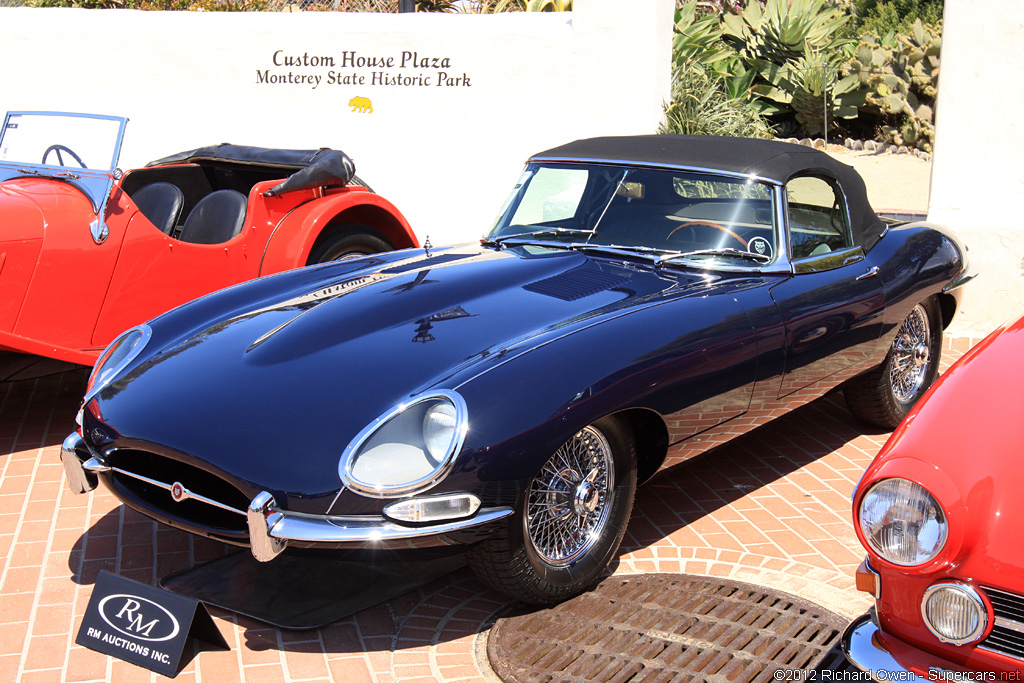 1967 Jaguar E-Type Series I 4.2-Liter Roadster 1E15457 – sold for $143,000 Most recently, the E-Type was restored by the marque specialists Classic Showcase in Oceanside, California. Included in the restoration process was a complete body fit and repaint in a base coat and clearcoat finish, which was color sanded and buffed; the brightwork was rechromed, as necessary, and all mechanical systems were serviced and restored as needed. The newly fitted Grey interior is complete with matching leather upholstery. Under the bonnet, the powerful 4.2-liter DOHC XK six is fitted with triple SU carburetors, mated to a fully-synchronized gearbox, and complete with a new aluminum radiator with auxiliary fan and a new header tank. A black cloth top and matching boot, Pirelli P4000 radial tires, and 6×15 chrome wire wheels provide the final touches. Auction Source: Monterey 2012 by RM Auctions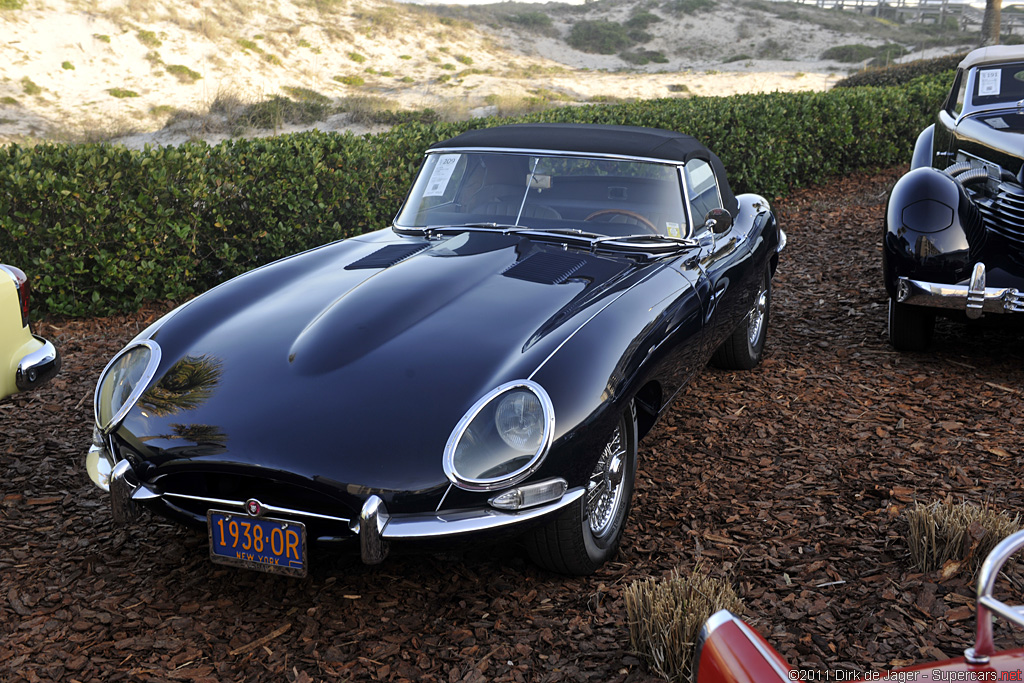 1966 Jaguar E-Type Series l 4.2-Liter Roadster 1E11877 – sold for $132,000 This 1966 Series 1 4.2 E-Type received a complete restoration from Jaguar specialists Lippincott's Garage of Sinking Spring, Pennsylvania in 2008-2009. A complete, original and matching-numbers car when acquired by the owner, it was entrusted to Lippincott's with instructions to make it into a show winner. This included complete disassembly, stripping to bare metal and meticulous rebuilding using new parts when necessary. The car was completely rewired, and a new top and upholstery were installed. Auction Source: Amelia Island 2012 by RM Auctions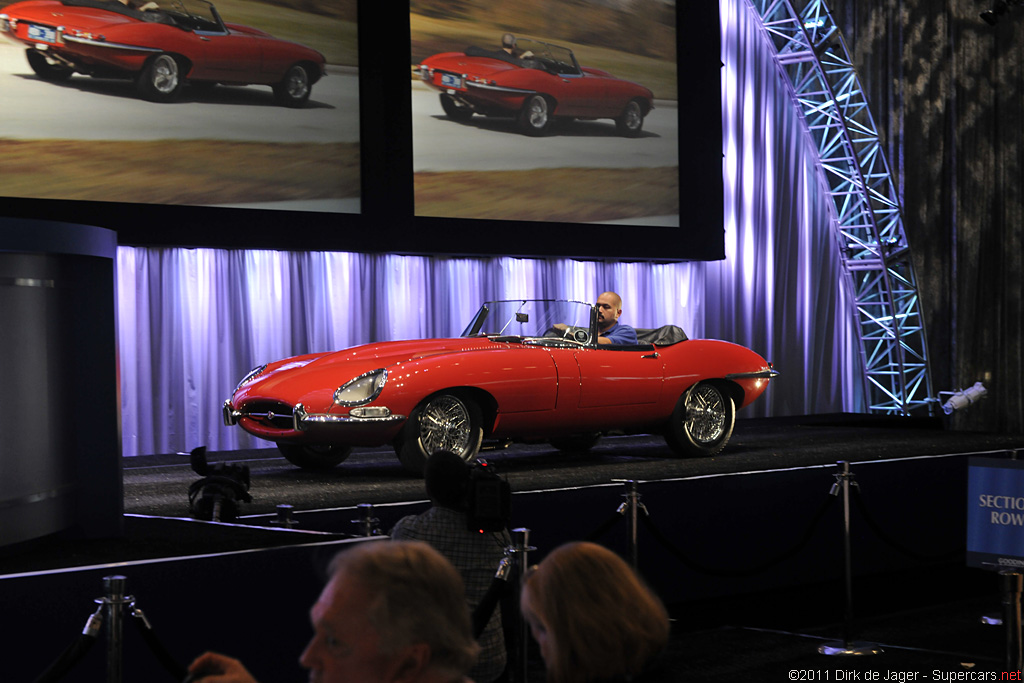 1965 Jaguar E-Type Series 1 4.2-Litre Roadster 1E11193 – sold for $123,200 2011 Restoration. 100-Point JCNA Award Winner. Matching-Numbers Example. Certified by the Jaguar Daimler Heritage Trust. Offered with Books, Tools and Restoration Receipts. Auction Source: The Amelia Island Auction 2012 by Gooding & Company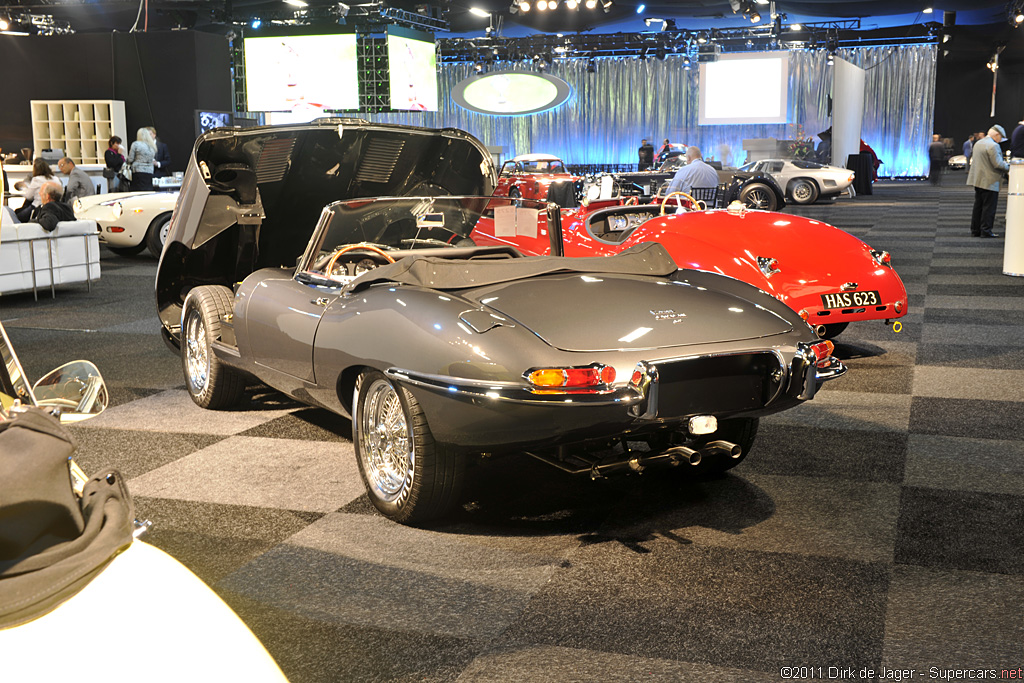 1966 Jaguar E-Type Series I Roadster 1E13100 – sold for €116,928 This car is a ground-up, two-year, documented restoration of a matching-numbers car by a marque specialist in the Netherlands. The engine, transmission and drive train were rebuilt and the restoration photographed in detail. The car also has a Heritage Certificate from the British Motor Industry Heritage Trust, confirming its matching-numbers status, and it is finished in a stunning combination of gunmetal grey metallic paint and an oxblood leather interior, surely one of the most attractive combinations. A highly desirable model and a pristine example, this E-Type is ideal for a discriminating Jaguar enthusiast's collection. Auction Source: 2011 London Auction by RM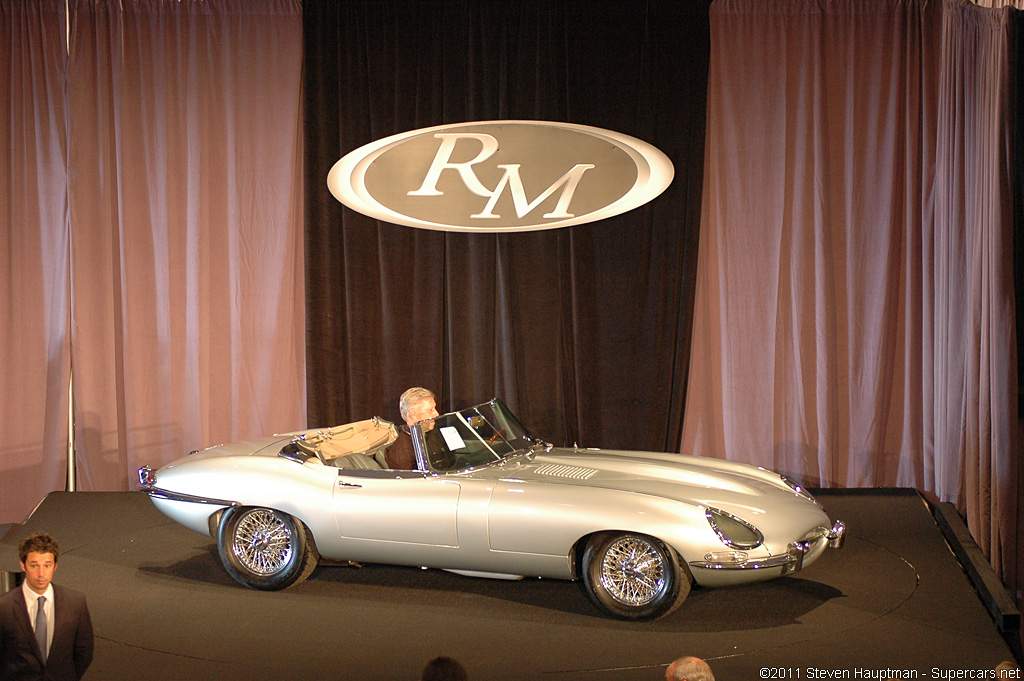 1967 Jaguar E-Type Series 1 Roadster – sold for $99,000 The highly desirable 1967 Series I 4.2 Roadster featured here is equipped with the larger, three-carburetor 4.2-liter engine. With very few miles since its nut-and-bolt restoration three years ago, this silver E-Type remains in very good condition. With its blue interior, this Jaguar has a very striking appearance. Further cooling the larger 4.2-liter engine is an updated high-output cooling fan. Also included in the sale is the E-Type's Jaguar Daimler Heritage Trust certificate, which confirms the car's matching-numbers status. Auction Source: 2011 St. John's Auction by RM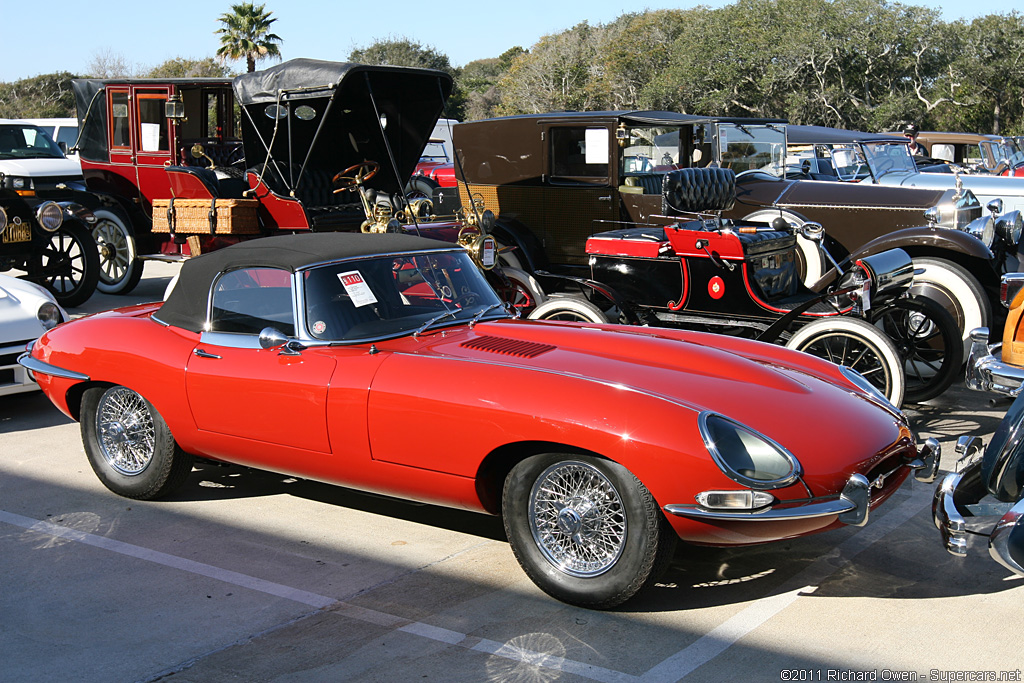 1965 Jaguar E-Type Series I 4.2 Roadster – sold for $121,000 Finished in Carmen Red with a black Stay Fast top and a black interior, this matching-numbers E-Type 4.2 Open Two Seater has accumulated less than 10,000 miles from new – surely one of the lowest original mileages on any restored Jaguar in existence. Having been driven very little since completion of its original restoration, it remains in excellent condition throughout and is a great contender for Jaguar Clubs of North America (JCNA) showings. Auction Source: 2011 Amelia Island Auction by RM Auctions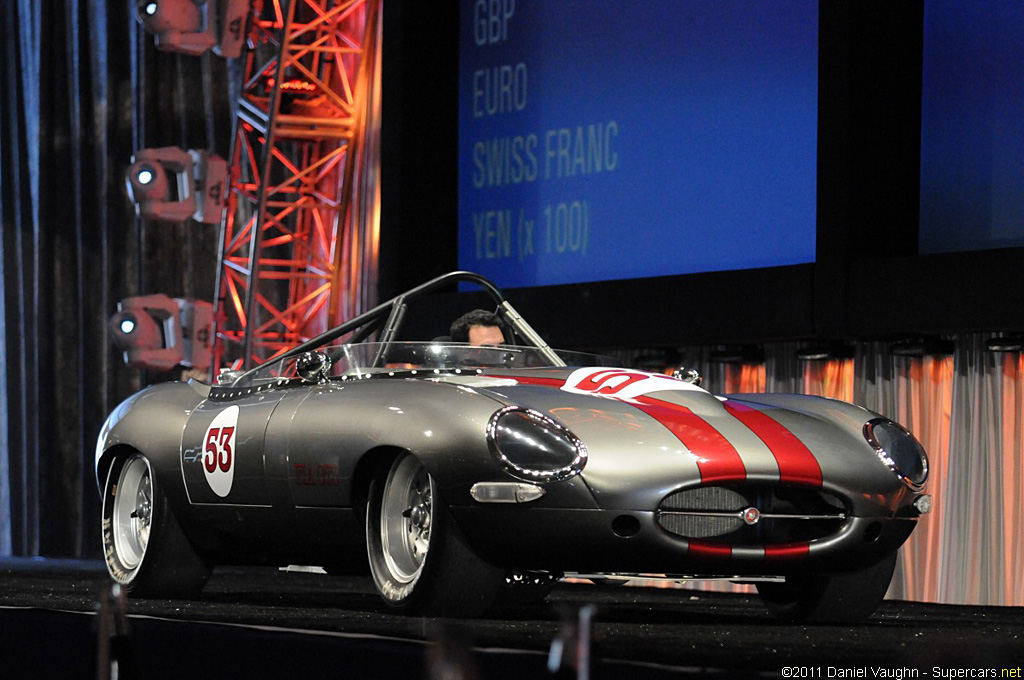 1967 Jaguar E-Type Series I Roadster Race Car 1E13524 – sold for $96,800 With over $225,000 spent on the restoration, this E-Type is an ideal candidate for premier vintage racing events in the US and abroad. This beautifully prepared roadster has been developed to comply with FIA GT3 specifications, making it eligible for a number of venues. It has yet to compete, having only attended several test days since its completion in July 2005. The sale is accompanied by many extra parts and a race day spares kit. A list is available upon request. This tempting Jaguar race car offers an effortless ticket to the next event and a presentation that will match the performance for any novice or the most skilled of drivers looking for another stable-ready vintage race car. Auction Source: 2011 Scottsdale Auction by Gooding & Company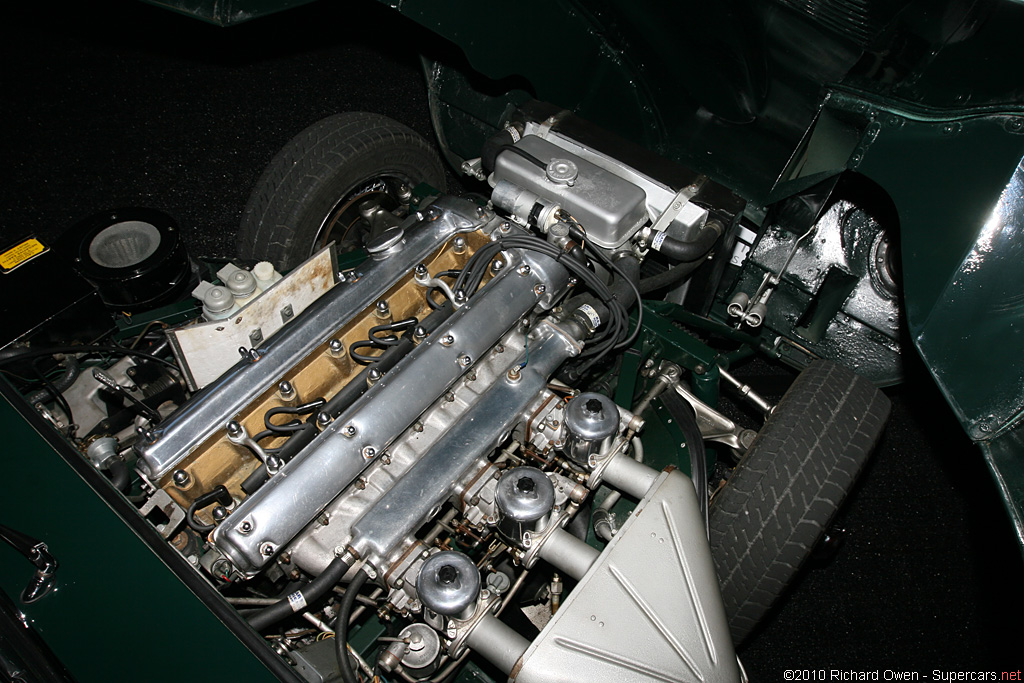 1964 Jaguar E-Type Series 1 4.2 Liter Open Two Seater 10243 – sold for $64,350 Originally delivered in France when new, it is known that the first owner was an M. Pike, who purchased it through the Garage Royal Elysees of Paris. By the mid-1970s the car had already moved to America and is known to have been the property of Constance Cho of Las Vegas. 6 years later it was purchased by a Mace Gazda also of Nevada, who seemingly used the car very little as it was consigned to storage for some time, through to 1996, when on his death it was sold and became the property of a Mr. Sobelman of Fountain Valley, California. At this point the car received a mechanical restoration. In 2002 it was purchased at auction, by a friend of the current owner, also based in California, becoming his property a year later.  Auction Source: Bonhams 2010 Exceptional Motorcars and Automobilia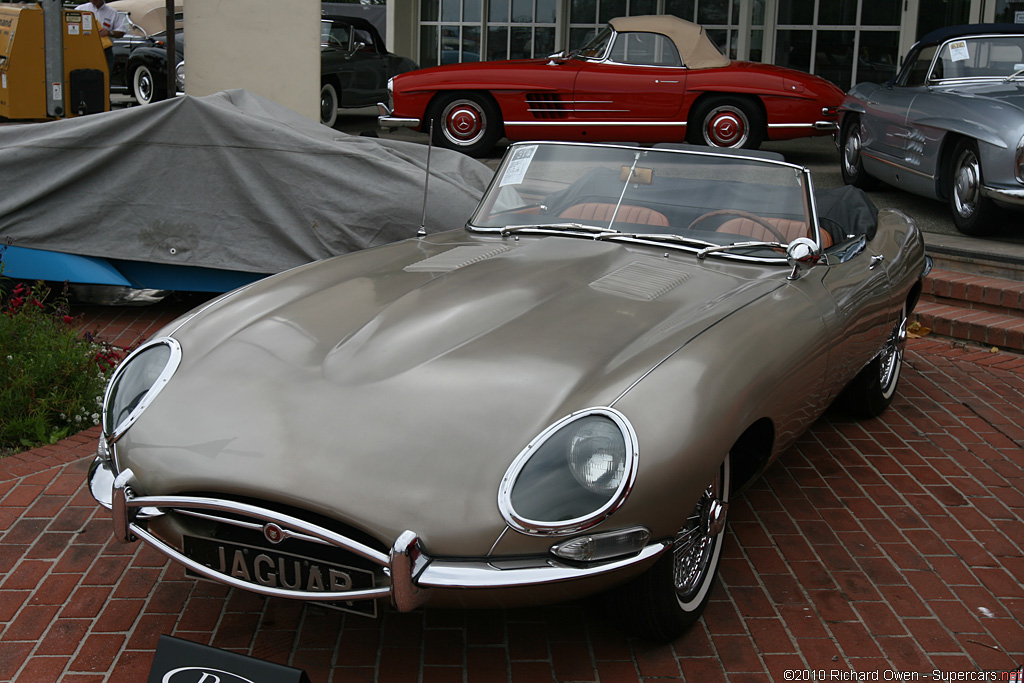 1967 Jaguar E-Type Series I Roadster – sold for $82,500 This vintage E-Type is an original car with just 19,400 miles on the odometer. The Golden Sand exterior paint appears to be largely original. The interior, including carpet, upholstery, and dash, are also original as is the tan canvas top. The car even wears its original Dunlop Road Speed tires and Lucas headlamps as delivered from Browns Lane. The trunk retains the original jack, tool roll, and knock-off hammer. Exterior chrome is very nice which, along with its chrome wire wheels, makes for quite a dashing statement. The car is amazingly untouched and would be ideal for a reservation or survivor class at any vintage or JCNA event at which it might appear. Auction Source: RM Auctions' 2010 Sports & Classics of Monterey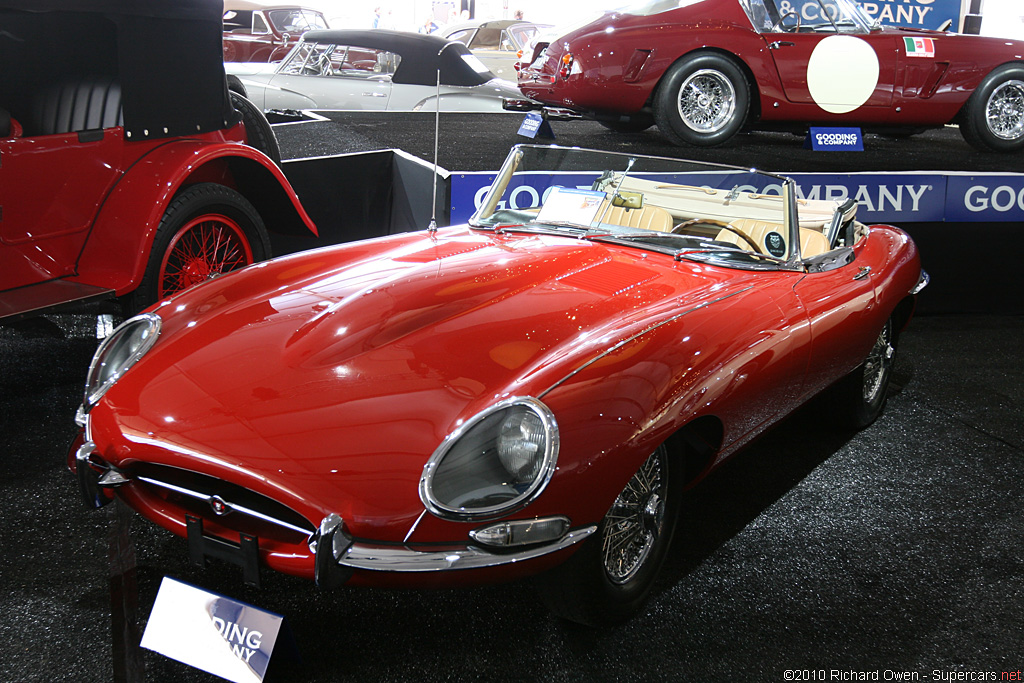 1965 Jaguar E-Type Series 1 4.2 Litre Roadster – sold for $137,500 As indicated by its chassis number, this lovely E-Type roadster is the 59th example of the Series 1 cars that appeared in late 1964 with a more powerful 4.2-litre engine. Finished in Carmen Red paint with a red interior, this beautiful Jaguar was originally distributed to Hoffman Cars in New York. Though little is known of the early history of this roadster, a comprehensive rotisserie restoration conducted by marque expert Jeff Snyder assures a strong degree of authenticity. Mr. Snyder's Texas-based restoration house, Jeff's Resurrections, has been credited with the restoration of 20 Jaguars that earned national champion awards from the Jaguar Clubs of North America (JCNA). Auction Source: 2010 Gooding & Company Pebble Beach Auction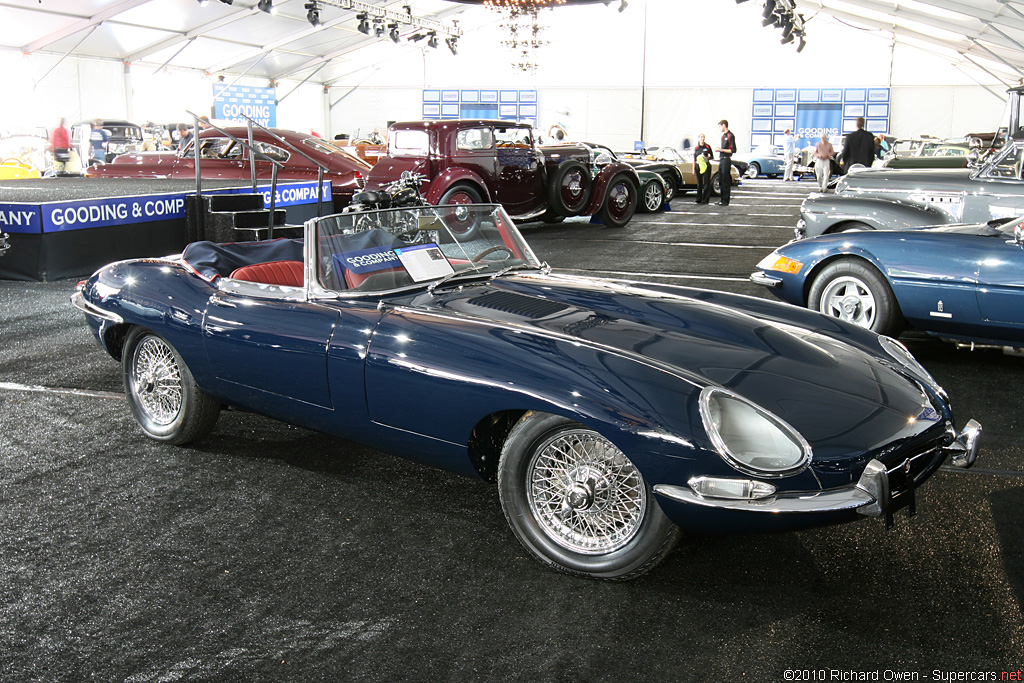 1967 Jaguar E-Type Series 1 4.2 Litre Roadster 1E14843 – sold for $126,500 This Series 1 E-Type roadster is a numbers-matching example that features its original motor, cylinder head, gearbox and body panels. The car is accompanied by a full tool kit and substantial documentation, including a certificate of authenticity from the Jaguar Daimler Heritage Trust, comprehensive service and restoration records, the original Bill of Sale, and owner's books. Beautifully finished, powerful and eminently presentable, this dashing E-Type roadster offers show quality presentation while delivering the brisk driving experience for which Britain's most famous sports car is renowned. Auction Source: 2010 Gooding & Company Pebble Beach Auction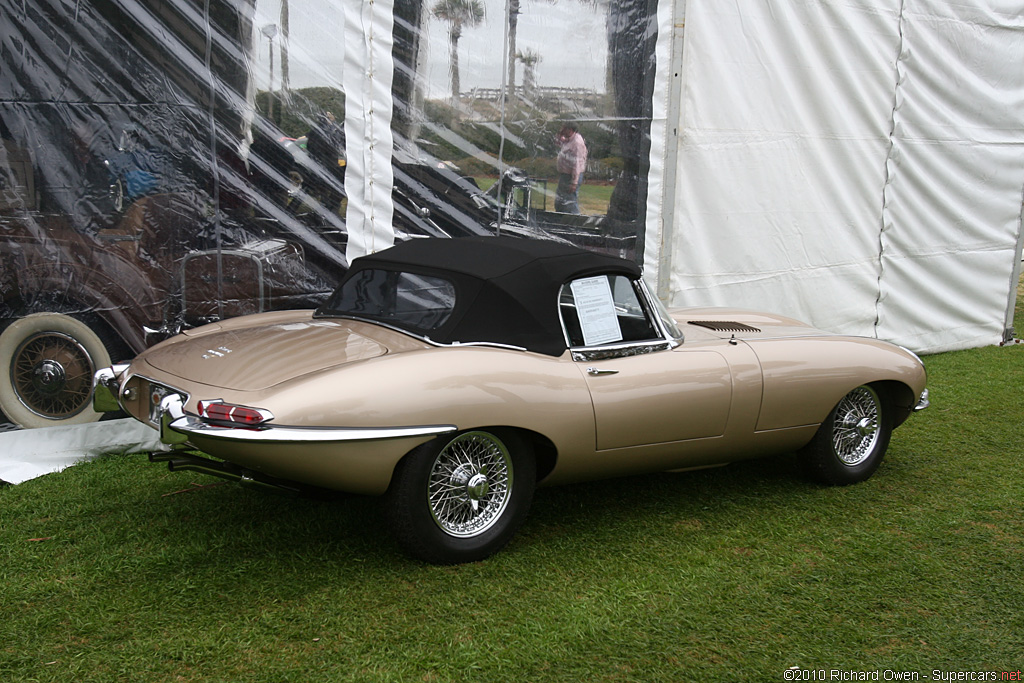 1966 Jaguar Series I E-Type 4.2 Roadster – sold for $126,500 This particular E-Type is a magnificently restored example. It is equipped with the desirable 4.2-liter engine, fully synchronized manual transmission, comfortable bucket seats, center console, arm rest, toggle switches, covered headlights and improved braking system, as per its late Series I specification. Auction Source: 2010 RM Automobiles of Amelia Island Auction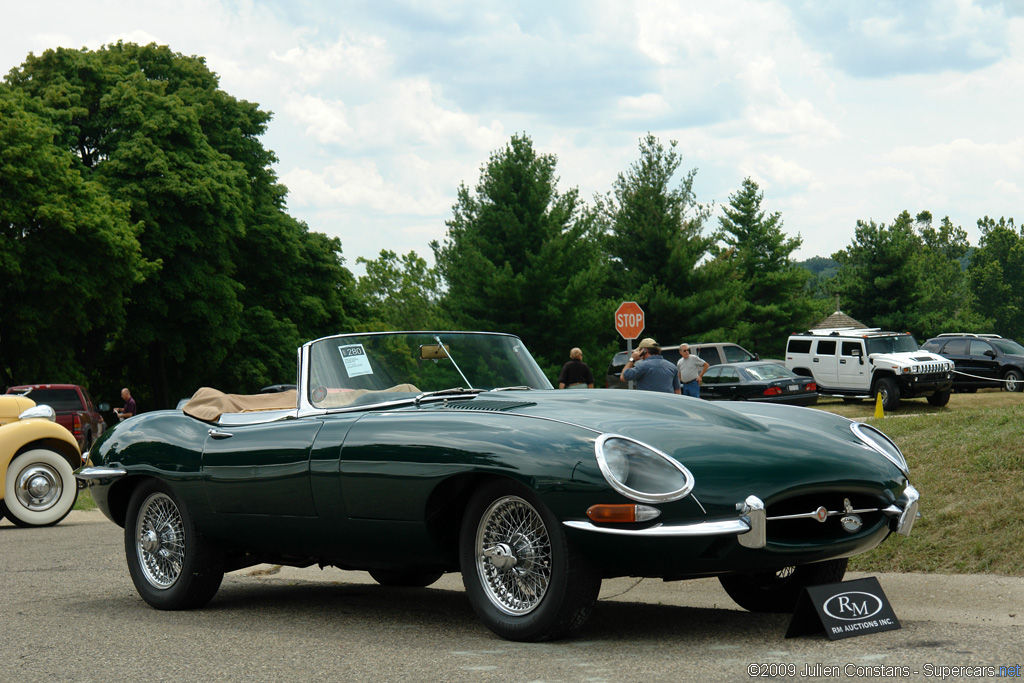 1965 Jaguar E-Type Series I Roadster – did not sell for $70,000 According to a previous owner's research, this particular E-Type was delivered new through Parisian dealer M. Charles Delecroix. Thereafter the Nevada DMV reported the Jaguar to be registered in 1975 to Las Vegas resident Constance Cho. Mace Gazda purchased the car in 1981 and evidently placed it in storage before it was finally sold in 1996, following his death. One Mr. Sobelman of Fountain Valley, California purchased the car and immediately executed a thorough mechanical restoration. It next passed to a Southern California collector in 2002. Auction Source: 2009 Meadow Brook Concours