1956 Fiat Abarth 750 GT Zagato
In 1956, Abarth had already built up an extensive reputation as a premier tuner of Fiat engines and was branching out into many classes of motor sport. To compete in the 750cc class of the Grand Touring Championship, Abarth commissioned Zagato to rebody the Fiat 600 into a purposeful racecar.
Thanks to Zagato's weight saving body, the first cars weighed 1179 lbs (535 kg) and took advantage of Abarth's 747cc tuned engine. With a high compression head and specially made exhaust the produced power was 47 bhp @ 6000 rpm. A number of prototype cars were made in 1956 and one of these appeared at the 1956 Mille Miglia and placed second in class.
The production 750 Zagato first appeared at the 1956 Geneva Motor Show. Series production began in 1957 of the 'Zagato 750 GT' at the beginning of 1957. The final design included twin bumperettes upfront, Zagato's double bubble roof and twin intakes on the rear engine cover. Five of these cars finished the Mille Miglia in 1957, of which Alfonso Thiele won the 750cc class.
In July of 1957, Abarth committed to a record-breaking car with sleek Pininfarina-designed body, tube frame chassis and 747cc engine. Raced around the Monza circuit for four days, the car took 15 new records including the fastest average speed of 165.376 kph for 72 hours straight.
At the 1958 Paris Motor Show, Abarth launched and renamed the '750 GT Zagato' into the '750 Record Monza Zagato'. This was done to honor the results achieved the year earlier with the record breaking car. Improvements to the model included a DOHC valvetrain and three-quarter windows.
In Detail
| | |
| --- | --- |
| type | Racing Car |
| built at | Turin, Italy |
| engine | Inline-4 |
| position | Rear Longitudinal |
| aspiration | Natural |
| valvetrain | OHV, 2 Valves per Cyl |
| fuel feed | 1 Weber 32IMPE Carburetor |
| displacement | 747 cc / 45.6 in³ |
| bore | 61 mm / 2.4 in |
| stroke | 64 mm / 2.52 in |
| compression | 9.8:1 |
| power | 32.1 kw / 43 bhp @ 5800 rpm |
| specific output | 57.56 bhp per litre |
| bhp/weight | 80.37 bhp per tonne |
| front tires | 5.20×12 |
| rear tires | 5.20×12 |
| front brakes | Drums |
| rear brakes | Drums |
| steering | Worm & Roller |
| f suspension | Upper Trailing Arms w/Lower Transverse Leaf Spring, Hydrualic Dampers |
| r suspension | Upper Arms w/Coil Springs, Hydrualic Dampers |
| curb weight | 535 kg / 1179 lbs |
| wheelbase | 2000 mm / 78.7 in |
| front track | 1150 mm / 45.3 in |
| rear track | 1160 mm / 45.7 in |
| length | 3480 mm / 137.0 in |
| width | 1340 mm / 52.8 in |
| height | 1190 mm / 46.9 in |
| transmission | 4-Speed Manual |
Auction Sales History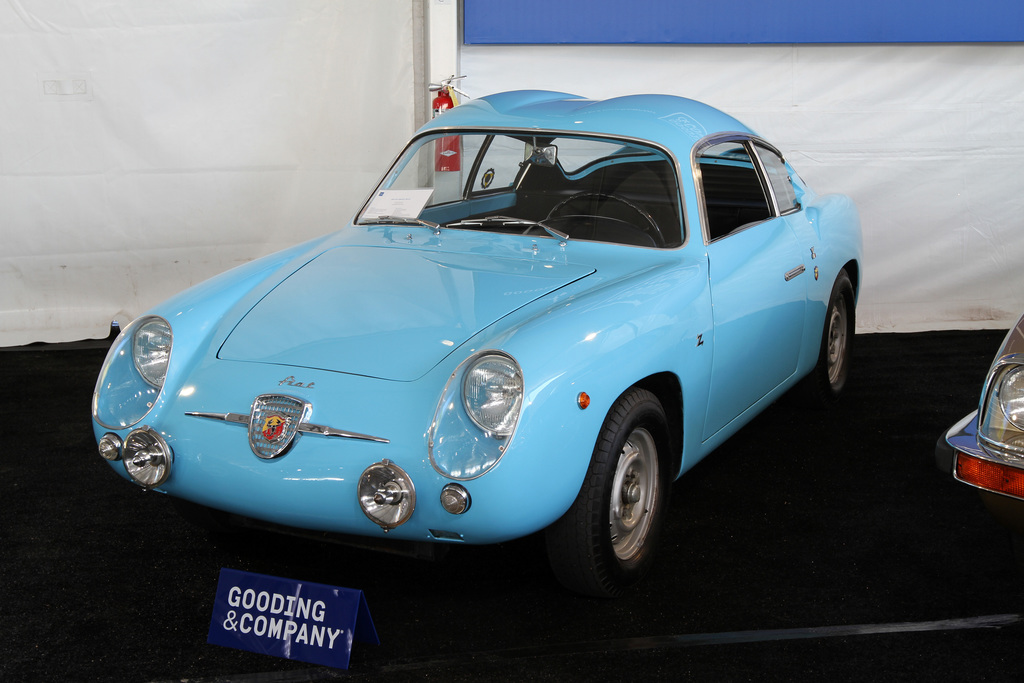 1959 Fiat-Abarth 750 GT 100585940 – sold for $126,500 An Outstanding Example of a Lightweight "Giant Killer". Purposeful and Striking Zagato Double-Bubble Design One of Carlo Abarth's Most Successful Models. Toby Knapp-Rebuilt Engine. Auction Source: The Pebble Beach Auctions 2015 by Gooding and Company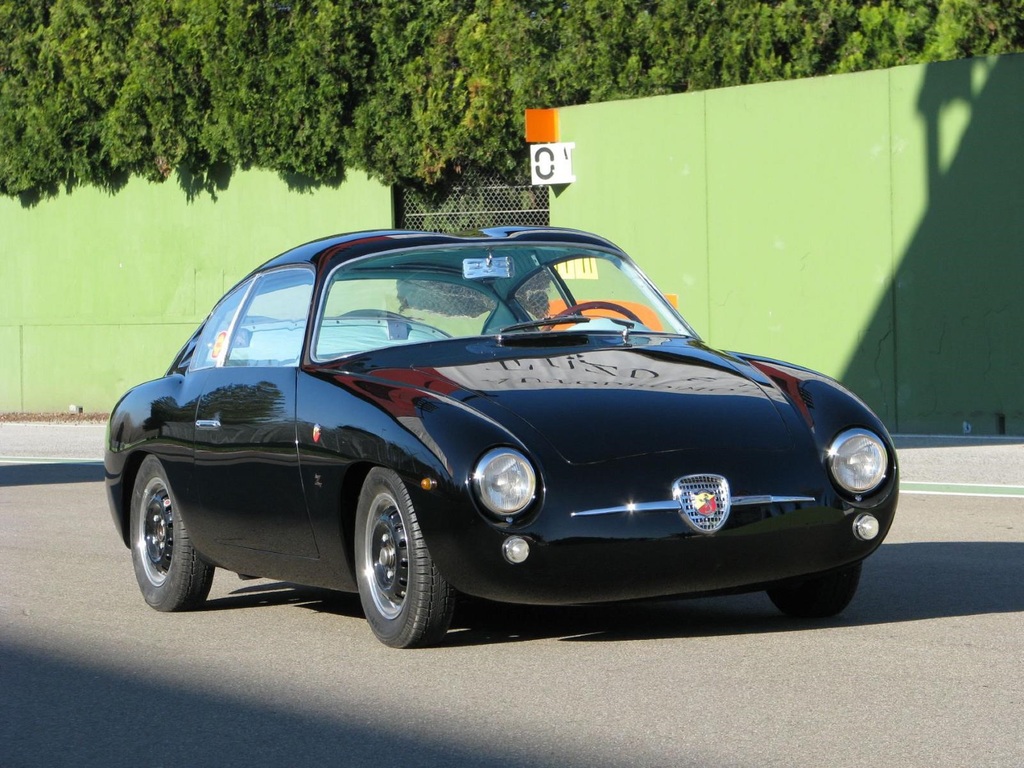 1957 Abarth 750 Zagato 222623 – sold for €160,920. Chassis Number 222623 is one of these 1st series car made for the domestic Italian market having the above mentioned specifics and the rare Borrani bi-metal wheels. The car left the Zagato plant on the 17th of January 1957 as the 17th car made out of 21 cars and was first registered in March 1957. The first owner and second owners raced the car extensively on the hill climb circuit amongst others the Trieste-Opecina and the Monte Erice hill climb 1957-1960.
Today, the car has been immaculately restored and all photographs of every part of the restoration are available. A particular care has been given to re-creating the original color scheme. The interior color has been re-created through traces of the original paint before the restoration. The owners have also done extensive researches on the car and found most of its race history. The original engine was replaced in 1960 by an 850 ex. works Abarth unit due to racing regulation changes in Italy as the 750 category was cancelled. The original matching number engine does come with the car. Auction Source: Rétromobile 2015 by Artcurial Motorcars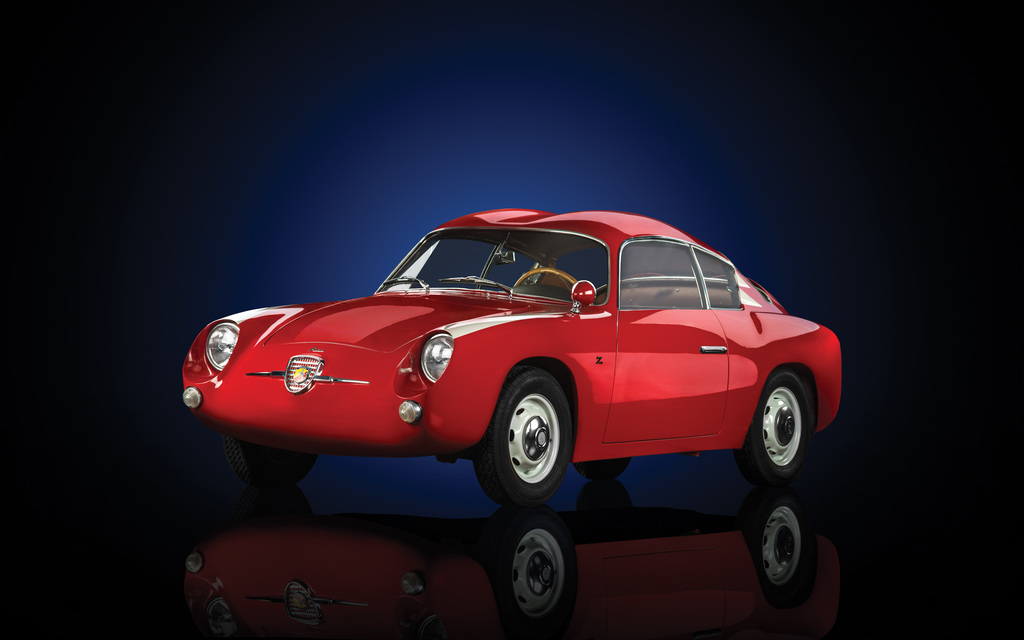 1958 Fiat-Abarth 750 GT 750.149 430930 – sold for €75,600 Stunning coachbuilt Zagato "Double Bubble" coachwork. Equipped with a Mille Miglia-specification Abarth engine. Recently completed restoration. Spent three decades in the hands of enthusiast Rik Beeson, of Santa Cruz, California. Adorned with a number of original items, including the Sekurit glass, Lucas lenses, a Magneti Marelli distributor, and Raydyot headlamps, as well as the desirable Mille Miglia-specification engine. Auction Source: 2015 Paris by RM Auctions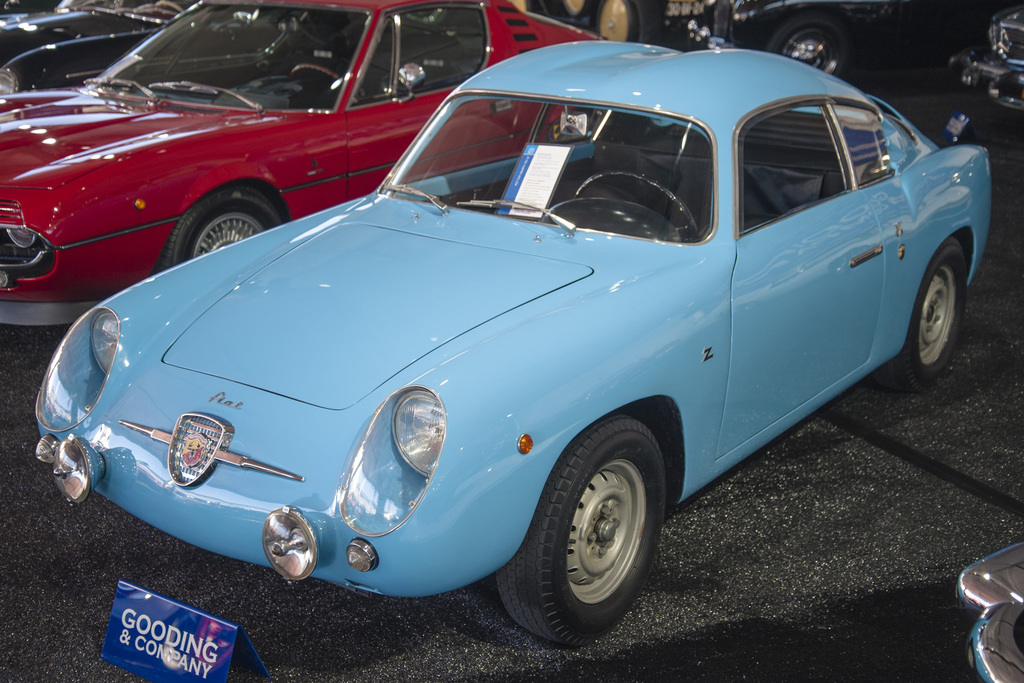 1957 Fiat-Abarth 750 GT 100585940 – sold for $134,750 Extremely Rare and Wonderfully Original. Three-Owner Example from New. Purposeful and Striking "Double Bubble" Design. Model Made Famous by 1957 Mille Miglia Sweep. Toby Knapp-Rebuilt Engine. Exceptional Event Eligibility Including Today's Mille Miglia. Auction Source: The Scottsdale Auctions by Gooding & Company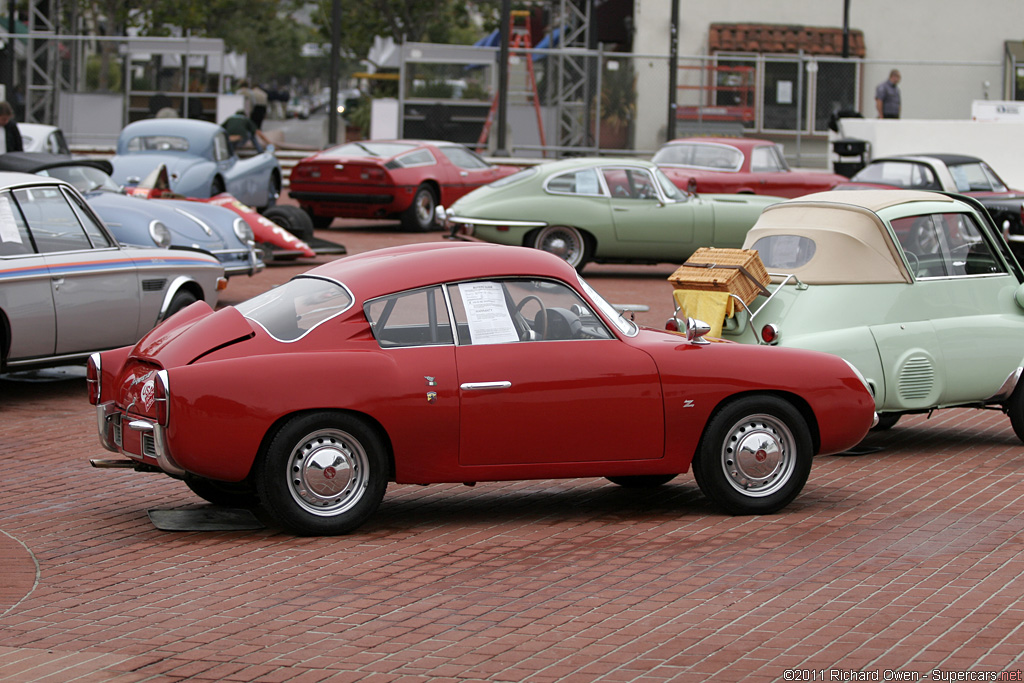 1959 Fiat Abarth 750 Zagato "Double Bubble" Coupe 558327 – sold for $93,500. Acquired by the current owner in 2004, this "Double Bubble" benefits from a recent freshening in order to make it road ready. Featuring a new biscuit leather interior with black piping, it comes equipped with a full roll bar. The vintage Nardi steering wheel has been refinished, and the original instruments were restored by leading specialists, Nisonger. Also, one of the side windows was replaced, and as they were ordered in pairs, the new owner will receive the spare glass. Mechanically speaking the car has been kept as original as possible with one notable upgrade, the addition of an electric fuel pump. A set of original-style 34-mm Abarth twin exhaust mufflers have been fitted, and the entire front suspension was rebuilt, including the idler arms and the rear transaxle couplings which were replaced. Also included is the original Fiat jack and typical tool set. Auction Source: 2011 Monterey Auction by RM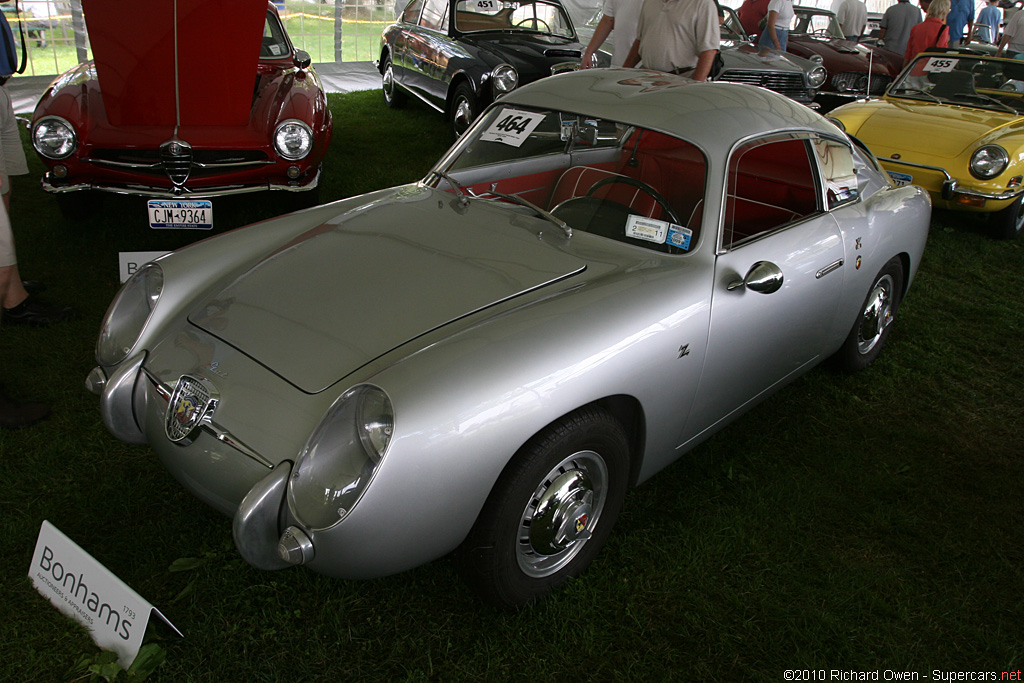 1958 Abarth 750 Zagato Series III Coupe 100446004 – sold for $91,260. For many years, the collection's Abarth Zagato was owned by enthusiast of all things Italian, noted journalist and founder of the popular website Veloce Today, Peter Vack.
Its history was recorded by him in recent times in an article on that website by going to the following link www.velocetoday.com/archives/3543 . In this he charts his acquisition of the car in 1984, from Abarth collector Mike Blumberg who in turn had purchased it from Warren Clarke of Atlanta, GA, both believe the car to have been raced prior to this and never road registered.
By the time Vack bought the 750, it had had its bodywork, chassis and engine restored and was in need of completion. He continued the rebuild, and tells an amusing tale of being pulled over by the cops while out one day testing its motor without its mufflers yet fitted! But with a number of other projects on the go Vack also abandoned the project at which point it was purchased by the current owners. At this time its engine was a standard 600d unit, but with the car was a properly machined 600 block with Abarth crank, camshaft, carburetor, Nardi intake manifold, mondial pistons and numerous other spare parts.
Fixated on performance, speed and accuracy of detail, the little 750 had finally found its perfect home, and it wasn't long before the car was back together, now with a fresh repaint in silver, with a correct interior fitted and a correct 'hot' Abarth specification motor installed. In successive ownerships it had been felt that the car was such a good basis, that it had the potential to be restored to the best of its model. This was a dream that was realized in this ownership, and is endorsed by the fact that restorers frequently contact the owners for advice when restoring other cars as a reference. Every detail has been sourced to be correct, including the Borrani 12 inch wheels (an available option for US cars) which retain correct original spinner hubcaps.
Returning to the road in 1995, the Zagato has since been the most publicly campaigned car in this whole group. It completed the Liege-Rome-Liege that same year coming home an impressive 3rd in class and in 1999 was invited by the late Lorin Tryon to be exhibited at the Pebble Beach Concours d'Elegance. Other concours outings have included being on the field here at Greenwich in 2003, when it received the Concours Europa Harry Newton award.
A delightful jewel harnessing the best and most interesting aesthetic and mechanical design the car is one of the highlights of this collection. Auction Source: 2010 Greenwich Collectors' Motorcars and Automobilia Auction by Bonhams